If you are on the hunt for the perfect farmhouse coffee table, I'm here to help you make the best choice for your next purchase. A collection of various tables that will inspire you.
As an Amazon Associate I earn from qualifying purchases.
Upholstered coffee table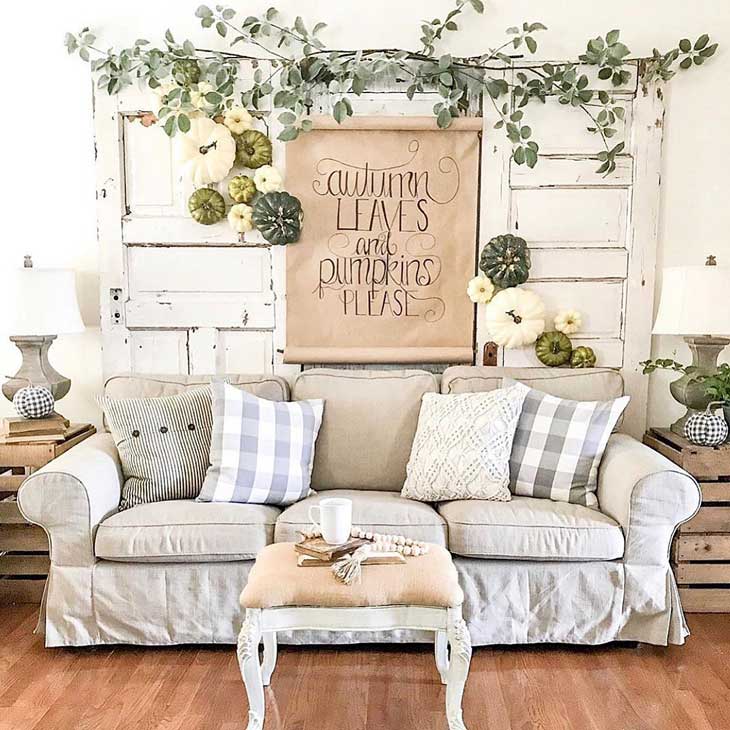 Shop related products:
coffee table // side lamps // pillows // slipcover sofa // sign // #ad
While it's not exactly a coffee table by definition, the biggest strength of these types of "coffee tables" is probably their versatility. One way to do it is to set a tray across it and get a perfect centerpiece for your sitting area. You could also use it to prop up your feet or to provide some extra seating for your unexpected guests or visitors.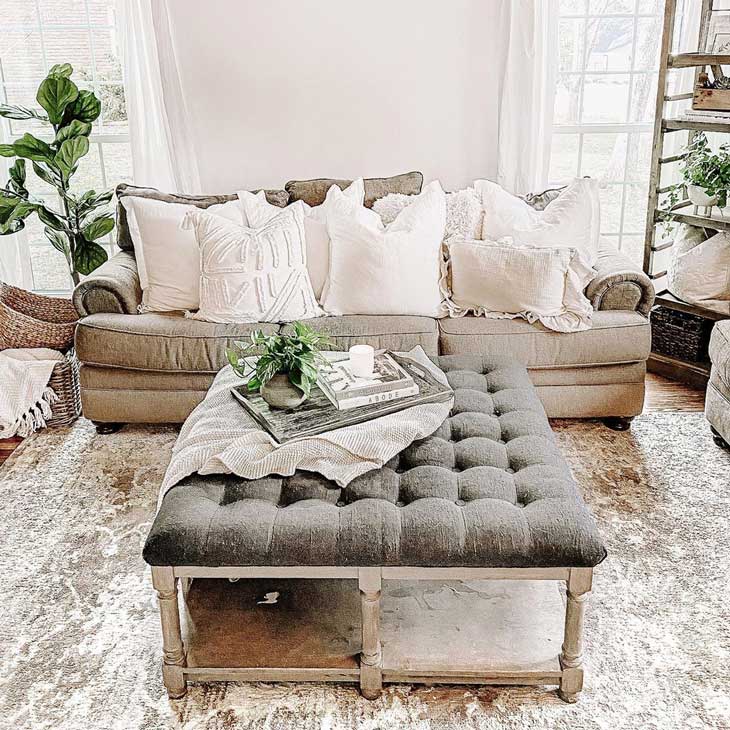 Shop related products:
coffee table // wooden tray // white pillows // #ad
Round farmhouse coffee table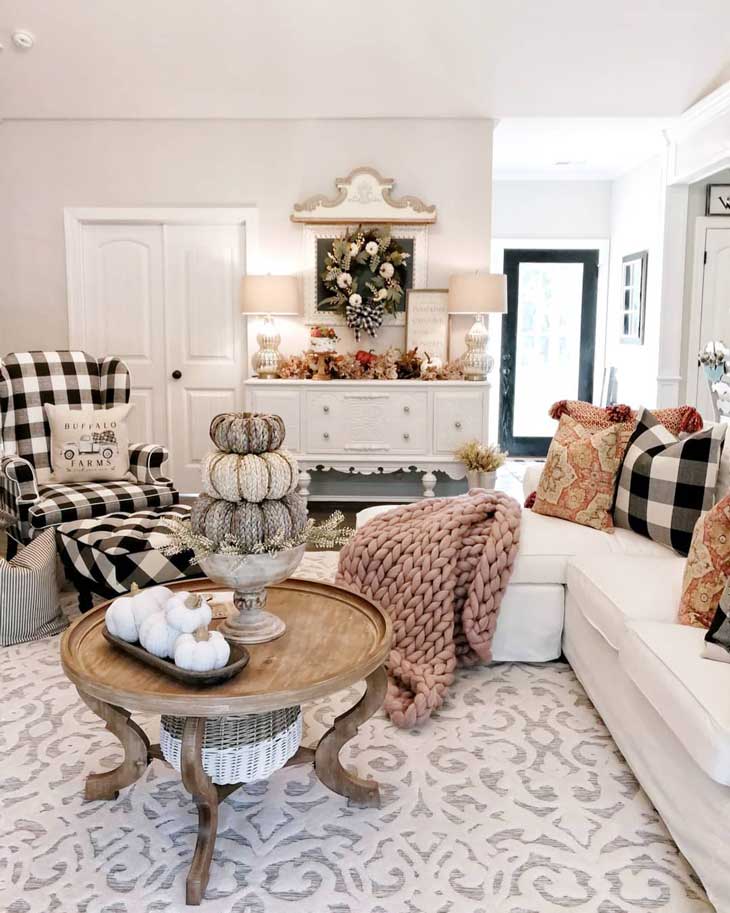 Shop related products:
coffee table // accent chair // blanket // pedestal bowl // #ad
Round tables are perfect if you're short on space, not that @bridgewaydesigns had any shortage of it. The sunken top on this classic, curved-leg coffee table is very convenient and probably helps keep that rug clean too. It's a gorgeous-looking dark-toned centerpiece to an otherwise bright-colored room. I love how it complements the rest of the furniture because it has so much character. Plus, it doesn't hurt if you bump your leg against the corners.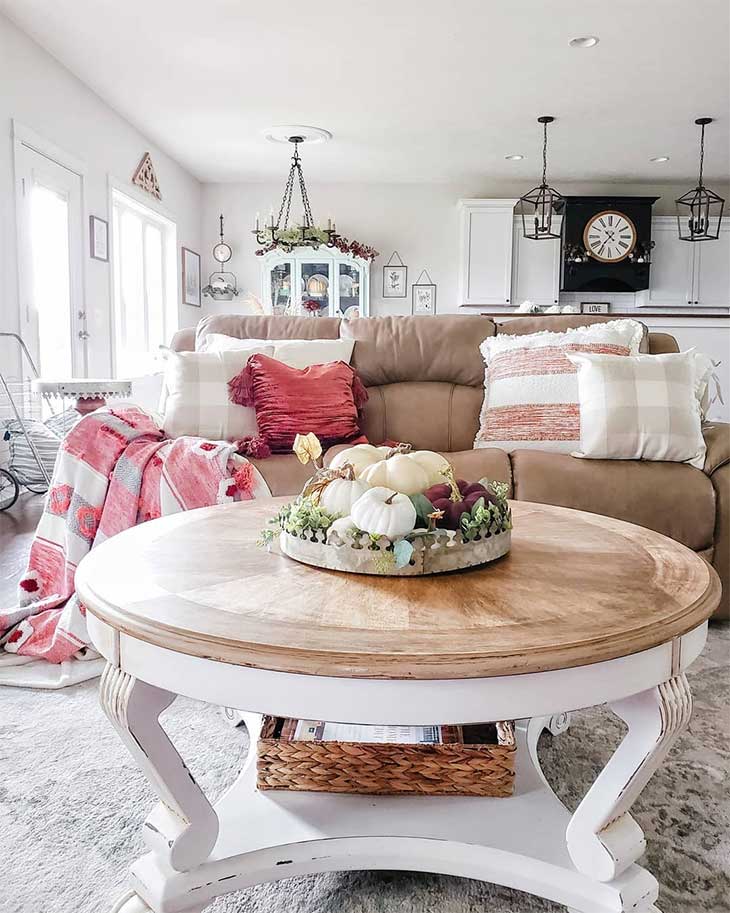 Shop related products:
coffee table // metal tray // willow basket // red tassel pillow // nude check pillow // red striped pillow // #ad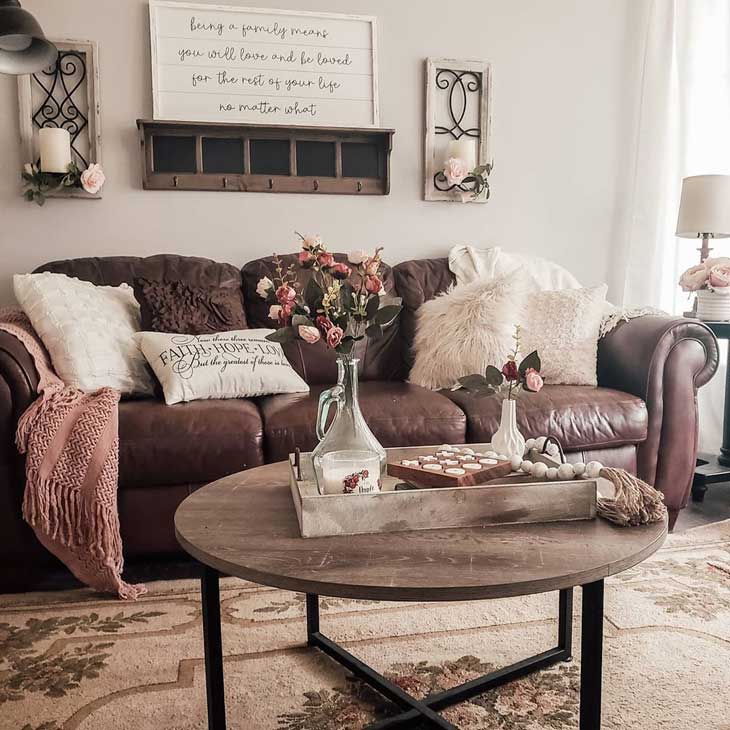 Shop related products:
round industrial coffee table // wood tray // artificial flowers // faith-hope-love pillow // ceramic vase // throw blanket // #ad
Chunky, rustic, solid wood coffee table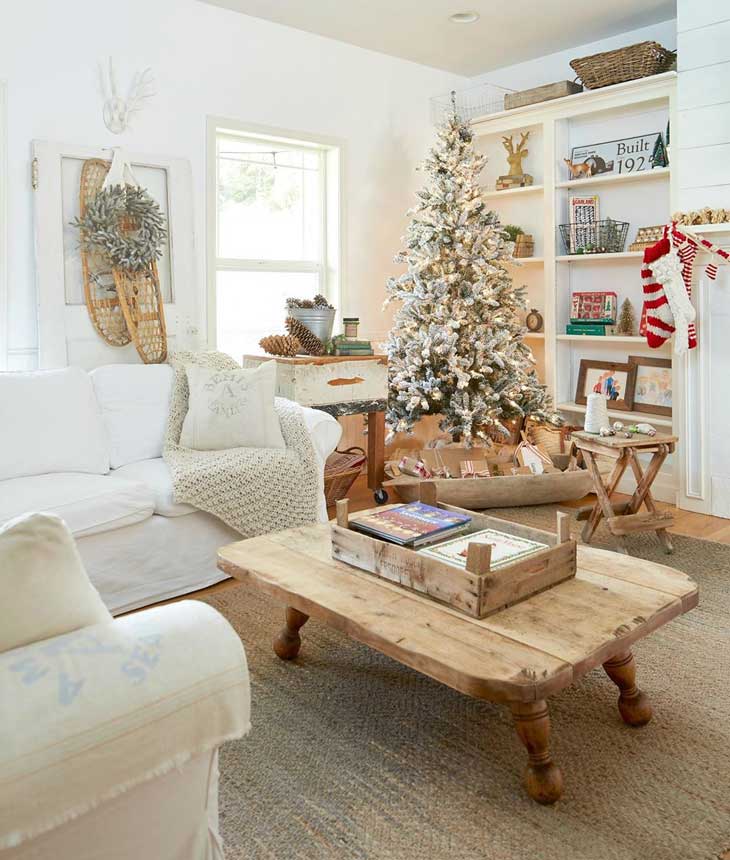 Shop related products:
coffee table // wood crate // snowshoes // #ad
The title says it all. It's chunky, it's rustic-looking, and I love it. It's reliable and cute at the same time. The chubby-looking legs work great with its bulky, solid-wood top. A great addition to an already very cozy-looking room. I can almost smell the hot cocoa.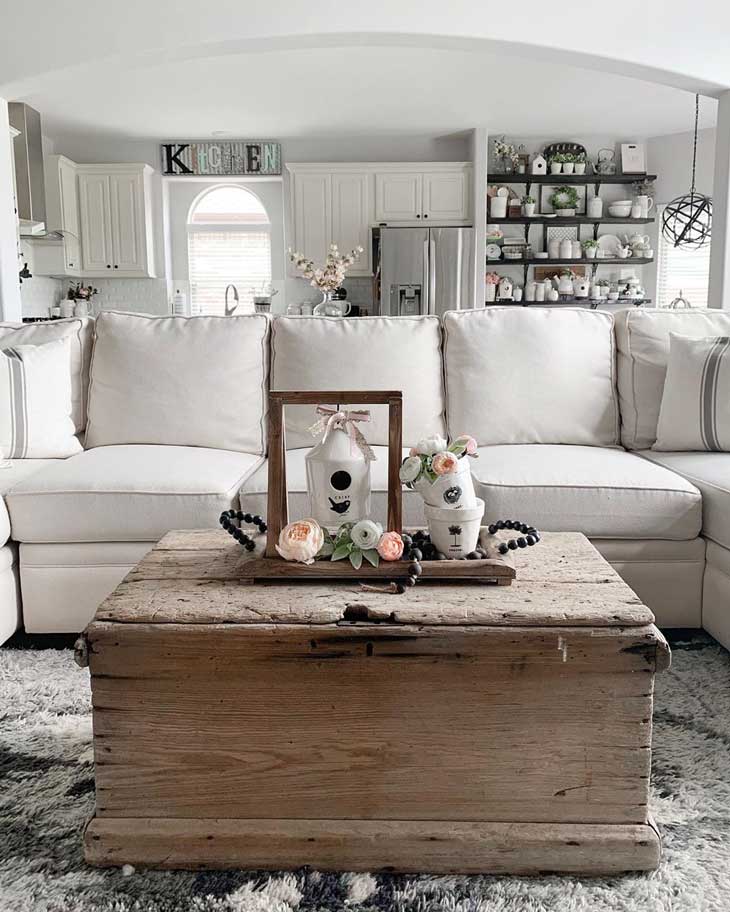 Shop related products:
coffee table // serving tray // Rae Dunn birdhouse // #ad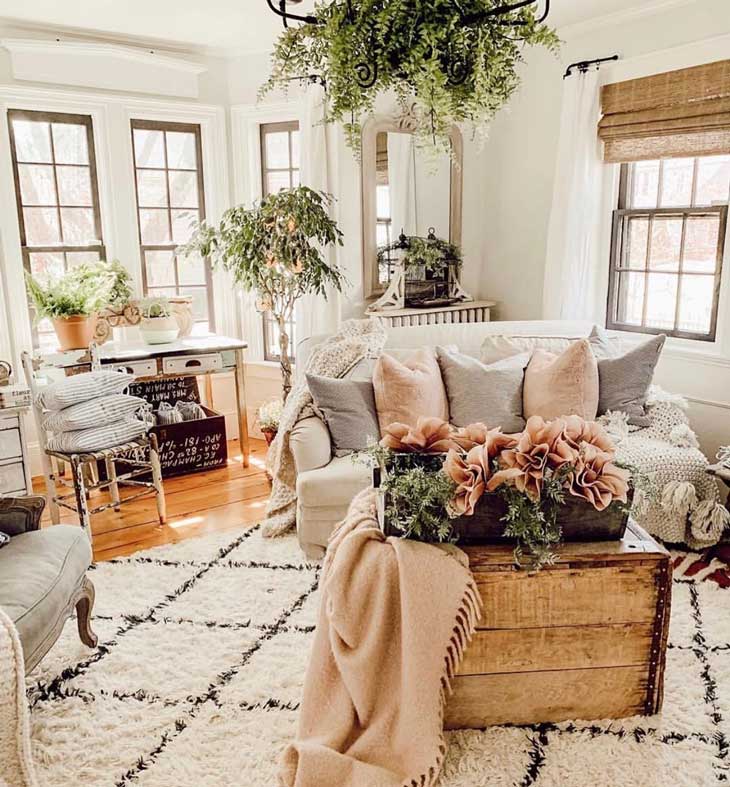 Shop related products:
coffee table // diamond rug // pink flowers // pink throw blanket // pillows // #ad
Cart farmhouse coffee table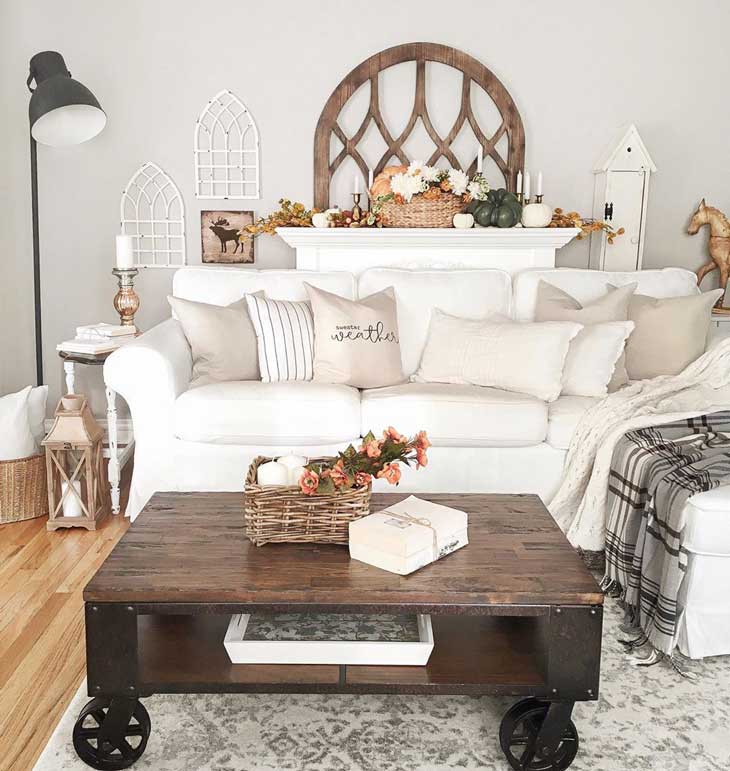 Shop related products:
coffee table // wooden arch // wicker basket // throw pillows // candle lantern // #ad
Cart-style coffee tables are just so convenient when it comes to mobility. The solid wood top, the exposed iron edges, and the metal wheels make it look stable and durable, even industrial looking. But at the same time, you can wheel it away if you need to quickly re-arrange your room to get some extra space. This is a well-constructed, durable, no-nonsense coffee table.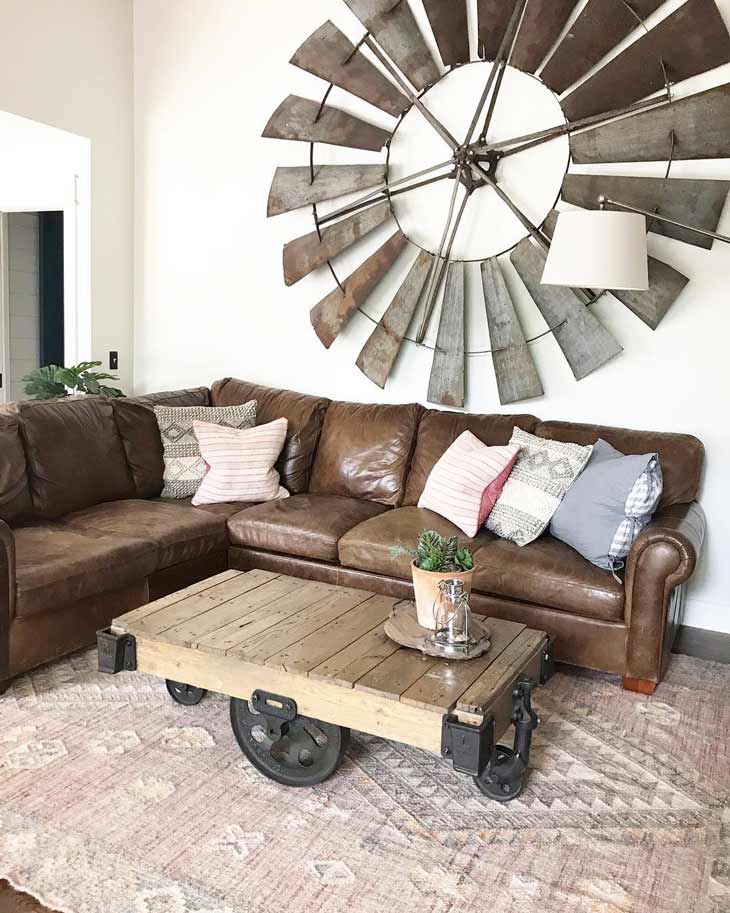 Shop related products:
cart coffee table // brown sectional sofa // windmill wall decor // #ad
Bench coffee table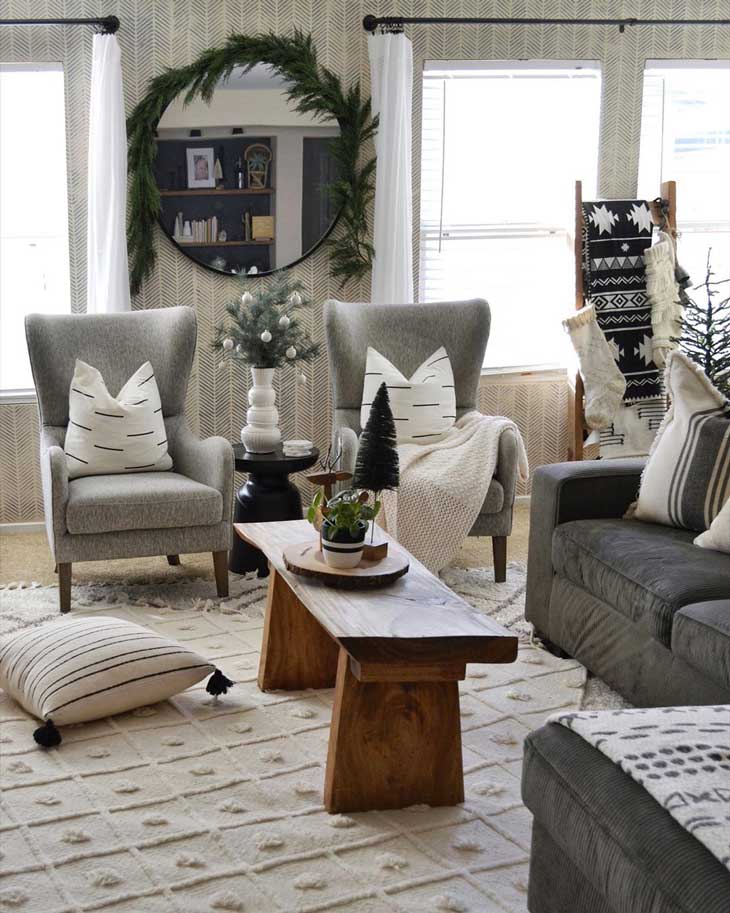 Shop related products:
coffee table // area rug // throw blanket // throw pillow // mirror // wingback chair // drum table // #ad
Much like the upholstered coffee table, this one can also be used as an extra sitting space. This is as farmhouse as it gets. I mean, it's a bench. It's simple, it's convenient, it's very mobile and all so charming. If this piece doesn't make you nostalgic, nothing will. Use it as a centerpiece, as @wilson.home did, and you got yourself a coffee table. Put it next to the wall, and it's a bench! You'll feel like you're on a picnic.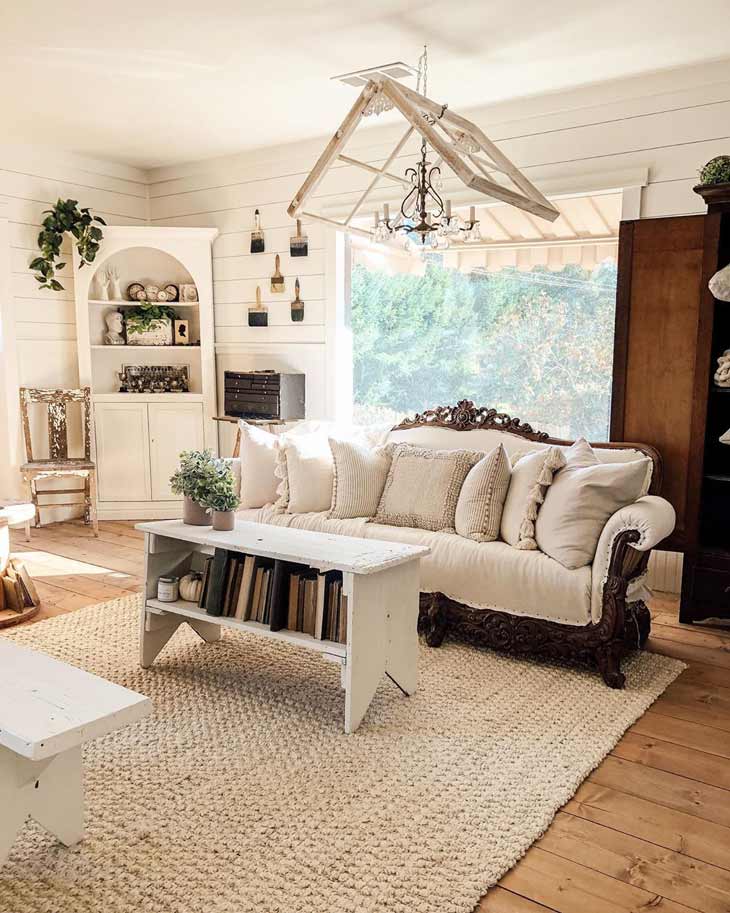 Shop related products:
bench // white sofa // tassel pillows // pom-pom pillows // jute area rug // #ad

Distressed coffee table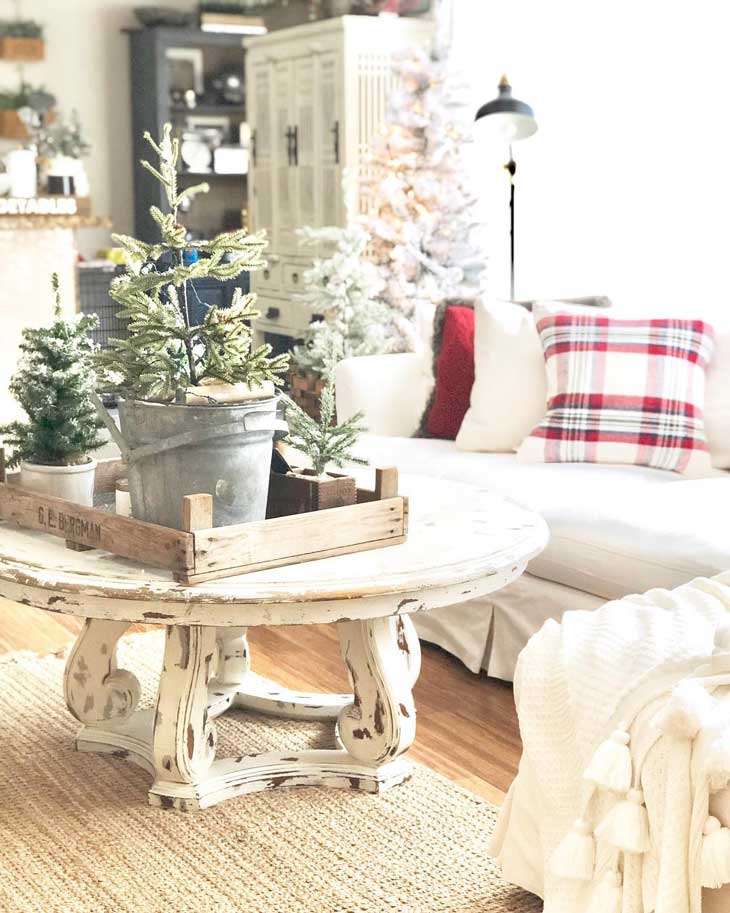 Shop related products:
coffee table // crate // plaid pillow // #ad
So you buy a new coffee table, and you're super excited. You've been using it for a week, and one day you notice there's a tiny little dent that you can't unsee, and it's driving you crazy. Fear not! This stylish coffee table comes with a white chipped finish, so it already has a lot of 'mileage' built-in. Put a crate on top of it as @thevintagepalm did, and you got yourself some rustic overload! This white distressed coffee table will give your room that cottage charm. Its classic legs give it so much elegance in addition to its mature character.
Whitewash farmhouse coffee table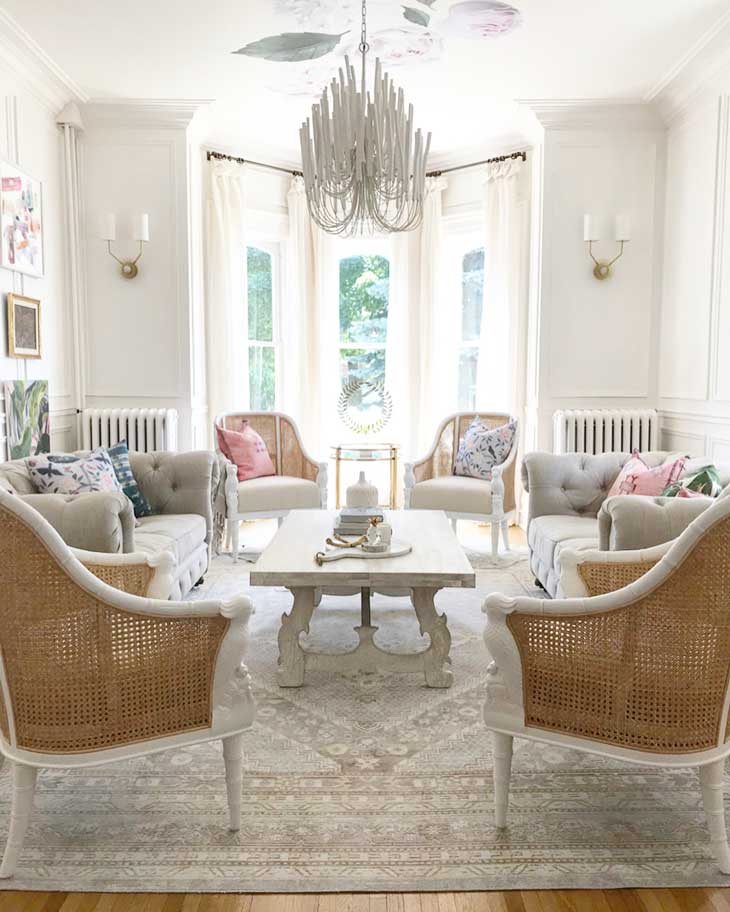 Shop related products:
coffee table // medallion area rug // chandelier // #ad
Pure white sometimes feels too modern when you're going for that farmhouse look. That is why the whitewash effect is ideal for this scenario. If the chipped white table was too rugged for your taste, the whitewash would give you a more gentle, feminine vibe. @thelesliestyle used an elegant, classic-looking, all white, whitewash coffee table that brings tranquility to the color accented sitting area.
Buffalo check coffee table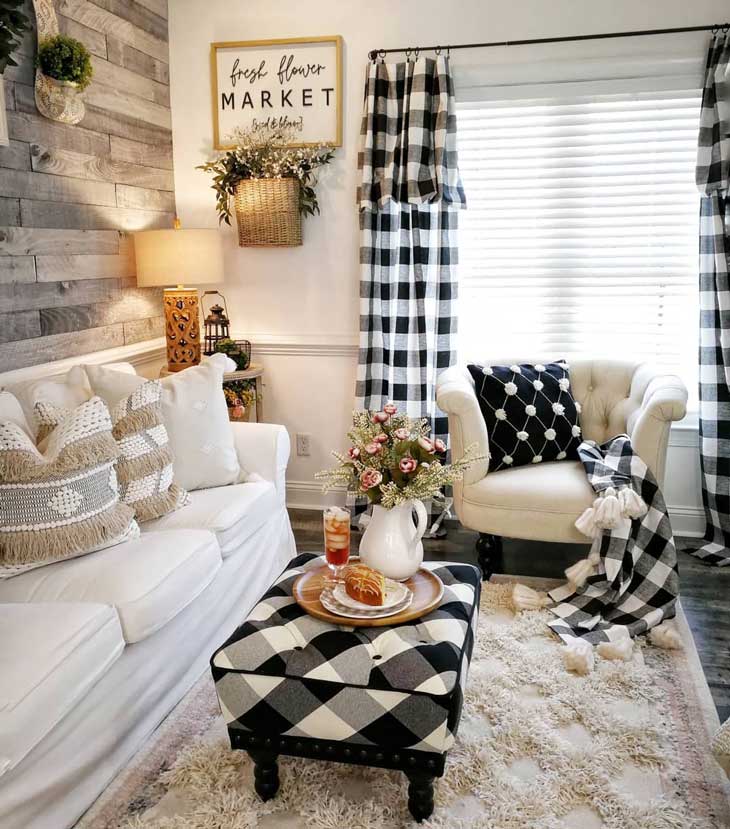 Shop related products:
coffee table // accent chair // buffalo plaid throw blanket // tassel pillows // buffalo plaid curtains // diamond rug // #ad
If you're a farmhouse enthusiast, then there's no avoiding the buffalo check. And if you already have an ottoman like this one, then I have some good news for you. It's a wooden tray away from becoming a cozy farmhouse coffee table. This is a budget-friendly solution when you need both a coffee table and a place to rest your feet. It saves space and adds some pleasant warmth to the room.
Marble top coffee table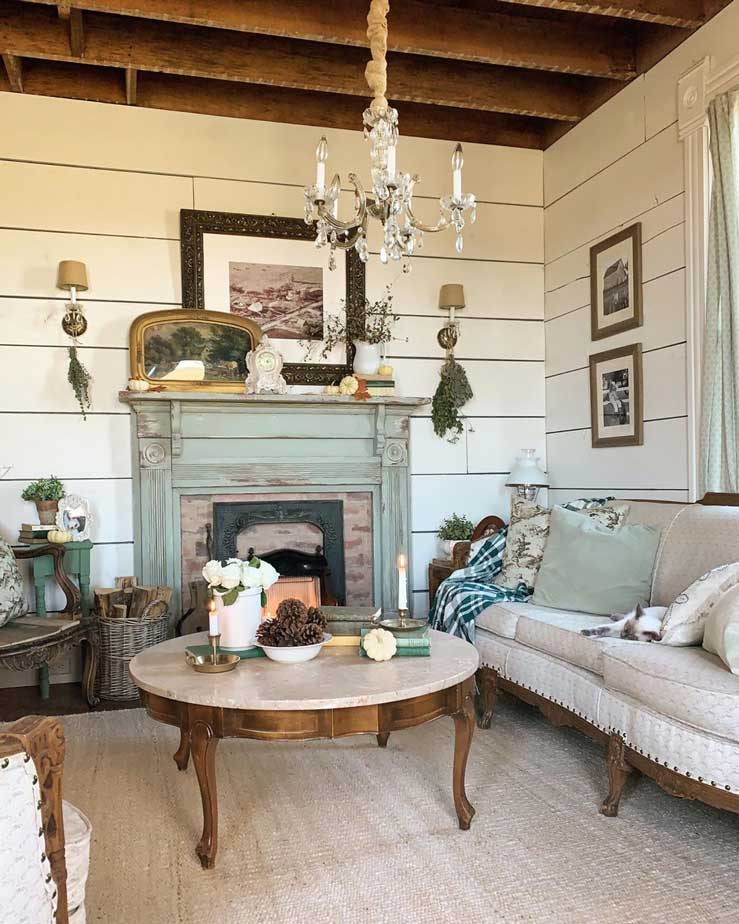 Shop related products:
coffee table // #ad
This round, marble-top coffee table is a very modest yet elegant addition to this beautiful rustic-looking room. The classic wooden legs make it look even more luxurious, and yet, it's an excellent fit for a farmhouse living room. A marble top is also easier to clean than wooden surfaces, which is a big plus. This whole room has so much character, and it's so well put together. The elements, the colors, they all match perfectly. It's the kind of room you imagine when reading a book.
Trunk Coffee Table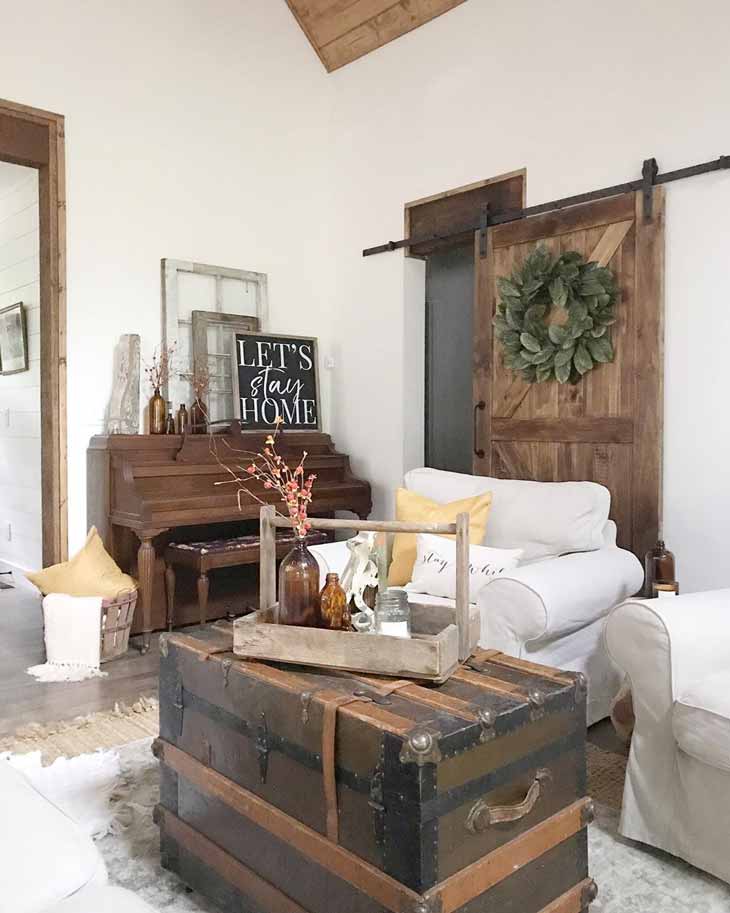 Shop related products:
coffee table // magnolia wreath // barn door // "let's stay home" sign // #ad
This charming 1950s trunk-style coffee table makes an ideal centerpiece for the casual elegance of this warm and livable farmhouse den decor. Complete with worn, supporting leather straps and wooden braces, this rustic coffee table design complements the subtle stylishness of the upright piano from the same era. My vintage feeling for this room is reinforced by the stalwart yet playful barn door nearby. The round-bolstered comfort of the cushy chair and sofa enhances the nubby yarn tassels of the cottage-style rug below and the featured farmhouse coffee table.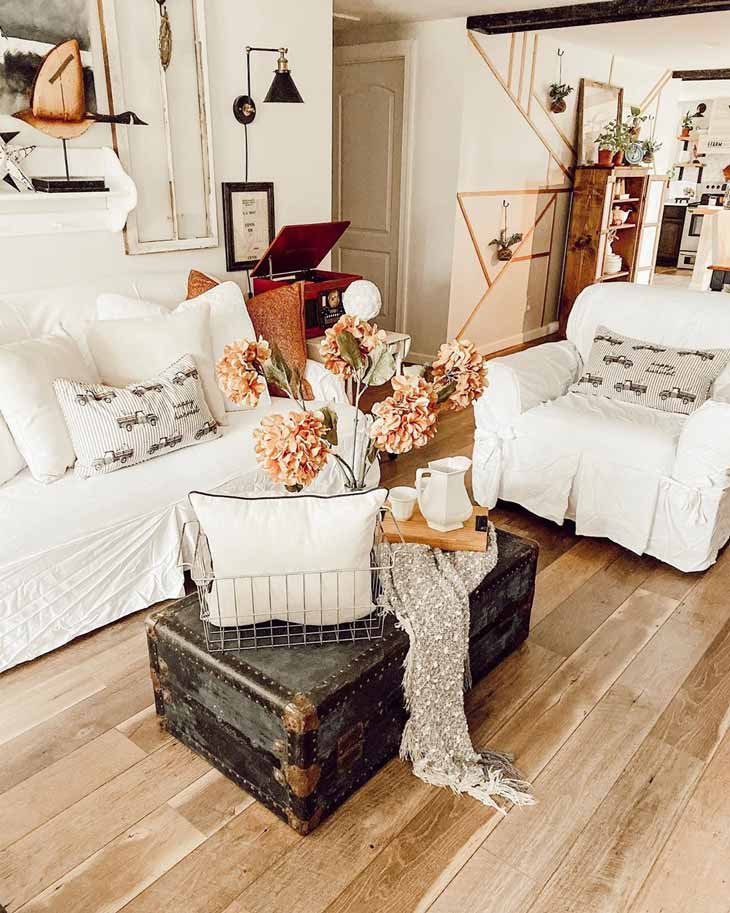 Shop related products:
trunk coffee table // metal basket // #ad
As a stylish emblem of mystery, travel, and intrigue, this streamlined retro trunk used as a farmhouse-style rustic coffee table lends an air of adventure to the open clarity of this enchanting room interior. Its distressed surfaces, brass studs, and decorative brass corner guards pair well with the open metal basket resting on top. The tall dried flower arrangement, stylish tasseled drape, and chop-block serving tray create a still-life image of yesteryear. The appealing farmhouse allure of the retro worn-wood bookcase and flooring add warm character to the crisp white fabric of the couch and chair. A sense of romantic charm is present in the pendant lamp, decorative pillows, and vintage open-top console for stereo and turntable.
Square coffee tables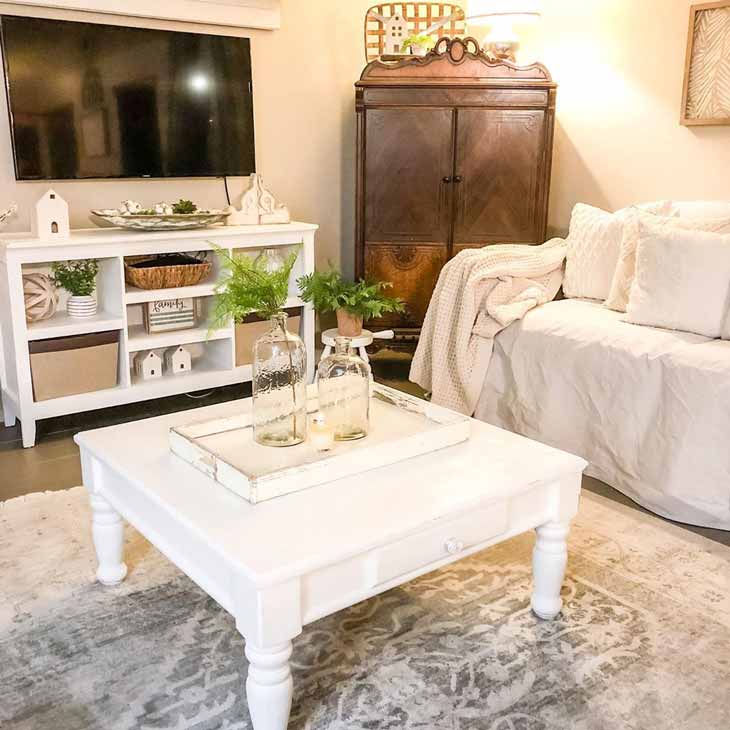 Shop related products:
white square coffee table // whitewashed wood serving tray // tv stand // bottle vases // #ad
This low, square-topped farmhouse coffee table in dazzling white tones offers a strong center-stage focus for this cozy, cottage-style decor. Its sturdy yet fashionably carved spool legs lend a pleasing contrast to the softer, organic presence of the white fabric-covered couch and pillows. At the same time, its square form mirrors the design of the nearby casual white open-front cabinet. The clear glass tray and vintage glass jars with greenery complement the wall-mounted flat-screen TV. From the adjacent corner, a lovely '30s-style decorative wood cabinet adds a taste of bygone luxury and enchantment.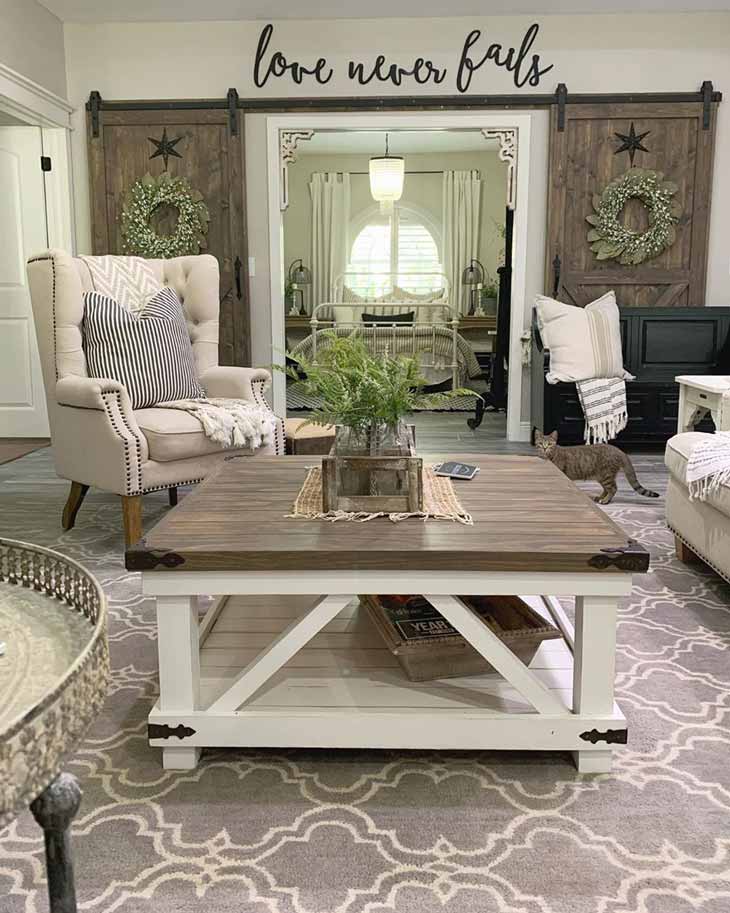 Shop related products:
white and wood coffee table // area rug // accent chair // wall sign // #ad
This attractive square rustic coffee table design brings fresh farmhouse charm and ambiance to a casual modern den. Its smooth hardwood top displaying handsome metal corner hinges sets a style that is repeated on the corners of the open storage shelf below. The table's white-painted structure and shelf exhibit angular supports. The hinges, the angled supports, and the wooden tabletop all complement the rich rustic design and timber of the double barn-style doors leading to the adjoining bedroom. The neutral high-backed chair and couch with decorative throws and pillows add elements of casual-chic allure.
Wood coffee table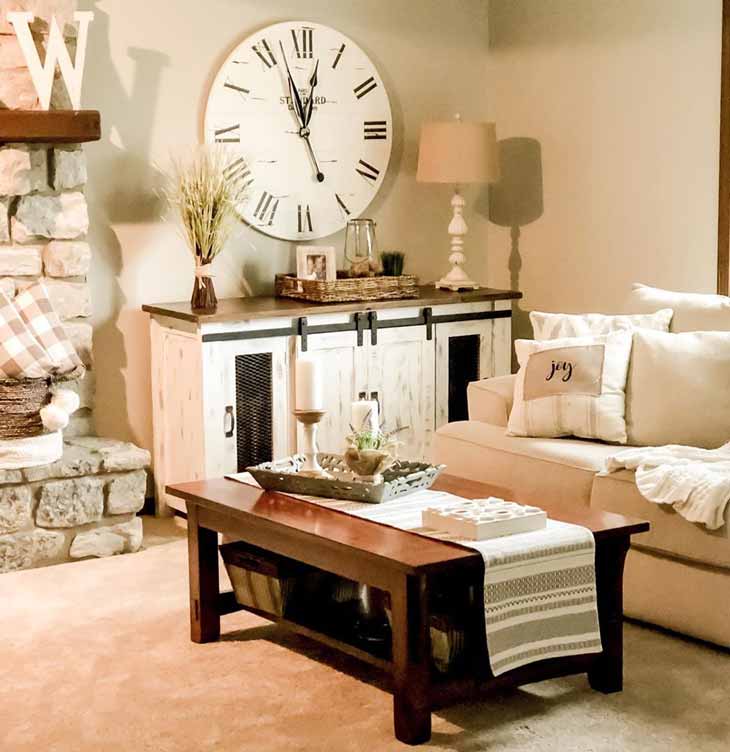 The simplicity of this basic farmhouse wood coffee table anchors the overall stylish cottage comforts of this inviting room. The appealing rough-stone fireplace design emphasizes the strong natural influences of this interior. As a unique fashionable element, the distressed white farmhouse credenza with natural wood top displays wrought iron hardware and cabinet door grating. The rug, woven coffee table runner, and sofa fabric in neutral shades along with the large, crafty clock and its dated Roman numerals add to the artsy, cozy yet chic style of the room. The overall decor, candles, accessories, and featured coffee table breathe a welcoming sigh of relaxing comfort.
Rectangle coffee table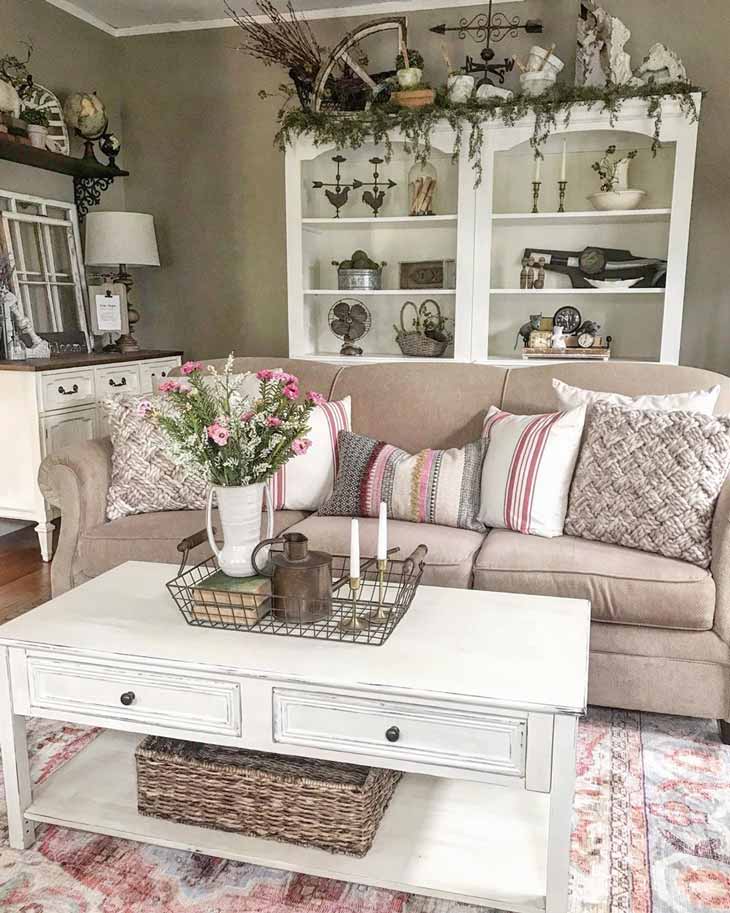 The sturdy double-drawer design of this distressed white rectangular coffee table announces the overall farmhouse comfort radiated by this casual, family-style living room corner. The rough-woven textures of the rug, plentiful couch pillows, and the basket on the coffee table's shelf reflect rich country-crafted quality. This richness is repeated in the wide array of antique objects displayed on the coffee table, cabinets and open shelving behind the couch. Although the dominant color scheme of the room is neutral, the combination of darker and light hues and tonalities sets off the intriguing vintage items on display.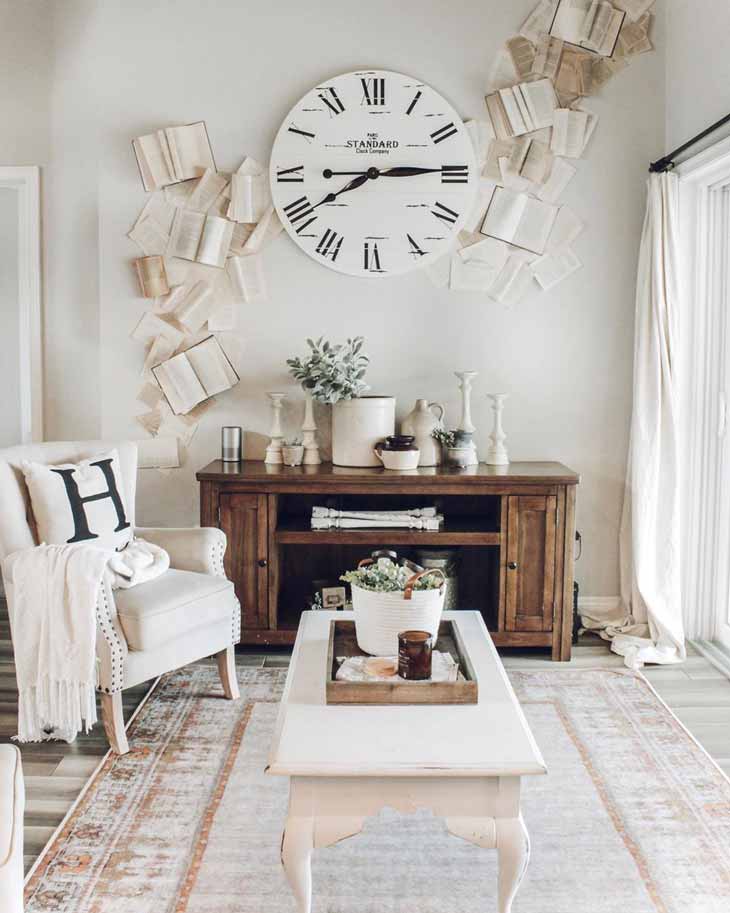 With its antiqued white surfaces and elegant, vintage design, this rectangular coffee table and the nearby plush Victorian-style chair upholstered in a fashionable snow-white fabric create the look of classic ultra-chic. The overstated round wall clock introduces a delightful stylistic contrast with large Roman numerals. Along the nearby wall, the rustic low credenza displays cottage-style pottery pieces, setting the stage for some playful mixing and matching of styles. The icing on the cake is the wall collage installation of open books and assorted single pages in artistic disarray. This is the true essence of shabby chic.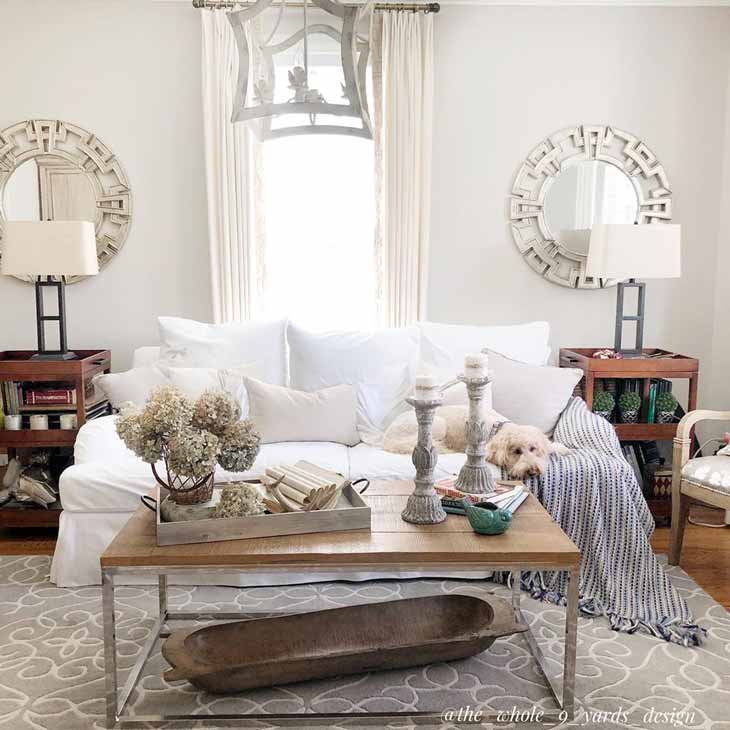 This inviting room's decor exudes stylish comfort that the elegant couch puppy seems to enjoy totally. The minimalist style rectangle coffee table with its simple metal frame and thin wooden-slab top offers a cool, linear base for its display of vintage decorative items and dried flowers. The large antique oblong vessel of carved wood resting on the geometrically patterned neutral rug beneath adds a natural, earthy sensibility.
The elegant French country couch and tall, slender windows with sleek, elegantly bordering curtains—all in pure white—brighten and enliven the entire room with sheer luxury and stylish indulgence. The charming Victorian pendant lamp embellishes the rustic wooden side tables, the modern geometric mirror frames, and table lamps with a dreamy, ornate figurine suspended above.
Metal coffee tables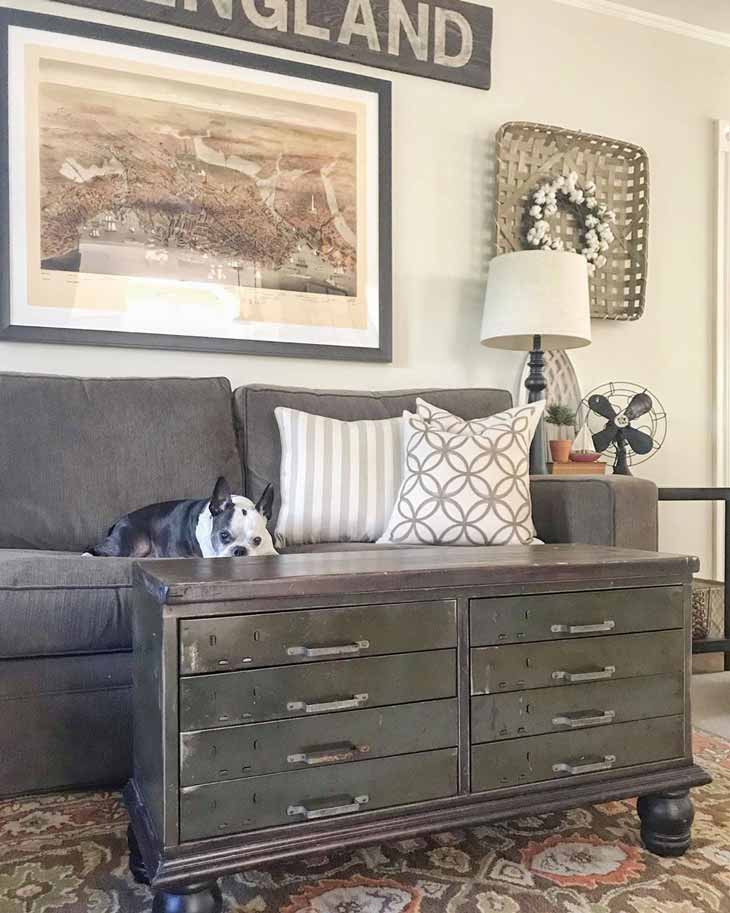 As the room's central focus, this lateral-file-cabinet as a modern farmhouse coffee table design in metal offers a pleasing muted shine to the overall decor. The cozy couch in soft gray fabric frames the table with the ultimate casual comfort. One look at the adorable reclining dog's expression of pure contentment says it all. The floral rug pattern in soft earth tones and the simplistic designs of the pillows, decorative flat basket and floral wreath wall hanging lend a quality of natural charm. The large framed abstract print in muted tones mounted above the couch accents the casual essence of this easy-going interior.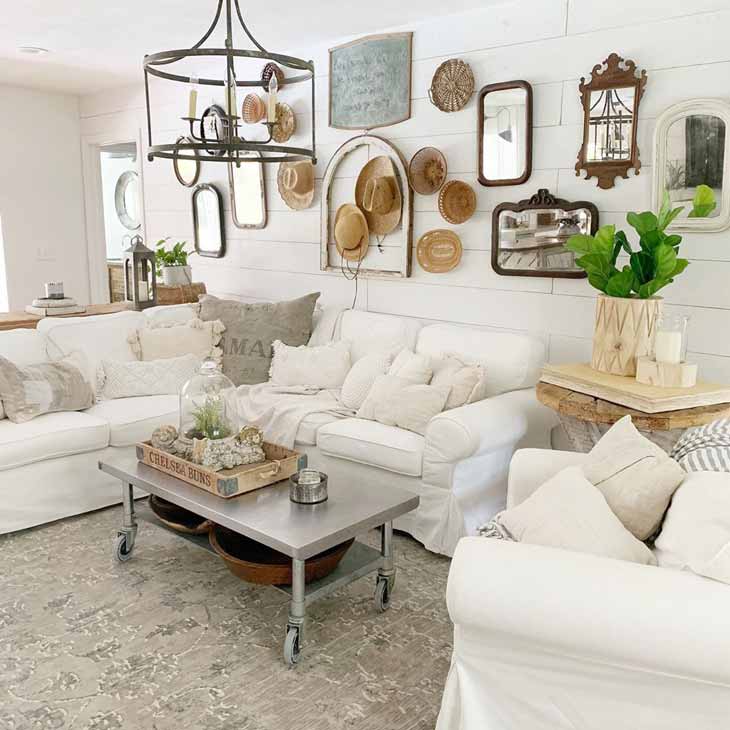 As a mobile but essential item of decor, this simple metal modern farmhouse coffee table design on wheels lends a lighthearted effect to this inviting living room interior. Its open design is decorated by antique wooden bowls on its lower shelf and the elaborate terrarium displayed on its tabletop. The luxurious style of the well-cushioned sectional couch and matching chair in all-white, form a background of the ultimate casual-chic charm.
I can imagine the total comfort of sinking into the midst of this white, "pillowy" cloud of sheer, indulgent pleasure. What keeps the decor active and intriguing is the curious and elaborate wall-mounted display of framed mirrors, basketry, and hats above the sectional along with the simplistic rustic candle-light lamp suspended from above.
Storage coffee tables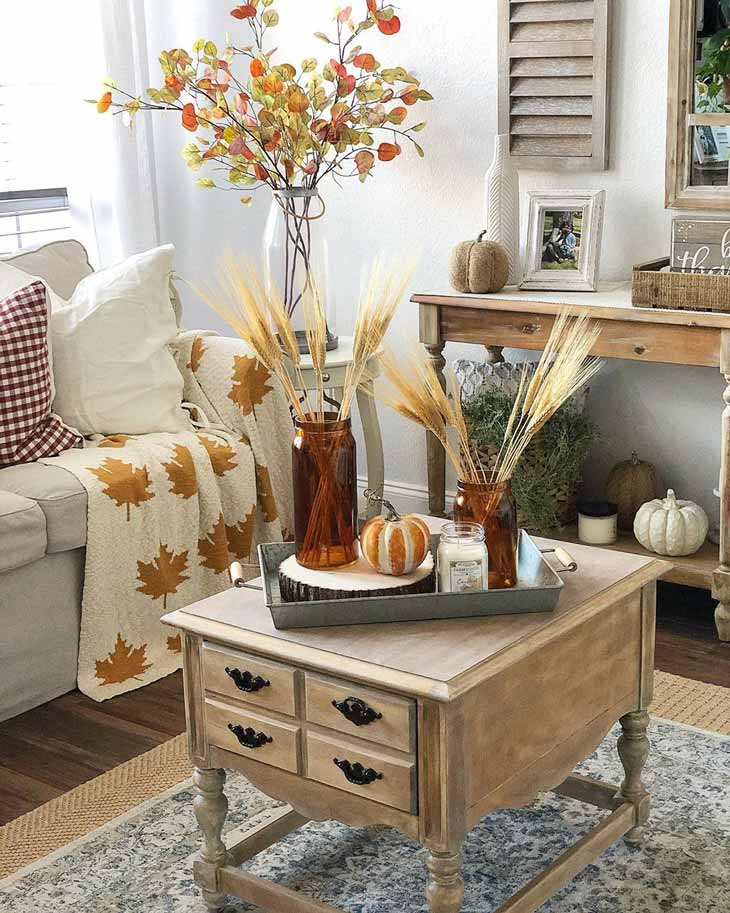 This subtly antiqued, natural, wood storage, coffee table design offers the ideal combination of understated elegance and natural charm. Its elaborate vintage hardware and ornately carved legs accentuate its dated yet compelling style. The four drawers provide convenient storage space for smaller items while adding a sense of mystery. What classic curios might be hidden away just inside this modern farmhouse coffee table concept and design? The delightful tabletop display of vintage amber jars with dried reeds and a colorful gourd in a used metal tray add even more character.
The neutral floral rug design is highlighted by the fashionable maple leaf throw and checkered couch cushion. A vintage natural wood table beyond the coffee table displays more curious gourds, a framed photo, and other decorative effects, giving the room a warm, lived-in, country-cottage feeling.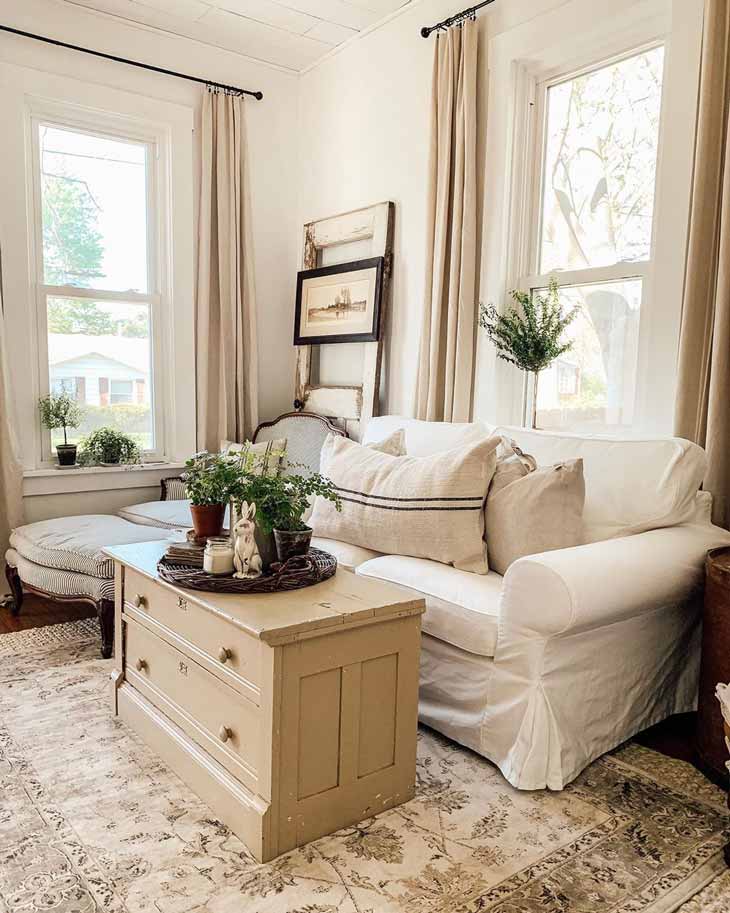 As a chest-style storage farmhouse coffee table, this rustic painted design offers sturdy construction and two spacious drawers for storing items. This room's interior has a soft, natural glow due to its predominantly beige and off-white furnishings. The decor is lit by pure, natural light from tall windows bordered by floor-length, sand-colored drapery. A woven natural vine tray on the tabletop displays an appealing rabbit figurine and several potted plants.
More greenery on one windowsill and a hanging plant suspended in front of the other window add more natural charm. The elegant lounge-style chair and matching ottoman in the far corner reinforce the room's ambiance of organized comfort and style.
DIY Farmhouse coffee table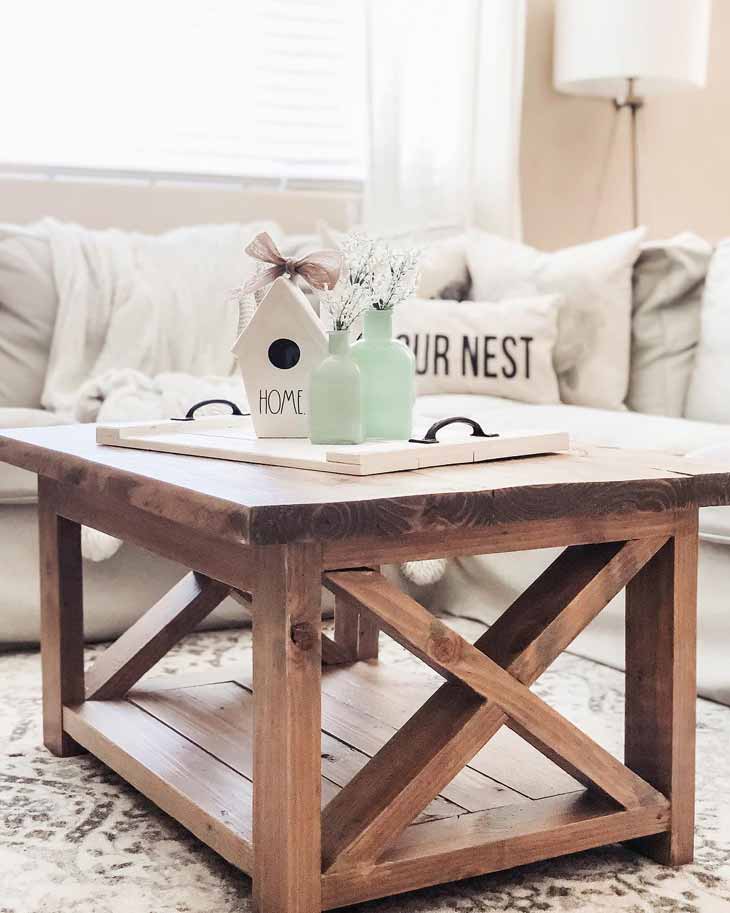 This strongly built DIY coffee table exhibits a simple construction of a rough-hewn wooden design with sturdy cross-beam supports and a lower storage shelf. The tabletop is a rustic wooden slab that displays pure farmhouse charm. The inverted crate-style tray with wrought-iron handles further emphasizes this simple, no-nonsense style of decor. The plain pottery flower vases and birdhouse displaying the word "Home" and the pillow on the nearby couch that reads "Our Nest" add to the homey warmth of the room.
The soft, organic shape of the couch framed by the simple blinds and side curtains of the large window in the background set the tone for complete relaxation and everlasting leisure.