These small laundry room ideas will help you design an efficient space for washing, drying, and folding your clothes. Whatever the size or shape of your laundry room, elevating it into a functional and visually pleasing room will make your daily chores more bearable.
Wash, dry, and fold clothes in style with these small laundry room ideas.
As an Amazon Associate I earn from qualifying purchases.
1. Beautifully designed small laundry room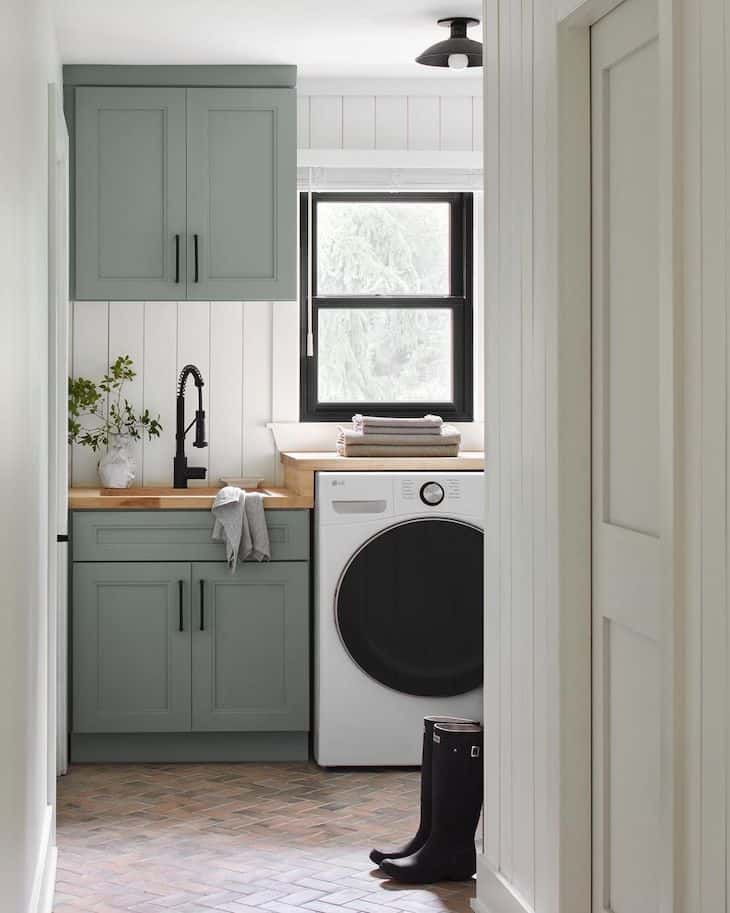 This beautifully designed small laundry room features cabinets in a eucalyptus green color, contrasted with a light wood countertop creating a serene look. The white front loading washer complements the color combination in this laundry room matching the wall color and the contrasting black faucet and window.
We love the sneaky floors creeping attention from the calming green paint color, and the vertical shiplap creating height in this space.
2. Laundry closet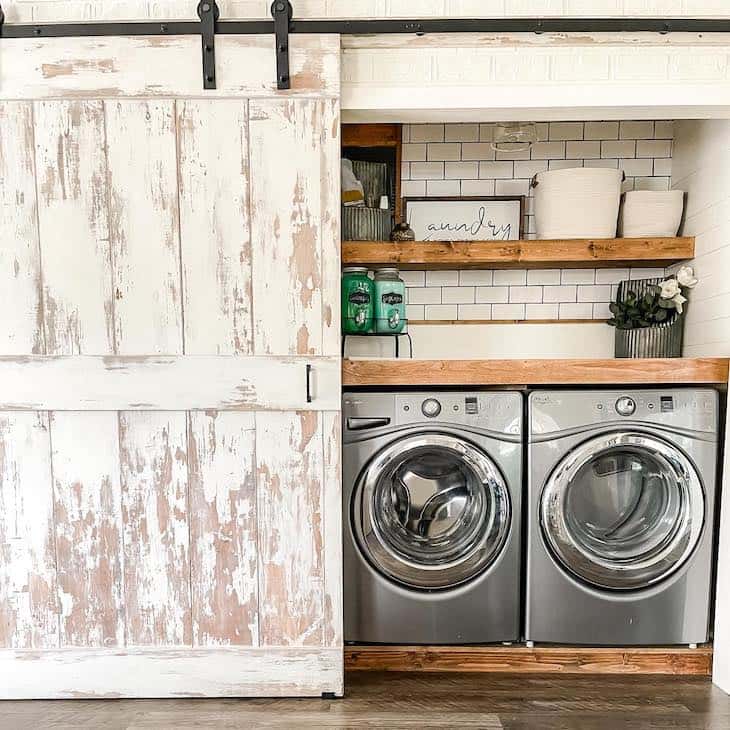 If you have a closet laundry the best space-saving option for you is to have a front loading washer and dryer. Choosing this option allows for a countertop installation as well as a shelving system that will hold decorative baskets and jars filled with laundry and cleaning supplies.
The reclaimed wood barn door is perfect for hiding the area but also for giving a rustic look to this cute laundry room.
3. Laundry room with a stacked washer and dryer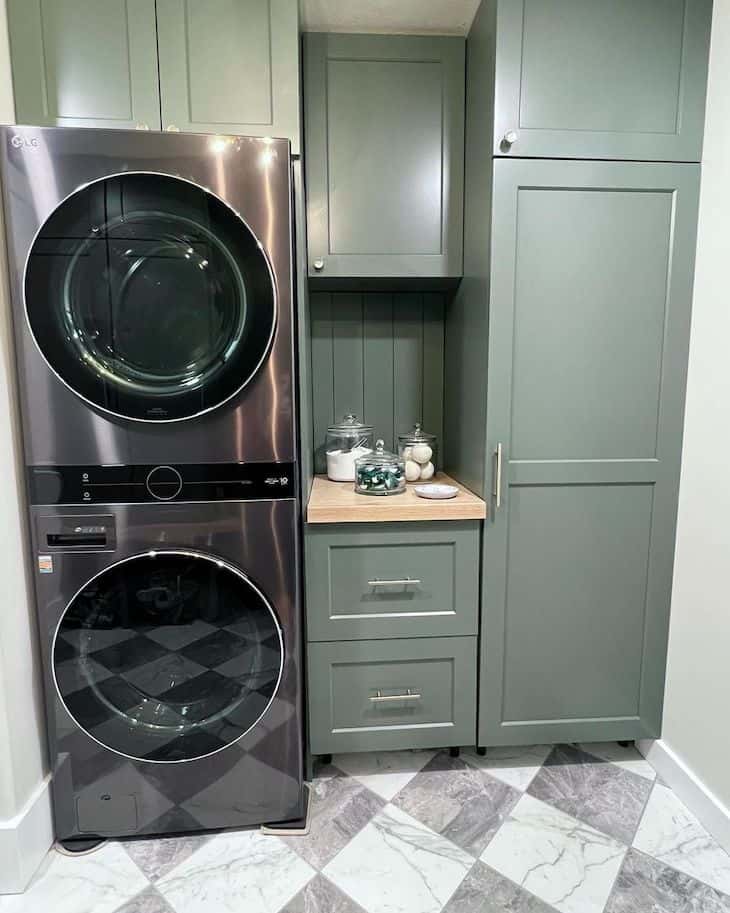 Shop related products(#ad):
LG wash tower //
If you want to maximize your space in your laundry room opting for a stackable washer and dryer is the right choice. On top of that if you want a clean and tidy look get as many cabinets as you can in your laundry room to tuck away all the cleaning supplies and laundry.
Mark and Torrey did a great job in this laundry room with the color combination as well. Choosing a bold green color instead of white to complement the black washer and dryer, elevates the look of their small laundry room.
Cabinet color: Pewter Green by Sherwin Williams
4. Laundry room with accent wall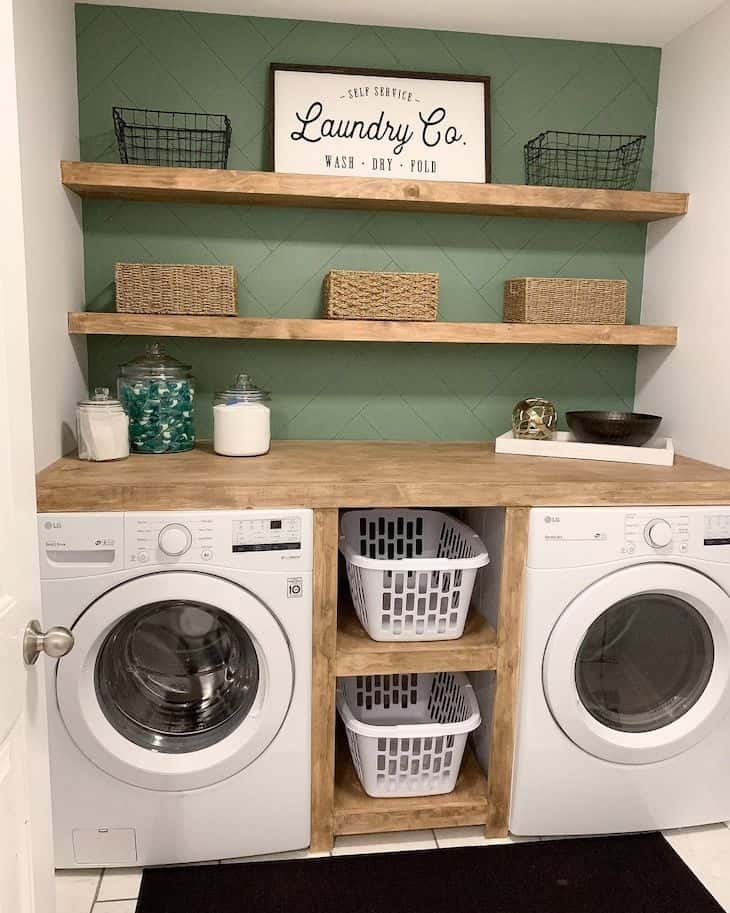 This small laundry room features a custom herringbone accent wall that totally transformed the look of this laundry room. It is made of underlayment plywood sheets 6″ by 24″ long creating a statement look for this space. We love all about this laundry room especially utilizing the space between the washer and dryer.
The shelves above the countertop are a perfect storing space as well as a place to put in some decor. Ashley used wicker and wire baskets that are used both as a storing space and as decor.
Accent wall color: Thai Basil by Behr
Countertop:  3/4" birch plywood
5. Small laundry room with sink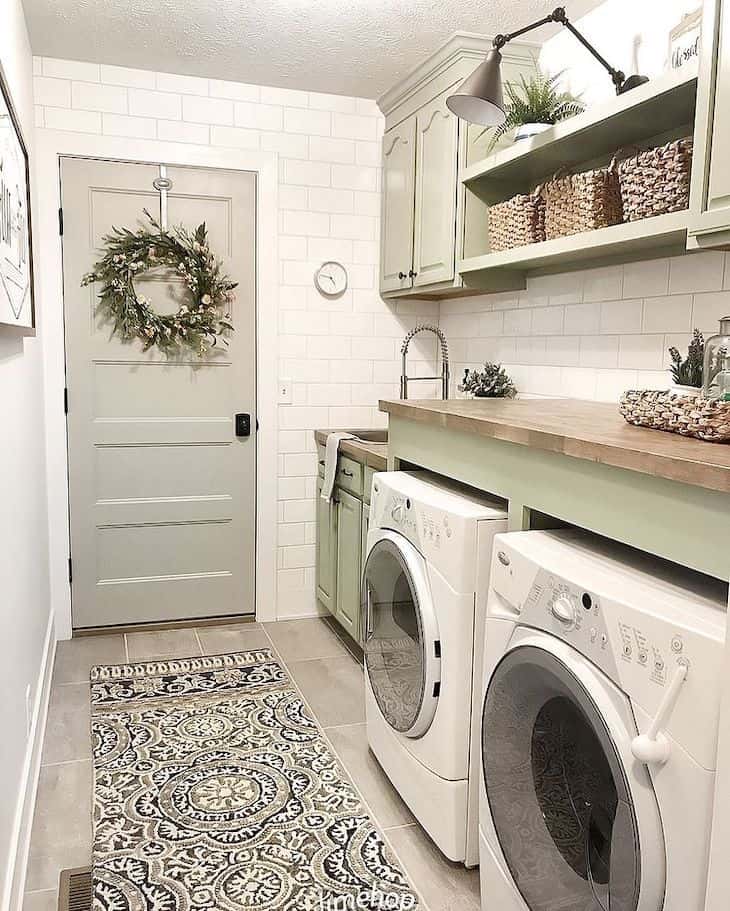 Shop related products(#ad):
rug //
This small laundry room with sink features beautiful sage green cabinets that are complemented by the butcher block countertop creating a beautiful natural palette for this space. This small laundry room has plenty of storage space in the upper cabinets, but also a shelving system above the washer and dryer combo to display decor items like baskets and potted plants.
The ornamented runner perfectly fits this space giving dimension to it with the beautiful pattern.
Cabinet color: Clary Sage by Sherwin Williams
6. Small laundry room in cottage style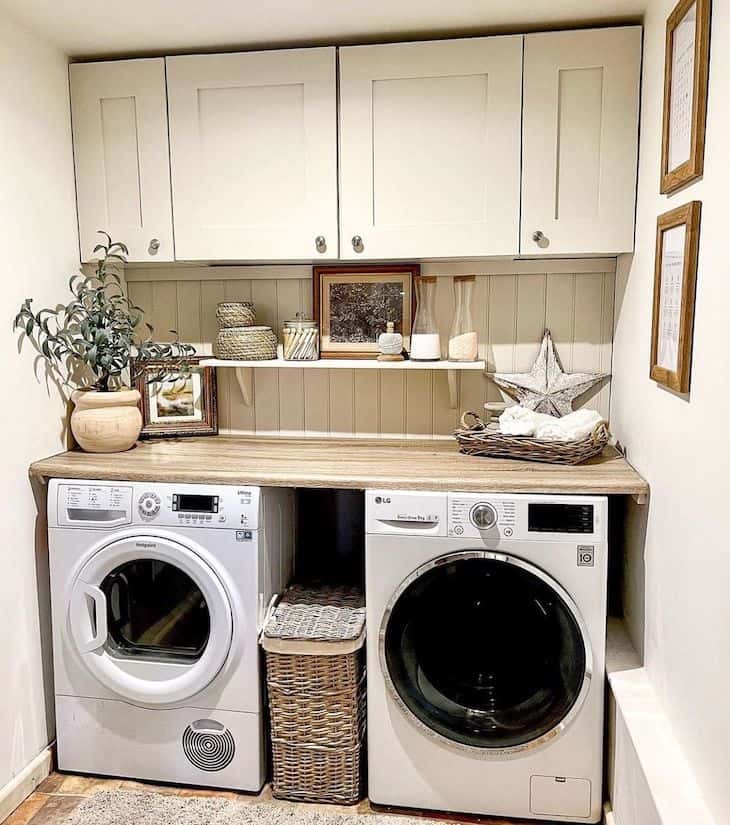 Shop related products(#ad):
In a cottage style, this cozy laundry room features a side-by-side washer and dryer covered with a rustic wood countertop. The tongue and groove paneling on the back wall is a great option for a laundry room thanks to its water-resistant properties and easy maintenance.
The floating shelf in the middle of the wall is a great place for extra decor leaving enough space on the sides for a taller decorative vase.
Cabinet color:  "Ivory Spray" by Johnstone's Paint
Wall color: "Jasmine White" by Dulux
7. Small laundry room idea with brick floor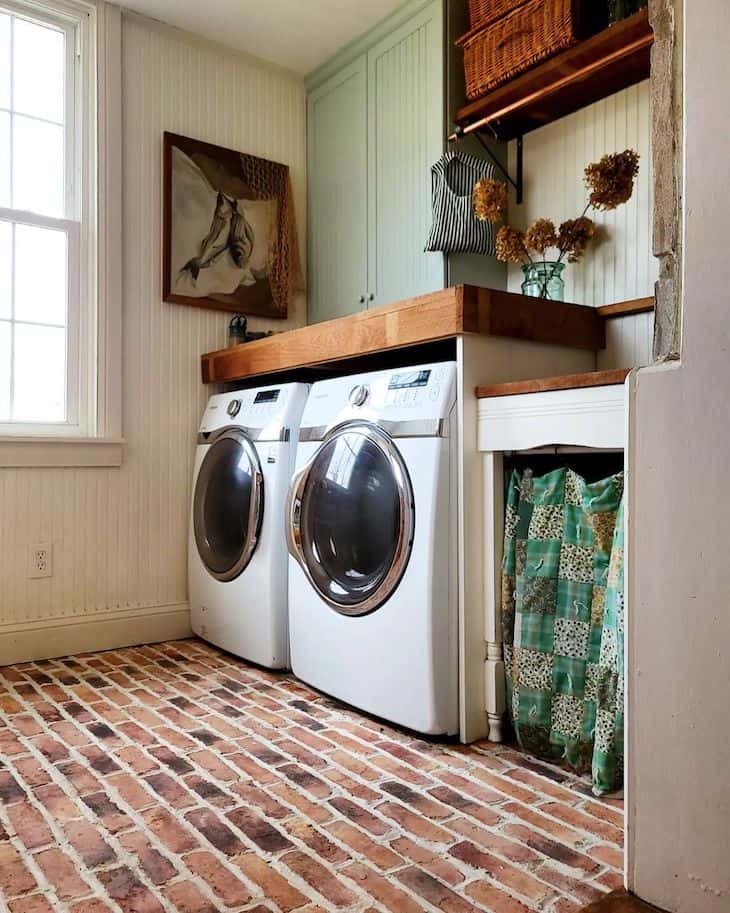 If you want to add some charm to your laundry room start with the floors. This red brick floor gives a very rustic appeal to this laundry space. The front-loading washer and dryer allow for a countertop installation maximizing on storage and display areas.
Adding framed photos and seasonal decor will keep your laundry room from looking too utilitarian.
Brick floor: Koni brand "Old Chicago Ross" thin brick.
8. Pantry and laundry room combined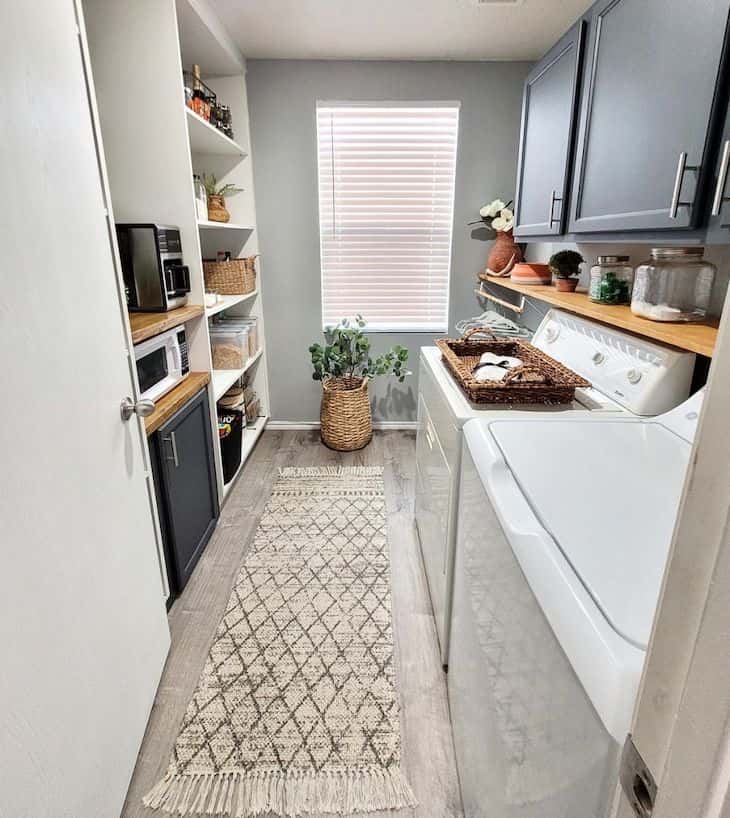 Having a pantry and laundry in the same room is absolutely possible. In practice, it is best to locate this room near your kitchen. You should ensure that the room is large enough to accommodate a washer, dryer, and shelving.
This laundry room placed in the pantry features a top-loading washer and dryer that helps with space-saving in this type of room. You can organize your detergent, dryer sheets, and stain removal spray by installing shelves.
9. Colorful laundry room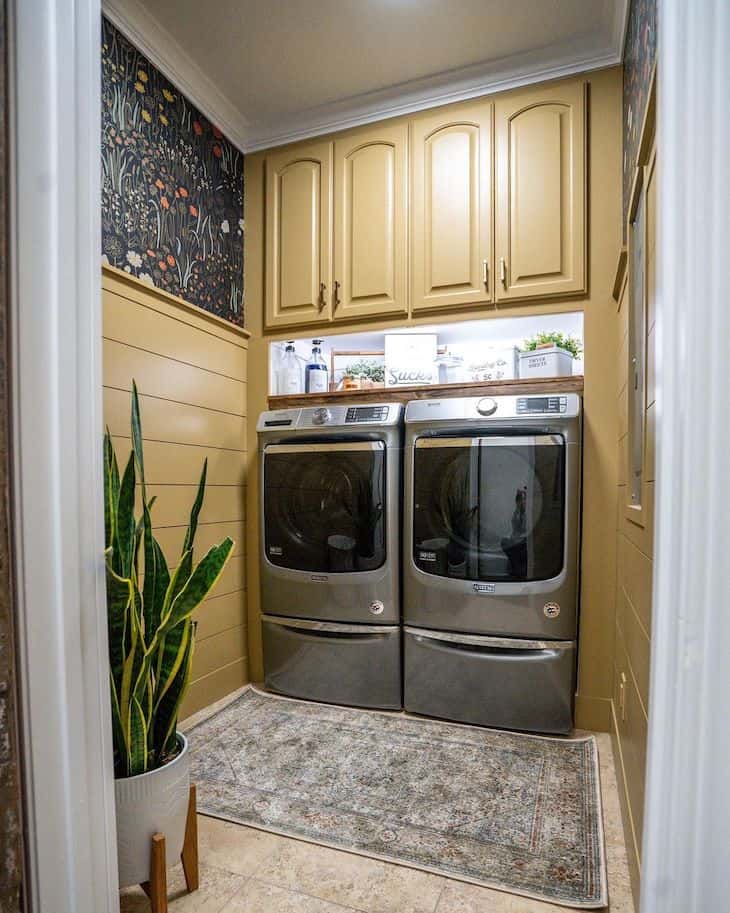 The laundry room is a relatively discrete space in the home, so you can use it to compliment your current interior or to experiment with color, wallpaper, or design you might not consider in other areas.
The unexpected mustard olive hue is working wonders in this laundry room. Choosing the same color for the cabinets as well as the surrounding shiplap walls creates a sense of harmony. Yet, the captivating wallpaper draws the eye up for a dramatic moment, giving this small laundry room a vivid character.
The lit-up shelf above the pedestal washer and dryer provides plenty of storage and display space for seasonal decor. Add a pot of live plants to soothe the overall look and add a natural touch.
10. Small laundry room idea with double washer and dryer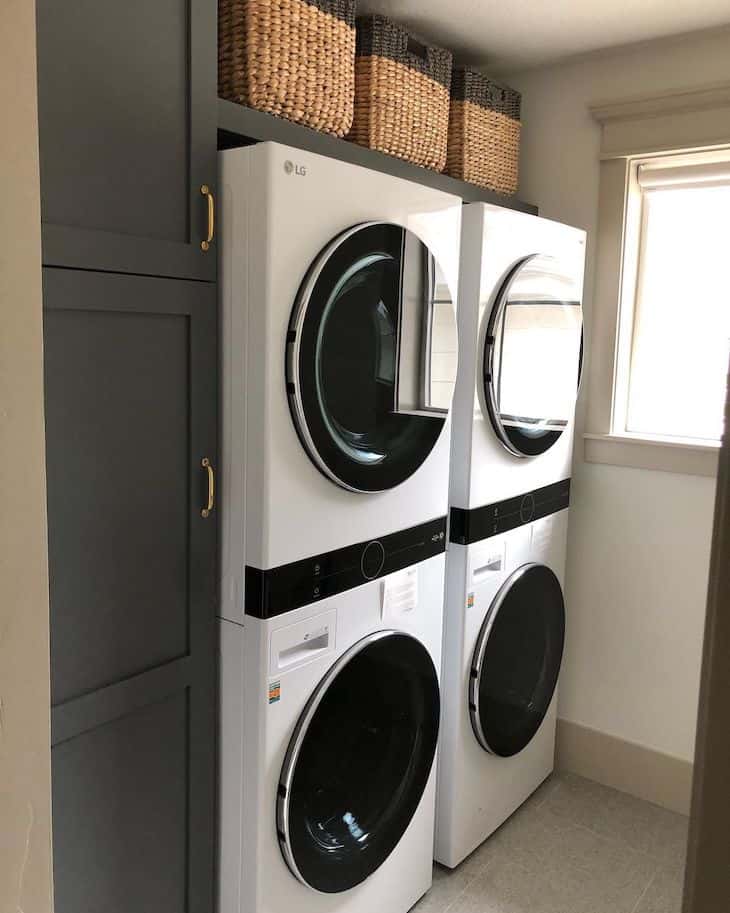 You can turn a small closet into a high-functioning laundry station by stacking washers and dryers that maximize vertical space and free up floor space no matter what size laundry room you have. This laundry room with a double-stacked washer and dryer uses every inch of this small laundry room with high-top shelving filled with baskets and floor-to-bottom side cabinets.