Sherwin Williams Alabaster White is the perfect off-white color that, when incorporated in your living room can help highlight any decor style. This warm white color makes the decor stand out in an elegant way. If you are looking for white color for your living room walls, or even furniture, that is not too cold Alabaster White might be the perfect choice for you. Below we present you with examples of how this color can make the decor in your living room become really impressive.
As an Amazon Associate I earn from qualifying purchases.
1. Sherwin Williams Alabaster white on walls against white stone fireplace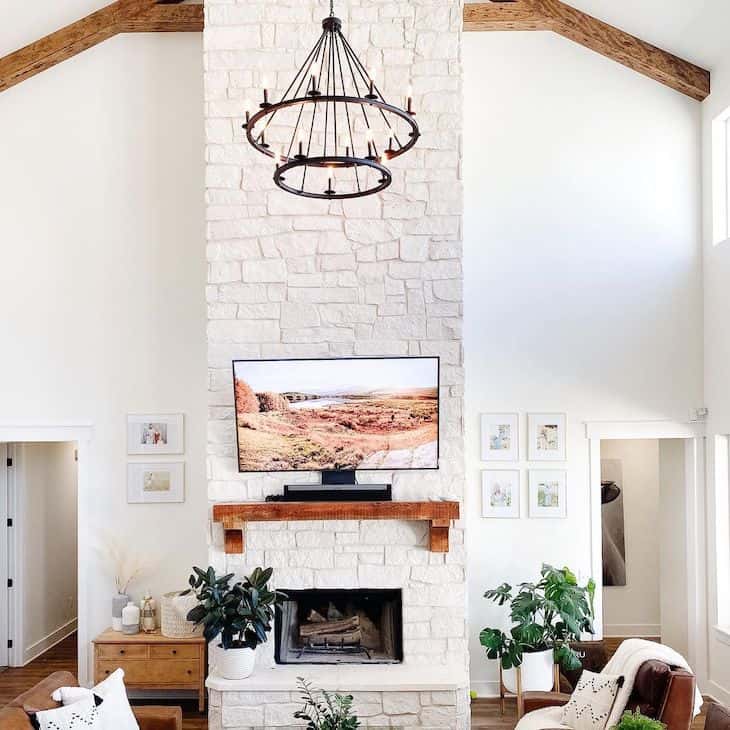 Shop related products:
chandelier // #ad
We Love how cozy, clean, and modern this space is looking with the Sherwin Williams Alabaster White color on the walls. That and the white stone on the fireplace create such a crisp look for this living room.
The stone fireplace extends to the vaulted ceilings that have stained wood beams that draw the eye up all the way to the gorgeous two-tier chandelier that makes a great accent piece against the white walls making this living room feel so grand and elegant.
2. Alabaster White living room walls with stained wood ceilings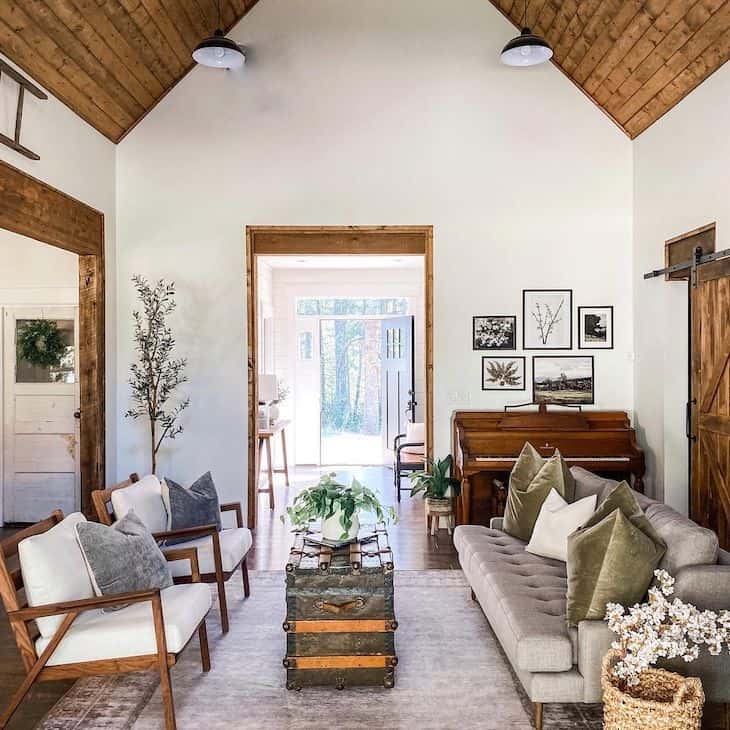 The soft Alabaster White color goes perfectly with the vintage vibes of this space and makes them stand out even more. It also elongates, even more, the long lines leading right into the front entry making the space appear even bigger than it is.
It is the right color for this living room that makes the stain of the wood ceiling and door frames to be striking even more. It makes a place like this that has a lot of color and texture still feel open and airy and not cluttered at all.
3. Alabaster white in a neutral decorated living room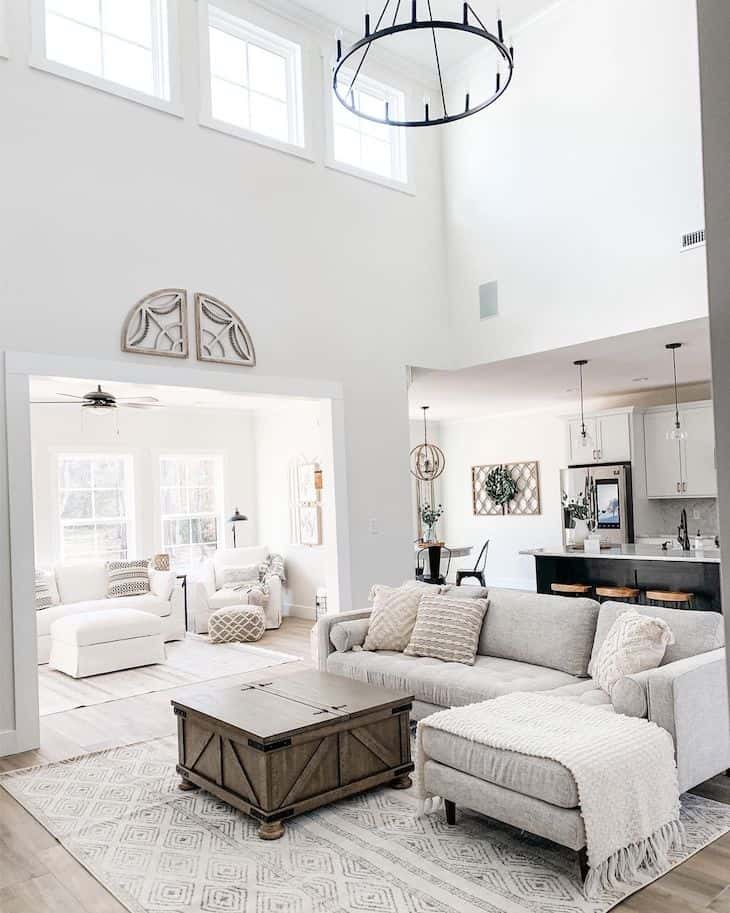 This open concept living room with sky-high ceilings painted in Sherwin Williams Alabaster White has a clean and neutral palette, in which this wall color presents a creamy note. The coffee table that doubles as storage space accentuate this color palette in a seamless way.
The color Simply White by Benjamin Moore adds definition to the trim making the wall color pop and not seem like a flat white, but a really warm and welcoming white color.
4. White brick fireplace in Alabaster color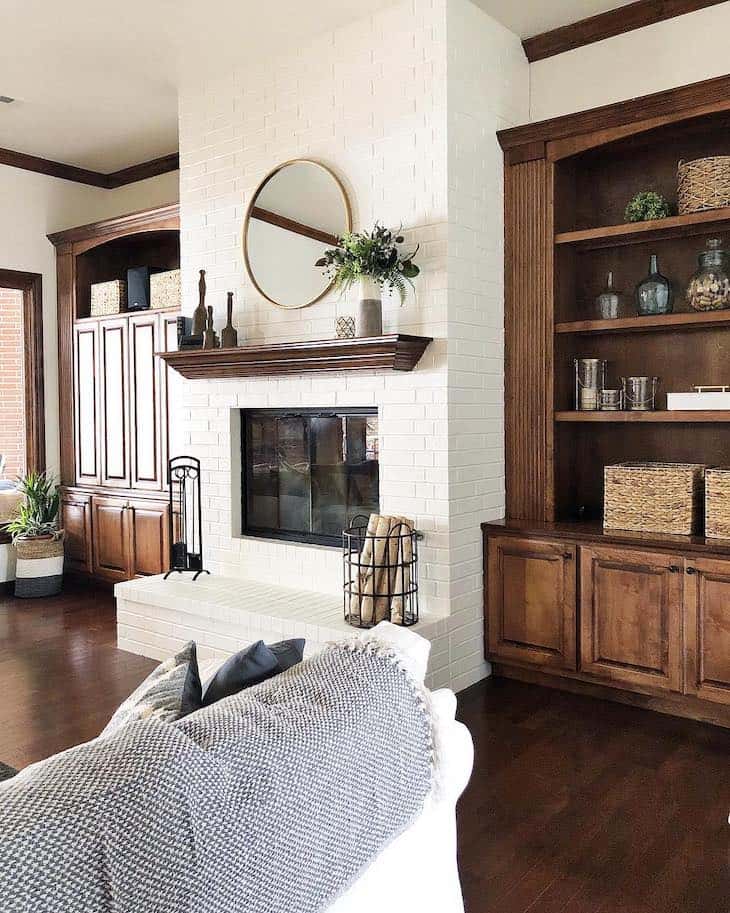 This painted brick fireplace that goes from floor to ceiling is painted in color Alabaster White by Sherwin Wiliams. The creamy white color really makes the beautiful wooden built-ins stand out in all their glory. The wood mantel on the fireplace decorated with seasonal decor really stands out against the white background. This color really gives this living room a classic and timeless look.
5. Alabaster white shiplap walls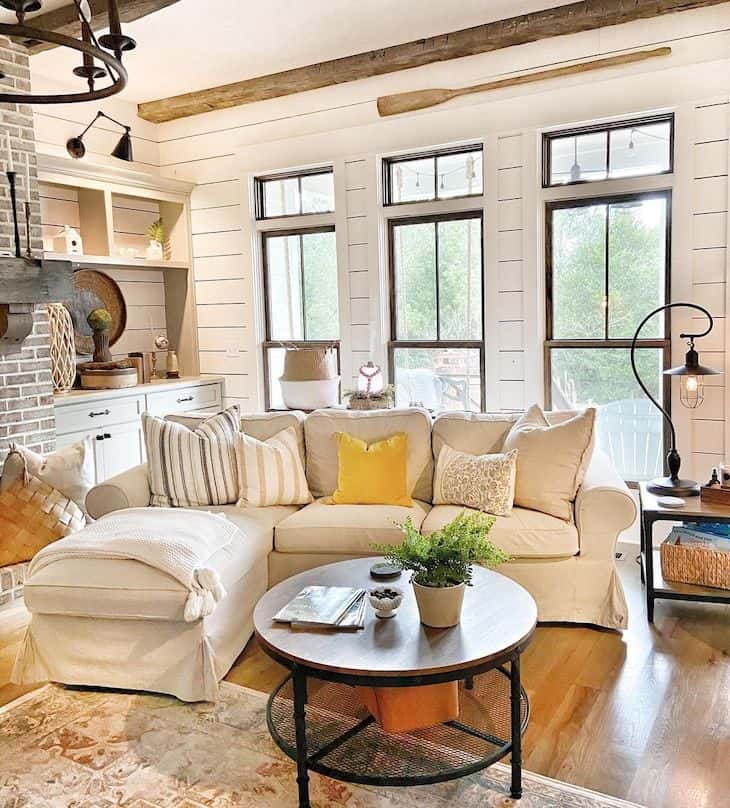 This neutral living room with shiplap walls painted in Alabaster color really gives us farmhouse vibes. The creamy white walls blend perfectly with the neutral decor from the sofa and the built-ins. Complemented with bright colored decor like the throw pillows makes this place maintain a really happy and open feeling.
6. Sherwin Williams Alabaster white walls and built-ins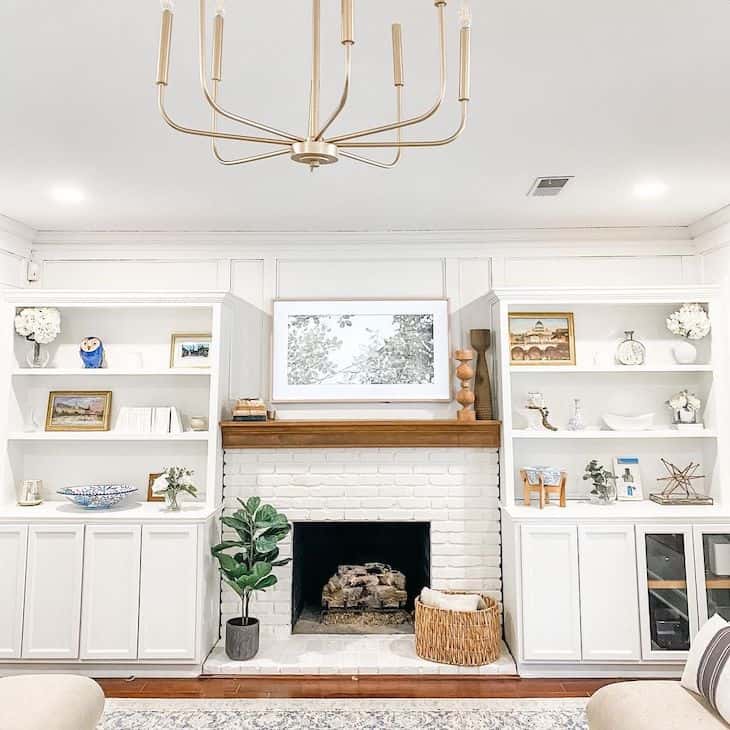 Shop related products:
chandelier // #ad
The transformation that this living room got from painting this wall, fireplace, and built-ins in the color Alabaster is truly astounding. The frame tv really blends in with the decor of this wall making it a perfect place to enjoy and entertain. The white and neutral decor on the built-ins allows this fireplace with wood mantel to be the focal point in this area.
7. Sherwin Williams Alabaster white against black decor elements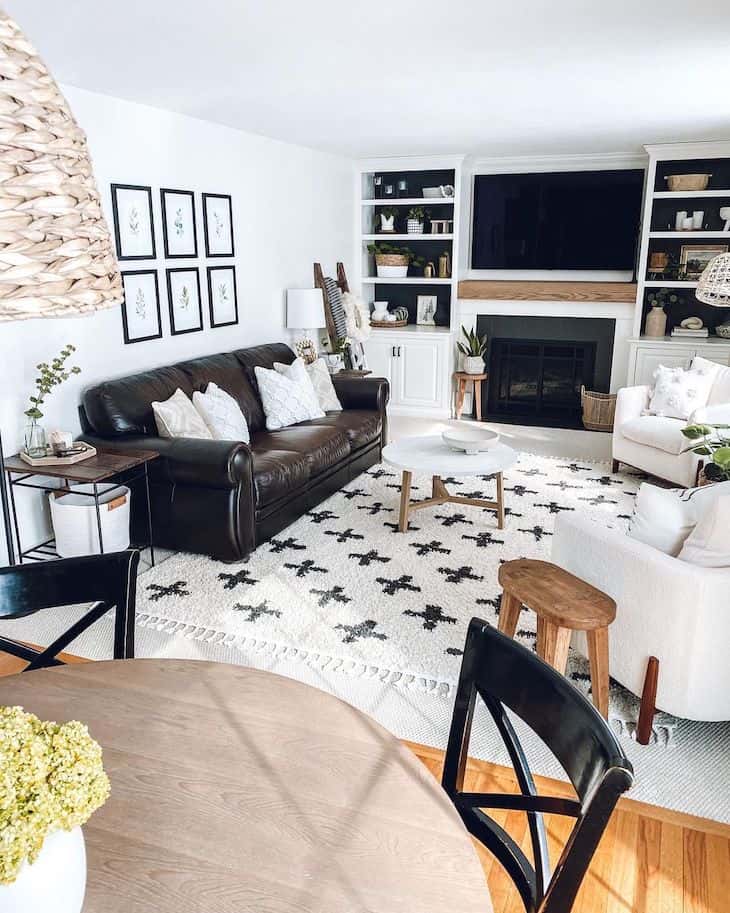 Shop related products:
rug // coffee table // pom pom pillow // blanket ladder // chair // white basket // #ad
The wall, built-ins, and trim are all painted in Sherwin Williams Alabaster White. Alabaster White tends to look different in different lights or with different backgrounds, going from off-white to looking crisp white. And in this case, combined with the "Iron Ore" from the fireplace and the back of the built-ins, it looks like a really bright white.
This wall color makes such a good complement color to the really dark brown leather couch making it stand out in a modern and sleek manner.
8. Alabaster White walls and Simply White by BM trim and built-ins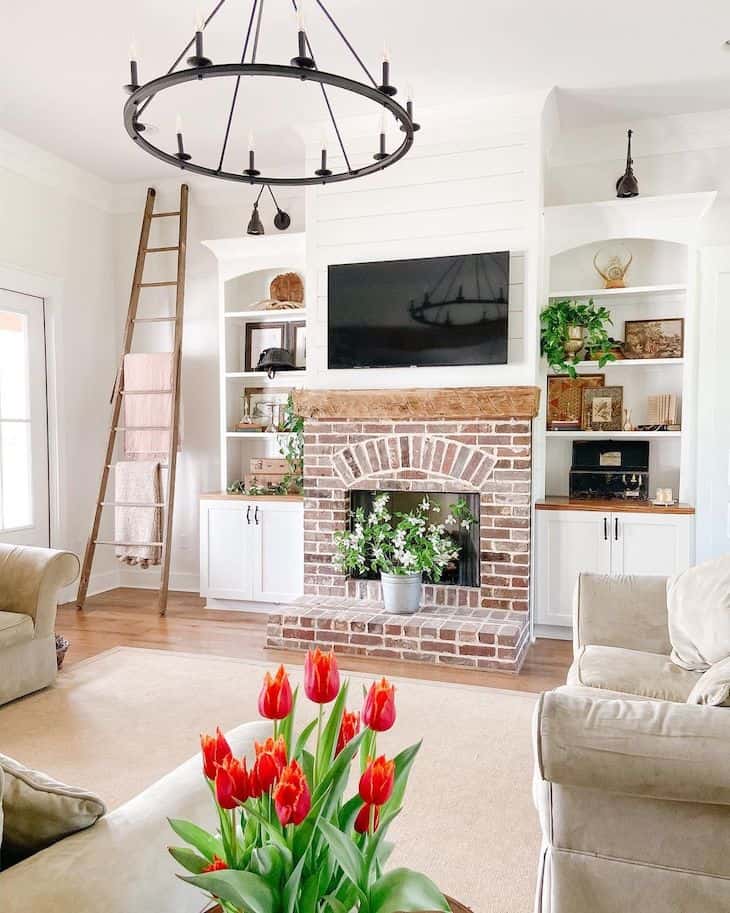 Shop related products:
chandelier // sconces // #ad
The walls of this beautiful farmhouse living room are painted in the color Alabaster White by Sherwin Williams which makes this living space feel so warm and inviting. The trim and the built-ins are painted in the color Simply White by Benjamin Moore and they are a bit crispier white that goes perfectly with the soft Alabaster white color.
Alabaster color is perfect for places like this that have wood and brick elements that give a natural feel. Like for example, this gorgeous floor-to-ceiling ladder that is 100+ years old salvaged from an old cabin or the fireplace that is made from reclaimed brick.
The 12" deep shelves on the built-ins are perfect for displaying colorful decor that complements the white color of this living room, like for example the fireman hat and vases filled with greenery.
9. Alabaster shiplap accent wall vs taupe wall color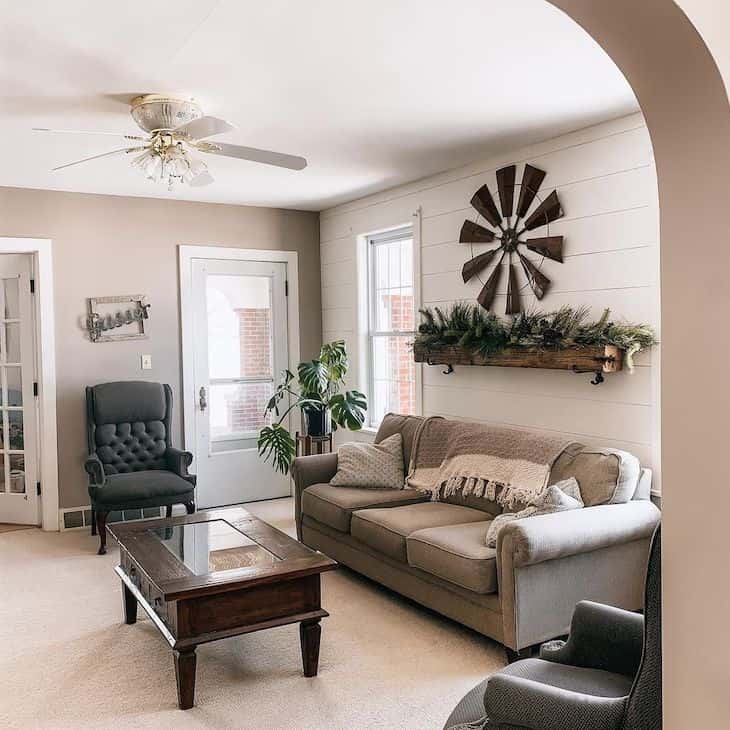 The farmhouse vibes from this small living room make this place seem really cozy and inviting. The warm taupe walls of the living room are beautifully complemented by the shiplap accent wall painted in Sherwin Williams Alabaster White. This shiplap wall gives a really nice contrast to the warm decor flow this living room possesses.
Adorned with the wooden beam used as a shelf and a windmill vane as a wall decor really brings a rustic note.
10. Grey stone fireplace and creamy white walls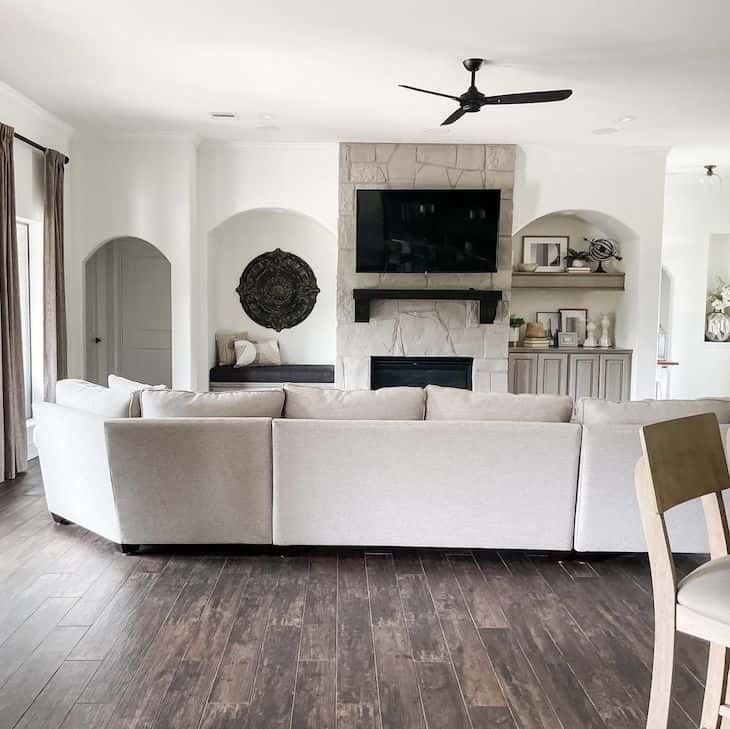 The white and grey tones in this living room work perfectly together, making this living room a comfortable and serene place. The white color on the walls has just enough crispiness to give this grey fireplace a subtle pop and make it stand out in an original way.
The arched built-ins panted in this bright color are a really good background for the neutral decor on the open shelves.
11. Alabaster painted ceilings for bigger and brighter living room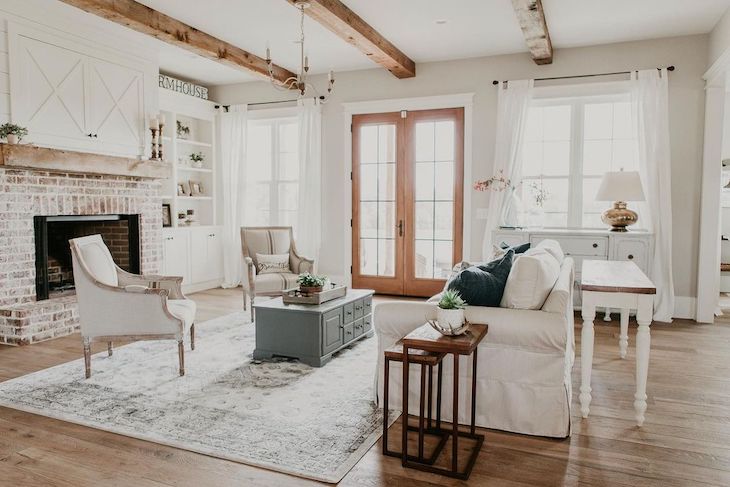 Shop related products:
armchair // console table // rug // #ad
All the natural light that is poured into this living room from the big windows in combination with the ceilings painted in Alabaster White by Sherwin Williams make this space looks bigger and brighter. The reclaimed beams make the ceiling color look crisp white and thus add even more contrast to the creamy-grey wall color.
The built-ins by the fireplace and the shiplap above it are also painted in Alabaster color giving this space color coordination that works in a seamless way.
12. Alabaster white against dark wood floors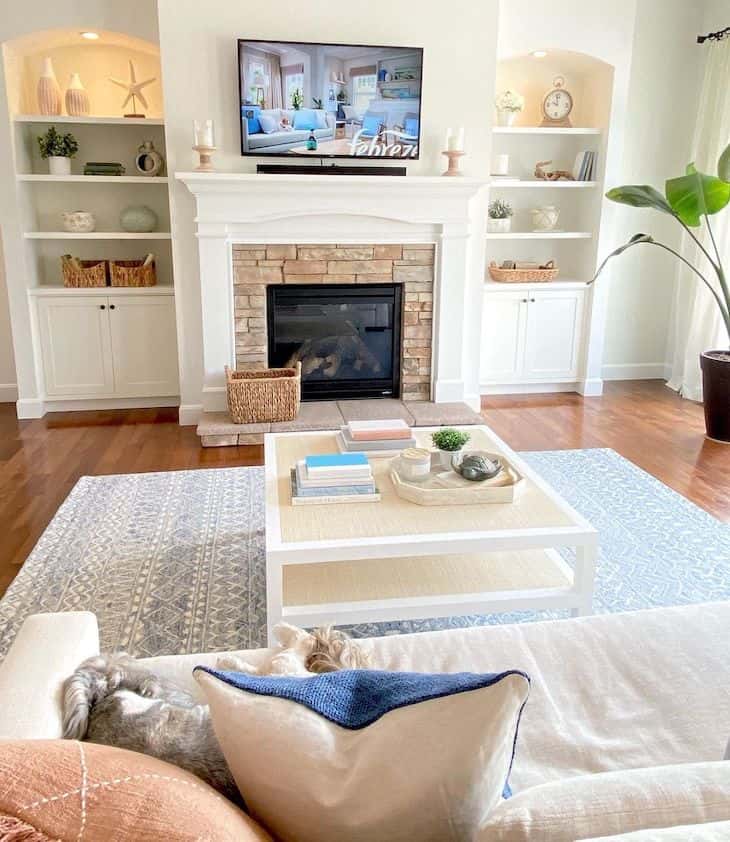 The creamy white Sherwin Williams Alabaster color goes really well with more orangey stained floors and a yellow stone fireplace. This color really gives them a modern mix with a classic feel and making them stand out in a bold fashion.
The open shelf decor against this white background gives this living room a charming coastal vibe.