If you want inspiration on how to decorate and design your farmhouse living room we've got you covered. From modern farmhouse living room space to traditional or cottage style we cover it all. Make your home welcoming and relaxing with a farmhouse living room in warm tones or go with the more cool tones of grey and navy.
An open concept living room gives the farmhouse touch but even if you have a smaller place, including rustic elements and neutral colors can give your living room a farmhouse feel.
Below we give you a handful of examples of farmhouse living room decor that you can incorporate in your own home.
As an Amazon Associate I earn from qualifying purchases.
1. Open concept living room with shiplap ceiling and white beams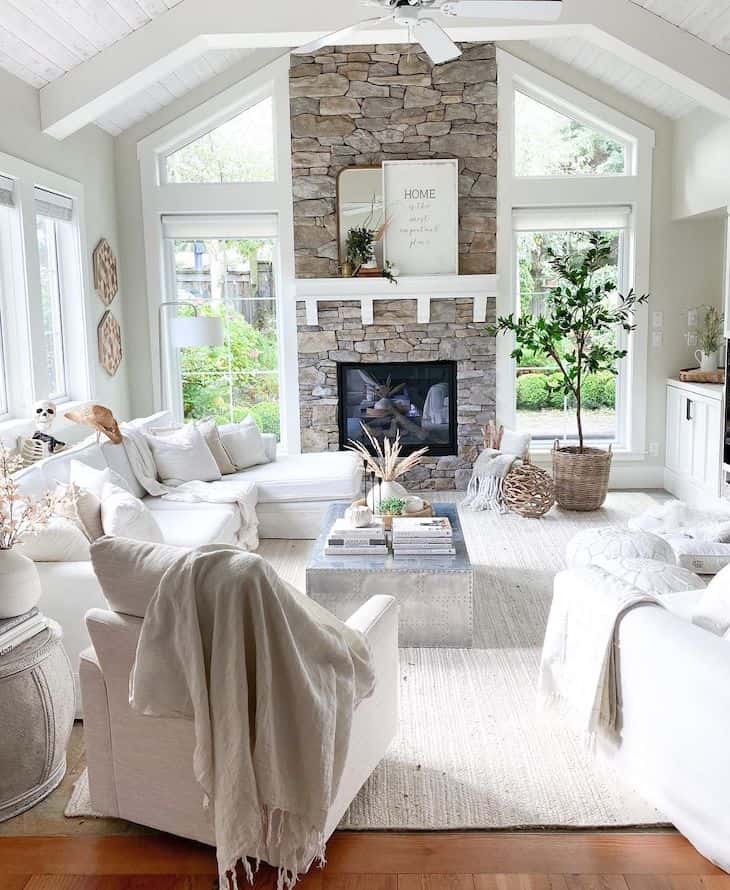 Shop related products:
coffee table // pouf ottoman // serving tray // artificial laurel tree // linen blanket // coffee books // #ad

This living room by the interior designer and stylist Tracey from @remarkablemoderncottage shows that farmhouse style doesn't always have to be rustic. This open concept living room gets plenty of natural light from the floor-to-ceiling windows by the fireplace while providing a beautiful view into the green garden. The natural elements of the stone fireplace bring the outdoor inside. A beautiful rounded edge mirror with a gold frame and a farmhouse sign sit atop the simple but clean design of the white mantel.
The rectangular trunk-shaped aluminum coffee table is the perfect statement piece in this living room. This unique table is decorated with stacked coffee table books and a rustic round tray which blends seamlessly with this living room decor.
The white shiplap ceiling adorned with big white beams brings a farmhouse feel to this living space. And the artificial laurel tree brings a touch of personality and for sure enlivens this space with a bit of greenery.
2. Living room with black accent wall
Shop related products:
ottoman // chandelier // bench // #ad
We love the character that this black accent wall brings to this modern farmhouse living room. Built from shiplap painted in Iron Ore from Sherwin Williams this accent wall draws attention to the angles and the height of the beautiful vaulted ceiling. The dark tones of the wall blend in seamlessly with the natural stone of the fireplace and the dark wood cabinets.
The tufted leather coffee table brings luxury to this living space and the brass metal frame a contemporary aesthetics. The neutral-toned geometric diamond design on the area rug brings together the black and neutral decor of this living room.
3. Cozy living room with different textures and tones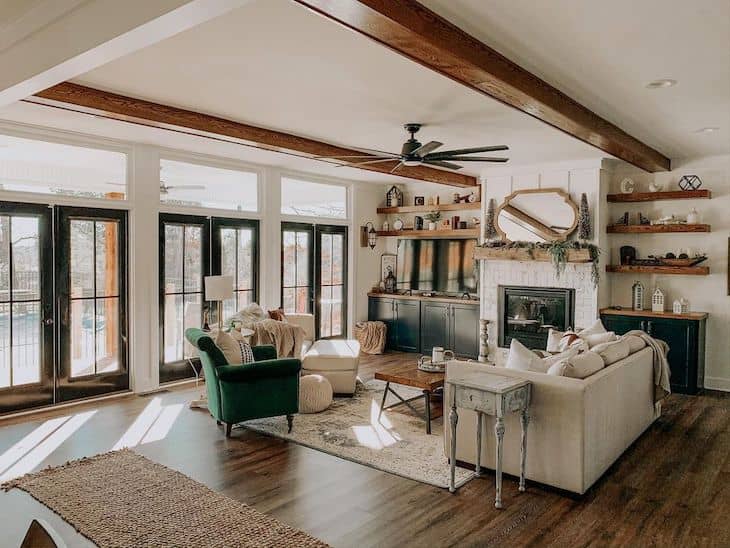 Shop related products:
rug // coffee table // galvanized tray // accent chair // end table // ceiling fan // #ad
Elaine from @ncmodernfarmhousedesign gives an example of how can you create a cozy living space by layering different textures and tones to warm-up your space and make it inviting. Her living room is flooded with light from the set of french doors, thus using darker tones in her decor, like the dark wood floor and the cabinets on the fireplace wall do not overpower her living space. The wood beams complement the open shelving around the fireplace as well as the solid wood on the coffee table and bring rustic charm.
The living room look is livened up by the emerald green accent chair, and the oriental rug gives this room a touch of traditional appeal. The shabby end table elevates the look with vintage charm. This incredible space is anchored with the beautiful distressed piece of wood acting as a mantel.
4. Modern farmhouse living room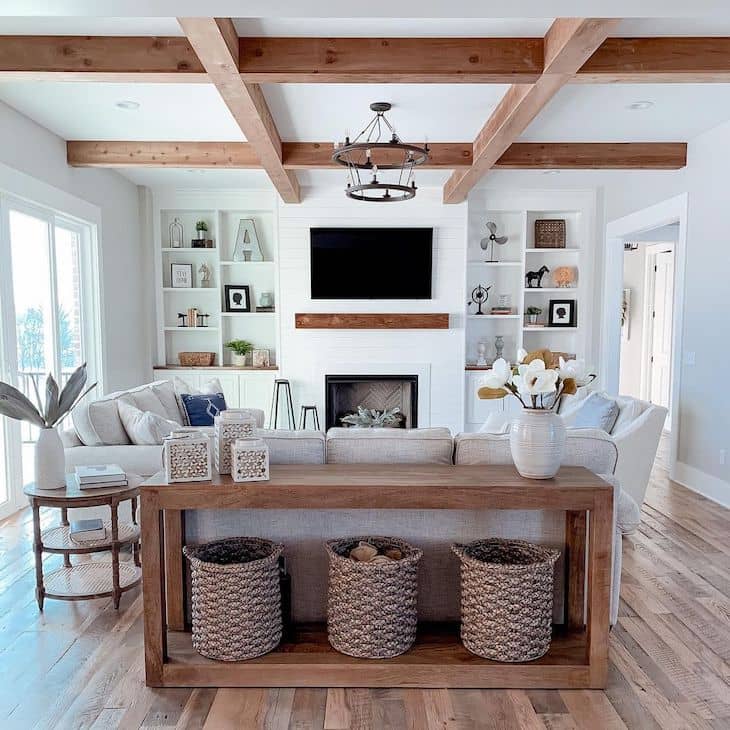 Shop related products:
console table // round end table // storage baskets // chandelier // #ad
This modern farmhouse living room is both sophisticated and comfortable. The cedar beams on the 10ft high ceilings coordinate so well with the wood mantel on the white shiplap fireplace. We love how all the wood tones in this living room harmonize so well.
From the white built-ins to the three-tiered end table and the reclaimed wood console/sofa table this living room has an abundance of space for organizing and displaying items. The console table is filled with decorative baskets that both are easy on the eye but also a good spot to place your household essentials and other knickknacks. The open-top on the baskets keeps the contents accessible but at the same time keeps them away for added neatness.
The Repose Gray wall color blends so well with the warm tones of the cedar beams and the hardwood floors and creates a sense of calmness in this space.
5. Traditional living room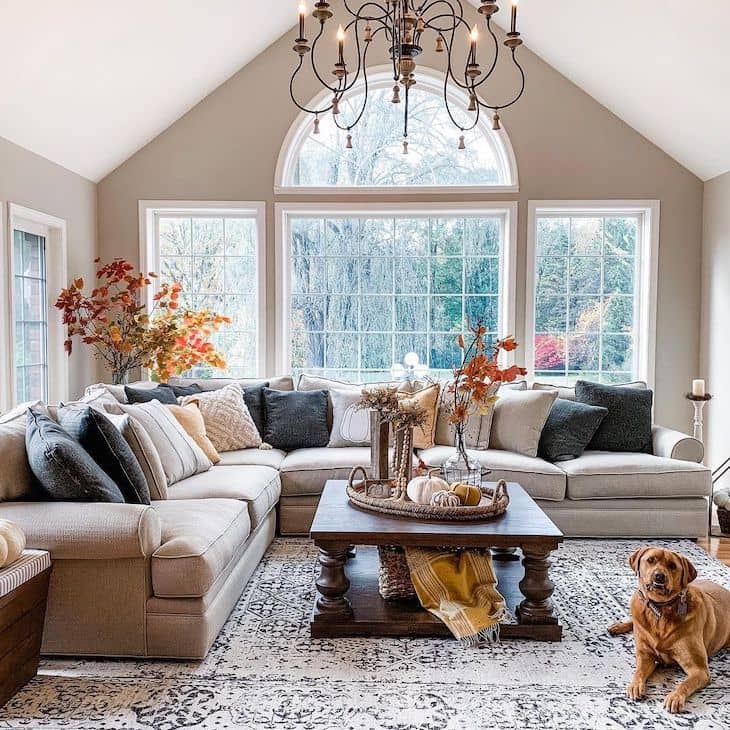 Shop related products(#ad):
This living room with a beautiful view of the willow trees in the backyard feels so majestic. The Revere Pewter by BM wall color brings a warm feeling to this serene space. A great natural light is essential for any living space and this room gets plenty from the panoramic windows.
The dark wood square coffee table offers plenty of space for displaying your favorite seasonal decor and the bottom part can be used as an additional storage space. The coffee table as a statement centerpiece sits atop a beautiful area rug with neutral and blue tones that complement the warm tones in this living room decor. The neutral-toned sectional features numerous throw pillows that bring in the cozy factor in this room.
6. Black and white farmhouse living room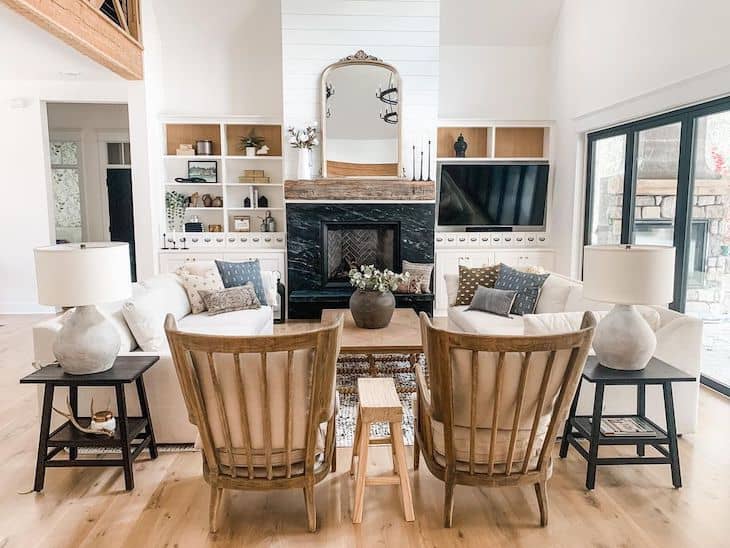 Shop related products:
sofa // vase // end table // table lamp // pillow // mirror // #ad
The shiplap paneling on the fireplace is one of the easiest ways to bring farmhouse style into your home. In this living room, the soapstone-covered mantle offsets the shiplap to create a contrasting feel. The white built-ins around the fireplace have big drawers made to look like an apothecary drawer bringing vintage and traditional into this living room decor.
The double white couches facing each other make perfect symmetry in this layout. The continuance of the symmetry layout is also achieved with the chic and functional double-end tables that come in a rectangular shape. The two-tier design on the end table allows for the decorative lamps to be set on top, while the lower tier allows for additional storage space.
The oak frame in a light finish of the tall backrest armchairs goes perfectly with the Chantilly Lace by BM wall color. And the grey-colored decorative vase placed on the coffee table unites the whole living room decor.
If you want to see a Christmas tour of this beautiful home of the designer Bonnie Ryan from @boulderparkfarmhouse you can check our post here.
7. Farmhouse living room with navy blue sofa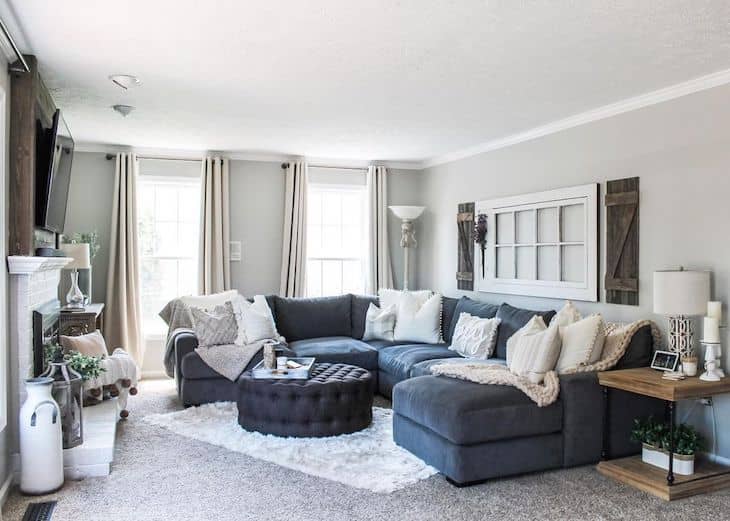 Shop related products:
sectional // ottoman // curtains // end table // window shutters // chunky knit // milk can // #ad
This cozy, comfortable farmhouse living room features a modern, mixed with farmhouse vibes. The neutral grey color theme makes the sofa stand out and makes it a signature piece in this living room. Instead of a coffee table, Nicolle used an ottoman in a welcoming oversized profile which can be used to display some favorite magazines or rest your feet. And the square end table offers a stylish design and ample storage space as well.
The floor-to-ceiling blackout curtains in a beautiful neutral color enhance this living room in a sophisticated way. And the wall decor behind the sofa brings a farmhouse touch to this space. The reclaimed rustic wood shutters and the window used as wall decor are perfect for achieving that farmhouse decor feel.
8. Small farmhouse living room decor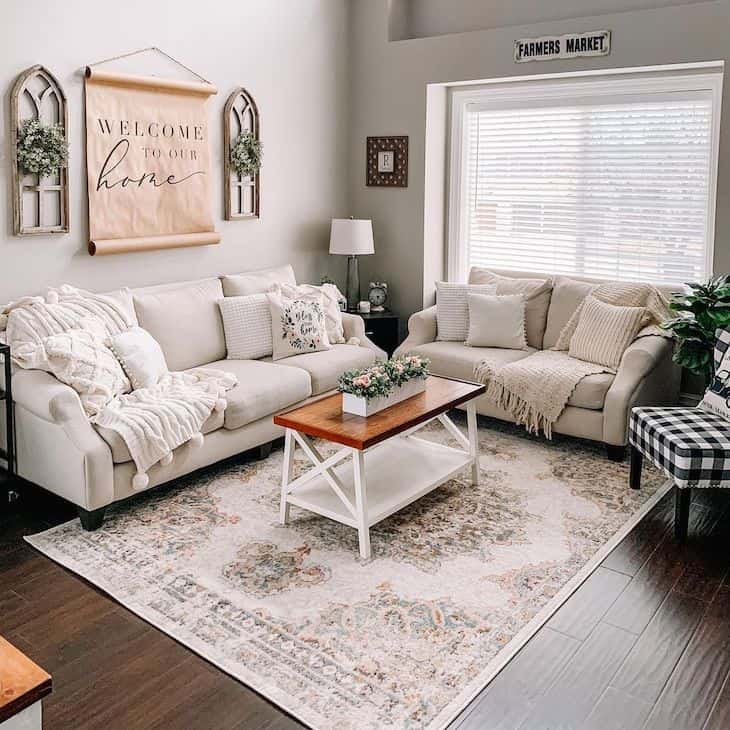 Shop related products:
rug // coffee table // blanket // pillow // spring pillow // #ad
This small farmhouse living room is filled with light neutral decor pieces to contrast the dark hardwood floors making the room feel more spacious. The sofas are adorned with numerous throw pillows and blankets for achieving the cozy, comfortable feeling you want for your living room.
The beautiful farmhouse coffee table is used to display seasonal decor, in this case, a wood vase filled with greenery and flowers for spring. A unique touch to this decor is added with the oriental area rug that brings this whole living room decor together. The farmhouse wall decor behind the sofa complements perfectly the x frame farmhouse coffee table.
9. Blue gingham accent living room decor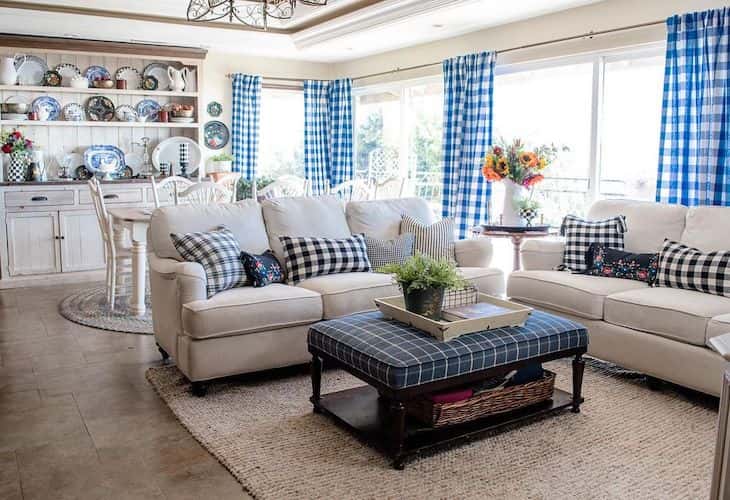 If you want to bring color into your living room decor but deciding to buy a colorful sofa is too big of a step for you, adding a color through decor accents like throw pillows or colorful curtains is the perfect way to go.
The colors in this beautiful cottage-style farmhouse living room echo the colors of nature. The gingham/buffalo check theme stretches from light blue gingham for the curtains, black for the throw pillows to navy blue for the ottoman coffee table. This is a perfect example that it is not necessary to match the colors to perfection to achieve a beautiful and synchronous look when using color. The decor is additionally freshened up with a rich bouquet of flowers placed on the round end table between the two couches.
10. Farmhouse living room with tufted Sofa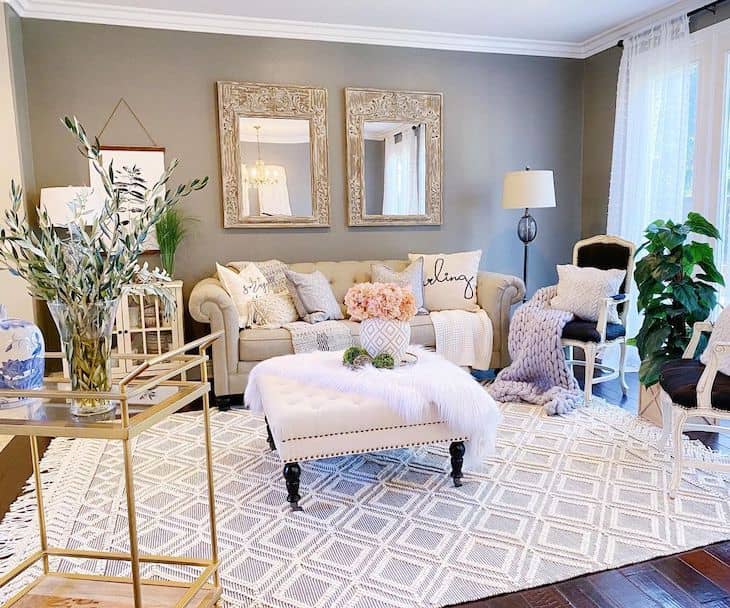 Shop related products:
ottoman // rug // sofa // #ad
Who says farmhouse living can't offer a hint of luxury? This farmhouse living room pairs classic elements with an elegant tufted sofa for an unexpected sophistication.
If your living room space is missing some texture and color, adding flowers and greenery and a textured rug is just what is needed for achieving dimension.
11. Living room with grey sectional
Shop related products:
sectional // pillows // ottoman // #ad
This open concept farmhouse living room features a big grey sectional that fits in with many color schemes like the rich blue from the throw pillows. The ottoman coffee table charms this living room with farmhouse style while providing plenty of space for displaying your favorite coffee table decor. The bottom part of this white wood ottoman coffee table also provides an additional storage place to tuck away some items that can be easily accessible but not making clutter on top of it.
The Moroccan rug featuring a geometric design in grey and white brings texture to this cozy living space. While the throw blanket sitting atop of the sectional brings in a cozy boho vibe.
12. Classic farmhouse living room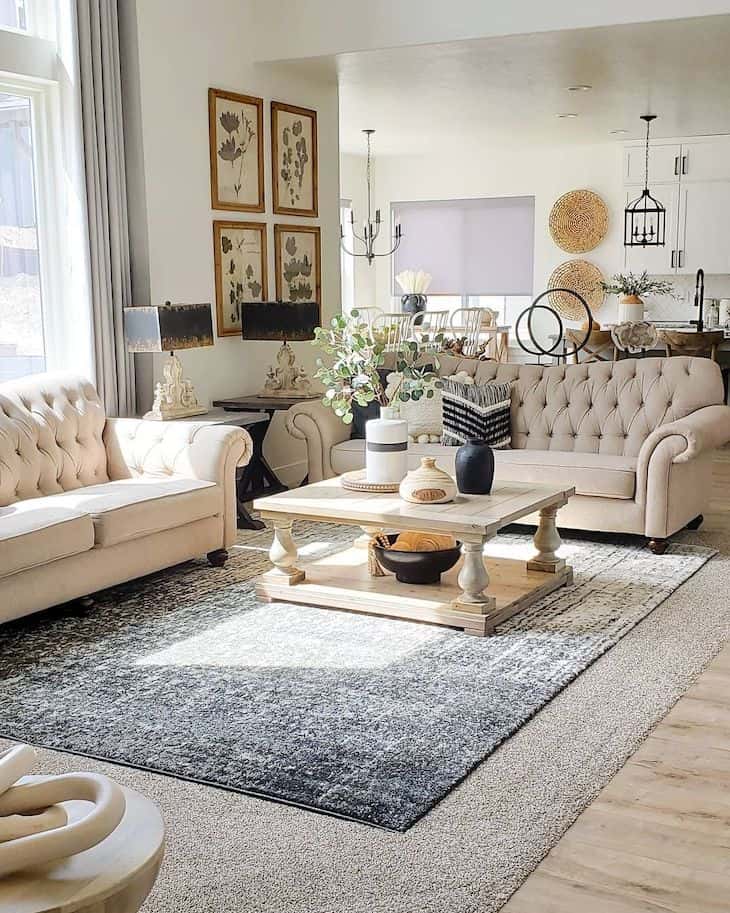 Shop related products:
sofa // coffee table // #ad
This beautifully classic farmhouse living room features a clean and monochromatic design. From the timeless Chesterfield sofas, the solid pine classic coffee table to the decorative table lamps, this living space has an abundance of accent pieces. And yet they all look perfectly synchronized with one another.
This lovely and comforting living room stars classic Chesterfield sofas with traditional rolled arms. And the solid pine coffee table with balustrade legs really warms up this space while featuring lovely coffee table decor on top of it as well as on the bottom shelf.
The abstract motif in black, grey and white hues on the area rug lend an artful appeal.
13. Black brick fireplace and shiplap walls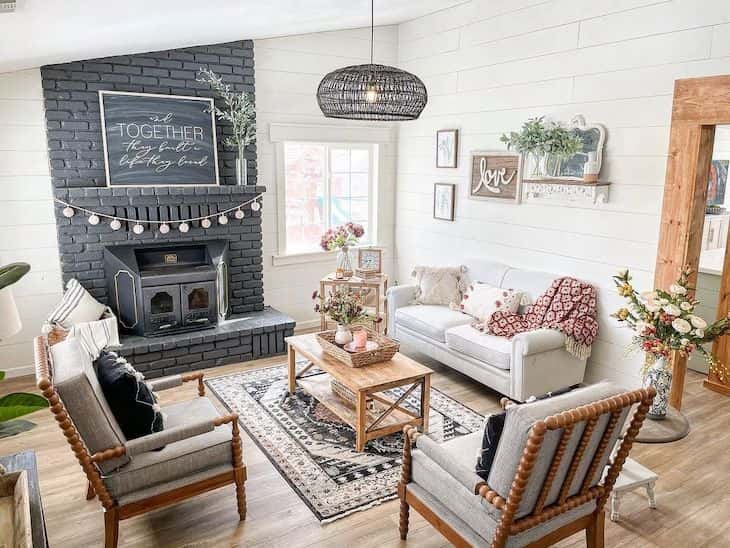 Shop related products:
coffee table // chandelier // armchair

There are few pieces that bring a farmhouse touch to this living room decor. First is this beautiful shiplap wall painted in White Dove by Benjamin Moore. The walls are complemented with a lovely farmhouse gallery wall above the couch featuring a letter sign, a vintage shelf with chalkboard and some greenery on it, and a couple of picture frames.
The farmhouse coffee table with X-design on the sides blends well with the Mid-Century Accent chairs while showcasing beautiful spring decor.
However, the focal point of this living space is the floor-to-ceiling black brick fireplace. This is the equivalent of having an accent wall everyone is drooling over this year.
14. Neutral farmhouse living room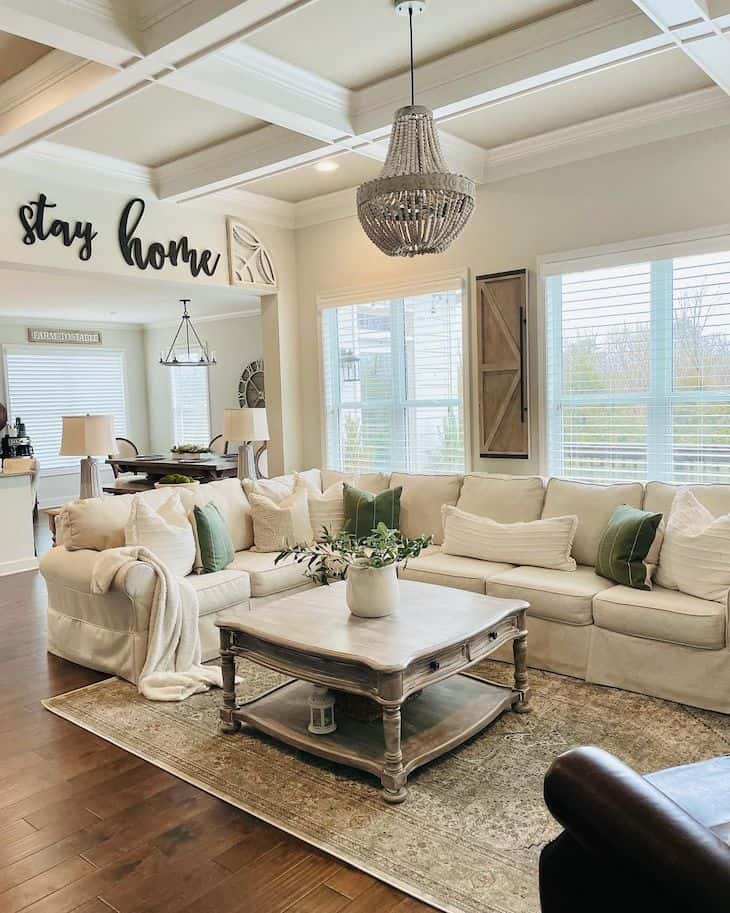 Shop related products:
coffee table // pillows // artificial olive // chandelier // #ad
A cozy sectional for modern farmhouse styling is what makes this room warm and welcoming. We love the neutral palette with the pop of green from the throw pillows. And that gorgeous grid ceiling with white beams left us in awe.
The traditional style coffee table in grey-washed wood is perfect for showing off a houseplant in a charming style, or you can go with faux greenery like artificial olives. And the big farmhouse sign on the wall adds a farmhouse-chic appeal to this space.
15. Farmhouse living room with warm tones
Shop related products:
coffee table // sofa // chair // #ad
If you want to give your home an authentic farmhouse feel, stick with natural fibers and materials, like the linen sofas in this living room. They offer a cozy feel while adding texture to this living room.
Another farmhouse decor piece in this living room is the rectangular coffee table with the famous x-shape design on the sides. The wood stained top of the coffee table is in the same shade as the hardwood floors while the white base makes a contrast to it.
The whitewashed brick fireplace is the perfect base for the rustic wood mantel. On each side of the fireplace, there are built-in cabinets with both open shelving and closed cabinets that provide additional storage space as well as a display area for your favorite decor items.
16. Living room with corner fireplace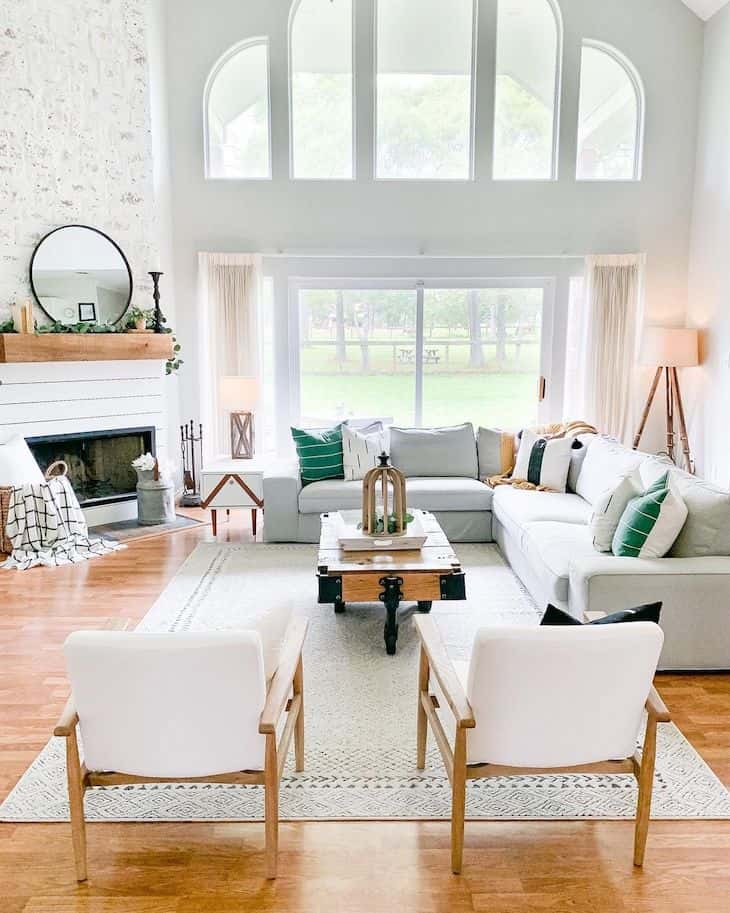 Shop related products:
chair // coffee table // floor lamp // rug // mirror // #ad
The simplicity of farmhouse style can quite easily take an industrial spin. This cart coffee table pairs the industrial with the rustic to offer a distinctive design. The mid-century accent chairs bring contemporary style with a touch of rustic appeal to this living space.
The flawlessly placed area rug gives this room a geometric style. And the tripod floor lamp gives this home a modern look.
The corner shiplap fireplace gives a warm farmhouse feel. Its wood plank mantel makes a perfect place for displaying seasonal decor with greenery and a black round mirror.
17. Grey farmhouse living room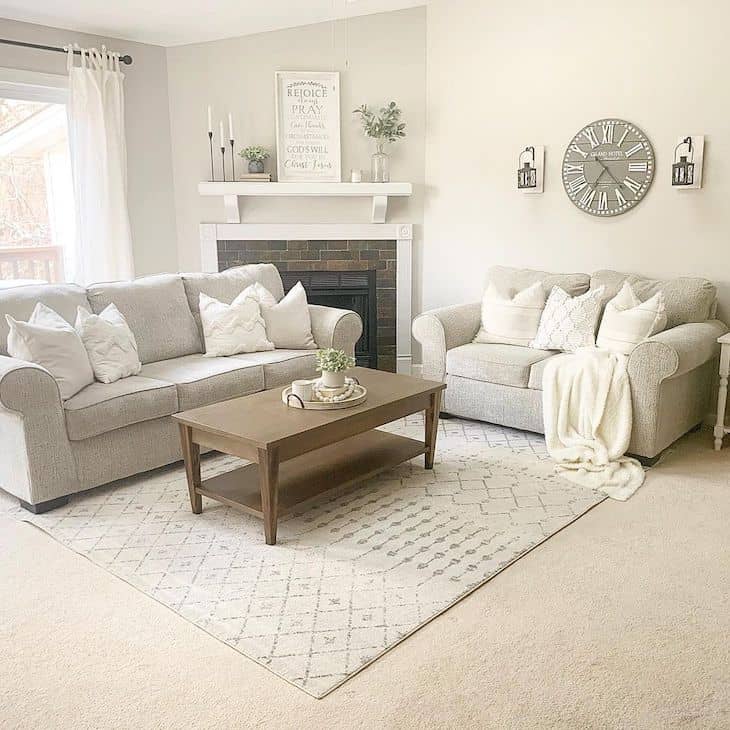 Shop related products:
coffee table // rug // clock // round tray // #ad
Grey is one of the most popular farmhouse colors because of its versatility and calming nature. Whether you are going for a country vibe or a more sophisticated and elegant look grey is the way to go. Grey color provides a beautiful backdrop for the other things in the room to shine.
Grey pairs beautifully with natural wood like the one from the sleek-lined coffee table. This classic living room centerpiece offers plenty of storage and a hidden drawer.
The vintage rustic washed gray wood clock fits perfectly with this farmhouse decor. And the round rustic wood tray is a perfect base for a decorative arrangement.