The modern farmhouse Christmas decor Bonnie Ryan from @theryanhaus_ did with the addition of deep green hues and plenty of greenery, makes her new home the coziest place to spend the holidays. Among other things, we can see a perfect example of how you can deck out your round kitchen table ready for the holidays.
As an Amazon Associate I earn from qualifying purchases.
1. Christmas decor for double french front door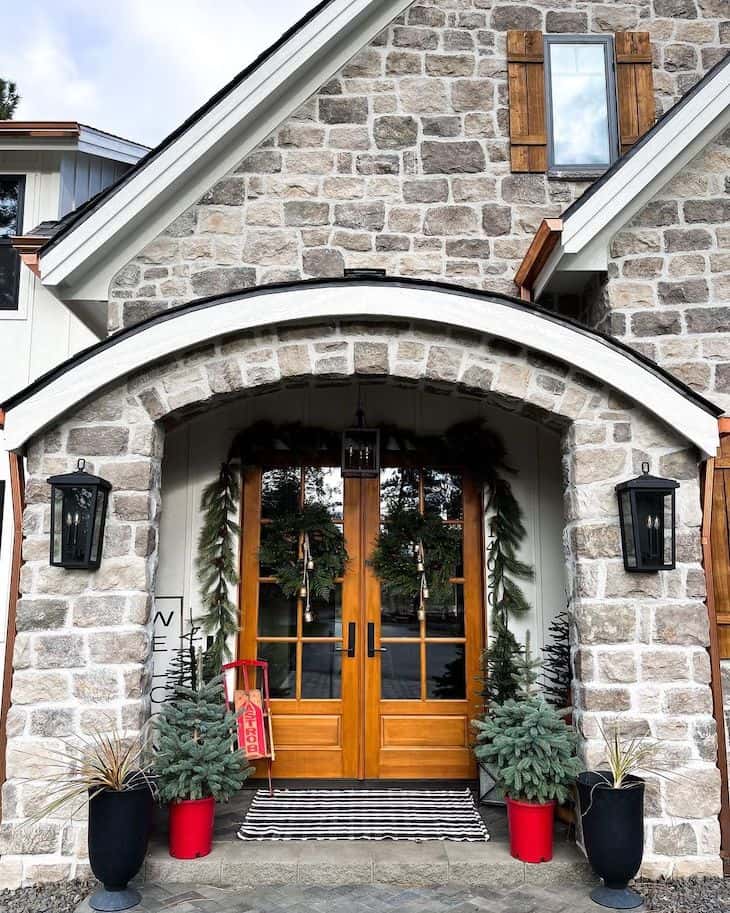 Shop related products(ad):
chandelier // wall lantern // bells
The principle of symmetry that started with having double french doors is carried through the Christmas decor as well. The arched entry is complemented with a fake garland, that looks pretty real, draped around the entry door. We see a continuance of the symmetry with the two green wreaths hanged on each of the french doors. Bonnie finished the look by placing potted trees on her step in red pots for even more of a statement.
2. Entryway bench with modern farmhouse Christmas decor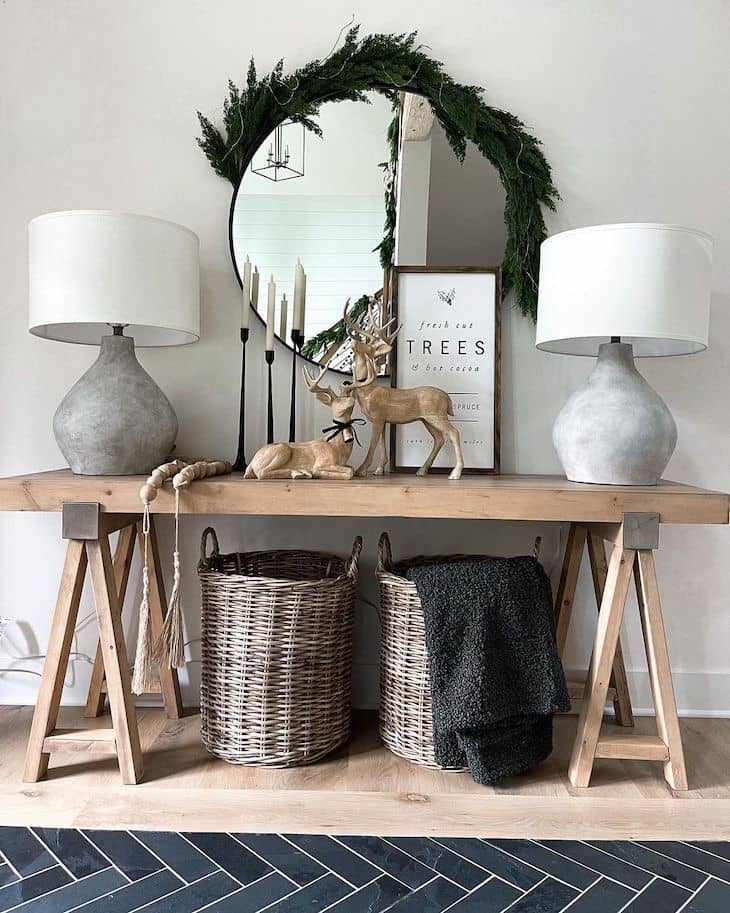 Shop related products(ad):
table // basket // lamp // bead garland // blanket // candle holder // mirror // garland // standing deer // deer
We love the beautifully decorated bench-style console table in Bonnie's entryway. The forest green blanket hanging from the basket goes perfectly with the garland draped mirror. The decorative wooden deers are decorated with a black ribbon around their neck and a gold bell accent for a charming, festive look. Together with the stone base lamps, they land a natural touch and are a perfect example for a modern farmhouse Christmas decor.
3. Black and white bead garland Christmas decor for the staircase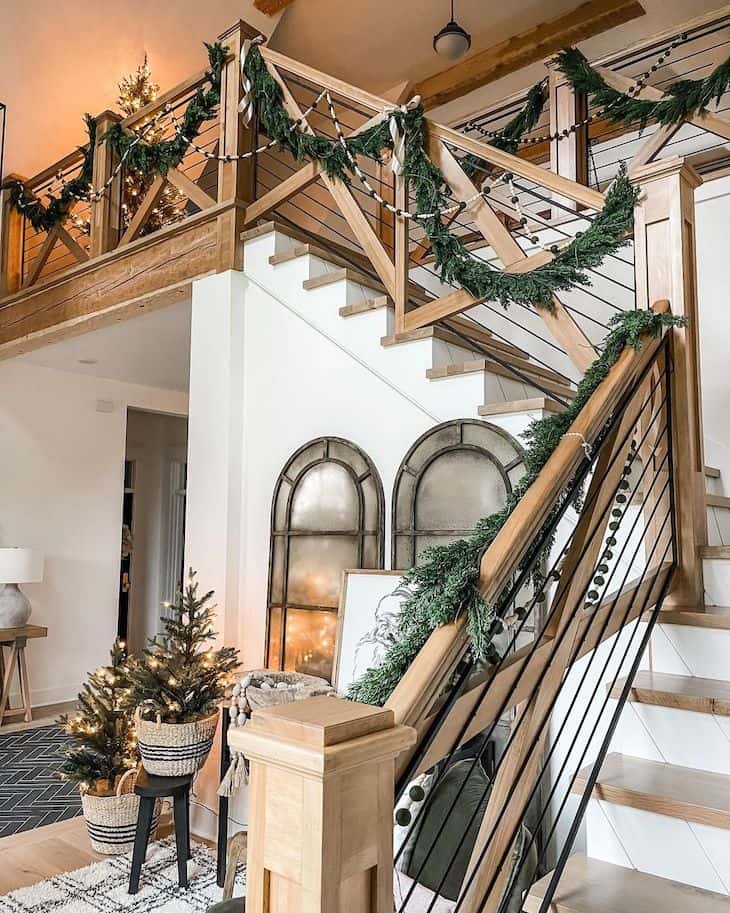 Shop related products:
garland // rug
#ad
If you are looking for a fun and festive way to decorate your staircase railings look no further. The faux garland decor that Bonnie did on her staircase is a true inspiration. The white and black bead garland which is actually a DIY, accents the pine garland in a seamless way.
4. Christmas foyer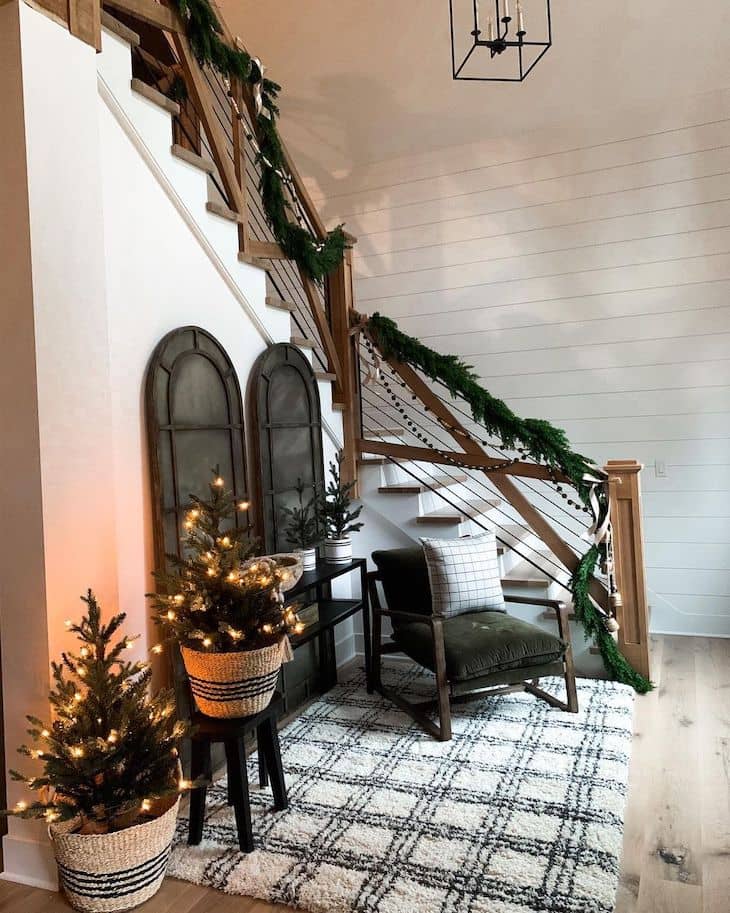 Shop related products:
garland // rug // pillow
#ad
5. Christmas living room with deep green decor accents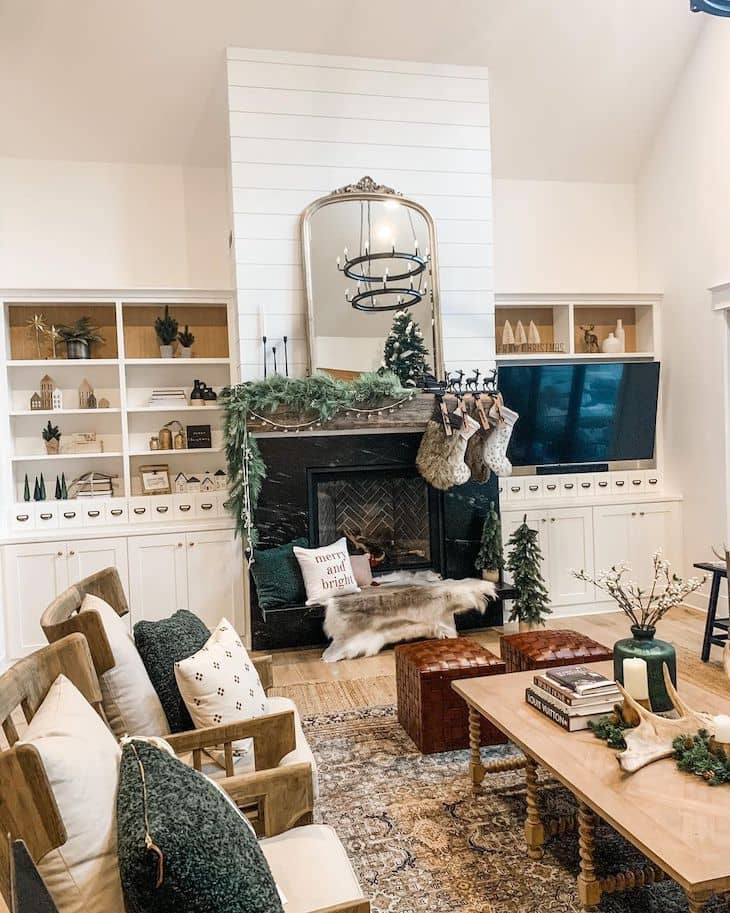 Shop related products:
The beautiful deep green tones that go from the draped garland on the mantel, to the green boucle pillows, to the gorgeous vase on the coffee table reminds us of a cozy forest. The coziness factor is upped with the furry stockings on the mantel all in a different neutral shade and adorned with whimsical name tags. And the Christmas sock holders that are actually Christmas decor themselves are such a clever and unique idea.
6. Christmas fireplace decor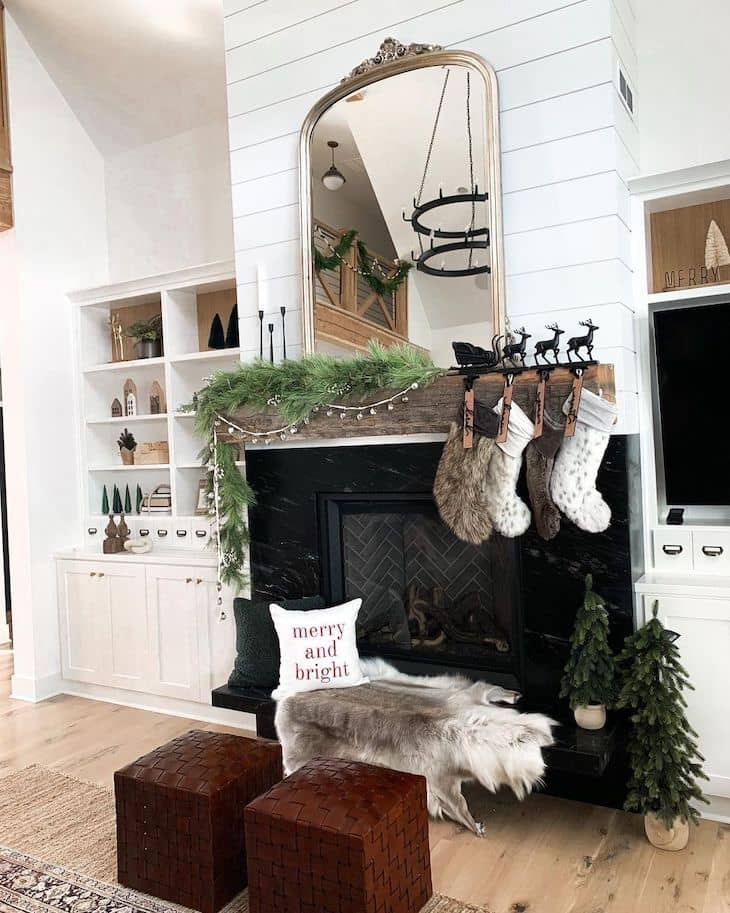 7. Christmas stockings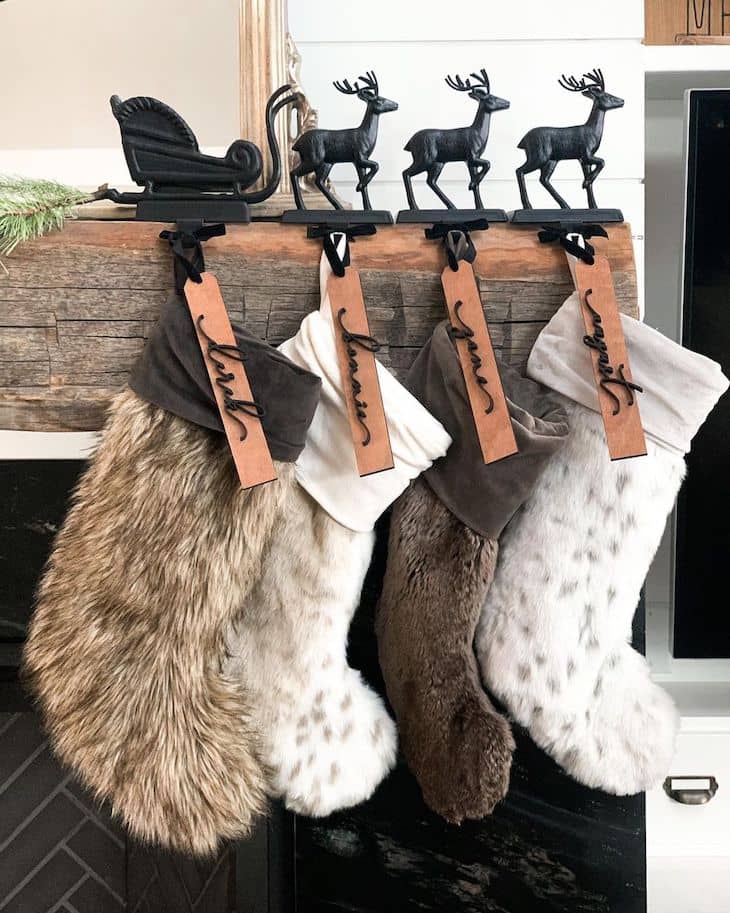 8. Christmas coffee table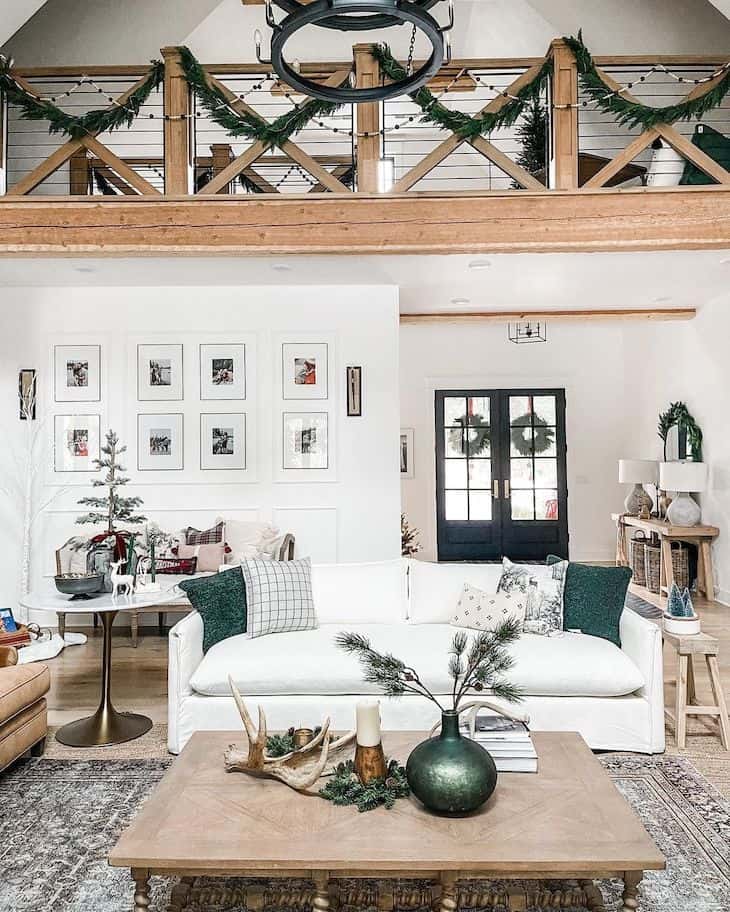 9. Wreath adorned Christmas kitchen decor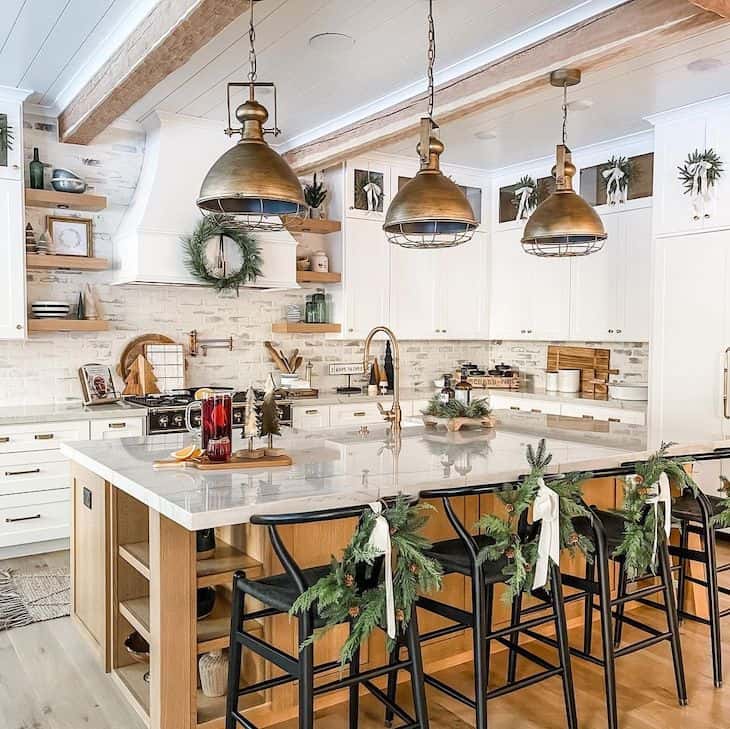 Bonnie's wreath-adorned Christmas kitchen decor compliments the white kitchen cabinets. The white ribbons looped through fresh wreaths add a festive touch to her black bar stools. And the round wooden cutting board topped with some flower arrangement and brass mini trees makes a perfect kitchen island centerpiece.
10. Island centerpiece with holiday decor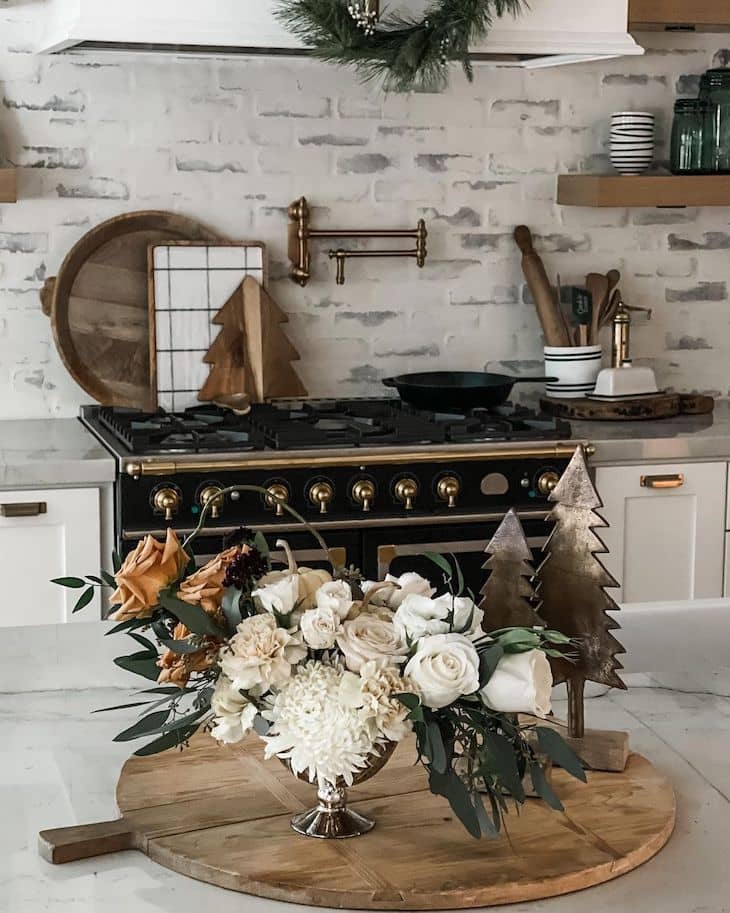 11. Christmas decor for round kitchen table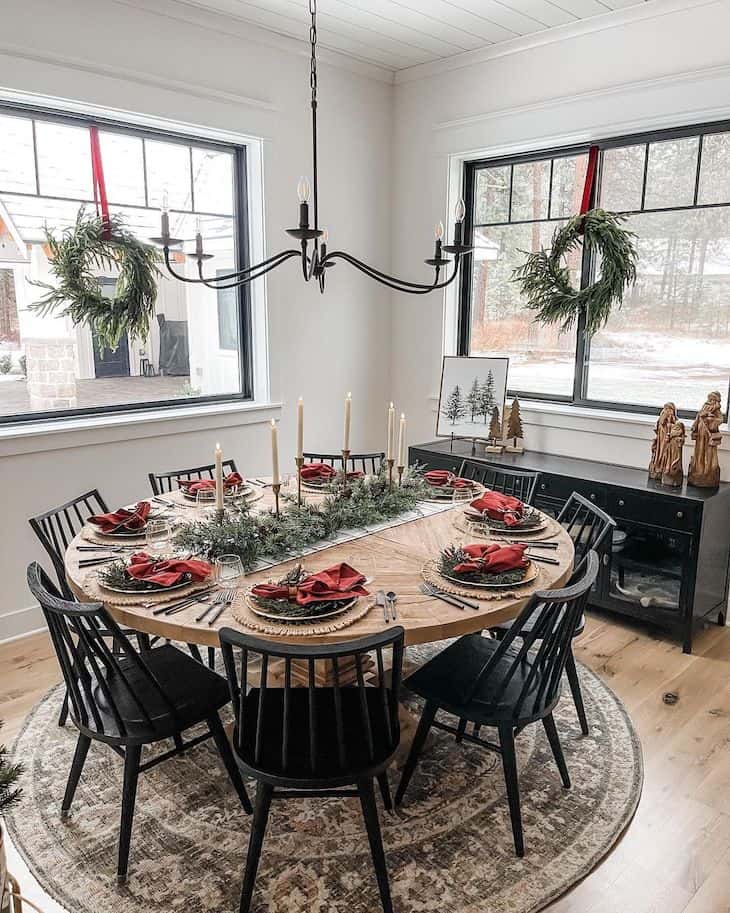 This is a perfect example of how you can deck out your round kitchen table for the holidays. Adding a pretty combination of white candlesticks and green garland will make preparing and serving your holiday food more enjoyable. And as Bonnie loves traditional holiday decor, adding those cranberry red napkins made all the difference in this beautiful setting.
12. Cozy Christmas dining room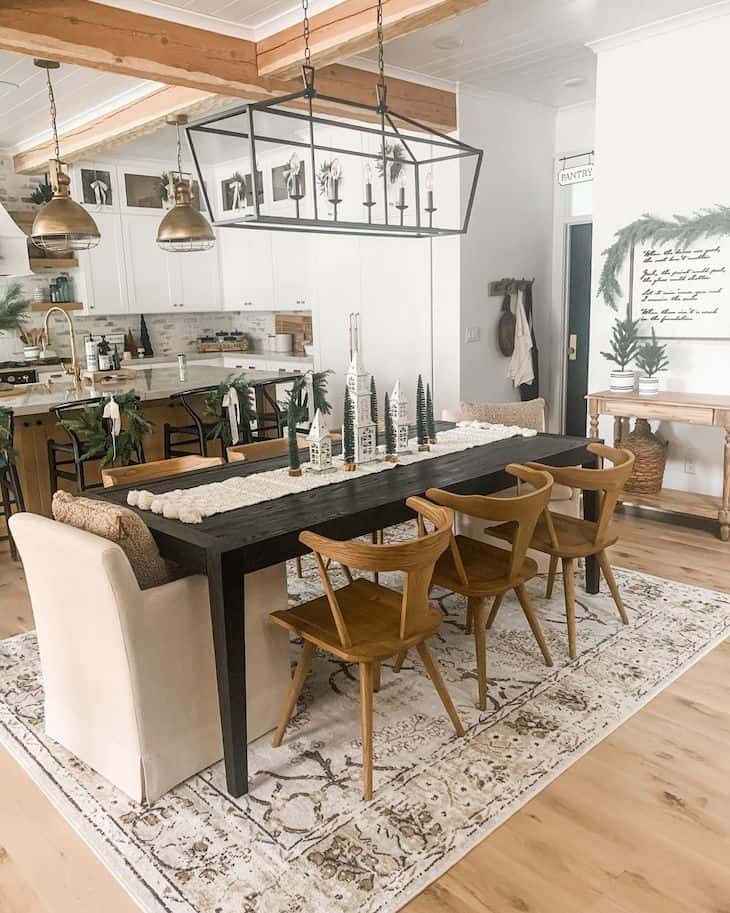 What a difference a cozy white table runner and few Christmas accents can make in a decor. She was also experimenting with decorating a huge dough bowl filled with greenery as well as garland draped on the black metal chandelier. Which setting is more of your style?
13. Christmas table decor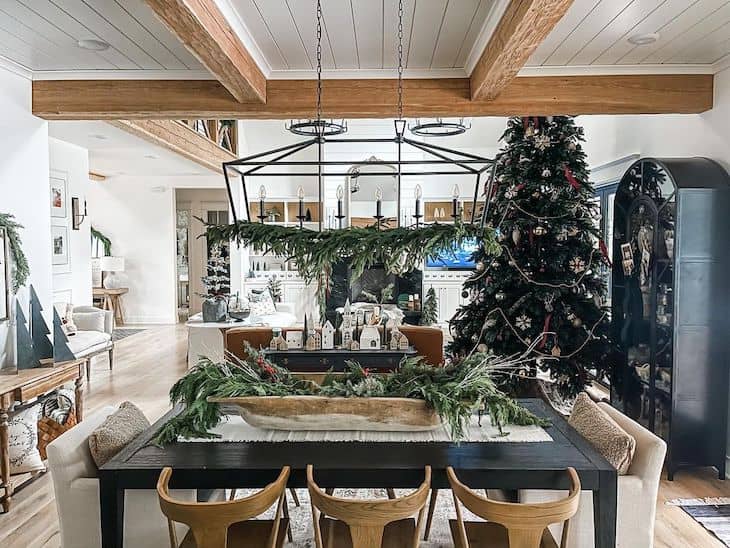 14. Garland decorated canopy bed for the bedroom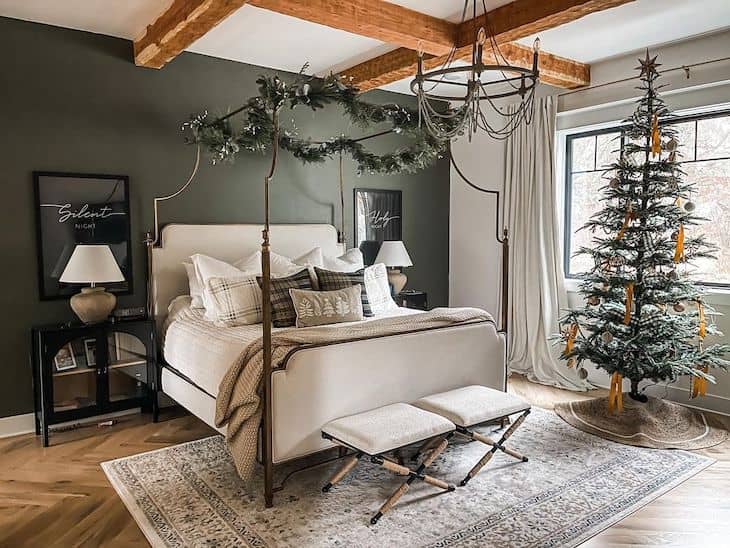 This bedroom is so inviting and relaxing, it is the perfect combination of rustic and elegance. The festive colored wall in dark olive is the base for this subtle Christmas decor. The beautiful garland on the dreamy canopy bed and the ribbon-decorated tree just make this space so magical.
15. Holiday bedspread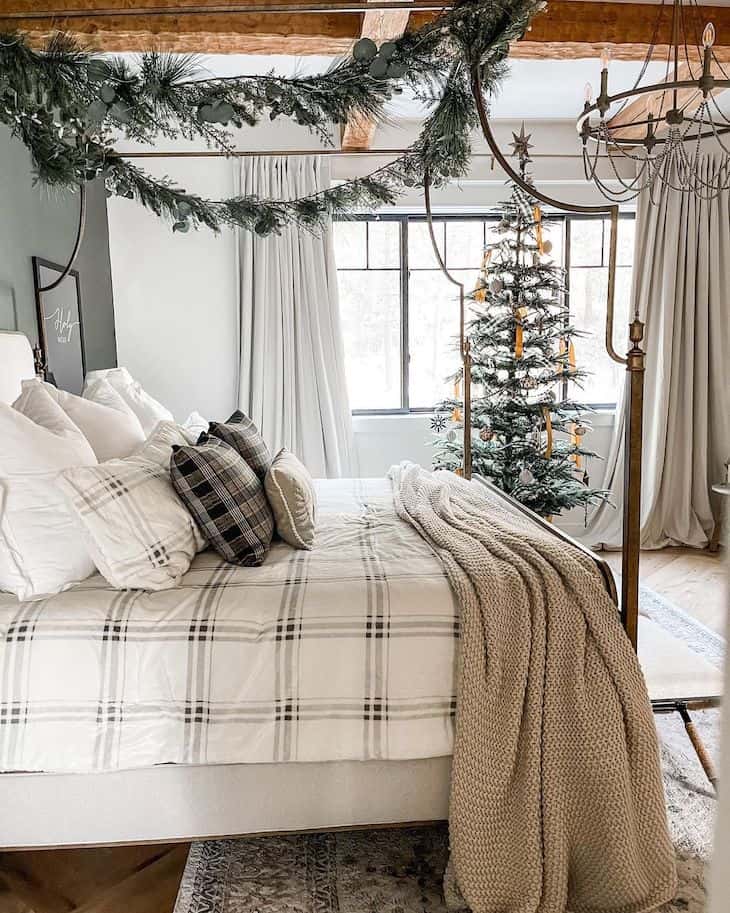 16. Master bath Christmas decor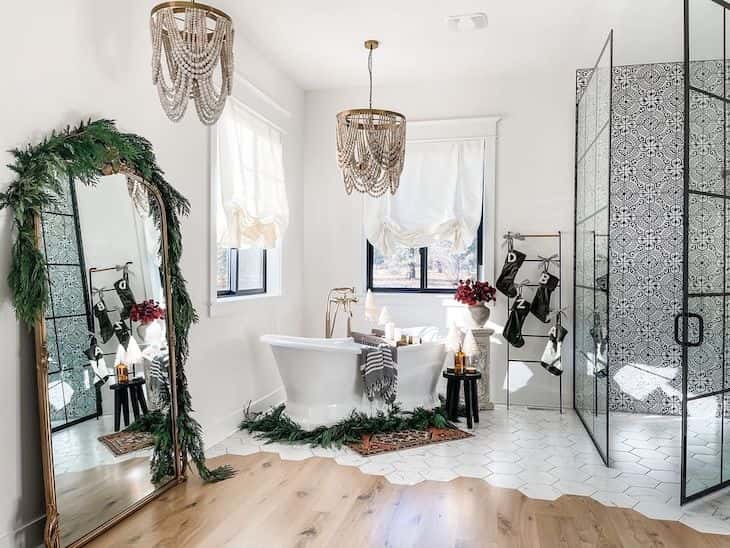 Adding a garland to the beautiful freestanding mirror is a great way to add decorations without wasting counter space. We love the genius idea of Christmas stockings in the bathroom. They can be filled with bath products as stocking fillers.
17. Holiday decor around the bathtub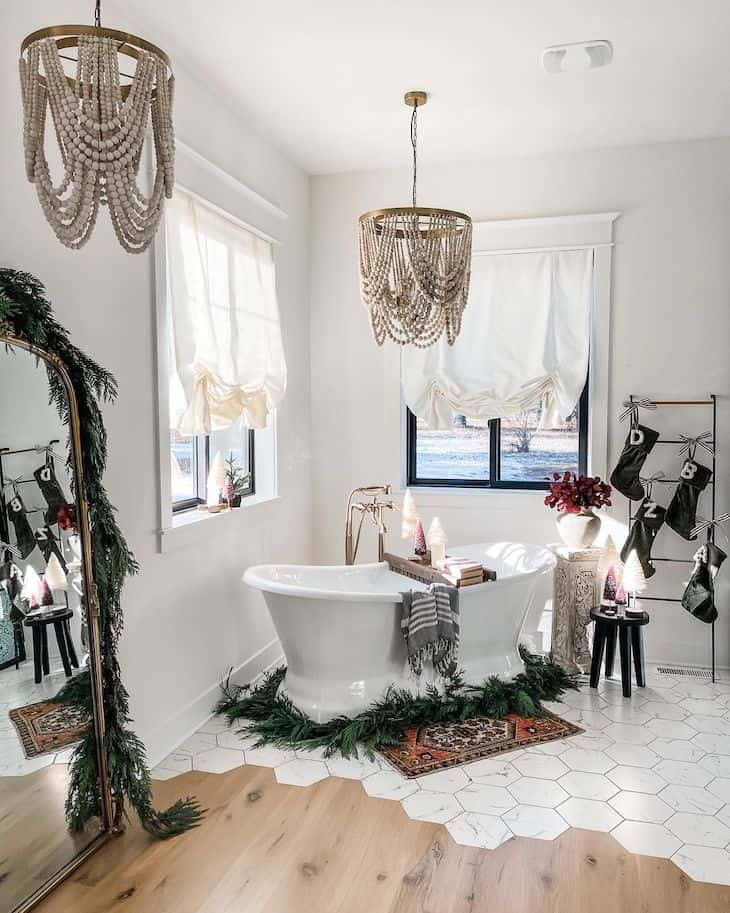 18. Kids bathroom with fresh greens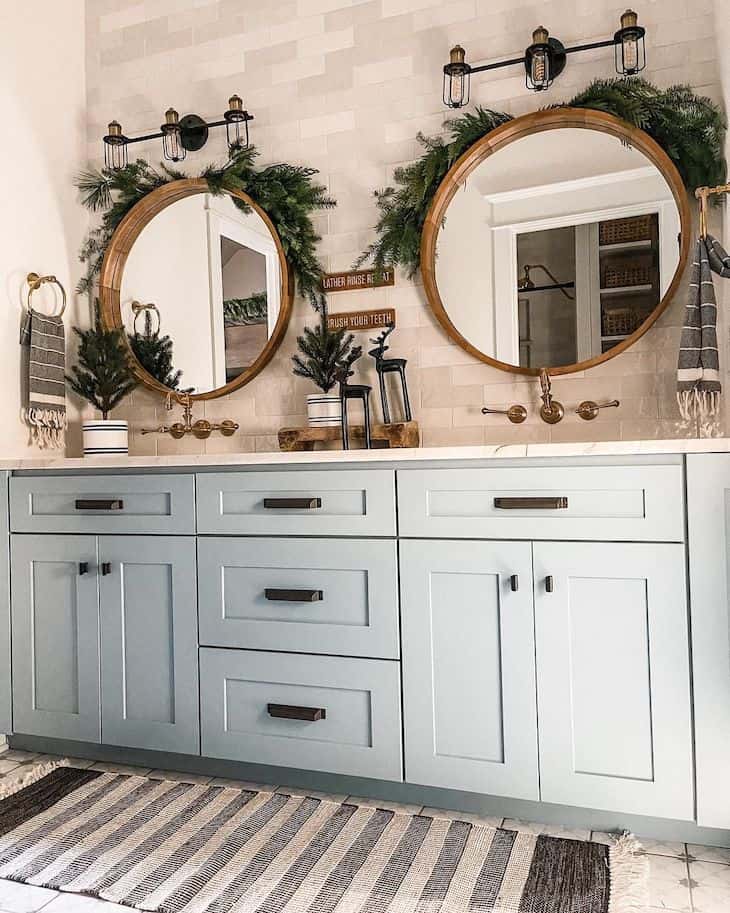 Bonnie's kids' bathroom is adorned with some fresh greens on the round mirrors, small potted trees and metal reindeer decor. Such a great way to jazz up a bathroom for the holidays.
19. Christmas decorated laundry room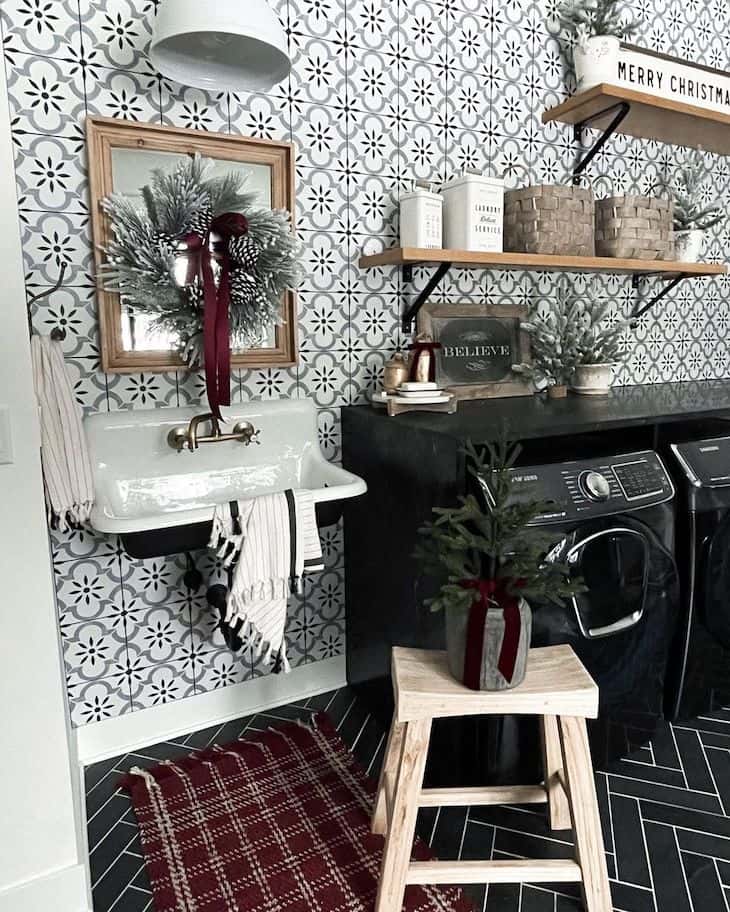 If you want to spruce up the hardest working room in your home for the holidays, here is a great example. Few potted mini trees, golden bells a wreath, and beautiful red bows will do the trick.
20. Mud room dressed up for Christmas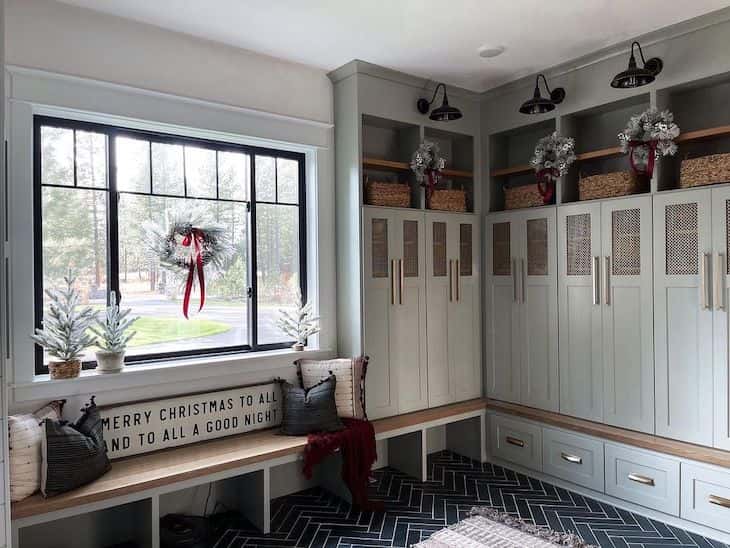 A few wreaths with bows on the cabinets, potted trees on the window and Christmas sign on the bench and this mudroom is all dressed up for Christmas.