Today we are featuring the beautiful home of Blair from @patina_pine. Her home filled with antiques has so much character with a fascinating green and white Christmas decor throughout the house. We swear we have never seen such amazing neutral perfection.
1. Ceiling to floor living room perfection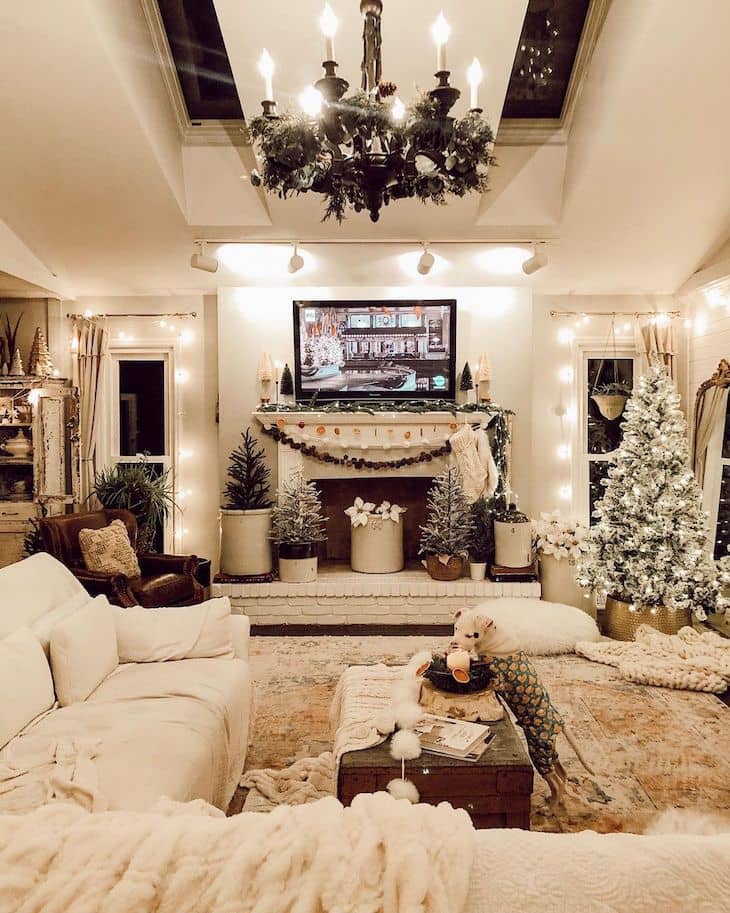 We love everything from the ceiling to the floor in this room. What a perfectly cozy space. The wreath on that chandelier is just fabulous. We love how the beautiful white mantel is snuggled between a couple of small green and flocked Christmas trees. And all the blankets throughout the room give a definite snuggly and warm feeling!
If you look closely there are fine little Christmas details in every corner, like that fluffy ball garland on the trunk coffee table, or the charmingly decorated reading nook, on the right from the front door. That garland around the front door is just like from a storybook. We are sure that the gorgeous Christmas tree loves its reflection in that stunning arched mirror.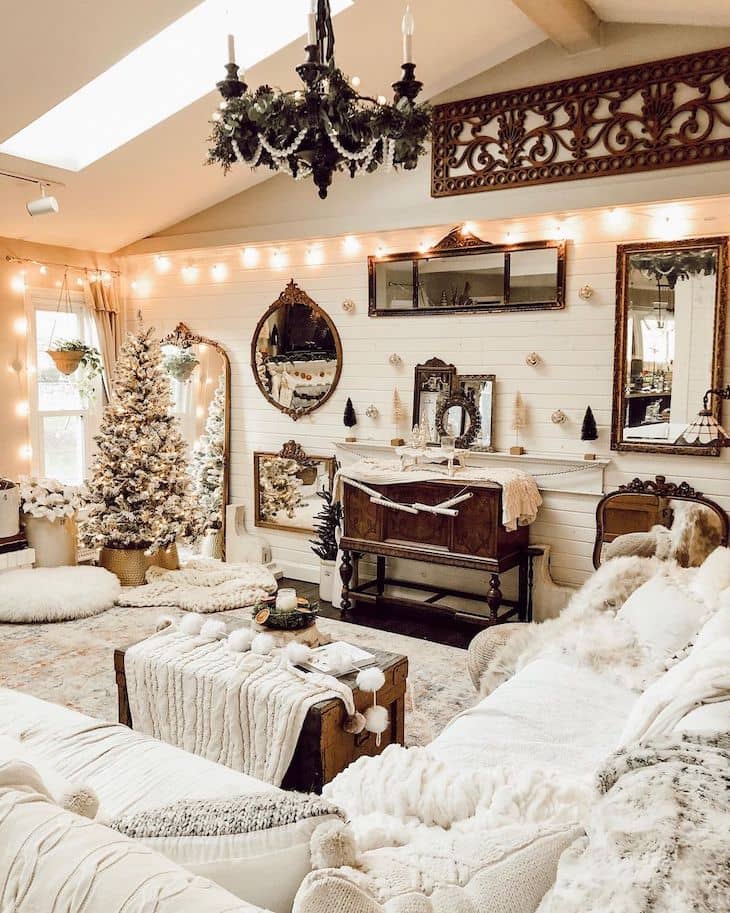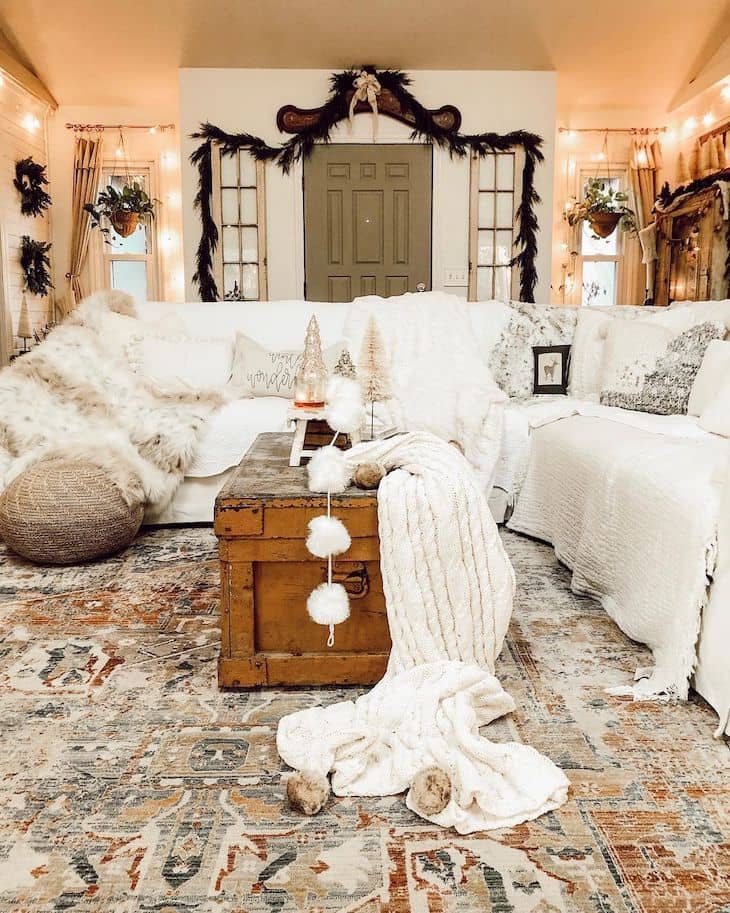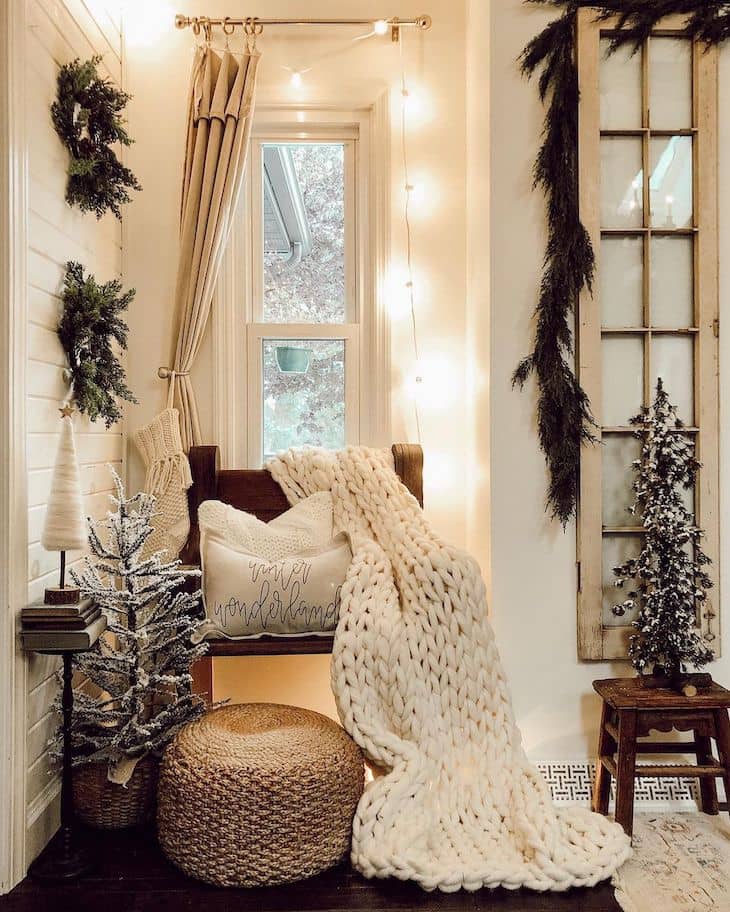 2. Antique hutch draped with winter garland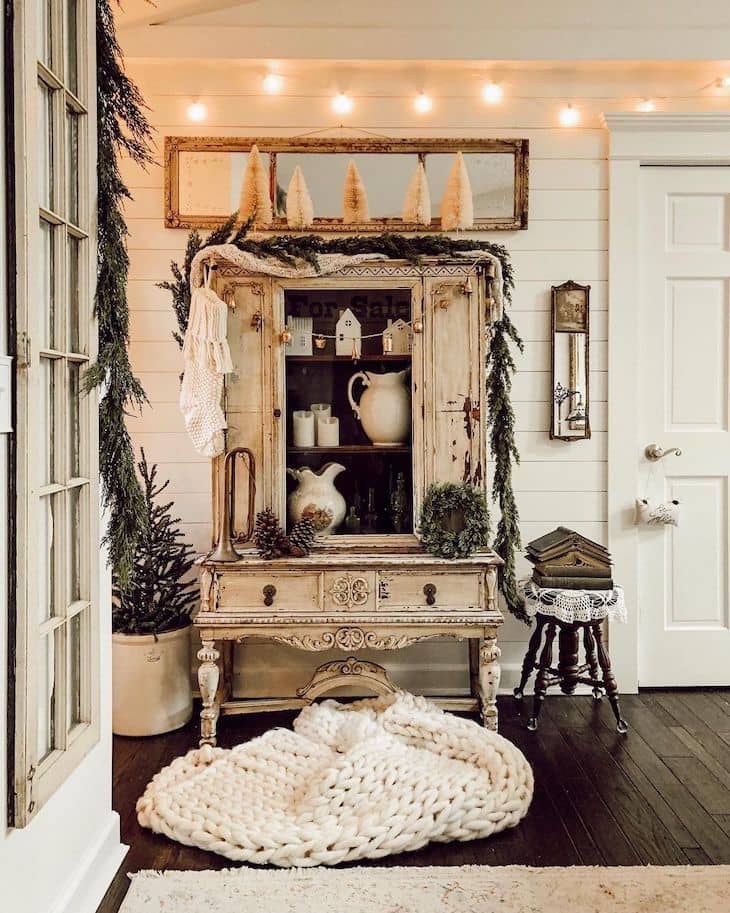 The whole scene in this little corner is an absolute perfection. This distressed antique hutch is beautifully decorated with simple green garland, a mini wreath, and a few pine cones. The cozy factor is given by the thrown blanket on the floor and that single knitted Christmas sock on the side of the hutch.
The mirror above the hutch gives an image that there are more mini trees up there than the actual number of them. So everything looks simple but is very beautifully thought of, like that pile of books on the piano stool.
3. The most magical Christmas dining room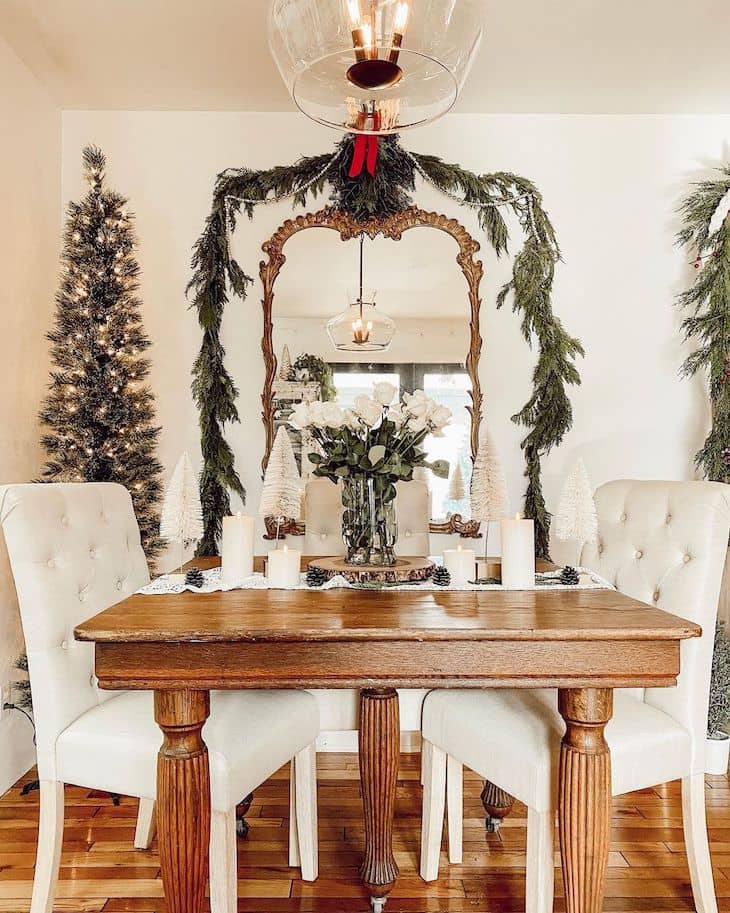 Who says holiday dining tables have to be decorated with holiday china? Pinecones, fresh garlands and flowers play off the vintage china in a natural motif. We love the garland draped around the mirror like that!
4. Natural Christmas motif in the kitchen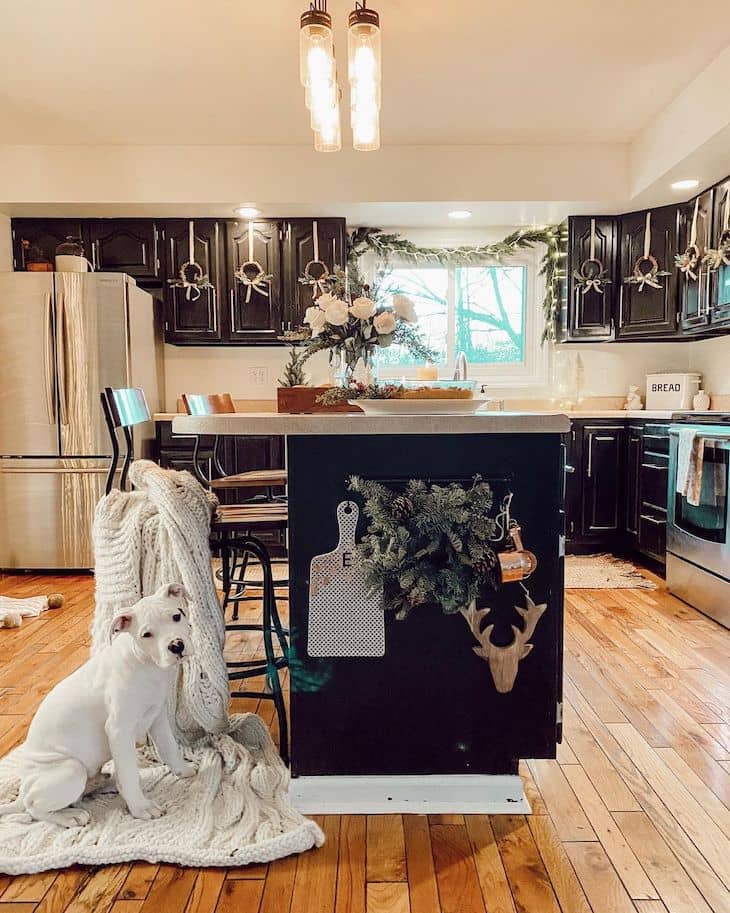 The natural motif continues in this room as well, with the use of pinecone and greenery wreaths, the natural garland above the kitchen window, to the white flowers atop the kitchen island. If you have a dark coloured kitchen, Blairs Christmas kitchen decor is such an inspiration. Now go, and get your kitchen all decked out for Christmas.
5. Alluring Christmas bedroom decor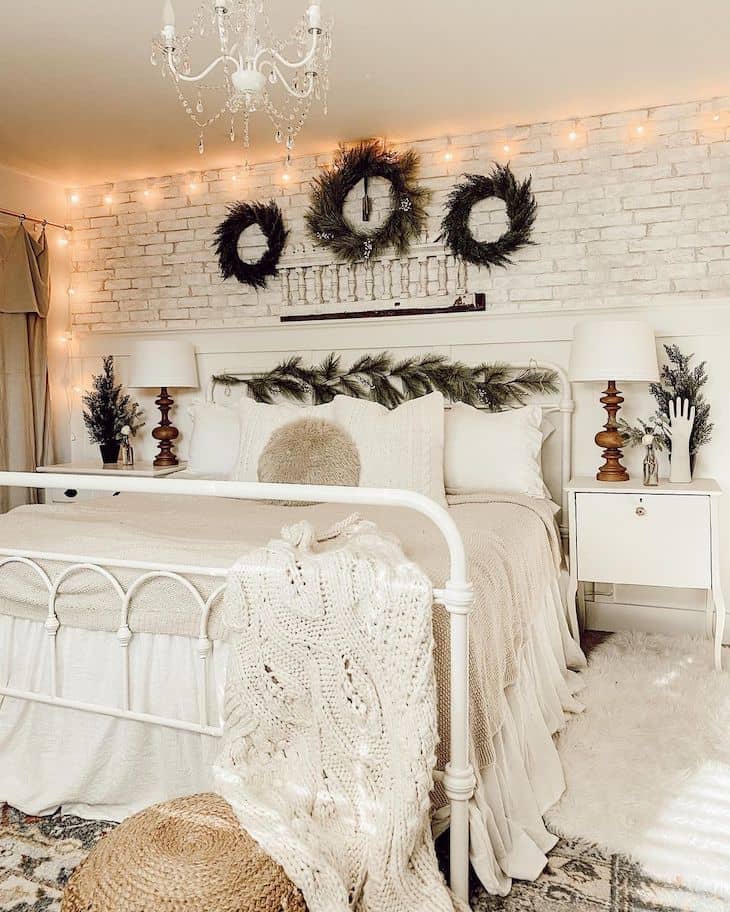 We love the symetry in this alluring Christmas bedroom decor. Using "winter" decor for Christmas is a good idea because you can leave it up from December to spring. The green winter theme goes perfectly with the white metal bed and the whitewashed brick wall.
6. Peach-toned guest bedroom holiday decor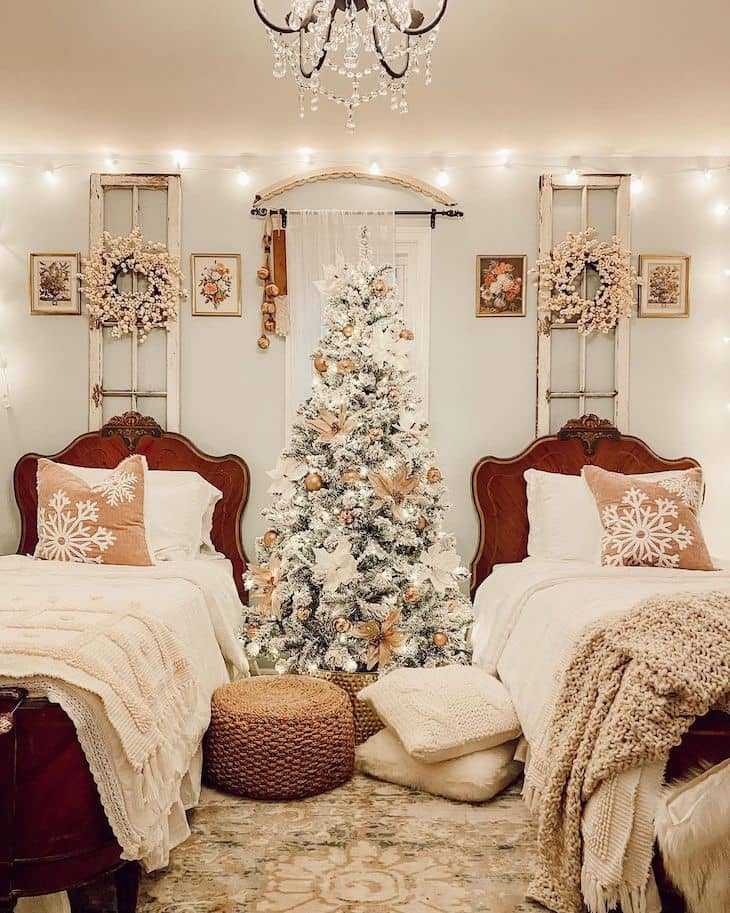 The antique bed frames of this guest bedroom are adorned by the unique peach-toned Christmas decor. This unique colorway goes from the snow embroidered throw pillows, the peach-colored tree flowers, to the flower art pieces hanged aside the rustic window frames. The perfect symmetry around this Christmas tree makes it stand out even more.