Jess from @davisfarmhouselife welcomes the spirit of Christmas with her spectacular garland game throughout her house. We can't decide what is the star of her decorating game, the ski lodge theme in her living room, or the absolutely perfect Christmas tablescape in her dining room. We'll let you decide.
1. Traditional red and green front porch Christmas decor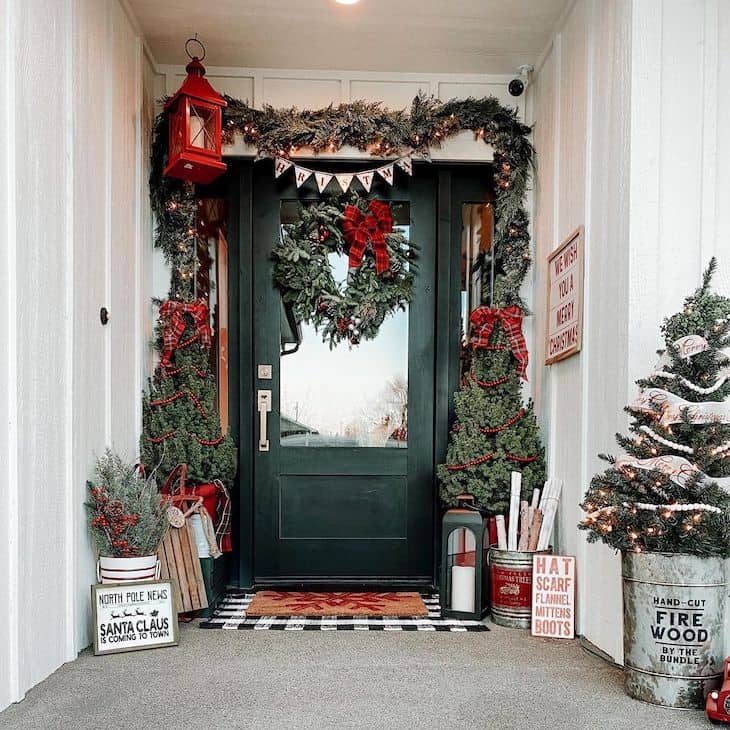 If you have a black front door, this traditional red and green front porch Christmas decor is a real inspiration. Her spectacular garland game starts from the front door where this full natural cedar garland is perfectly draped around it. On each side, you can see these mini Christmas trees decorated with red beads and red plaid bows on top of them. In the same red spirit, the hanging red lantern is such a cute idea! With all the Christmas neutrals inside, Jess wanted to do a more festive front porch with some red details.
2. Fresh garland for the Christmas entryway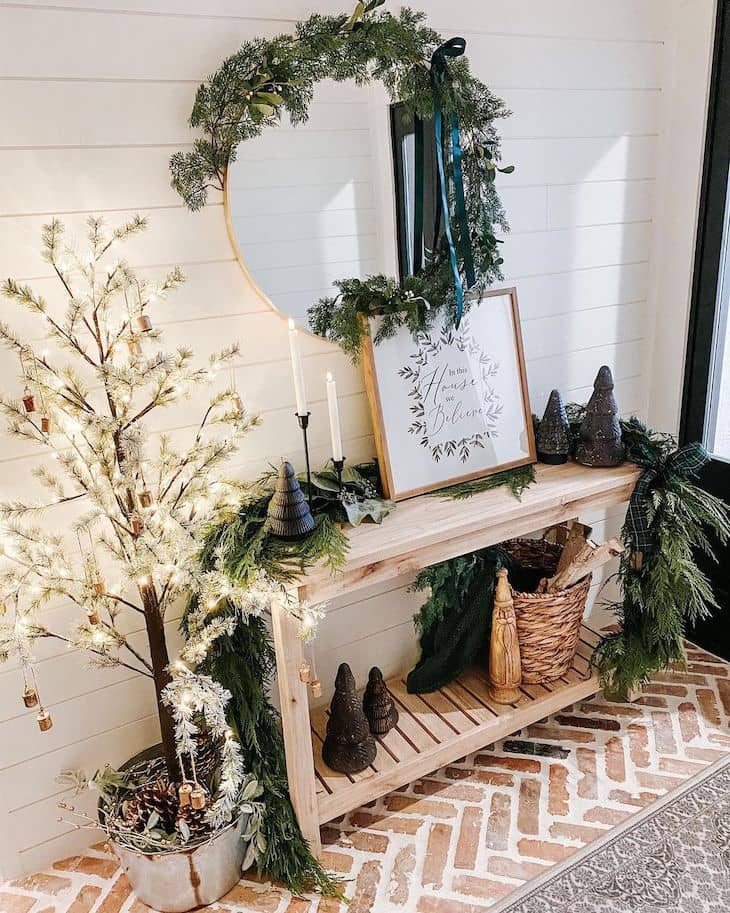 The neutral theme of her Christmas home decor starts right at the entryway. She added a festive touch to her entry table with the fresh garland which fills the space with a holiday scent. On the side of the table, the potted tree decorated with golden bells and white lights lends a natural touch.
3. Ski lodge theme in the living room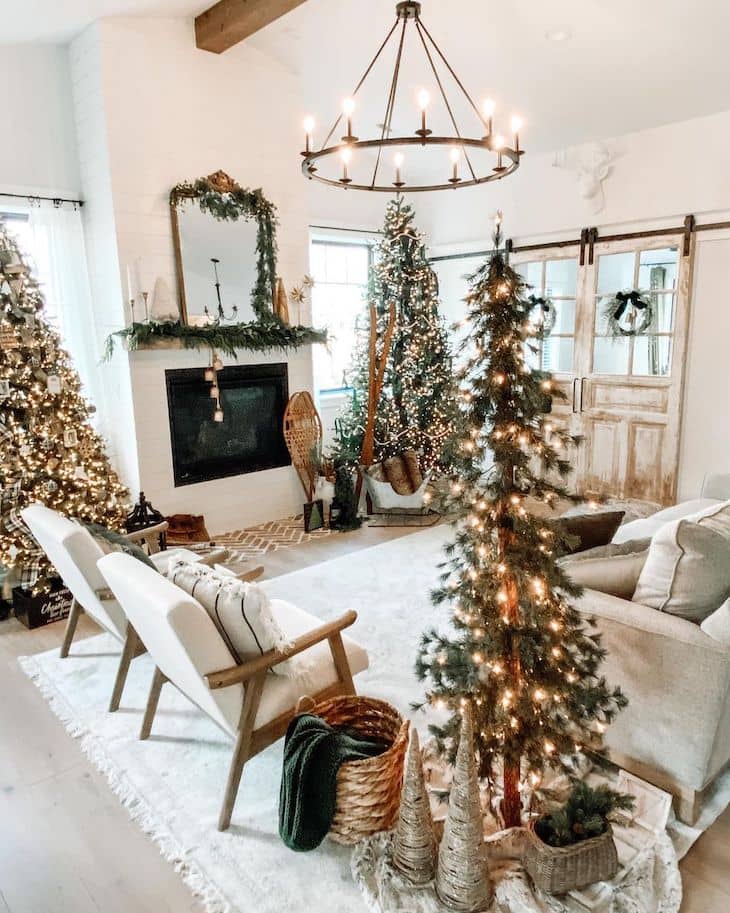 For the living room, she wanted to create a ski lodge theme, and she achieved that with all the Christmas trees we see in this room. The two taller trees have some of the most lights a tree can have. Just imagine the fairytale wonderland they'll project at night.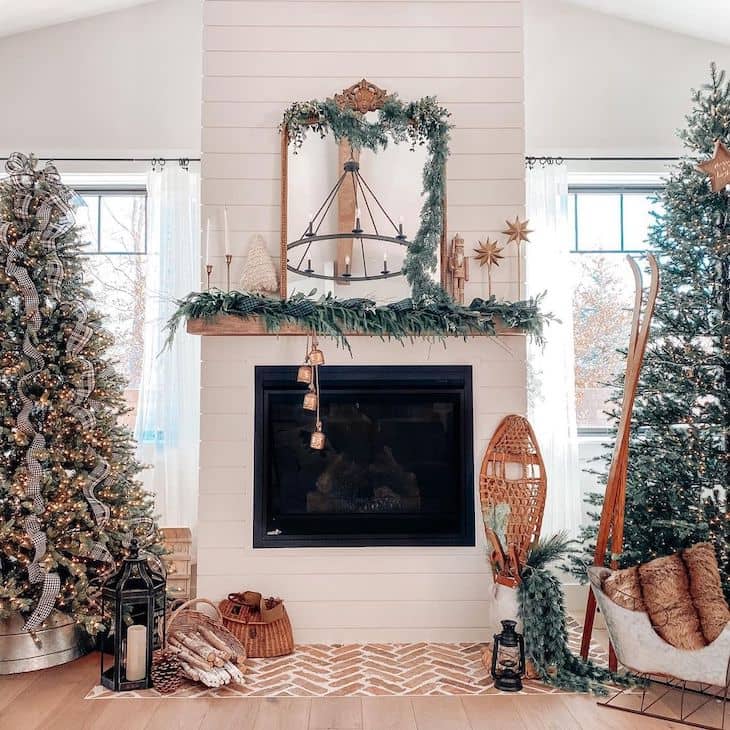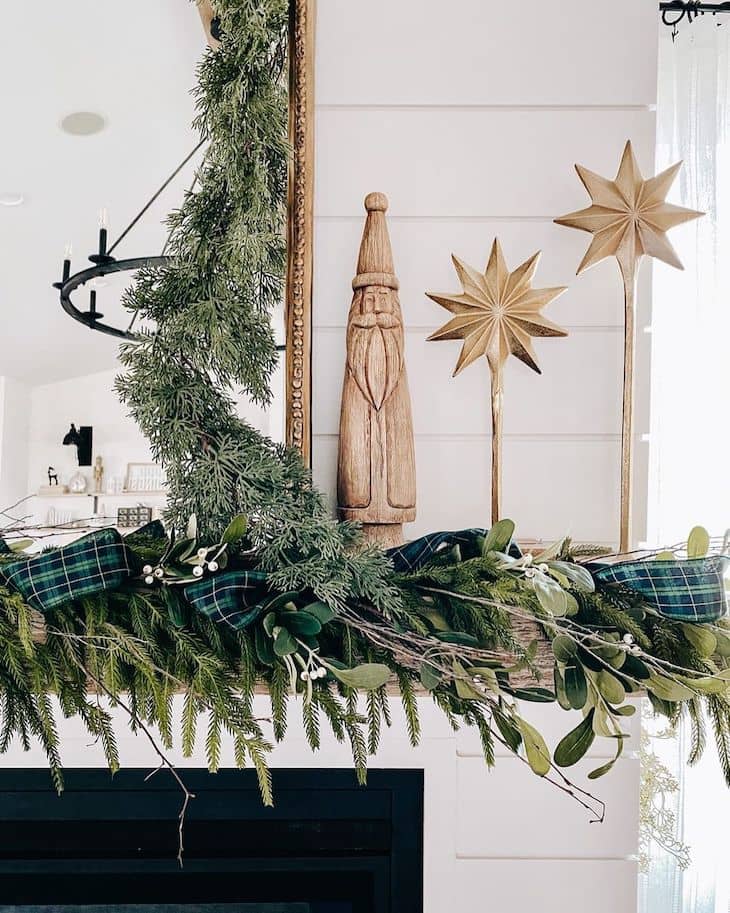 4. Magnificent garland centerpiece for the dining room
Let's just stop and admire this perfection that left us in awe. The asymmetrically placed garland that flows down the dining table makes all the difference in this table decor. Every little detail on this table is well thought of. From the wrapping paper that goes with the ribbon in the mantel garland, to the napkins that look like Christmas trees. And those cane back chairs are the perfect place to hang on your Christmas decor.
5. Christmas kitchen with wreaths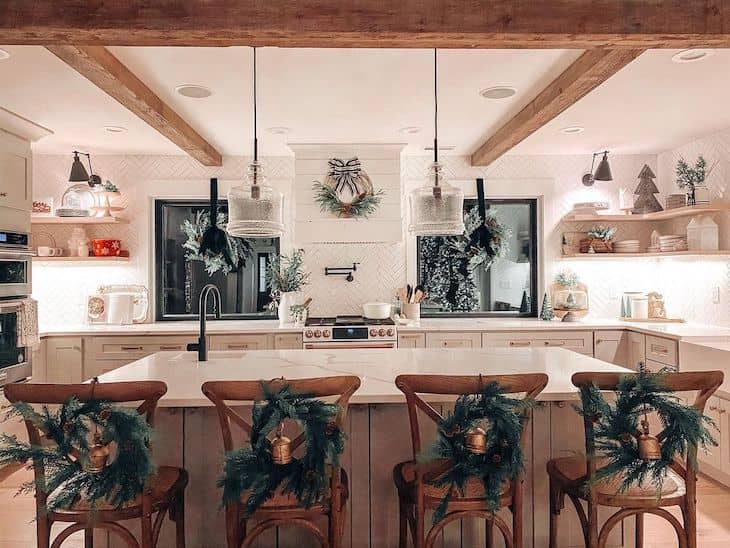 There are so many ways you can add some remarkable Christmas kitchen decor to your home. You can hang wreaths on the kitchen cabinets or the barstools and windows as Jess did in her white and wood kitchen. Open shelving is another clever spot for seasonal collectibles, like Santa mugs and red Christmas bowls. These happy accessories are sure to brighten any room.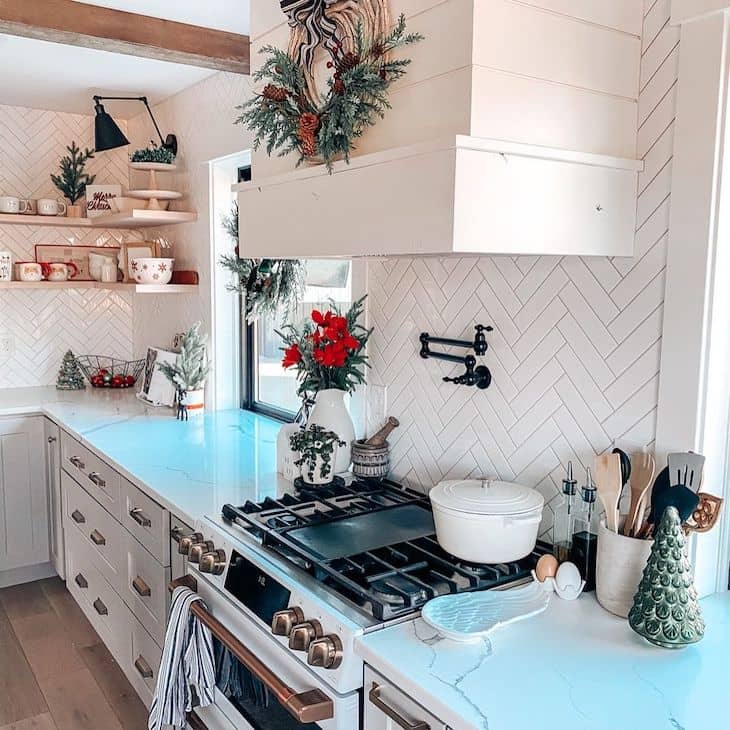 6. Cozy winter Christmas bedroom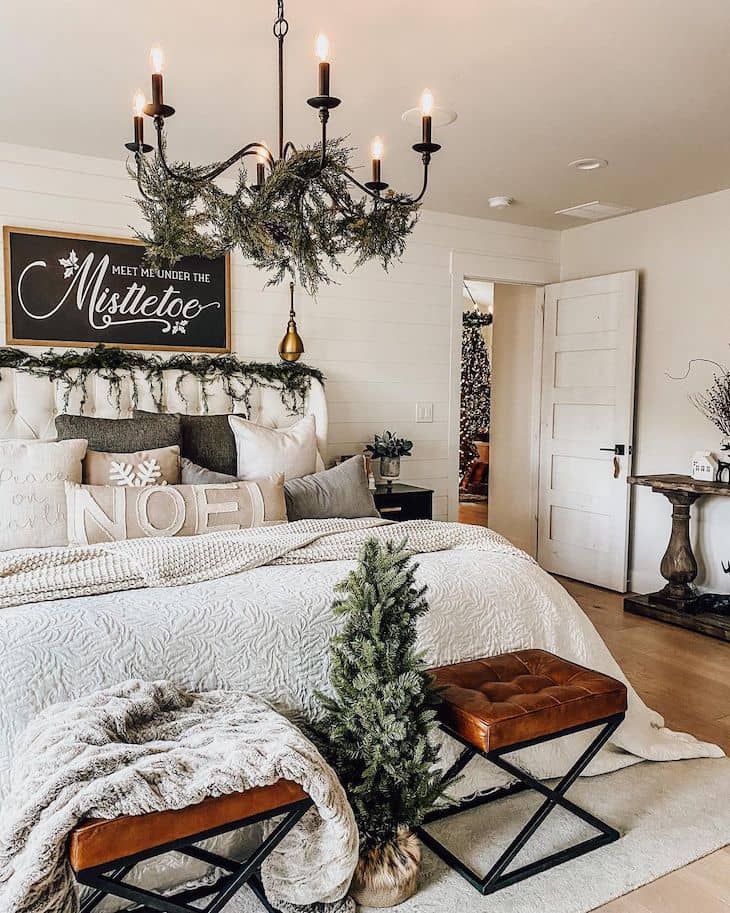 The neutrals in this bedroom are so relaxing. We admire how Jess put these cozy winter textures together. In order to shift her bedroom into the Christmas spirit, she draped a garland from the headboard and the chandelier as well. We also love the idea of a Christmas expression print on the wall as a reminder of the season.
7. Picture-perfect kids room Christmas decor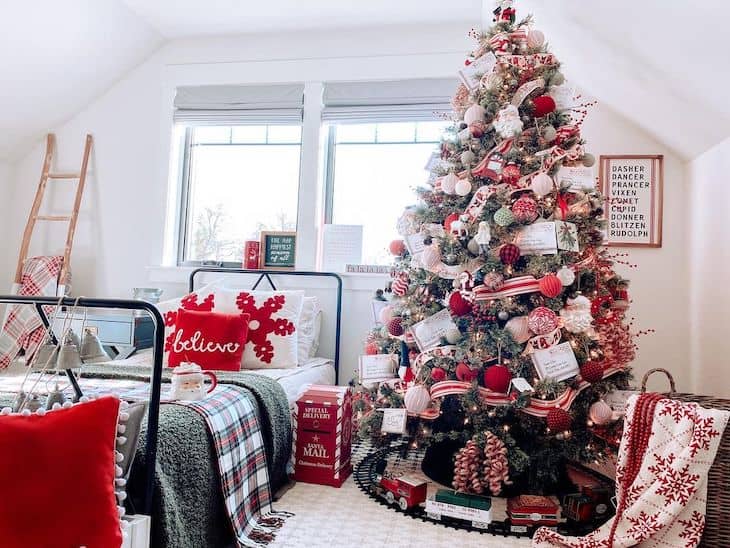 We must say Jess did a picture-perfect kids room Christmas decor for each of her little ones. Each space carries a different feeling of Christmas. They all have different themes like letter to Santa, whimsical, and peachy pink perfection.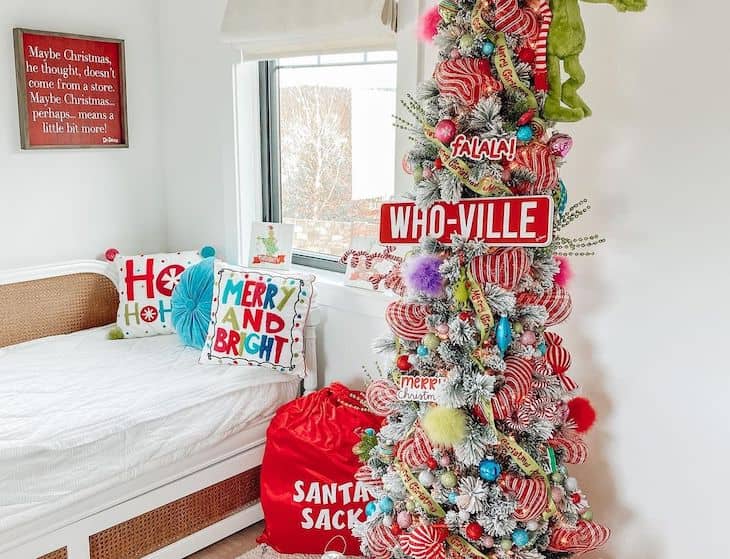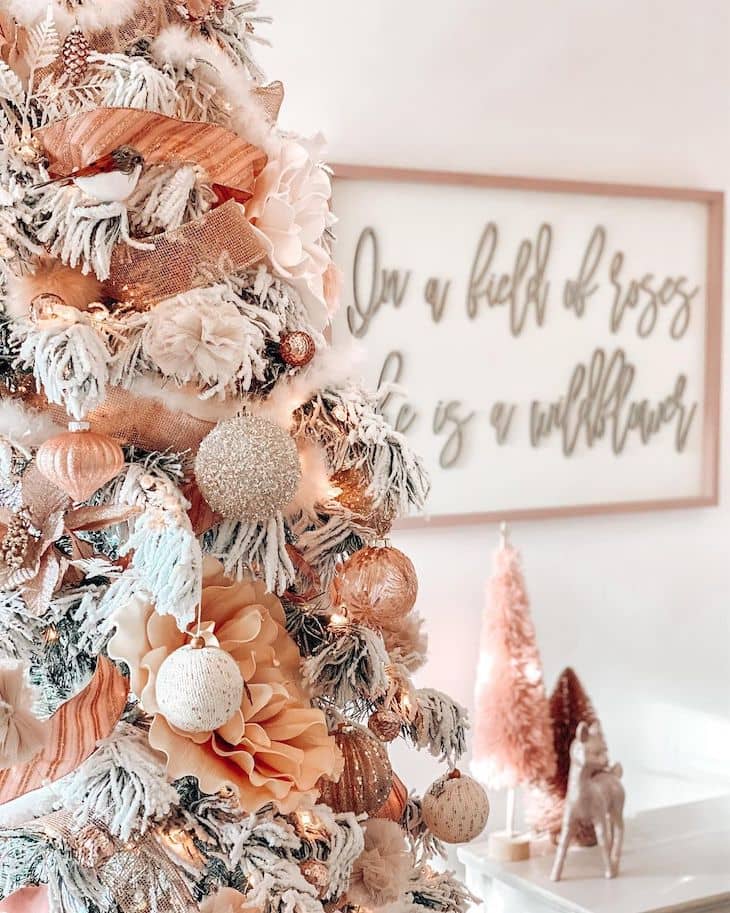 8. Jolly Christmas bathroom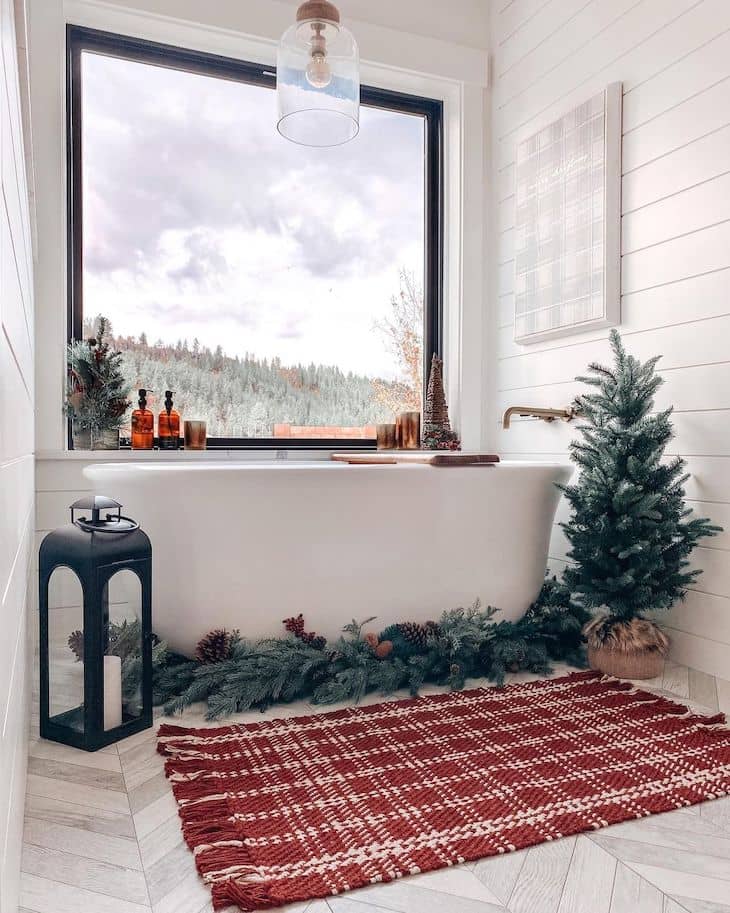 We love the idea of decorating your bathroom for Christmas. While your bathroom might not be the most glamorous spot in your house with a little extra decor, it can be entirely jolly.
According to Jess, these shelves were added to their master bathroom with the sole intention of holding garland at the holidays! And now you know how obsessed with Christmas she is and we totally approve of it!