Today we are sharing the beautifully Christmas decorated home of Charity the blogger behind the blog Mornings on Macedonia and the Instagram account @mornings_on_macedonia where she shares her love of home decor, antique hunting, and DIY projects. Her passion for interior design started when she moved into her new house and started her little decorating journey. Inside you'll find plenty of fun and festive ways to use antique finds and retro decor to dress up your farmhouse.
As an Amazon Associate I earn from qualifying purchases.
1. The magic of the small Chrismas trees for the front porch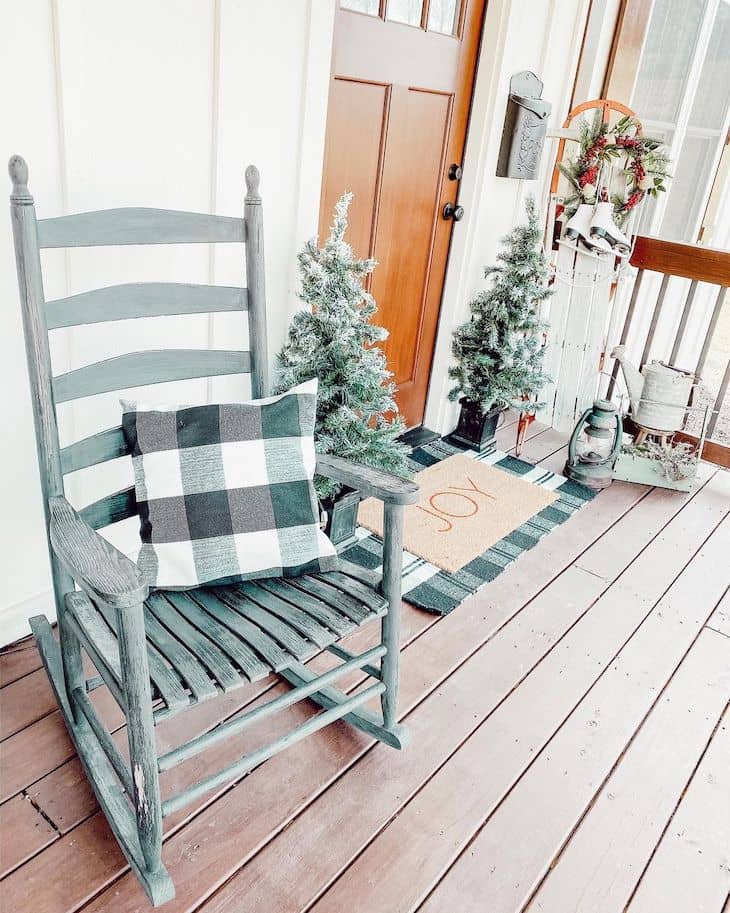 Shop related products:
buffalo check pillow // mini Christmas tree // plaid outdoor rug // #ad
If you want a simple inspiration for decking your front door, that will instantly put your guests in the holiday spirit, here you go. Adding a couple of mini trees on each side of your front door is just enough for a cozy glow. An easy way to add a festive little touch to your front porch is adding buffalo check pillows for your rocking chairs, as Charity did. And that antique sled decorated with a wreath and ice skates did all the magic for this place.
2. Christmas corner on the front porh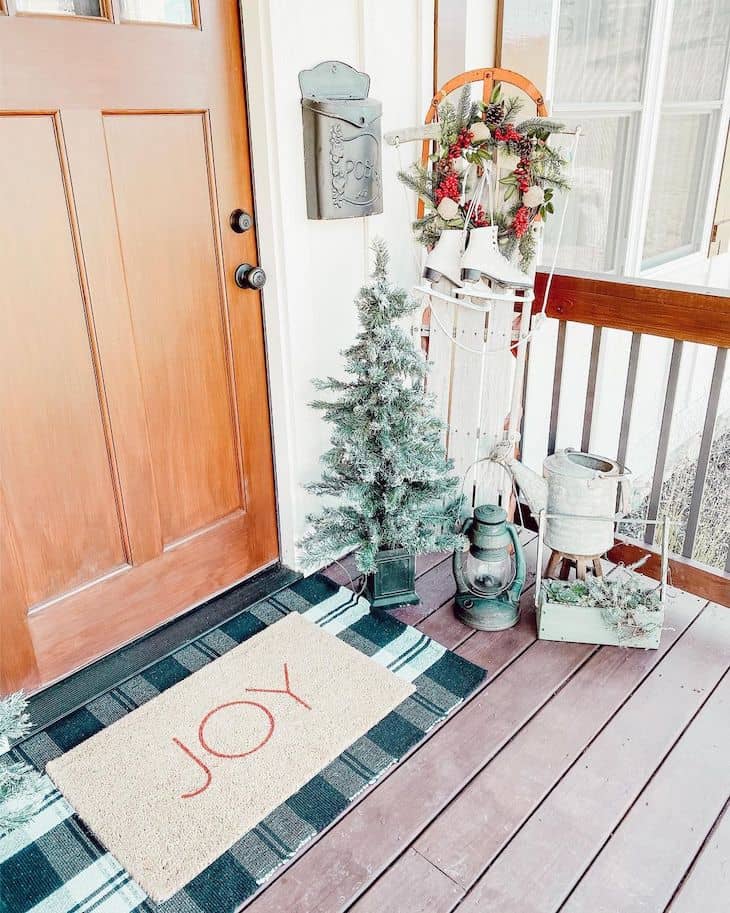 3. Antique sled decorated with a wreath and ice skates
4. Vintage bells for the Christmas entryway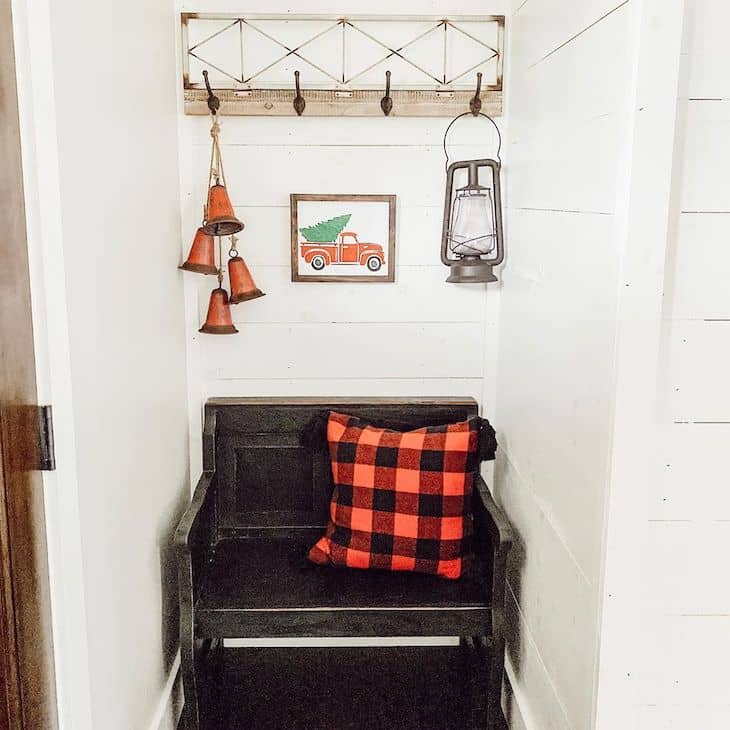 Shop related products:
red plaid pillow // antique bells // black bench // Christmas truck wall art // #ad
There is this cute little corner with a gorgeous black antique bench, that is adorned with a red buffalo check pillow, a red truck picture, and red antique bells.
5. Red buffalo check pillows for the living room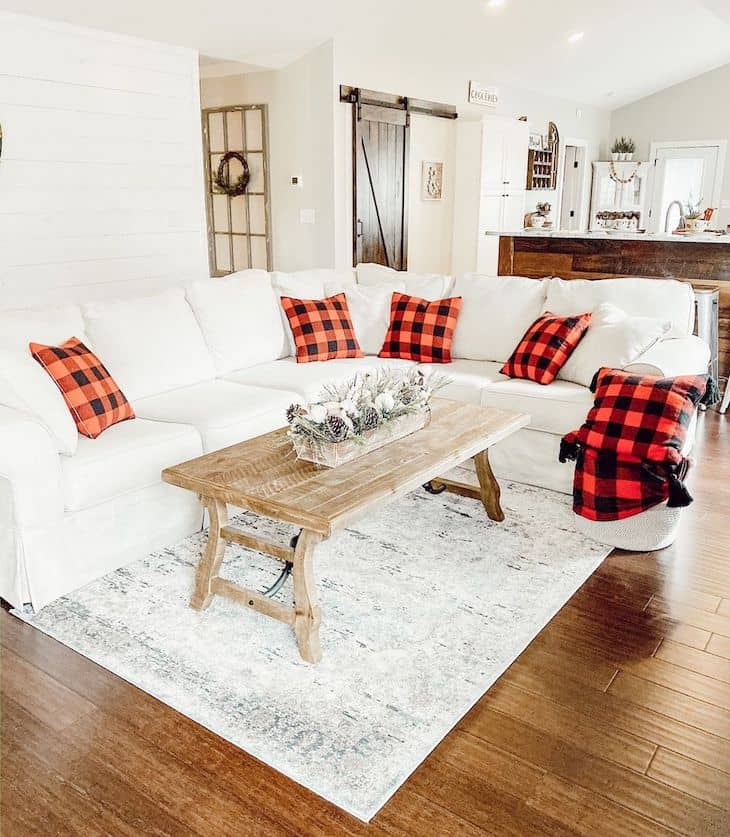 Shop related products:
red plaid pillow // coffee table // planter box // #ad
Simple red and white decor is the spirit of this living room. Charity added a little contrast to the white couch with the timeless red Buffalo plaid pillows. That and the gorgeous centerpiece are all she needed to make this room feel cheerful.
How about the genius idea to hang your Christmas socks on a blanket ladder. This is a perfect solution if you don't have a fireplace or a mantel to hang your Christmas socks on. No mantel, no problem, blanket ladder to the rescue. But the real breath taker in this room is the beautiful Christmas tree. Again, it is decorated with white and red touches but still looks so rich and magnificent.
6. Buffalo check Christmas tree decor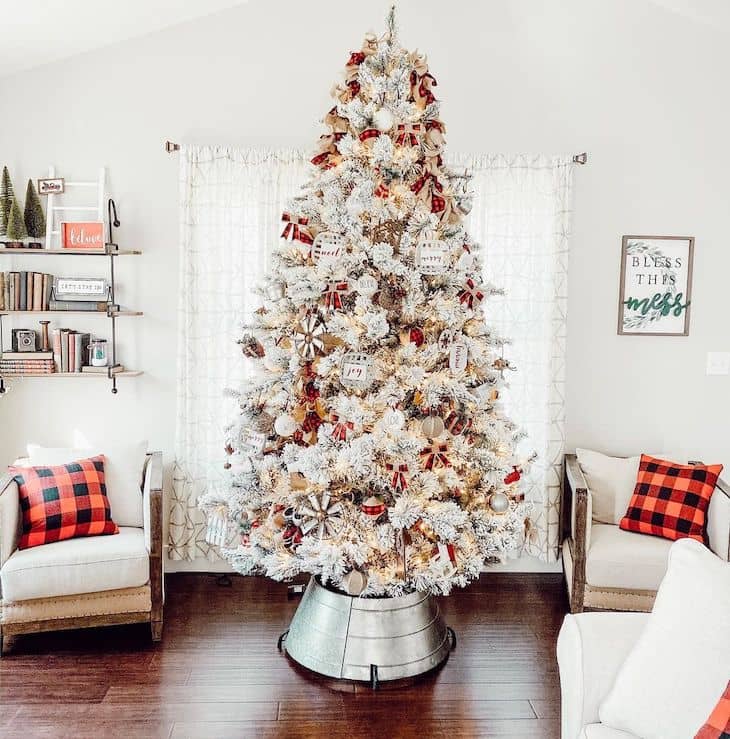 Shop related products:
flocked Christmas tree // metal tree skirt // windmill ornaments // #ad
7. Christmas stockings on a blanket ladder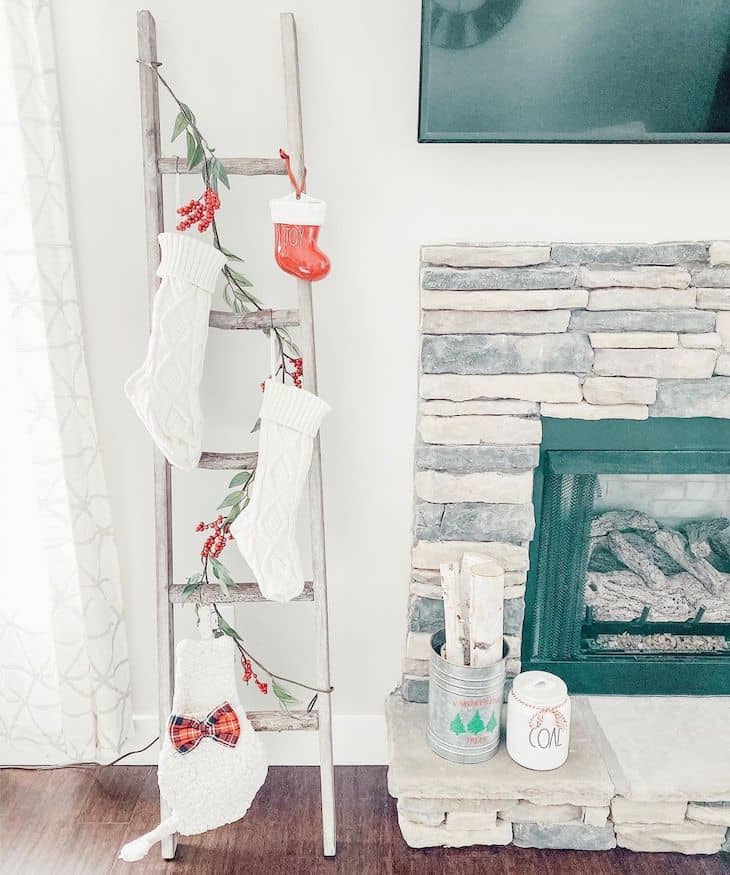 8. Christmas coffee table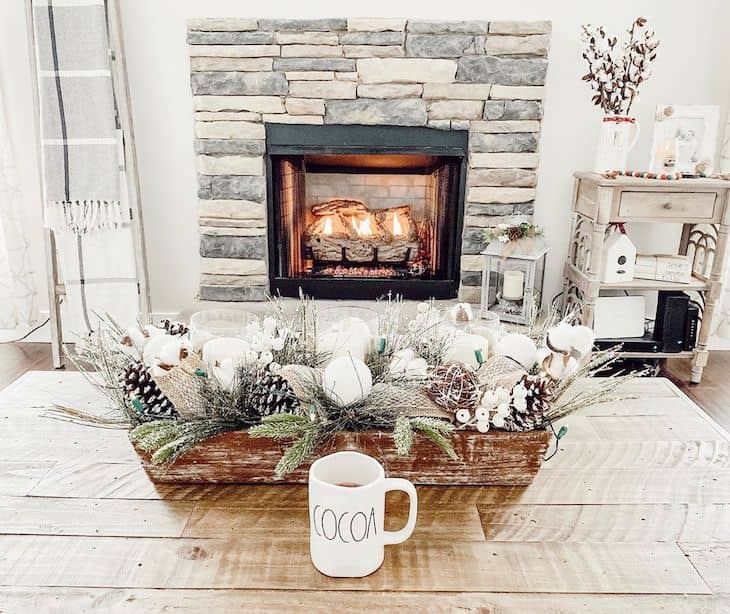 9. Joyful kitchen bar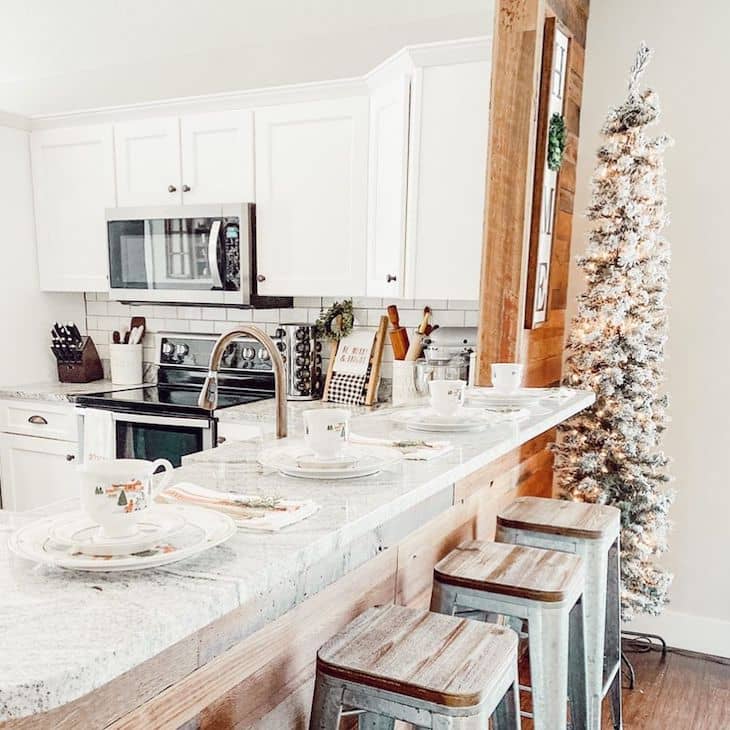 Styling the bar area with some Christmas dishes is Charity's simplest seasonal styling trick. For the kitchen island, she styled a Christmas tray as a centerpiece. And of course, the pencil tree in the corner is just the perfect fit for this area.
10. Pencil Christmas tree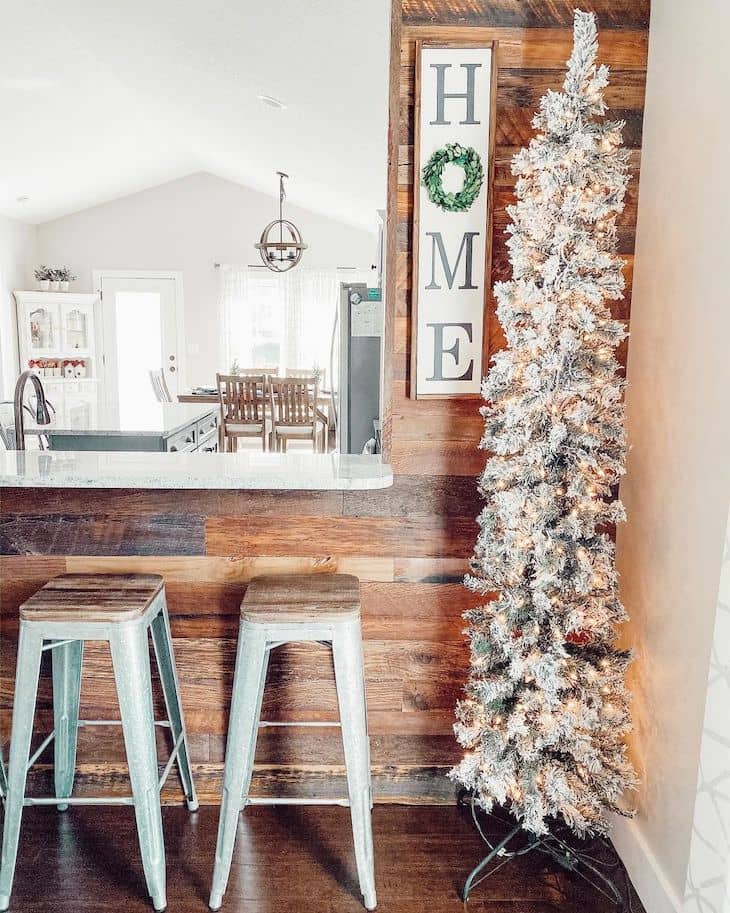 11. Christmas tray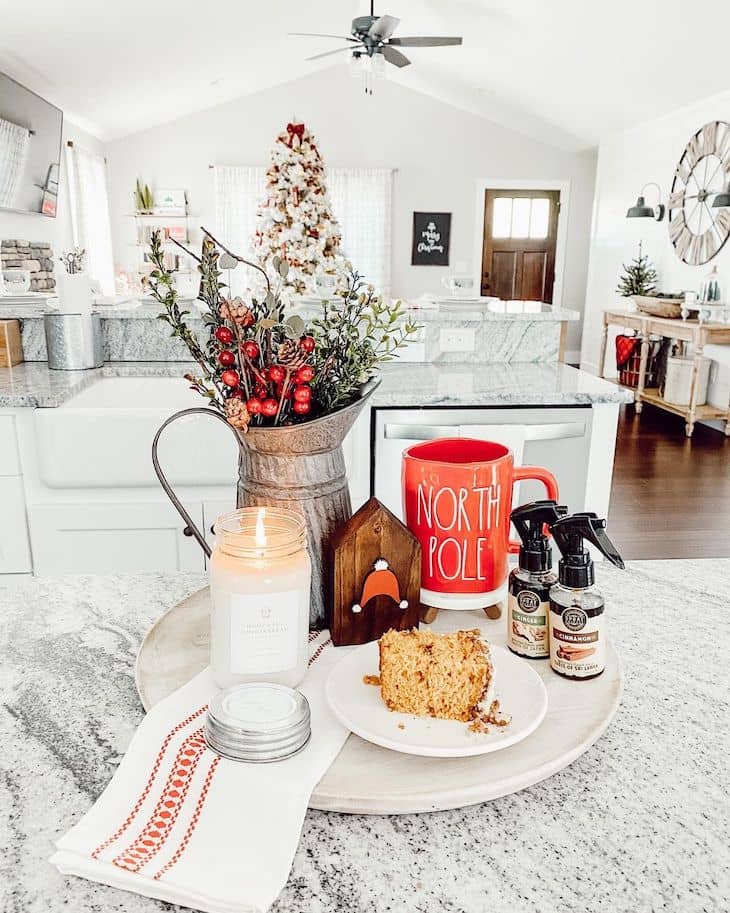 12. Simple tablescape for the dining room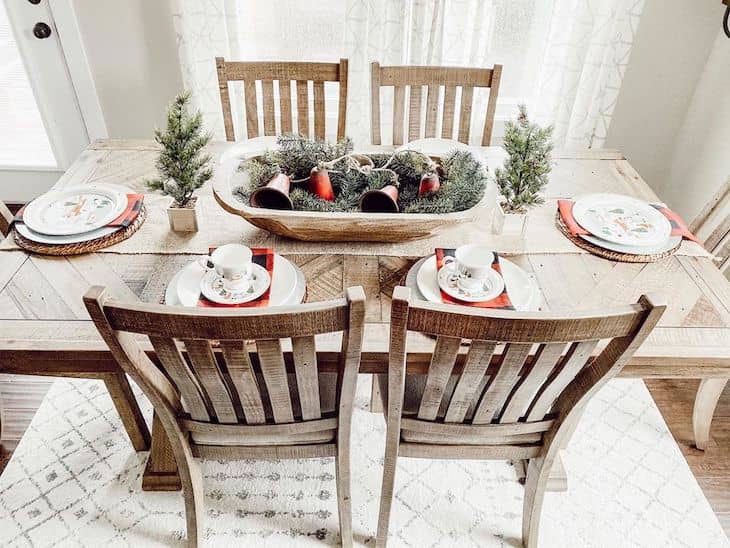 A simple dough bowl filled with plain garland and some red accents like the red bells is an excellent idea for a centerpiece on the dining table. Placed on a burlap runner gives a really rustic and cozy vibe. And if you own a lot of Christmas dishes and coffee cups a dedicated coffee bar area is a perfect place for displaying them.
13. Christmas decorated coffee bar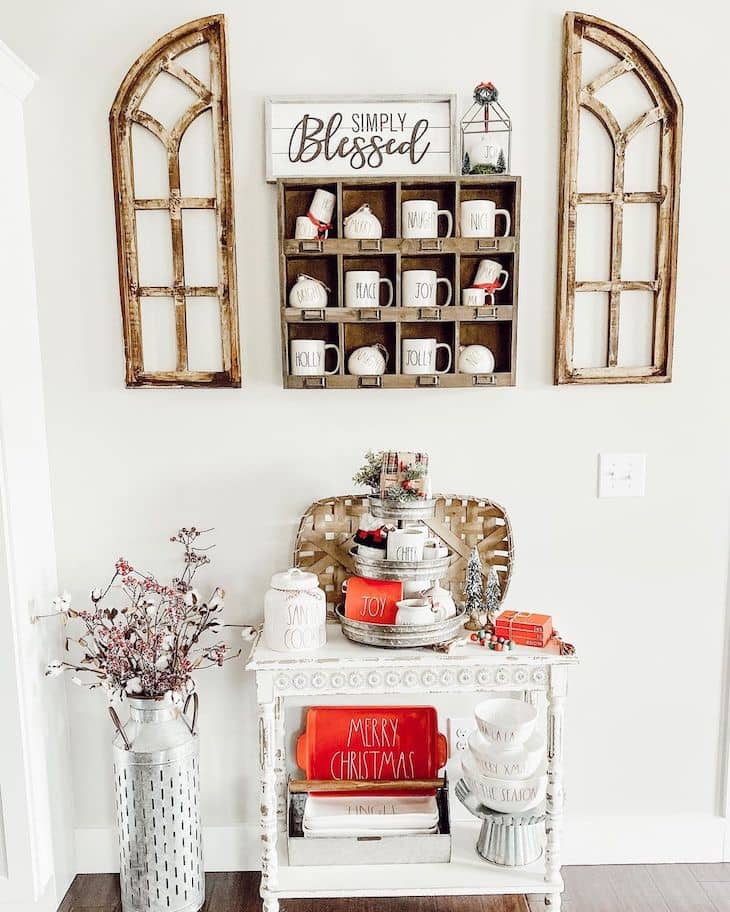 14. Christmas wonderland in the bedroom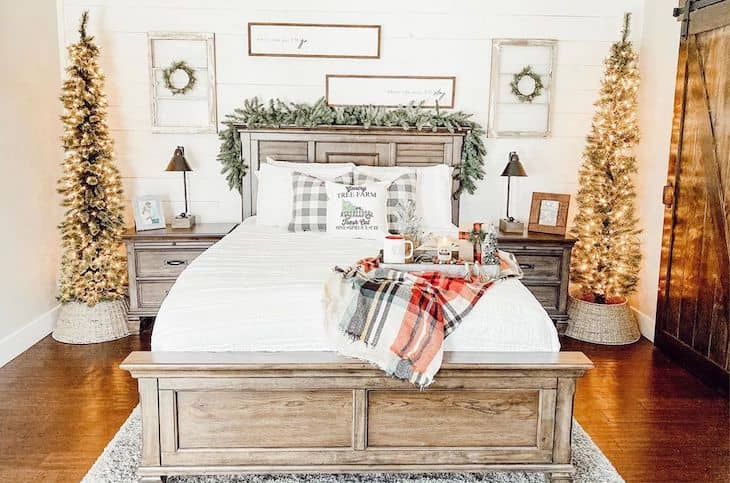 By the looks of it, looks like Charity has the perfect formula for turning your bedroom into a Christmas wonderland. Her motto is, you can never have too many Christmas trees. To keep consistent with the symmetry in her bedroom she added not one but two pencil Christmas trees on each side, right next to the bedside tables.
15. Cheerful Christmas spirit for the home office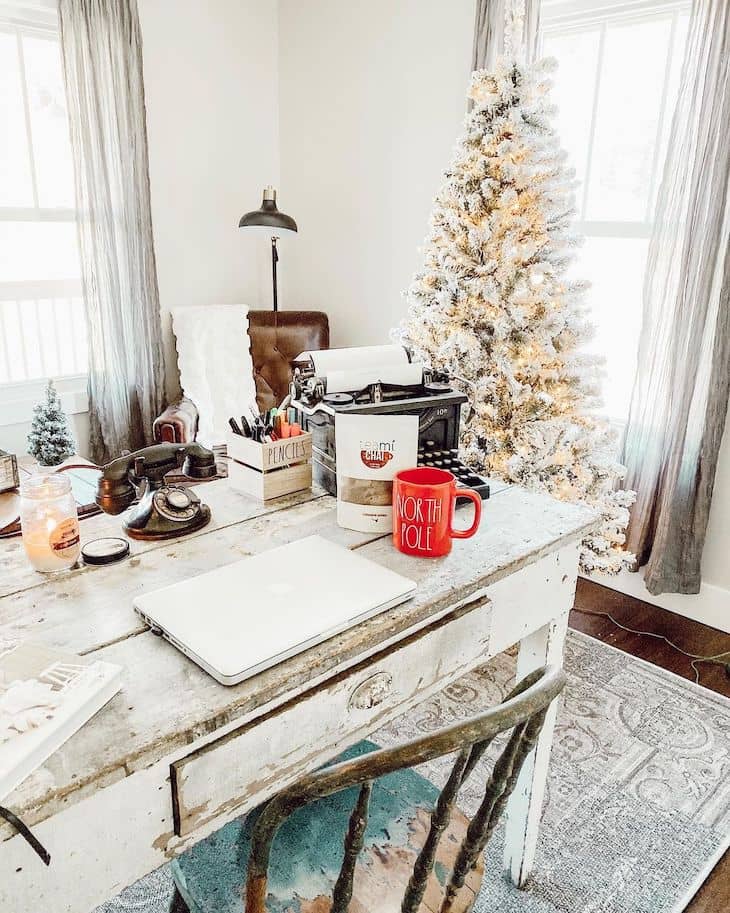 As you all noticed she just loves Christmas trees, and of course, there is one in the office as well. It is great to be in the cheerful Christmas spirit when you work as well.