Our holiday gatherings with family and friends are so much better with beautiful Christmas table decorations and settings. Deck the halls and your dining table with these Christmas table decor ideas, from muted green for an elegant theme, to traditional red and white, to easy DIY decorations and centerpieces on a budget.
As an Amazon Associate I earn from qualifying purchases.
How can I decorate my Christmas table?
If you are out of ideas on how to decorate your Christmas table this year, we give you several ideas below. From the traditional red and green theme to a neutral all-white Christmas table, to easy and cheap Christmas table decor ideas that will bring festive cheer to your home.
1. Go with muted greenery for an elegant theme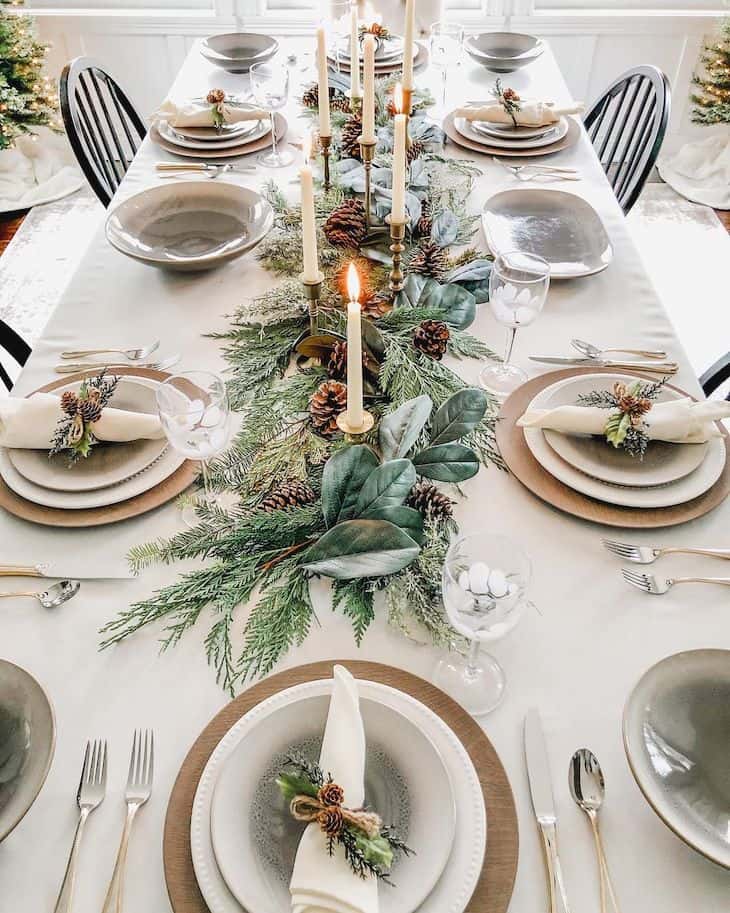 Shop related products(#ad):
wood charger plate // beaded plate // napkins // candle holder // pine garland // magnolia garland
If you want an elegant Christmas table theme try muted green colors and wood tones mixed with white and grey. Lay a piece of cedar garland as a centerpiece and mix it with magnolia garland to add fullness. For added texture to the centerpiece throw in pinecones and light up tapper candles on gold candle holders.
Place white and grey dinnerware on top of wooden charger plates. On top of the plates place classic white napkins wrapped with DIY napkin rings made of pine straws and burlap twine.
2. Combine white with silver Christmas decorations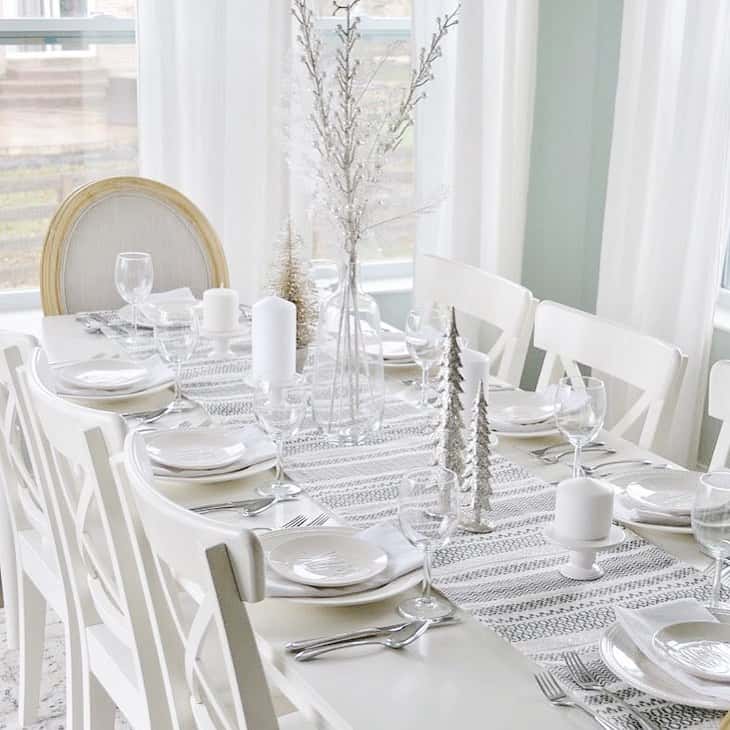 Shop related products(#ad):
Christmas figurines // pillar candles // candle holder // table runner // dinnerware // vase // silver stems
Who says that you have to stick to the red and green color scheme to create a holiday table setting? Bring Christmas charm to your table with a white and silver palette using white dinnerware, table cloth, and candles, and spruce it up with silver Christmas figurines.
Opt for silver flatware to go with the color theme. A glass vase with tall silver stems will amplify the holiday flair on your Christmas table setting.
3. Use gold accents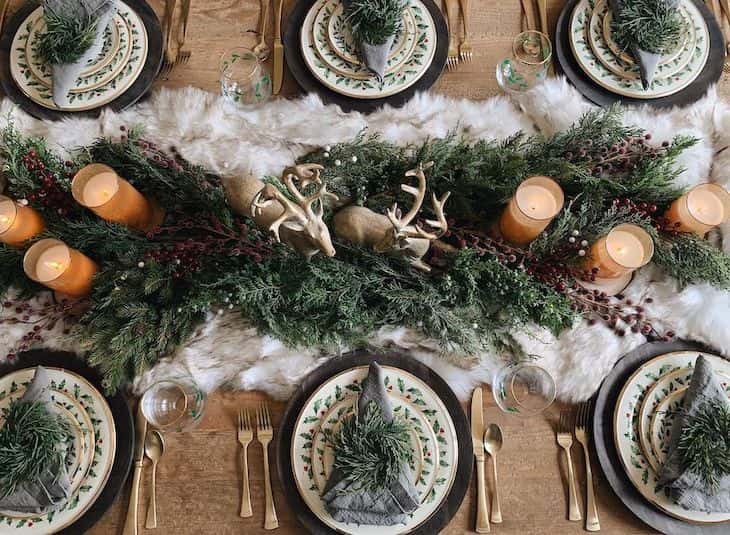 Shop related products(#ad):
holiday dinnerware set // holiday glass // faux fur runner // pine garland // napkins // flatware // candles // plate charger
Create a magical Christmas setting on your table with a fur table runner topped off with cedar garland mixed with velvet berry stems. Enrich the centerpiece by adding candles and gold accents like your favorite reindeer figurines.
Use dinnerware with a classic holly and berry motif paired with gold flatware to keep with the golden theme.
4. DIY festive cutlery pocket napkins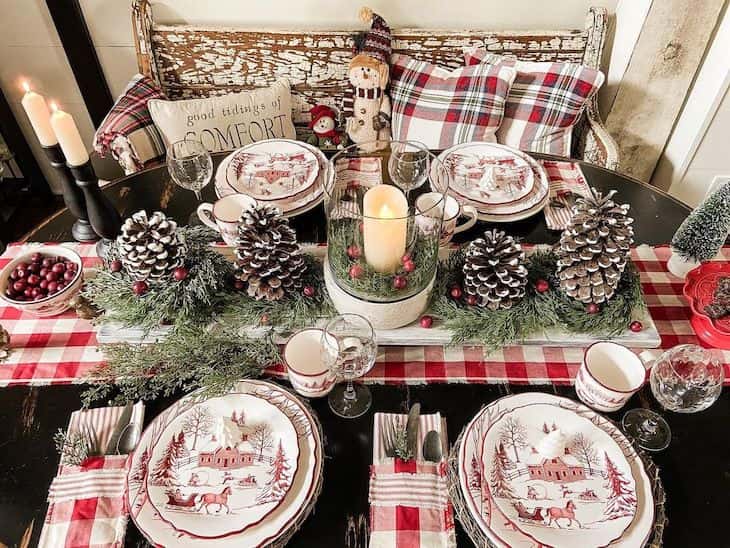 Shop related products(#ad):
dinnerware // table runner // pine cones // cedar stems // cloth napkins // glass candle holder
If you are crafty, try and make these easy DIY festive cutlery pocket napkins that will be perfect for your Christmas table setting. Rachel from @rachel_thepondsfarmhouse is sharing a sew and No-sew tutorial on these napkins on her blog here.
Complete the look with a matching red buffalo plaid table runner for a rustic yet festive feel. On top of it make a Christmas centerpiece made of pinecones placed on garland candle rings and a Christmas hurricane candle holder for a beautiful Christmas table setting.
5. Decorate with traditional Christmas palette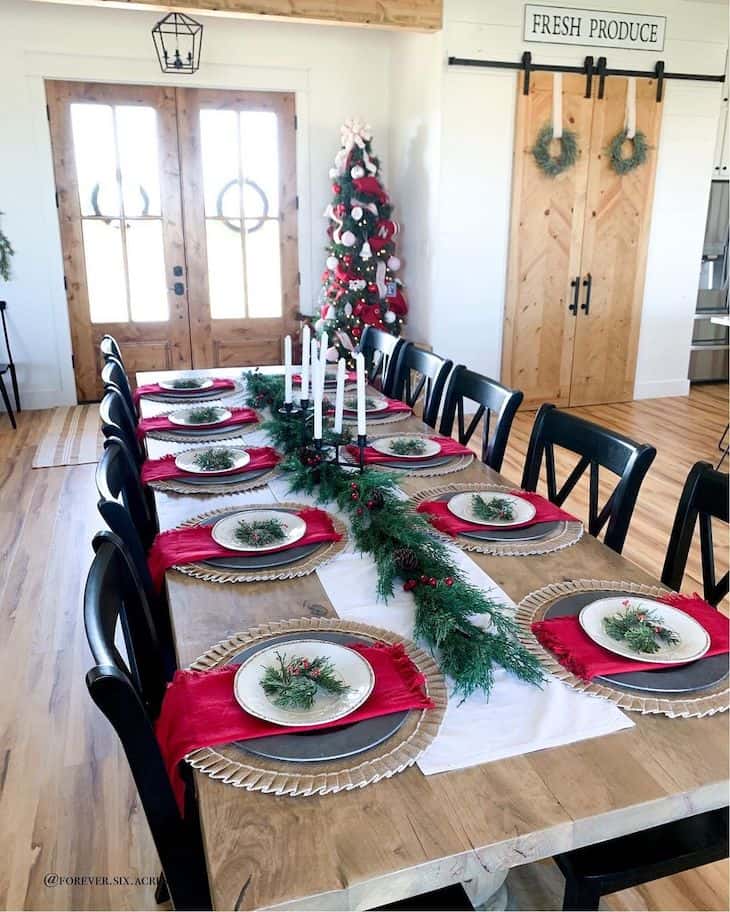 Shop related products(#ad):
napkins // garland // candle holder // candle ring // placemats // table runner
You can't go wrong with using traditional Christmas colors for your holiday table decor. Try and make an easy and affordable Christmas table setting with garland as a centerpiece and red napkins used as placemats.
This simple and festive Christmas table runner garland centerpiece is made with pinecones and berry stems clipped on it and a candle holder with taper candles for added height. Place it directly on the table, or layer it on top of a table runner for added texture. For a quick and easy decor trick, add decorative pine candle rings to your plates.
6. Use wood box as a centerpiece for a farmhouse feel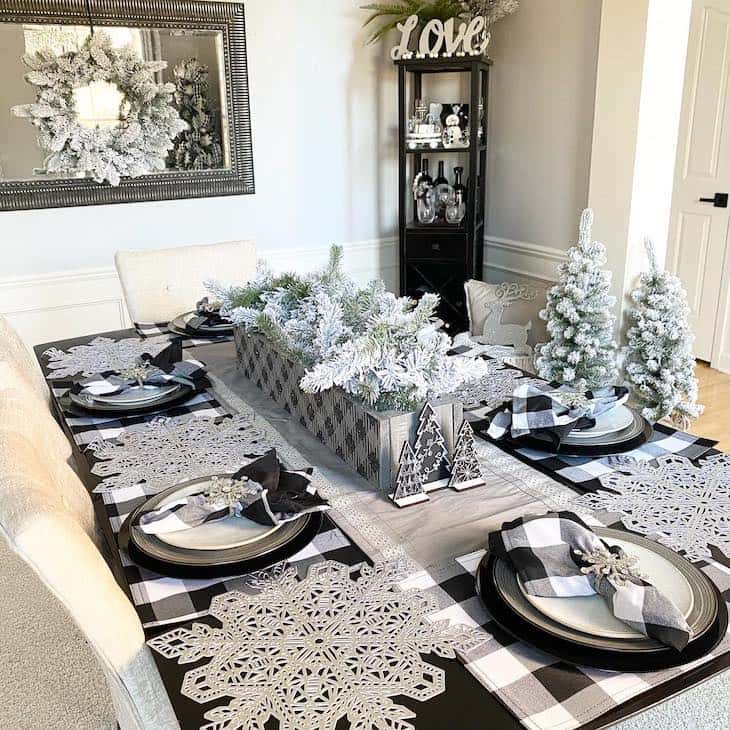 Shop related products(#ad):
plaid placemats // snowflake placemats // napkin ring // pine picks // planter box
Fill a handmade wood box with flocked greenery for a farmhouse Christmas look. The flocked greenery is perfect to combine it with black and white buffalo check Christmas decor to keep the monochromatic farmhouse look.
Add a spark of elegance with silver napkin rings for a winter wonderland theme.
7. Make vintage wonderland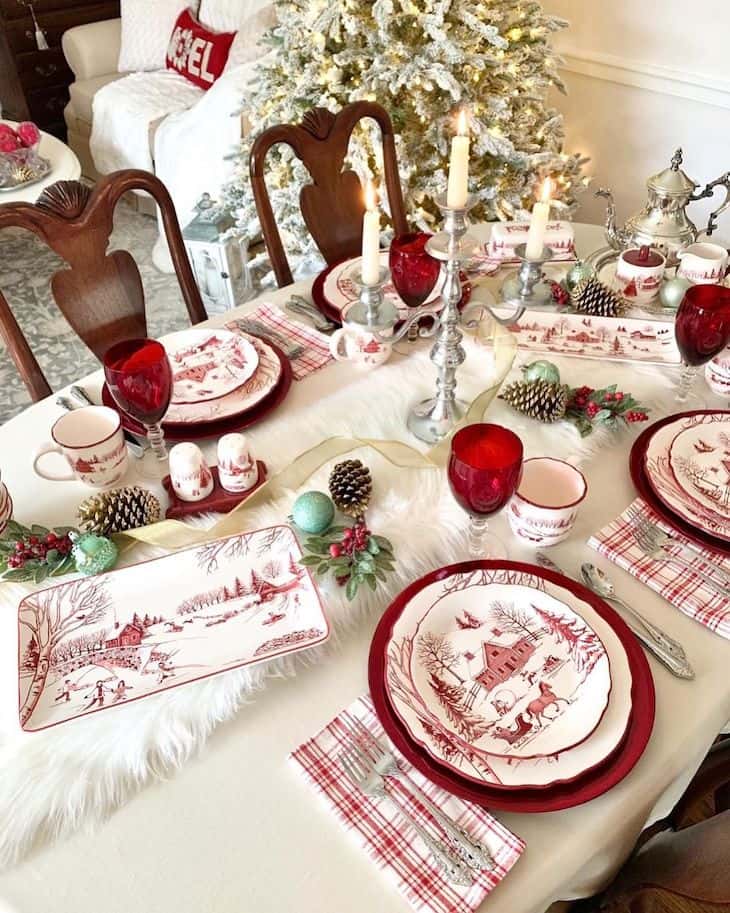 Shop related products(#ad):
dinnerware // rectangular platter // holiday mugs // table runner // napkins // candle holder
Make a vintage wonderland with winter-themed holiday china in a classic red and white color. Scatter Christmas table decorations like pinecones and ornaments around your plate settings to add festive charm. Add red glassware to go with the Christmas-themed pattern in red.
Balance out the red color and wood tones with silverware and silver candle sticks to add an extra special touch to your Holiday table.
8. Set up a gorgeous centerpiece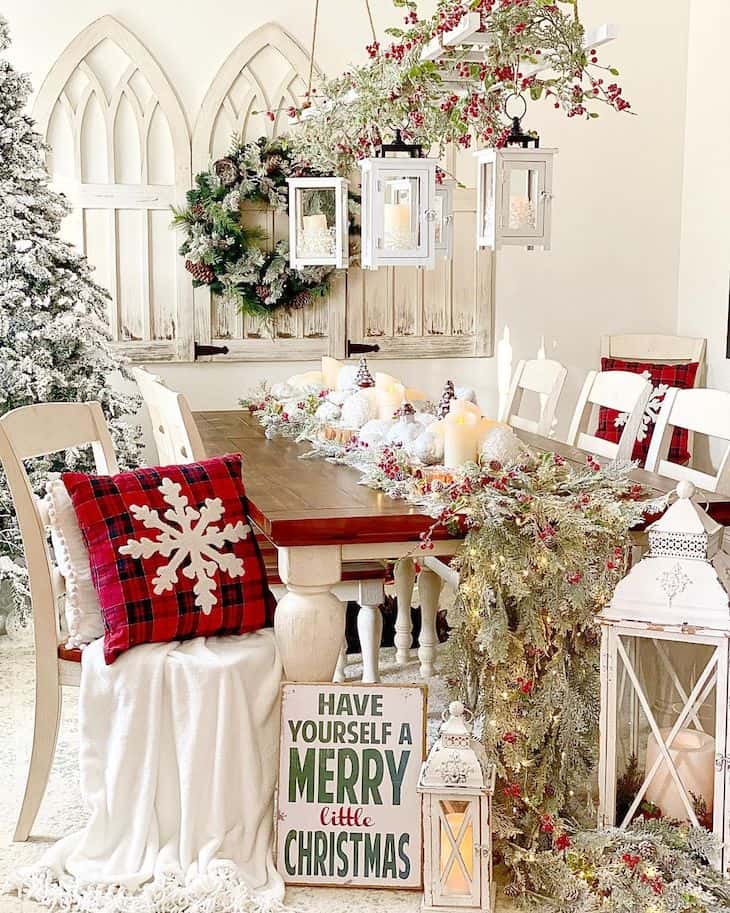 Shop related products(#ad):
garland //
Impress your dinner guests with a naturally striking centerpiece made of runner garland that goes all the way to the floor for added spectacle. Adding a bit of holiday pizzazz to your seating arrangements with blankets is a great way to make your guests feel cozy.
Transform your dining light fixtures into a conversation piece with Christmas decor that can include ribbons, pine branches, and ornaments.