With the holiday season right upon us, we are all thinking of fresh ideas on how to decorate our mantel in a festive way. Right after the Christmas tree, the fireplace mantel is the next center of attention when it comes to Christmas decor. So this is the time to unleash your creative juices and create a cozy, eye-catching Christmas decor for your mantel. If you are struggling with which decor style to go with this year, we've got you covered. Below you can find every possible style of Christmas mantel decor suitable for every taste.
As an Amazon Associate I earn from qualifying purchases.
1. Classy Christmas mantel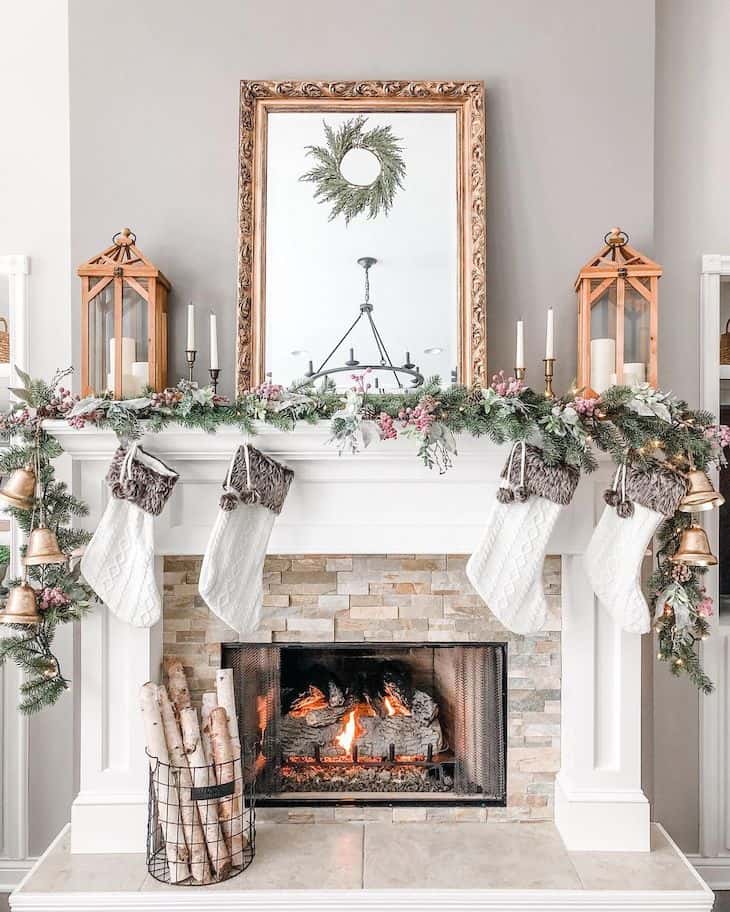 Shop related products(#ad):
garland // lantern // candleholders // log basket // stockings // mirror
This whimsical and classy Christmas decor accented with gold and wood accents is perfect for this white mantel. Is it all about symmetry in this decor setting, and it makes it really pleasing to the eye. Every decor piece in this Christmas ambiance is perfectly placed and adds to the warm and inviting feeling this fireplace reflects.
The flocked garland features more of a neutral green tone and combined with the clean white knitted Christmas stockings and light wood tones give off a calm and sophisticated vibe.
2. Modern Christmas mantel decor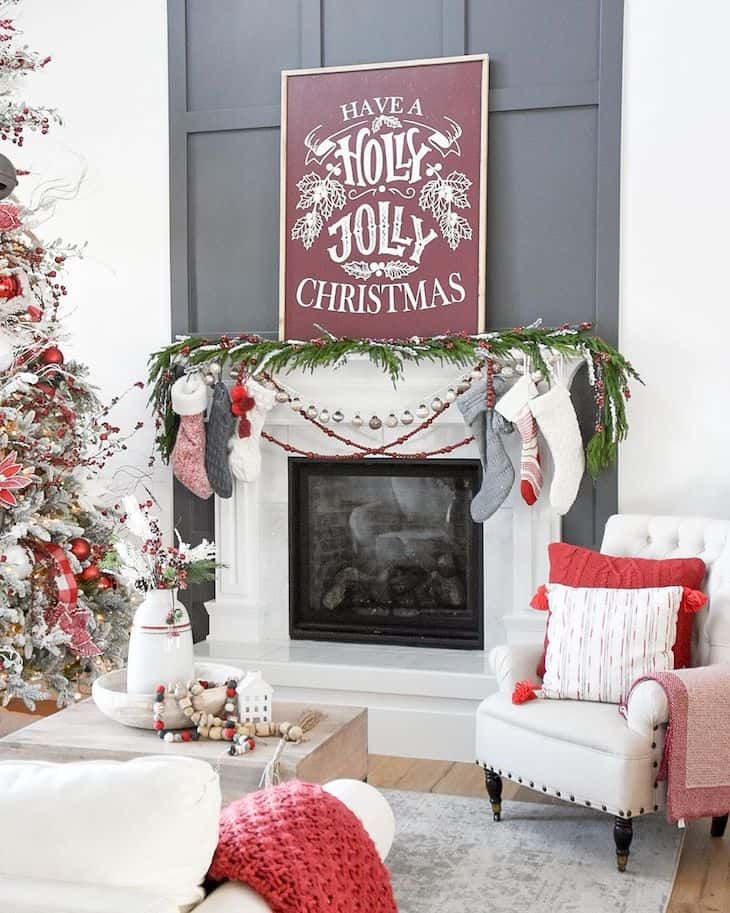 Shop related products(#ad):
stockings // garland // wood bead garland // sign // pillow
It is all about the jolly feeling in this living room. We love how all the whites and neutrals in this living room work in perfect cohesion with the cheerful red decor. The green garland with red berries gives a bright feeling and the mismatched Christmas stockings somehow look like a perfect match for this Christmas setting.
The big Christmas sign in white and berry colors contrasts the accent fireplace painted in "Peppercorn" by Sherwin Williams in a fun and festive way and ties this whole decor together.
3. Christmas decor for black fireplace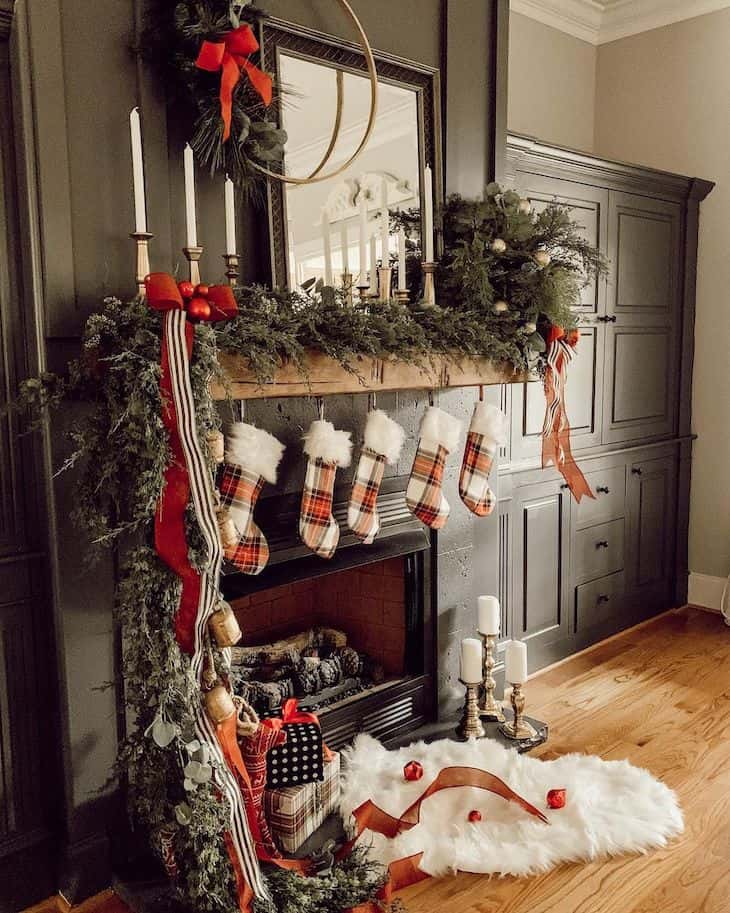 Shop related products(#ad):
garland // stocking // red ribbon // candle holder
This black and moody fireplace in color "Peppercorn" by Sherwin Williams has Christmas decor that is as moody and striking as the fireplace itself. The full and rich garland draping from the mantel creates a dramatic setting in this area and is the focal point of this memorable holiday decor.
So elegant and absolutely beautiful. I love the transformation! I love the black moody color That color looks so striking.
4. Neutral Christmas mantel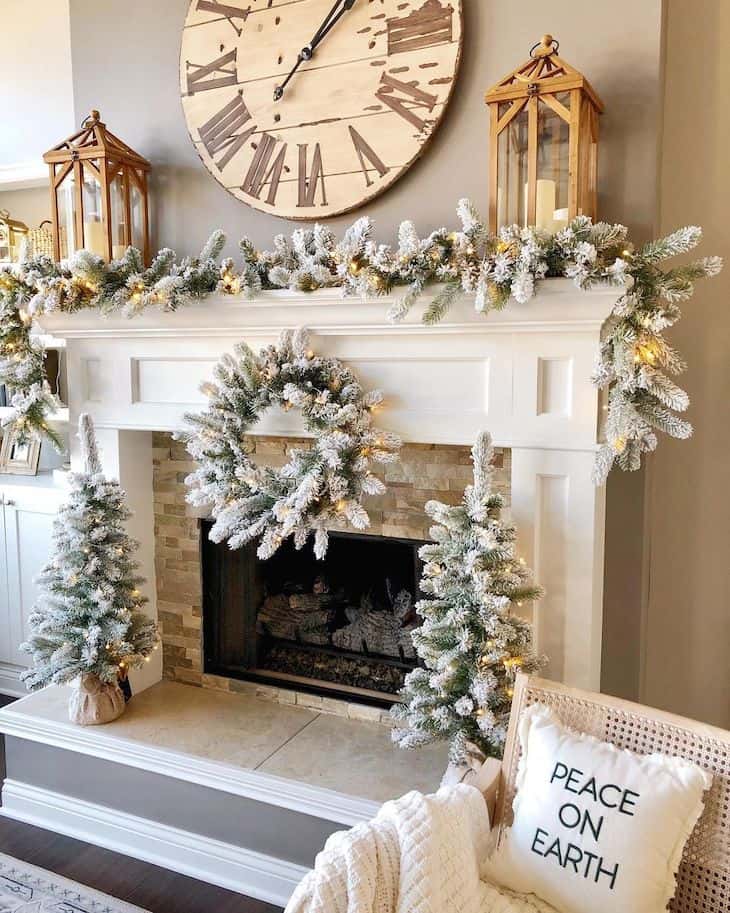 Shop related products(#ad):
clock // garland // wreath // mini tree // lantern
If you are not into reds and striking greens for your Christmas decor using pre-lit flocked garland and wreath in combination with two mini trees on each side of the fireplace might be the answer for you. They can be even be bought in a set, so you are sure that they go perfectly with one another.
Placing two wood lanterns on each side of the mantel will bring a natural touch and will complete the look of your Christmas decor.
5. Black mantel with festive charm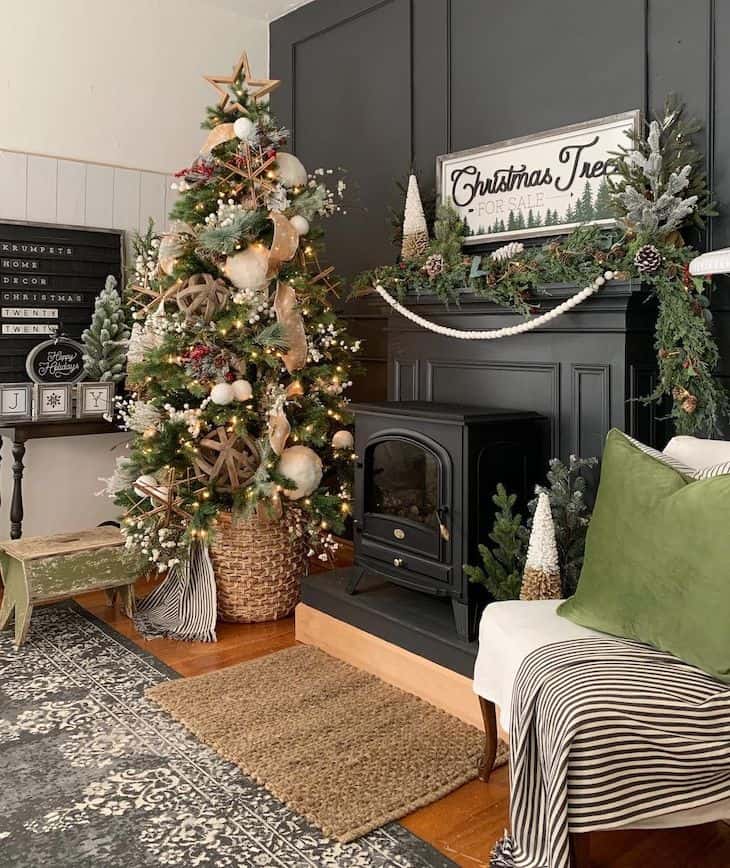 Shop related products(#ad):
garland // wood sign // mini trees
Another beautiful setting with a black fireplace decorated with gorgeous Christmas decor. It seems like more is more when it comes to decorating a black fireplace especially if it is placed on a black accent wall. A beautiful full garland intertwined with pinecones and white beads will give a festive charm to your mantel decor.
A charming Christmas sign in a contrasting white color will create a focal point for your stunning decor. Complete your look with a Christmas tree decorated with big dazzling Christmas ornaments.
6. Mini forest in your living room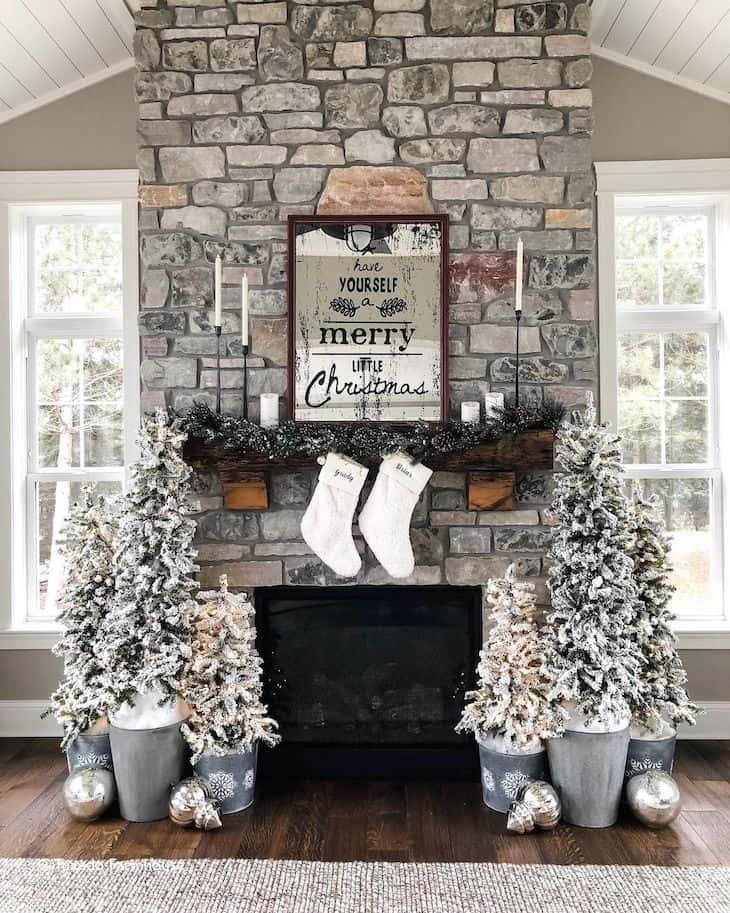 Shop related products(#ad):
mini tree // galvanized buckets // stockings // candle holder // garland
Adding a group of mini flocked trees on each side of your stone fireplace will look like you have a magical mini forest in your living room. Complete the look of a winter fairytale with white knitted stockings and a cedar garland arranged on your mantel.
An antique mirror with a Christmas quote will give a holiday charm while reflecting the rest of your living room decor.
7. Soft blue palette for a serene look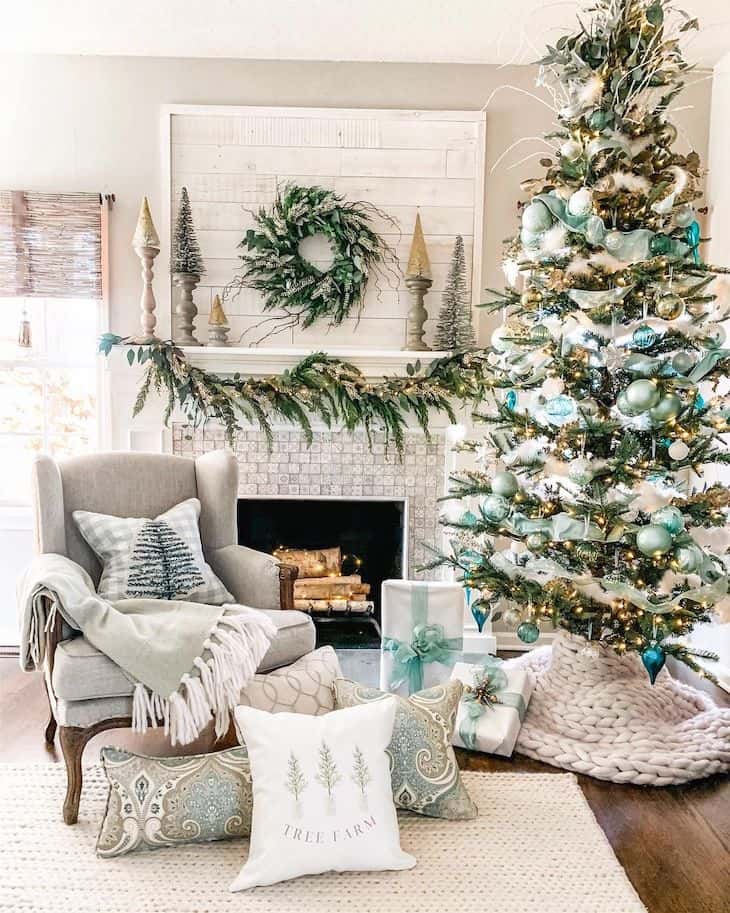 Shop related products(#ad):
Christmas tree // wreath // mini trees // garland // blanket // candlesticks
Using blue Christmas decor typically goes well in a room where white and calm neutral colors prevail. The blue palette complements the wall color in "Revere Pewter" by Benjamin Moore and the white mantel in a whimsical way. Pamela used the right soft blue colors to make this mantel and its surroundings look fabulous.
Pamela was very intentional with the decor in this room and using a cozy knit blanket as a tree skirt was an easy but clever hack to use here. Using candlesticks as holders for the bottle brush trees is another great improvisation in order to achieve different heights for the decor and bring interest to the mantel itself.
8. Vintage Christmas mantel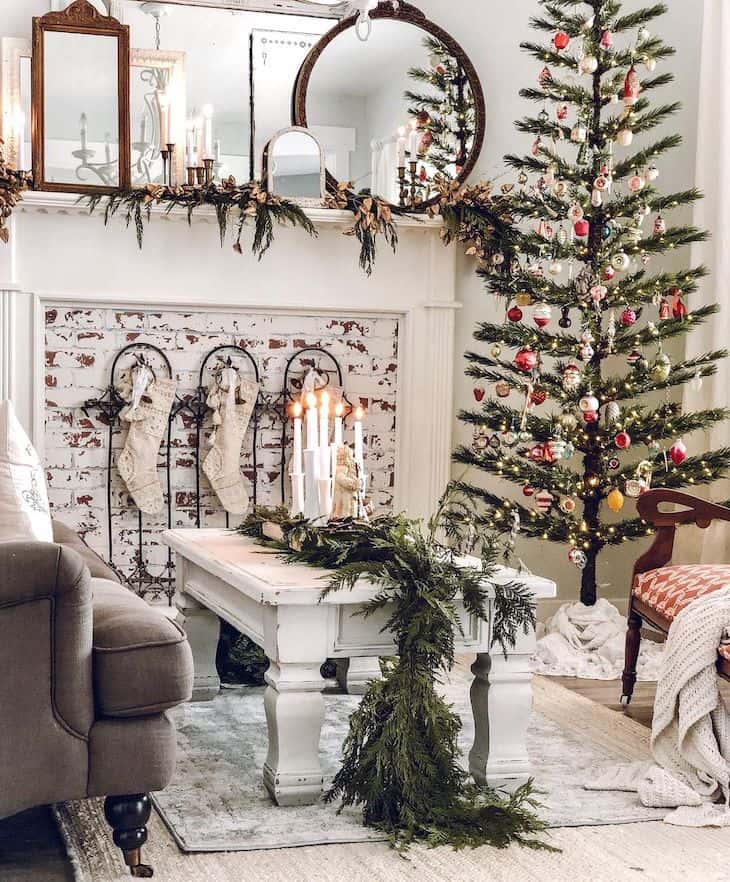 Shop related posts(#ad):
Christmas tree // vintage mirrors // stockings
This timeless and classic tree with vintage ornaments creates a beautiful Christmas setting and is the perfect addition to this faux fireplace decorated for Christmas. The mirrors on the mantel reflecting the light from the candles create a vintage holiday feel.
The draped garland on the coffee table completes the look of this festive living room filled with a whimsical atmosphere.
9. White Christmas mantel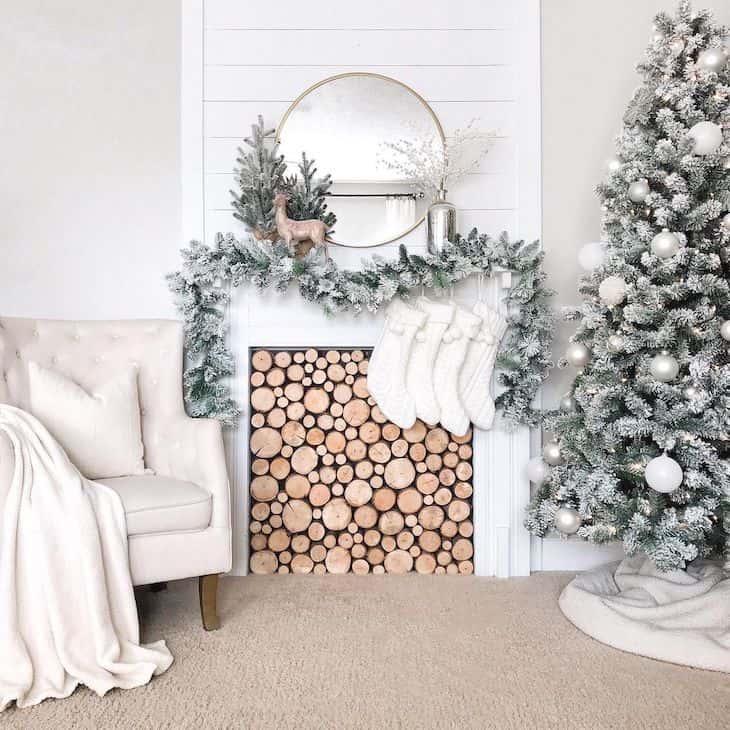 Shop related posts(#ad):
garland // mini tree // Christmas stockings // mirror
White winter wonderland – are the words that perfectly describe the Christmas ambiance in this living room. Everything in this setting hints at the dreamy snowy woods in the wintertime. From the wood slices in the faux fireplace to the white flocked garland and mini trees.
Everything here is so simple and clean and yet creates the perfect Christmas fairytale decor.
10. Traditional Christmas mantel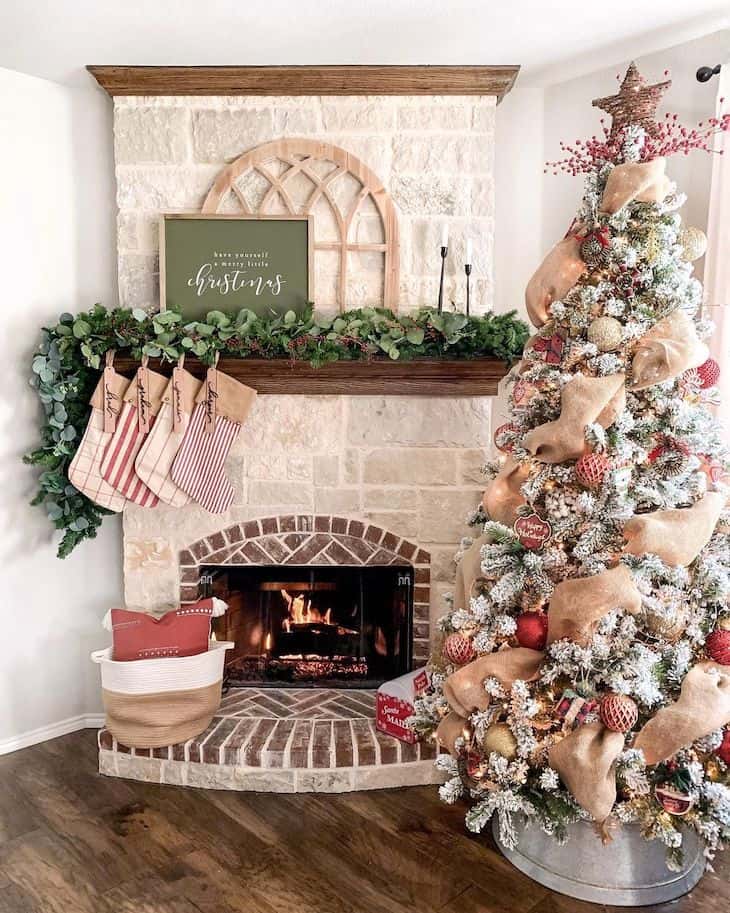 Shop related products(#ad):
garland // Christmas stocking // stocking name tags // windowpane // candle holders // basket // tree skirt // Christmas tree // burlap ribbon // ornaments
Not to play favorites but this rustically whimsical, yet traditional Christmas mantel decor is really close to being the one. We love how the cedar and eucalyptus garland contrasts the dark wood mantel and creates the perfect color combination to achieve the traditional Christmas look.
The Christmas stockings in a timeless holiday color and pattern blend easily with the existing decor. Placed all together to one side of the mantel they balance the decor in coordination with the magical Christmas tree.
11. Woodland Christmas mantel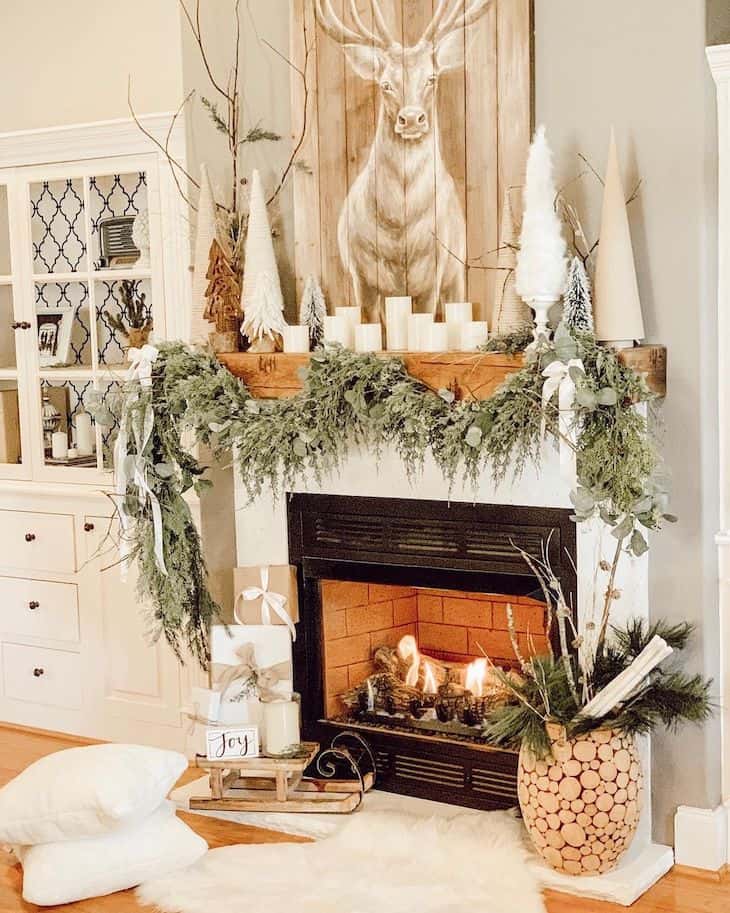 Shop related products(#ad):
garland // candles // sisal trees
We can't make up our minds about who is the star of the Christmas decor on this fireplace. The majestic deer art piece or the perfectly draped green garland on the mantel. We agree on one thing though, combined together they make one flawless Christmas scene.
The white candles in different heights and the white mini trees complete this woodland Christmas mantel decor to perfection.
12. Cottage Christmas mantel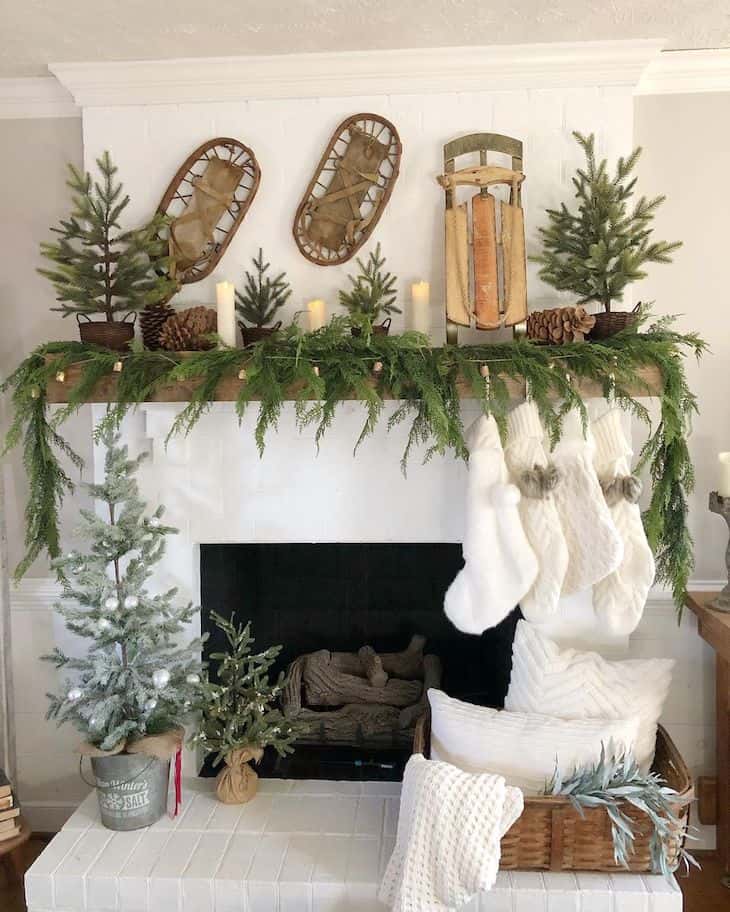 Shop related products(#ad):
mantel // garland // mini tree // knitted stockings // fuzzy stocking // sled // pinecones
If you want to style a fireplace that looks fabulous for Christmas or winter this is the perfect example you can follow. When Christmas is over you can simply remove the stockings and you have a decorated mantel for all winter.
The antique snowshoes and the mini sled give off cozy cottage vibes and the rest of the decor with green garland and trees and white cozy knits resembles a winter fairytale.
13. Elegant Christmas mantel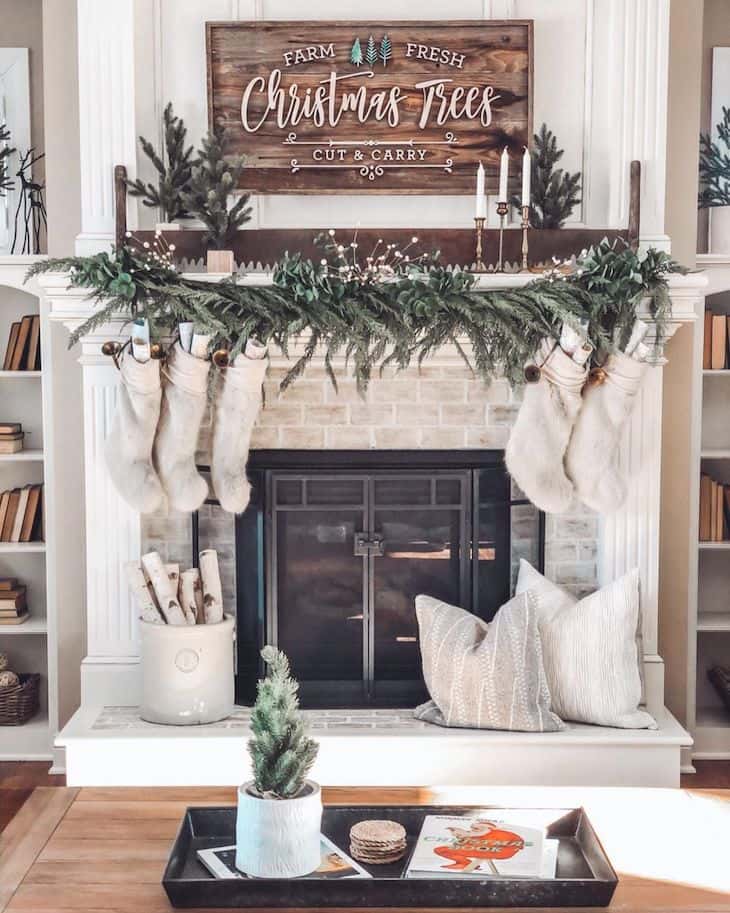 Shop related products(#ad):
wood sign // Christmas stocking // garland // eucalyptus stems // mini tree // candle holders
If you want an elegant Christmas mantel decor this is the example to follow. Symmetrically draped Christmas garland united with white furry Christmas stockings reflects a sophisticated feel. Add a gorgeous wooden Christmas sign in order to create a jolly feel.
14. Unique Christmas mantel with french country vibes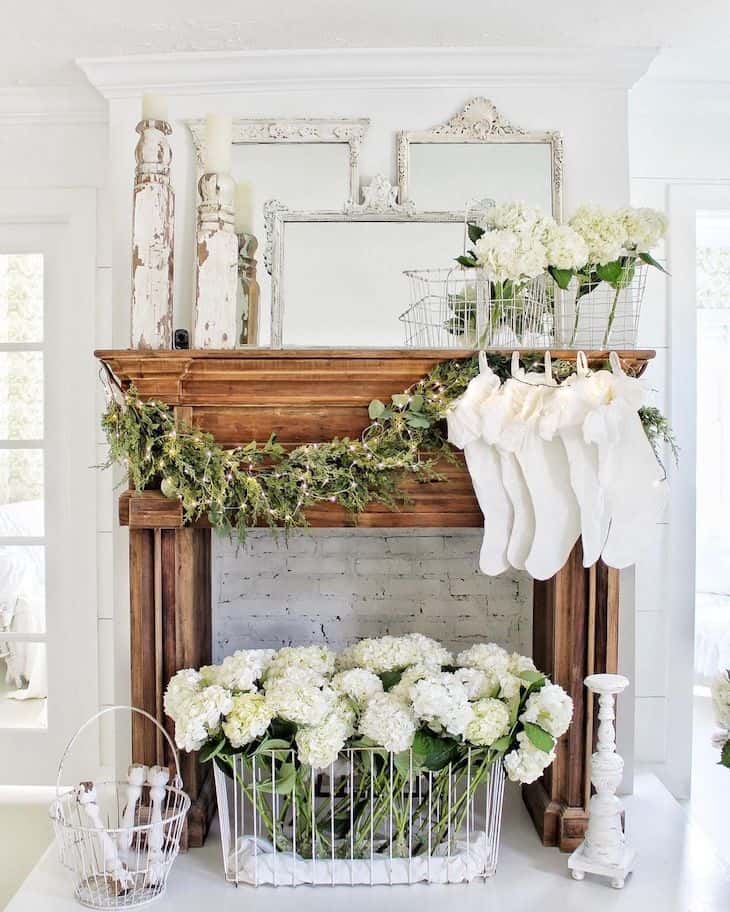 Shop related products(#ad):
hydrangeas // mantel // prelit garland // wire baskets
Have you seen a more unique Christmas mantel decor than this one? Incorporating the not-so-typical flowers for the season to decorate your fireplace for Christmas is the most imaginative idea. The dried hydrangeas are in perfect color coordination with the natural chenille stockings and the prelit garland draped on the wood mantel.
A stunning decor like this one is perfect for a peaceful holiday season.
15. Cascading garland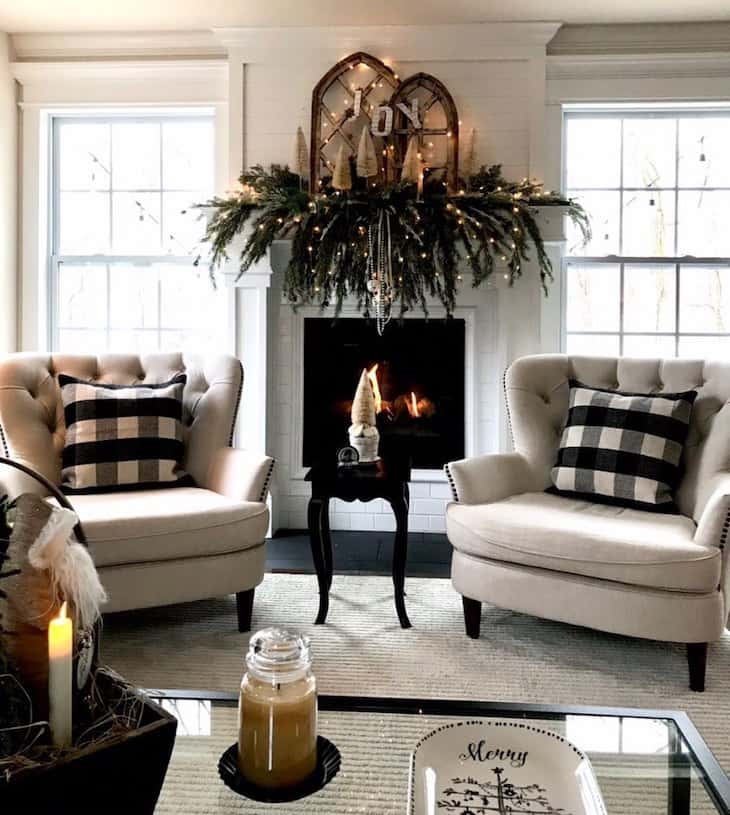 Since we are on the subject of unique Christmas mantel decor, using cascading garland for your holiday display is an uncommon choice that will surprise your guests with its cheerful and exceptional look.
This look of cascading garland is achieved by putting together several long springs of greenery intertwined with fairy lights creating a spectacular decor piece for your Christmas fireplace.
16. Gold holiday decor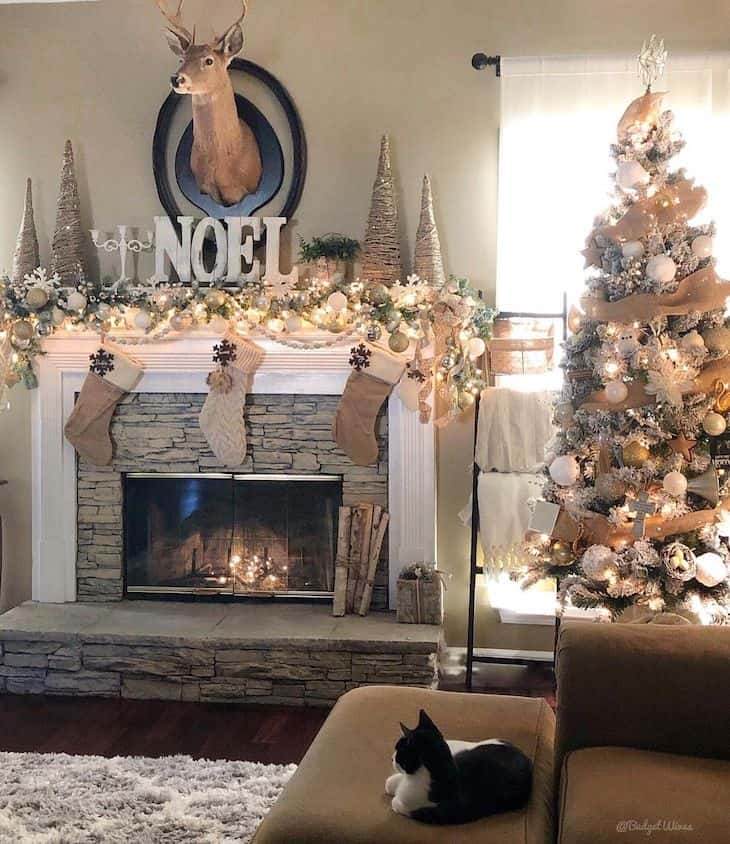 Shop related products(#ad):
Christmas stockings //
Make your Christmas mantel feel more festive by adding gold accents, like gold ornaments in your garland and mini trees speckled with gold dust. This green and gold decor goes really well with white and neutral tones like the cozy linen stockings and the white "Noel" sign.
The warm twinkle lights from the garland and Christmas tree will create the perfect setup to unwind with your family through the holidays.
17. Pink holiday look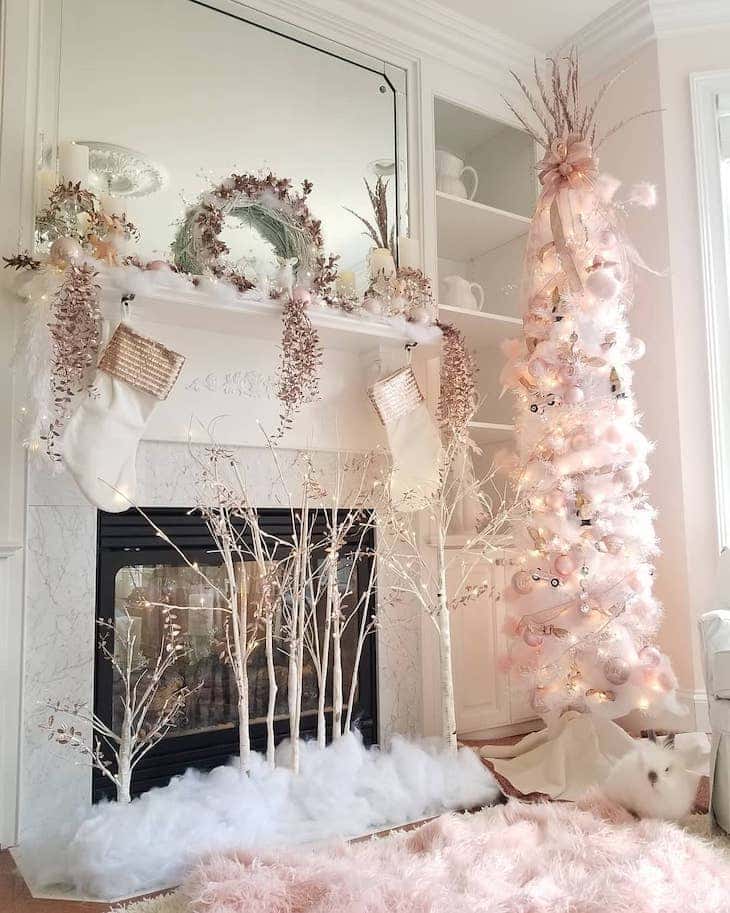 Shop related products(#ad):
Christmas tree //
Using pink and white hues for your Christmas decor will create a romantic look for your holiday decor. A white garland intertwined with gold and pink branches creates an unusually beautiful and serene look to your Christmas mantel. Complemented with a white dreamy wreath and sparkly stockings the look is completed in a whimsical tone.
A white iridescent slim tree decorated with pink ornaments complements the romantic mantel decor in a dreamy fashion.
18. Holiday decor around a TV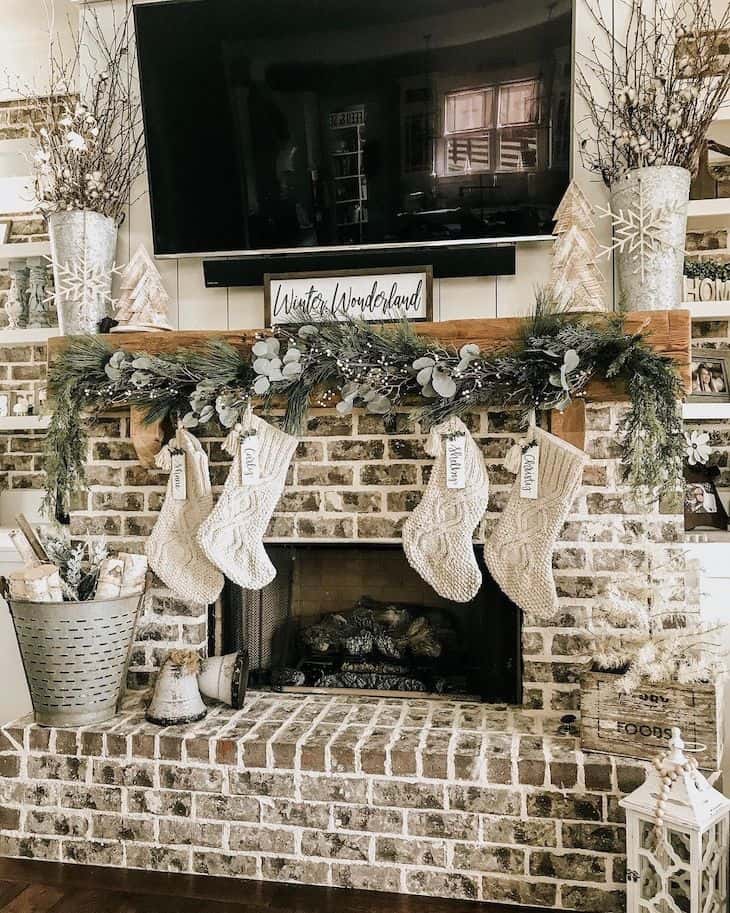 If you are wondering how do you decorate a Christmas mantel with a TV above it, here are some great tips. First, add height to the sides by placing taller items. Slim vases that are filled with stems that go all the way up to the height of the TV are a great example. Second, place smaller items under the tv, like a horizontal Christmas sign. And third, go big around the fireplace/under the mantel, here is where your real decorating game is going to be.
Draped mantel with a beautiful and full garland is a must for your mantel decor. Stockings hanging on the mantel, a bucket filled with firewood logs, antique bells… the list can go on and on of what you can use to decorate around your fireplace.
19. Buffalo plaid for a cozy touch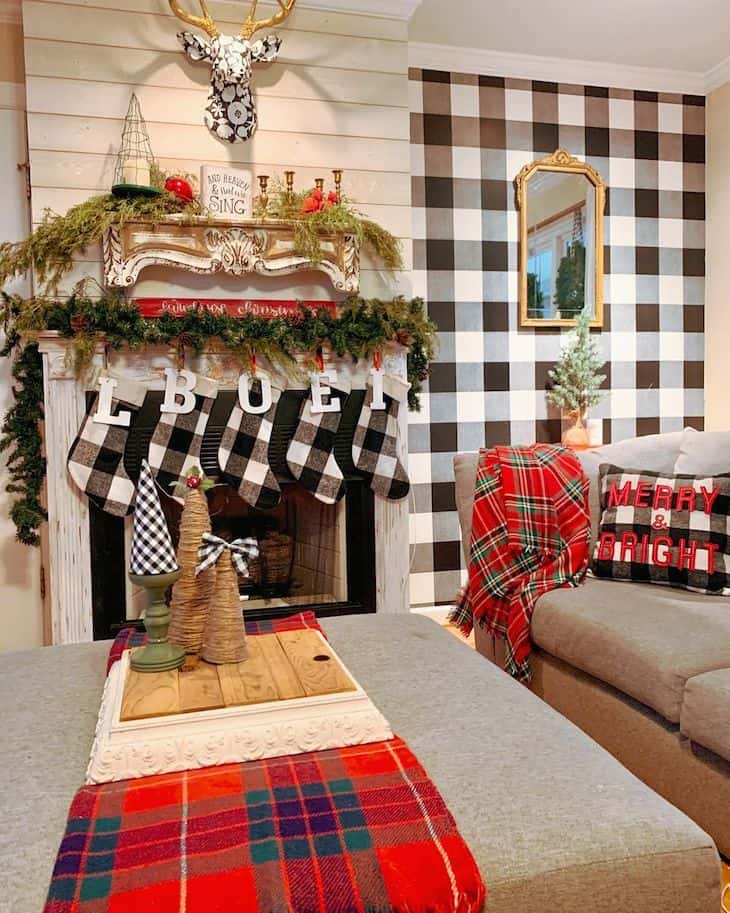 A buffalo plaid decor will always be a staple when it comes to Christmas decor, and how can it not be, it is warm, cozy, and inviting. This Christmas mantel decor features big buffalo plaid Christmas stockings with a personalized letter on every stoking. They follow the theme of buffalo plaid in this living room that is featured on the wallpapered wall and the decorative pillow.
The big green garland draped around the mantel complements the buffalo plaid motif in a festive way.
20. Rustic Christmas mantel decor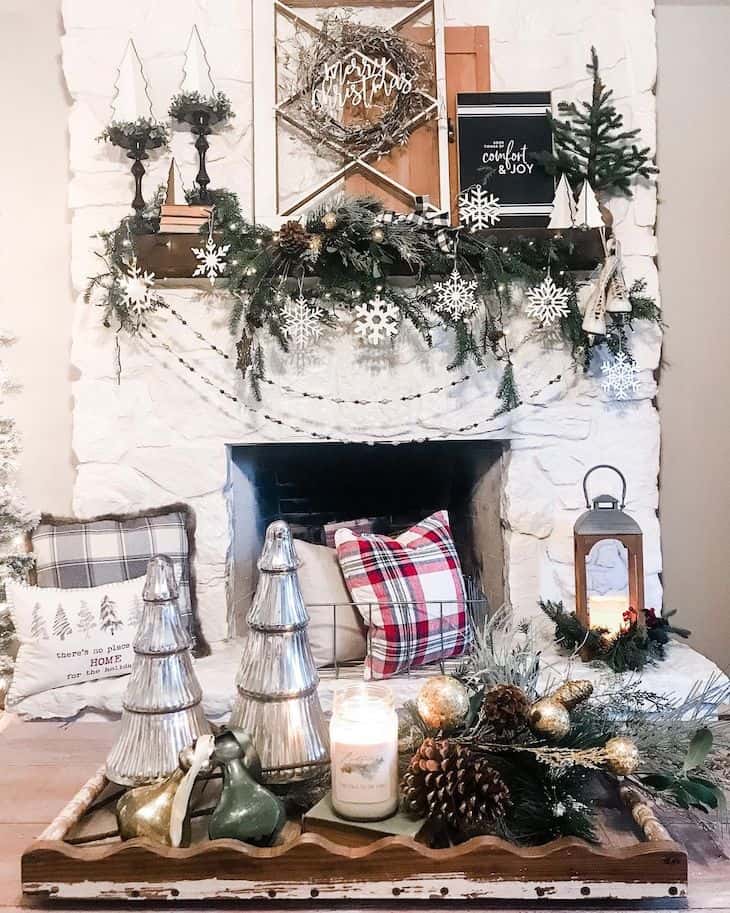 This Christmas mantel decor is featuring so many beautiful and unique details. Like the hanging snowflake ornaments on the mantel instead of Christmas stockings. And that beautiful Christmas centerpiece in the middle of the mantle leaves an unusual impression when used instead of a garland.
Try using mini trees instead of candles on candle holders for a festive and joyful touch. And adding a red plaid pillow will add a beautiful pop of color in an otherwise neutral Christmas decor.
21. Big Christmas sign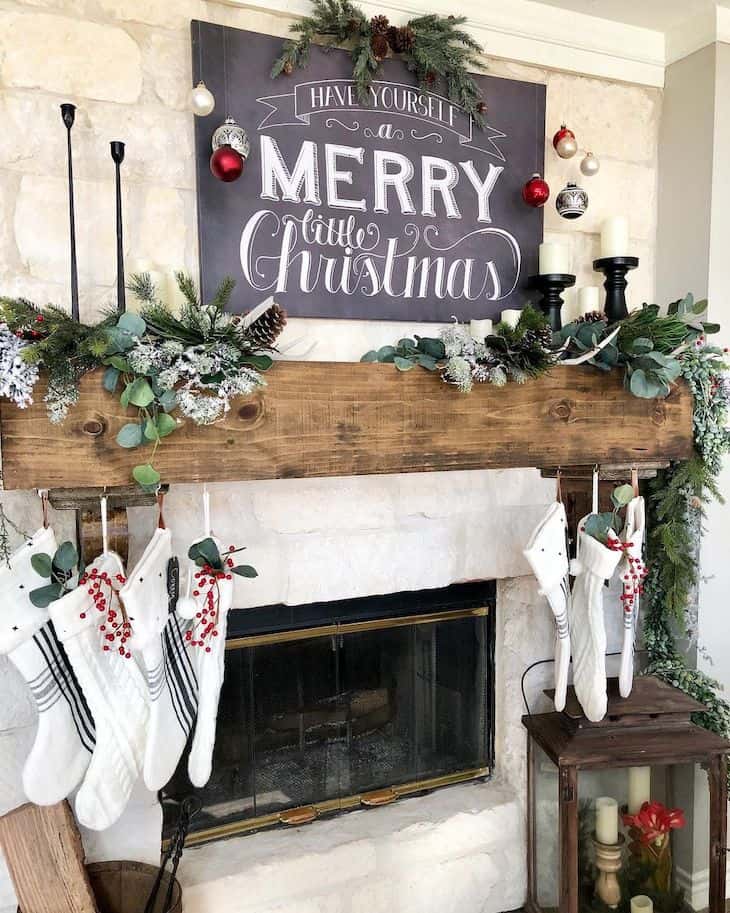 When decorating your mantel for Christmas try starting with one piece that will set the tone for your decor. Like for example in this decor, the star is the big black and white Christmas sign above the mantel. When you are set on the focal point for your decor it is easier to go from there. Adding festive decorative items left and right to see what matches and what not is easier when the main theme for the decor is introduced.
22. White and red jolly decor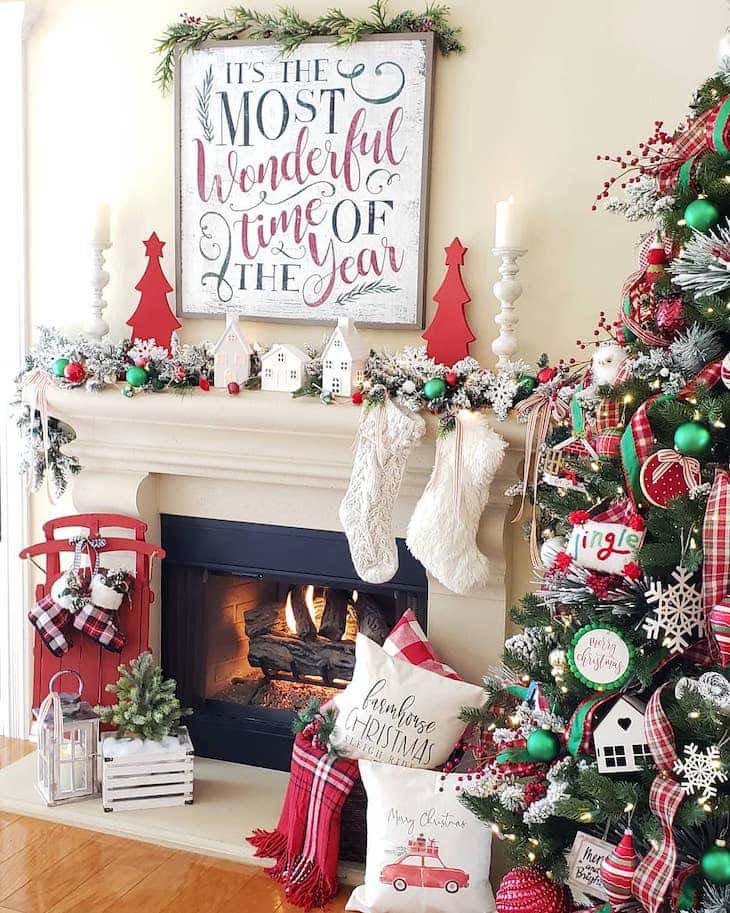 Little touches of green, mini houses, and whimsy are making an appearance on this Christmas mantel decor. Using traditional red, white and green colors for your Christmas decor will create a joyful and cozy feel in your living room.
Complete the look with a big wood Christmas sign above the mantel to draw the eye up and then over to your Christmas tree.
23. Easy Christmas mantel decor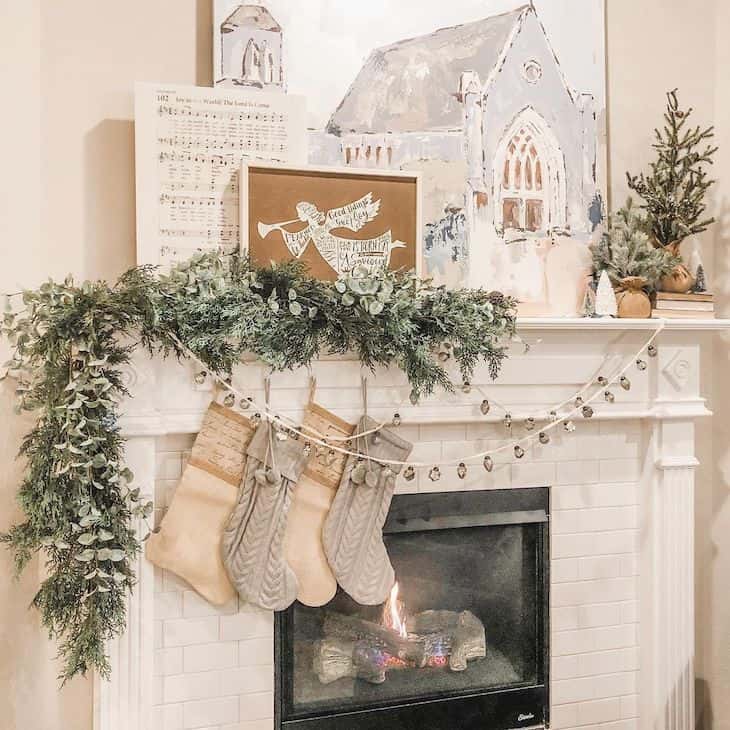 The cedar garland mixed with juniper berry springs and eucalyptus gives a whimsical touch to this mantel decorated with a music sheet and pleasant art piece. The stacked mini trees on the opposite side of the mantel balance the look and draw the eye up.
The knitted and linen Christmas stockings go perfectly with the neutral mood around the fireplace. The mini ornament garland completes the look adding a vintage vibe.
24. DIY garland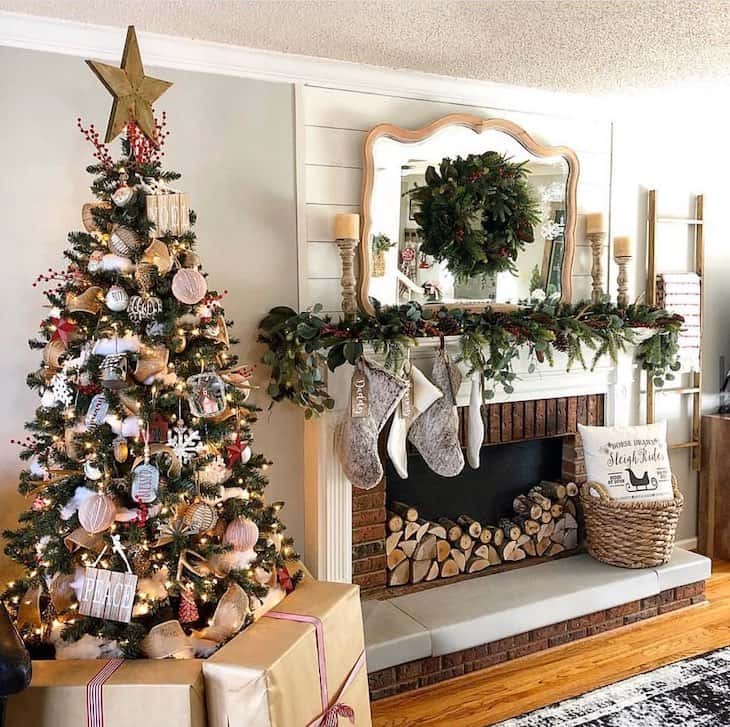 This DIY garland is made of a layer of 9ft branch garland mixed with a layer of eucalyptus stems spread out over the length of the garland and then randomly filled with cedar greenery for added fullness. The whole tutorial on this DIY garland is on Tiffanys' (@mydiyhappyhome) story highlights.
This is a great way to give yourself a new look each year without having to buy new decor pieces every year. You can completely change the look of your garland using different kinds of greenery you already have and mixing them in different ways.
25. Jolly Christmas mantel decor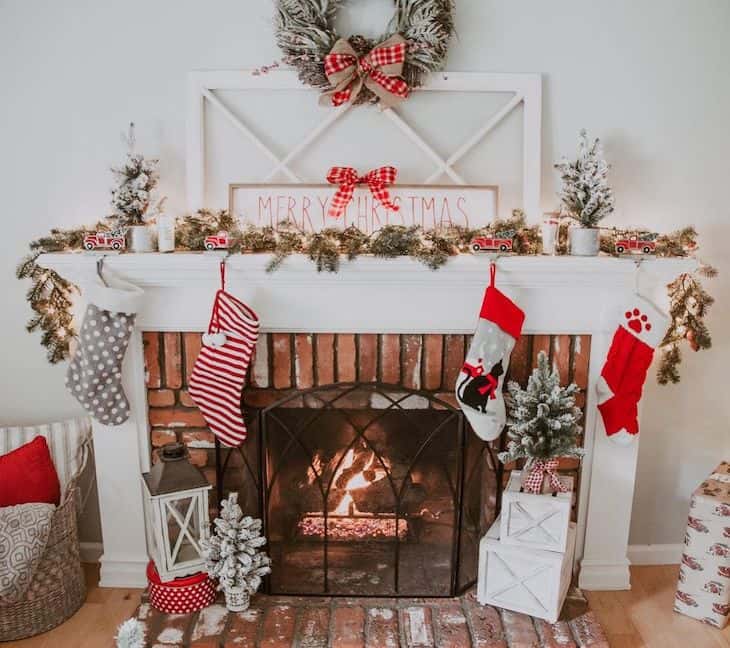 The diverse look of this Christmas mantel decor is achieved by using different patterned Christmas stockings placed on the mantel. Their playful pattern is sure to add character to your holiday decor.
The red accents on the bows and the metal decorative box are in color coordination with the festive atmosphere this holiday mantel decor portrays.
26. Green Christmas mantel decor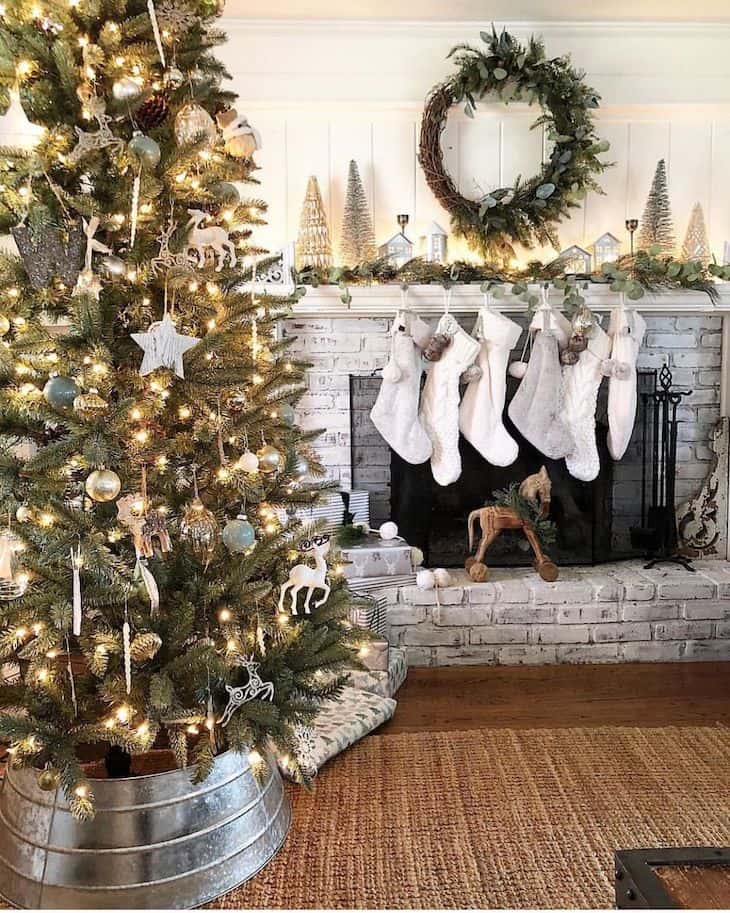 White Christmas stockings placed on a mantel with simple cedar and eucalyptus garland decor spruced with bottle brush trees and silver Christmas village will bring a cozy and cheerful spirit to your living room.
The green wreath adds to the cozy green theme of this winter wonderland.
27. Simple cabin Christmas mantel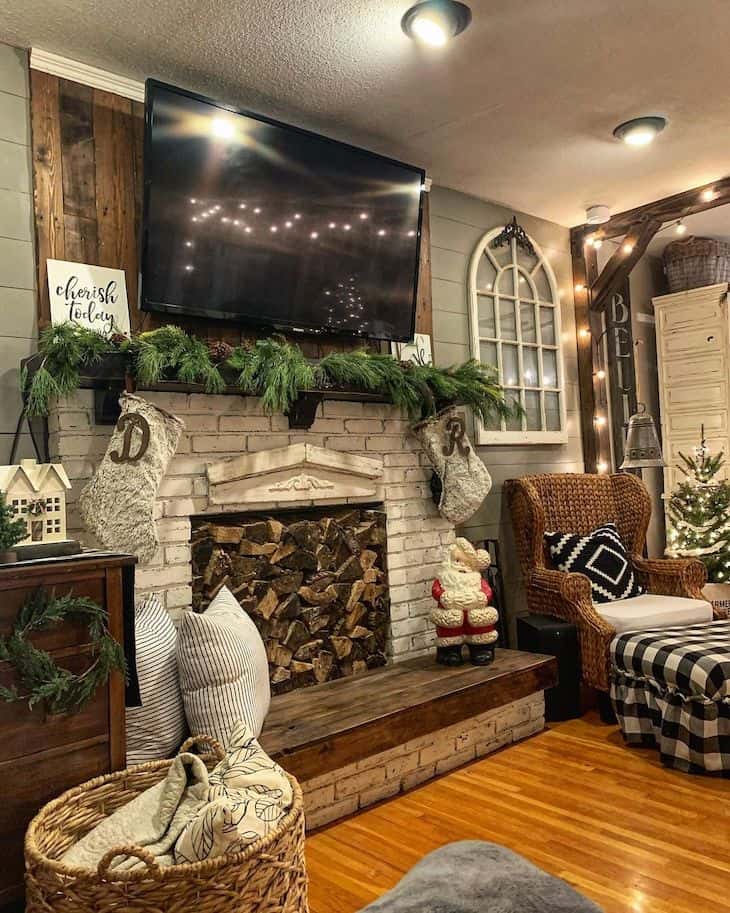 If you want to spruce up your cabin decor trying a look with symmetric mantel decoration, complete with fuzzy Christmas stockings and pleasant farmhouse signs, will work wonders for your holiday decor. The full green garland really contrasts the wood shiplap wall above the fireplace adding to the natural feel of the cabin decor.
This simple decor is really effective when you have a TV above your fireplace and don't have plenty of space for above-the-mantel decor pieces.
28. Red Christmas mantel decor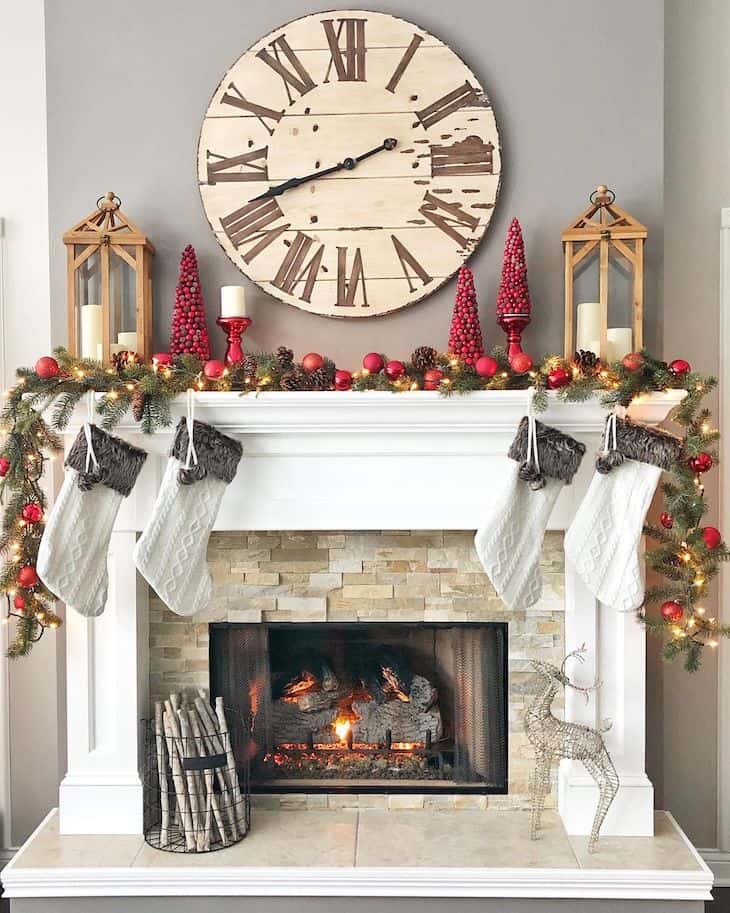 The color red is the color that pops into our head when we mention Christmas. So decorating your mantel with plenty of red decors will bring a cheerful festive touch to your home. For example, you can add red ornaments to your garland for an accent of color, and even go further with using red candle holders and mini trees for an added merry feel.
This red Christmas mantel decor looks especially beautiful on a white mantel and grey wall as a background.
29. Cabin holiday decor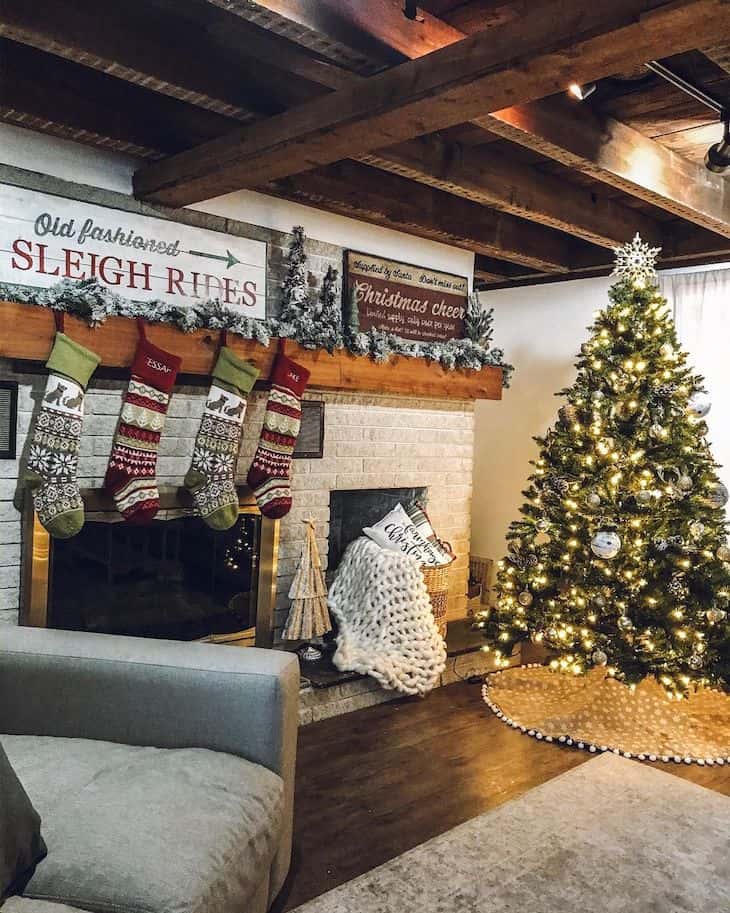 Winter-themed stockings, a flocked garland, and mini flocked Christmas trees are the perfect complement to the festive Christmas signs that hang above the mantel. Completed with the big Christmas tree with twinkle lights brings a cozy and warm atmosphere to this farmhouse living room.
30. White brick fireplace with holiday decor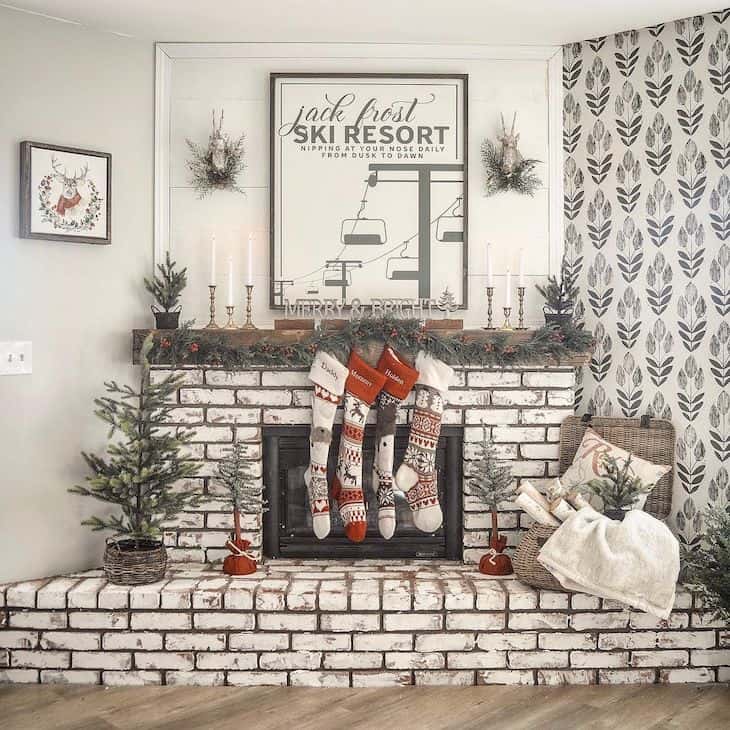 Don't underestimate the power of a big and beautiful Christmas sign. Used as the focal point of your Christmas mantel will set the tone for the rest of the decor.
The fireplace with white brick and black mortar is complemented with natural green garland and mini trees and gets a pop of color from the red accents on the Christmas stockings.
31. French country Christmas mantel decor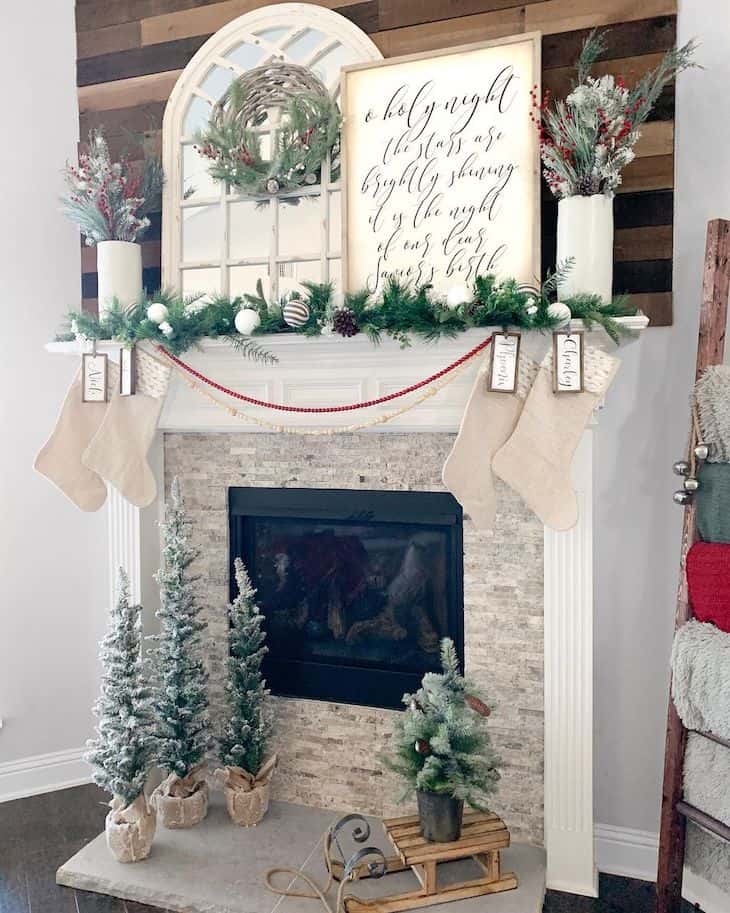 This mantel decorated for Christmas gives us french country mixed with farmhouse vibes. We see a lot of texture in this holiday decor, from the linen stockings to the ornaments and pinecones mixed in with the garland.
The end vases filled with greenery and winterberry add height to the decor and the Christmas verse sign completes the look in a joyous way.
32. Mountain lodge fireplace decor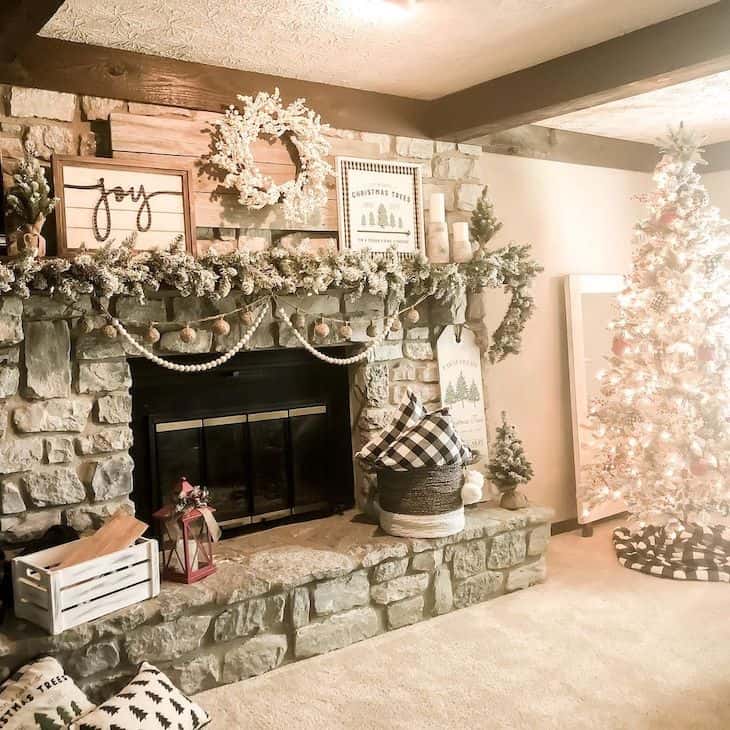 This stone fireplace decorated with lush flocked garland reflects a mountain lodge atmosphere. A white garland hanged on a wood plank brings cozy vibes to the decor. The look is completed with festive Christmas signs and cute mini trees.