There is nothing more special than making your Christmas decorations yourself. Listed below are easy craft ideas that require only a few materials, as well as tips for making Christmas ornaments, wall decor, and many more. Get crafty this year instead of buying store-bought decorations.
As an Amazon Associate I earn from qualifying purchases.
1. Paper ornaments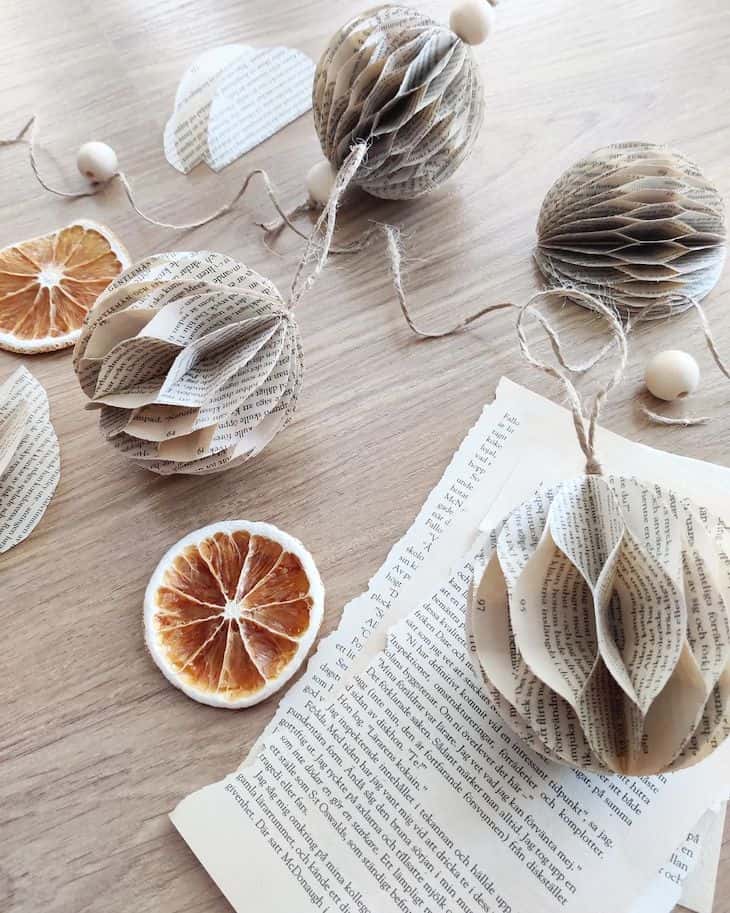 This vintage festive ornament will be perfect to make with your kids and hang on a Christmas tree.
Instructions: Cut paper circles of the desired size and glue them folded in half right down the middle. Put glue on the folded circles on each end and stack the folded papers on top of each other gluing them together. Glue a string at the end of the folded circle and glue together the first and the last paper together forming a ball. Decorate the string with a wooden bead for added texture.
2. Christmas napkin rings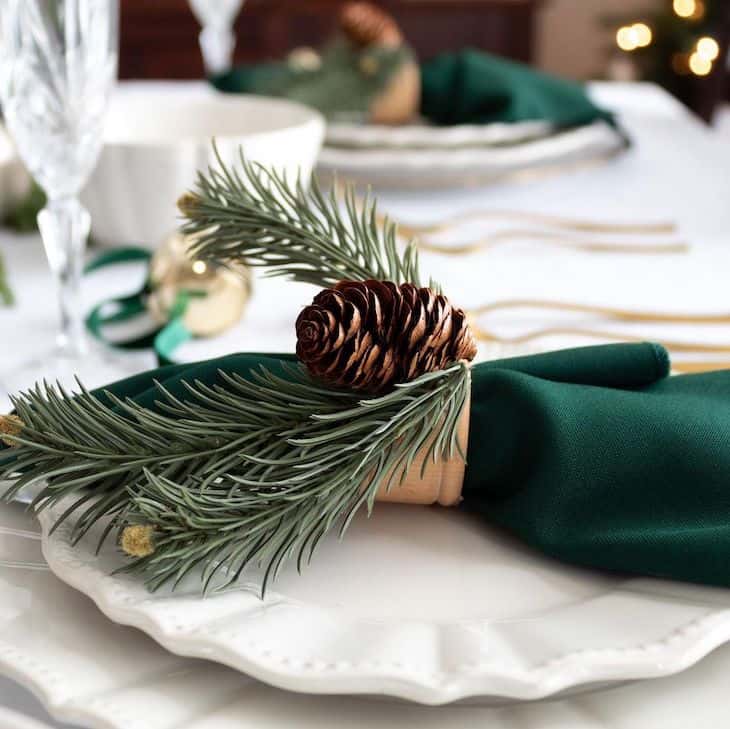 Add cheer to your Christmas table with festive wood napkin rings that you can easily make by yourself.
Instructions: Glue pine greenery picks on your wood napkin rings. Glue a pinecone on the top for a wintry touch.
3. Christmas paper angels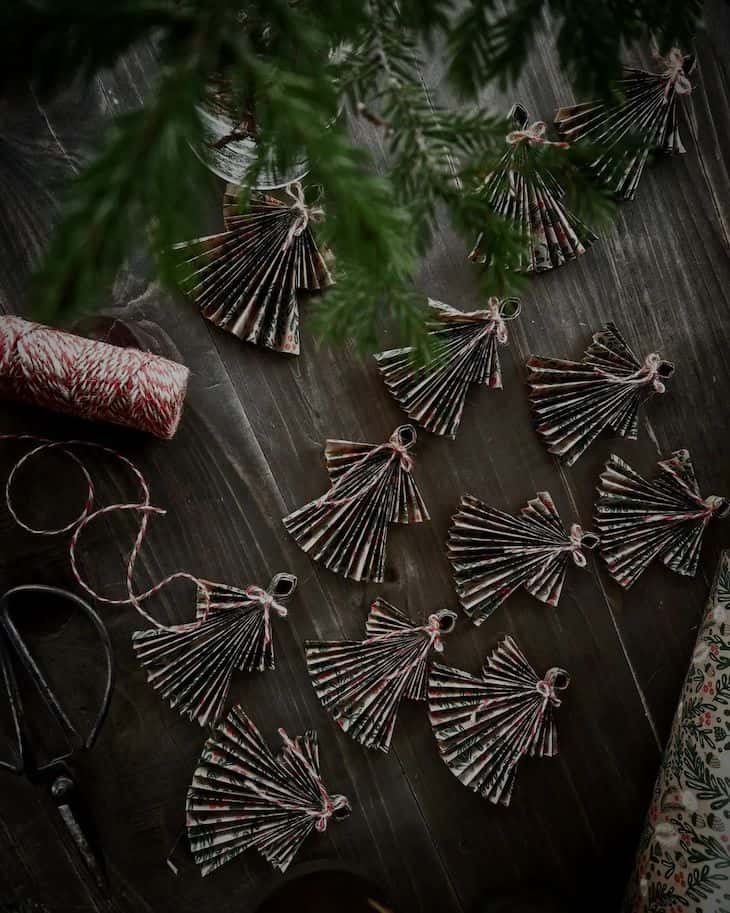 Craft paper angels out of white paper or even better a Christmas-themed wrapping paper for the perfect handmade Christmas ornaments.
Instructions: Cut out two pieces of paper in different sizes. Fold them in accordion style. Fold each of the pieces in half and place the smaller on top of the larger leaving a hole at the top for the head. Tie with string around the "neck" of the angel. Place a string at the top to be able to hang it on the Christmas tree.
4. Vintage book Christmas tree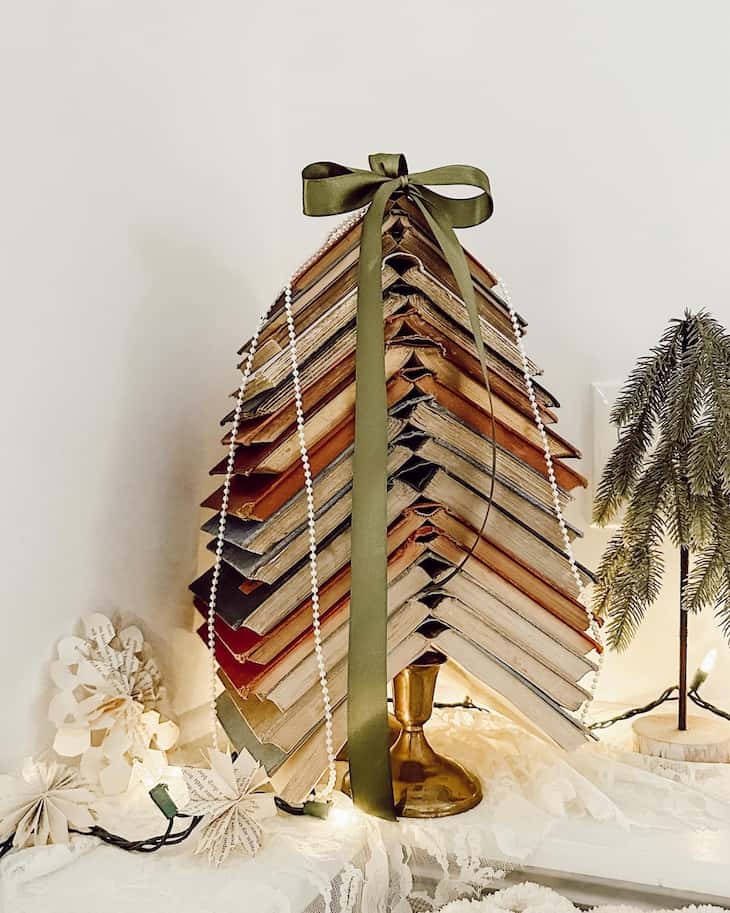 If you collect vintage and antique books here is an awesome way you can use them for creating a vintage Christmas tree to display as your holiday decor.
Instructions: Use two candlestick holders as the base. Open each book in the middle and lay them one on top of the other creating a tree. Decorate with a bow as a tree topper, and then some garland for an added holiday touch.
5. Macrame Christmas tree ornament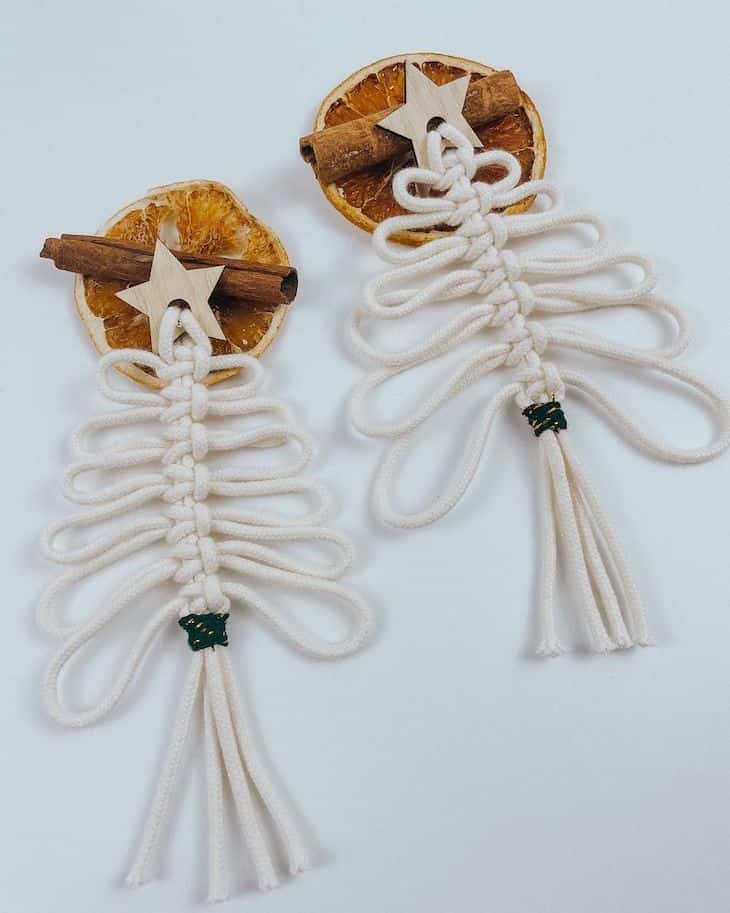 Enhance your Christmas tree decor with these macrame ornaments for a festive look.
Instructions: You will need two braided cords, one 20 inch/ 50 cm long and the other 83 inch/ 210 cm. Fold the short cord in half and add the long one also folded in half. Make square knots with the long rope. Measure each side to 2 inches/ 5cm and fold in half. Make square knots and fold again in a gradually smaller length. Repeat the process until you get to the near end of the short rope. Add a wooden star at the top for a festive touch.
6. MACRAME CHRISTMAS WREATH ORNAMENT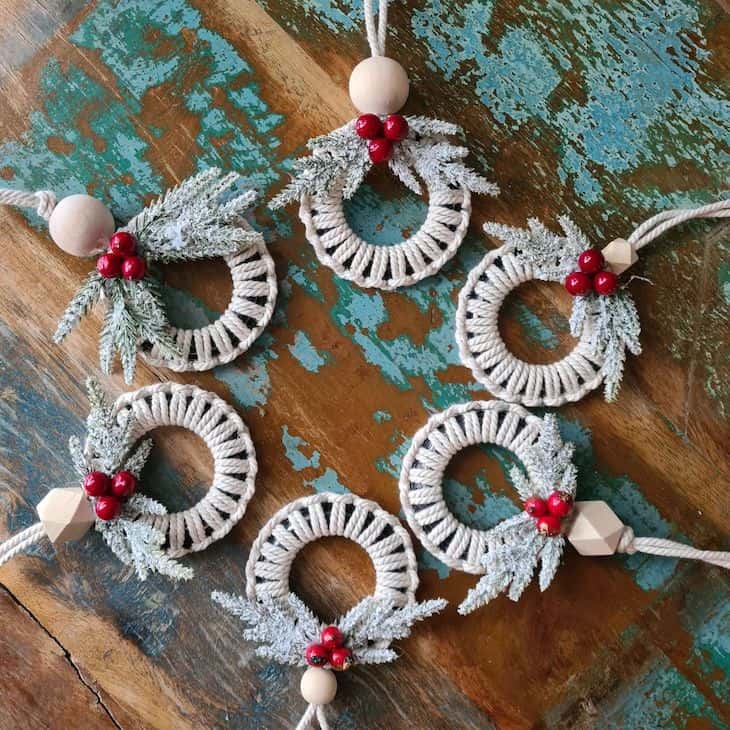 Custom-make your own ornaments that will look store-bought with this merry Christmas craft idea.
Instructions: Use the macrame cord to tie in Lark's head knots through the wood rings. Repeat the process using one part of the cord on both sides. You can continue this process until the wreath is full of lark's head knots. Thread the cord ends through a wooden bead and tie it in a loop for hanging. Glue on some decorative scraps like fir branches and berries.
7. Mini yarn hats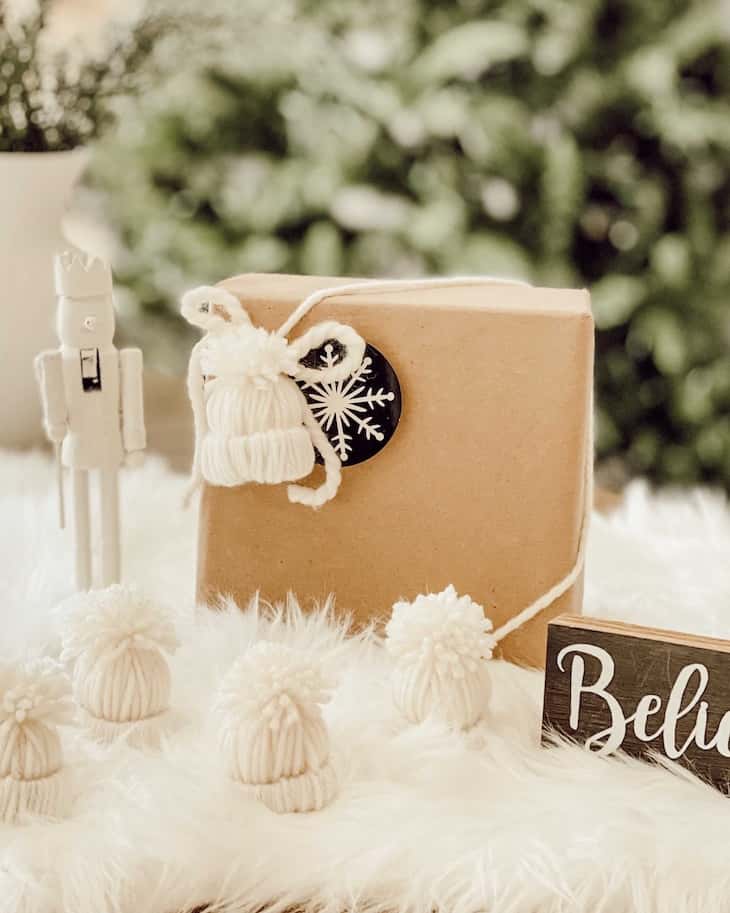 Bring more holiday cheer to your Christmas mantel decor by making a yarn hat garland.
Instructions: Cut paper towel rolls into stripes. Cut around 40 pieces of yarn between 7-8 inches long. Tie all the yarn pieces in Lark's head knots through the paper stripes. Flip the yarn inside out, and tie the strands to form the shape of a hat. Trim the yarn strands in form of a pom-pom. You can use extra yarn or twine to make ornaments or a cute garland.
8. Cheap DIY gold bells made of plastic cups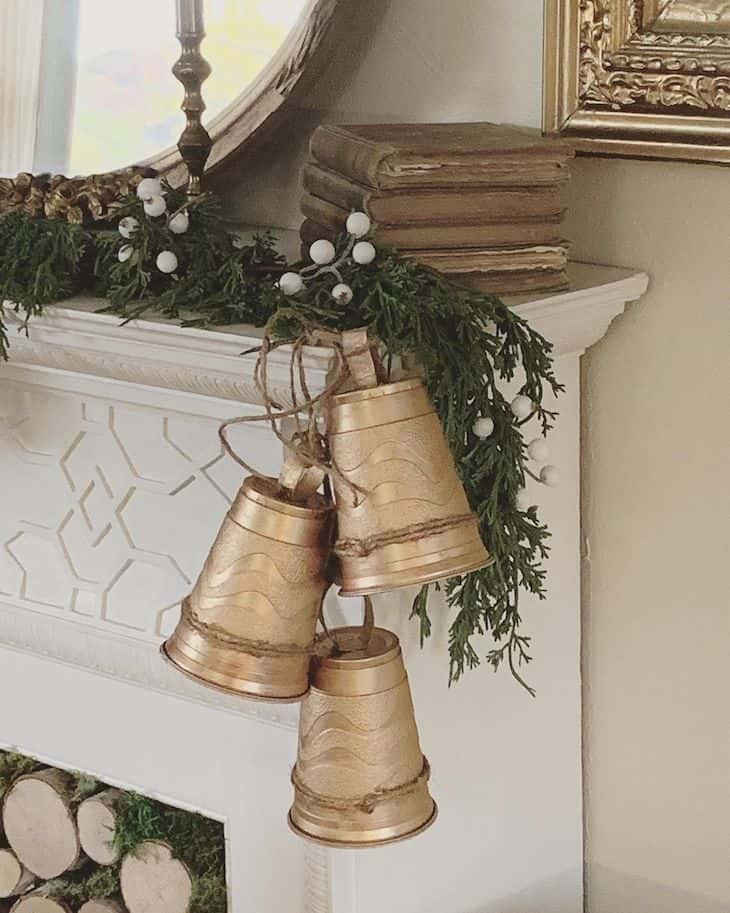 Even if it's your first time DIY-ing Christmas crafts these gold bells are pretty simple to recreate.
Instructions: Hot glue jute rope around your plastic cups and then spray paint them in antique gold. Use toilet paper roll stripes for the handles. Tie them all together and place them on your mantel for an added festive feel.
9. Macrame Mini Christmas Trees
Celebrate the season by making Macrame mini Christmas trees to add a personal touch to your Christmas tree decor.
Instructions: Start by making a square knot chain out of macrame and then form it into a Christmas tree. Fold the chain back and forth, starting small at the top and getting bigger as you go down. Take an embroidery needle and work it up through the center of the Christmas tree to hold the shape in place. Place wooden beads on both ends for decoration.
10. Twig Christmas Trees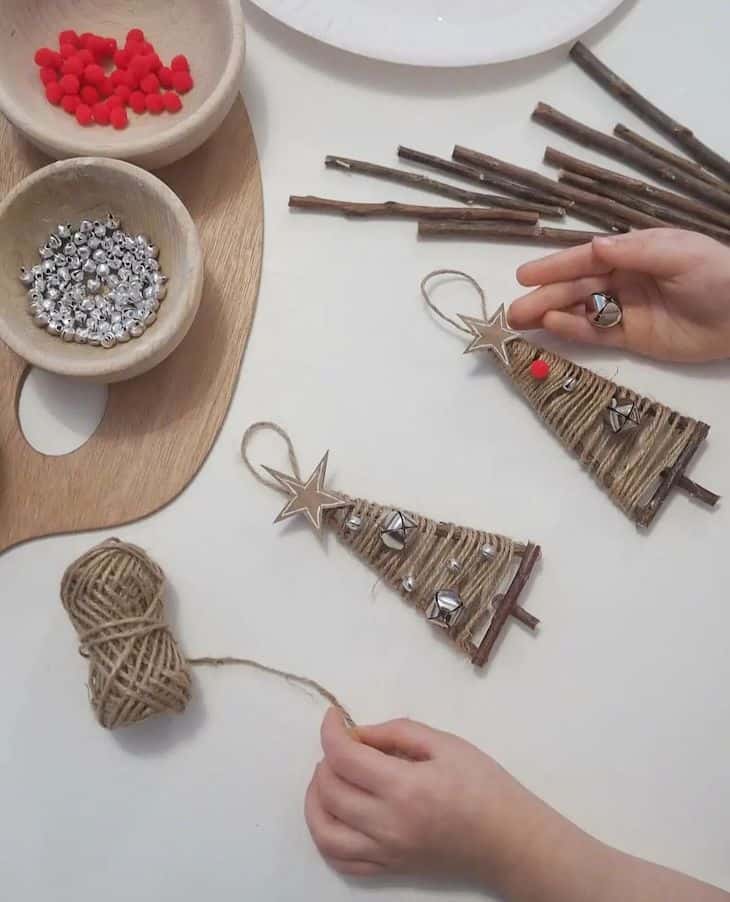 This festive craft will bring cheer to your holiday decor, and it is very easy to make.
Instructions: Hot glue twigs in form of a Christmas tree. Wrap jute twine around the tree all the way to the top. Create a loop on the top so you can place it on your Christmas tree. Decorate with stars and beads in your theme color.
11. DIY yarn Christmas tree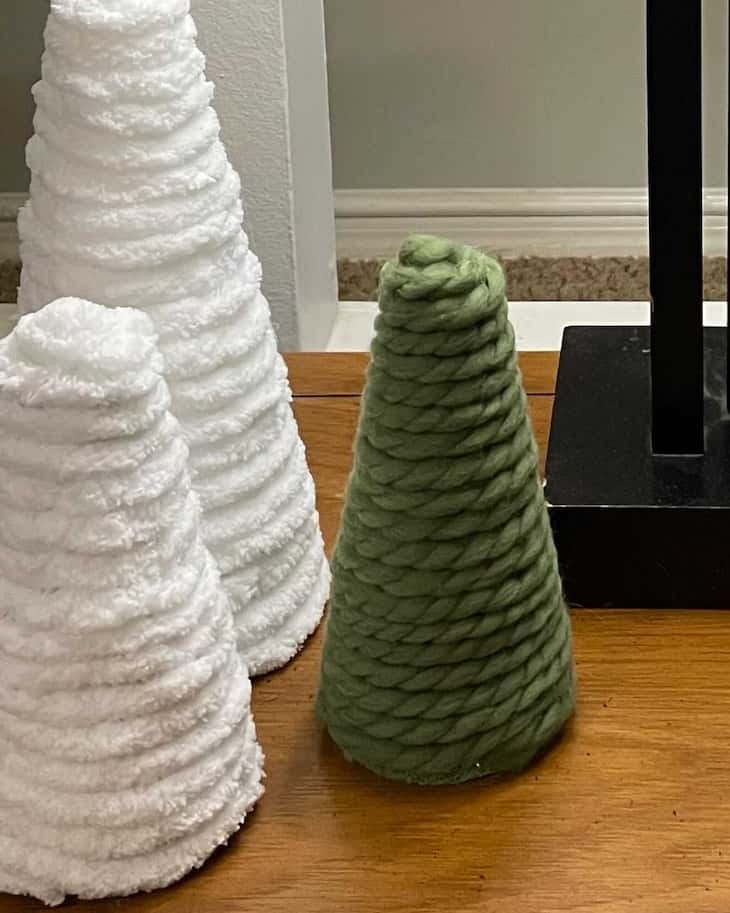 Make a whole forest of these little Christmas trees using this easy craft!
Instructions: Hot glue yarn on a styrofoam cone starting at the bottom. Wrap the cone with yarn and affix it to the cone with hot glue at several points. Hot glue the top of the cone, then cut the yarn to fit and tuck it in.
12. Mirror snowflake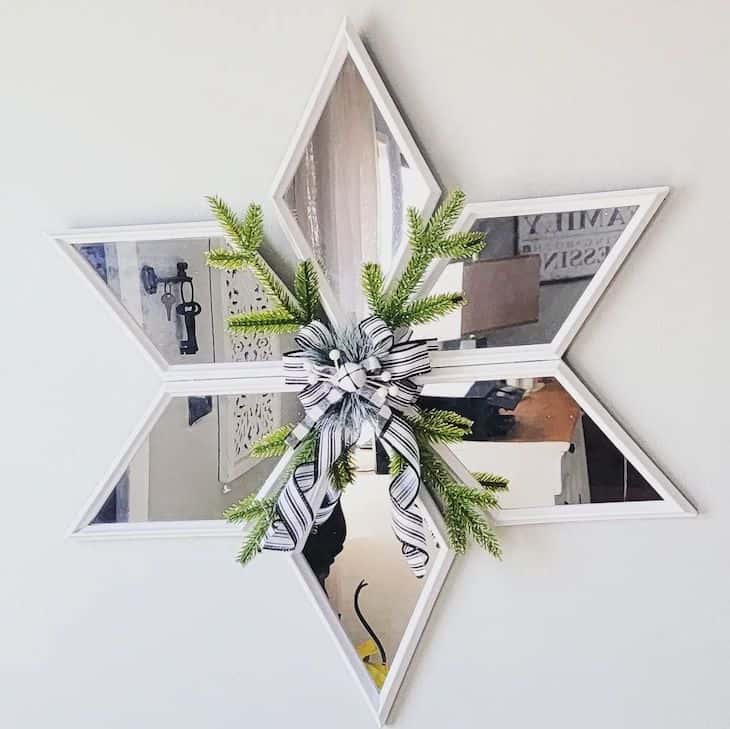 Show off your creativity by turning basic diamond-shaped mirrors into snowflake wall decor for the holidays.
Instructions: Glue together diamond-shaped mirrors to form a snowflake. Glue them together using popsicle sticks to make sure they are glued together securely. Decorate the middle with pine branches and a festive bow.
Watch full tutorial below.