The Christmas season offers a unique opportunity to decorate your space in an equally festive and appealing manner. It's easy to get started in your living room and doorways, but the real secret to creating that holiday magic is in your kitchen.
How can I decorate my kitchen for Christmas?
One way to decorate your kitchen for Christmas is to add some festive touches to your countertops and tabletops. This could include placing a small Christmas tree on the counter or tabletop, adding a wreath to the kitchen cabinets, or setting out some Christmas kitchen decor such as candles, figurines, or ornaments. You could also add some holiday-themed dish towels or coasters to your kitchen to give it a festive look. Another idea is to incorporate some seasonal colors into your kitchen decor, such as red and green, silver and gold, or blue and white. Lastly, don't forget to add some twinkling lights to your kitchen to create a warm and inviting atmosphere.
As an Amazon Associate I earn from qualifying purchases.
1. Adorn your counter stools with wreaths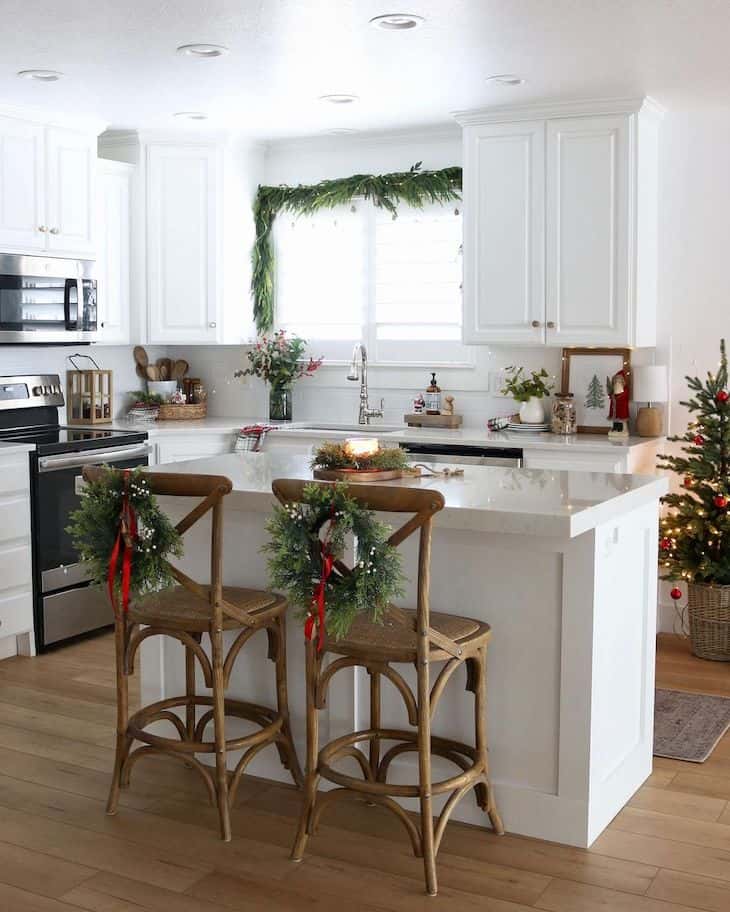 Shop related products(#ad):
bar stools // wreath // ribbon // white berries picks // garland
Add mini Christmas wreaths to the back of your counter stools to create a festive and decorative look. If you want to adorn your counter stools with wreaths, you can attach them to their backs using ribbon or twine. To ensure the wreath looks balanced and secure, you can adjust the ribbon or twine as necessary to ensure the wreath is centered on the back of the stool.
2. Decorate the range hood with garland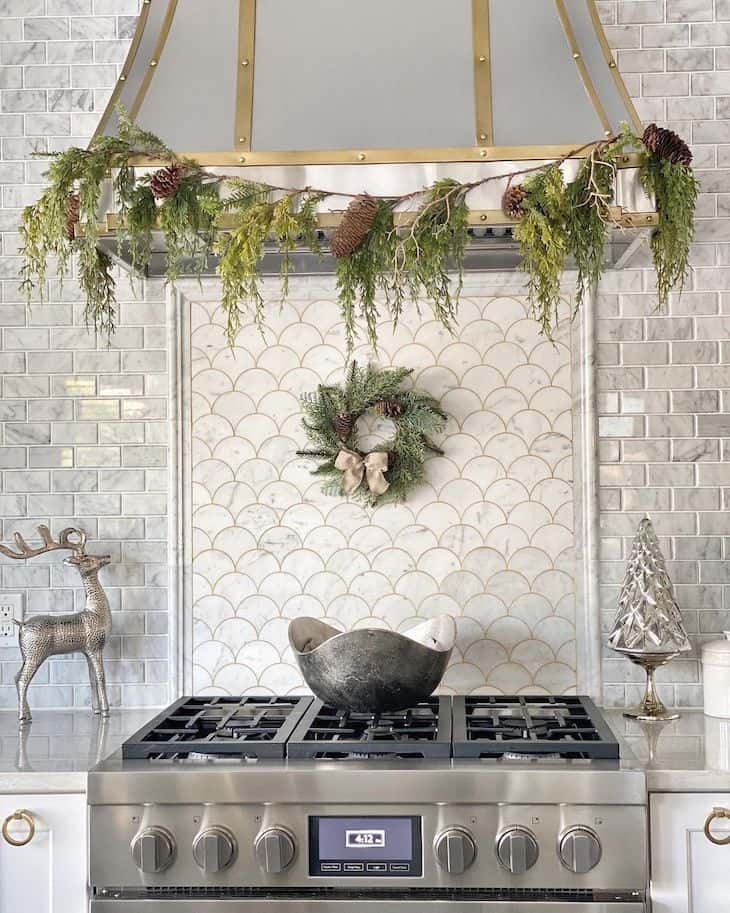 Shop related products(#ad):
garland // mini wreath // deer figurine // tree figurine
One way to decorate the range hood for Christmas is to add some festive garland or greenery to it. Using command hooks, you can attach the garland that is specifically cut to the length of the range hood. In this way, you will give your range hood a festive and decorative look without blocking your view of the stove or interfering with its use.
3. Create a Christmas themed tray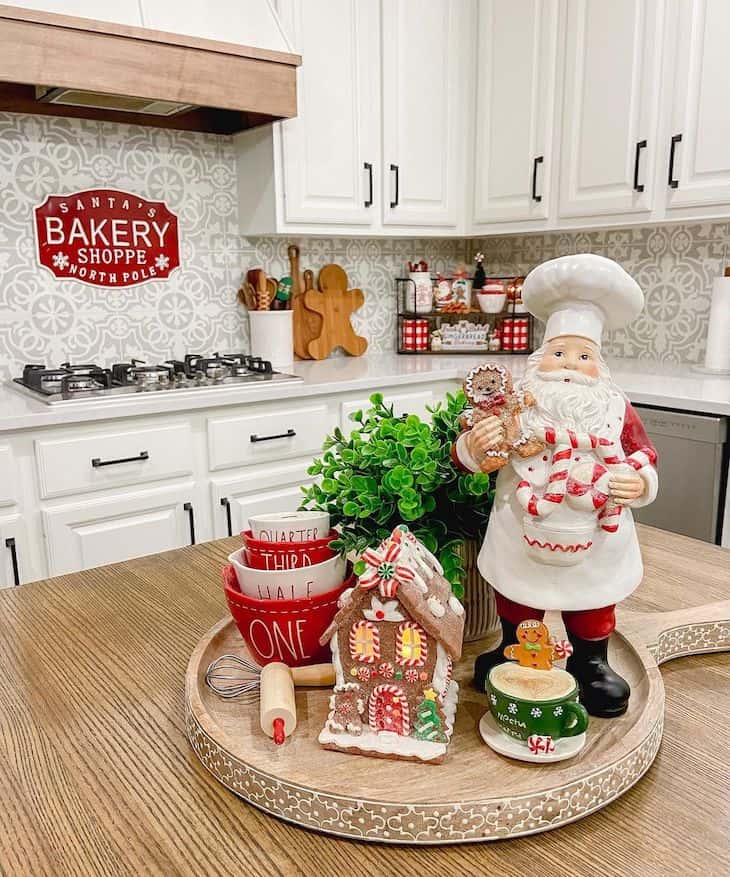 To create a Christmas tray, you will need a tray and a selection of Christmas-themed items to decorate it with. You can use a variety of items to create a festive and decorative tray, such as candles, figurines, greenery, and other holiday decorations. Start by arranging your chosen items on the tray in a way that is aesthetically pleasing and balanced. Finally, you can place the tray on the countertop in your kitchen to add some festive cheer to your space.
4. Put a wreath on your range hood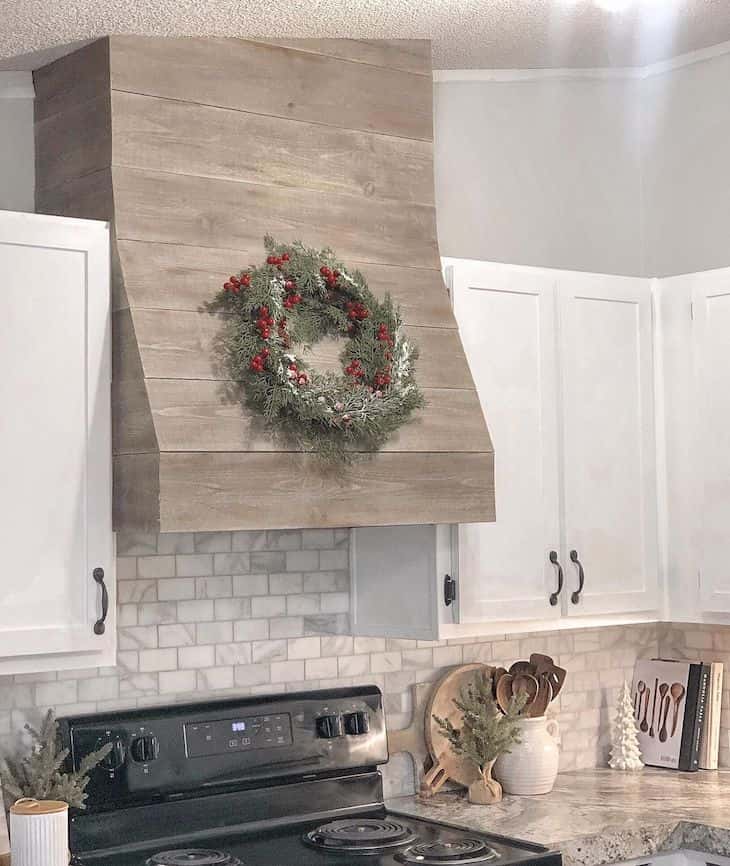 Add a touch of holiday cheer to your kitchen by adding a Christmas wreath to your range hood. First, attach the wreath to the range hood using a command hook. Adjust the wreath as needed to make sure it is centered and secure, and then adjust the greenery around the command hook to make sure it is not visible.
5. Wrap a garland around the pendant lights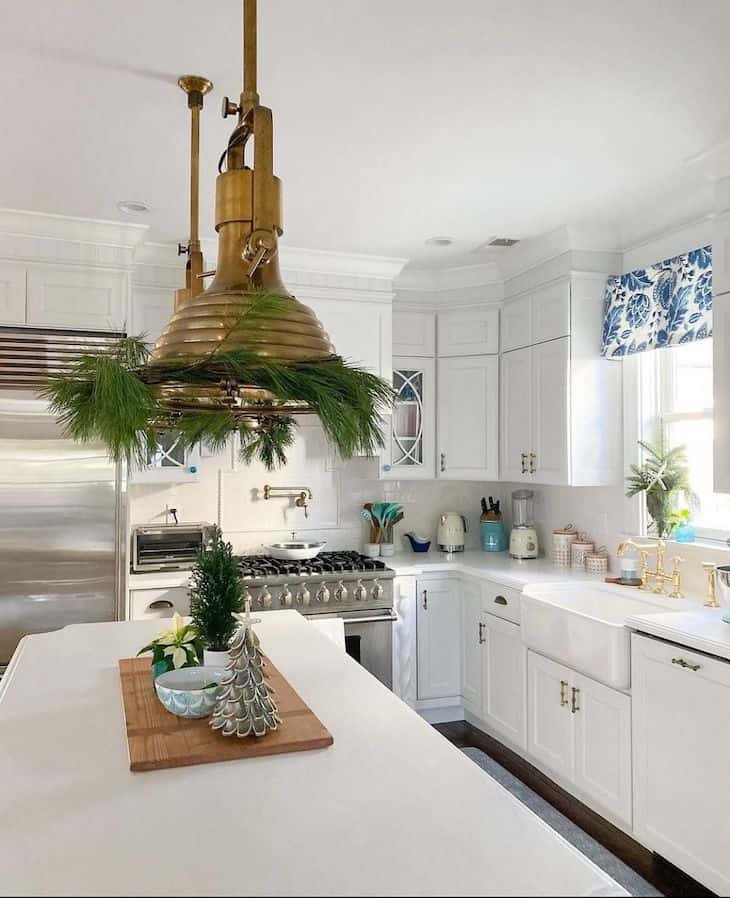 A garland-wrapped light fixture in your kitchen will add a festive feel without seeming over the top. Attach the garland around the light fixture using clear command hooks. Complete the look by creating a Christmas centerpiece for your kitchen island.
6. Hang mini wreaths on your kitchen cabinets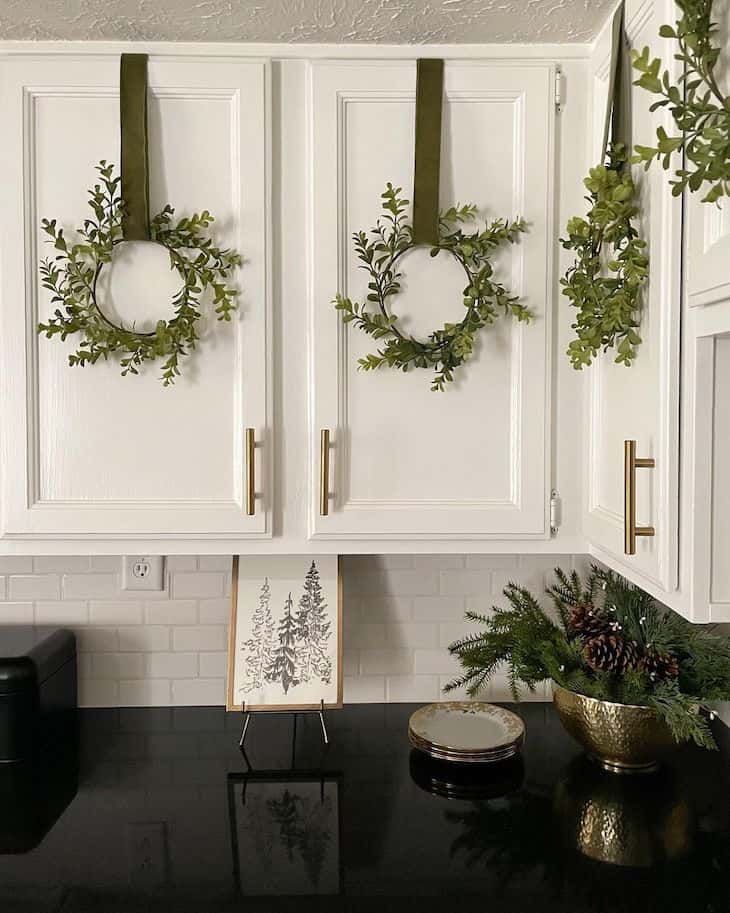 There's nothing more festive than a Christmas wreath, and yes, it can be hung in the kitchen as well. Add a perfect seasonal touch with mini wreaths on your kitchen cabinets. To tie wreaths with ribbon that goes all the way up the cabinets, you will need some wreaths, ribbon, and a command hook. Place the hook on the inside of the cabinet door to achieve this look.
7. Go all out around your kitchen sink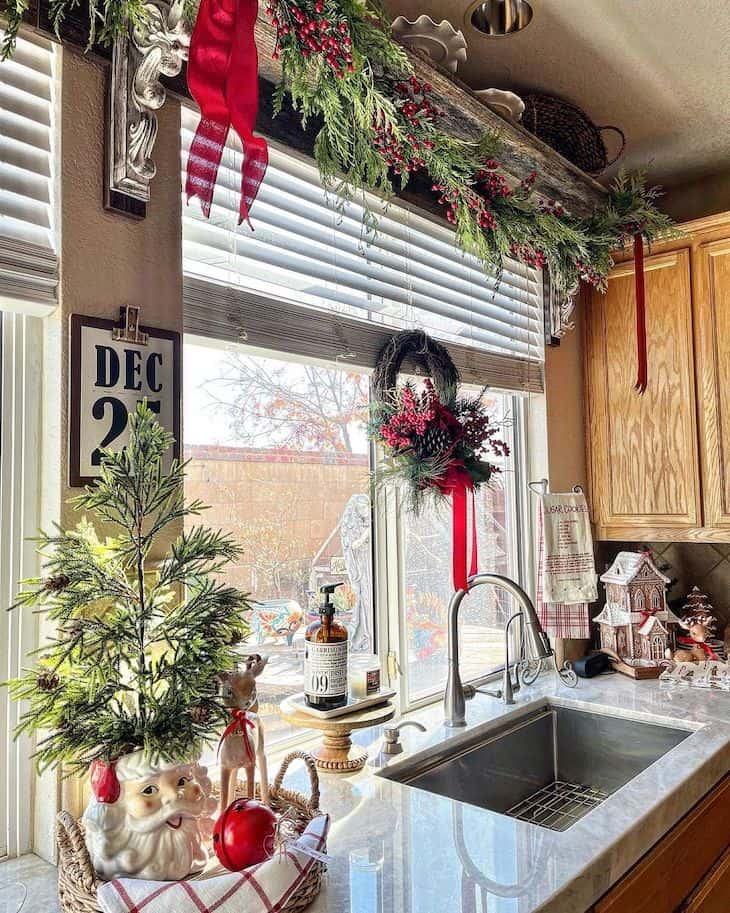 Go all out with decoration around your kitchen sink if you want something nice to look at while you wash dishes. Start with a garland around your window, then continue with a wreath on your window itself. Finish with some small Christmas-themed decorations around your sink, like a mini Christmas tree, ornaments, and figurines.
8. Gingerbread kitchen decor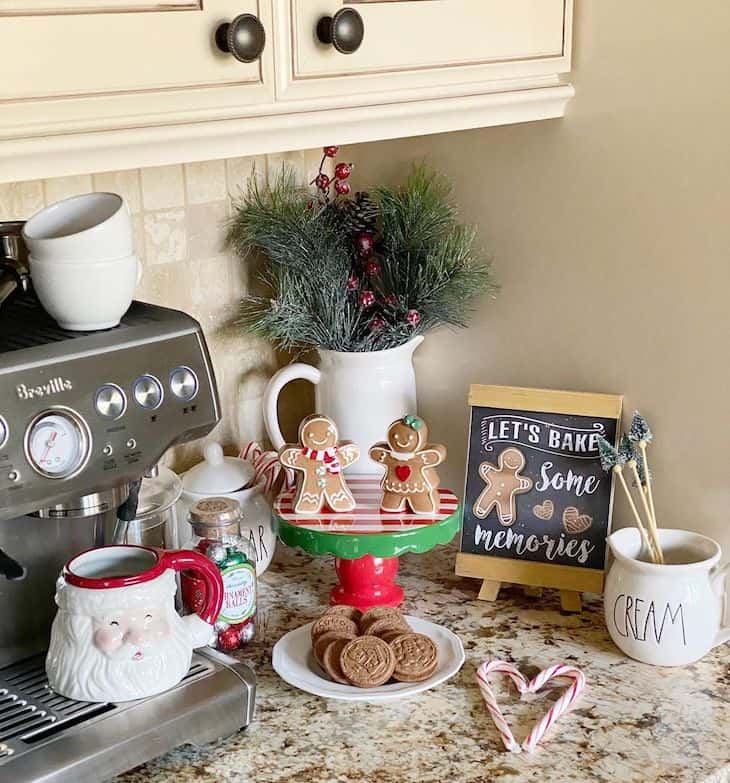 Decorate your kitchen counter with gingerbread cookies to create a fun and festive corner in your kitchen that is perfect for enjoying the holiday season.
Additionally, you can add some seasonal cookie cutters, baking tools, and ingredients to the corner, such as flour, sugar, and sprinkles, to create a space that is dedicated to baking and enjoying Christmas cookies.
9. Decorate with gnomes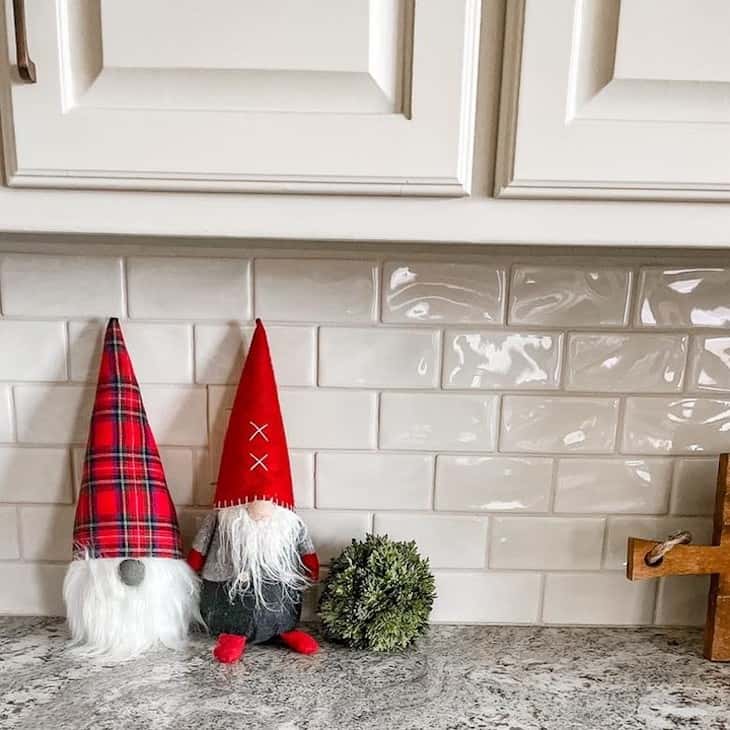 Consider incorporating plaid patterns into your Christmas kitchen decor if you want to create a charming and homey atmosphere. Red plaid holiday gnomes are a perfect choice for a charming farmhouse Christmas kitchen.
Tiny gnomes are especially sweet, placed on a kitchen countertop accompanied with some greenery, mini trees, and other woodland decors.
10. Decorate with Christmas china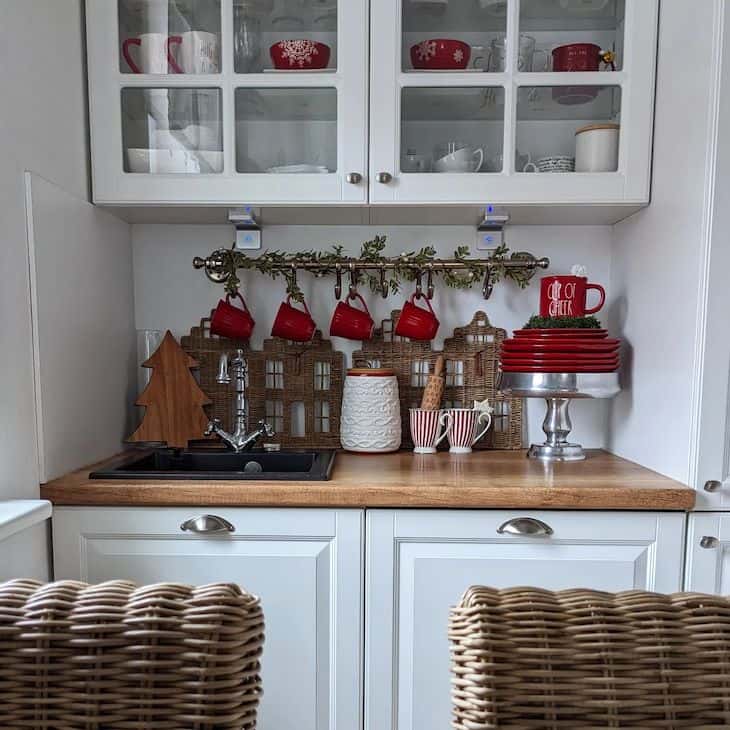 To decorate with Christmas china in your kitchen, you will need to choose a few pieces of Christmas-themed china and add them to your countertops and glass kitchen cabinets. This may include setting out some bowls, plates, or cups that have a Christmas-themed design, such as holly leaves, snowflakes, or Santa Claus. Another idea is to incorporate some Christmas-themed colors into your kitchen decor, such as red, green, and white.