Need some inspiration for your Christmas staircase decor? Look no further! We've compiled a list of our favorite ideas, from over-the-top masterpieces to simple, understated arrangements. No matter what your style, you're sure to find something here to love. And when the big day arrives, you'll be glad you took the time to make your stairs look extra special.
As an Amazon Associate I earn from qualifying purchases.
1. Use lush garland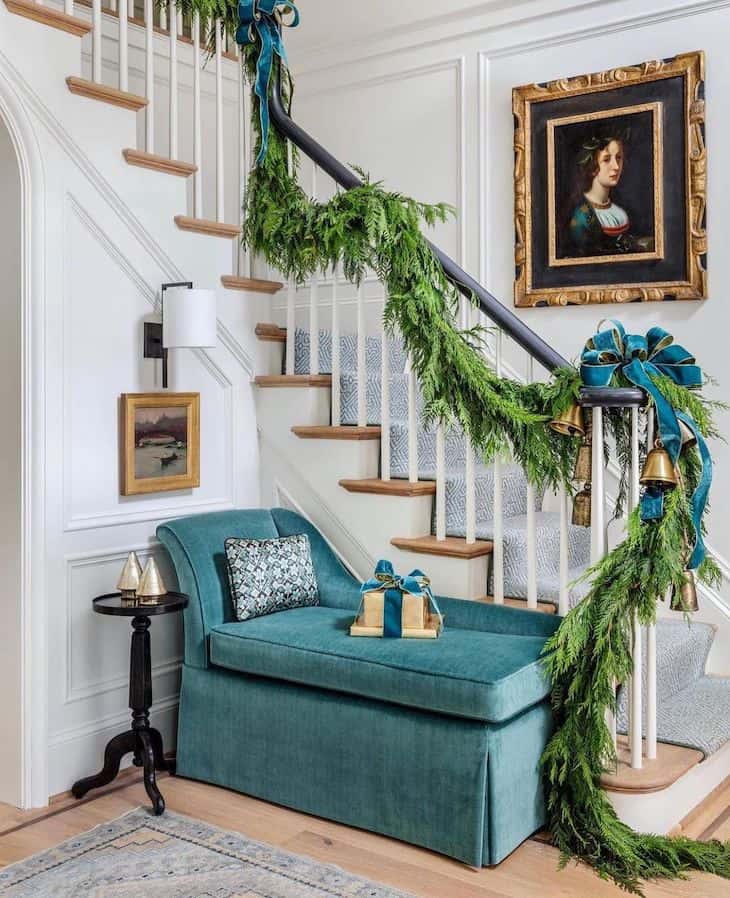 Shop related products(#ad):
garland // blue bow // antique bells
One way to decorate your staircase with lush garland for the holidays is to drape it over the banister and secure it with floral wire, zip tie, or ribbon. To create a classic swag look, allow the garland to droop between the spindles. The distance between each droop can be adjusted to your preference. You can create large, dramatic drops or smaller, more subtle ones, depending on the look you are trying to achieve.
You can also add holiday ornaments, antique bells, and ribbons to the garland for a festive touch, as architect Ross Piper did here. Use ribbons that color coordinate with your everyday decor like for example blue Christmas ribbons.
2. Drape paper honeycomb balls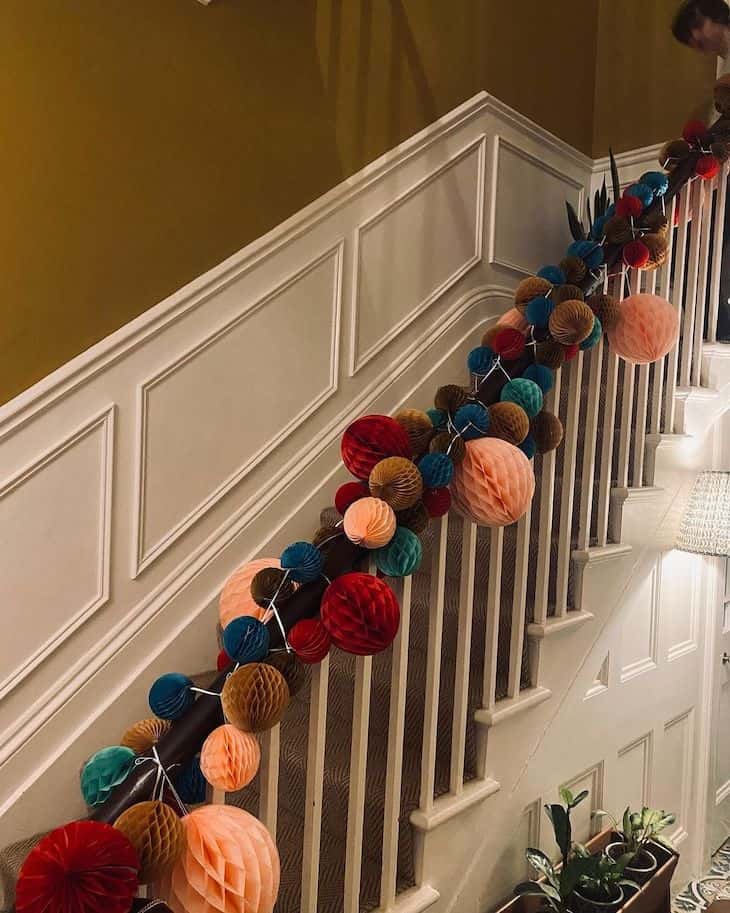 Shop related products(#ad):
paper balls
If you want to make a big impact with your Christmas staircase decor, drape a garland from paper honeycomb balls in different sizes. If you want to create a more dramatic look opt for paper balls in different and bold colors. This will give your holiday staircase decor a different and unusual look.
3. Go for natural look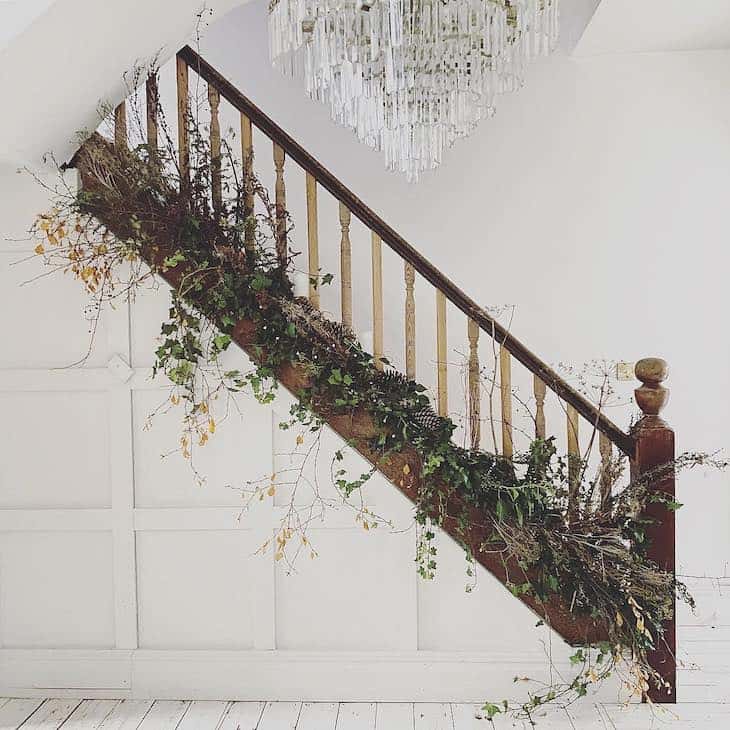 Shop related products(#ad):
faux stems // twigs // pinecones
Create a very natural and rustic look for your Christmas staircase decor by creating a garland using dried and fresh foliage from your yard, and pinecones. Achieve this look by wrapping the garland around the base of each staircase post, and securing it with floral wire or ribbon.
4. Wrap with ribbons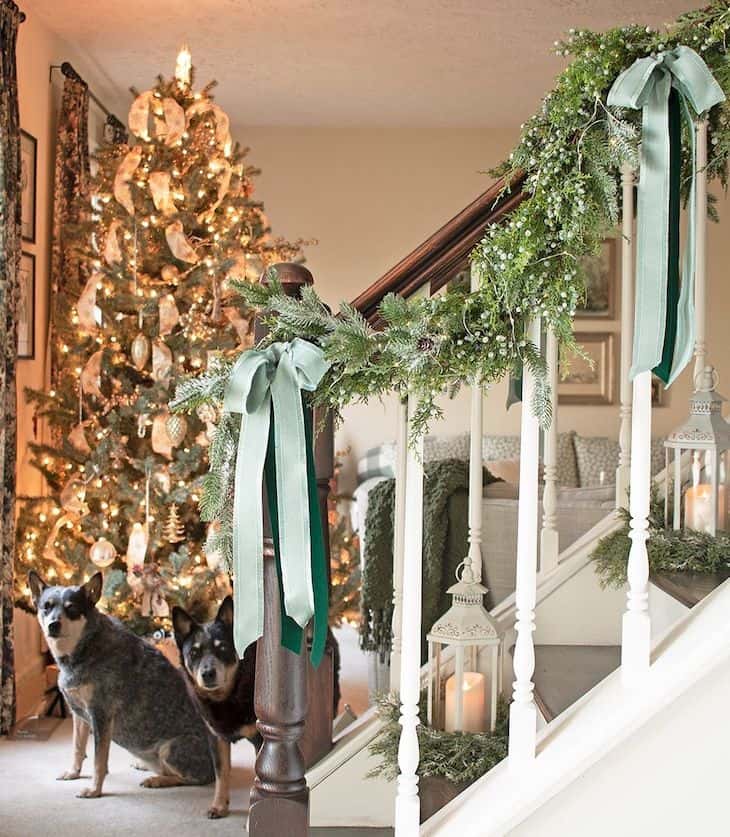 Shop related products(#ad):
garland // ribbon // lantern
You can't go wrong with ribbons when it comes to your staircase decoration for the holidays. You can tie the ribbons into bows and attach them to the garland at regular intervals using floral wire or ribbon. To adorn this captivating staircase, blogger Erin added mint and green bows to the banister, directing the gaze upwards.
5. Add some extras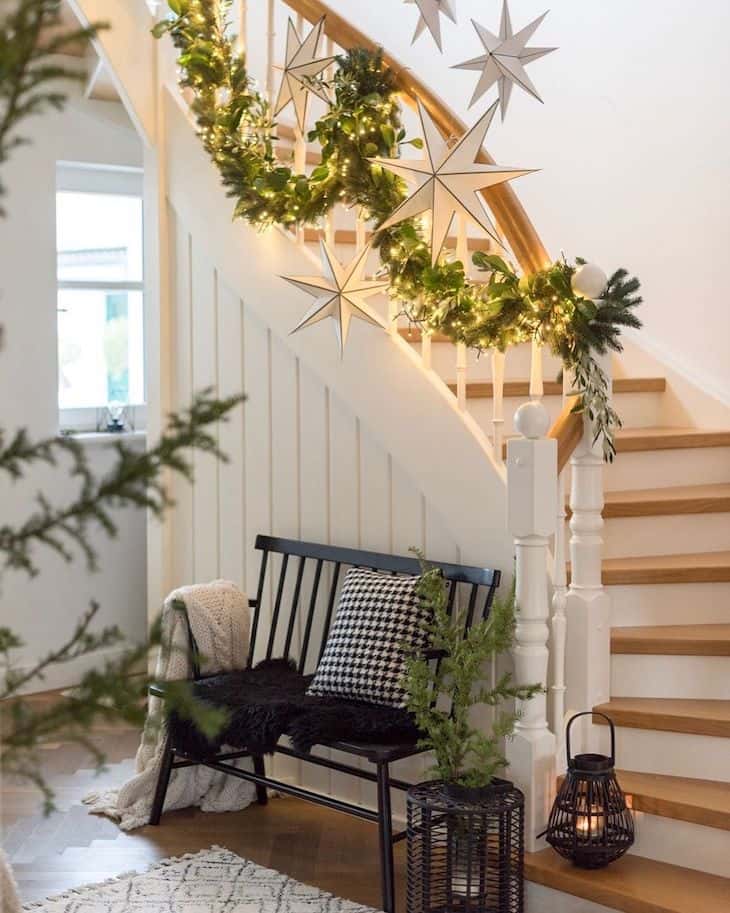 Shop related products(#ad):
paper star // garland
Have fun with the area around the staircase by incorporating a mini Christmas tree at the bottom of the stairs, or hanging stars from your second floor that will fall down to the mid-level of the staircase. Use simple pre-lit garland for the railings without much color in it if you prefer more of a subdued color scheme
6. DIY ornament garland
Shop related products(#ad):
ornaments
If you have extra ornaments after decorating your tree, put them to good use by incorporating them into your other holiday decorations. Kristy DIY-ed this ornament garland from different colored ornaments to add some extra whimsy to her decor.
7. Decorate the base of your stairs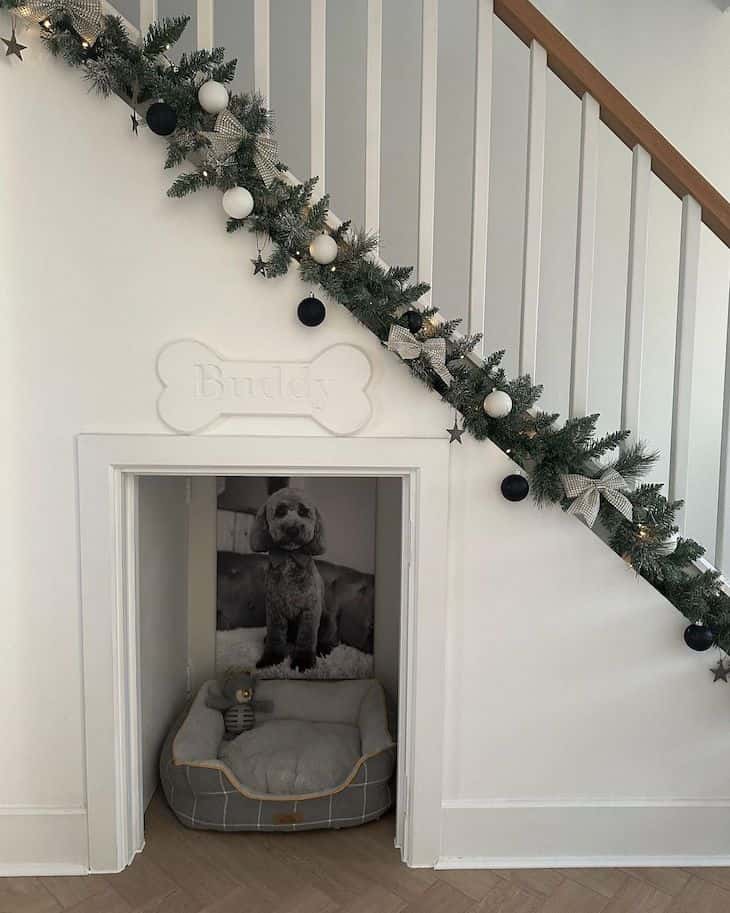 Shop related products(#ad):
garland // ornaments // bows
Try and leave the banister plain and instead add a decorative garland with ribbons, lights, and ornaments to the base, transforming it into a show-stopping feature like Gemma did.
8. Put marquee letter lights on the stairs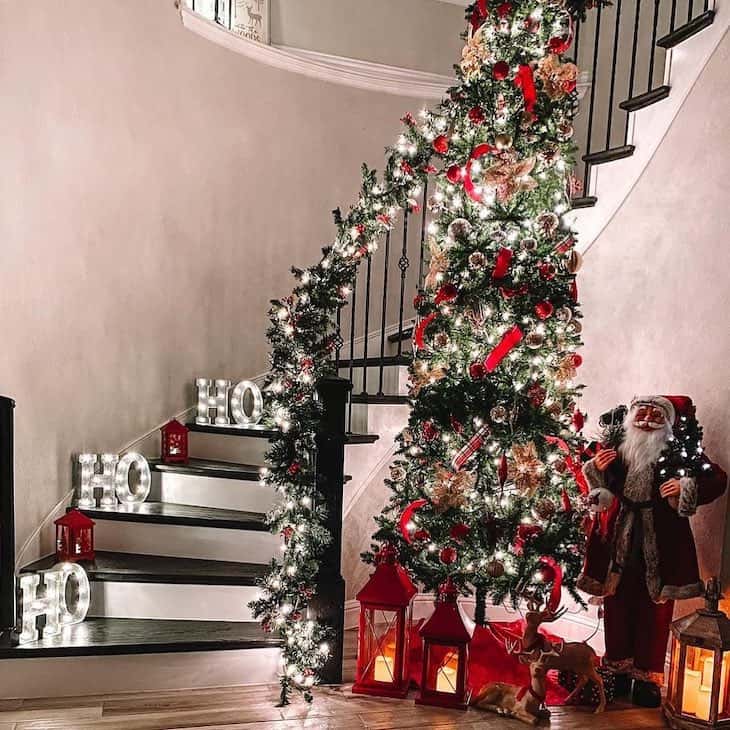 Shop related products(#ad):
marquee letter lights // garland // lanterns // Christmas tree
Give your stairs a vintage holiday makeover with marquee letters that add a touch of whimsy and drama. Complete the look with a pre-lit staircase garland and a pencil Christmas tree to create holiday magic in your space.
9. Opt for flameless candles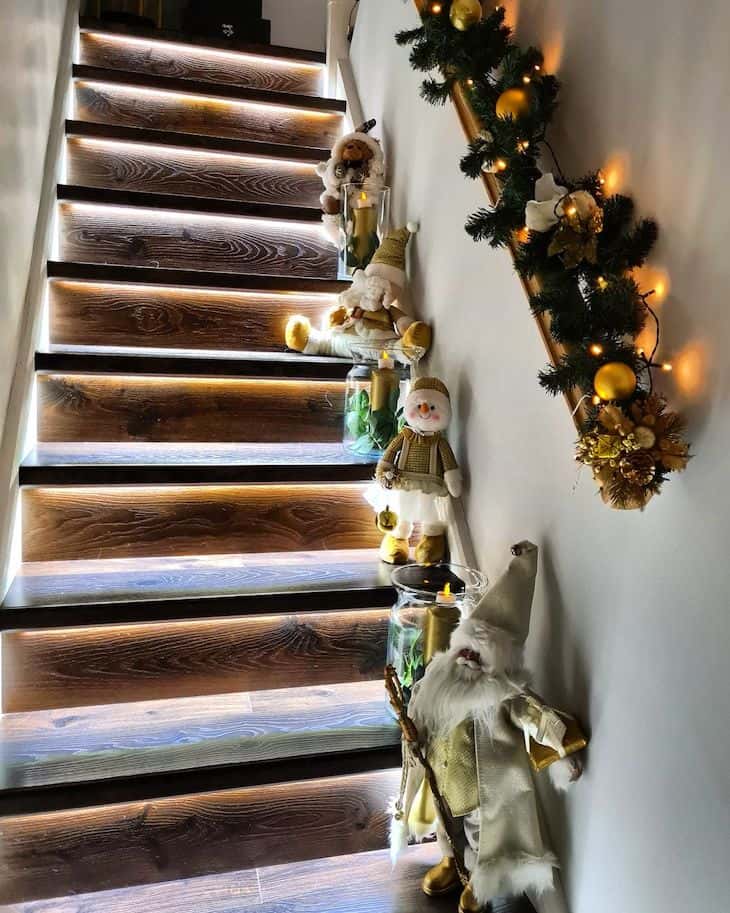 Shop related products(#ad):
candles // santa figurine // garland
Create a warm and inviting atmosphere by placing a selection of gold flameless pillar candles in jars on your steps.
10. Add paper snowflakes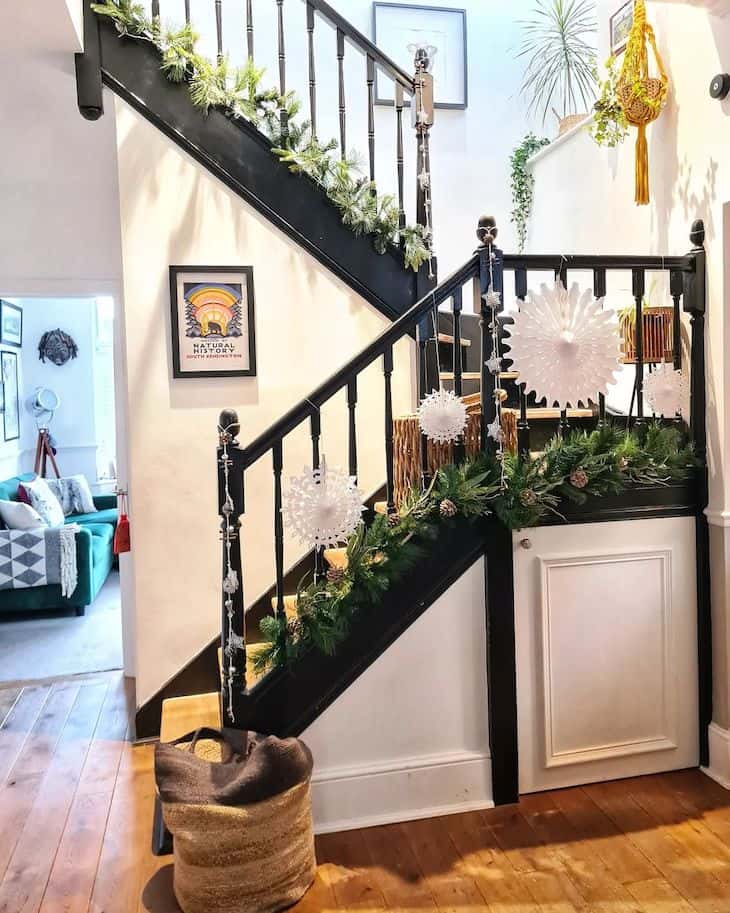 Shop related products(#ad):
paper snowflakes // garland
With some creativity and effort, you can easily transform your banister into a winter wonderland with paper snowflakes. DIY a collection of paper snowflakes, and attach them to the banister. You can create them in different shapes and sizes for added interest.
Once all of the snowflakes are in place, you can add additional decorations, such as garland on the base of the stairs, to enhance the look of your holiday decor.
How do I decorate my stairs with Christmas garland?
To drape Christmas garland on your banister, you will need a few supplies: a roll of garland, floral wire or ribbon, and holiday ornaments and lights (optional).
First, measure the length of your banister to determine how much garland you will need. Then, unroll the garland and drape it over the banister, starting at one end and working your way to the other. You may need to adjust the garland to ensure it is evenly spaced and draped nicely over the banister.
Once the garland is in place, secure it to the banister with floral wire or ribbon, wrapping it around the garland and the banister at several points along the length of the garland. This will help to keep the garland in place and prevent it from slipping or falling off.
If desired, you can add holiday ornaments, lights, and ribbons to the garland for a more festive look. Be sure to use floral wire or ribbon to attach these decorations securely to the garland.
When you are finished, step back and admire your handiwork. With a bit of creativity and some careful planning, you can create a beautiful and festive display that will add cheer to your home during the holiday season.