To create a festive winter wonderland setting, twinkling fairy lights, seasonal ornaments and festive fabrics are all great Christmas bedroom decor ideas.
As an Amazon Associate I earn from qualifying purchases.
1. Spread a garland on your canopy bed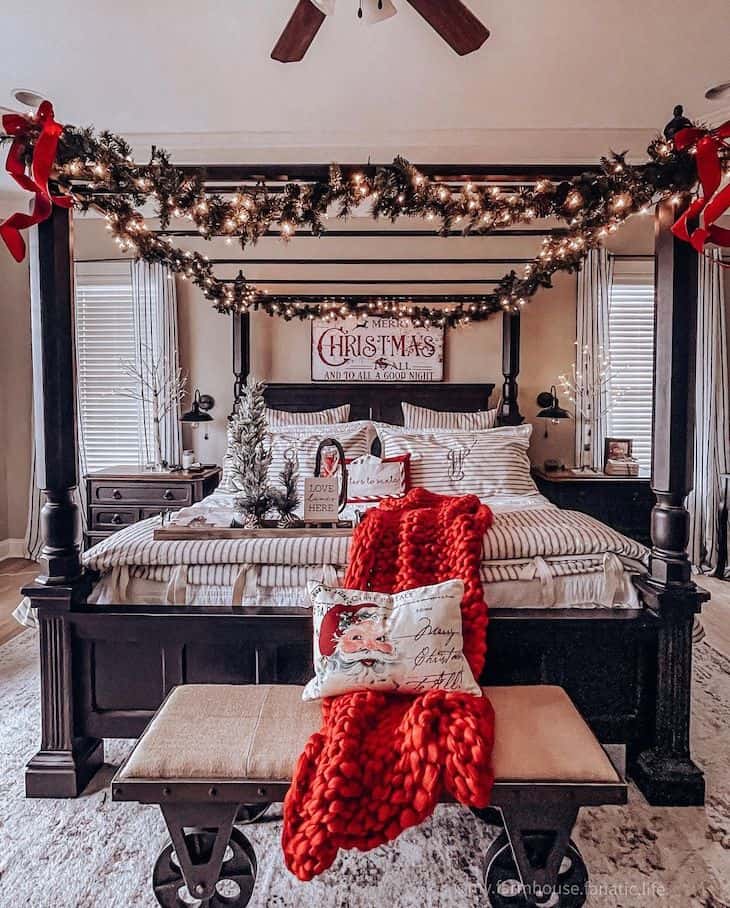 Shop related products(#ad):
bedding // red blanket // garland // bench // curtains // sconces // Santa pillow // red bow // lighted birch tree
Make the most of your existing bedroom furniture by weaving festive garland around it. Create a Christmas-themed bedroom with traditional red and green colors. Try a red cozy blanket thrown on your bedroom for a touch of color, and a festive pillow on your bedroom bench to add holiday flair.
2. Add red plaid Christmas bedding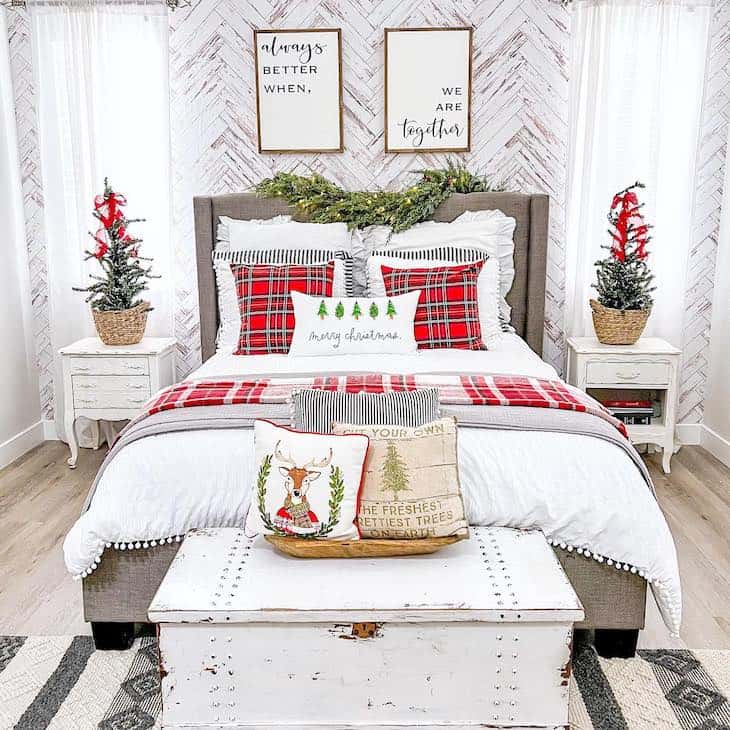 Shop related products(#ad):
plaid pillows // garland // blanket // duvet cover // mini tree // lumbar pillow
Christmas bedding is a must for every Christmas bedroom, but instead of picking the usual novelty prints, such as Santa Claus and candy canes, go for a chic, subtle design instead. You can add a touch of festivity to your bedroom with plaid or tartan prints in classic tones.
Add a natural touch with green garland draped over the headboard, and a pair of mini trees to add cheer to your bedroom nightstands.
3. Adorn your bedroom with pencil Christmas trees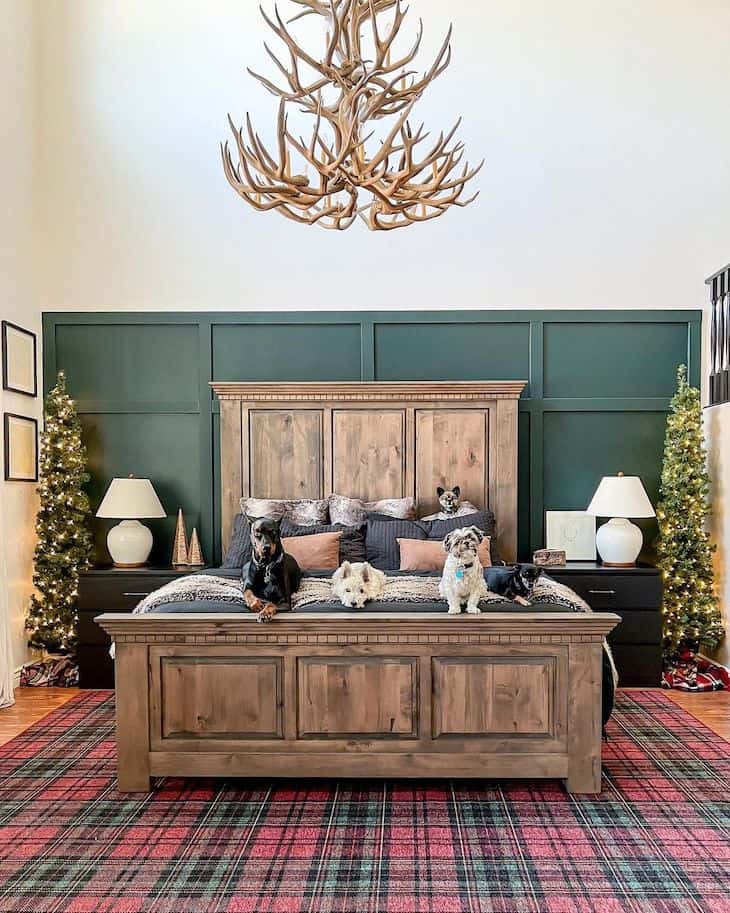 Shop related products(#ad):
chandelier // rug // Christmas tree // fur pillows // table lamp // bed frame // blanket
In this room where the accent wall and the rug are already in the statement Christmas colors, there is no need for many decorations to get it to feel festive. Add two pencil Christmas trees symmetrically on both sides of the room, and some cozy bedding, and your bedroom is ready for Christmas.
| | |
| --- | --- |
| Accent wall color | "Salamander" by Benjamin Moore |
4. Try Christmas bedroom sign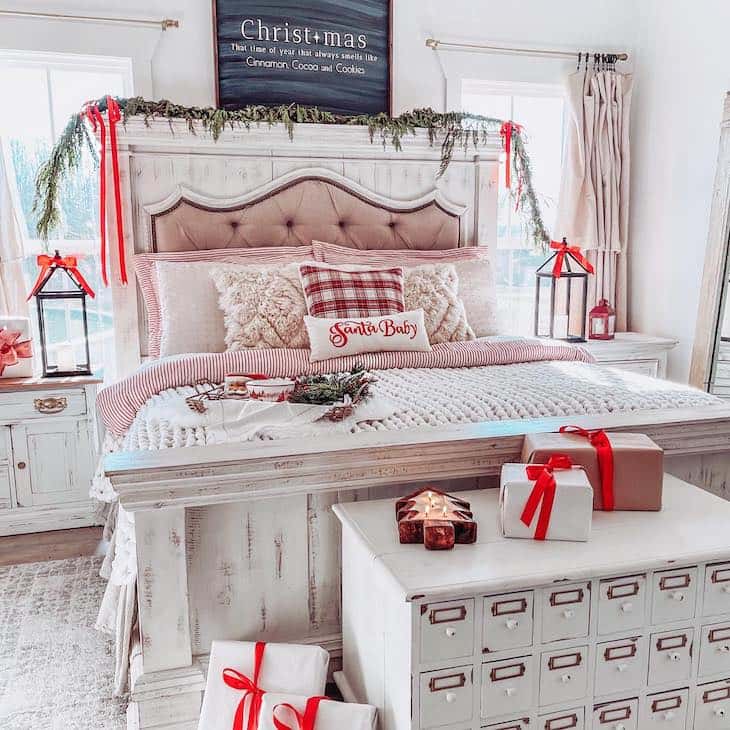 Shop related products(#ad):
bedding // plaid pillow // blanket
Put your favorite saying about the holidays on a farmhouse sign, and hang it over your bed. Give your bedroom a full holiday treatment with a sparse holiday garland and cozy festive bedding. Add a red bow on every corner and you are ready for the holidays.
5. Add wreath above your bed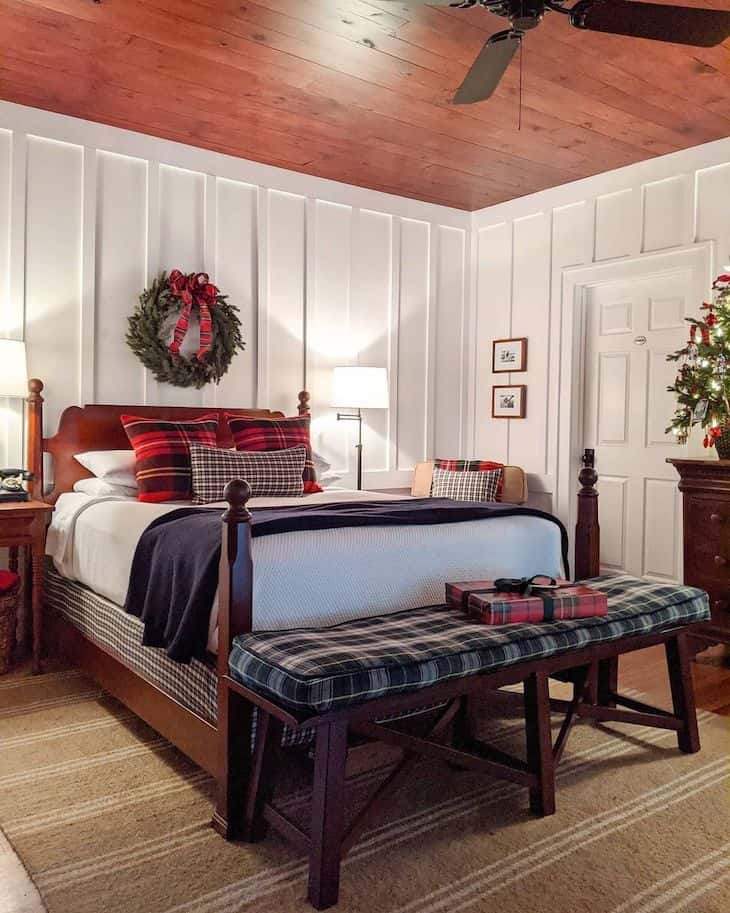 Shop related products(#ad):
plaid pillow // table lamp // wreath
During the Christmas season, we want our living spaces to be as cozy as possible. A simple pine wreath above your bed, adorned with a plaid bow, is the right holiday touch to add to your bedroom. Featuring red plaid, cottage vibes, and presents propped at the end of the bed, this room radiates a cozy holiday atmosphere.
6. Decorate with vintage Christmas bedroom decor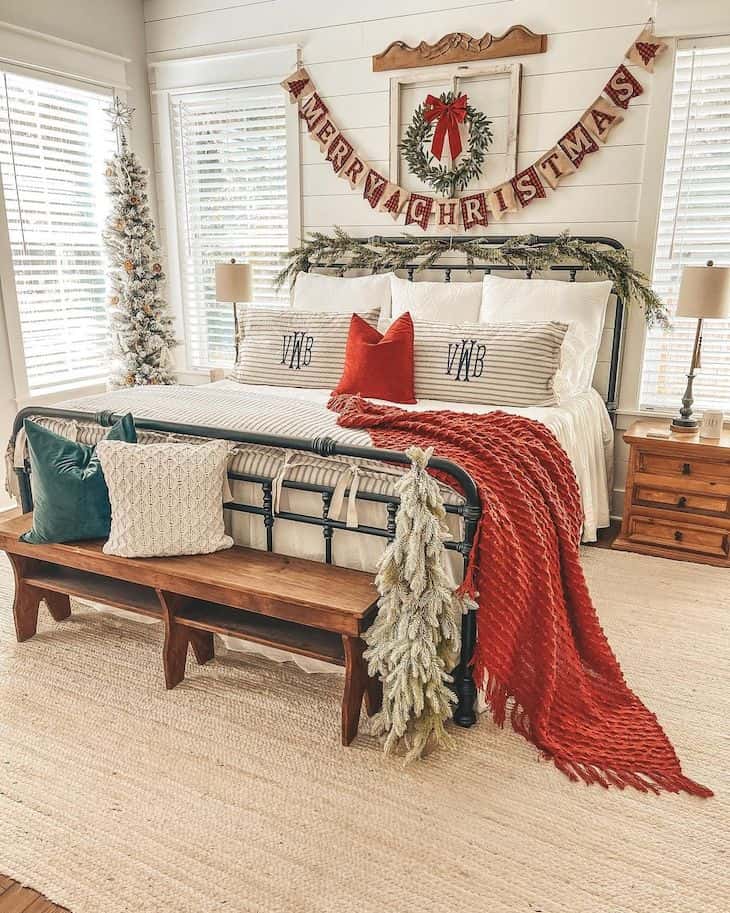 Shop related products(#ad):
garland // blanket // bedding // Christmas tree // banner //
Create a Christmas bedroom dream with a vintage holiday banner hung above your headboard. Make your home feel like a winter wonderland with an assortment of winter-themed decor. A flocked pencil Christmas tree in your corner and one beside the bed are just enough for a positively jolly night's sleep.
| | |
| --- | --- |
| Shiplap wall color | "Pure White" by Sherwin Williams |
| Other walls | "Crushed Ice" by Sherwin Williams |
7. Create a cozy atmosphere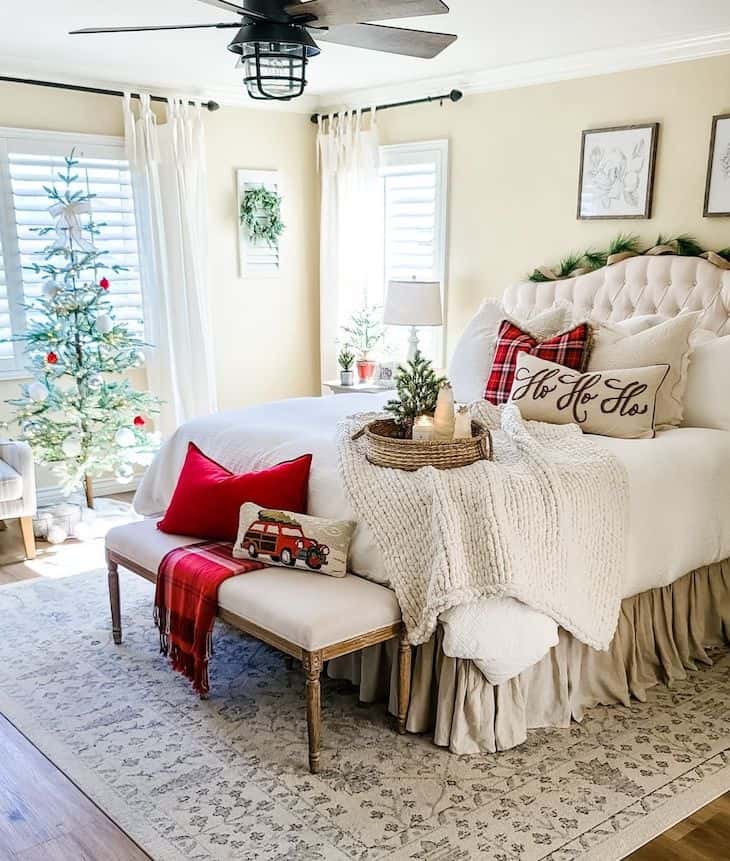 Shop related products(#ad):
In a white and bright bedroom, a pop of red will add the right amount of holiday cheer. Create a cozy atmosphere with a few Christmas pillows and a chunky blanket for the perfect cheery feeling. A holiday tray vignette is an easy way to shift your room into the Christmas spirit.
8. Go with simple Christmas bedroom decor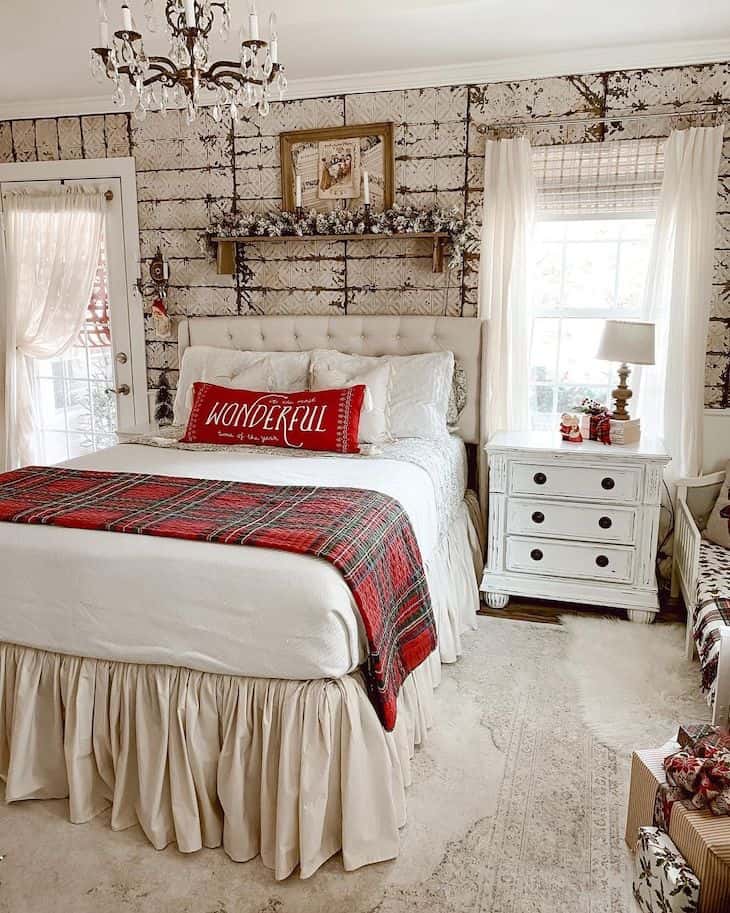 Shop related products(#ad):
bed skirt //
Adding holiday vibes to your bedroom is as easy as adding a garland, pillow, and throw blanket combo. Your holiday space will be aglow with a Christmas ambiance with a simple plaid blanket, a classic feature for your holiday home decor.
9. Go maximalist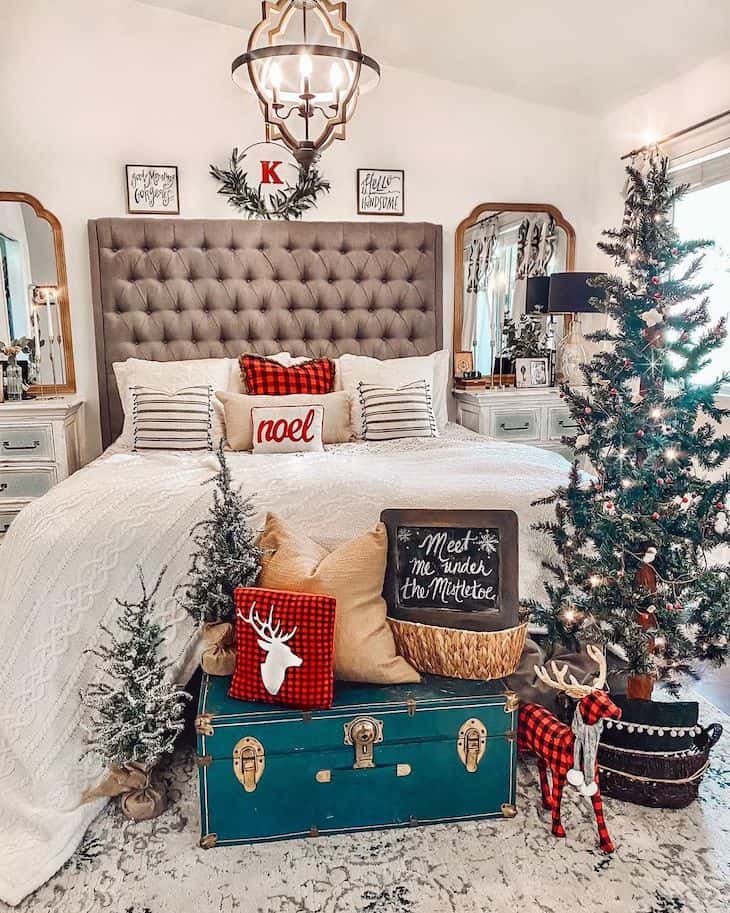 Shop related products(#ad):
deer pillow //
Display your love for the holidays with coordinating maximalist decor. This festive bedroom features bedding, pillows, wreaths, and a tree. Christmas trees aren't just for living rooms. Simple is best when it comes to your bedroom tree, like a small minimalistic pre-lit tree.
10. Utilise Christmas pillows
You can't go wrong with pillows at Christmas as they are one of the best decor items you have at your disposal. A festive styling hack for decorative pillows is to only change the front row. If you are running out of space on your tree to hang all your favorite beaded garlands, make your bed more enchanting by hanging them from the headboard.