From rustic farmhouse kitchen island lighting to modern wooden light fixtures and lantern pendant designs, there are styles to compliment every kitchen. Lighting for current farmhouse kitchen decor is innovative, versatile, and highly appealing. While some homeowners favor lighting modes that blend with or enhance the room's overall decor, others like contrasting lighting designs. A contemporary farmhouse interior with smooth, streamlined wood, granite, and enameled aluminum surfaces can sparkle under light from a shabby chic crystal lantern or sheer glass light fixtures.
With a shaded wagon-wheel chandelier suspended above your kitchen island-bar countertop, you can accentuate your rustic farmhouse kitchen island style decor with authentic barn accents. A series of sleek contemporary teardrop lamps as elegant three pendant lighting installed at even intervals on your kitchen ceiling can brighten and enliven the room. Even with subtle or dimmed lighting from these charming lamps, the rich hues of dark timber cottage decor glow with new vitality. When you choose the ideal lighting such as glass light fixtures for your new or refurbished farmhouse mode decor, you can create a kitchen interior with breathtaking beauty.
As an Amazon Associate I earn from qualifying purchases.
1. Pair of Lantern Pendants to Brighten and Welcome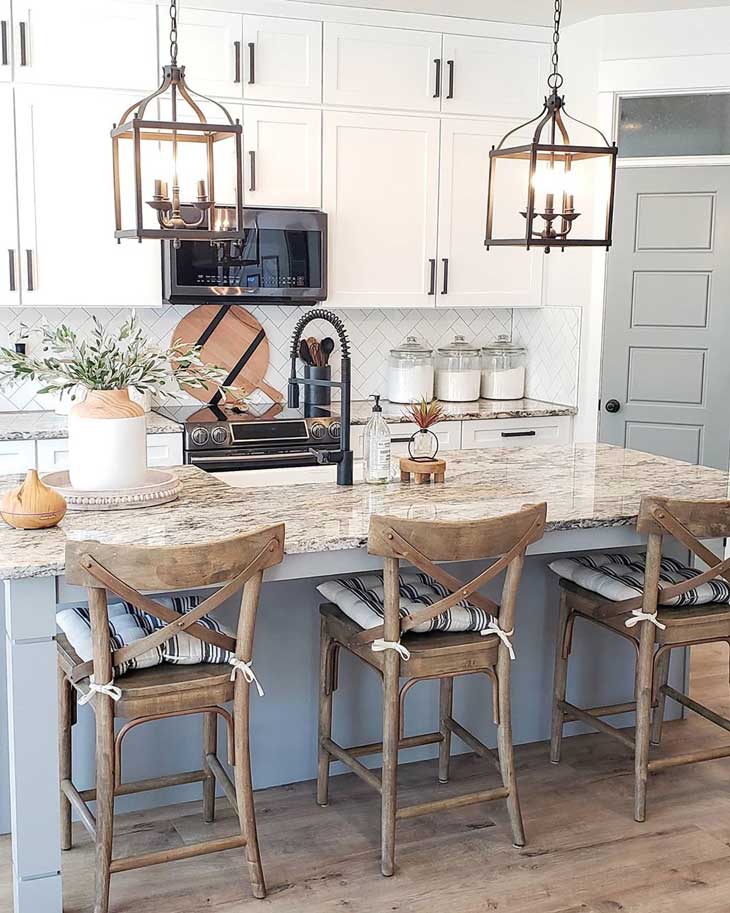 Shop related products:
pendant lights // barstools // black faucet // beaded tray // #ad
This pair of charming rustic lantern pendant lights with frames of aged chrome or copper offers plenty of bright yet pleasing light. The cluster of three candle-style light fixtures in each lantern provides good lighting for food-prepping, serving and socialising around your kitchen island. At the same time, these lights offer the pleasing decorative effects of lightweight accessories for a stylish farmhouse interior.
The wall-mounted white cabinets that reach to the ceiling above the benchtop and the richly patterned yet sleek gray and cream marble island that matches the benchtop offer natural glowing hues. To accent, this inviting farmhouse interior, the set of wooden cross-back chairs with grey and white striped cushions adds casual style and ambiance. The thatched design offered by the splashback tiling, the stoneware pottery, and glass storage jars emphasize pure country appeal. For a slightly different effect, you might try rose and cocoa-colored splashback tiles and brighter rose-coral and grey chair cushions.
2. Black dome pendant light with gold interior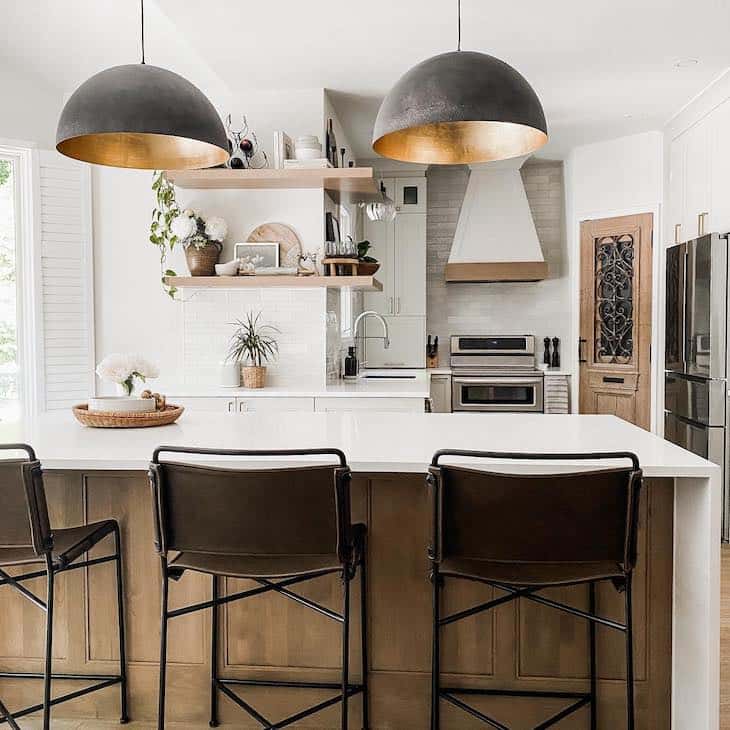 Shop related products(#ad):
pendant // counter stools // faucet
This black drop pendant appears just like a salvaged factory light at first glance. Even though we love the industrial look of this light fixture, we're giving it extra points for bringing sleek minimalism to the mix. This blackened steel pendant features a glamorous gold interior, bringing a little shine to the otherwise plain design. With its gold-leafed interior, this shade adds a sophisticated pop of contrast and a warm glow to this modern farmhouse kitchen.
The sleek pendant light matches the architecture-inspired steel tubing on the counter stools complemented by distressed brown seating with simple contours. This modern kitchen island lighting idea will bring charm and elevate the design of your kitchen.
3. Modern pendant in aged brass with a white shade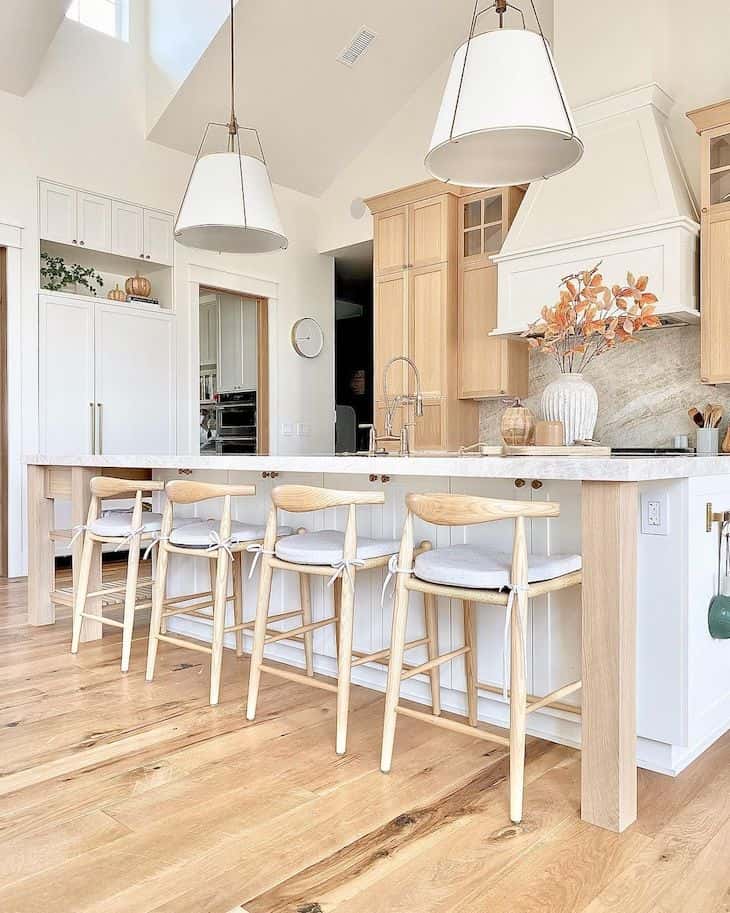 Shop related products(#ad):
pendant // counter stool
This modern pendant in aged brass with a white shade is a great addition to any space, no matter how big or small. The lamp's lofty lines and linen shade will bring a casual, breezy note to your kitchen island. The linen shade, combined with the diffuser, provides a balanced, ambient light source
With its traditional style and modern flair, this pendant light adds a touch of drama to this kitchen. This kitchen pendant emits a warm glow and an industrial vibe thanks to its minimalist silhouette and traditional tapered shade. You'll simply love the effortlessly graceful shape and style of this modern chandelier in your kitchen.
4. Handcrafted Wood Country-Cottage Chandeliers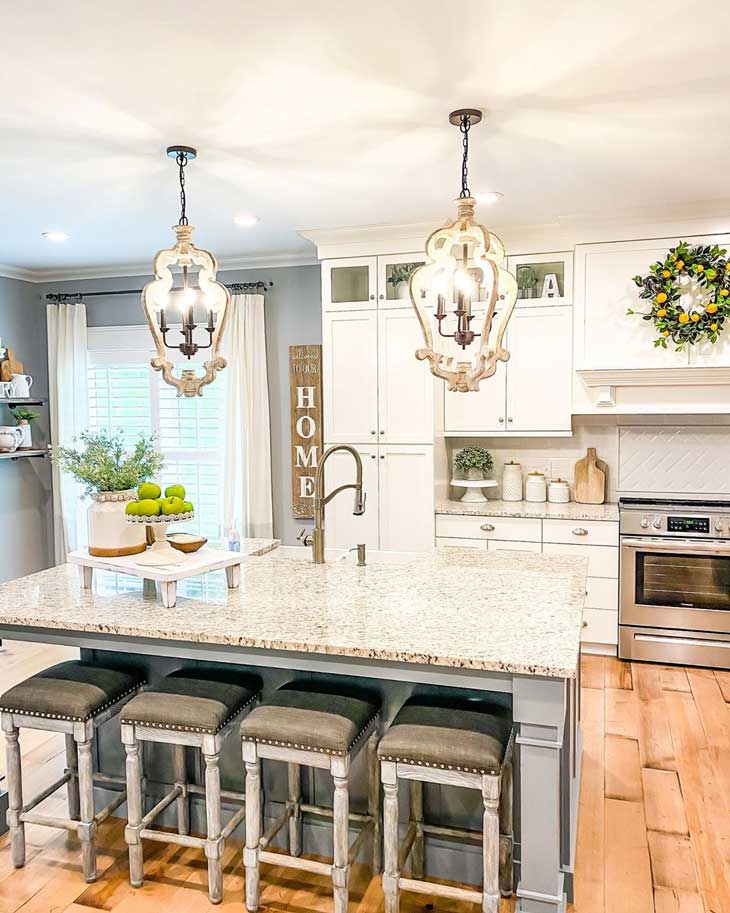 Shop related products:
chandelier // barstools // #ad
These elegant yet simplistic handcrafted wooden chandeliers bring genuine farmhouse kitchen island lighting and country-cottage enchantment to brighten this kitchen island. The inner metal frame of the two suspended wooden kitchen island light fixtures lends distinctive casual elegance to this farmhouse kitchen interior. The stunning effects can even surpass the beauty of three pendant lighting. With four candle-style lights radiating bright beams from each chandelier, there is an abundance of light to brighten the room.
The rustic, wide-plank timber flooring, wooden wall-mounted cabinetry and distressed white island-bar stools align with the chandeliers' natural elegance. The antique studded fabric seats exhibit the appealing diversity of cottage style decor with their shabby chic allure. On the far wall, the large wooden plaque reading "Home" further complements other timber decor. Simple stoneware accents along with the marble island-top, its rustic decor and the wall-mounted wreath add natural charm. Try replacing the bar stools with tall silk-damask cushioned, hand-crafted wooden bar chairs for another touch of vintage elegance beneath the stylish wooden kitchen island light fixtures.
5. Rustic Elements of Decor for Basic Kitchen Charm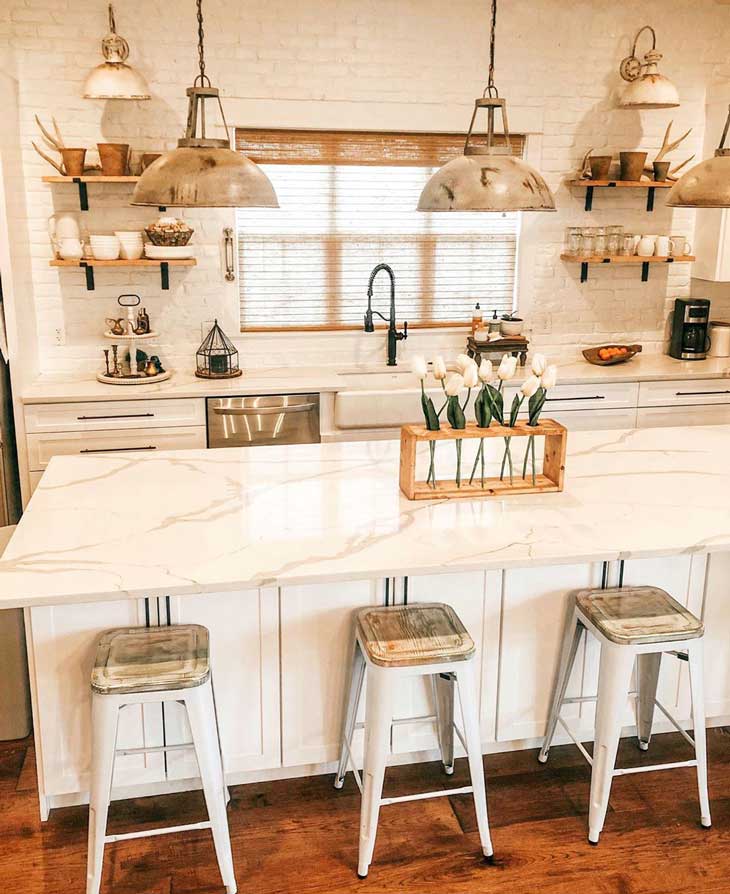 Shop related products:
pendant lights // barstools // #ad
These round barn-style pendants with primitive-mode painted surfaces light the kitchen island with casual simplicity. The smaller sconce lights on the wall above the marble benchtop in neutral shades lend a curious mix of casual elegance and basic industrial style. The rustic white brick walling above the benchtop and sink alleviate the need for splashback tiling. Adding farmhouse appeal, the short wooden shelves displaying pottery and supported by wrought-iron brackets reinforce this basic, simple style of decor.
The simple beauty of the white marble island-top with sparse grey patterns and the vintage metal kitchen stools add allure to this rustic kitchen interior. Lending vintage beauty of its own, the rich red-brown hues of the repurposed wooden flooring add strong barn-style accents. Embellishing the overall ambiance of the room are small items of decor like the benchtop's Lazy Susan and the rustic wooden flower stand decorating the island-top. You can experiment with substitutions such as exchanging the flower stand for a free-style stoneware vase with fresh garden flowers and adding butcher block wall shelving.
6. Three-pendant Industrial Lighting with Daring Touches of Vintage Chic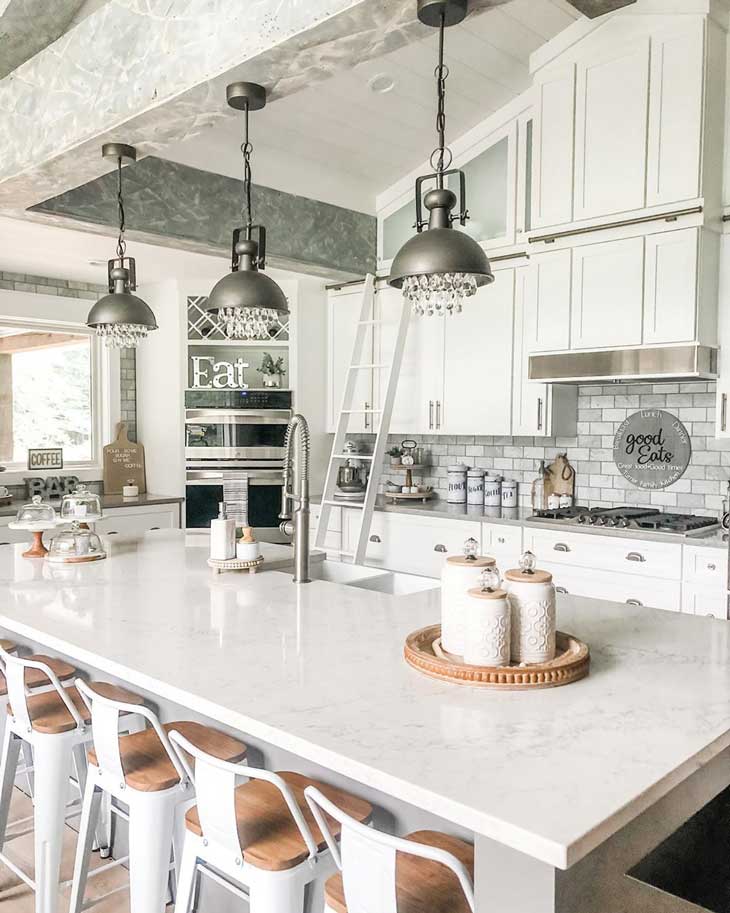 Shop related products:
dome pendants // wood tray // bar stools // double bowl farmhouse sink // #ad
This 3-pendant lighting design is a dynamic mix of pure industrial and delightful vintage-elegant decor as fashionable kitchen light fixtures. The round dark-surfaced aluminium or chrome pendant lamps are suspended from the ceiling by a combination of brackets, chains and thick wires. Their primary visual effect is basic industrial. Yet attached to the rounded edges of each pendant is a rather ornate display of small hanging crystals. This grand vintage chic ornamentation lends a charming sense of daringly displaced vintage elegance as kitchen light fixtures.
Overhead beams surfaced in faux-marble grandeur are mirrored along with the unique pendant lamps as stylish kitchen light fixtures by the sleek white marble island-top below. The clean, simple lines of the low-backed island-bar chairs with wooden seats and the island's goose-neck kitchen sink tapware exhibit sleek stylish charm. Yet the basic slender ladder for accessing wall-mounted cabinets and the rugged brick splashback feature the rough side of industrial style. Simple condiment jars and kitchen accessories add practical style while the collection of signage reading, "Eat, good Eats, Coffee and Bar" reinforce this kitchen's basic farmhouse allure. Try replacing the marble benchtop with butcher block or heavily patterned granite for a more rugged, grounded effect, if you like.
7. Vintage Decor and Embellishment for a Black Island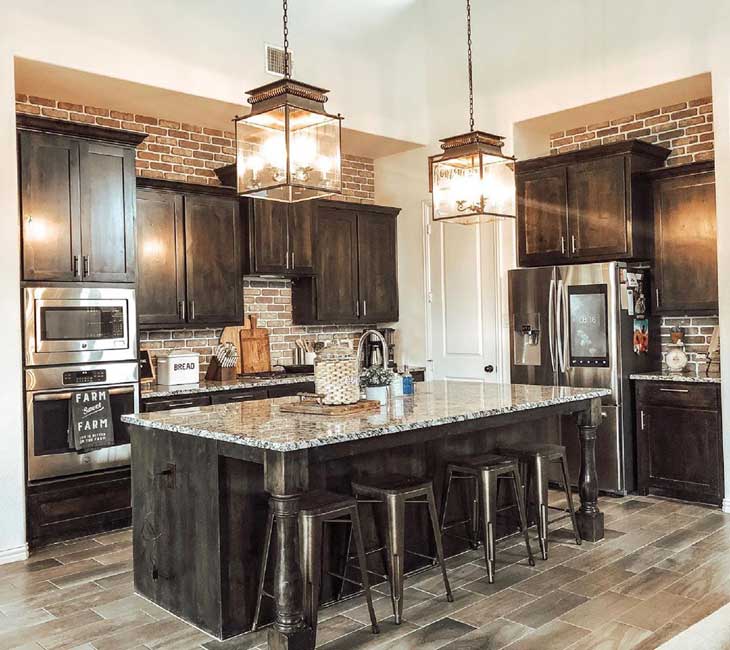 Shop related products:
pendant lights // metal barstools // glass jar // #ad
These dynamic large glass-box hanging farmhouse kitchen island lighting designs take center stage above the island-top in this kitchen interior. Their vintage copper frames and squared tops complement the rustic brick walls, shiplap flooring, and simple dark-surfaced island-bar stools. The brilliant shine of the clustered lights in each box-lamp reflects brightly in the smooth dark surfaces of the wall cabinetry above the strongly patterned marble benchtop. This unique design offers splendid farmhouse kitchen island light fixtures.
Even the matte finish of the black wooden island base reflects touches of the bright lamplight from the charming kitchen light fixtures that set the island-top aglow. The stainless steel appliances act as beacons of the light caught from these dominant glass-box lanterns. The vintage crockery and breadboard decorating the island-top align with the stoneware breadbox on the nearby counter and the kitchen towel reading "Farm" hanging on the oven handle. You might replace the island-top crockery with antique wooden spice boxes or wrought-iron cooking vessels as additional rustic features.
8. Silver on White for Calm, Sedate Kitchen Island Lighting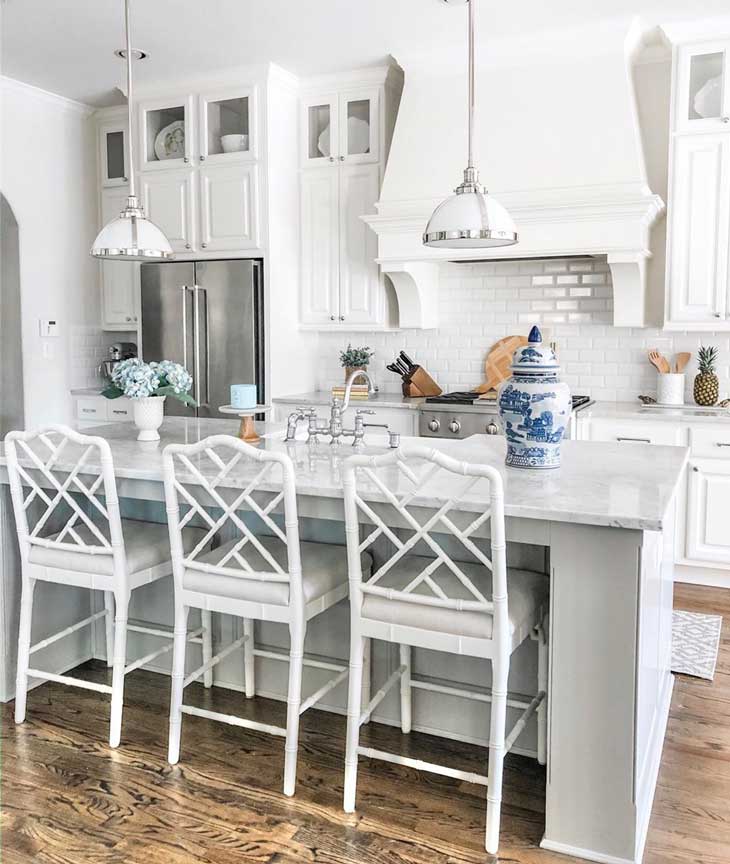 Shop related products:
island lights // counter stools // ginger jar // #ad
This pair of elegant white pendant lights with silver rims and accessories lends a sense of fashionable calm to this kitchen island lighting and setting. The luminous stainless steel appliances join the silver on white light fixtures' decoration in a kitchen of basic pristine white. The Blue Willow style pottery and vintage bamboo bar chairs painted white with upholstered seats lend an inviting antique essence to the room. The entire kitchen environment come alive under stylish farmhouse kitchen island light fixtures.
The smooth white brick walling and wood-crafted cabinets with high windowed doors add charm from an earlier era to silver on white light fixtures. A central focus of attention directly beyond the white marble island is the ceiling-high decorative hood-vent above the kitchen range and stovetop. The low goose-neck island sink tapware, vase with cut flowers and other decorative kitchen accessories accentuate the calm, sedate allure of the room's white and silver-brushed interior and kitchen lighting. Try substituting some antique crystal items for the small decorative accessories for a touch of lively sparkles beneath your silver on white light fixtures for kitchen island lighting.
9. Classic Farmhouse Design with Shabby Chic Elegance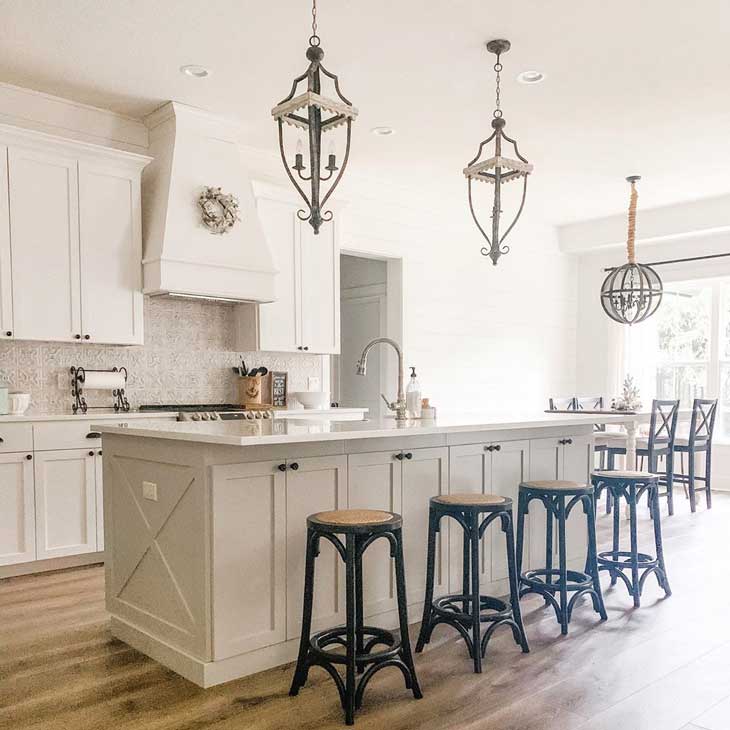 Shop related products:
faucet // #ad
Simple, clean lines and rustic style define this engaging farmhouse kitchen interior with rustic light fixtures. The smooth white surfaces of its island base cupboards and wall-mounted cabinetry create a casual ambiance in this well-organised, uncluttered room. The familiar barn-style cross-back design displayed in the kitchen table chair designs is mirrored in the end of the island base. Hardwood flooring with its natural finish and the goose-neck tapware of the kitchen center-island sink lend typical farmhouse character.
With worn chic elegance, the pair of ornate rustic light fixtures as antique metal chandelier frames lends dated cottage grandeur to this charming island setting. Although one of these aging pendant fixtures has lost its lighting holders and lights, it offers enchanting vintage fashion. It offers an excellent example of unique farmhouse kitchen island light fixtures. The open-globe style pendant design suspended from the ceiling on a braided cord is placed to shed light on the kitchen table. The sturdy rustic island-bar stools repeat geometric forms exhibited by these decorative light fixtures. Above the marble counters, the ornately patterned splashback accentuates the aged chic elements of decor. For a slightly different style, try replacing the white marble island-top and counters with lustrous polished hardwood in warm, subtle hues beneath your attractive kitchen lighting.
10. Linear Open-Frame Farmhouse Lantern Design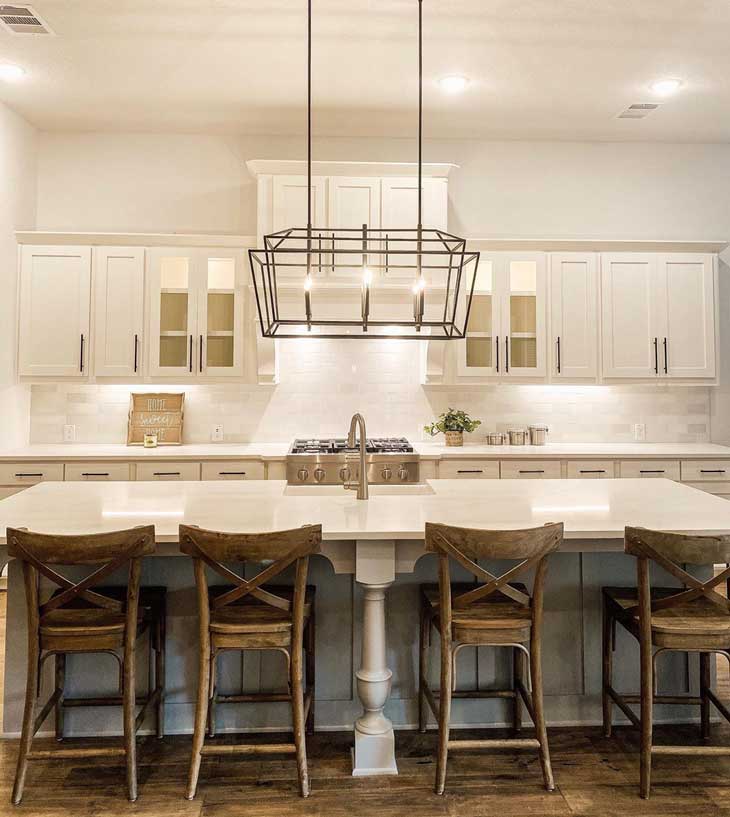 Shop related products:
linear chandelier // barstools // #ad
This intriguing linear open frame lantern chandelier is the very essence of rustic farmhouse-barn style. Its slender candle-like designs radiate small bright spots of clear light around the room, creating vibrant pops of accented colour. Additional light is supplied by recessed ceiling lighting from above. The neat line of wall cabinets above the benchtop and range along with the central hood-vent add a touch of modern minimalist to this welcoming farmhouse interior. The entire room is well-lit by its chic farmhouse kitchen island light fixtures as linear open frame designs.
The characteristic goose-neck spigot of the kitchen central island sink is the only decoration for the pristine white, luminous surface of the marble or quartz island-top. To reinforce the farmhouse style, a row of cross-back wooden chairs line one side of the island-bar. In pleasing contrast, the decorative woodwork of the island's supportive leg and border remind us of the charming effects of mixing country-cottage and worn chic. For a slightly different look, you might replace the chairs with slender high-backed, handcrafted bar chairs with rattan seat insets.
11. Black Pendant Light Frames Lend Silhouettes of Charm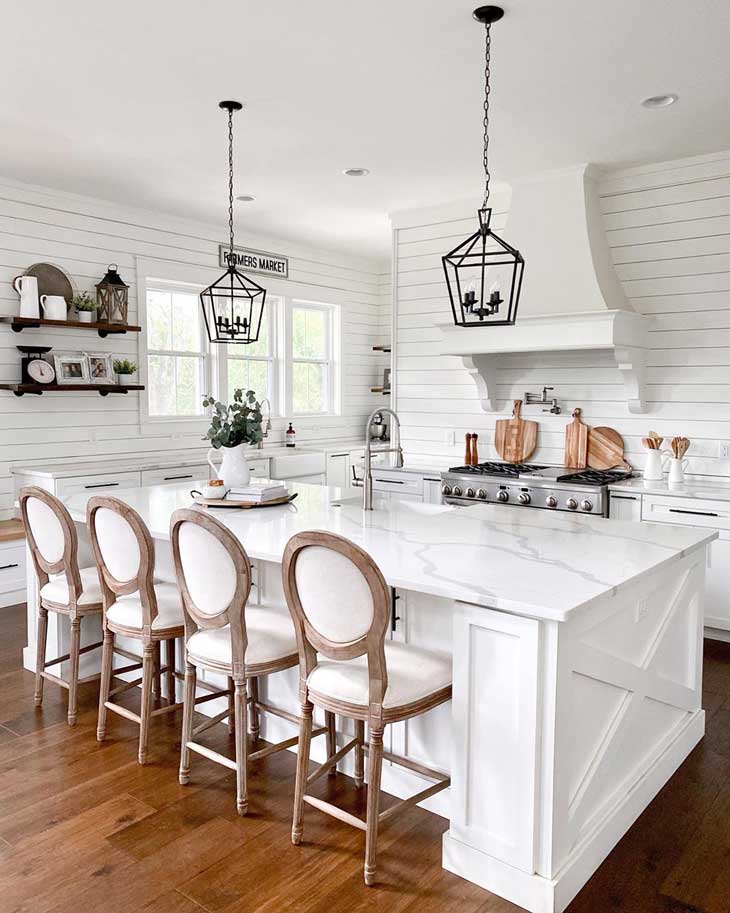 Shop related products:
lantern pendant // counter stools // pitcher // #ad
As major points of attention in this inviting casual cottage-style kitchen interior, these two black metal pendant lighting designs offer pleasing creative artistry. Their linear silhouette designs frame dimensional open space, offering the visual illusion of more solid lighting fixtures. Their candle-style lights sit like seated figures prepared to brighten the soft white light of this farmhouse interior announced by the "Farmers Market" sign over the windows. These artistic designs provide inspiring kitchen island lighting fixtures.
The subtle shiplap walling in pure white contrasts pleasingly with the rich hues of the wide-plank wood flooring. Overhead recessed lights can supply additional lighting as needed. The gentle patterns of the stunning white and light-grey marble island-top open up this appealing kitchen interior. Dark wood wall shelves with decorative items and wooden cooking accessories add natural colour and cottage style. The French country dining chairs with white upholstered seats and rounded fabric backs add a sense of classic-casual elegance. You might try swapping the island-top tray with its pitcher, greenery and books for a decorative enameled tray of fresh fruits and flowers.
12. Open-Sphere Pendant Wooden Lighting Design for Cottage Kitchen Decor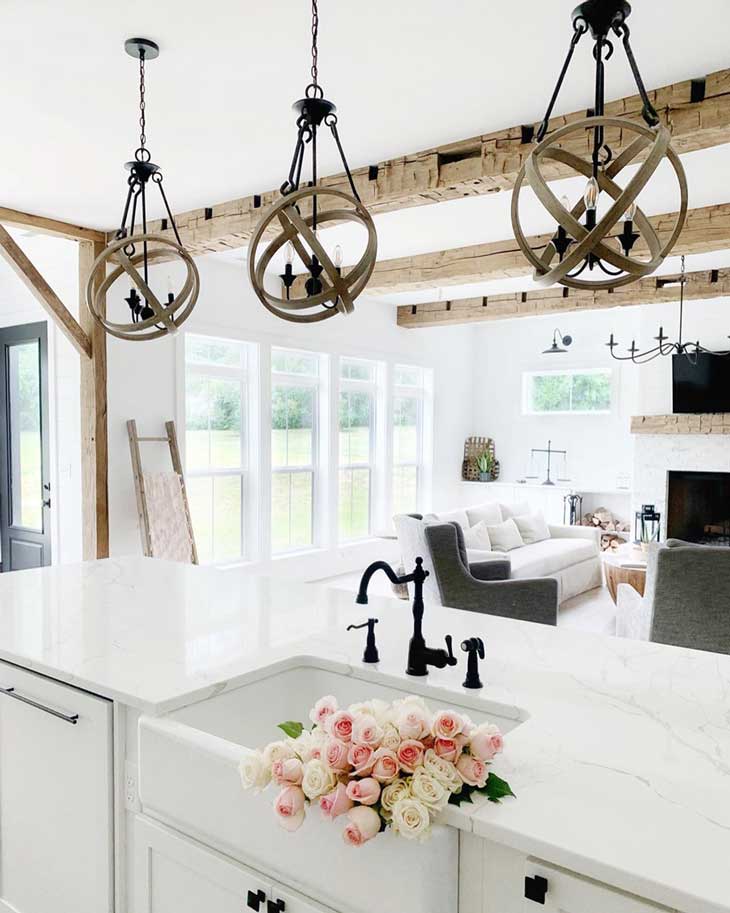 Shop related products:
island lights // black faucet // apron sink // #ad
Lighthearted open-sphere pendants as wooden lighting designs such as these add inviting comfortable allure to your cottage-style kitchen decor. Their intertwined wooden circles with wrought-iron fixtures, light holders and long-armed connecting hooks hang from the ceiling on simple iron chains. Rustic notched timber ceiling beams and woodwork lend farmhouse style to this open-concept kitchen and family room warmed by nearby beams from stylish kitchen island lighting fixtures. These unique sphere kitchen island light fixtures will surprise and delight your guests.
Separated from the kitchen only by the smooth white and faint-grey marble island-top and its neat white cabinetry base, the adjoining room also displays rustic wood beams and a matching mantelpiece. The handsome black metal island sink tapware and cabinet handles complement the wrought-iron work of the sphere lighting pendants. The pure natural beauty of the large bouquet of pink and white rose buds at the edge of the sink enhances this stunning farmhouse kitchen interior. For an altered look, you can try substituting a slender rustic timber bookcase for the ladder with its folded throw leaned against a nearby wall. This charming setting is stylishly illuminated by your new sphere kitchen island light fixtures.
13. Handsome Black Lantern Island Lighting Designs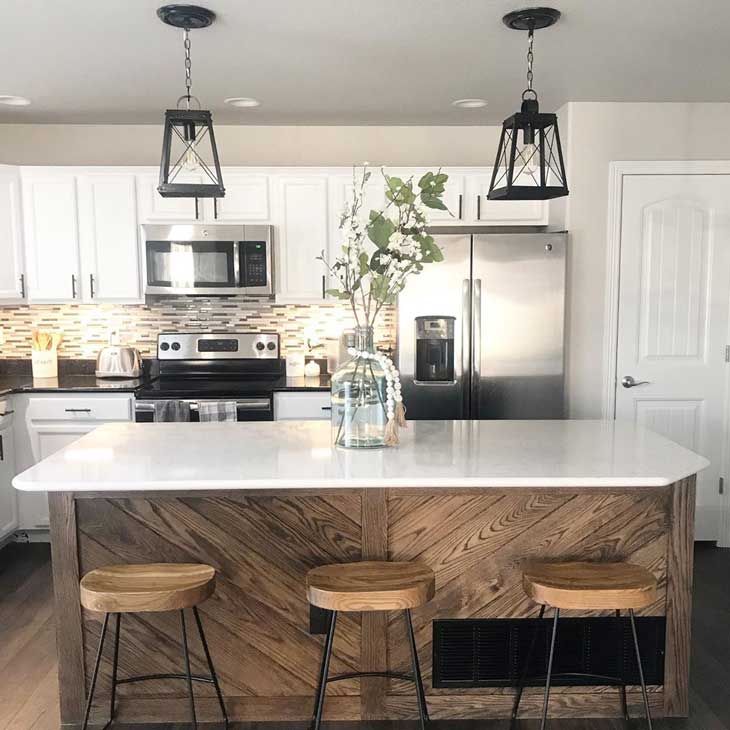 Shop related products (#ad):
These two stunning black barn-style lanterns suspended on chains from the kitchen ceiling seem to radiate charm even without shedding light as stylish kitchen island lighting fixtures. Their singular large light bulbs offer plenty of bright rays to brighten the elegant white marble slab island-top below. Recessed ceiling lights ensure more direct light over the nearby benchtop and handsome stainless steel appliances.
The rich natural hues of the rugged barn-style wooden island base are accented and enhanced by the splashback's warm earth tones. Simple white overhead cabinetry and additional cupboards and drawers beneath the benchtop complement the sleek white island counter-top. At the same time, the minimalist bar stools with slim black metal frames and thick rounded hardwood seats accent the basic farmhouse decor. To experiment with a somewhat different look, try using a shallow tobacco leaf tray abundant with fresh garden flowers and vines for an island counter display.
14. Stunning Gold Metalwork for Cottage Pendant Chandeliers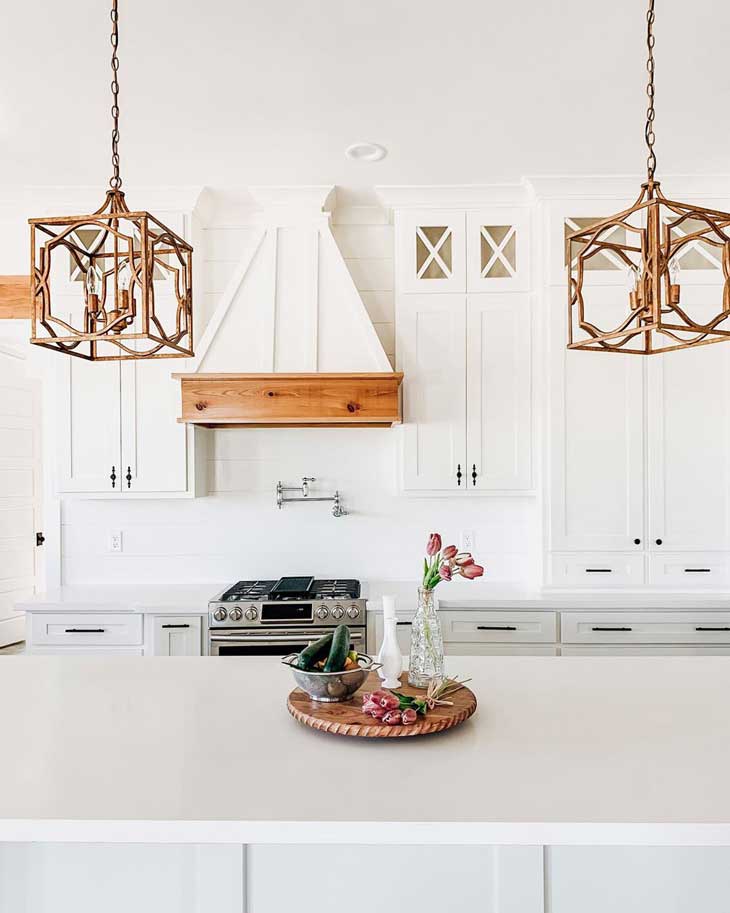 This pair of rustic yet elegant gold metal pendant chandeliers offer a pleasing open silhouette design as creative kitchen island light fixtures. Their simple, but decorated curving geometric designs offer a pleasing rustic kitchen island lighting contrast to the simple crossed lines exhibited by the upper wall-mounted cabinet doors and range hood-vent. The vibrant coloration of the maple wood decoration for the hood's bottom border and displayed along a nearby wall brightens the otherwise pure white decor lit by stunning kitchen island lighting fixtures. Your gold metal fixtures offer kitchen decor of pure elegance. You will enjoy cooking with light from your rustic kitchen island light fixtures.
The decorative wooden tray on the smooth white island-top displaying tulips, a crystal vase, white china vase and silver bowl of vegetables adds natural charm beneath your rustic kitchen island lighting. Sleek black metal hardware on cabinets and drawers aligns with the black metal burner grates of the stovetop. The featured gold metalwork chandeliers create a pleasing sensibility of fashionable classic cottage style allure. To alter the decor slightly, you might change the tray and its natural decorative elements for a gold tray with matte finish filled with fresh flowers, grapes, nuts and berries. These accessories will highlight your rustic kitchen island light fixtures.
15. Magnetic Modern Framed-Star Chandeliers for Glamour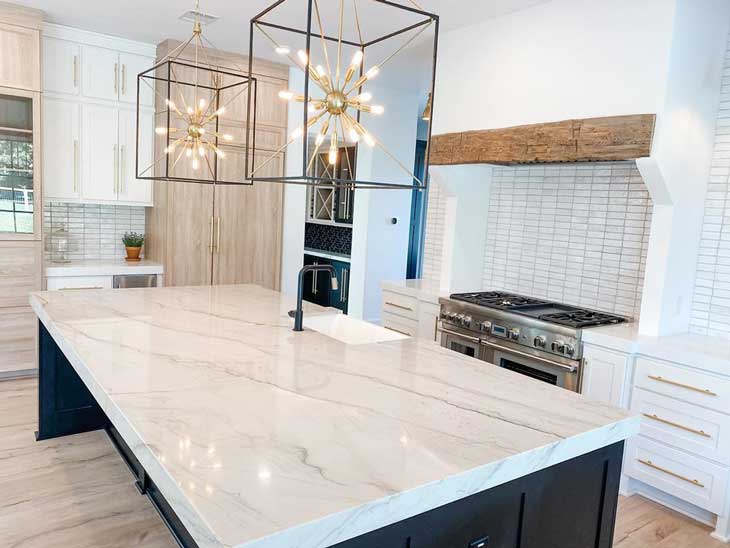 Shop related products:
pendants // #ad
These glamorous framed-star chandeliers lend strong magnetic allure to this streamlined modern kitchen interior as creative kitchen island light fixtures. Overlooking the sleek white marble island-top with light touches of grey patterning, this attractive pair of large, stylish squared pendant lights offer an abstract star center resplendent with a generous cluster of lights. The open design of the black wooden island base and the simple rectangular white splashback tiling create a spacious, open effect. The modern kitchen light fixtures add fashionable dynamics to your kitchen decor.
The simplistic white wall-mounted cabinets align with the pristine surfaces of the island's marble top. At the same time, the narrow floor-to-ceiling light wood cupboard and rugged wall beam in darker timber above the splashback emphasise the basic farmhouse style. As the light wooden floor boards with natural finish enhance the tall wooden cupboard, the black and stainless steel appliances align with the black island base. To alter the overall visual effect slightly, you can try replacing the white and light grey marble of the island-top with amber, charcoal and sand-coloured granite. This colour scheme will also enhance your new modern kitchen light fixtures.
16. Round Black Metal Pendants as Chic Round Kitchen Light Fixtures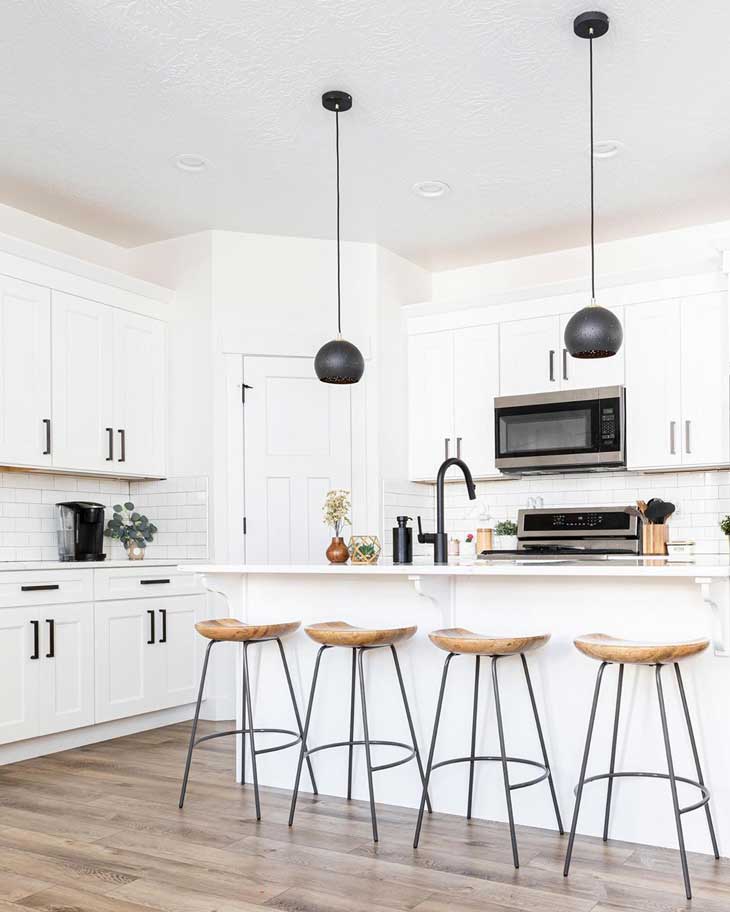 Although small in size, these dynamic round black pendant lights make up for their size in their impressive stylistic effect as new kitchen island light fixtures. In fact, they seem to dominate the overall room's decor from their central position above the kitchen food-prepping island. Even though the predominant colour of this kitchen is pristine white, the two black pendants highlight and accentuate the black metal hardware on cabinets and the sink's handsome black tapware. You can enjoy a unique, sleek decor highlighted by your chic round kitchen light fixtures.
The slim black legs of the island's bar stools also stand out when enhanced by the pendants. Even the black and stainless steel small kitchen appliances assume an appearance of major importance when lit by your new kitchen island light fixtures. The attractive wood grains of the handcrafted bar stool seats and natural wood flooring add natural character to the room. In addition, various small decorative items lend sparks of colour to enhance this streamlined kitchen interior. For a slightly different look, you might replace the wood and metal bar stools with tall, sleek stainless steel stools with black enameled seats and backs. They will glow handsomely under your attractive pendants as kitchen island lighting inspiration.
17. Square Wood Lantern Style Island Lights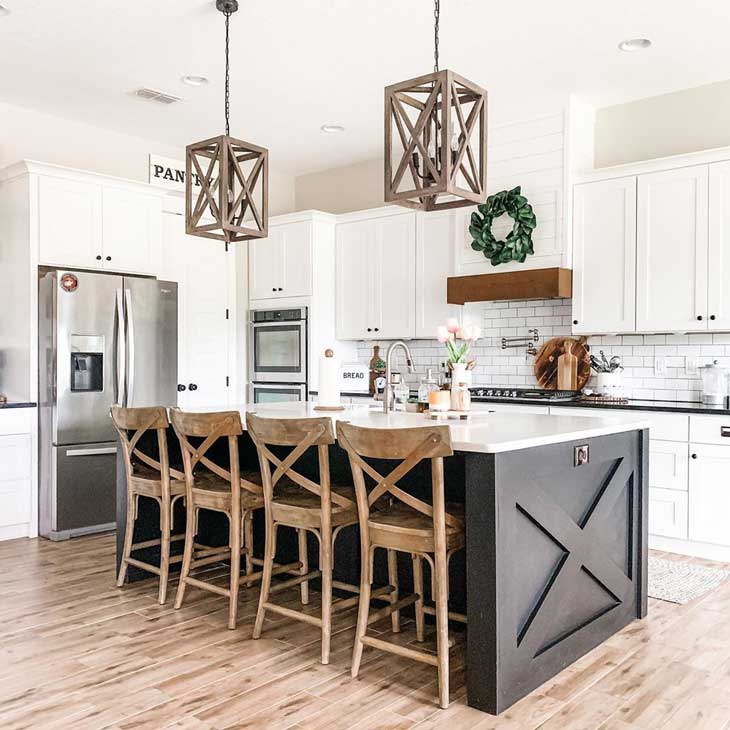 This pair of dynamic natural open-design square wooden light fixtures as lanterns create fashionable barn-style illumination for this charming farmhouse island. The slender white quartz island-top reflects softened wooden lighting beams from above as creative kitchen island lighting Ideas, and recessed ceiling fixtures offer back-up lighting. The simple black cast-iron candelabra lighting each lantern offer rustic allure and good direct light for prepping foods and serving snacks, drinks and meals. Your overall decor will shine beneath these square wood kitchen light fixtures.
The casual country-cottage style and comfort of the cross-back wooden bar chairs are accented by the design of the island base end. Streamlined white kitchen cabinetry and white subway splashback tiles lend a pleasing modern stylistic effect. Simultaneously, the sleek stainless steel appliances add a contemporary minimalist look. Yet the natural finish of the hardwood flooring, the stylish chop-boards, the decorative timber strip bordering the hood-vent for the range and the deep green wall wreath all remind us of the room's overall farmhouse decor. For a stylistic change, you can try swapping the white subway tiling for translucent mocha, chocolate and coral glass tiles. This alternate decor will glow from the beams of your square wood kitchen light fixtures.
18. DIY Simple Candelabra Inside a Wooden Frame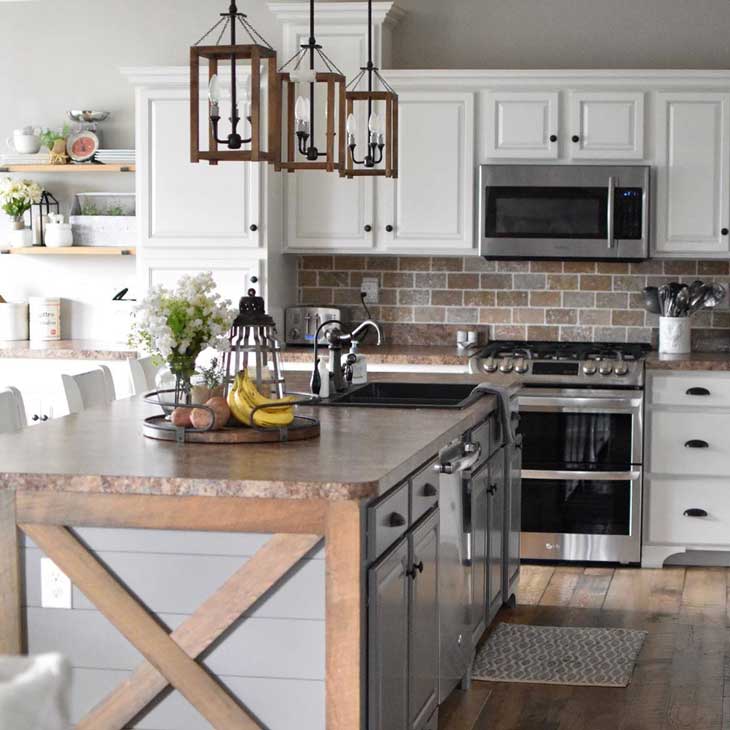 If you are handy and like to create some farmhouse decor of your own design, try making a handsome set of DIY rustic farmhouse kitchen island pendant lights. They will display your innovative kitchen island lighting ideas. Using three simple black metal candelabra, each with three lights, use handsome dark wood to make three open rectangular 3D frames. By securing the candelabra inside the frames and suspending your pendant lights from the ceiling using black metal rods and chains, you can fashion your own idea of handsome island lighting. They will display your ingenious kitchen island lighting inspiration as innovative DIY kitchen island lighting.
When combined with farmhouse and barn-style decor, including a rose and gray granite island-top and counters, your other choices for decor will brighten and glow. By using a repurposed brick splashback, simple white kitchen cabinet designs and basic stainless steel appliances, you can design a pleasing and relaxed country kitchen interior. If you build a boxy kitchen central island with a cross-back, crate-style end design, you will accentuate the room's farmhouse charm and appeal. With wide-plank, natural-finish timber flooring and varied cottage style accessories, you can finalise your DIY kitchen decor and lighting with stylish flair. To vary the overall design effect, you can add new smaller decorative items from time to time. They will complement your creative Kitchen island lighting ideas. You can have fun being creative with DIY kitchen island lighting.
As an Amazon Associate I earn from qualifying purchases.
19. Sparkling Glass Pendants as Kitchen Island Lighting Ideas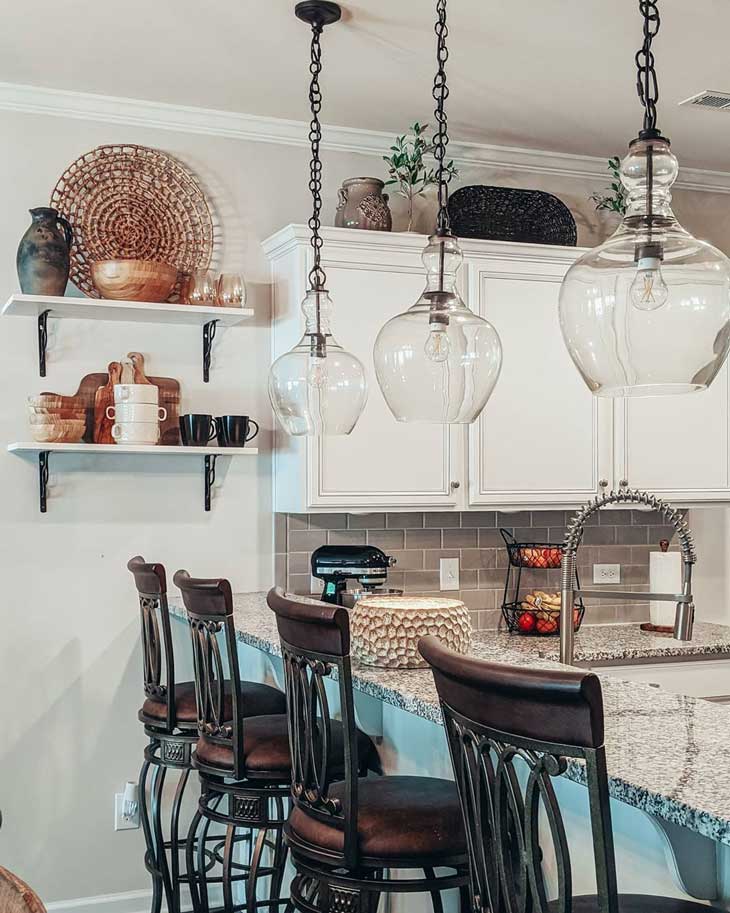 Shop related products(#ad):
pendant //
Brightly sparkling glass rustic farmhouse kitchen island pendant lights are always in vogue. Regardless of your style of decor, clear glass lighting suspended above a dynamic marble or granite island counter and benchtop adds simple yet sophisticated charm. In a kitchen interior with farmhouse decor, glass pendant lighting designs in inverted goblet fashion always lend stylish and lasting allure.
In this simply designed kitchen corner, three beautiful clear glass pendants are suspended above the rich earth tones of the marble countertop as stylish kitchen central island lighting. These pendants can supply bright, direct illumination for prepping foods and mixing cooking ingredients. With the use of dimmers, they can offer softer, soothing and sedate lighting for relaxing evening meals or socialising over tall drinks and light party foods.
With simple tan-coloured splashback tiles, attractive pottery, baskets and wood items on open shelving plus white walls and cabinets, the effect is pleasing, warm and inviting. By adding a touch of aqua paint at the top of the island base, you can lend just the right pop of colour to your charming farmhouse decor. For a slightly different look, you can replace the aging chic wrought-iron and wood vintage bar chairs with cottage style, handcrafted wood high stools with cushioned seats covered in stylish faux leather.
20. Open-Concept Kitchen with Chic Island Pendants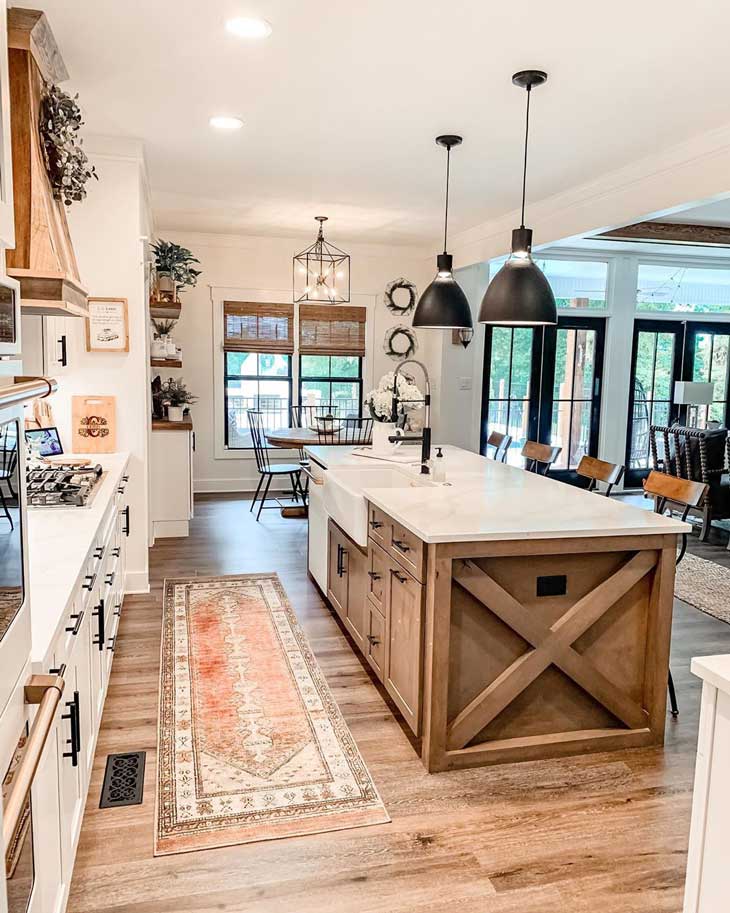 Shop related products(#ad):
pendant // faucet // sink // hardware // barstool
In an open-concept farmhouse kitchen leading to the family living space, you can create a warm, refreshing atmosphere with pendants as kitchen island lighting inspiration. You can start with sleek black rounded metal pendants positioned to light your barn-style island. Because this island includes a working sink and dishwasher, sufficient lighting is needed to accommodate several kitchen activities at once.
By adding a stylish square box-frame chandelier housing a series of clustered lights near your adjoining open breakfast nook, you can brighten your eating area with simple elegance in rustic farmhouse kitchen island lighting. The charming open shelving abundant with plants and decorative items joins with the rustic wood flooring to emphasise your cottage and barn-style decor.
The worn woven rug and decorative wall pieces add elements of aged chic while enhancing your kitchen island lighting inspiration. Additional charm is provided by the line of country-cottage cast-iron and wooden bar chairs decorating one side of the colourful central island. To change the overall look slightly, you can exchange the woven rug for a stylish rattan floor mat or substitute tall handcrafted timber bar stools for the line of rustic bar chairs.