These days, wood kitchen cabinets look much nicer with clean, modern lines and more muted tones, such as the white oak cabinets you see all over Instagram. This aesthetic combines warmer, traditional tones with the blonde scandi aesthetic that's popular right now. Wood kitchen cabinets are back and for good reason. Aside from its natural beauty and warmth, wood is extremely strong and resilient, making it an ideal material for cabinetry.
Additionally, wood cabinets do not have any joints or seams that can become dirty over time, making them easier to clean. As a result, they are perfect for kitchens with kids that love to play with their food.
If you choose to build your kitchen with stained wood kitchen cabinets, below we offer you plenty of inspiration for your new kitchen design.
As an Amazon Associate I earn from qualifying purchases.
1. Wood kitchen in Organic Neutrals style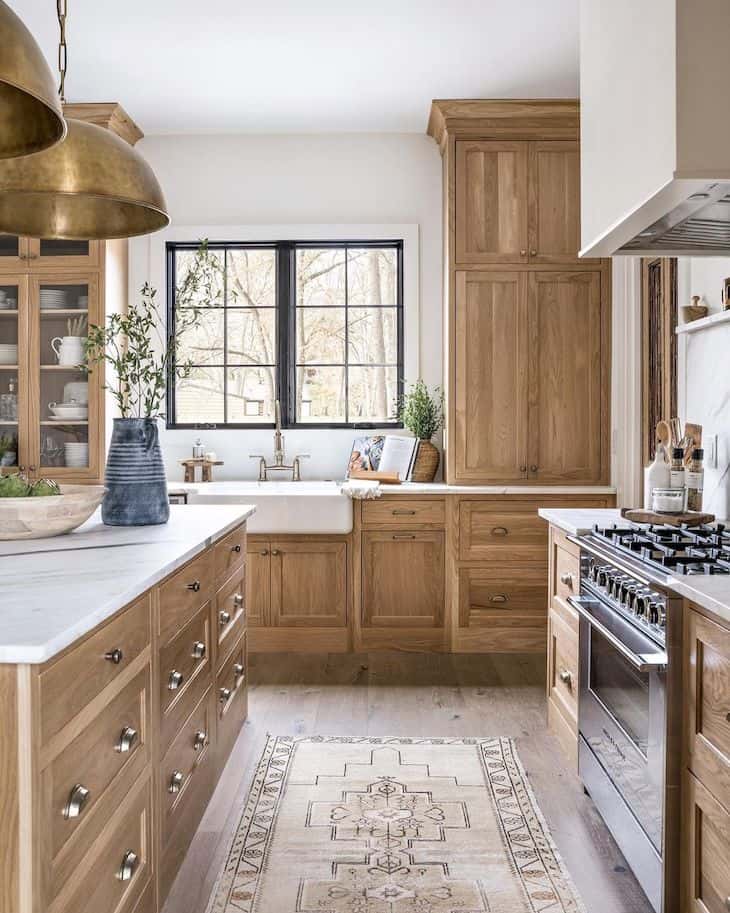 Shop related products(#ad):
acrylic finish // gas range // wood pedestal
Wood kitchen cabinets are so on trend right now, and this kitchen nails it with its Organic Neutrals style. The bottom drawers are inset drawers with beadwork inside the shaker. For the top drawers, Amber did slab drawers to add some contrast and a clean and modern look. All the cabinetry is flat without an overlay for a contemporary feel.
The custom white oak cabinetry is stained in a flat acrylic finish to add protection while keeping the look as close to the original white oak as possible. The white oak cabinetry is paired with honed marble counters to create a warm and inviting atmosphere. The rustic cast metal design of the kitchen pendant pays homage to vintage industrial design. There is a lot of interest and texture in this kitchen thanks to the wood and ceramic accents.
Wall colors: Greek Villa by Sherwin Williams
Countertop: marble slab "Calcatta Benoni"
Island dimensions: 8ft by 4ft
2. Dark-stained wood kitchen cabinets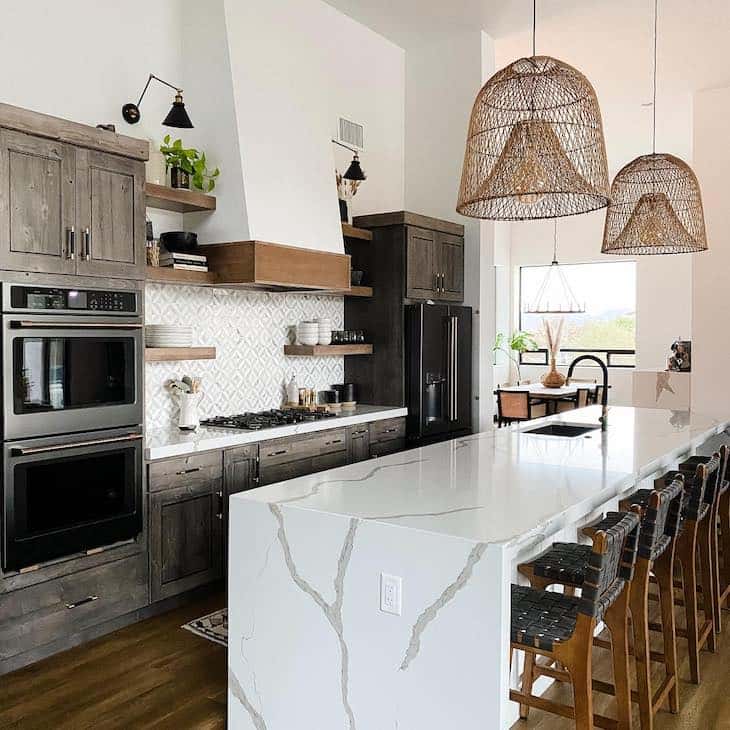 Shop related products(#ad):
backsplash tile // counter stools // pendant // fridge
These dark wood kitchen cabinets in 'Silver Midnight' stain add instant visual impact to this kitchen. Contrasted with the mosaic backsplash and white quartz countertops with bold veining this kitchen makes a statement in this home. The luxe mosaic backsplash tile is crafted with alternating white and grey polished marble in diagonal formation, creating a geometric pattern. A subtle retro tile pattern is ideal for creating a striking design feature in your home without using strong colors.
With the white plastered hood going all the way up to the 15′ ceilings this kitchen feels bright and airy despite the use of bold stain color for the kitchen cabinets. The counter stools finished in a rich walnut hue complement the wood kitchen cabinets beautifully. This bohemian-inspired basket pendant light with a natural texture will instantly add warmth and interest to your kitchen.
Kitchen cabinets stain: "Silver Midnight"
Open shelves stain: "Silver Umber"
Wall color: Pure White by Sherwin Williams
Countertop: Quartz "Bianco Levanto"
Ceilings height: 15'
Island dimensions: 14.5' by 3.5'
3. White oak wood cabinets with shaker-style door fronts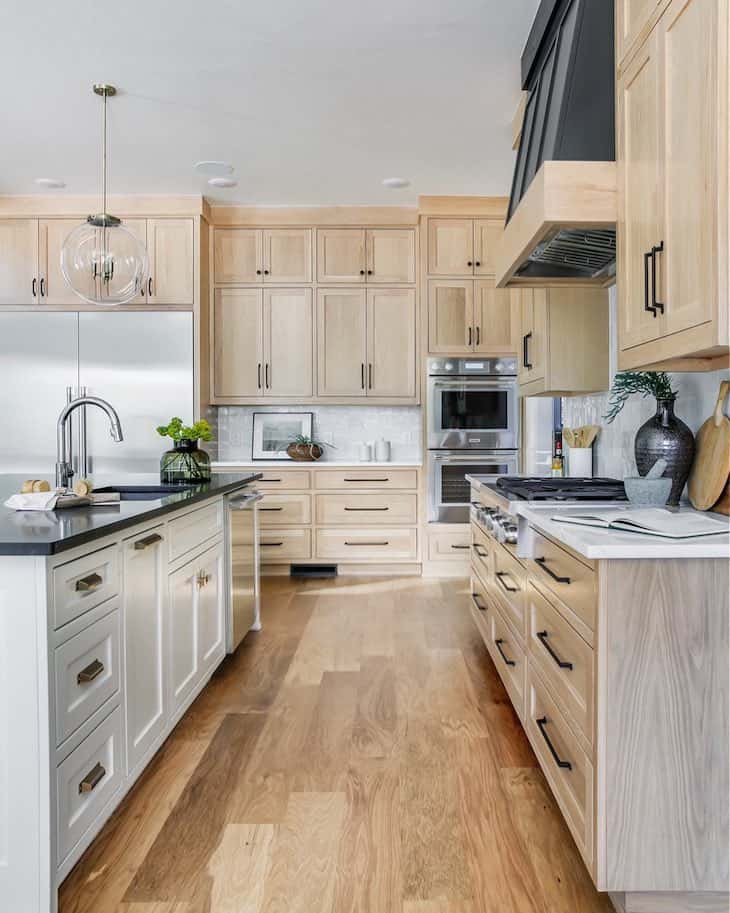 Shop related products(#ad):
tile // gas rangetop // Mortar and Pestle Set // pendant
This kitchen features custom-designed cabinets in white oak wood with shaker-style door fronts. There's something so elegant about a natural and black combination, and here it is perfectly executed. The hood is painted in a soft black color "Iron Ore" by Sherwin Williams. Black paint is a popular trend right now, and this paint is a nice introduction if you have been meaning to give it a try.
This dreamy kitchen features alternating countertops, mixing metals, and a textured backsplash. The white oak cabinets are taken all the way up to the ceiling for a more dramatic effect and storage space. There is black cabinet hardware on the white oak cabinets and antique gold cup pulls on the white island. There is drama and dimension to this kitchen design with its details and bold, complementary color palettes.
A combination of white quartz countertop and wood kitchen cabinets creates a warm, elegant look, with statement pendants and expert metal mixing adding a layer of sophistication.
Kitchen cabinets: white oak wood
Range hood color: "Iron Ore" by Sherwin Williams
4. Casual luxury kitchen with warm oak cabinets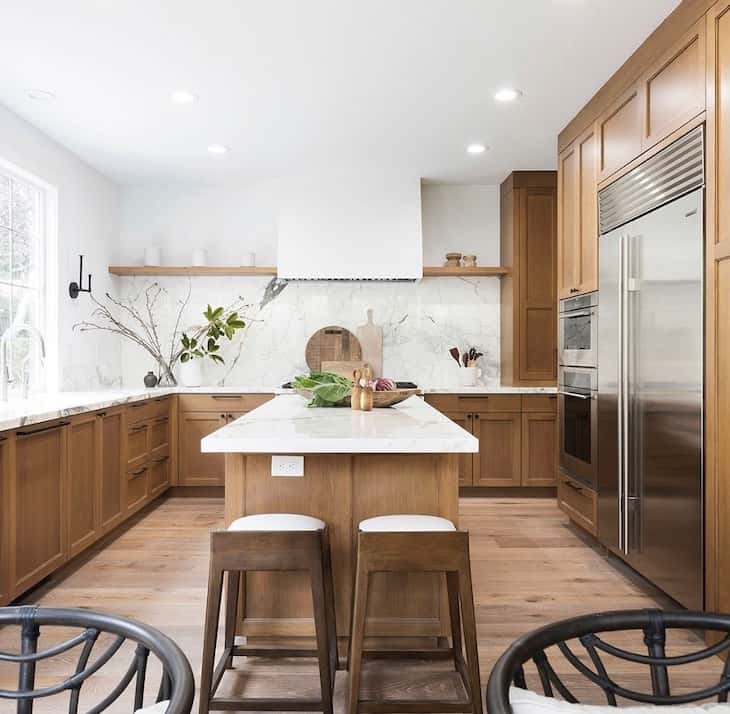 Shop related products(#ad):
counter stools //
The contemporary elements in this casual luxury kitchen are softened by the warm look of the custom-stained oak cabinets. We love that the open shelves are just a bit higher than the bottom of the kitchen hood, creating a contemporary and unique moment for this kitchen.
The white plastered hood that goes all the way up to the 10′ ceilings draws the eye up creating a feeling of openness and added height. The warm kitchen cabinets are contrasted with marble countertops with warm but bold veining.
Oak cabinets
Wall color: "Super White" by Benjamin Moore
Countertop: calacatta marble
Ceiling height: 10'
5. Wood kitchen with built-in bar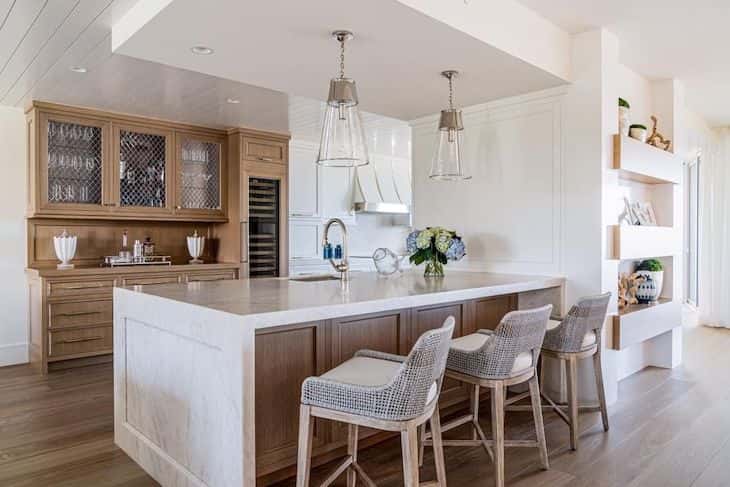 Shop related products(#ad):
counter stools // pendant
This wood kitchen is a soothing and inviting space with a classic door style and a combination of materials and finishes reflecting a modern aesthetic and lifestyle. If you like to entertain, a built-in bar in the kitchen is both convenient and fun. Adding visual contrast and warmth to the space, these stained oak cabinets with wire mesh inserts and glass, store wine, spirits, and anything else you need to enjoy them.
The woven taupe counter stools add a touch of coastal style to this warm wood kitchen. While the polished nickel finish of the kitchen pendants adds a contemporary flair.
6. Dark-stained oak cabinets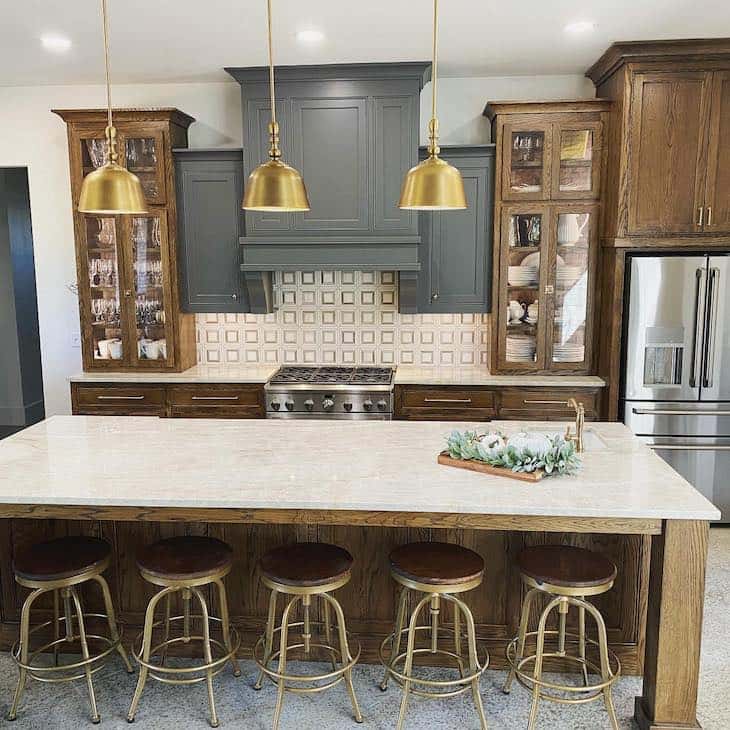 Shop related products(#ad):
pendant // bar stools
The alternating heights on the upper kitchen cabinets as well as the color combination provide visual interest in this kitchen. The rich wood stain on the kitchen cabinets combined with the aged brass hardware adds a touch of luxury appeal, while the white countertops provide a clean look.
The warm brass of the metal pendant lights perfectly blends with the traditional allure of these stained wood kitchen cabinets. The counter stools are the perfect transitional piece for this space, featuring an adjustable reclaimed pine seat and a wrought iron and brass frame.
Wood cabinets: white oak cabinets stained 50/50 mix of provincial and dark walnut
Island dimensions: 10' by 4 1/2'
Kitchen countertop: quartzite "Taj Mahal"
Grey hood color: "Kendall Charcoal" by Benjamin Moore
Ceiling height: 10 feet
7. Grainy wood base kitchen cabinets and white upper cabinets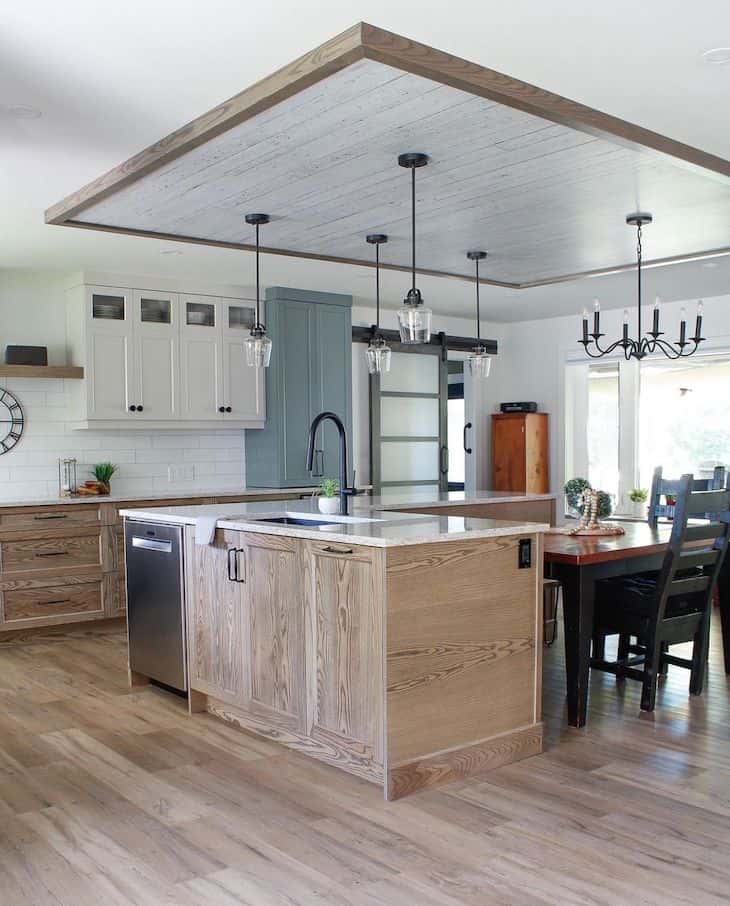 Shop related products(#ad):
chandelier // pendants //
This kitchen features wood kitchen cabinets on the bottom part combined with white top cabinets for a clean look. Throughout this kitchen, grainy wood base cabinets add texture and movement, which makes them durable, easy to clean, and can strengthen the home's charm for years to come. The amazing ceiling detail over the island is made of faux white-washed barn board with a stained edge matching the base cabinets and kitchen island.
If you haven't thought of having an L-shaped island in your kitchen before, this beautiful kitchen will definitely inspire you. Featuring a great layout for multiple cooks, easy traffic flow, and even a spot for your dining table, at the back of your island, this is a kitchen layout to die for.
8. Rustic luxury kitchen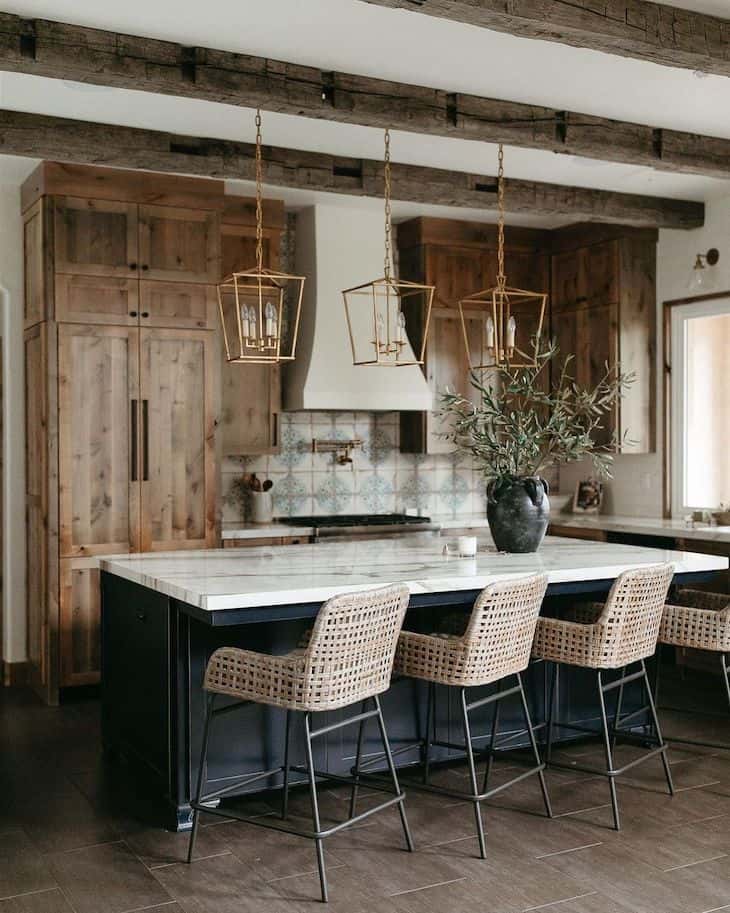 Shop related products(#ad):
counter stool // pendant // vase
This rustic luxury kitchen has a great combination of colors, patterns, and texture. The knotty alder cabinets with a custom stain add the perfect rustic touch to this kitchen, while the patterned backsplash tile brings a Mediterranean vibe.
The antique beams are stained with the same stain as the wood kitchen cabinets for a more uniform weathered look. The brass light fixtures bring a touch of glam, and the olive branches add e natural touch. The floor-to-ceiling cabinets maximize the storage space in this kitchen and combined with mixed metal accents with deep, rich tones create a calming kitchen escape.
Kitchen cabinets: knotty alder with custom stain
Kitchen countertops: porcelain slab in "Calacatta gold"
Kitchen island dimensions: 10ft
Ceiling color: "Alabaster" by Sherwin Williams
9. Wood kitchen cabinets with tasteful aesthetic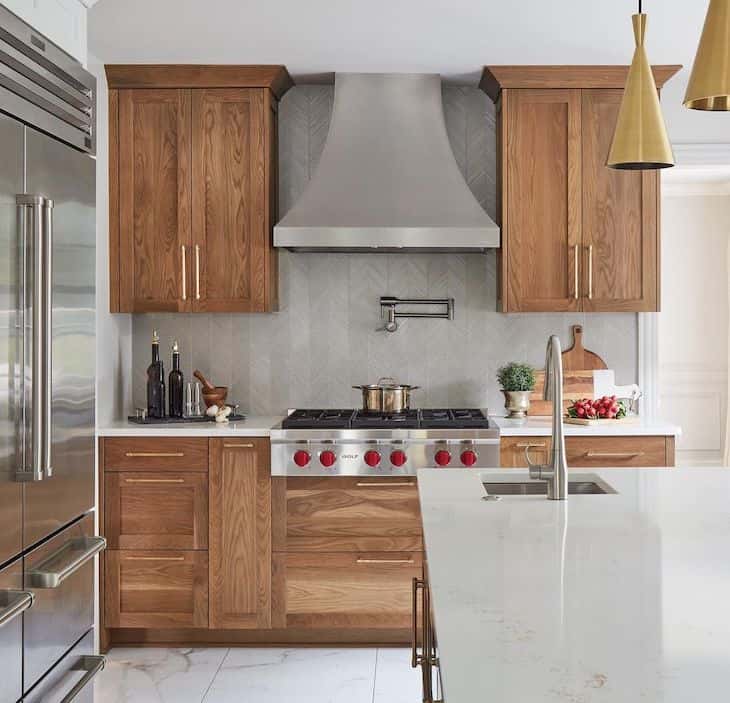 The warmth, color, and texture of these wood kitchen cabinets give a tasteful aesthetic and infectious charm to this kitchen. The red stove knobs give just the right amount of color to this space.
The mix of metals we see between the kitchen hardware, faucets, and pendant lights creates interest and adds flare to the design of this kitchen.
10. Modern farmhouse kitchen with white oak cabinets and black island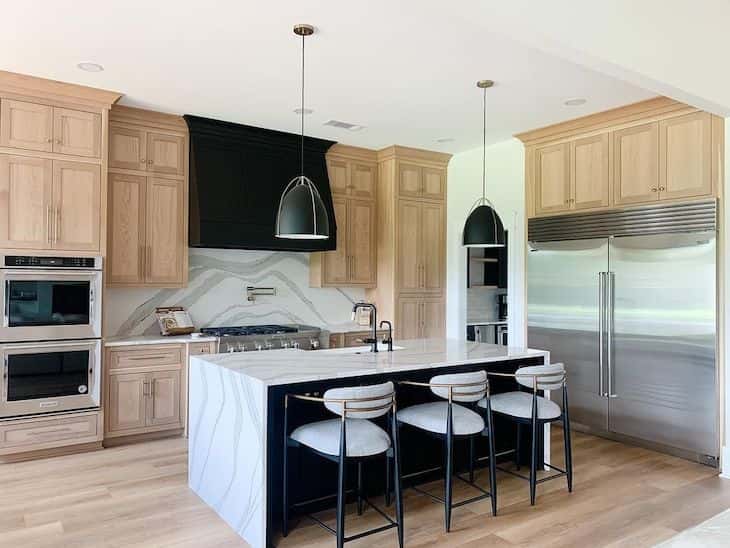 Shop related products(#ad):
pendants //
The quartersawn white oak cabinets offer this kitchen a fine texture and a modern farmhouse look. The pop of black against the beautiful wood tones creates contrast and is visually appealing. The waterfall island creates a moment of luxury and the matching slab backsplash creates a statement look.
Solid toned dome shades in a combination of black and warm brass highlight the appeal of the mixed metals in this kitchen.
Kitchen counter: quartz "Cambria Brittannica"
Kitchen cabinets: quartersawn white oak in a custom stain
Ceiling height: 10'
Island size: 8'
11. Wood cabinets and black marble backsplash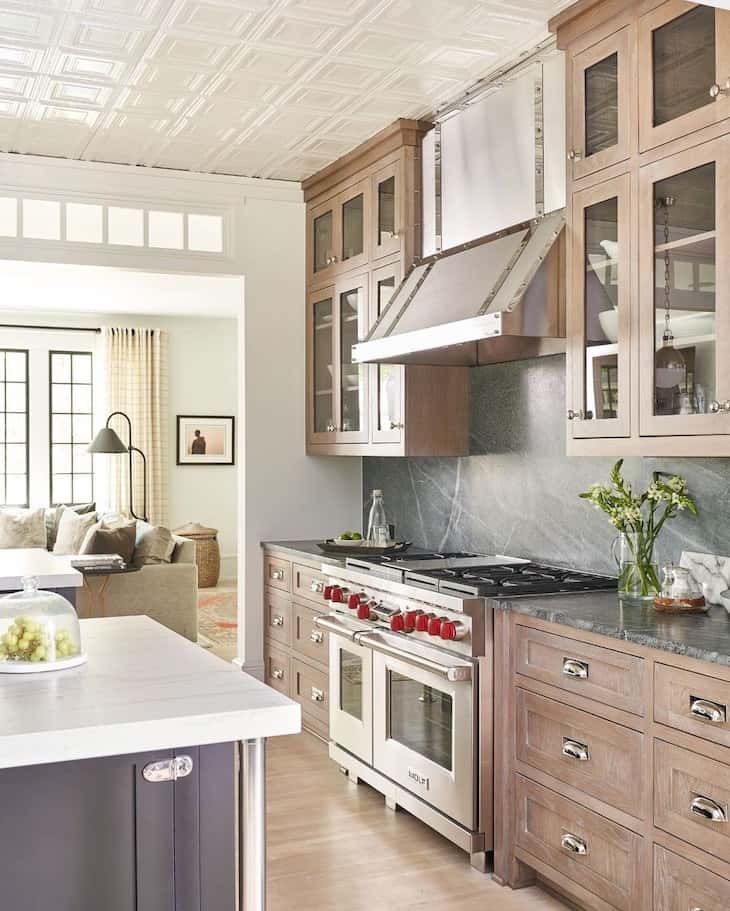 There are so many beautiful tones and textures in this kitchen. Our favorite aspects of the kitchen are the wood cabinets, the marble backsplash, and the custom-made vent hood. The tin ceiling is also one of them, it adds such a nice sense of texture.
Here the wood cabinets bring an element of nature, while the custom-made vent hood adds a modern touch. The natural beauty of the wood kitchen cabinets is offset by the black marble countertops and backsplash adding the perfect amount of pattern to this kitchen.
12. Dark stained kitchen island with light stained perimeter cabinets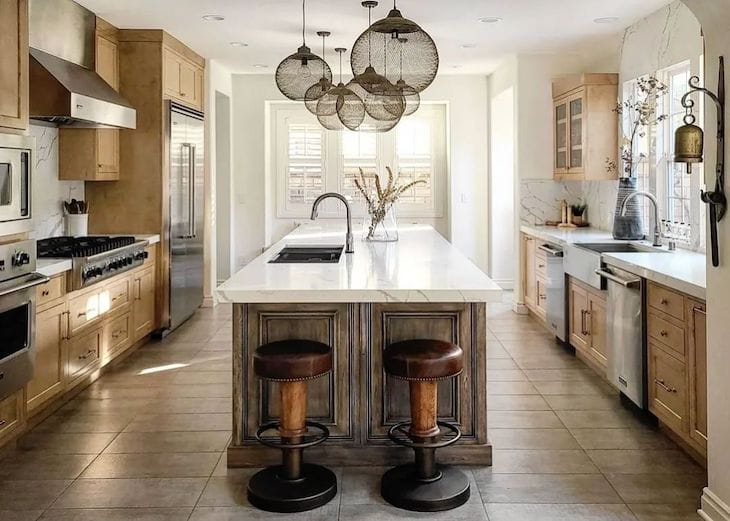 Shop related products(#ad):
bar stools // pendant
When paired with other natural materials, such as marble and granite, wood will provide a subtle warmth, while polished steel and glass will create a more futuristic appeal. The darker stain on the kitchen island compared to the lighter perimeter cabinets make it a central feature in this kitchen. The side of the island introduces three-dimensional features that make a unique design.
An industrial stool with a brown seat and a black base adds a traditional touch to your island and complements your farmhouse decor. Pendants like these iron mesh ones combine rustic charm with industrial appeal for a contemporary look.
13. Red oak wood kitchen cabinets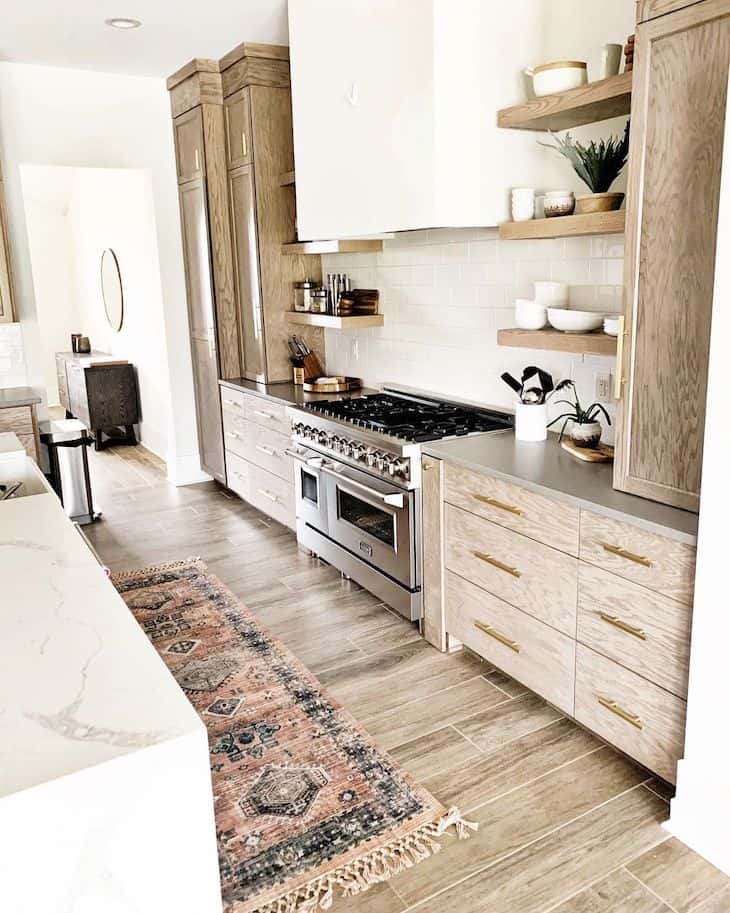 Shop related products(#ad):
range
In this kitchen, the neutral color and beautiful grain of the red oak wood cabinets stands out against the white subway tile and matte quartz countertop. The combination of shaker-style on the top cabinets with the slab drawers on the bottom adds contrast and interest to this kitchen.