Here are a few outdoor kitchen ideas that will allow you to cook and eat under the warm sun or sparkling stars all at the same time.
As indoor kitchens have become the heart of the home in recent years, with ever-increasing style and decor, we now expect our outdoor cooking spaces to be equally well-equipped, efficient, and stylish. The solution you choose depends on your space, needs, and budget, from a convenient grilling station on your balcony to a fully equipped kitchen, dining area, and lounge space in the backyard.
For inspiration on how to create an outdoor cooking area that is an oasis fit for endless summer gatherings with family and friends, check out these outdoor kitchen ideas in a range of styles, sizes, and price ranges.
As an Amazon Associate I earn from qualifying purchases.
1. Outdoor kitchen idea with pool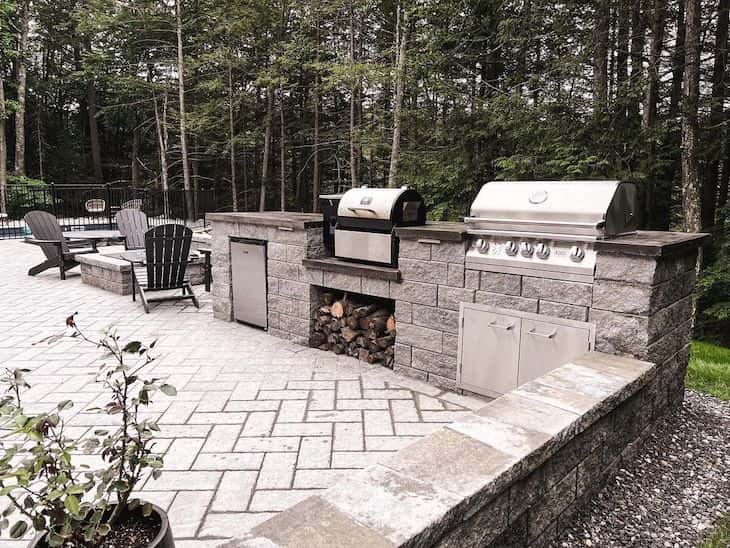 A poolside outdoor kitchen comes with the benefit of nature being part of the design. Depending on what plants you choose, your landscaping can add a variety of colors. Thus keeping it classic with a grey color scheme will bring a cool and crisp aesthetic.
Although it's a simple kitchen with a small refrigerator and a stainless steel grill, it goes big with a large concrete countertop so you can serve food to your guests.
The outdoor kitchen and pool create a great setting for a relaxing day in the water, followed by dinner and drinks. A straight run of cabinets between the kitchen and pool is a great way to create a seating area. You and your guests will enjoy the ultimate in summer fun with an outdoor kitchen area with a pool.
2. Outdoor kitchen idea on a budget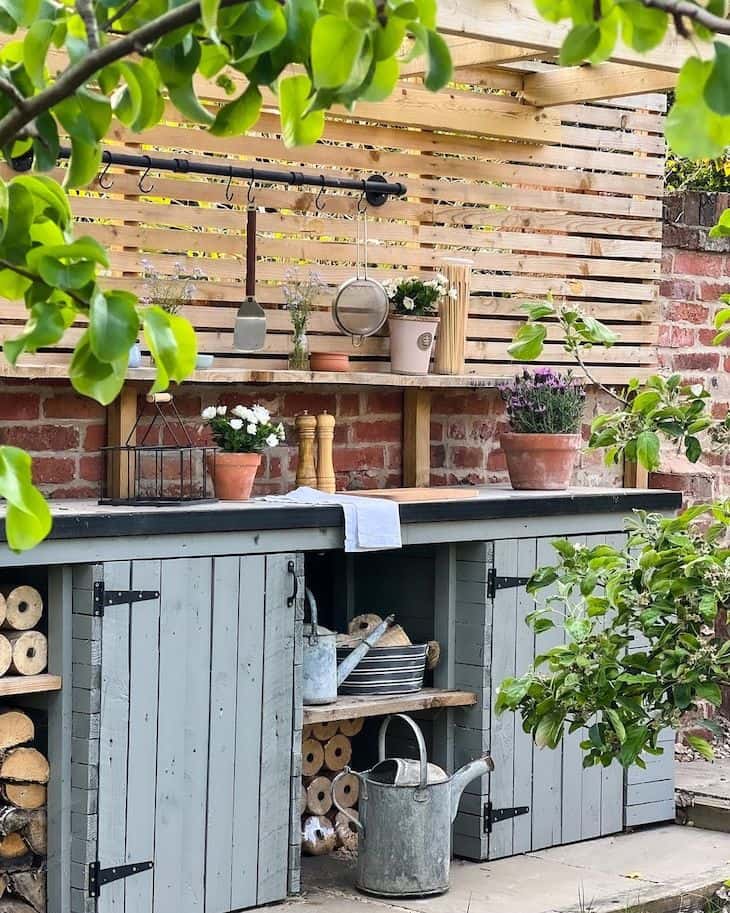 Achieving amazing results doesn't require spending a fortune on designing your outdoor kitchen. 'This kitchen cost me under £60 by using all materials from previous projects' – says Belle, Interior and garden stylist of @designermumetc.
She made all the cabinet doors and shelves from pallets, the worktop was made from leftover tiles, and the worktop frame was made from an old metal desk. She used wood left over from the patio pergola to build the slatted fence and pergola.
The utensil rail placed on the slatted fence will keep your barbeque and kitchen tools close by for easy access. The slate grey color of the kitchen cabinets contrasts with the red brick of the wall giving a rustic feel to this outdoor kitchen on a budget.
3. Backyard outdoor kitchen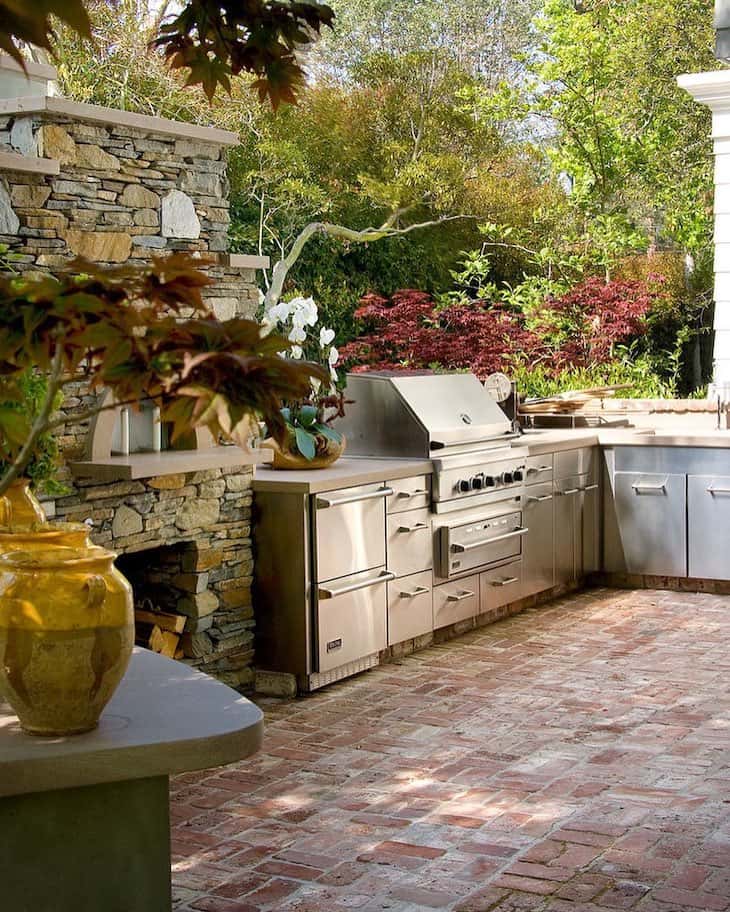 Summer soirées are made even more special with this outdoor kitchen, which features a pizza oven and a wood-burning fireplace. This simple set-up is well balanced and traditional, with stainless steel appliances adding a luxe element.
You can add character to your outdoor kitchen by choosing a unique finish for its units and countertop. Consider a material such as microcement for your countertops if you want a sleek style. Situated between a collection of shady trees for added privacy, this is the perfect place to spend your summer days cooking and entertaining.
4. Outdoor kitchen idea for small spaces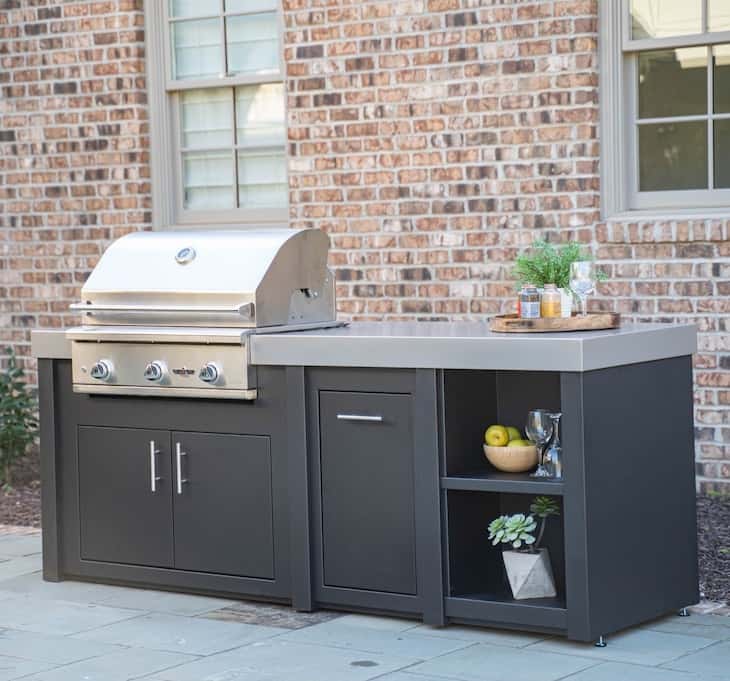 It's easy to dine al fresco under the stars or blue skies if you have an outdoor kitchen. If you are lucky enough to have any amount of outdoor space, creating an outdoor kitchen can transform the routine of cooking meals into an enjoyable outdoor experience.
Even if you have the space, an outdoor kitchen does not need to be huge. The storage-friendly design is one of the things we love most about this small outdoor kitchen. A grill and some countertop space are all the things you need in a small outdoor kitchen.
5. Outdoor kitchen attached to house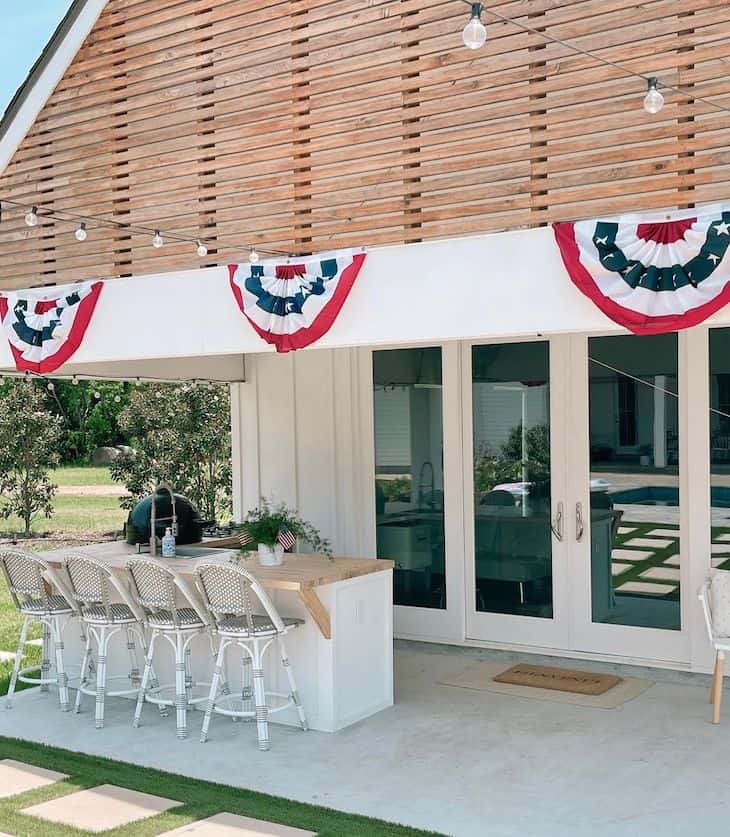 With its light wood and white color scheme and adjacent lounge area, this outdoor kitchen blends in perfectly with this spacious exterior patio. Storage space in the spacious kitchen allows supplies to be neatly stored outside, preventing the need for frequent trips indoors and out.
An outdoor kitchen like this one that is incorporated into large outside patios adds a fresh and contemporary feel to the outdoor space. This outdoor kitchen with a peninsula with bar stools creates a relaxed, informal socializing space for family and friends
6. Wood outdoor kitchen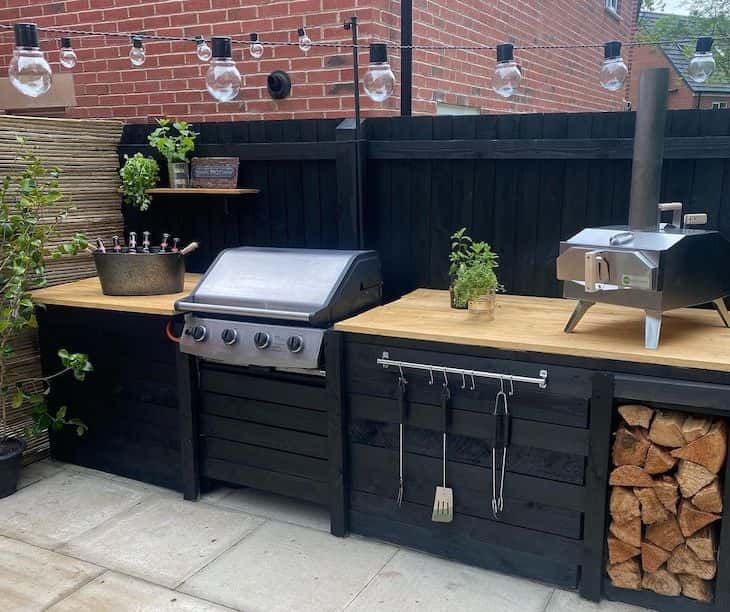 This small outdoor kitchen is the focal point of this outdoor patio featuring a compact grilling and prep area. The black color of the kitchen and fencing contrasts perfectly with the oak worktop, and the little log storage adds character.
Featuring tall wood fences for shade and privacy, and surrounded by mixed greenery, this space embodies urban chic. A utensils bar is placed in the front of the kitchen for easy access.
7. Black outdoor kitchen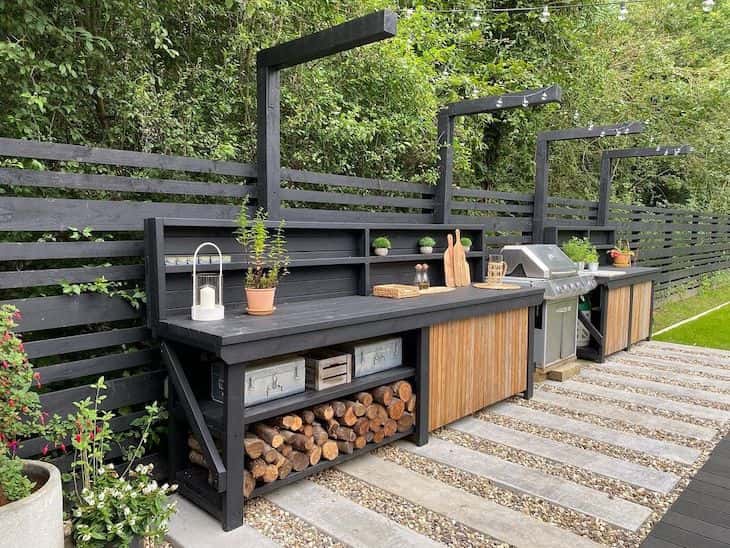 In the event that your budget or space is limited, you may want to opt for a simple shelf food prep area, which can easily be constructed using a few basic materials. It is recommended that the outdoor kitchen not be exposed to direct sunlight, and if possible, find an area that is least windy. In addition, make sure you plan for any access to water or electricity, as this will have a significant impact.
Having wide pavers on the kitchen base provides a stable footing, while the pebbles add texture and interest. Consider adding a coordinated color scheme to the area to make it stand out. Adding string lights to an outdoor kitchen will create a cozy and stylish ambiance.
8. Covered outdoor kitchen idea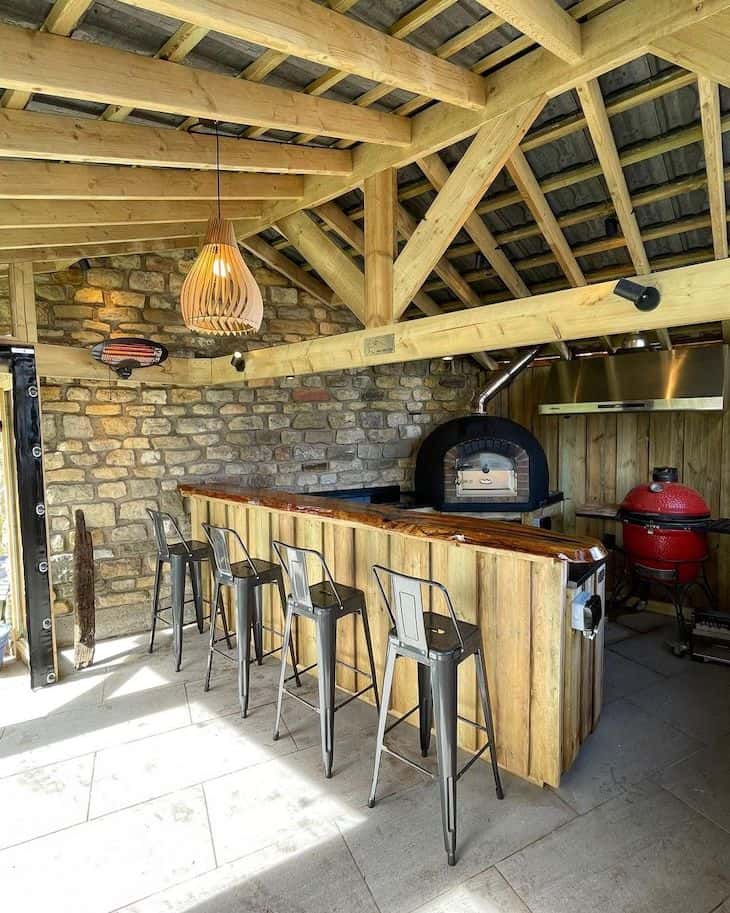 With its covered design, this outdoor kitchen and any outdoor seating can be enjoyed rain or shine all year round. You can make your outdoor kitchen more appealing by adding a wood-fired oven instead of an electric oven. In addition to reducing your energy consumption, a wood-fired oven can improve the taste of your food.
Regardless of whether you have an indoor or outdoor kitchen, a seating area is essential for family meals. This wood outdoor kitchen features a bar area with plenty of seating space, perfect for entertaining.
9. Outdoor kitchen with blackboard wall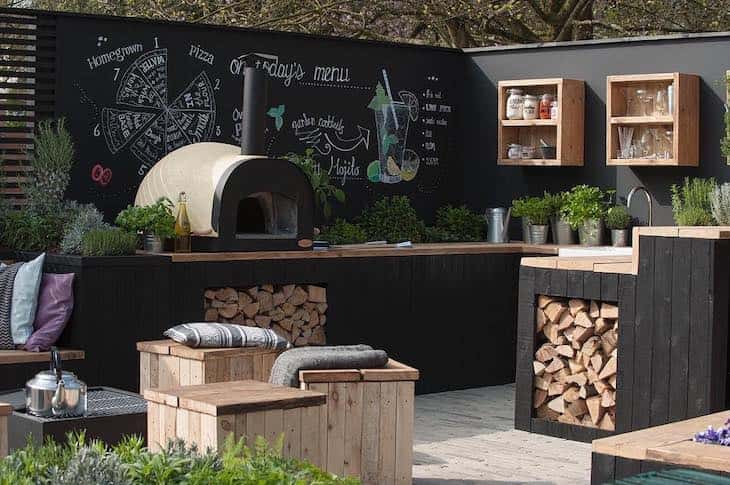 The design of this outdoor kitchen is focused on outdoor cooking and entertaining. It features a pizza oven, fire pit, bar, and cozy seating area. Fun, uplifting, and inviting, this outdoor kitchen is the perfect place to spend time outside.
The grey brick pavers give a great contrast to this black outdoor kitchen, but we are also drawn to the blackboard wall, for writing down the day's specials.
Top tips for planning an outdoor kitchen
Plan ahead! Considering an outdoor sink? Built-in bbq? Think about all of the gas, water, and electrics you will need.
It is important to have good outdoor lighting so that your parties can last until the darkest hours of the evening. An outdoor plug will be very useful when you're serving drinks from your outdoor refrigerator.
Think about cabinets. Keep your utensils and accessories dry and hidden by providing space to store them. You can build them from scratch or you can purchase ready-made outdoor kitchen cabinetry.
For your worktops ensure that there is enough space for you to lay down and prep food. Make sure you choose materials that will weather well. This also goes for your cabinets.
Where to put an outdoor kitchen?
When it comes to getting an outdoor kitchen, the first step is determining where it will be placed. Getting started can be as easy as following these tips:
In the summer, consider the location that gets the most sun during the afternoons or evenings when you are most likely to use it, as well as the direction of the wind during those times.
Considering whether the outdoor kitchen should be located near the house for convenience, or further into the garden, is also important.
Consider the proximity of the area to your neighbors so that you can all relax without disturbing each other.