Green kitchens are gaining more and more popularity these days. That is because it carries a feeling that you are bringing the outdoor inside, and when we are spending more and more time indoors having this feeling of freshness in our home brings us calmness and tranquility.
Green is a great color for the kitchen because it can be moody, or fresh, and calm depending on the shade that you choose. So whatever effect that you want to achieve in your kitchen area you can with the right hue of green color.
When you are designing your kitchen and thinking of what color goes with green in a kitchen, it really depends on the tone of green color you use. For example, forest green would go best with marble, gold accents, and black metal elements. A deep green color is complemented best with antique brass hardware, light wood finish, and deep cognac color. And a light sage kitchen works best with white and gold accents.
Next, we want to talk about the best backsplash for a green kitchen: If you ask yourself what color tiles go with a green kitchen, the simple solution is to go with white and leave the vivid kitchen color to shine. But if you feel more adventurous, using graphic tiles can give a really unique effect in the green-colored kitchen. Another subtle but unusual pick for a backsplash would be to use a light stone backsplash or marble backsplash.
Below we bring you the best selection of green kitchen designs to be inspired from this year.
As an Amazon Associate I earn from qualifying purchases.
1. Deep green cabinets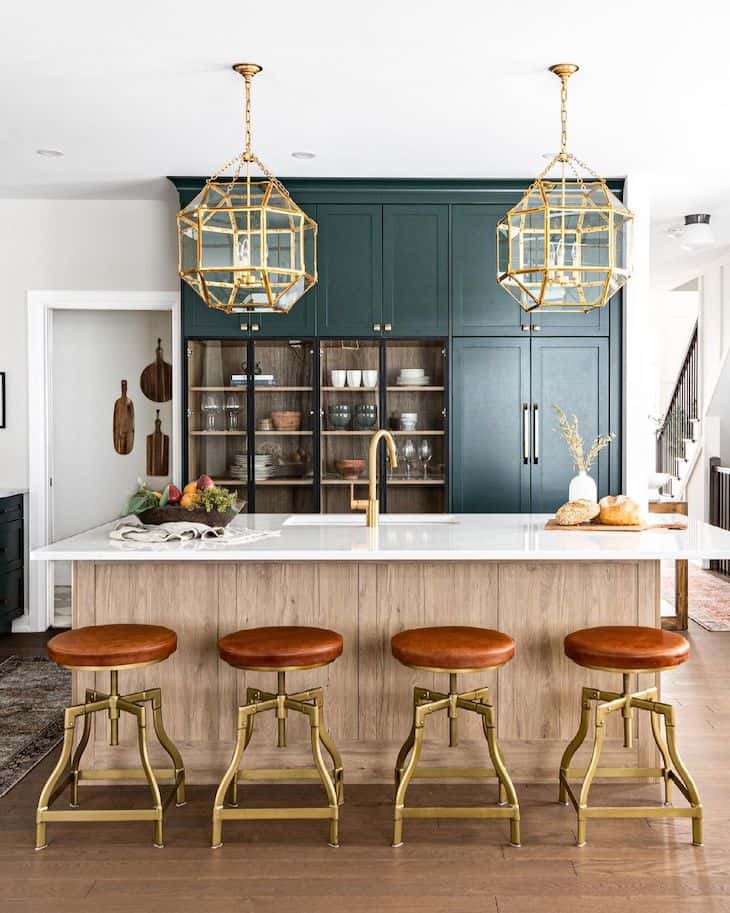 Shop related products:
stool // pendant // faucet // dough bowl // #ad
This traditional mixed with modern kitchen painted in deep green color "Essex Green" by Benjamin Moore features floor to ceiling cabinets. The deep green color is complemented with light wood finish on the kitchen island and deep cognac color on the bar stools.
The geometric, yet charmingly classic island pendant blends the traditional with a modern feel in this kitchen. And the antique bras touches from the barstools, the pendants and the faucet give this kitchen a glam finish.
2. Olive green cabinets with industrial vibe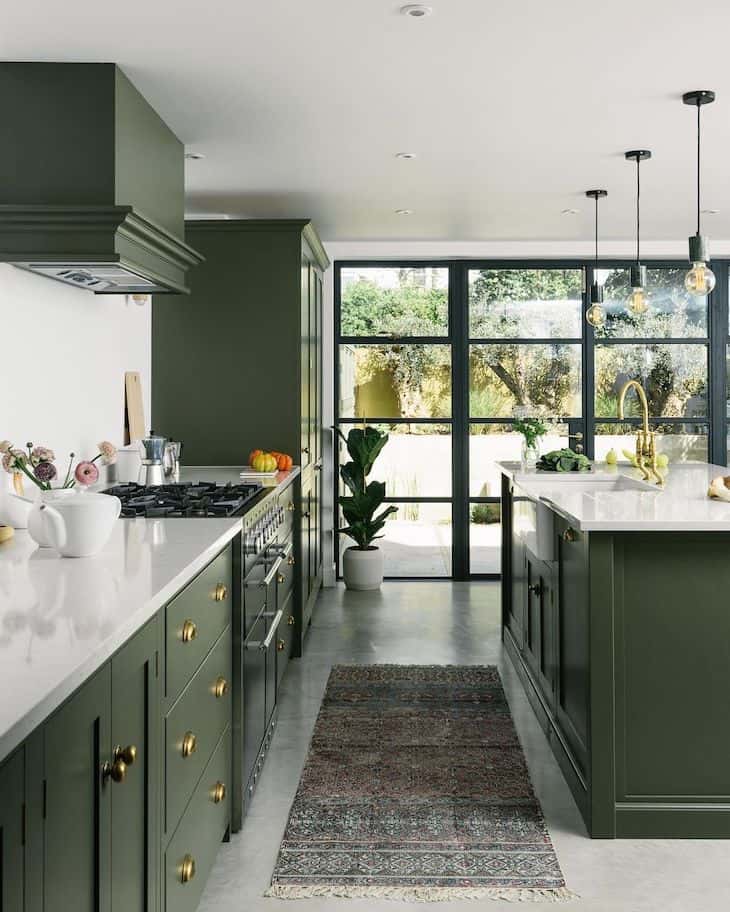 Shop related products:
faucet // drawer pull // pendants // #ad
This olive green kitchen gives off industrial vibes with the industrial design pendants and the metal window wall. The olive green cabinets and island feature a white countertop for a more open and clean feeling. And the brass drawer pulls and the gold faucet adds a modern touch to this kitchen.
The subtleness of the polished concrete floors helps to draw the eye to the star of this space and that is the colorful kitchen cabinets. The colorful rug that sits atop the beautiful floors softens their industrial feel while giving off a warm boho vibe.
3. Green island in a white modern farmhouse kitchen
Shop related products:
counter stools // pendant // vase // #ad
If you want to incorporate green in your kitchen decor but still want to have a subtle and clean look, then using green color only for your kitchen island is a great idea. Using subtle muted green for this island makes this kitchen feel open and airy.
The natural feel of the woven counter stools and the crisp white cabinets balance the subtle green color of the kitchen island.
This kitchen is a perfect example that mixing metals in your decor is welcomed. The polished gold from the hardware and the pendants works in cohesion with the silver from the kitchen faucet and the appliances
4. Sage green kitchen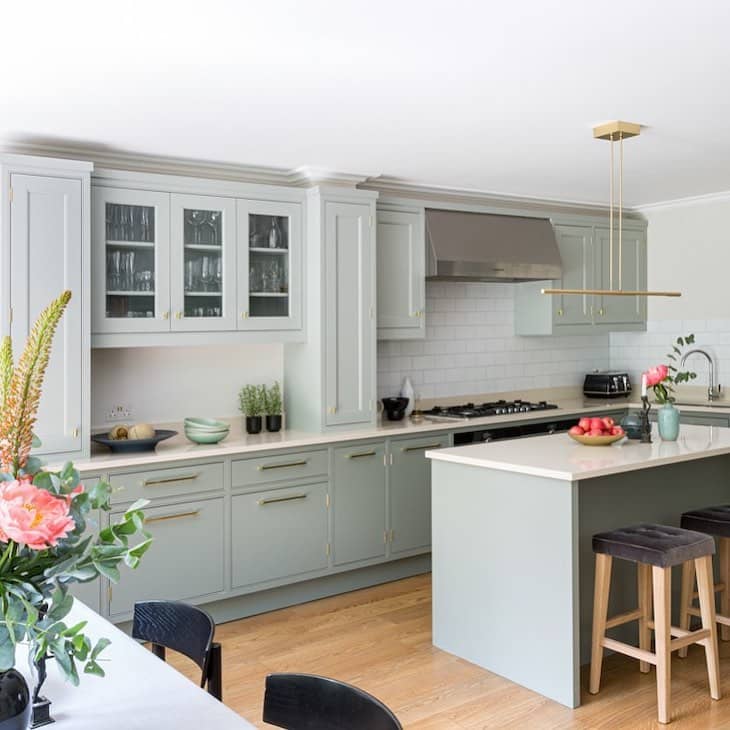 Shop related products:
pendant // #ad
You may have noticed that the sage green kitchens are making quite the stir in the kitchen design world lately. Sage green color gives off a more cottagey vibe but mixed with the right decor elements can bring quite a modern feel to your home.
Like for example in this kitchen, the elegant brass handles, the glazed cabinets, and the modern gold pendant carry a sophisticated note making the kitchen look more contemporary.
Using cabinets with different heights and incorporating glass cabinets brings dimension to the space. Choosing the classic subway tile as a backsplash for a sage green kitchen makes it even more timeless.
5. Open shelf kitchen with soft green island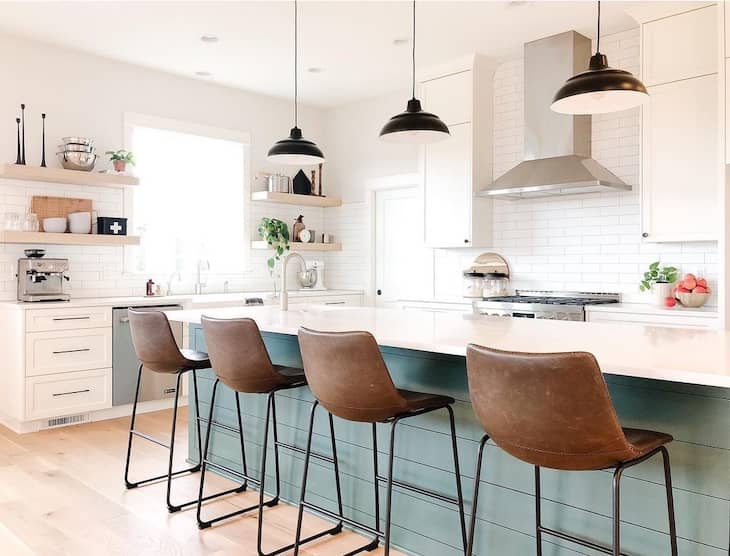 If you want to make your white kitchen a little more unique, adding a soft green hue on the island will make your place look more unusual. Choosing a color that is subtle and uplifting will bring personality to your kitchen.
This kitchen uses white lower cabinets, classic white subway tile, and white countertops for an open and airy look. Adding e light oak floating shelves brings warmth to the place and doesn't overcrowd the view.
The warm color from the leather counter stools juxtaposes the light colors of this kitchen, taking the design to another level.
6. Deep forest green kitchen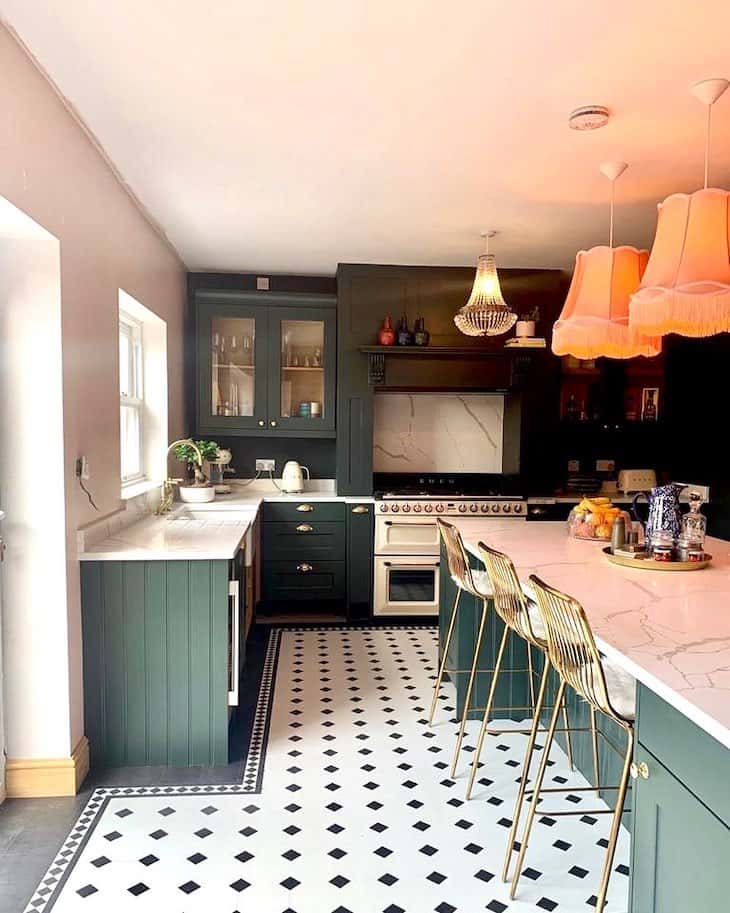 The deep forest green color on the kitchen cabinets, paired with the marble countertops and backsplash, gives off a modern yet cozy feel.
This kitchen uses statement color, statement floors and yet paired together looks unified and inviting. The wall with the glass cabinets and custom range hood is in a dark green color making an even bigger statement in this place.
We love the bold choices in this kitchen that work so well together.
7. Cottage style beadboard kitchen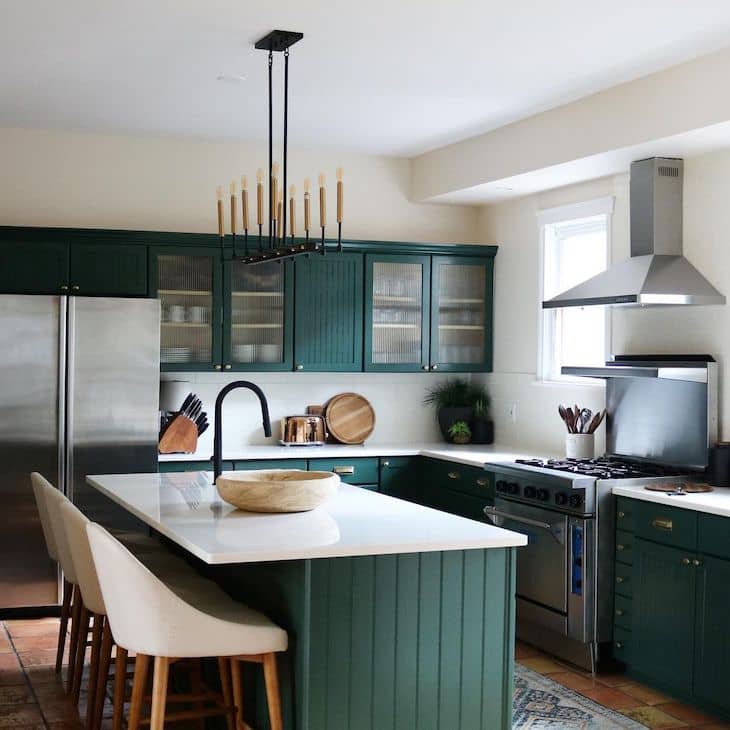 This cottage-style kitchen has a retro aesthetic with a vibrant shade of hunter green. The terracotta tiles complement this hunter green color really well. Accentuated with a black faucet and black pendant light gives off a more contemporary feel.
Mixing wood elements in the decor, like the big wood bowl as an island centerpiece, and the wood cutting board in the counter, adds a warm note and ties the decor together.
8. Natural stone and green island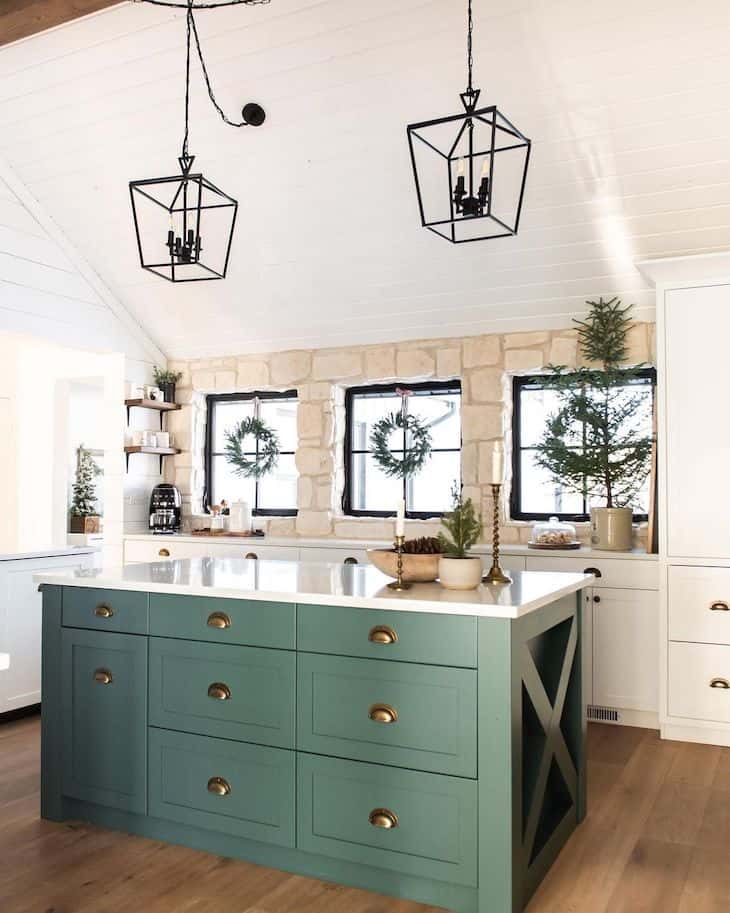 This kitchen island painted in "Jack Pine" by Benjamin Moore looks particularly great with the natural stone this kitchen uses as a backsplash. The white shiplap on the ceiling and walls give it a very open and airy feeling, giving space for the eye to be drawn to the painted green island.
The three windows on the focal wall in this kitchen let a lot of natural light that bounces off of the green island giving it a different color finish throughout the day.
Using brass decor details on the kitchen island ties in with the brass hardware that is used throughout the kitchen. Furthermore, the black lantern pendant lights give this space a farmhouse vibe.
We have a whole post written about the beautiful Christmas decor of this home, go on and check it out here.
9. Green lower cabinets and white upper kitchen cabinets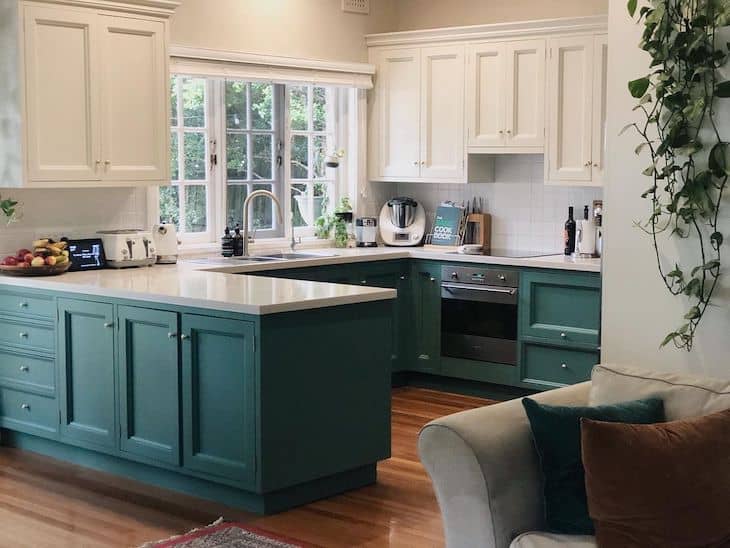 If you have a smaller kitchen but still want to use color in it, having the bottom cabinets painted in green and the upper cabinets and backsplash in crips white will make the space look bigger and add a lot of character.
Although small, this kitchen has big windows above the sink which let in a lot of natural light making it appear bigger.
This muted green cabinet color works perfectly with the natural wood floors. Paired with the white countertop creates a welcoming atmosphere in your cooking area.
10. Modern farmhouse kitchen with rustic elements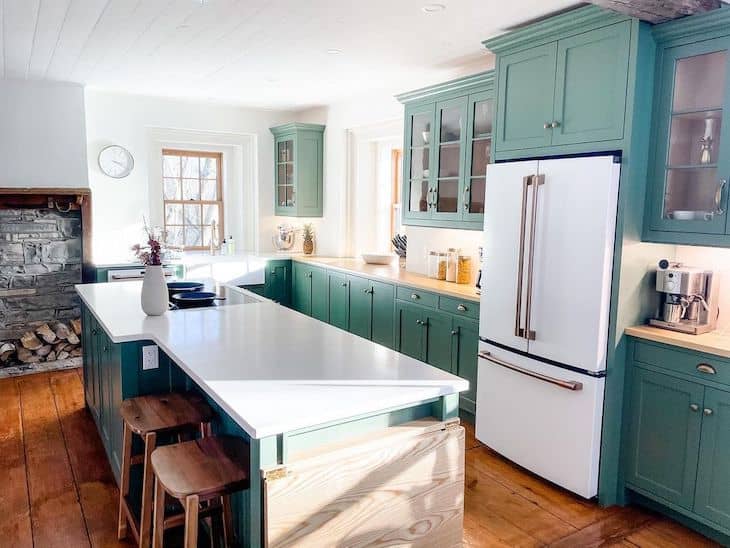 The saturated deep green color in this kitchen creates a fun and welcoming atmosphere. The "Peale Green" color used in this kitchen pairs well with white as well as warm wood tones, and that is what is used as a countertop for this kitchen. The kitchen island features a white countertop, while the cabinets are topped with light wood butcher block.
The top glass cabinets offer a more open feeling for this area, and the rustic counter stools deliver a cottage vibe. We love the contrast that the white fridge with big brass handles gives to the moody cabinets.
11. Bold shade of green for the kitchen cabinets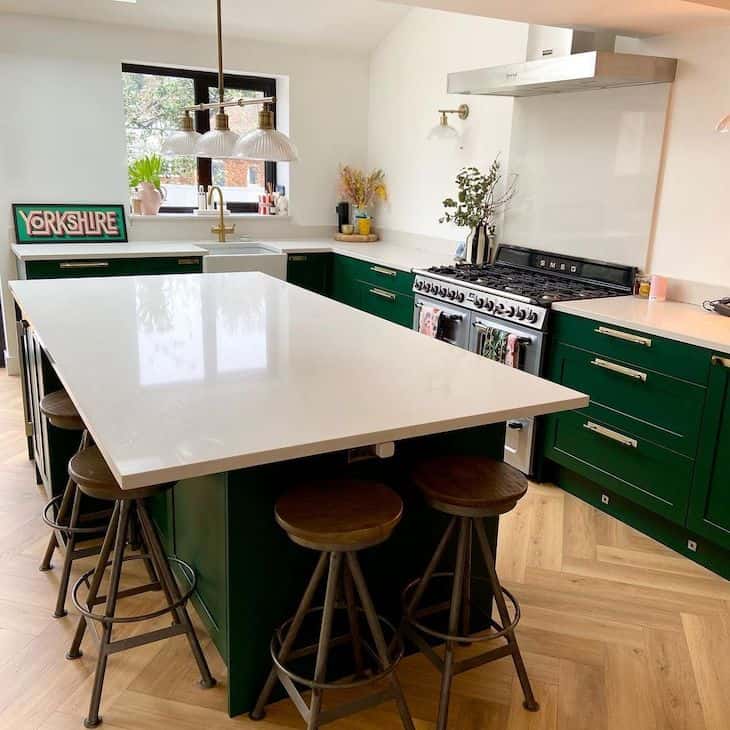 This particular shade of green makes a bold statement in this place. Choosing to leave the upper wall space bare is the perfect solution for this kind of bold-colored kitchen.
Having this hue in your kitchen will put you in a vibrant mood every day. It is an unexpected punch of color that invigorates the cooking space.