There are plenty of combinations and new design trends for white and wood kitchens that can be exciting, for example, white cabinets and wood island; white kitchen cabinets, white island and wood range hood; wood cabinets and white island…
If you are on the lookout for inspiration for your white and wood kitchen we got plenty of beautiful kitchens below that can inspire you for your next home project.
As an Amazon Associate I earn from qualifying purchases.
1. White cabinets and deep wood tones for the kitchen island and range hood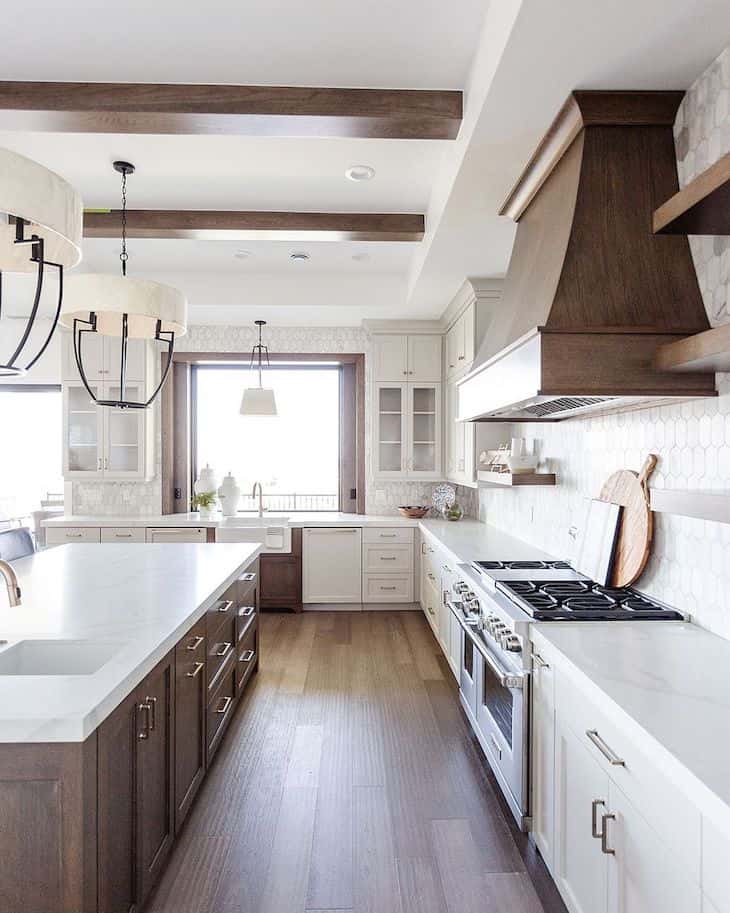 Shop related products:
pendant // backsplash // cabinet pulls // #ad
This modern farmhouse kitchen features deep wood tones complemented by the off-white kitchen cabinets in color "Collingwood" by Benjamin Moore. The small picket tile backsplash presents a unique, modern look and creates a beautiful contrast with the floating wood shelves and the wood range hood.
The window is a large picture window trimmed in white oak and the countertops are taken into the sill of the window giving this space an unusual and memorable look. The upper cabinets are pulled all the way up to the end of the 10' ceilings creating an elongated and open appearance.
2. Modern farmhouse kitchen with white cabinets and reclaimed wood kitchen island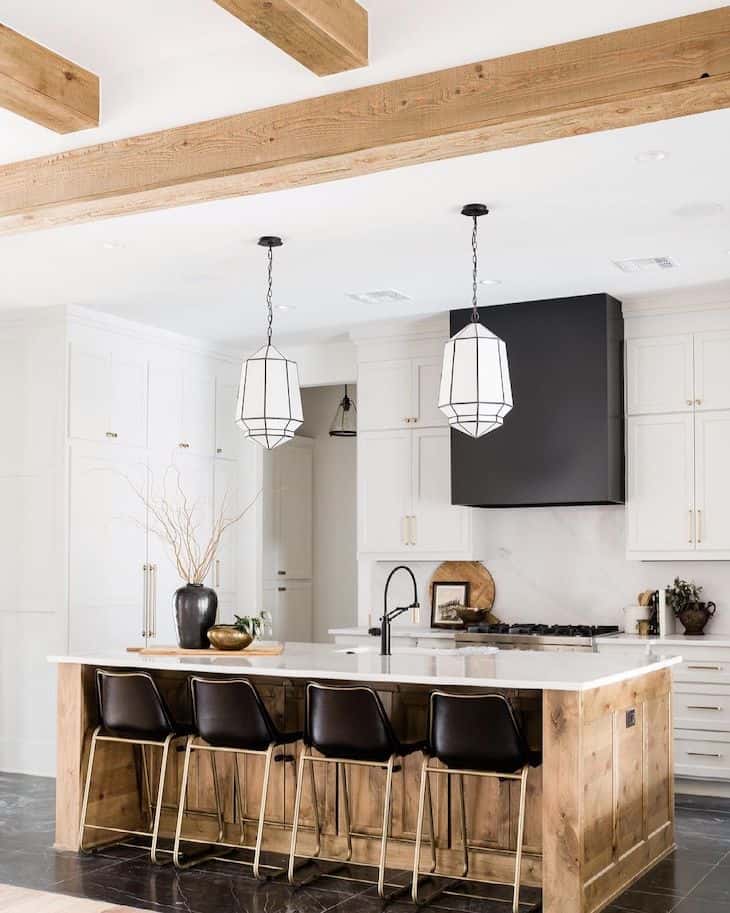 This elegant kitchen follows the 60-30-10 decor rule in its color palette. The dominant color is the white one on all the kitchen cabinets that go all the way up to the ceiling. The secondary color is the reclaimed wood color on the kitchen island and we have a black one as an accent on the range hood and the counter stools.
This color palette complemented with the gold hardware and decor creates an elegant look in this kitchen. The glass milk pendants tie together all of the decor elements creating a beautiful and welcoming kitchen.
3. Double kitchen island for endless storage options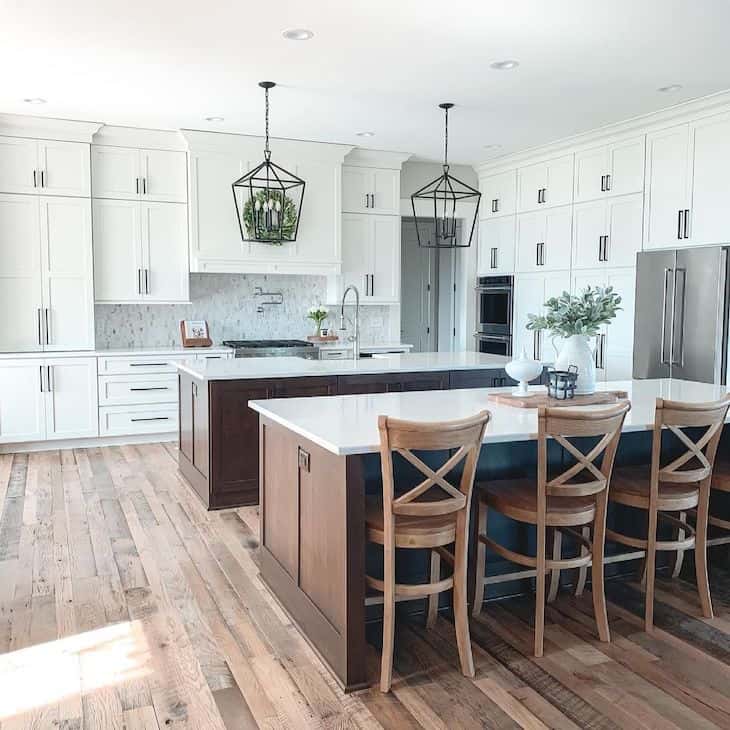 Shop related products:
pendant // counter stools // picket tile // faucet // pot filler // cookbook holder // #ad
This double island kitchen in white and wood offers endless storage options. Having double islands provides a lot of space for island decor like this hangable cutting board that can be used as a kitchen display or as a tray under a pitcher vase.
The reclaimed oak barn wood floors complement the white cabinets and add so much character to this kitchen. And the white quartz countertops give contrast to the dark-stained kitchen islands, offering a clean look.
4. Contemporary elements in a modern farmhouse kitchen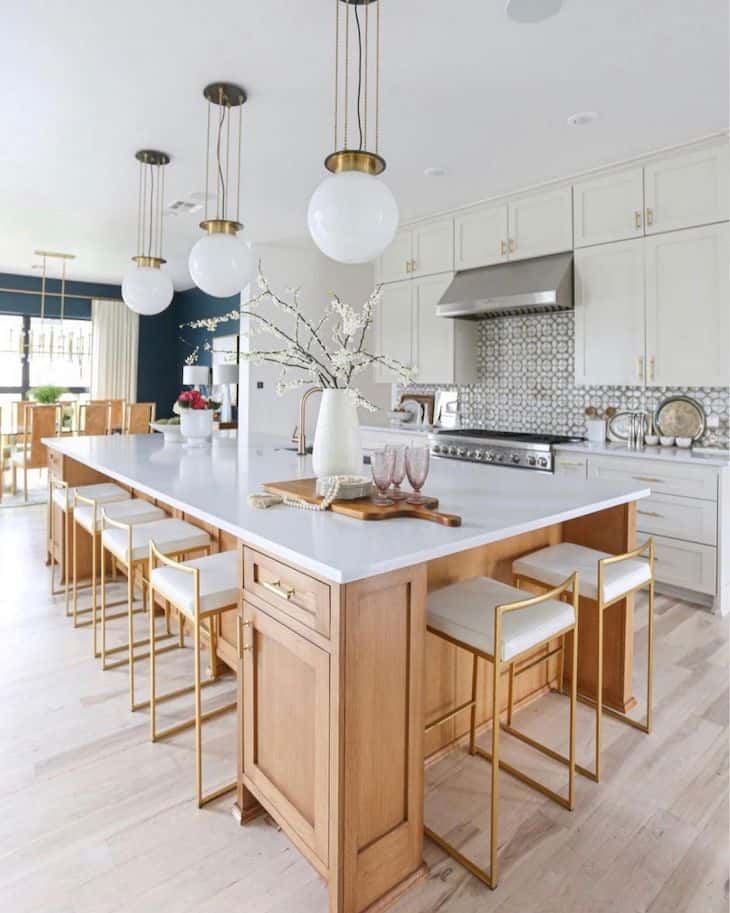 Shop related products:
pendants // counter stools // cutting board // goblet glasses // hardware // bead garland // #ad
This modern farmhouse kitchen features a big kitchen island in white oak stain offering a plethora of sitting space making it a perfect space to entertain. The contemporary counter stools look so elegant and don't over clutter the space given there are eight of them.
The classy white round glass pendants present a unique charm, and the honeycomb tiles as backsplash create visual interest. The wooden cutting board displayed as an island centerpiece lands a rustic feel, while the goblet glasses bring a little country class.
5. Kitchen island with unique end cap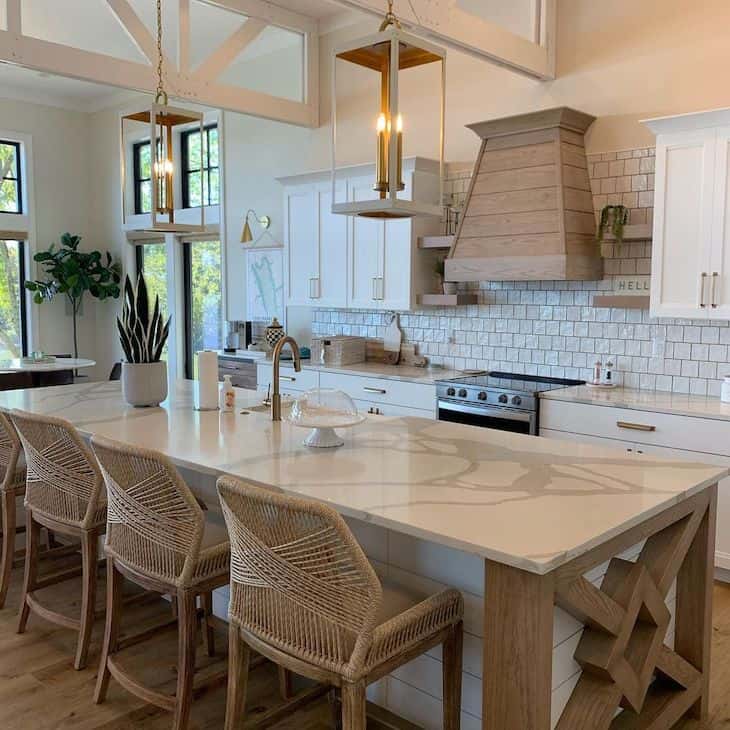 We are completely in love with the stunning oak wood detail on the side of this kitchen island. This unique kitchen island end cap complements the shiplap base in an artistic way.
The weaved rattan counter stools color coordinate with the unusual island side detail and the wood range hood creating a visual appeal.
6. White kitchen with wood range hood and black accents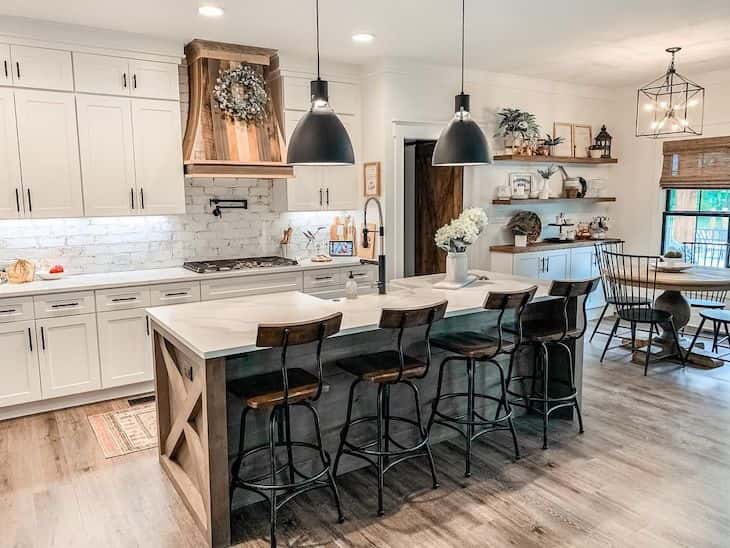 Shop related products:
barstools // pendants // cabinet pulls // faucet // wreath // #ad
This white kitchen painted in "Alabaster" by Sherwin Williams features an island in stained wood with an X sign on the side giving it a farmhouse look while the wood barstools add a touch of industrial appeal.
The reclaimed wood range hood lands a vintage vibe while offering a perfect space to hang your seasonal decorative wreath. The brick backsplash adds both character and texture to this space while giving the perfect background for the contrasting matte black pot filler.
7. Small kitchen with cottage charm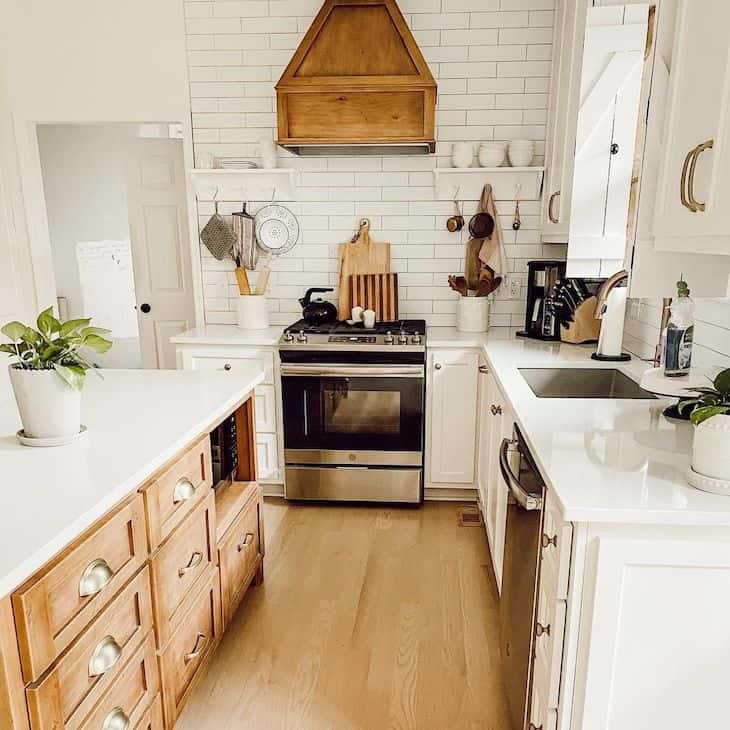 Shop related products:
This small white kitchen with a wood island gives off charming cottage vibes. The white cabinetry combined with the white subway tile and the small floating shelves is making this average-sized kitchen feel twice its size.
8. Deep wood kitchen cabinets with white island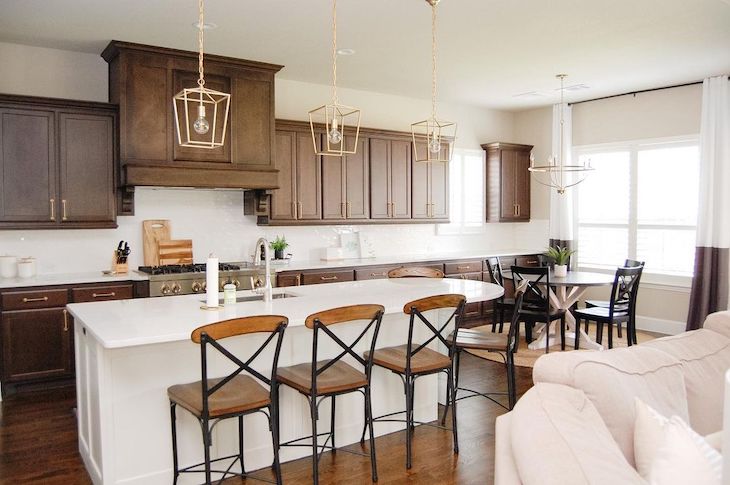 Shop related products:
bar stools // pendants // #ad
Here is a little different display of white and wood kitchen where the cabinets are in rich wood tones and the island is in crisp white. This kitchen is a perfect example of how you can transform your wood kitchen with just a change of the kitchen hardware, the lighting, and painting the kitchen island white. "Small" change like this one, can give your kitchen a fresh and clean look, and you can still keep those beautiful wood cabinets.
9. Red brick backsplash for a visual interest
These white kitchen cabinets combined with the brick backsplash and the wood-toned kitchen island and range hood lend a real rustic feeling. The combination between the red brick and the deep wood range hood creates visual interest and makes the rest of the kitchen feel cozy and complete.
10. Rustic white kitchen with wood elements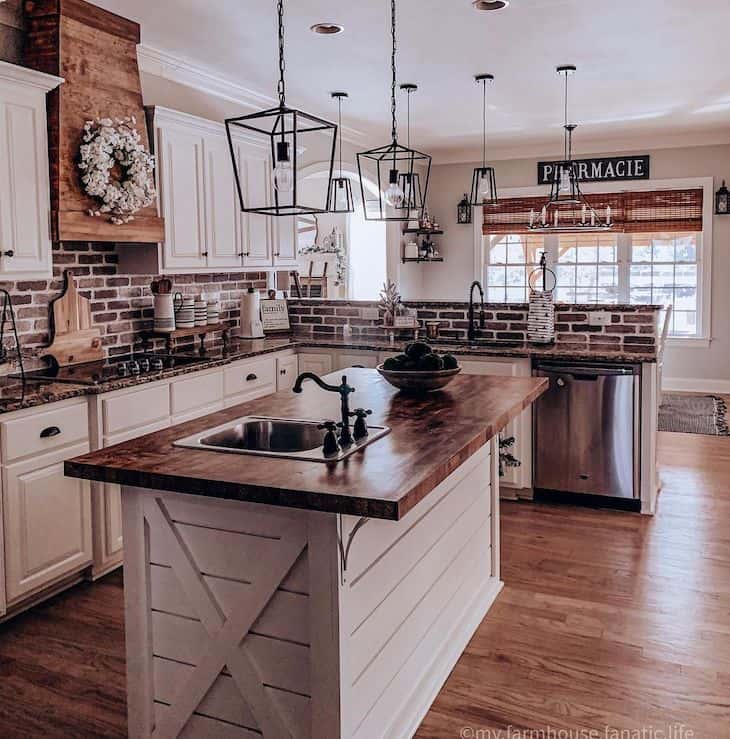 Shop related products:
pendant // faucet // wreath // wood bowl // #ad
This rustic farmhouse kitchen gives off a lot of character with the red brick backsplash and the small shiplap kitchen island contrasted with a butcher block countertop. The black matte lantern pendants give off an industrial vibe while providing a good contrast to the white and wood decor.
The reclaimed wood range hood adorned with a seasonal cherry blossom wreath brings a fresh touch of nature into this kitchen.