Using black countertops on your kitchen cabinets doesn't always mean that it will darken your kitchen. But instead, it can add warmth and make your place feel more inviting and modern. Black kitchen countertops are making their comeback with a matte/honed finish rather than a glossy finish, for a more modern and elevated look. Check out the examples below for inspiration on your next kitchen design that is sure to make an impact.
As an Amazon Associate I earn from qualifying purchases.
1. Black quartz countertop that looks like soapstone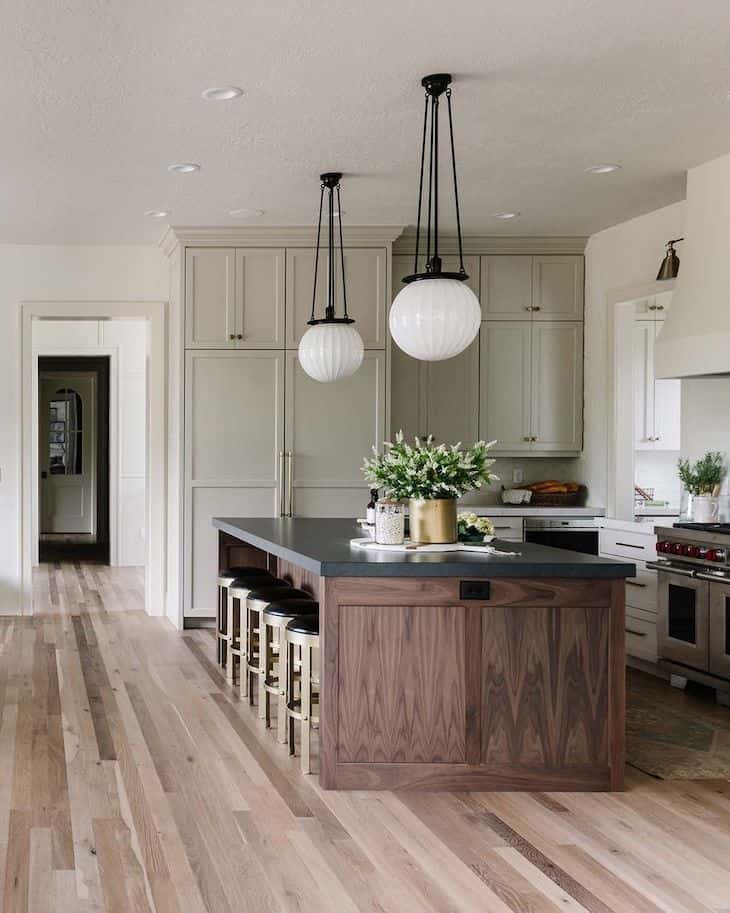 This open and airy kitchen design has a black quartz countertop that looks like soapstone. We love its look and even more appreciate the easy maintenance that quartz provides. The black color of the countertop goes perfectly with the dark-stained island. And the white countertops on the perimeter cabinets offer a light and airy feeling to this kitchen, making it the perfect space for gathering.
Kitchen countertop: Black quartz
2. Modern farmhouse kitchen with black honed quartz countertops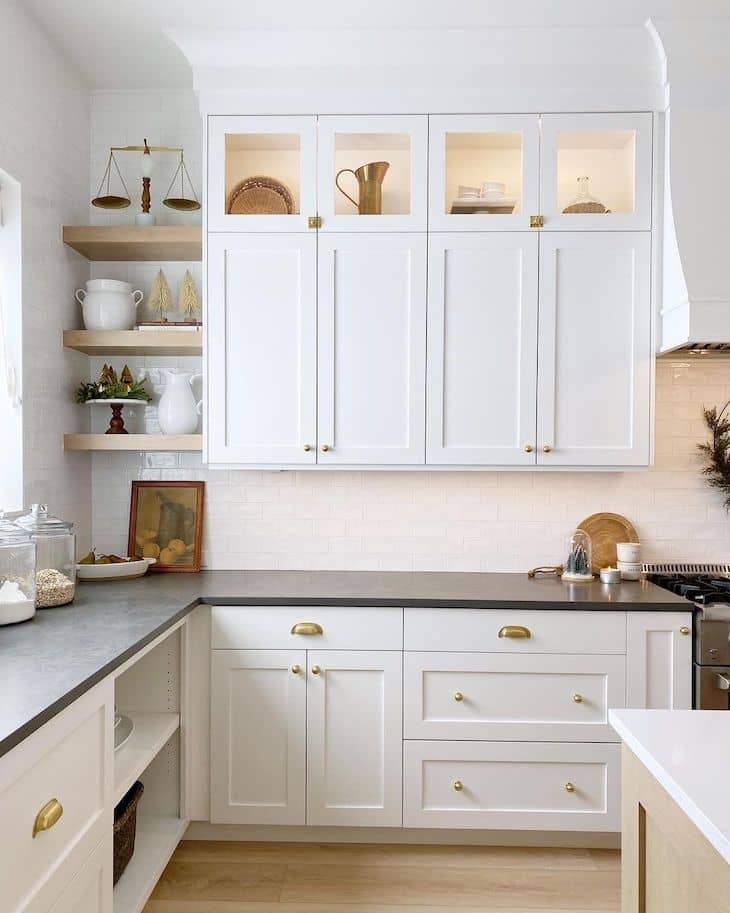 The mix of black and white, soft and strong, gives this kitchen a balanced and modern look. Black countertops in honed quartz diffuse light and are perfect for a white and bright kitchen, giving it an extra appeal. Choose a glossy finish for your backsplash, like a glossy subway tile to add texture and dimension to your kitchen.
Cabinets countertop: Quartz "Tartufo Honed"
Cabinet color: "Pure White" by Sherwin Williams
Kitchen backsplash: Daltile Italian Alps Glossy 3x6
3. Wood kitchen cabinets and black marble countertop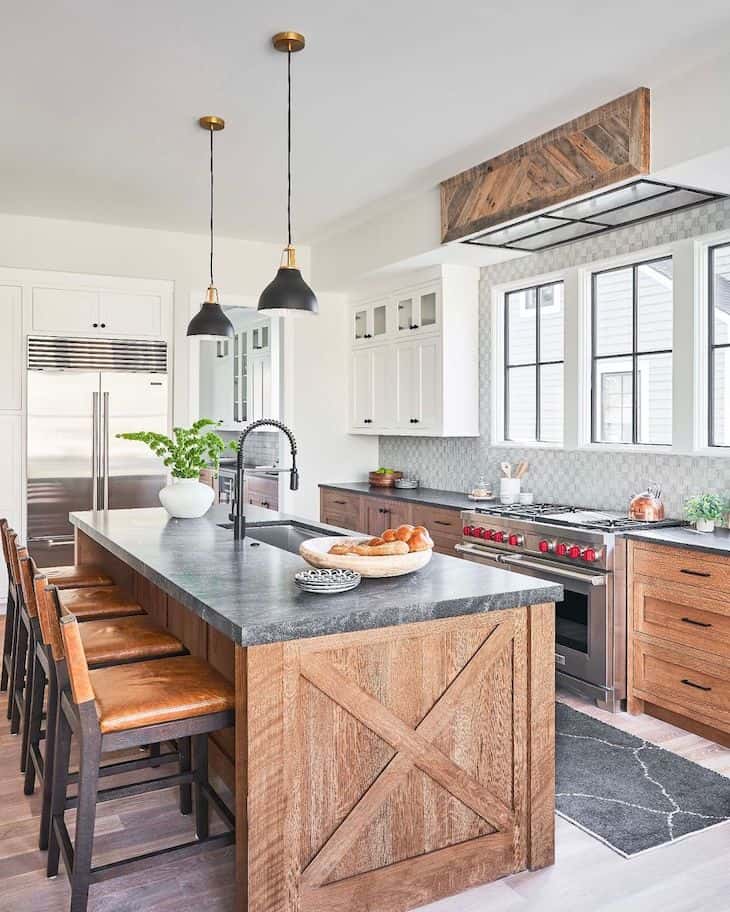 Mix a combination of wood island and cabinetry and a black marble countertop for a perfect blend of rustic and chic. The three windows above the stove let in a ton of natural light in this farmhouse kitchen that reflects on the black countertops making it brighter and even more inviting. Opt for white upper cabinetry for a lighter finish and the illusion of additional space in the kitchen.
Kitchen countertop: Black marble
4. Dark blue kitchen cabinets with black countertop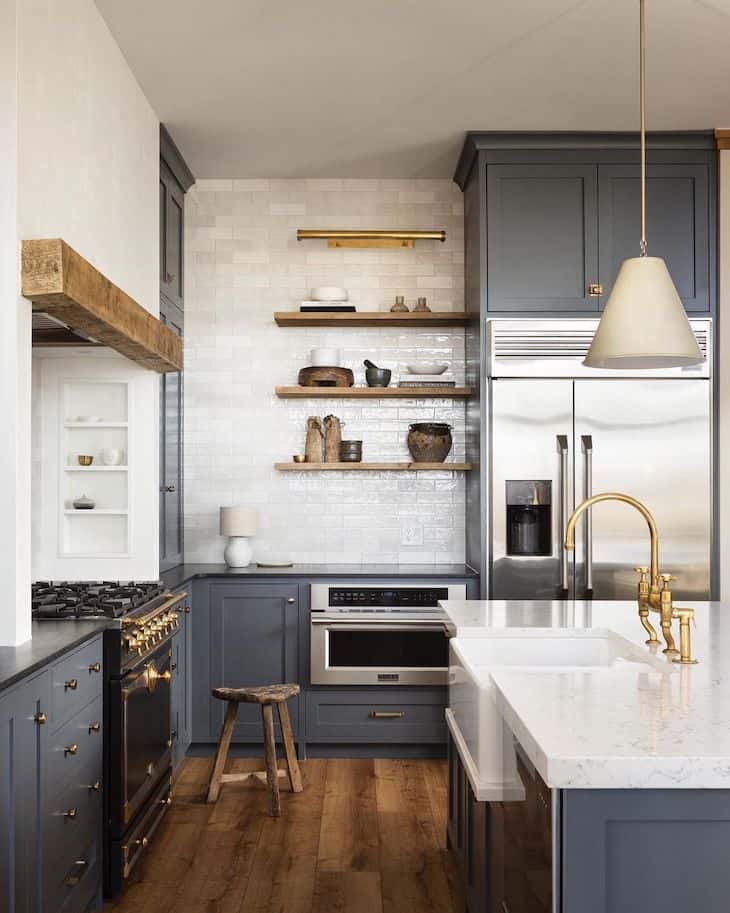 This modern classic country kitchen features beautiful black countertops on the perimeter cabinets. The dark blue cabinet color gives this kitchen a modern vibe and combined with the black countertops it makes it even more moody and striking.
Contrast a striking black countertop with a white glossy finish on your backsplash for an added touch of glamour and elegance to your kitchen design.
Cabinet color: "Greys Harbor" by Sherwin Williams
Hood vent: Custom limewash
Backsplash: Ceramic tile Artisan White
5. Black quartz countertops and white marble island countertop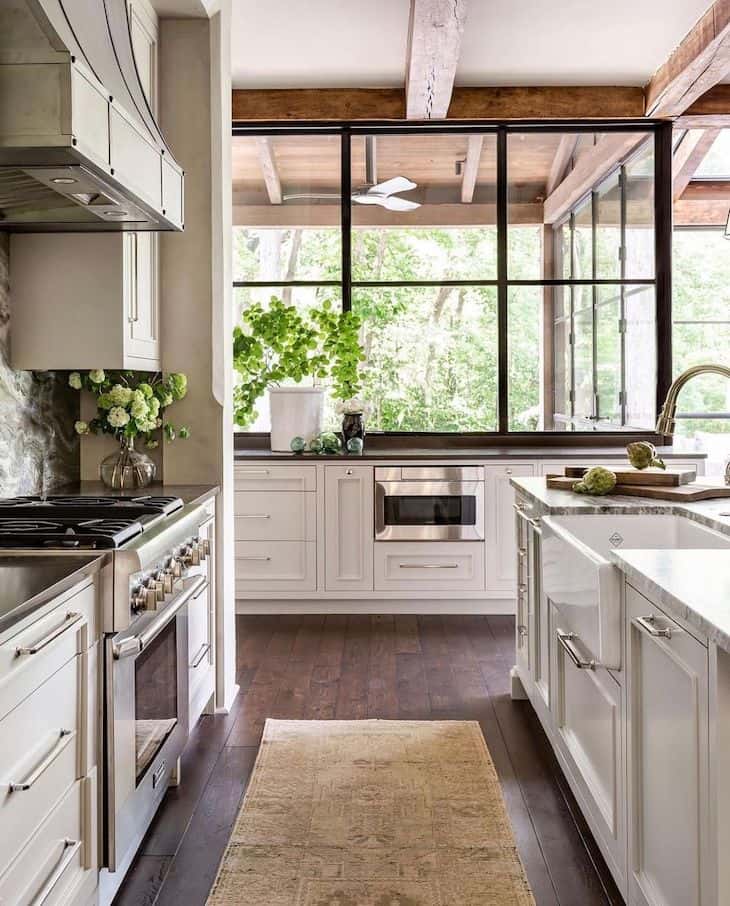 We love the mixed materials used in this beautifully lit kitchen and the depth they create in this space through, colors, texture, and light. The perimeter countertops in black Silestone quartz complement the marble island countertop in a stunning way. Bring a natural touch to your kitchen by adding greenery as decor.
Cabinets countertop: Silestone quartz called Calypso
Kitchen island countertop: Marble
Cabinet color: "Revere Pewter" by Benjamin Moore
Kitchen backsplash:  Green marble
Cabinet pulls: Polished nickel
6. Black quartz countertop in a striking white kitchen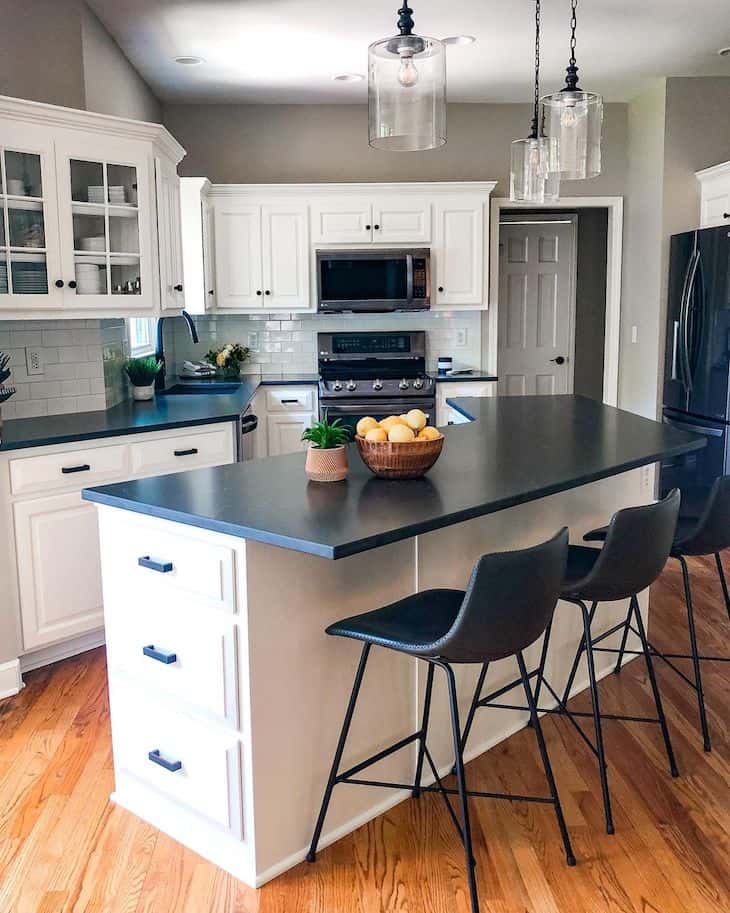 The contrast between the striking quartz countertop against the more calm subway tile is our favorite in this kitchen. Quality countertops will add value to your home and will be worth the investment. Pairing it with a more affordable backsplash will not detract from the beauty of the countertops, if anything it will allow them to shine more.
Kitchen countertop: Black quartz in matte finish
7. White farmhouse kitchen with black marble countertops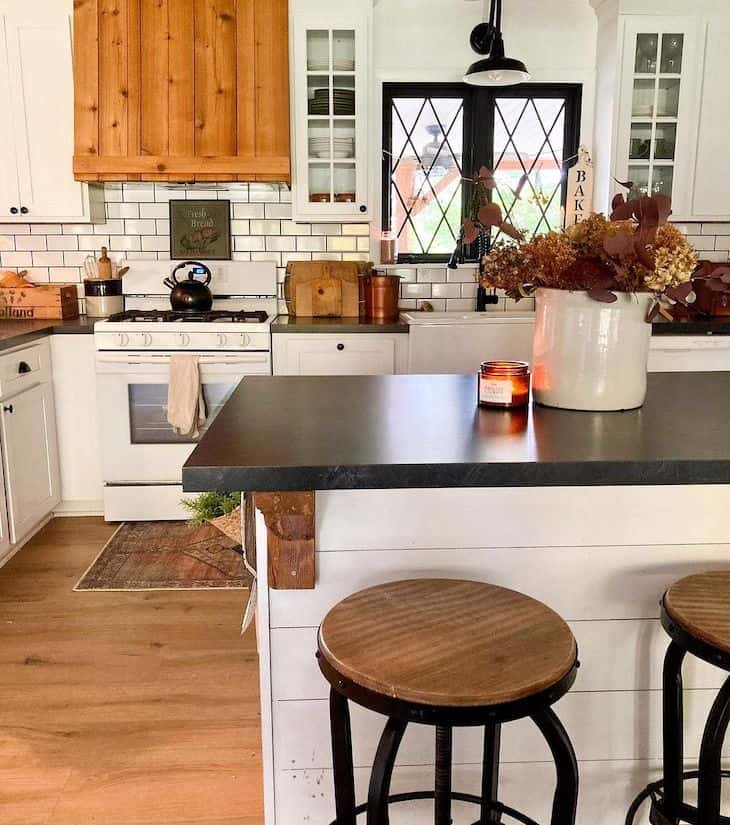 We love the layered contrasts in this design. The mix of white cabinetry, black marble countertop, and wood details doesn't look mismatched but rather elevated and expensive. The black grout on the backsplash pairs perfectly with the striking black countertops giving this kitchen a chic farmhouse vibe.
Kitchen countertop: Black marble