Today's goal is helping you design your dream farmhouse kitchen by showing you options for best tile backsplash that goes perfectly with your farmhouse kitchen sink.
The latest trend in kitchen design is the traditional farmhouse kitchen. But just because the look is traditional that doesn't necessarily mean that it is boring. Adding the right elements can change the whole look and feel of a room. One of those elements is a tile backsplash that will go perfectly with your farmhouse kitchen sink. Picking the right one can pull the entire design together and create the farmhouse kitchen of your dreams. One of the charms of farmhouse decor is a relaxed and simple feel. Cool neutral colors with contrasting details, simple lines, and reclaimed wood are distinguishing elements of the farmhouse look. Cute design elements like farmhouse signs, exposed white pitchers and dinnerware create a relaxed welcoming appeal. This can be spiced up with a pop of color coming from basic greenery or brightly colored fruit like lemons. You can read our post on how to decorate your farmhouse kitchen with lemons. Finding the right tile material for your backsplash that goes perfectly will all of the design elements mentioned above, can be challenging sometimes. Finding the right material and design is only a matter of finding what works best for you and your family, but little inspiration never hurt anyone. So here we are showing you some ideas that can serve as an inspiration when creating your farmhouse kitchen.
As an Amazon Associate, I earn from qualifying purchases.
1. White subway tile farmhouse kitchen backsplash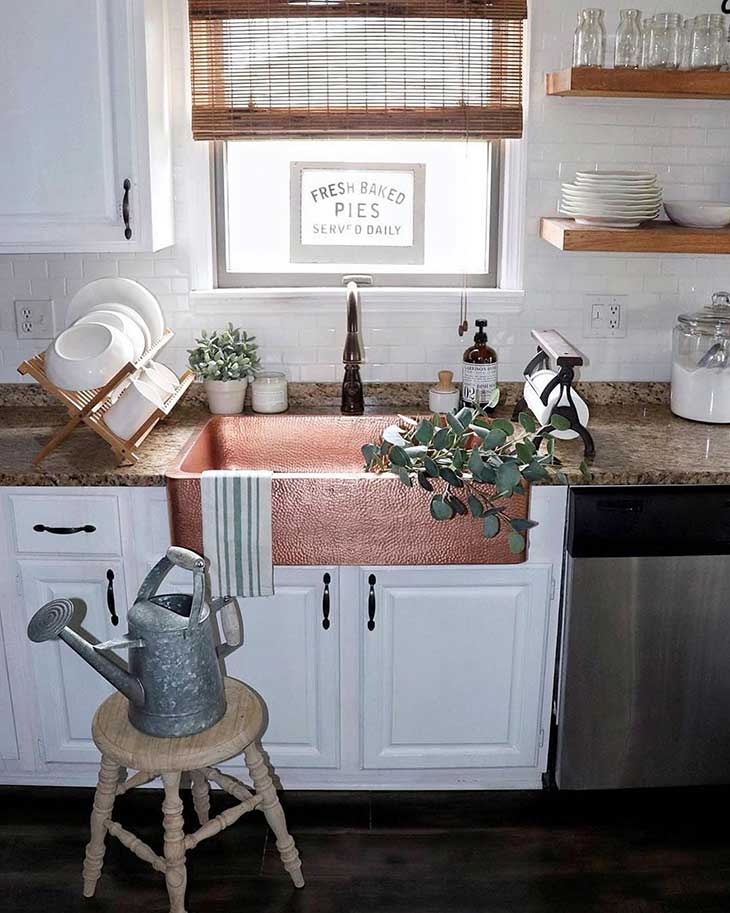 Shop related products:
copper sink // pull-down faucet // window sign // paper towel holder // wood dishrack // #ad
White subway tiles have become a pillar in the farmhouse kitchen backsplash design. As one of the most popular backsplash tiles, they are named after the tiles used in most subway stations. If you want a clean and classic look, white subway tile is the choice for you. There are several materials to choose from, but if you are on a budget, the best options include porcelain and ceramic. They often feature a smooth glazed finish with a silk sheen to enhance any space. The super white color forms a perfect complement to a variety of structural textures and materials, making it an ideal choice for contemporary or more traditional spaces. The simplest and most common design is to go with white elements and white tile backsplash, you can make no mistake there. But today I'm showing you a more complex design where the white subway tile makes space for the copper farmhouse sink to shine. When you are using really strong accent pieces like Randi from @randilynnblog did with her copper sink and tan marble countertop, it is a no brainer that using the white subway tiles is the right thing to do. She made a perfect combination with the apron copper single bowl kitchen sink and the pull-down faucet. The farmhouse feel is also accomplished with adding the vintage counter paper towel holder and the letter sign on the window.
2. Morrocan tile backsplash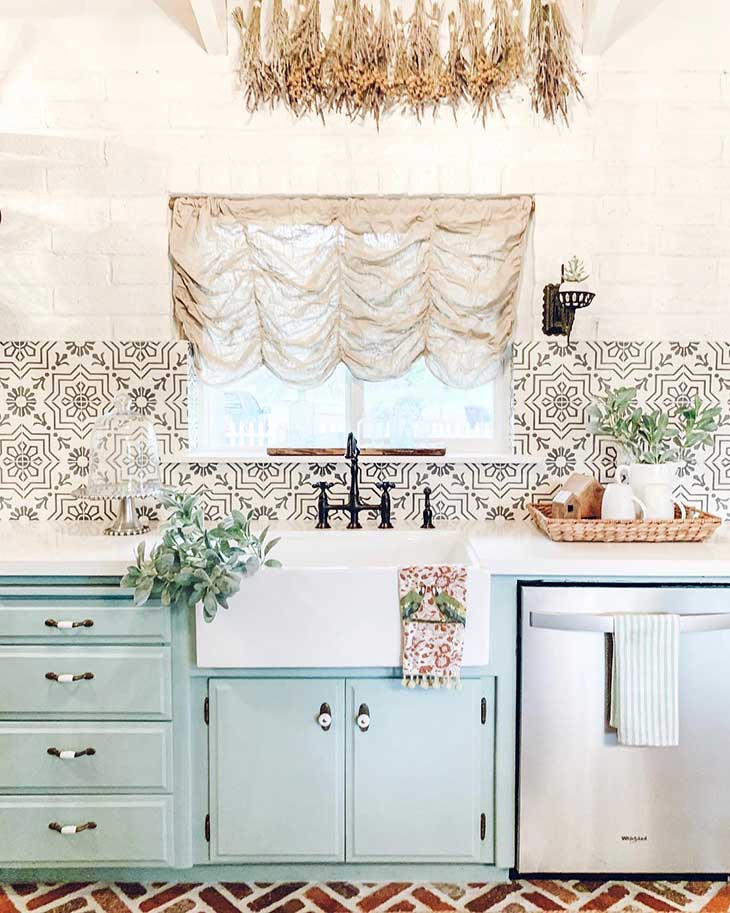 Shop related products:
apron farmhouse sink // faucet // tiles (similar)// cabinet paint color // #ad
If you want to add uniqueness to your decor what a better way than adding Moroccan tiles as a backsplash in your kitchen. The colorful tones and unique patterns make them a perfect choice if you are after a style statement. This type of tiles define the artistic beauty of the Moroccan culture, thus they bring an unparallel beauty even to an ordinary wall. You can get them in different designs, colors, shapes, and sizes. Often each pattern on the tiles has a unique geometry, therefore you can arrange them in any way you like to form a unique design. Having this option, Moroccan tiles also help you be creative. When picking the right Moroccan tile for your kitchen backsplash, it is best to start by considering the look you are going for. Lisa Marie from @yellow____fish went for an eye-catching patchwork design where the different prints and patterns were guaranteed to leave a lasting impression. They are such a good compliment pattern to the mint-colored kitchen cabinets that she outdid herself in choosing that design pattern. Also, there is no mistake made with the choice of her faucet as well. The contrasting black color seals the whole look together. Nothing left to say other than, Bravo Lisa!
3. Slate tile backsplash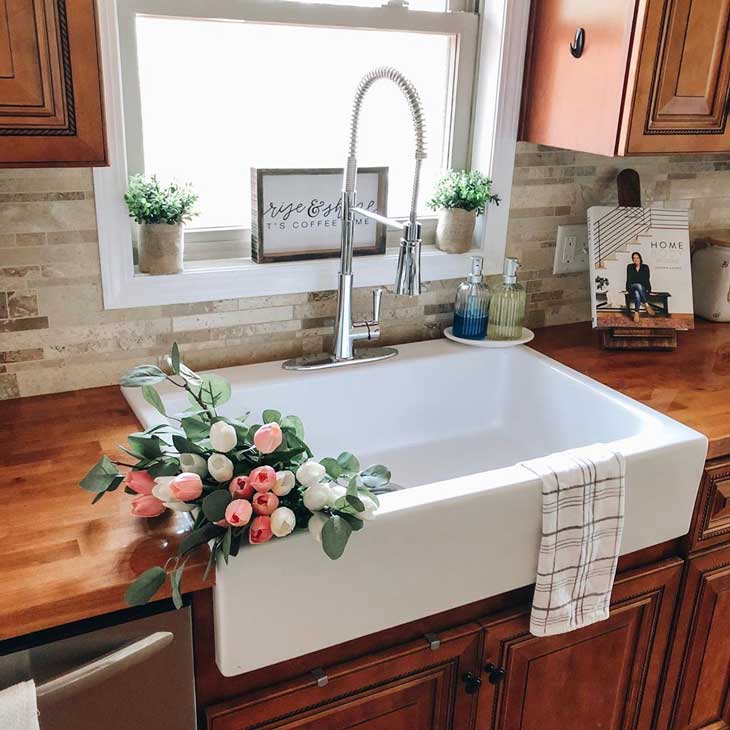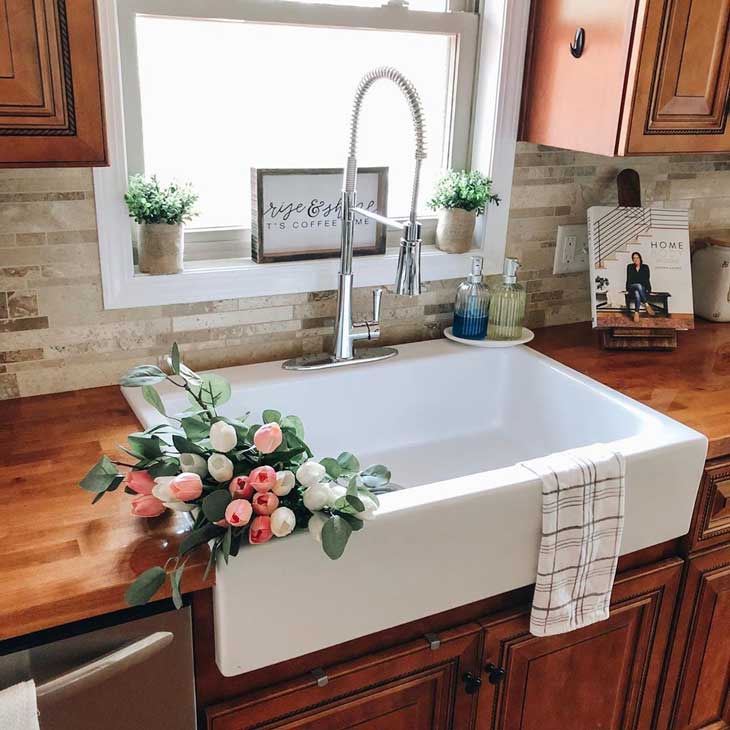 Shop related products:
travertine tile (similar)// farmhouse sink // artificial tulips // pull-down faucet // table book // #ad
When choosing the right tile backsplash for your farmhouse kitchen you have to think of a few things. Besides that it defines the style of your work area, reflecting your personality and the mood and feel of your cooking space, the primary purpose of a kitchen backsplash is to protect the wall from liquids, usually water. Slate is made of compressed layers of sediments formed under the ocean. Its composition makes it resistant to fading, water scratches, and even chemicals. Therefore slate tiles last virtually forever with a little maintenance. That being said the vibrant colors and the unique texture makes slate tile backsplash an exceptional interior decor choice. Heather from @ourminnesotafarmhouse made a perfect choice of tile backsplash that blends in flawlessly with the existing decor. She has a perfect harmony between the kitchen cabinets, the countertop, and the backsplash. It all feels natural, that is the definition of a farmhouse style. The personal touches of a table book, artificial greenery and cute wooden sign on the window make this corner look so pleasant. So mission accomplished 🙂
4. Patterned tile backsplash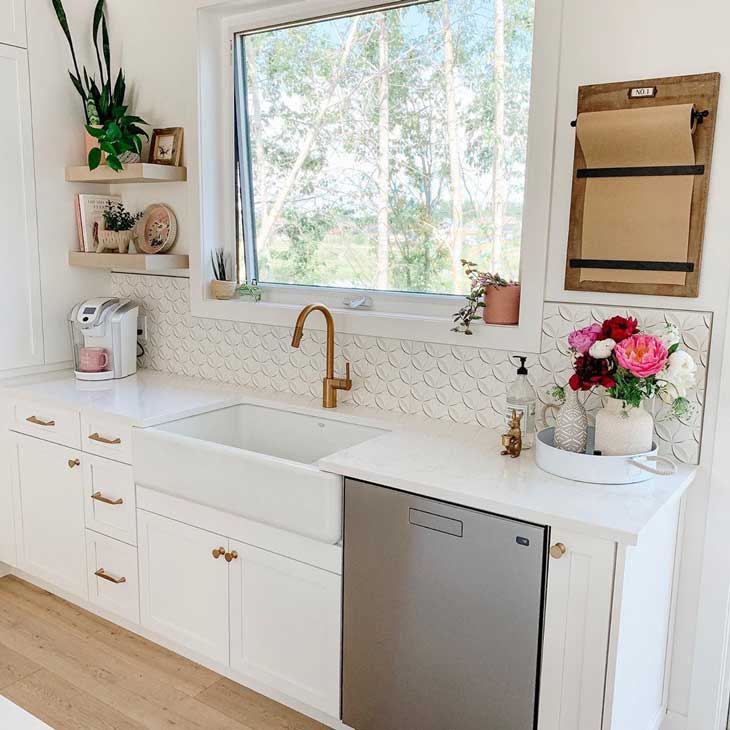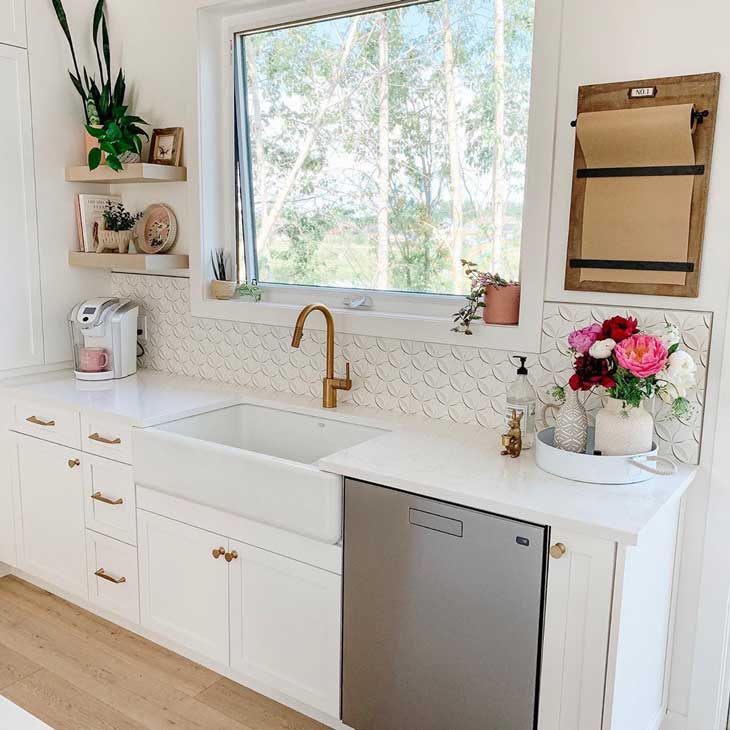 Shop related products:
farmhouse sink // faucet // paper roll holder (similar)// kitchen hardware (golden pulls) // #ad
Achieving harmony in your decor is an important part when choosing your farmhouse kitchen backsplash. You need to think if your tile design will go well with your kitchen cabinets, floors, countertop, and even appliances. Since kitchens with white cabinets are quite common, choosing a patterned tile backsplash will make the decor more unusual. There are two things you can do when deciding on this tyle of tiles. You can opt for a design pattern that sharply contrasts the existing decor and elements, and acts as a standout style, stealing most of the attention to itself. Or you can opt-out for a more subtle pattern that blends in with the whole surrounding like Chrisy from @misschrisycharms did with her choice of the tile pattern.
5. Farmhouse kitchen backsplash with pink tile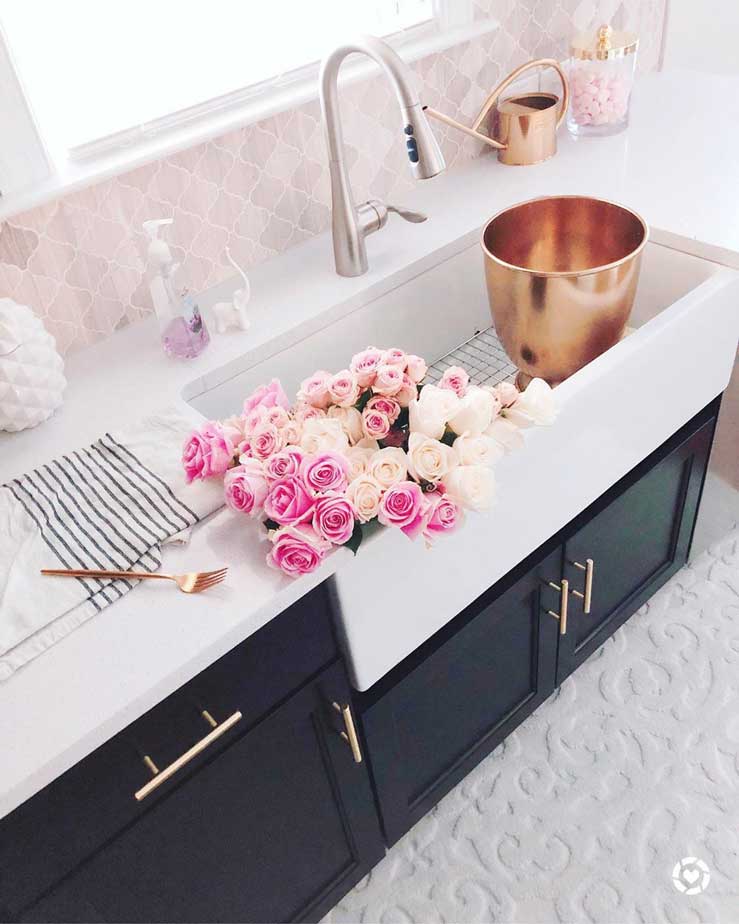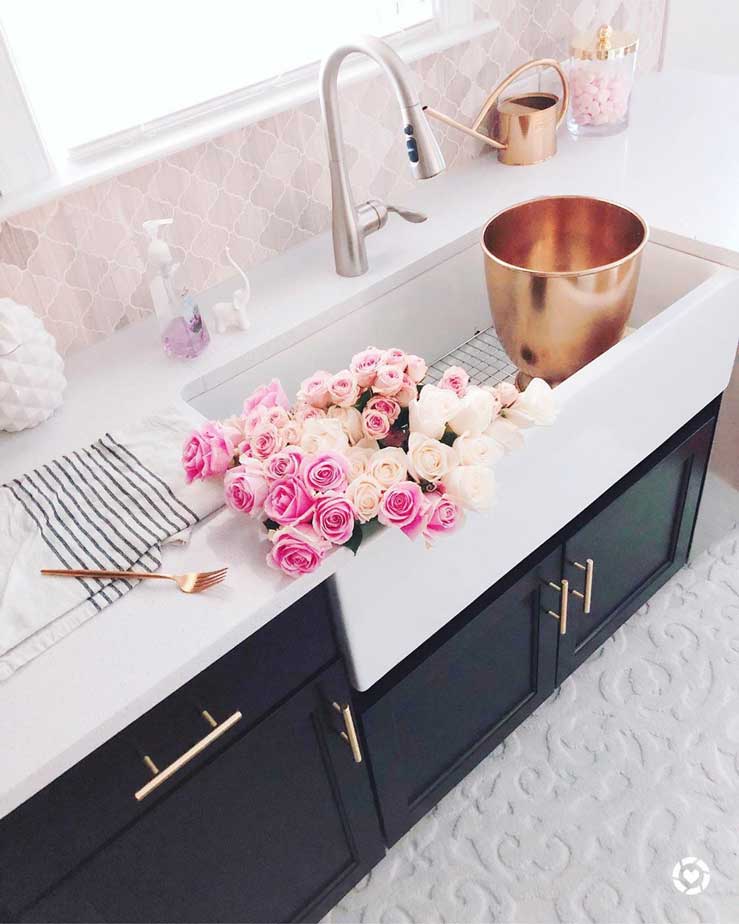 Shop related products:
farmhouse sink // faucet // white rug // cabinet hardware // watering can // #ad
This one is for the girly ones out there. The pink color has a calming effect, which makes spending time in the kitchen a lot more relaxing. Color schemes are related to home happiness because the hues with which you decorate your house can make a huge impact on your mood. There are plenty of ways that you can incorporate pink color in your kitchen, and pink tile backsplash is one of them. Black and pink go good together, and that is why the pink tiles in Vinca's kitchen @theviewfromtobaccoroad provide the perfect backdrop for the black cabinets. She made an unusual combination for a kitchen that looks surprisingly well. She also made perfect coordination between the shades of pink and the gold tones by adding golden kitchen hardware and rose gold decor accessories.