If you love the concept of having open shelves in your kitchen but don't have an idea how to incorporate them in your kitchen we have some amazing ideas for you. From small shelves around the range hood to a whole wall of shelves to shelves above the kitchen sink we cover it all. You don't know what material or color to use – we have great examples of wood, white, rustic, or metal shelving you can include in your space.
As an Amazon associate I earn from qualifying purchases.
1. Small white shelves around the range hood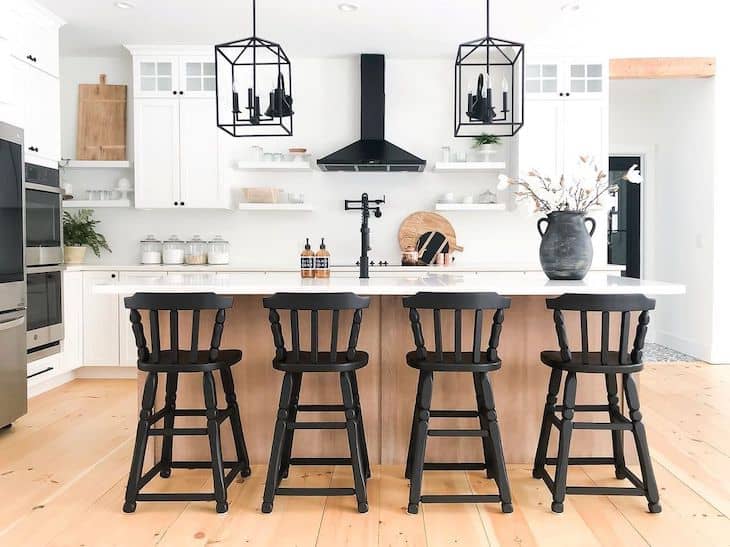 Shop related products:
counter stool // pot filler // pendant lights // range hood // artificial magnolia // #ad
This black and white kitchen has small white double shelves on each side of the black range hood that gives a simple yet stylish appeal. This kitchen has a combination of closed upper cabinets and shelves for the ultimate storage flexibility.
The white shelving and cabinetry harmonize perfectly with the black accents on the range hood, the bar stools, and the pendant lights.
Having double shelves on each side of the range hood makes perfect symmetry in this view. The shelving combined with the minimalist style of the range hood gives this kitchen a unique look.
2. Coffee bar with live edge shelves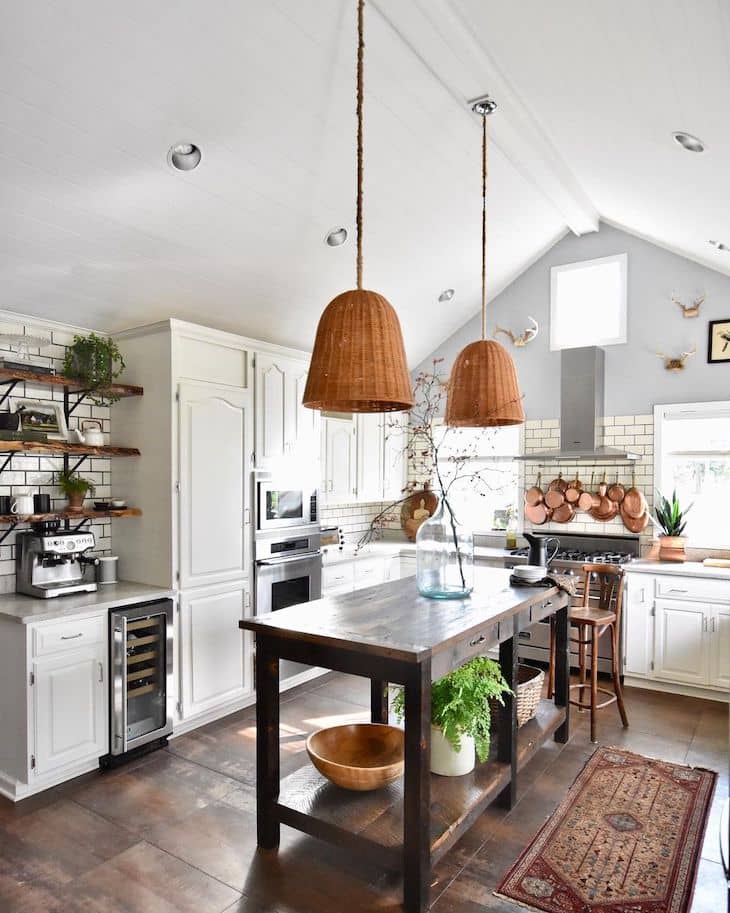 The open edge shelves in the coffee/wine bar area of this kitchen make a perfect combination with the star of this kitchen – the reclaimed wood kitchen island. In order not to overpower the majestic island and look too busy these shelves look perfectly paired.
The wood stain of the kitchen shelves makes a good contrast with the white subway tile backsplash. These coffee bar shelves are stacked with cups within reach for convenience but also a mix of some fun decor pieces.
3. A wall of floating shelves in the kitchen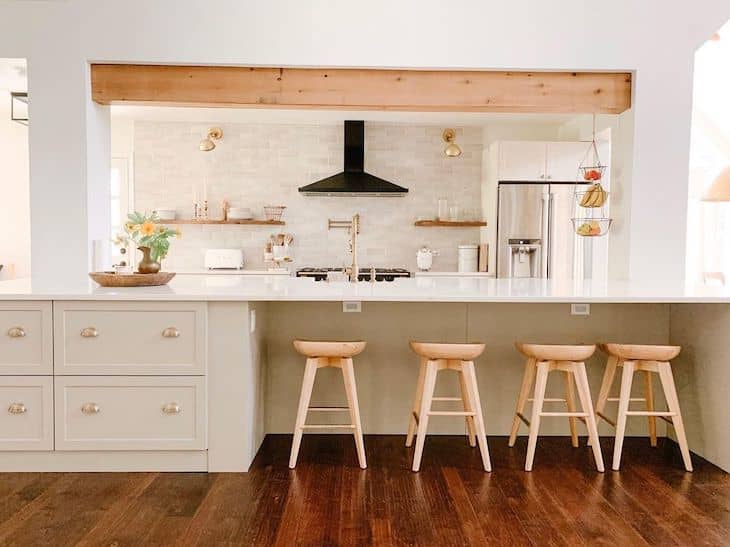 Shop related products:
bar stool // range hood // 3 tier basket // pot filler // shelves // #ad
If you have an abundance of storage space in your kitchen, opting for a wall of floating shelves makes a good idea. Having open shelves gives this kitchen an open and bright feel, while the 16′ counter-height kitchen island offers plenty of storage space.
The natural stained shelves give this bright kitchen a modern mixed with a rustic look. The wood shelves complement the big wood beam above the island and the functional yet stylish bar stools in a natural finish. We love the contrast and warmth the wood shelves give against the tiles. And the added sconces above them as a final touch highlight the beautiful open shelf styling.
Having open shelves in the kitchen is also good for ease of access if you fill them with items that you use daily.
4. Metal shelves for a modern mix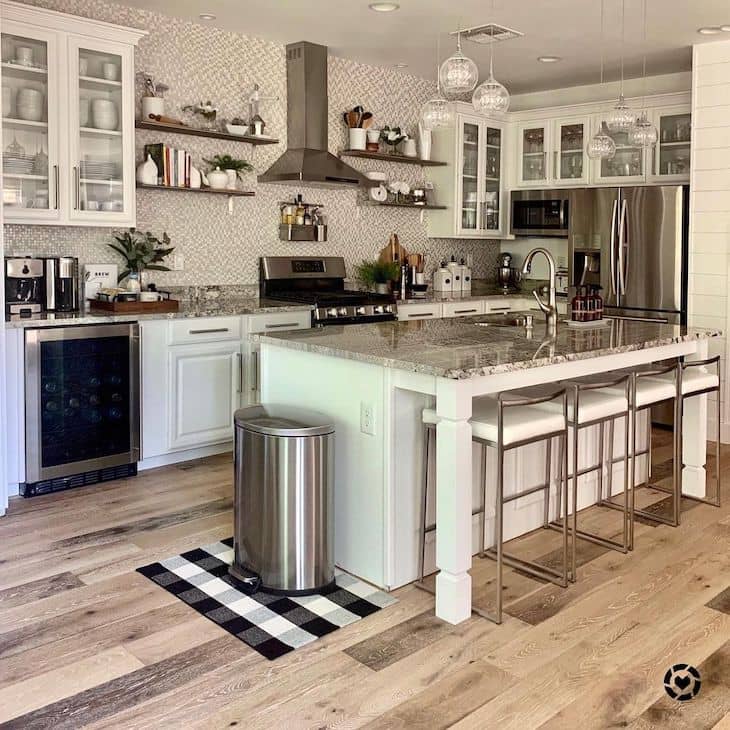 Shop related products:
bar stool // shelves // wine cooler // can // mat // #ad
If mixing metals is not in your comfort zone, there is nothing wrong with choosing just one. Choosing stainless steel can give your place a modern and clean look.
The double metal kitchen shelves in this kitchen go perfectly with this tile backsplash carried all the way to the ceiling. While the metal elements give a modern and clean look, the hardwood floors, the white wood cabinets, and the buffalo check mat give a farmhouse touch to this kitchen.
Contrasting the metal of the shelves with some natural wood decor elements and old cookbooks really brings the rustic and modern character of this place together.
5. Grey kitchen with open shelves above sink
Shop related products:
bar stools // pendants // shelves // #ad
If you hate bumping your head against kitchen cabinets while doing the dishes and having a kitchen sink in front of a window is not really an option for you, having open shelves above your kitchen sink may be the best solution for you.
Using open shelves above the sink means you are not leaving the space fully open and at the same time gain additional storage space and display solution for your favorite decor and seasonal flowers.
6. Black and white kitchen with open shelves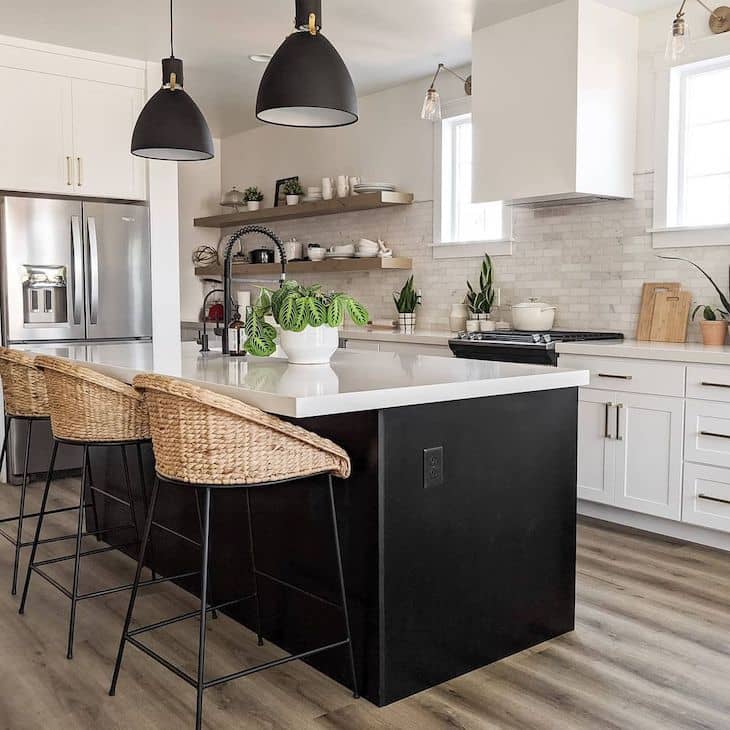 Shop related products:
pendants // bar stools // shelf // sconce // #ad
This white modern farmhouse with a black island is giving us all the feels. The black and white hues are complemented with the neutral wood color of the floating shelves and the woven bar stools. The soft variations in this backsplash are a perfect backdrop for the greyish oak shelves.
These shelves are used to stack kitchen essentials like bowls and cups, but there is also a mix of fun decor pieces like frames and vases.
7. Coastal kitchen with floating shelves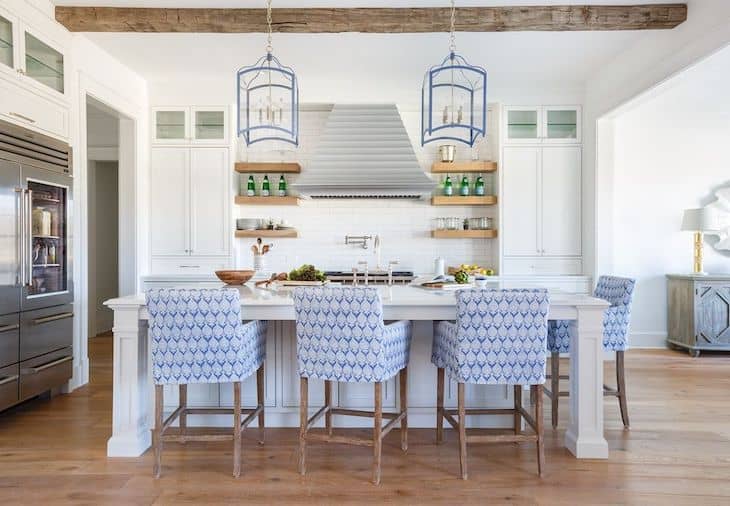 Shop related products(#ad):
The classic white tiles in this symmetrical kitchen create a crisp background for the natural wood of the shelves to stand out.
These mini shelves around the range hood allow for a constant switch-up of the look of this space by rearranging and updating the shelf decor along with the change of seasons.
The light oak natural look of the floating shelves blends perfectly with the blue coastal vibe this kitchen carries.
8. Open shelving paired with vaulted ceiling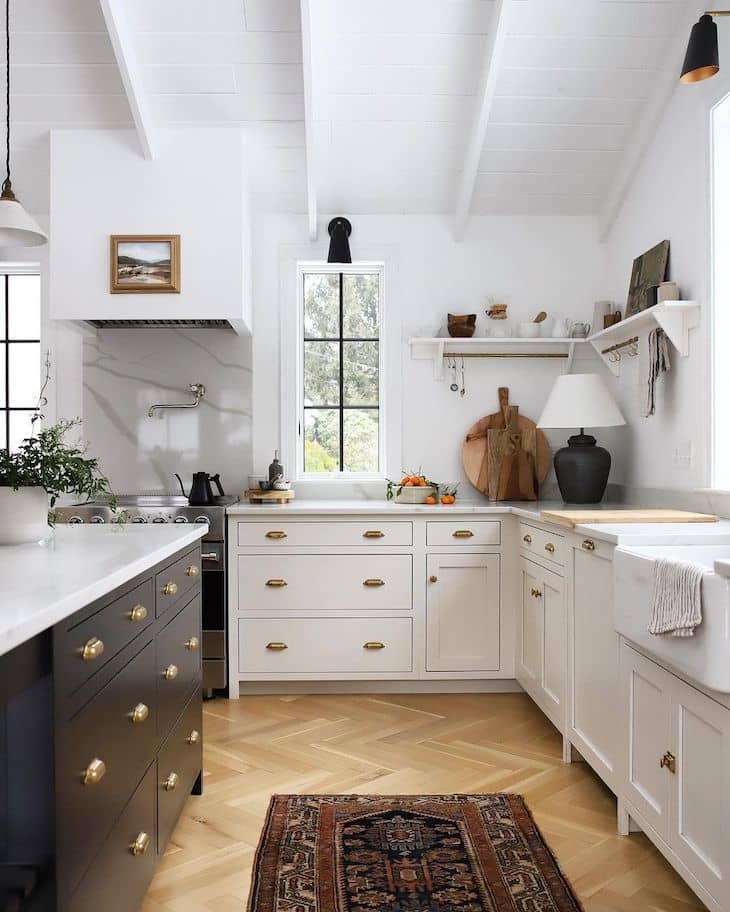 Shop related products(#ad):
If you have vaulted ceilings in your kitchen and struggle with how to go about the height of the upper cabinets, maybe the better solution for you is to have an open shelf kitchen instead. And cabinets being one of the biggest expenses when building a kitchen, having an open shelving plan can also save you quite a bit of money while your place will look impressive and unique.
This modern farmhouse kitchen utilizes open shelves to display art and decor pieces, while the dishes and tools are stowed away in the lower cabinets. The open shelving is mixed with hanging storage below for hanging pots and pans if needed, which gives a vintage vibe that goes perfectly with the antique rug.
9. Small light oak shelves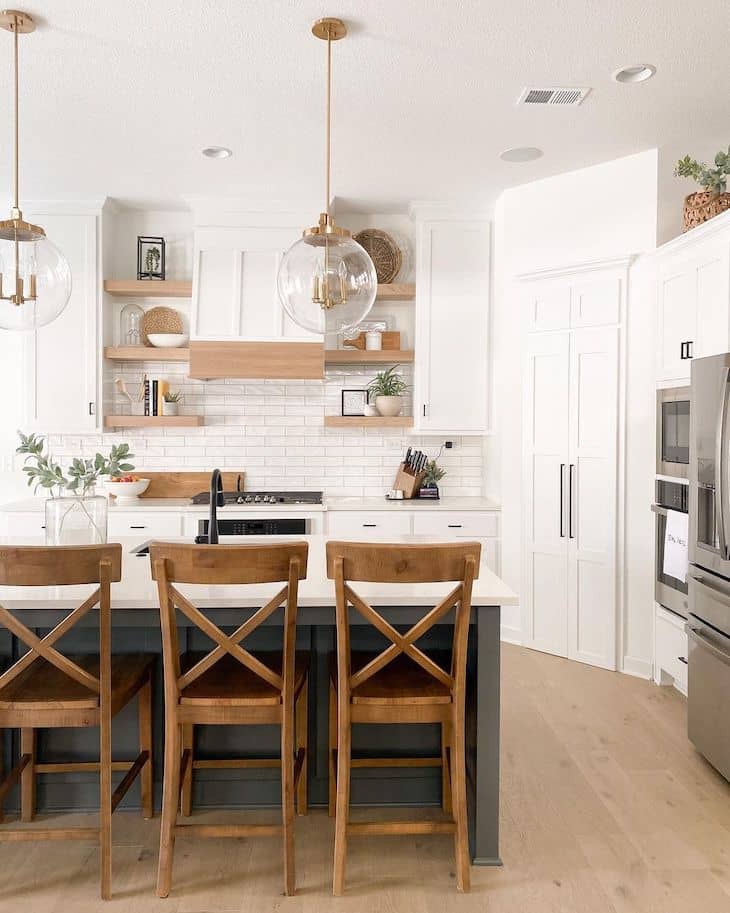 Shop related products(#ad):

If you don't want to use a lot of shelves but love the concept of incorporating open shelving into your kitchen, using smaller shelves that take a space of one or two cabinets will make a notable impact on the kitchen area.
Decorating them by using a basket, a vase with greenery and a wood cutting board will bring texture instead of one flat look.
10. Corner shelves on a shiplap wall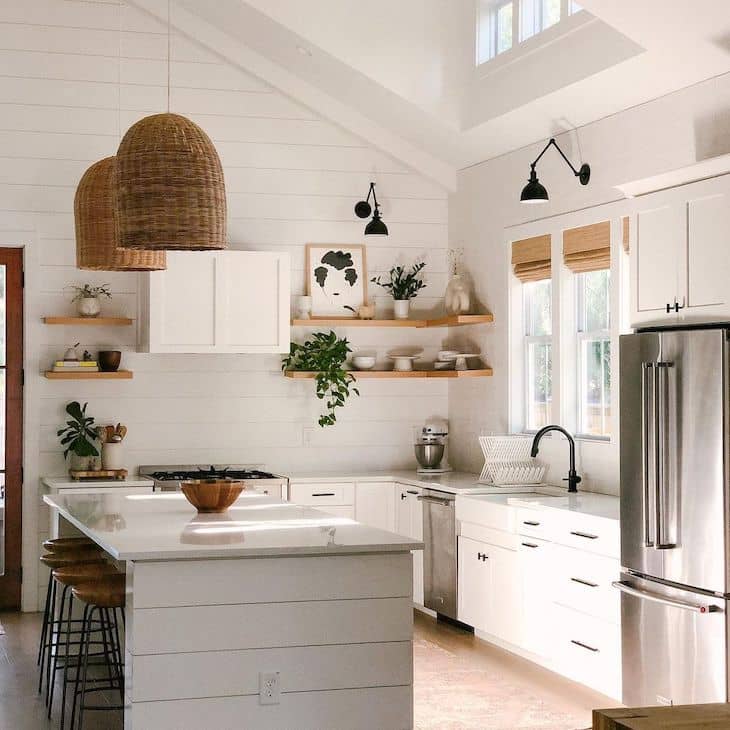 Shop related products:
pendants // #ad
This farmhouse kitchen full of character highlights corner open shelving in a light wood tone on a shiplap backsplash. Unlike cabinetry, corners in open shelving provide a spot for a bigger decor element or maybe a pot or pitcher to be displayed.
When you are decorating your open shelves in your kitchen it is a good idea to vary the height of what you put on display. Different height of the decor makes the eye move up and down over your decor grabbing attention.
11. Rustic shelf for a cottage charm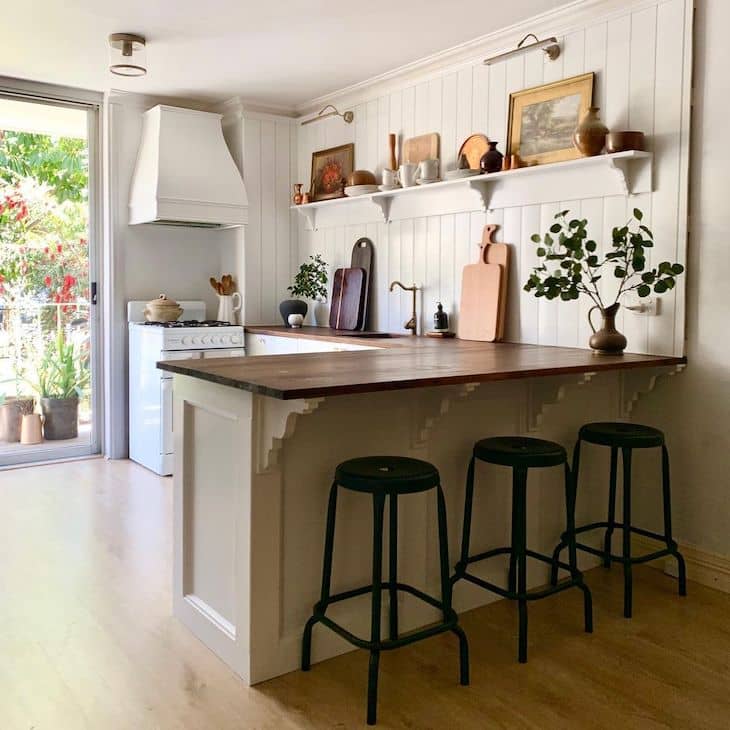 A single slim white shelf runs the length of one wall in this cottage style kitchen. The white vintage shelf sits atop a vertical shiplap backsplash, all contrasting perfectly with the dark butcher block countertops.
Decorated with ceramics, a couple of vases and art pieces bring personal and rustic charm to this small L-shaped kitchen.