If you want to create a beautiful, cozy outdoor space that looks super relaxing try these patio decor ideas that will transform your patio into a perfect place for resting or entertaining.
As an Amazon Associate I earn from qualifying purchases.
1. Big covered patio with a fireplace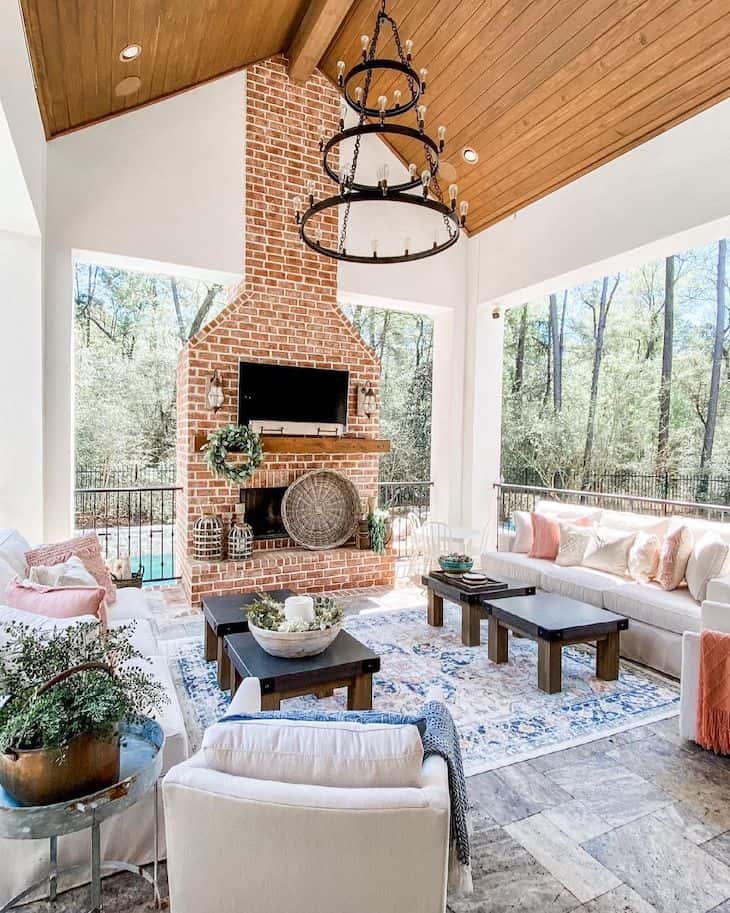 Shop related products:
rug // sofa // chandelier // #ad
This big covered patio is a great space to relax during those hot summer days and nights. Featuring a big brick fireplace with an outdoor TV for additional entertainment makes this a great space to enjoy a coffee in the morning or a cocktail in the evening. The white couches on both sides offer plenty of sitting space for all the guests, satisfying the host's entertaining spirit.
2. Neutral patio with wood outdoor furniture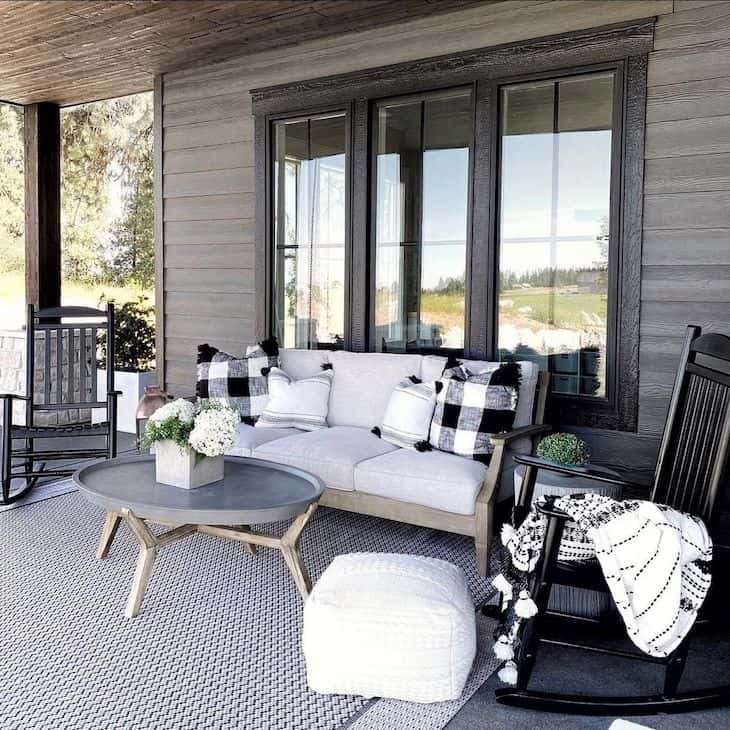 Shop related products:
outdoor sofa // rocking chair // table // rug // planter // pillows // #ad
Styled in light airy neutrals this outdoor patio decor harmonizes with the exterior of this home so well. The two black rocking chairs are the perfect accent piece to this outdoor patio. Completed with an outdoor rug and plenty of throw pillows makes this the perfect cozy space to relax.
3. Patio decor with boho vibe
Shop related products:
patio set // tray // pouf // rug // #ad
This inviting patio has simple yet stylish accessories, like the woven tray and the leather accent pouf which makes this corner appear more cozy and welcoming. Completed with a graphic rug under the patio furniture this patio setup brings a dose of comfort and will inevitably impress your guests.
4. Farmhouse patio decor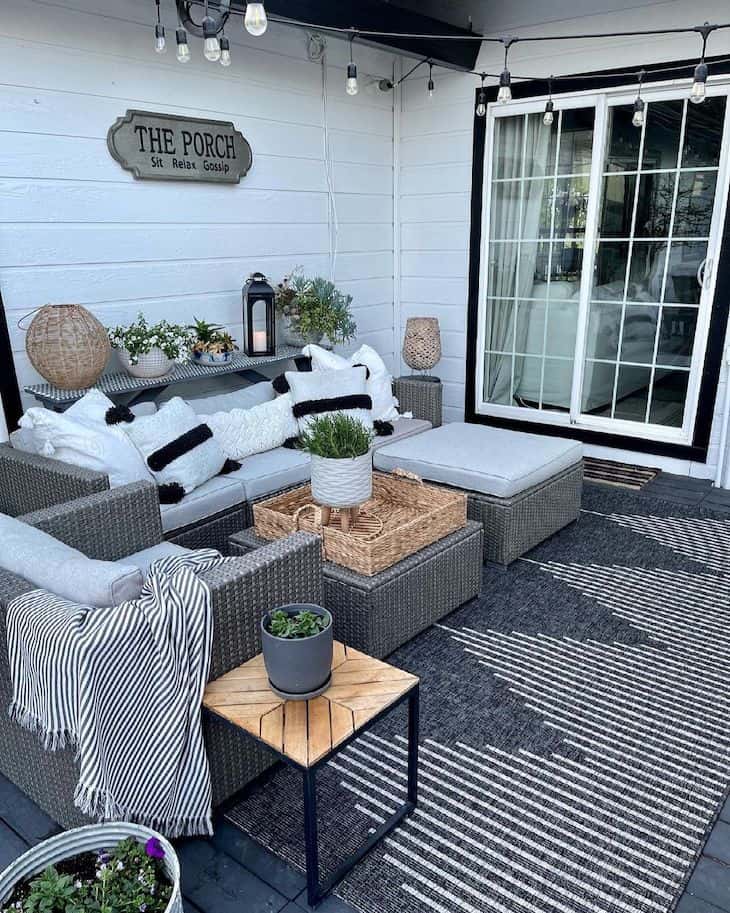 Shop related products:
rug // patio set // tray // pillow // lantern // end table // #ad
A beautiful patio set and few simple yet stylish accessories can transform your ordinary backyard into a natural extension of your home. Putting a woven tray for serving cocktails or as a place to display your favorite flowers can give your outdoor space a whole new dimension.
A simple decorating tactic for an outdoor space is putting up a few outdoor lanterns that can be used both as a decor element and as a source of light in the evenings.
5. Moroccan style patio decor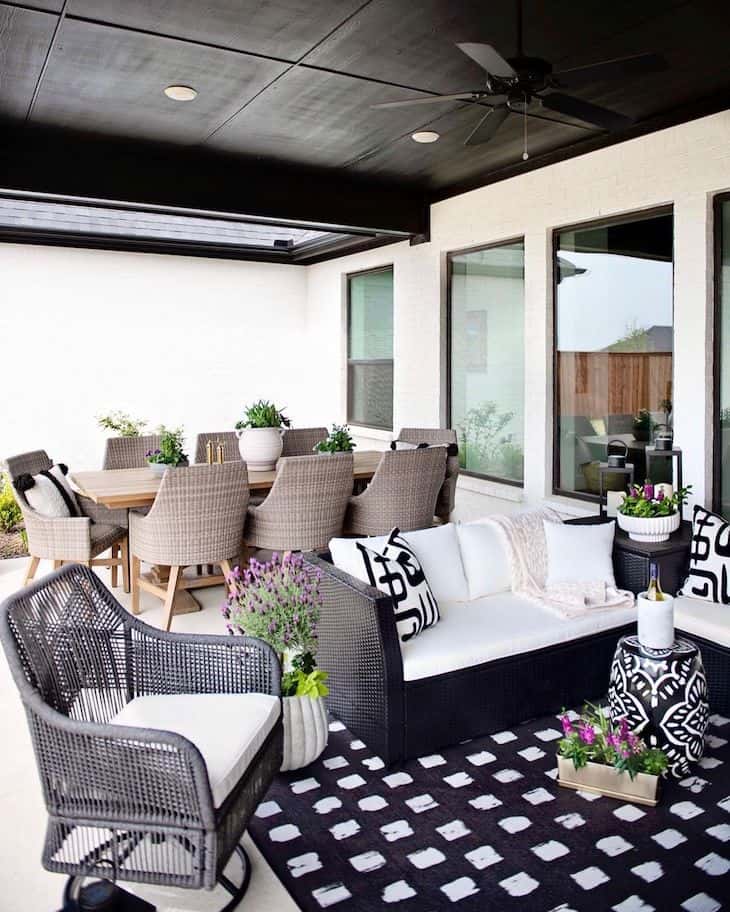 Shop related products:
patio set // outdoor stool // pillows // planter // #ad
This fabulous outdoor space extends the inside of Stephanie's home to the outside in a seamless way. It is a perfect place to entertain or rest with your drink of choice morning, noon, or night. Be sure to check a whole tour of her amazing home here.
6. Outdoor living room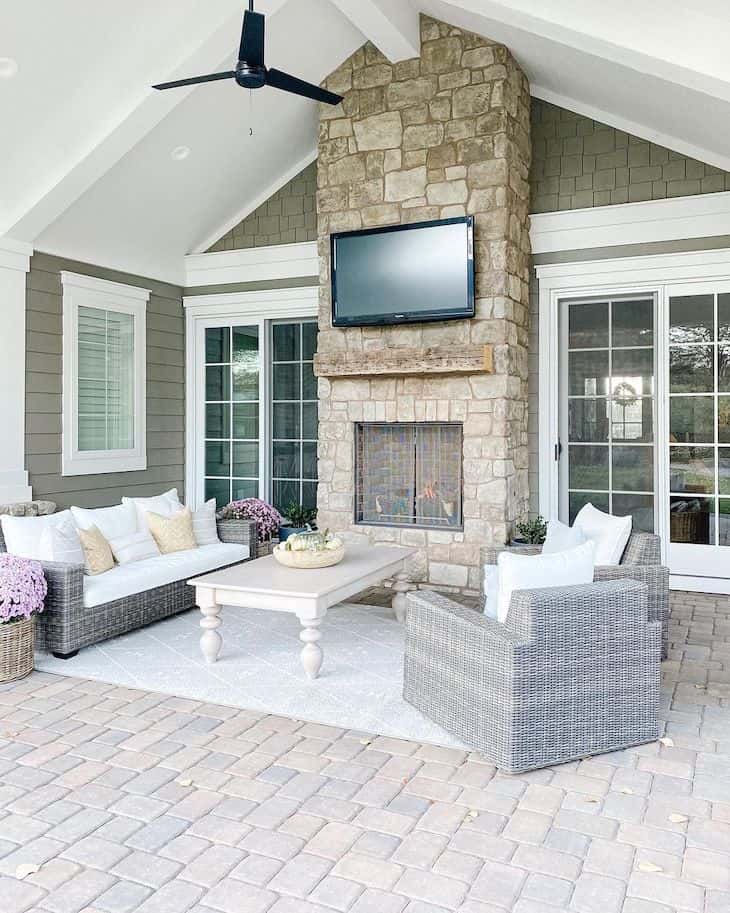 Shop related products:
sofa set // coffee table // ceiling fan // planter basket // wood bowl // #ad

Sitting in front of a fireplace on your patio looks like the perfect place to get cozy. Having an outdoor fireplace extends the period of use of your outdoor space throughout the year making it a perfect place to utilize even in colder weather.
7. Boho patio decor with rattan furniture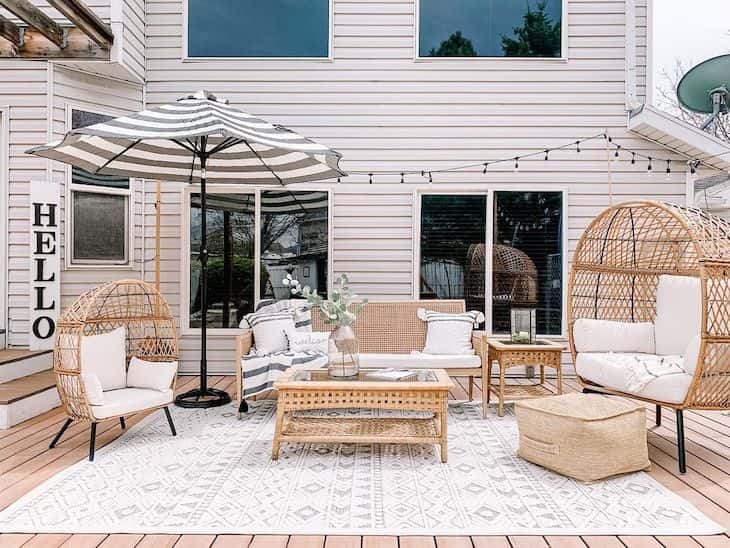 Shop related products:
kids egg chair // rug // cane bed // pouf // umbrella // #ad
A mix of piled pillows, rattan furniture, and a graphic rug will for sure create a cozy boho vibe on your patio. Adding a linen pouf for resting your feet and as additional sitting space will present useful accent detail to your outdoor space.
8. Patio decor with wicker furniture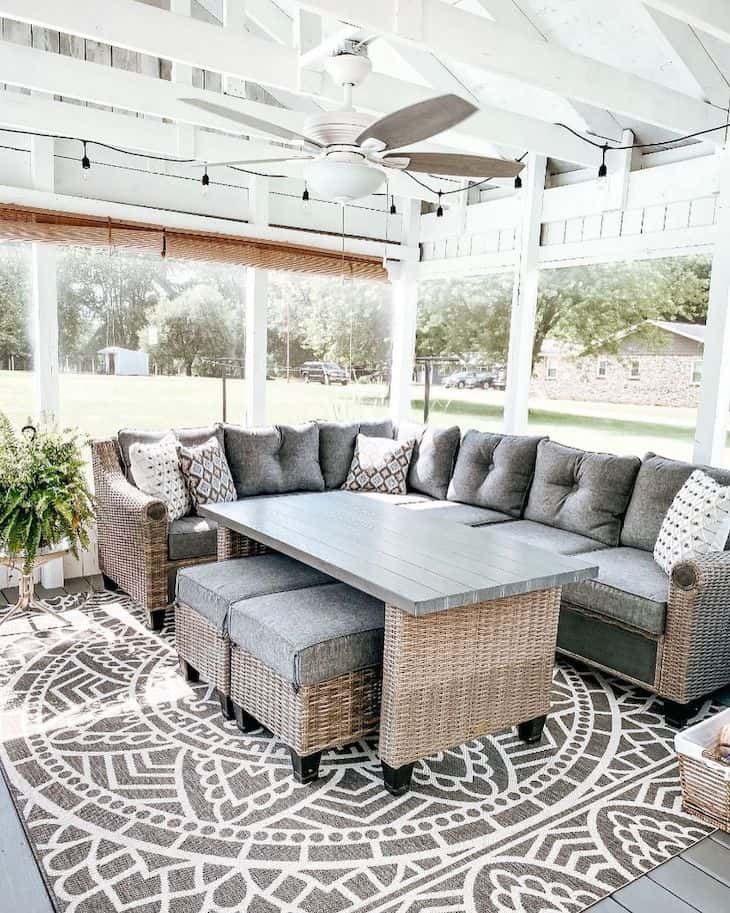 Shop related products:
patio set // #ad
Having a covered patio where you can hang a ceiling fan is a perfect place to enjoy spending time even on a hot summer day. The grey cushions on the patio furniture are complemented with an accent rug with graphic elements providing visual interest to this place.
9. Garden patio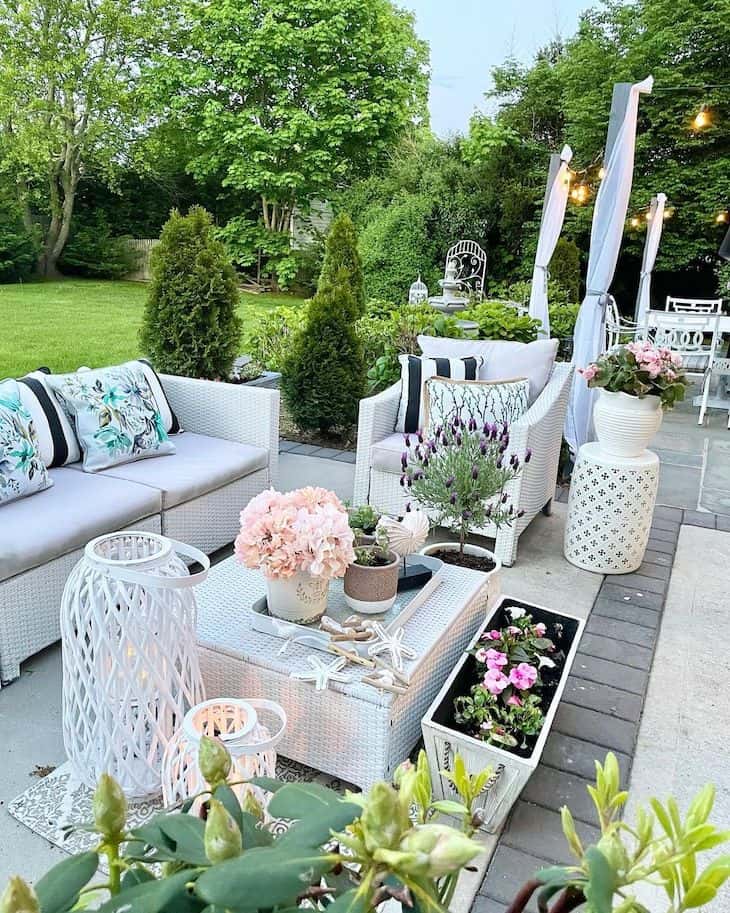 Shop related products:
patio set // pillows // garden stool
Decorating your patio like a garden oasis contributes not only to the visual factor but also presents an aromatic experience. This white decored patio filled with flowers is the perfect place to rest while enjoying the beautiful view of the garden.