Black and white color palette, natural wood, and brass accents. All of these elements came together beautifully in this black and white modern farmhouse of Stephanie, a wife, and mother of two little boys. She has been sharing her design journey on her Instagram @the_broadmoor_house and her blog The Broadmoore House. She is an expert when it comes to mixing high and low-end decor pieces in her alluring home. Let's take a look at this beautiful home.
As an Amazon Associate I earn from qualifying purchases.
1. Painted brick exterior in white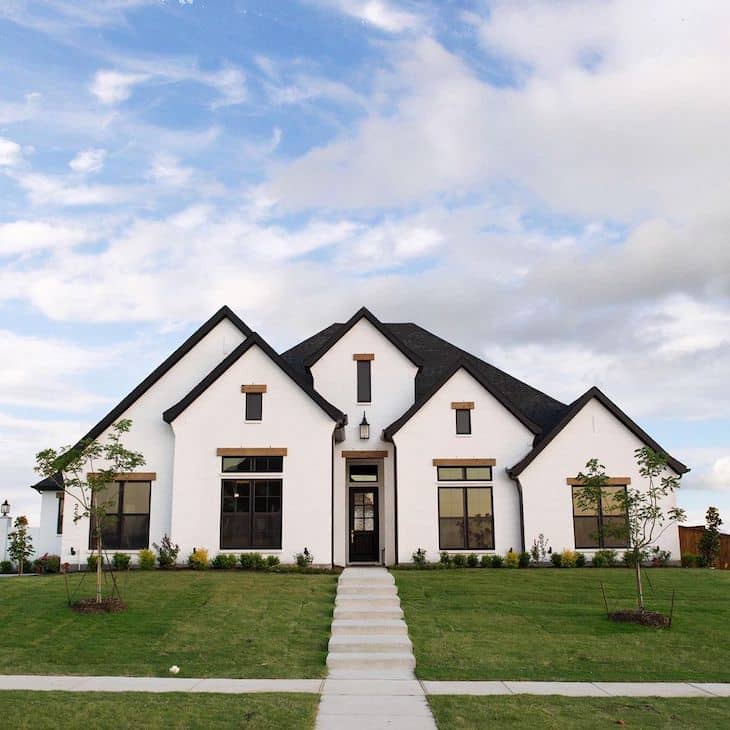 White brick exterior paired with wood accents on the cedar headers and black door and window trim makes an excellent curb appeal. The timeless and classic white exterior painted in "Extra White" by Sherwin Williams contrasts perfectly with the black roof and the facia painted in "Caviar" by Sherwin Williams.
2. Living room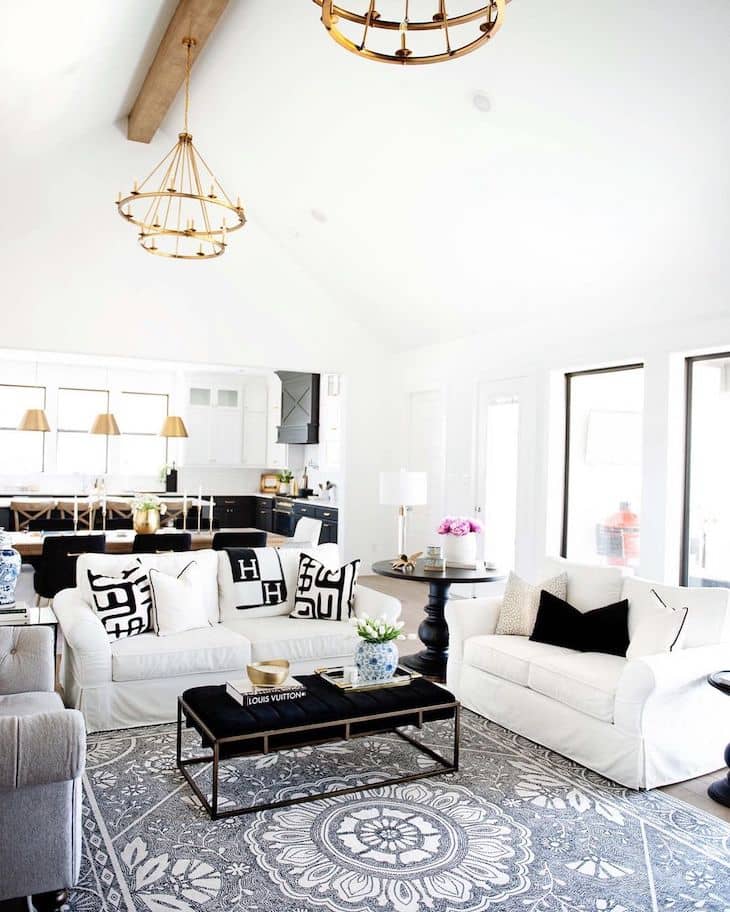 Shop related products(ad):
ottoman // chandelier // pillow covers // blanket // end table // table lamp
The interior of her home is also painted in "Extra White" by Sherwin Williams. The crisp white color works perfectly with the black accents in this living room. If you want to incorporate white couches in your living space it is a great idea to opt for slipcover ones like Stephanie did, because they can be easily removed and washed.
The floral elements and neutral tones of the area rug calm the contrasting tones in this living space and bring the whole decor together. And the two-tier chandelier in a brass finish gives this room a modern farmhouse flair.
3. Black shiplap fireplace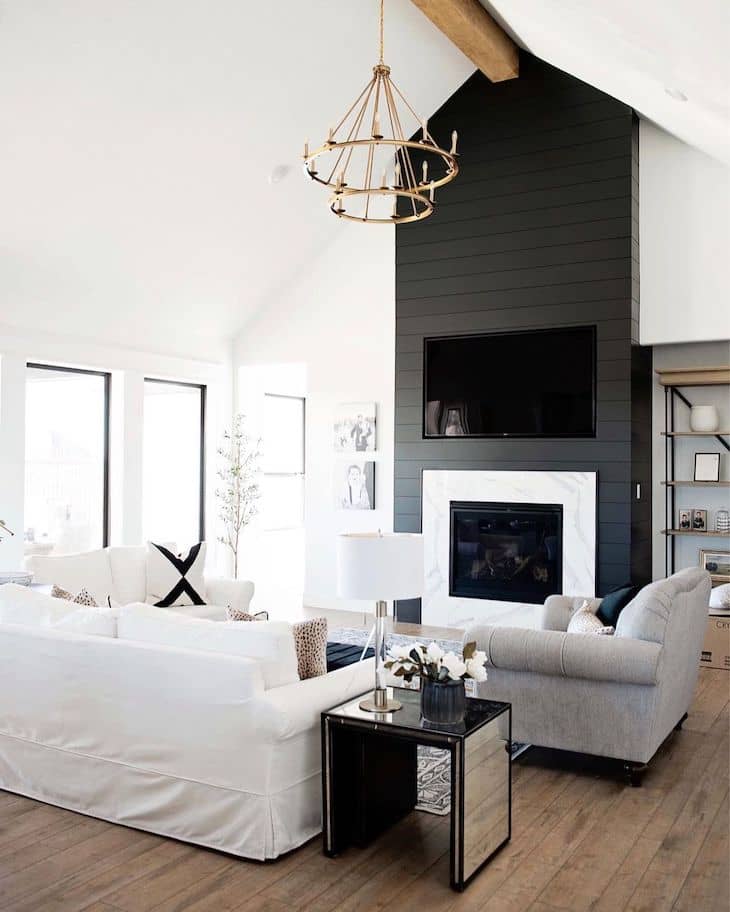 Shop related products(ad):
chandelier // table lamp
The black shiplap fireplace painted in "Iron Ore" by Sherwin Williams gives farmhouse character to this living room while making the fireplace a dramatic focal point. It pretty much appears as an accent wall in this space, without being one.
4. Industrial bookcase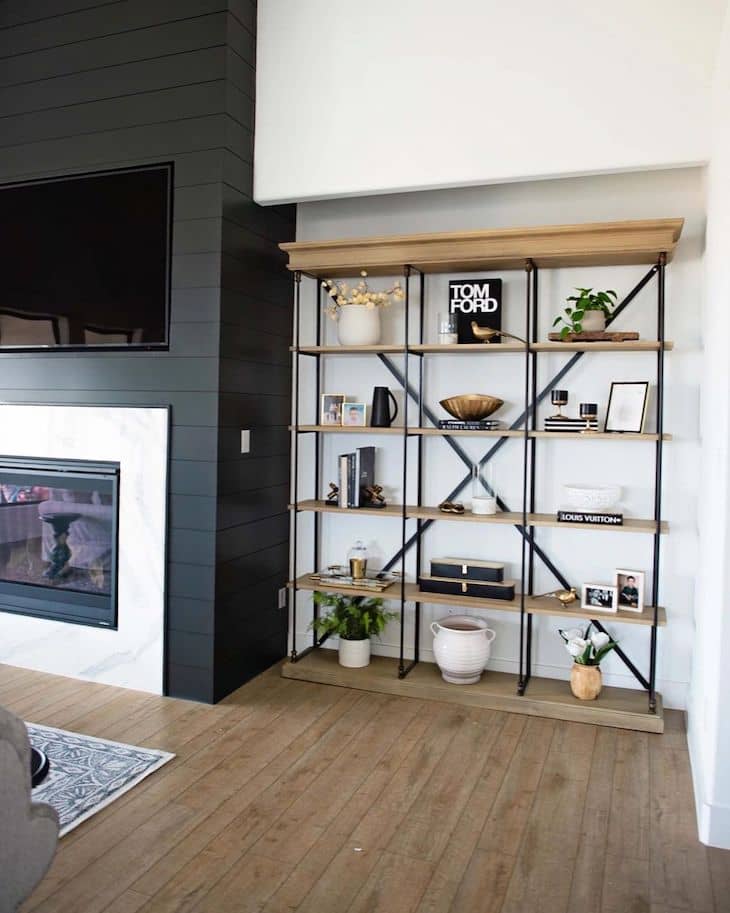 Shop related products(ad):
book case // tom ford book // vases //
This bookcase gives off an industrial vibe while offering an abundance of space for home decor. It is a perfect place to show off a house plant or your favorite decorative books, vases, and seasonal decor items.
5. Ottoman as a coffee table with seasonal decor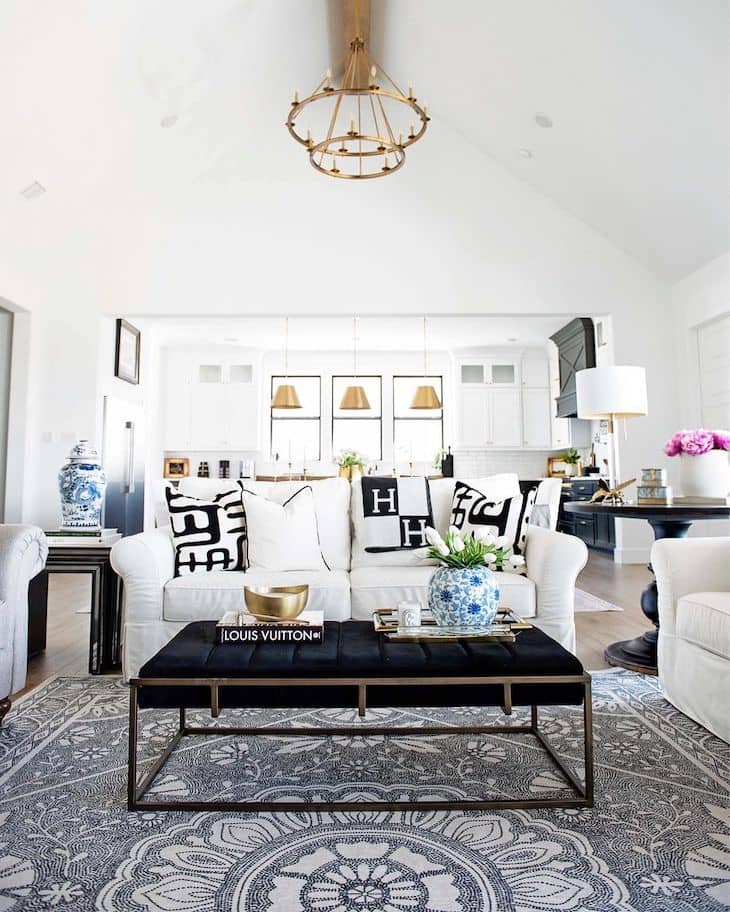 Shop related products(ad):
ottoman // coffee table book // candle // chandelier // faux tulips // baies candle
Having an ottoman as a coffee table is a perfect piece that offers a space for displaying decor while offering a comfortable base upon which you can rest your feet while watching your favorite movie with the family. Stephanie spruced the decor up with some seasonal flowers to bring freshness to this area.
6. Round end table with alluring decor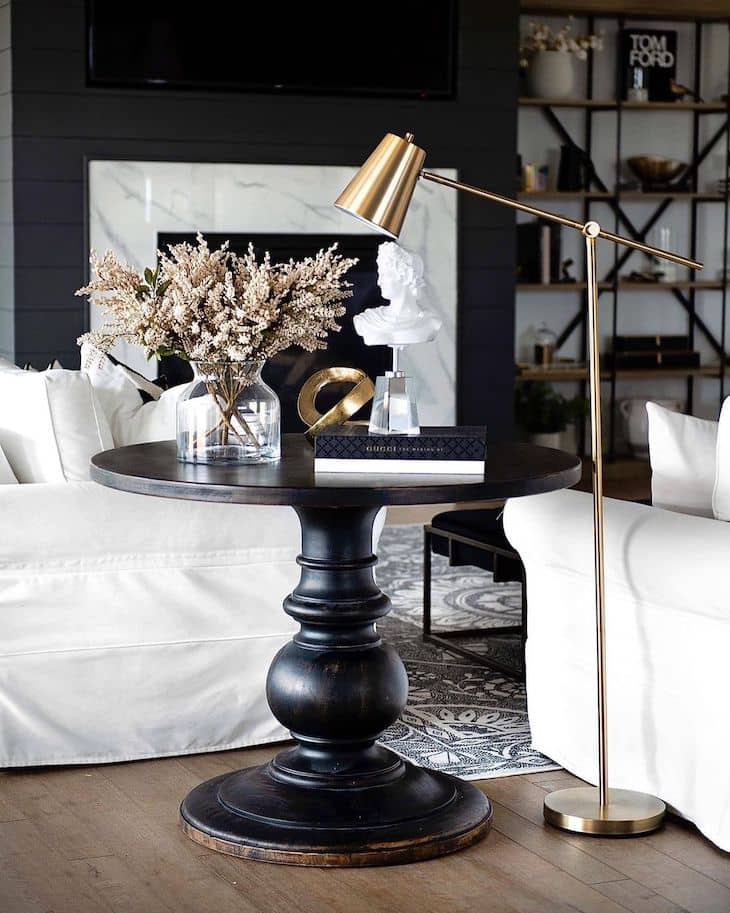 Shop related products(ad):
end table // floor lamp // bust statue

The modern lines of the floor lamp paired with the classic shape of this gorgeous end table in a weathered black finish make a perfect contrast and mood for this corner. Propping a vase with dry stems on the end table makes for a perfect decor giving texture and bringing the outdoor in.
7. Modern farmhouse kitchen with white upper and black lower cabinets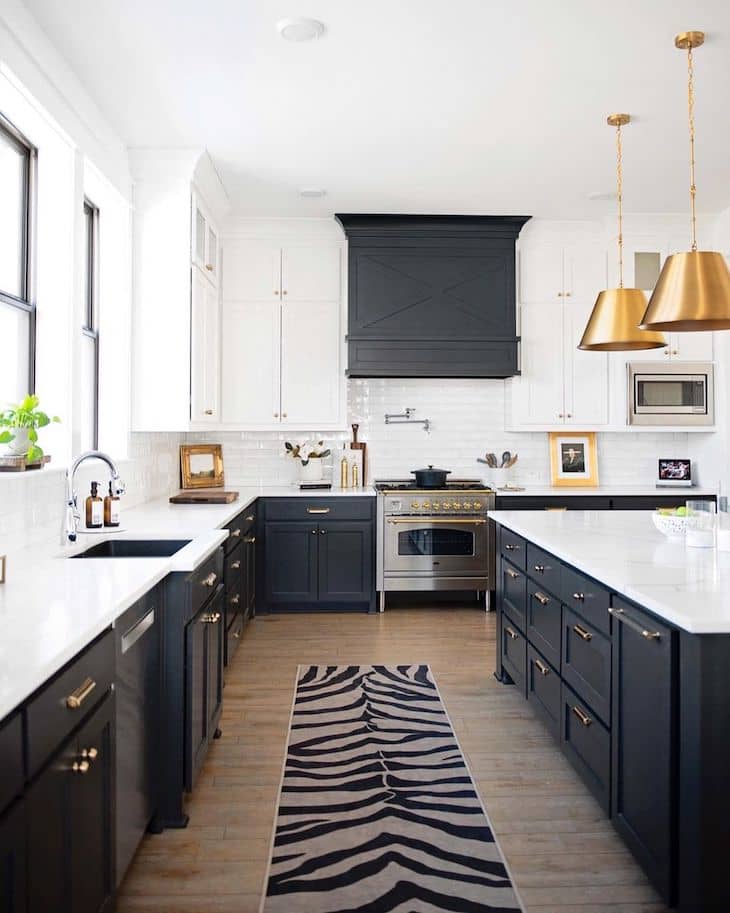 Shop related products(ad):
runner // range // pendant // faucet // hardware pull
This modern farmhouse kitchen features black lower cabinets and a black kitchen island. The upper cabinets are painted in "Extra White", the same color as the surrounding walls, which is a great way to enhance the space. Having two-tone cabinets in your kitchen creates visual interest, and can make your space look open and airy even when using darker colors.
8. Black kitchen island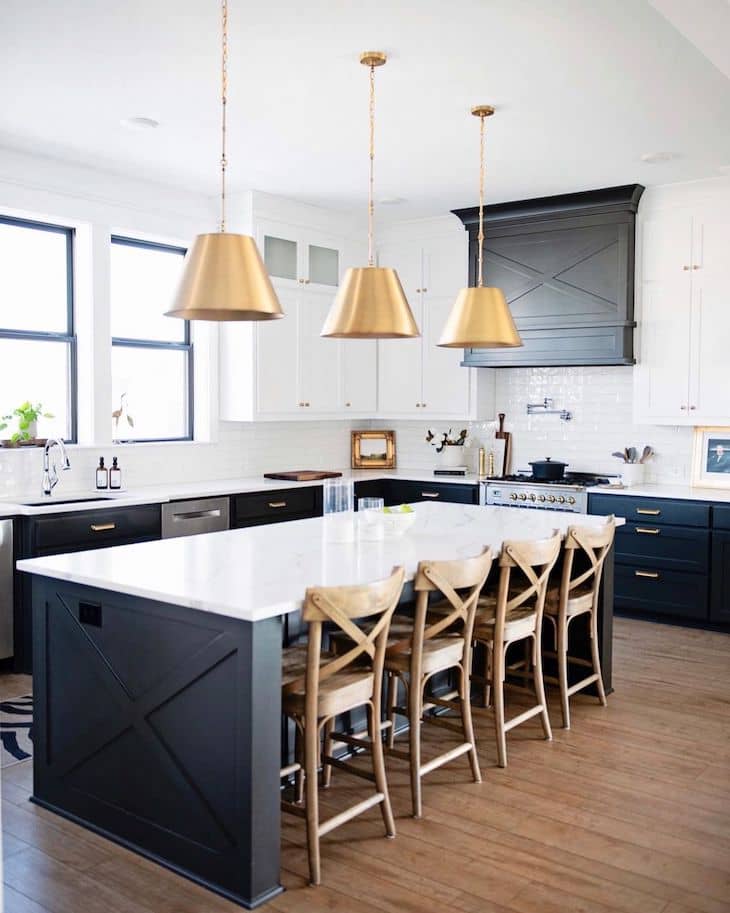 Shop related products(ad):
counter stools // pendant
Create symmetry in your kitchen by matching the color of your kitchen island with the lower cabinets of your two-toned kitchen. This black kitchen island features x shape on the side matching the vintage inspired bistro counter stools with the same x detail.
The brass island pendants over the black kitchen island create visual contrast while matching the beautiful hardware of the cabinets.
9. Countertop decor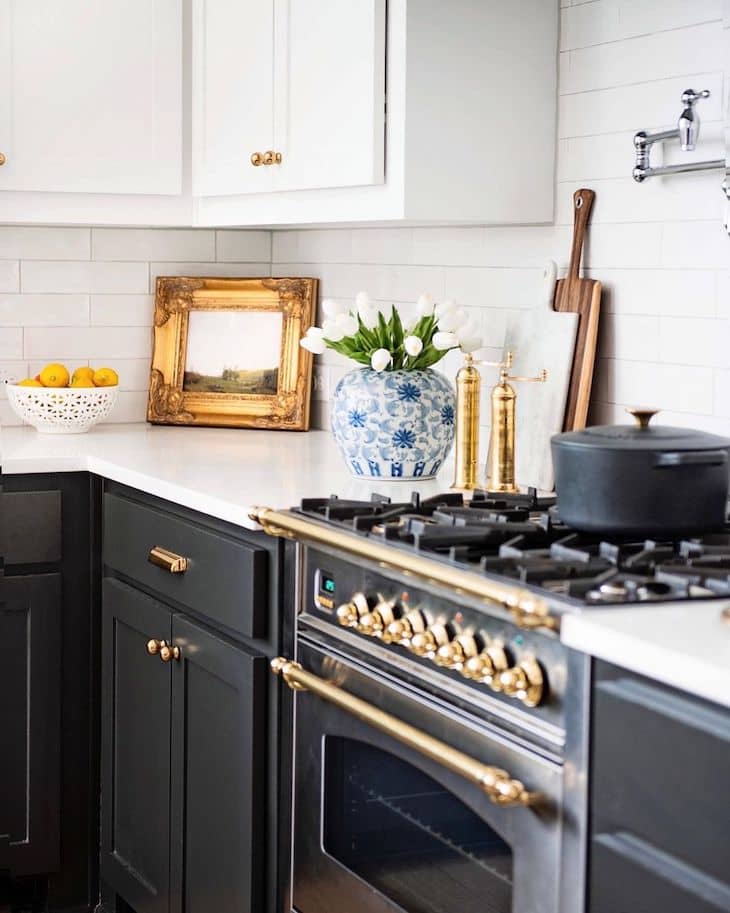 Shop related products(ad):
pot filler // vase // faux tulips // coffee grinder
The counter decor of this kitchen features pieces of different heights for a cohesive look. A pair of wooden and marble cutting boards paired together with brass coffee grinders and a vase full of fresh flowers make for a simple but perfect counter decor.
10. Modern farmhouse dining room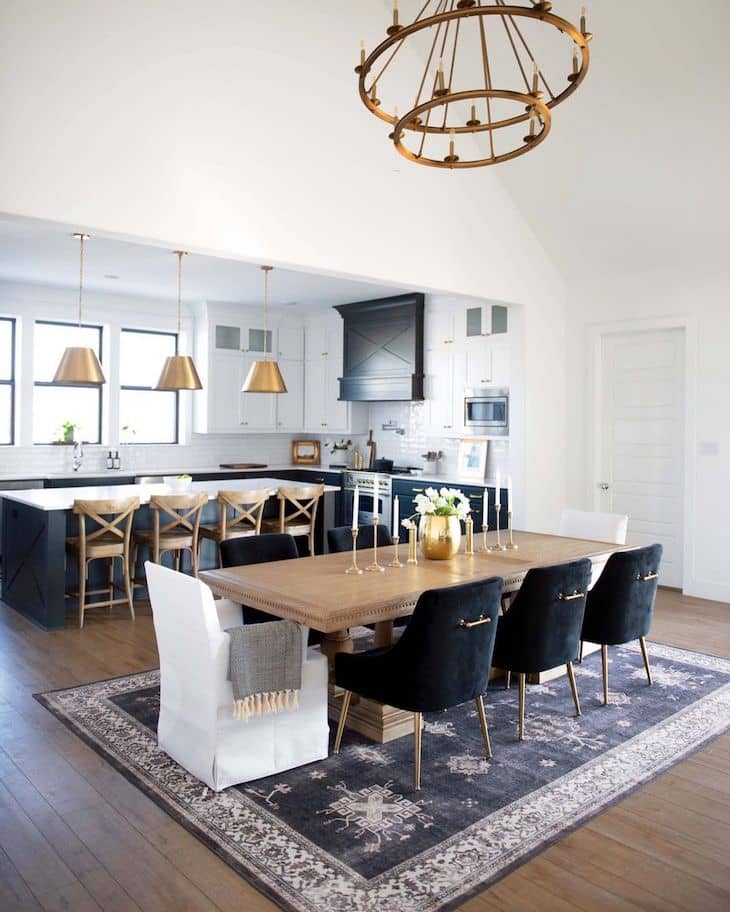 Shop related products(ad):
dining table // dining chairs // candle holder // vase

The 8 seater wooden dining table ties in with the wood accents around this home like the one from the island counter stools. The velvet dining chairs give this place a more luxe and glamourous feel, and the end chairs in crisp linen upholstery create more of calming ambiance.
This is a perfect example of how a rug can change the whole effect of a room. Placing a rug that is slightly distressed adds a rustic appeal while giving warmth to the dining space.
11. Black and white modern farmhouse home office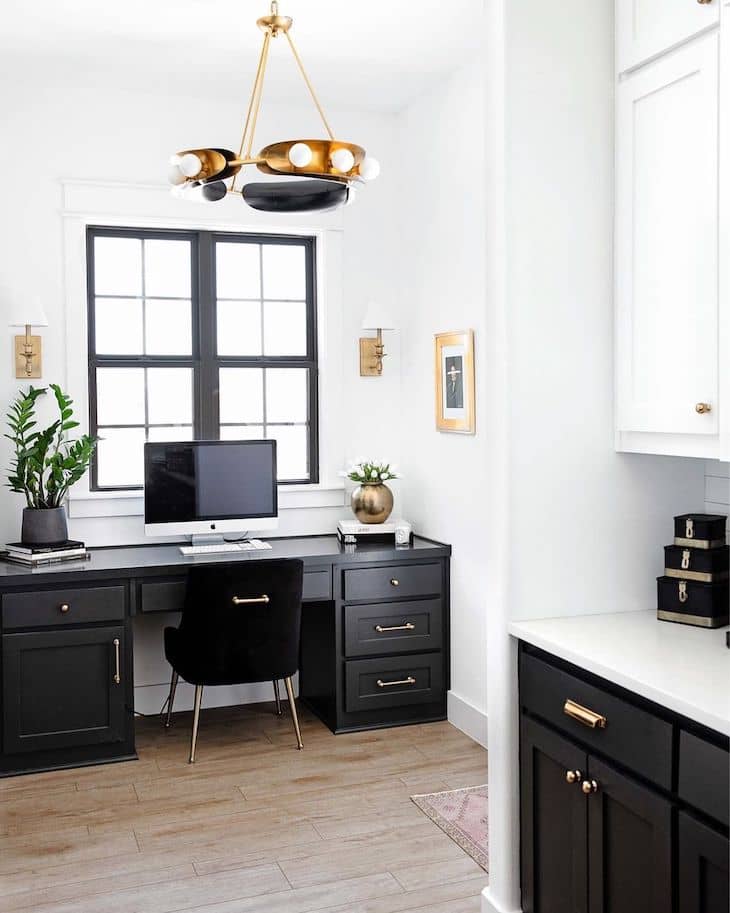 Shop related products(ad):
chair // sconce // vase
This black and white home office sits right off the kitchen in a little nook. The desk built-ins match the kitchen cabinets creating a cohesive look in this area. Placed in front of a window this home office collects a ton of natural light, creating a perfect working environment.
12. Master bedroom with wallpaper accent wall
Shop related products(ad):
duvet covers // vase // bed
Having an accent wall in your bedroom is a perfect way to add dimension to your space. Opting for a wallpaper accent wall gives even more depth and drama to this bedroom decor. This mural wallpaper creates a unique mood for this space. And the rich wood tones from the bed frame contrast perfectly the black and white scenery of the wallpaper.
13. Nightstand decor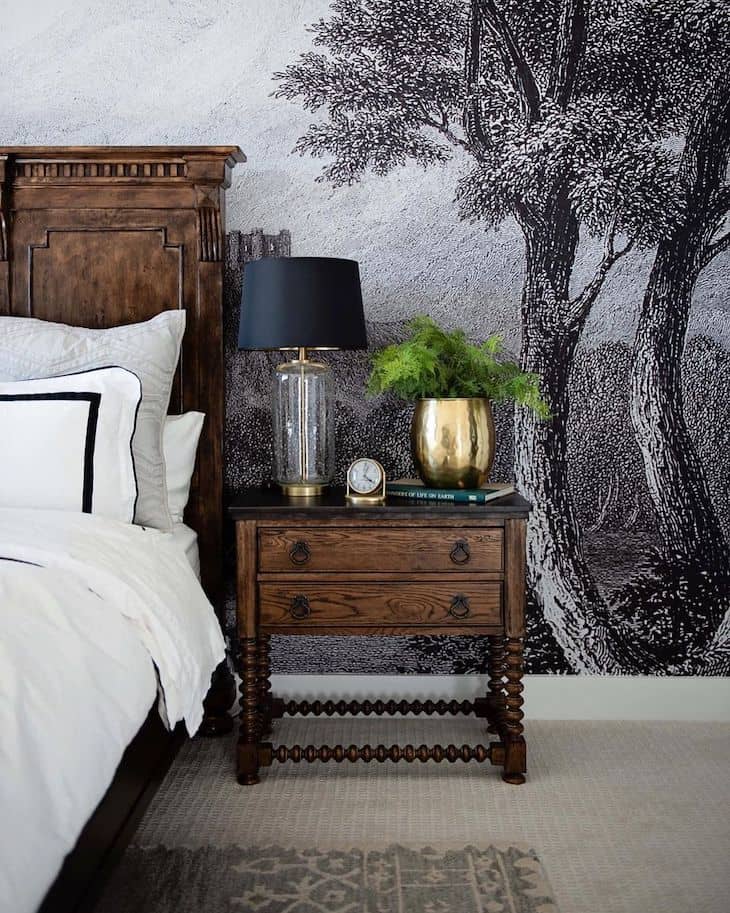 Shop related products(ad):
nightstand // brass planter // table lamp
Having a nightstand with storage is perfect for storing your bedroom essentials as well as displaying some decor pieces. Having a vase as decor filled with greenery adds liveliness to this corner, and the modern table lamp completes the look. The deep wood tones of this nightstand in combination with the unusual wallpaper give off traditional masculine vibes.
14. Master bathroom with black vanity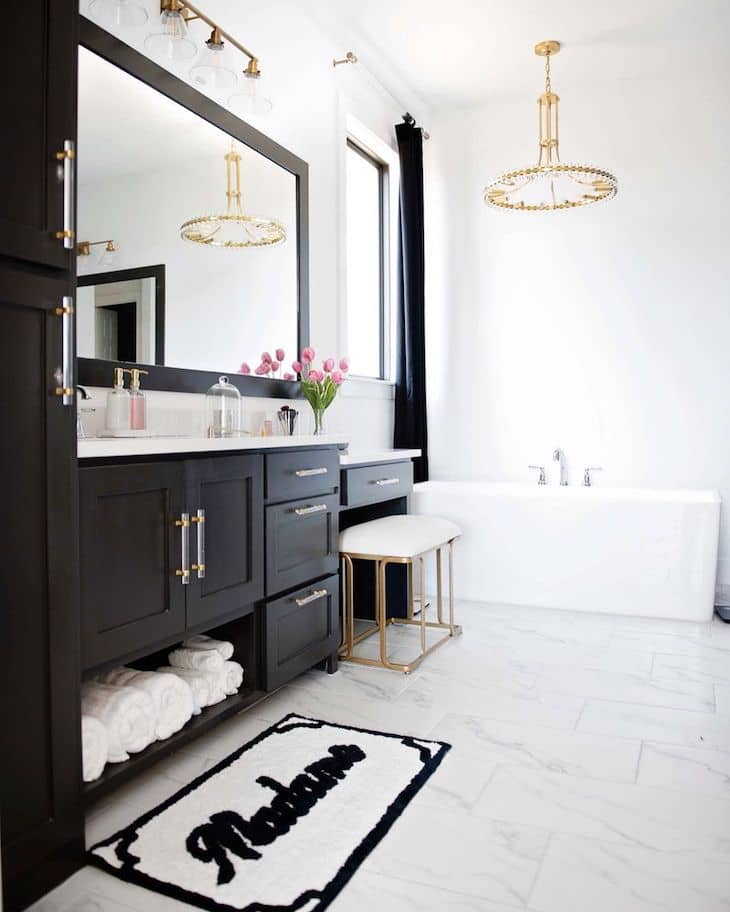 Shop related products(ad):
chandelier // drawer pulls // curtains // vanity light
Black bathroom vanities will always be in style, they give the bathroom a more modern feel and contrasted with white marble floor tiles and white walls do not overpower the space but instead create a focal point.
This black vanity has acrylic drawer pulls which give more of a unique and clean touch. And the chandelier in brass finish offers glamour in a subtle fashion.
15. Shared kids room for boys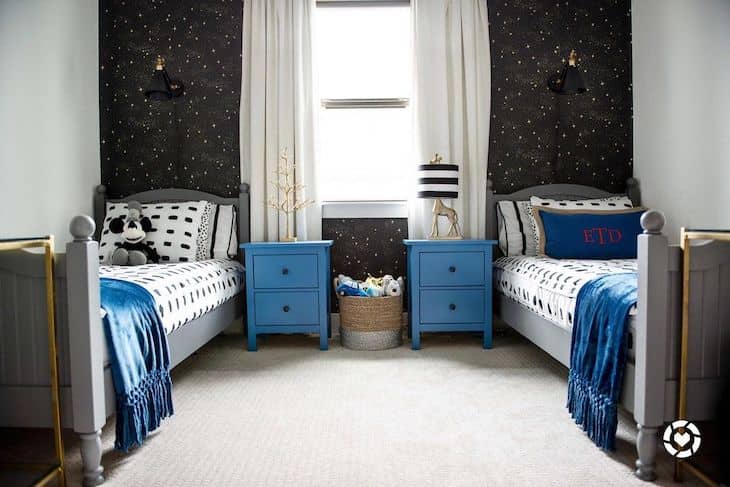 Shop related products(ad):
twin bed // sconces // nightstand // wallpaper // table lamp
These two twin beds put lengthwise against the wall make for a perfect shared kids bedroom. The small nightstands in bright blue add color to the space making it more fun. And the black wallpaper with stars ties everything in so well.
16. Hutch as toy storage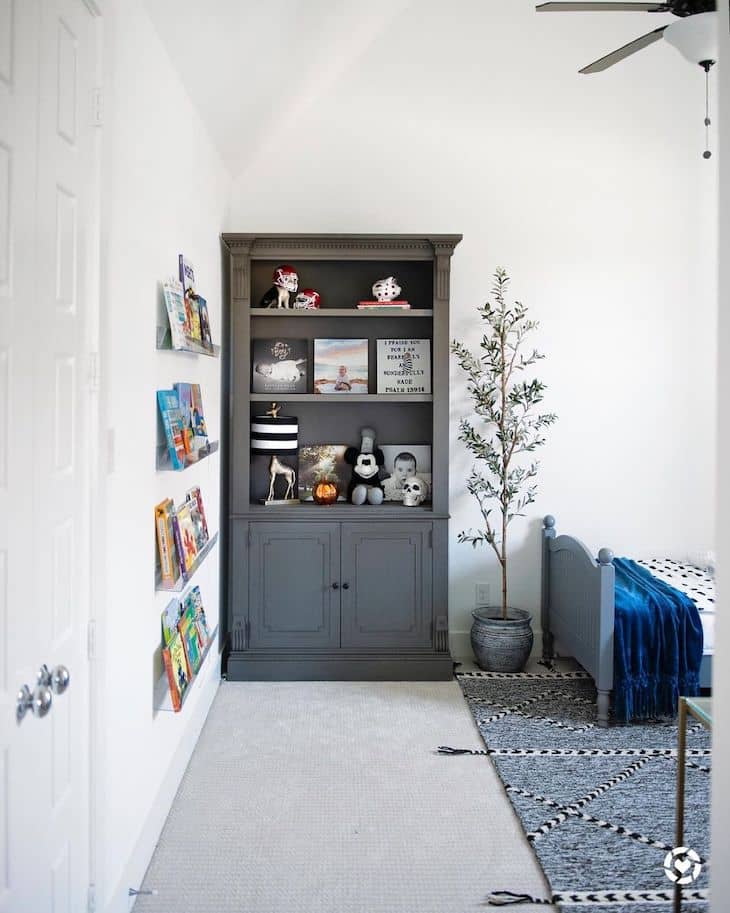 Shop related products(ad):
hutch // rug // acrylyc bookshelves
Bring in a farmhouse feel in your kids bedroom by using a hutch as a storage place for your kids toys. Spiced up with an interesting rug makes this a really fun place for your kids to hang out. And the acrylic bookshelves are perfect for displaying your kids favorite books and it almost looks like a gallery wall.
17. Black and white patio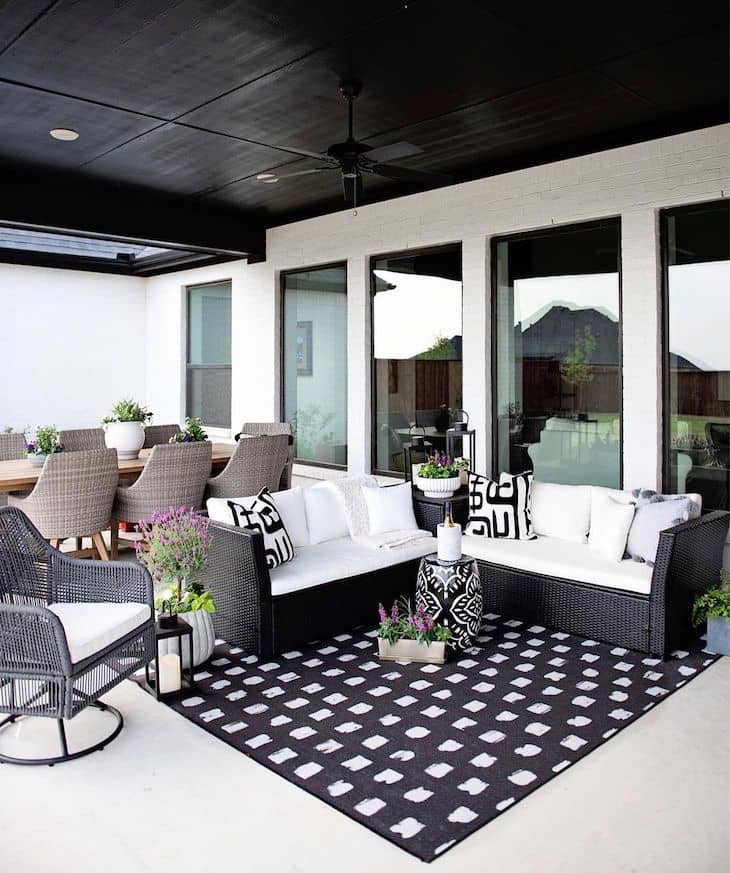 Shop related products(ad):
patio sectional // outdoor stool // pillow covers // planter //
Entertaining is made effortless with this beautiful outdoor space. The abundance of seating space in this outdoor patio is making it easy to take full advantage of warm weather. And the black and white abstract decor adds some pizzazz, making it interesting to the eye.