Today we are featuring a home tour of this stunning modern farmhouse that home & lifestyle influencer Megan Murphy from @houseofmurphy recently completed. She is an expert in achieving a modern farmhouse feel using classic and timeless home decor while making her home a beautiful and welcoming space.
As an Amazon Associate I earn from qualifying purchases.
1. Modern farmhouse exterior with stunning curb appeal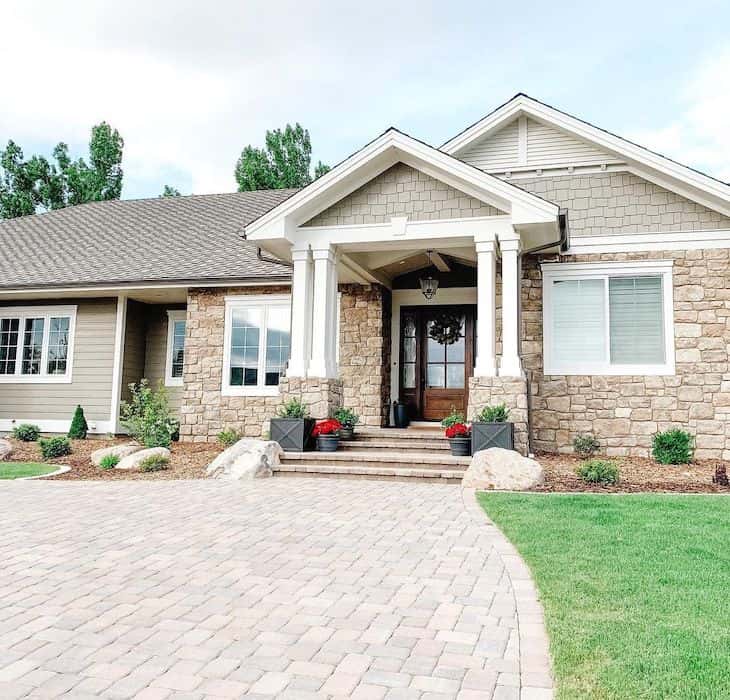 The double posts on the entryway of this modern farmhouse really make for a stunning curb appeal. The exterior is painted in a nice saturated grey color named "Roller Coaster" by PPG Paints. This cappuccino greige color gets a nice contrast from the white window trim painted in "Eider White" by Sherwin Williams.
2. Front door decor for all seasons
Shop related products:
potted shrub // doormat // wreath // pendant // #ad
This stunning glass entry door is decorated with timeless decor that works for any season. The two potted green plants enhance this outdoor home decor all year round. And the artificial olive leaves wreath delivers a charming appearance bringing a natural touch to this front door decor.
3. Porch with a conversation set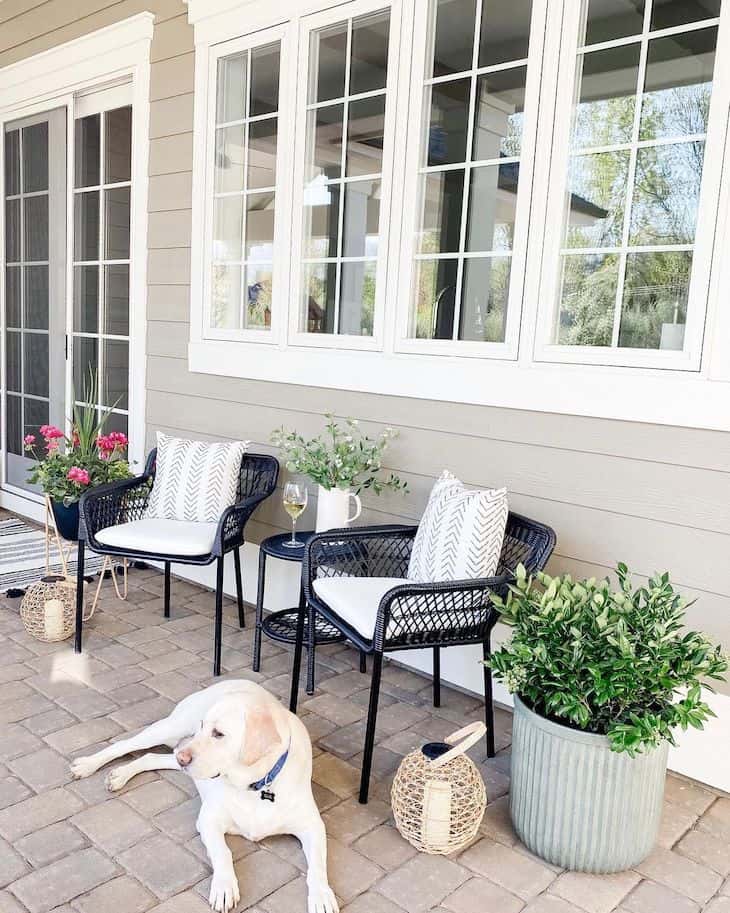 Shop related products:
conversation set // galvanized planter // pillow // #ad
This cute area on Megans' porch makes for an adorable little spot to sit and relax. It is amazing what a simple conversation set and pots with flowers and greenery can make for your space. Decor like this can easily turn an otherwise unused place into your favorite spot to sip your morning coffee while chatting with your loved ones.
4. Entryway decor with wooden bench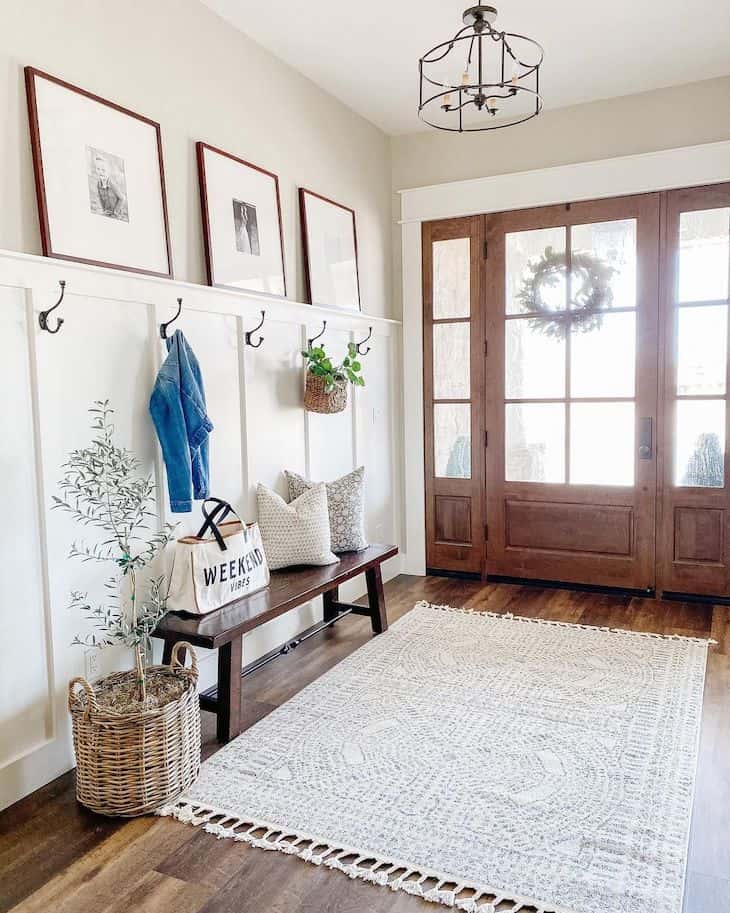 Shop related products:
bench // basket // pendant // tote bag // #ad
What an adorable decor to have for your entryway. A few coat hooks and a cute wooden bench below it, is a charming, but practical decor for your entry area. The board and batten half wall painted in "White Dove" by Benjamin Moore creates dimension for this space while creating the perfect spot to place your family photos.
The light grey walls with a warm undertone in "Revere Pewter" work great with the natural oak floors. And the white graphic tassel rug creates the perfect contrast completing this whole entryway look.
5. Floor to ceiling stone fireplace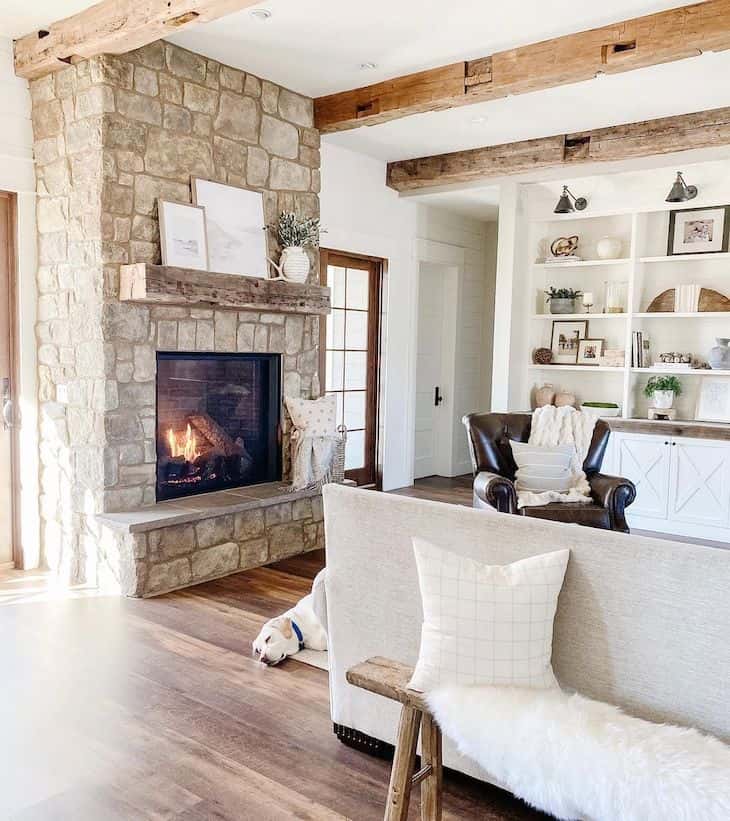 Shop related products:
basket // #ad
Floor to ceiling stone fireplace is such a classic look that will stand the test of time. The reclaimed wood mantel that matches the stunning wood beams, is a perfect spot to place your seasonal decor. Placing few neutral prints adorned with a white vase filled with greenery will work as fireplace decor for any season.
The shiplap walls behind the fireplace painted in "White Dove" by Benjamin Moore create the perfect background for this stone fireplace.
6. Farmhouse living room with grey sectional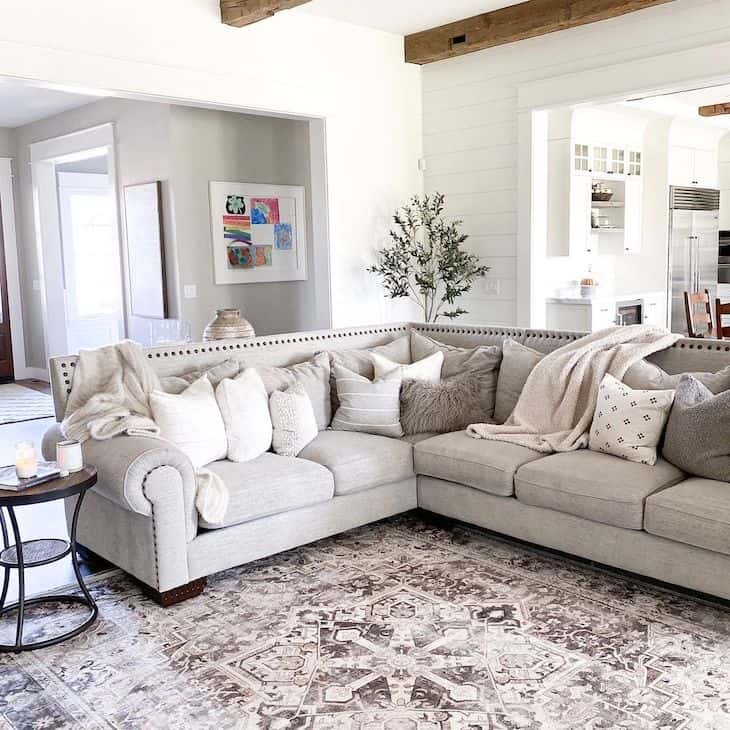 Shop related products:
pillow // #ad
If you don't know which color sofa to choose to achieve the farmhouse look, a grey one is the way to go. This grey sectional sofa looks so cozy filled with comfortable throw pillows. Paired with a neutal colored farmhouse rug will certainly deliver an elevated look to your living room.
The shiplap walls painted in "White Dove" by Benjamin Moore really make the stained beams pop and create a statement look for this modern farmhouse living room.

7. White built-ins shelf decor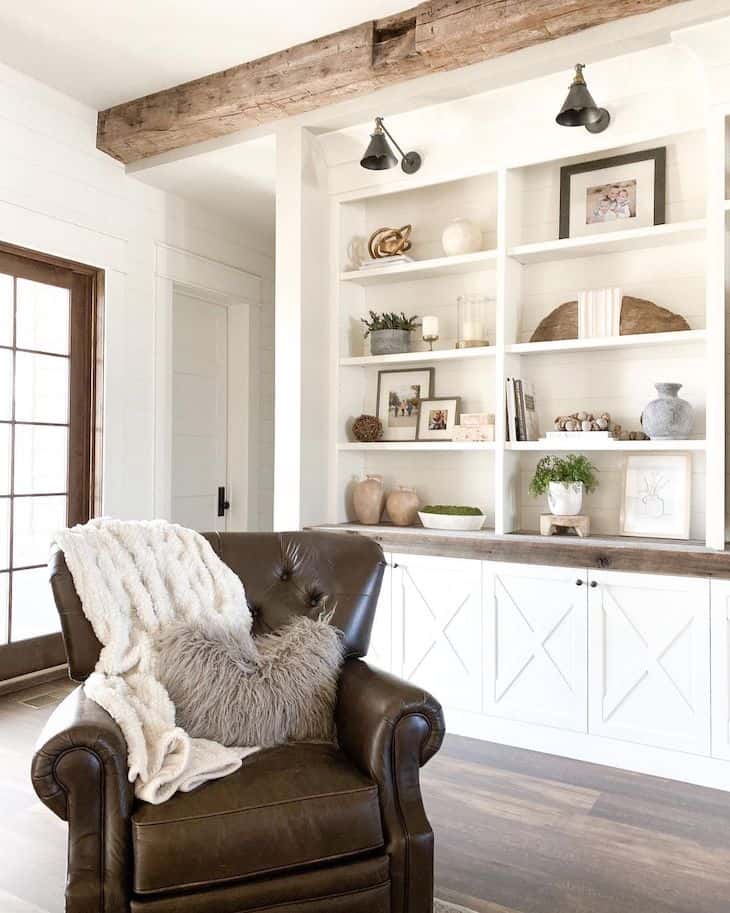 Shop related products:
recliner chair // pillow // blanket // #ad
The styling on these built-in shelves is pure perfection. We love the neutral-looking decor elements that create cohesion in this shelving decor. The light fixtures and the x-signs on the cabinets create a farmhouse look and the top of the cabinet in aged reclaimed wood breath in a vintage touch. All of these decor elements mixed together create an excellent modern farmhouse look.
8. Sofa table with stylish decor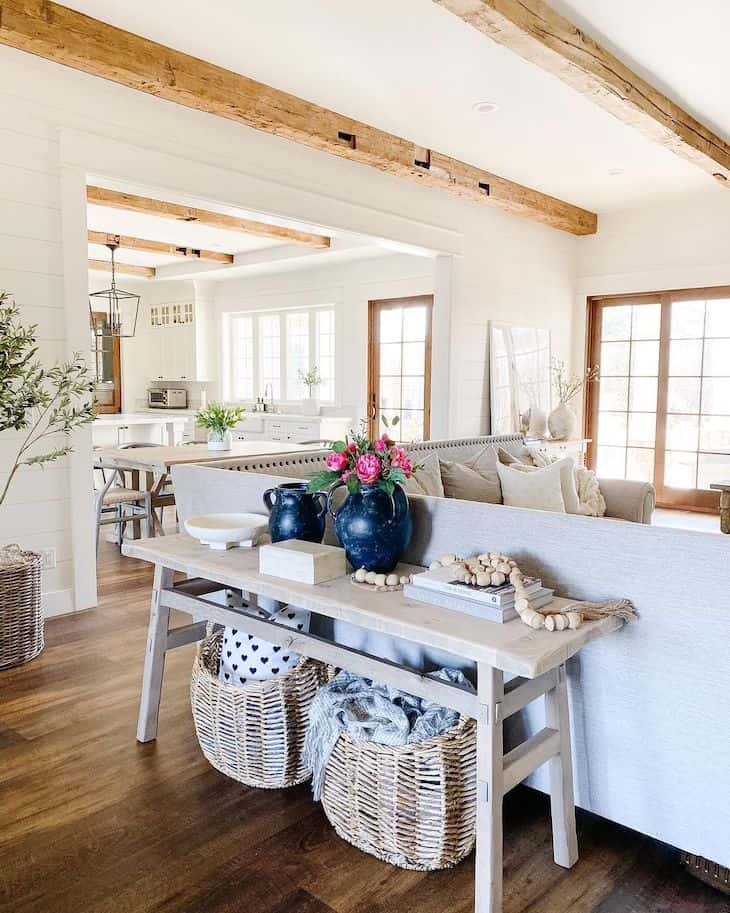 Shop related products:
sofa table // basket // vases // faux peony // decorative box // bowl // #ad
A stylishly decorated sofa table is a great decor piece for behind your couch, especially when it is facing the entryway. Using a sofa table for this kind of furniture placement creates a beautiful flow passing from your entry into your living room.
And not only that, it is a great storage space to hide the extra throws and pillows and keep your living space clutter-free.
9. Big wall print above console table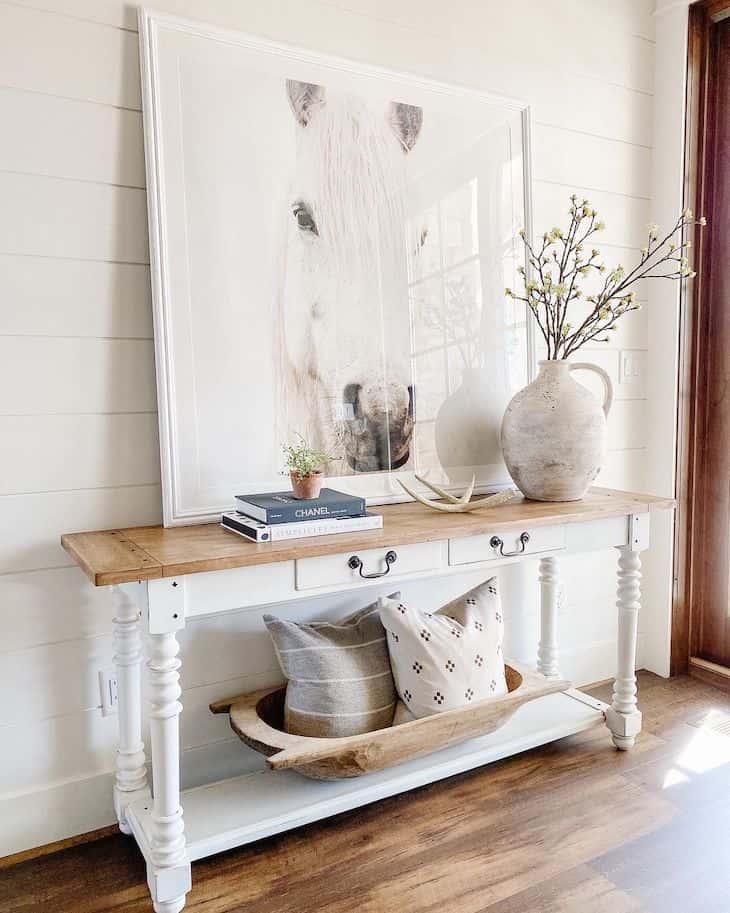 Shop related products:
table // wall art // dough bowl // #ad
The latest trend for a farmhouse gallery wall is actually using one bigger art piece instead of dozen of smaller ones, which was trending not too long ago. Purchasing one big print might be pricey, but if you collect the prices of dozen of smaller ones this new trend is actually more budget-friendly, it looks pretty clean and it will give your place a sophisticated look.
This big horse print is the perfect addition to the neutral-toned console table decor.
10. White farmhouse kitchen in "White Dove" color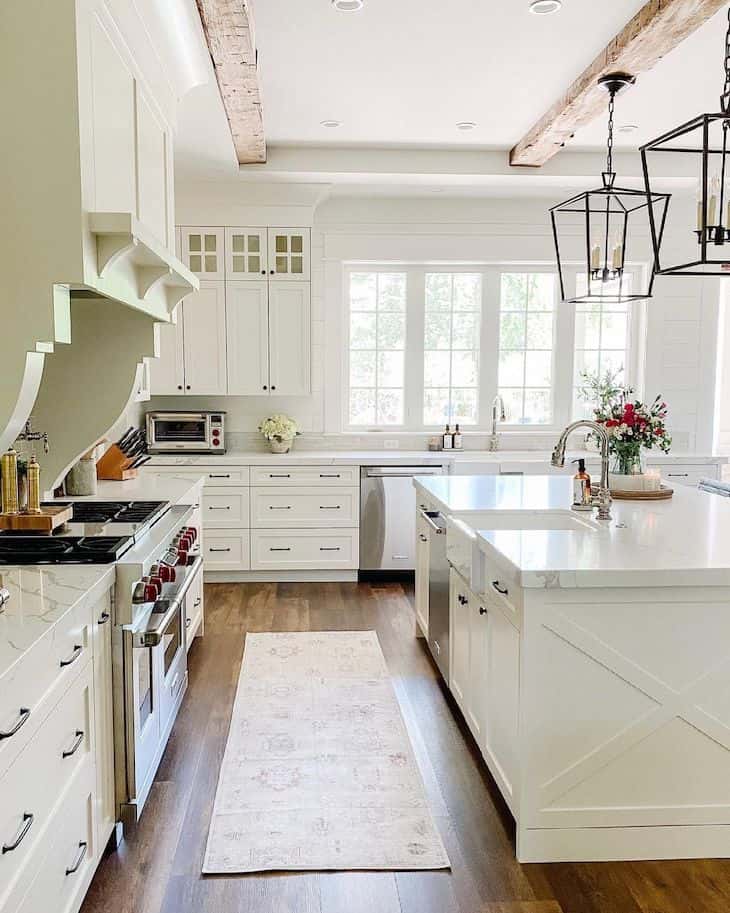 Shop related products:
runner // lantern // faucet // sink // #ad
This white farmhouse kitchen is the perfect example of how the kitchen cabinets and the walls painted in the same color will make your space look much more expensive. It will make your space look much grander than it already is and it will look like from a magazine, just like this kitchen looks. It is a simple trick but very effective.
The paint color for this white modern farmhouse kitchen and walls is "White Dove" by Benjamin Moore. The white kitchen cabinets complemented with marble-looking quartz countertops make this kitchen look even brighter and more luxurious.
11. White kitchen island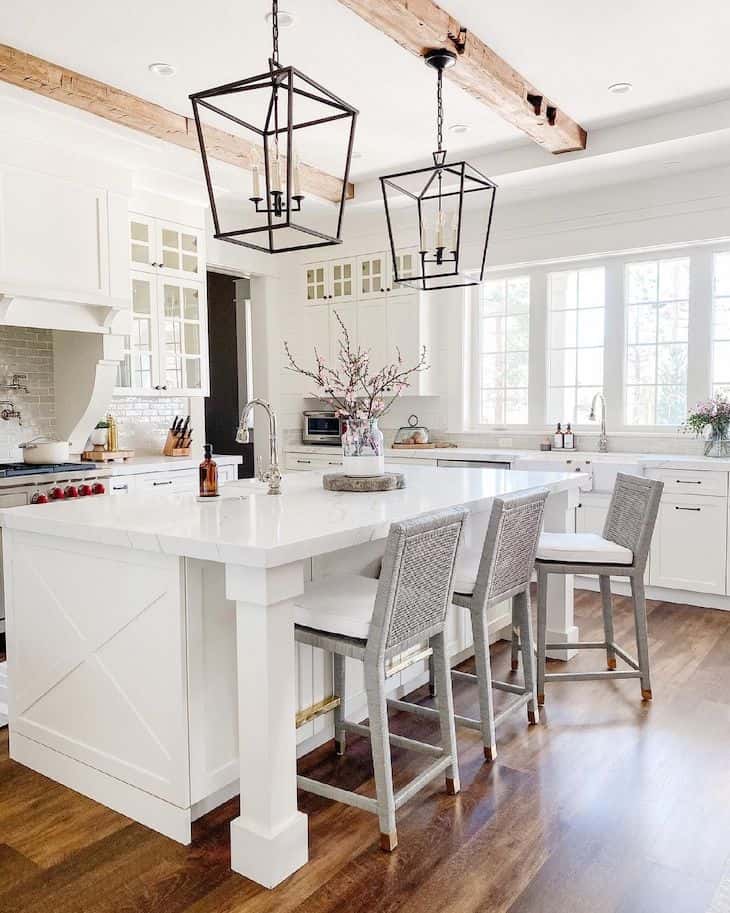 Shop related products:
lantern // faucet // sink // bar stools // #ad
This beautiful 5×8 white kitchen island is covered with a quartz countertop in the color "calcatta laza". This all-white kitchen features grey rattan counter stools, that elevate the space and give perfect texture. The reclaimed wood beams give a rustic vibe to the space and draw the eye all the way up.
12. Kitchen table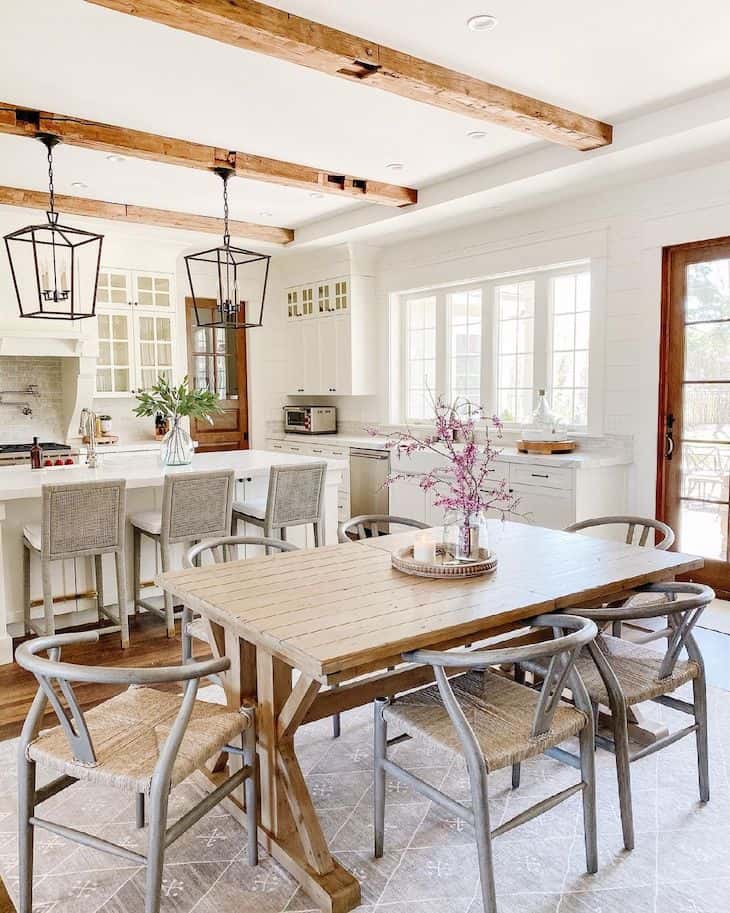 Shop related products:
dining table // chairs // tray // #ad
A small dining table between your kitchen island and your living room is the perfect place to host countless meals for your friends and family. This reclaimed pine dining table brings rustic charm and warm tones to this inviting space.
The wicker dining chairs complete the look of this area with their unusual shape while perfectly matching the rustic appeal of the kitchen table.
13. Decor around farmhouse sink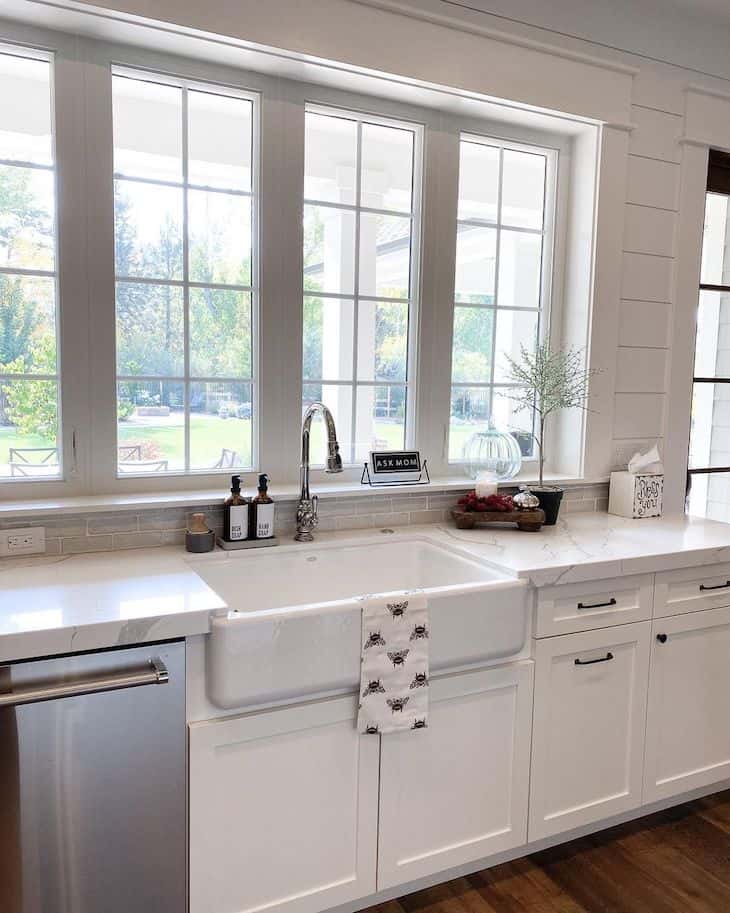 Shop related products:
sink // tissue box // soap dispenser // "ask mom" sign // faux plant // dish brush // drawer pull // #ad
There is nothing better than looking out the window every time we do the dishes and admiring nature. Planning your kitchen to have a function but also beautiful views is such a good design statement.
This white farmhouse sink has a minimal but functional decor around it. From the fashionable soap dispenser bottles to the elegant dish brush and the vintage footed serving board, every detail in here is elegantly complementing this kitchen area.
14. Island centerpiece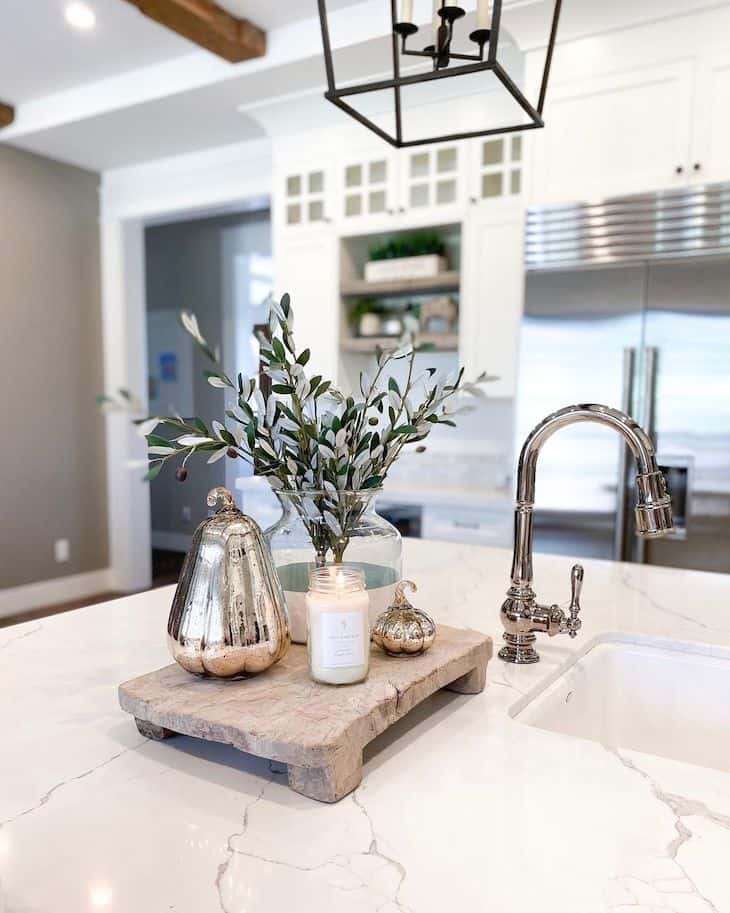 Shop related products:
display riser // pumpkin // olive branch // faucet // sink // #ad
An antique wood pedestal adorned with seasonal decor and a beautiful vase filled with seasonal flowers or stems is the perfect statement decor you need for your kitchen island centerpiece.
The mercury glass pumpkins create a modern twist to your fall decor. While the olive branch creates an instant botanical display bringing the outdoor in.
15. Walk-in pantry
Shop related products:
baskets // wire basket // cereal dispenser // grocery sign // #ad
Having a perfectly organized pantry is somewhat an artwork if you ask us. This beautiful organization Megan did in her custom build pantry shelves tailored to her own needs leaves us in awe. She used a lot of baskets, jars, and cereal dispensers in order for everything to look neat and clean.
16. Timeless dining room decor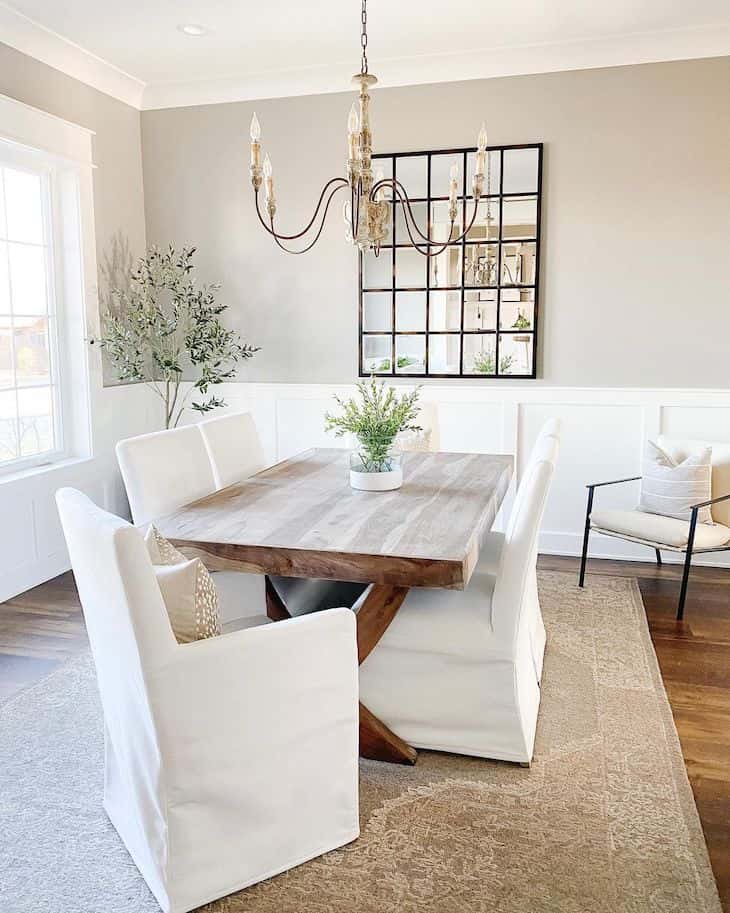 Shop related products:
table // dining chair // mirror // olive tree // chandelier // #ad
This classic dining room wall is painted in "Cape May Cobblestone" by Benjamin Moore which is the perfect elegant grey that creates a sense of spaciousness. Contrasted with white board and batten accent at the bottom evokes a timeless and clean feel.
The distressed wood dining table is complemented with white linen dining chairs and topped with the perfect but simple table decor creating a natural and cozy touch. The large paneled mirror as a wall decor adds a clean but striking detail to the room.
17. Neutral modern farmhouse master bedroom
Shop related products:
bed // bench // #ad
If you want to create a serene feel in your bedroom, choosing light colors and beautiful textures will be the right choice for you. This light and airy bedroom feature a canopy bed in a light color adorned with cozy bedding and pillows which makes this bedroom a calm and warm space.
The grey walls painted in "Collingwood" by Benjamin Moore blend in seamlessly with the decor elements in this bedroom. And the art above the bed headboard really ties it all together.
18. Kids room with wallpaper accent wall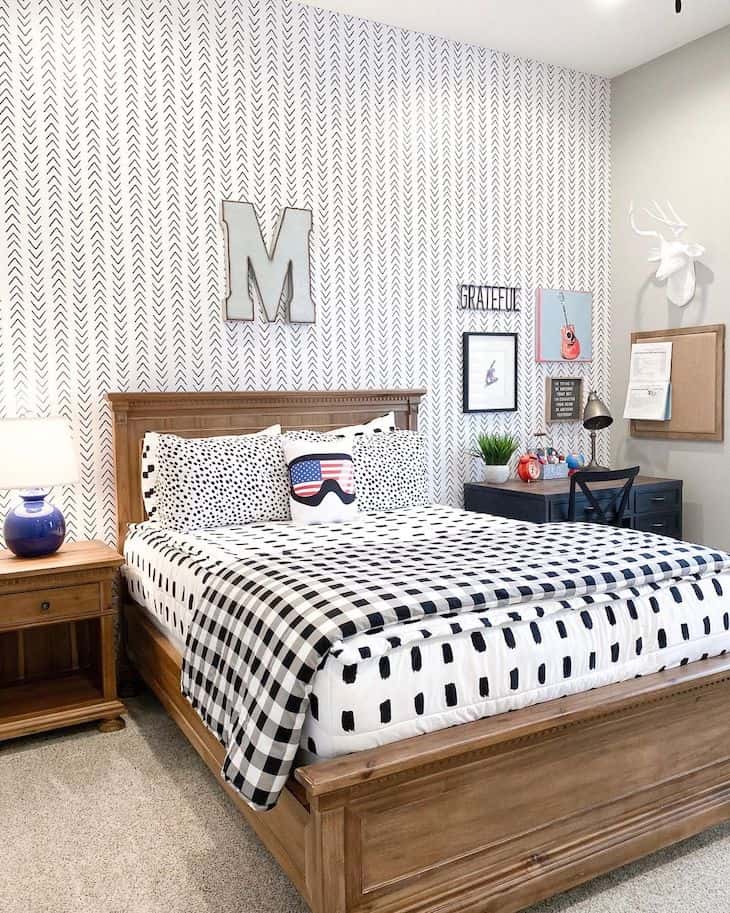 Shop related products:
bed frame // desk // table lamp // chair // board // #ad
This modern farmhouse kids' room features a wallpaper accent wall that complements the bedding in an adorable fashion. The wood bed frame and side table give warmth to the space and a farmhouse charm. Replacing one nightstand with an office desk is a perfect way to implement a much-needed learning corner in your kids' room.
19. Narrow hallway decor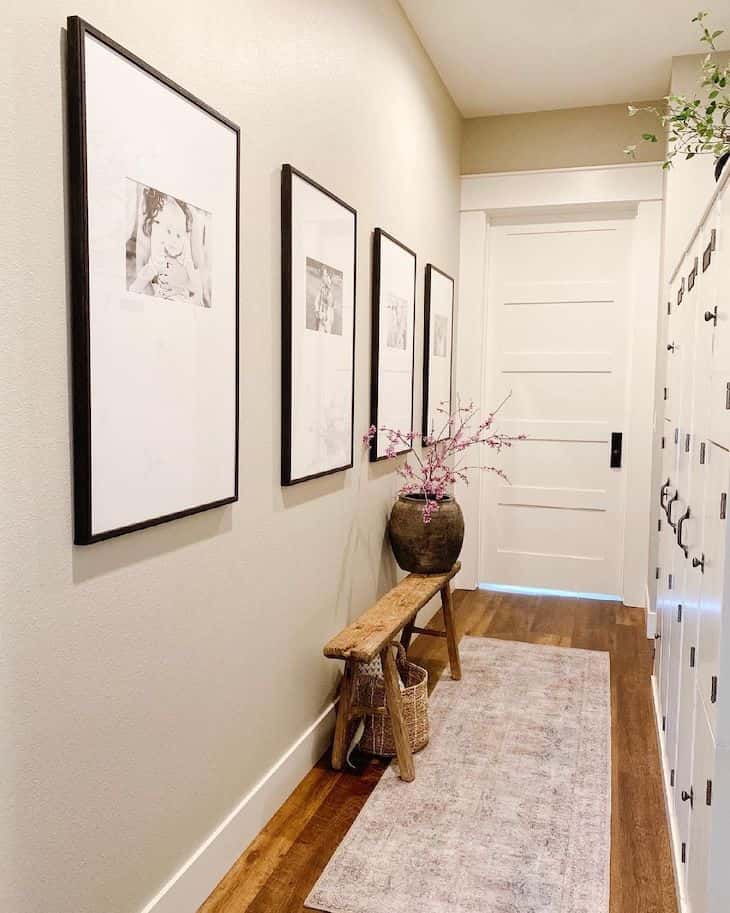 Shop related products:
bench // rug // poster frame // #ad
Hanging family portraits as a narrow hallway decor is a really cute and charming idea. Having the portraits printed in black and white really complements the aesthetic of this hallway. And if you still feel that the space is bare and needs more decor, placing a slender bench with a vase on top of it is really going to elevate the space.
20. Master bathroom with shiplap walls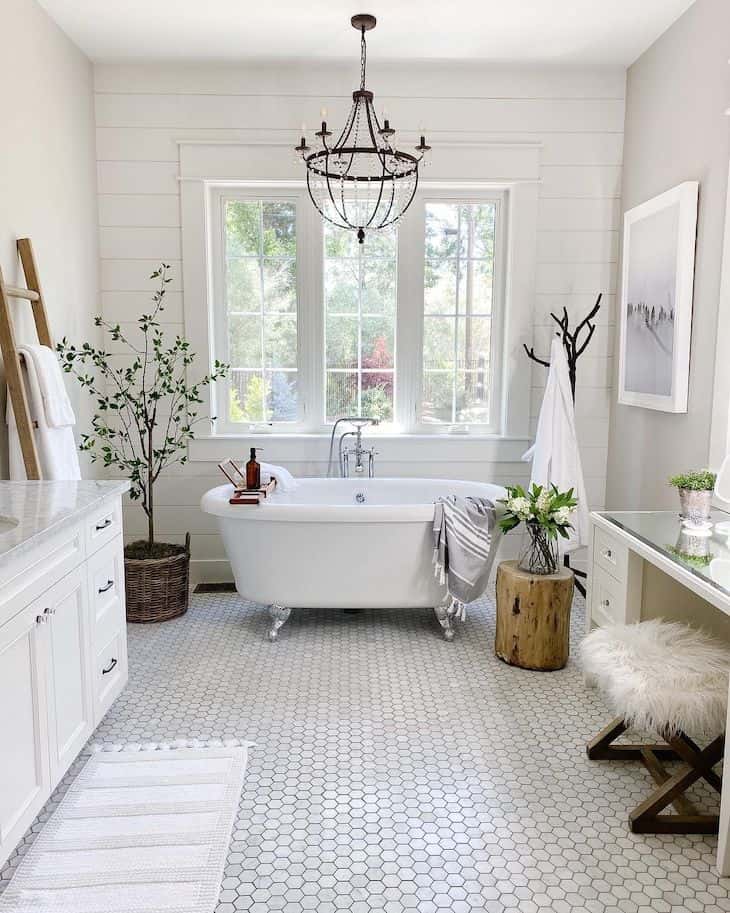 Shop related products:
bathtub // runner // tree rack // rattan planter // tree // stump stool // bath tray // #ad
This dreamy bathroom features a beautiful penny tile floor and an accent shiplap wall painted in "White Dove" by Benjamin Moore. The adjacent walls are painted in an off-white color "Collingwood" by Benjamin Moore that offers a tranquil and serene setting in this space.
We love the beautiful setting around the free-standing tub which showcases decorative accents that are highly functional. Like the wrought iron tree that serves as a robe hanger or the wood stool for placing the needed amenities white taking a bath.
21. Modern farmhouse kids bathroom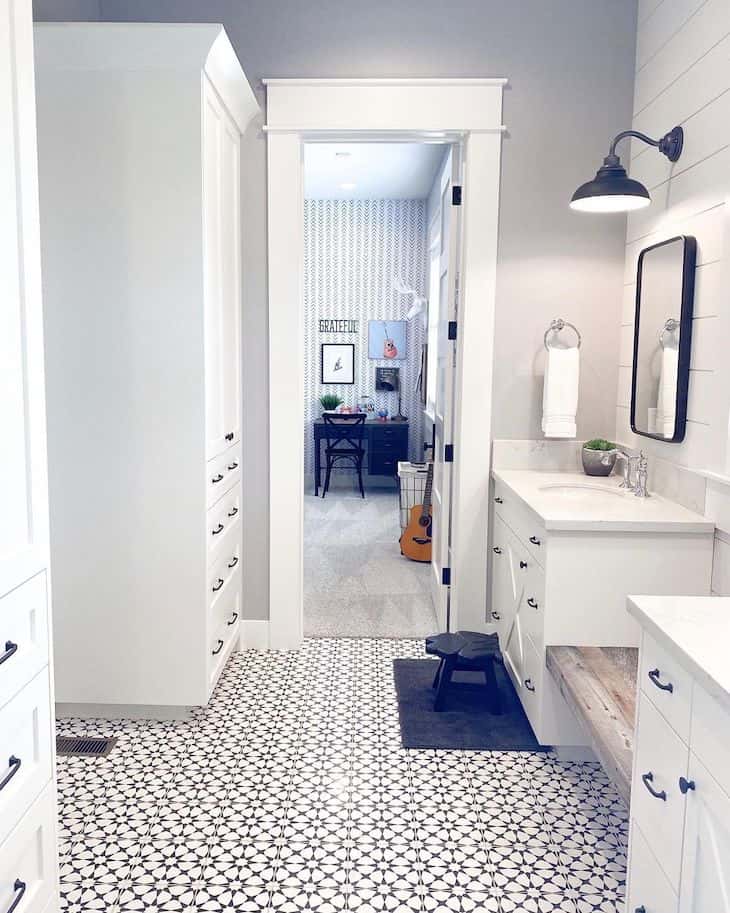 Shop related products:
faucet // cabinet hardware // towel ring // mirror // #ad
This farmhouse bathroom features a shiplap wall and printed bathroom tiles that complement the print on the wallpaper from the kids' room tying all the decor together. The grey walls in color "Smoke Embers" by Benjamin Moore complement the white elements in a pleasing way.
We love the bench detail between the two vanities and the small black stool for the little ones to pop on when they are washing hands or brushing teeth.
22. Large laundry room with brick floors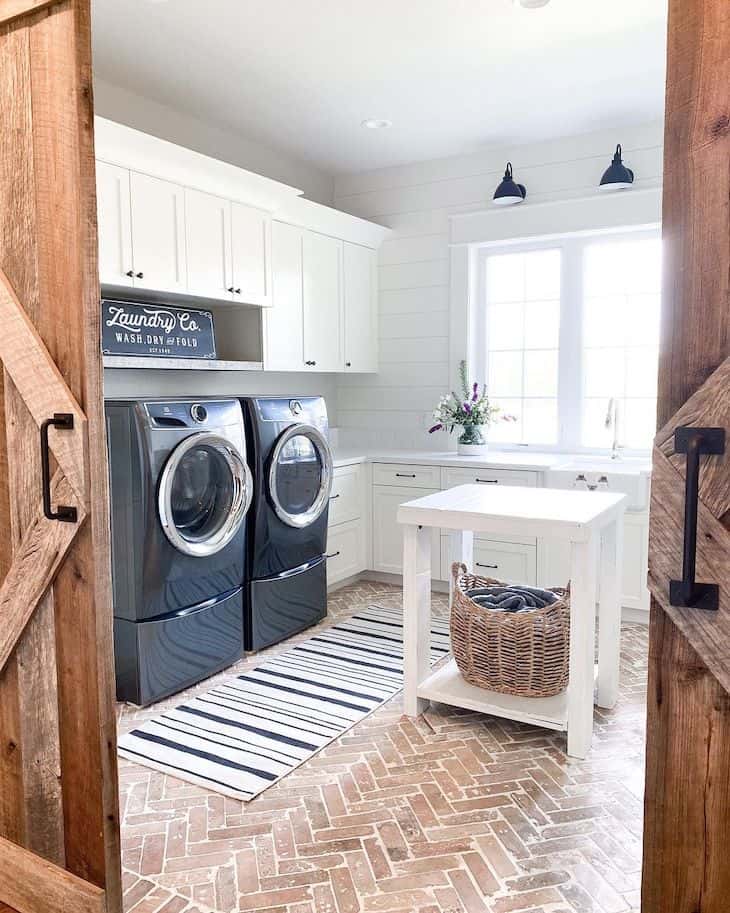 Shop related products:
washer and dryer // rug // laundry sign // #ad
We wouldn't mind as much doing laundry if we had a laundry room like this one. The small island centerpiece is serving as a folding station but also as a laundry basket holder. The reclaimed brick floors in a herringbone pattern give a charming rustic contrast to the black and white theme in this laundry room.
23. Modern farmhouse mudroom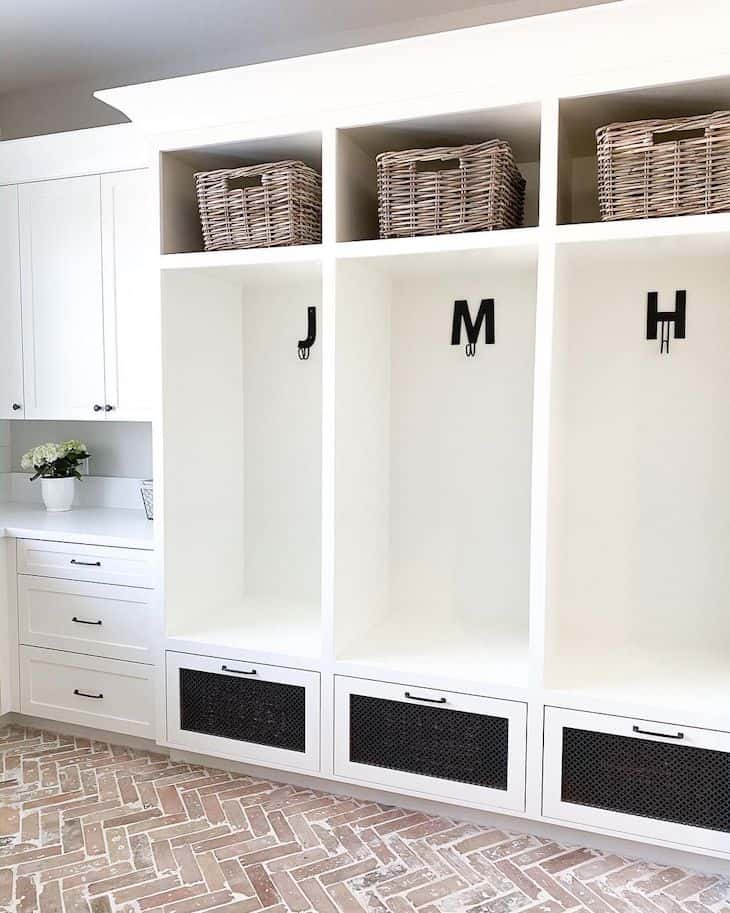 Shop related products:
letter hooks // baskets // #ad
The mudroom that is part of the laundry room features white cubbies with personal letter hooks. The cubbies are the perfect place to store shoes, coats, and bags for the little ones.
The top shelves are filled with baskets that provide another effective storage solution. And the bottom drawers offer fanciful storage space for shoes and boots.
24. Patio with outdoor stone fireplace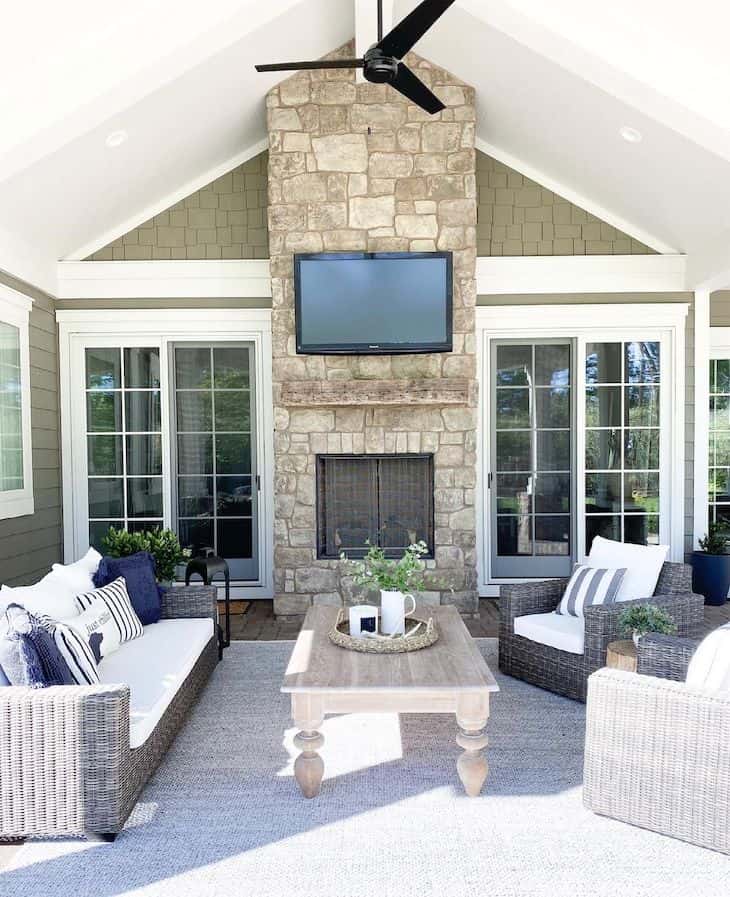 Shop related products:
sofa set // coffee table // ceiling fan // rug // striped pillow // tray // #ad
This outdoor patio featuring a big stone fireplace with a TV above the mantel can be utilized as a second living room. The sofa set provides generous seating making this outdoor space an especially welcoming spot to hang out with family and friends.
25. Stylish patio dining set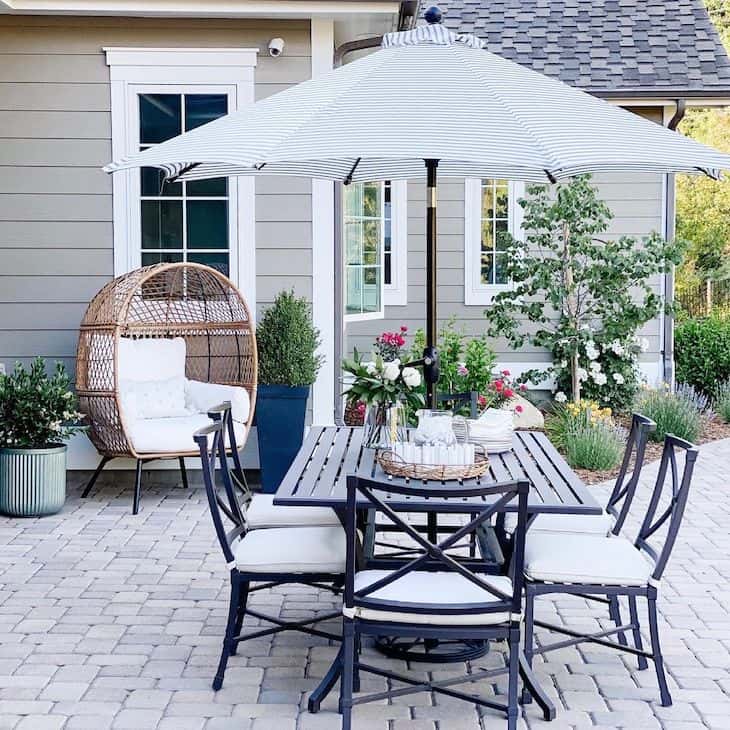 Shop related products:
patio dining set // umbrella // egg chair // #ad
Having a patio dining set that offers extra sitting is perfect for throwing parties and host gatherings in your outdoor area. The patio umbrella lets you enjoy quality time with friends and family even on a hot sunny day. And the accent egg chair makes a stylish statement to your patio area while offering comfortable seating space.