Adding a sofa table to your living room decor, will not only get your place visual benefits but also provide added storage space we all need in our homes. Picking one that fits your style best is not an easy task at times, that is why we provide a great number of examples that might inspire you for your following sofa table choice.
As an Amazon Associate I earn from qualifying purchases.
1. Neutral decor on a natural wood sofa table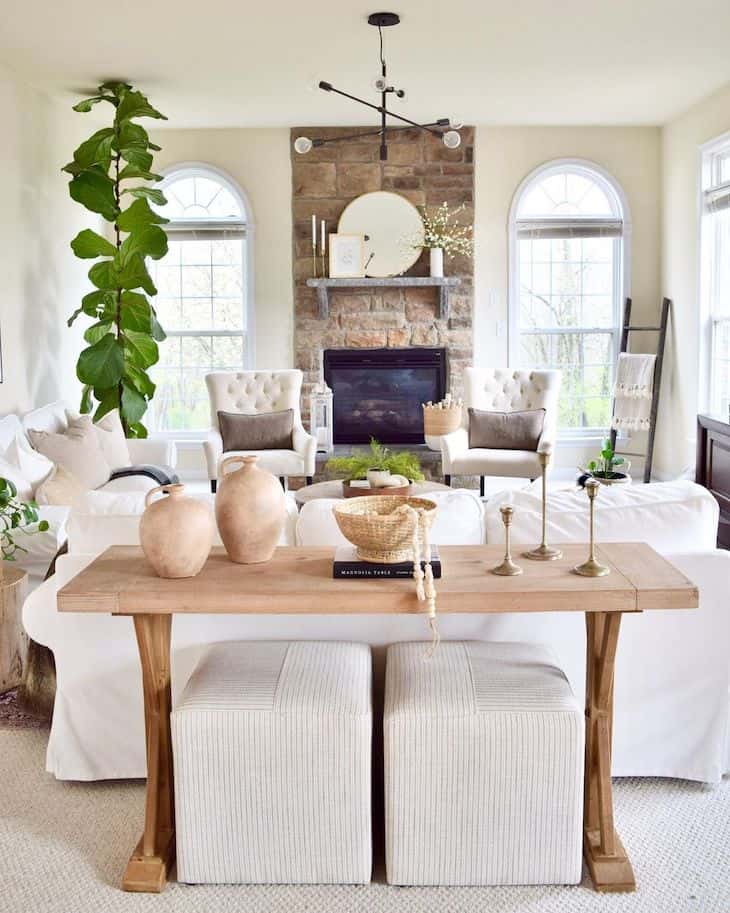 Shop related products:
sofa table // beads // candle holders // bowl // vase // #ad
The sofa table decor in this living room is pulled together perfectly. We love how it is styled with neutral decor to go perfectly with the pops of greenery in this living room. This sofa table in natural wood tone is perfect for displaying accents, books, or your favorite vases.
The luck of the storage shelf under the sofa table makes this the perfect space to place little ottomans and poufs that can be pulled out and used when you need to kick up your feet.
2. Light wood rustic sofa table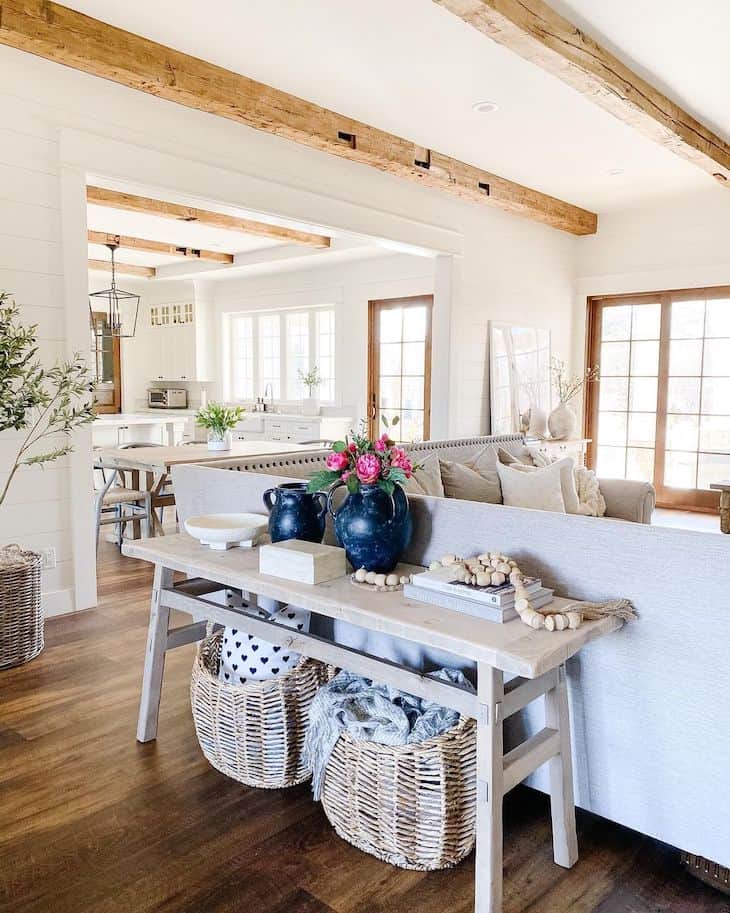 Shop related products:
sofa table // basket // vases // faux peony // decorative box // bowl // #ad
This light wood sofa table is perfect for smaller spaces where you are in need of some storage and decor space behind the sofa, but you don't need the space to look cluttered. The light wood color will offer that light and breezy feel in your living room.
Use bigger baskets under the sofa table for added storage space for your blankets and pillows, and add a pop of color with a dark-colored vase filled with seasonal flowers.
3. Sofa table with stools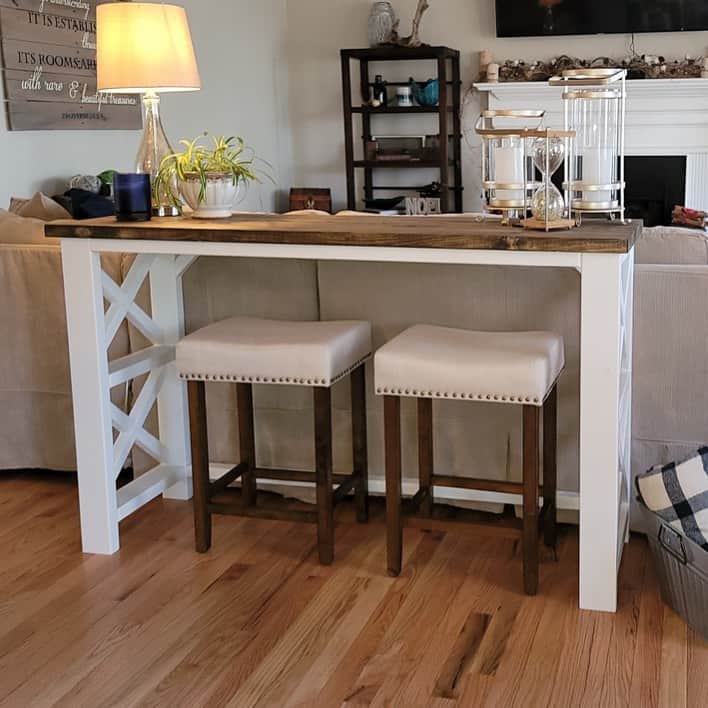 Shop related products:
sofa table // stools // table lamp // #ad
If your sofa table is a bit wider you can utilize stools to double its use as a bar. Put decor on the sides that will blend seamlessly with the rest of the decor in your living room. Using a sofa table with stools in this way is perfect for added seating space when you have guests in your home.
4. Modern sofa table with statement decor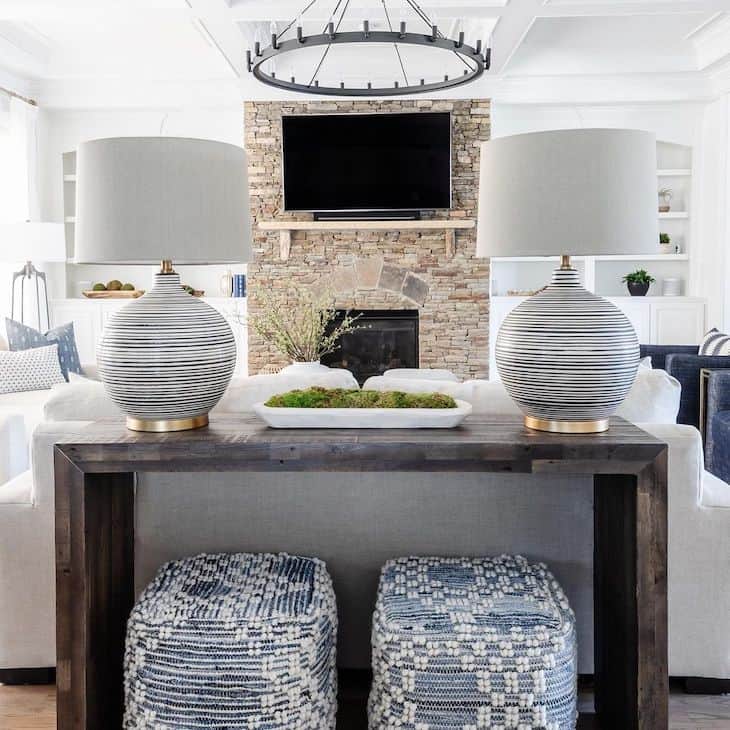 Shop related products:
sofa table // table lamp // pouf // #ad
This is another example of using your sofa table for added seating space. If your sofa table is low enough you can opt-out for poufs instead of stools. Decorated with two big statement table lamps will leave enough impression and won't go unnoticed.
5. Farmhouse sofa table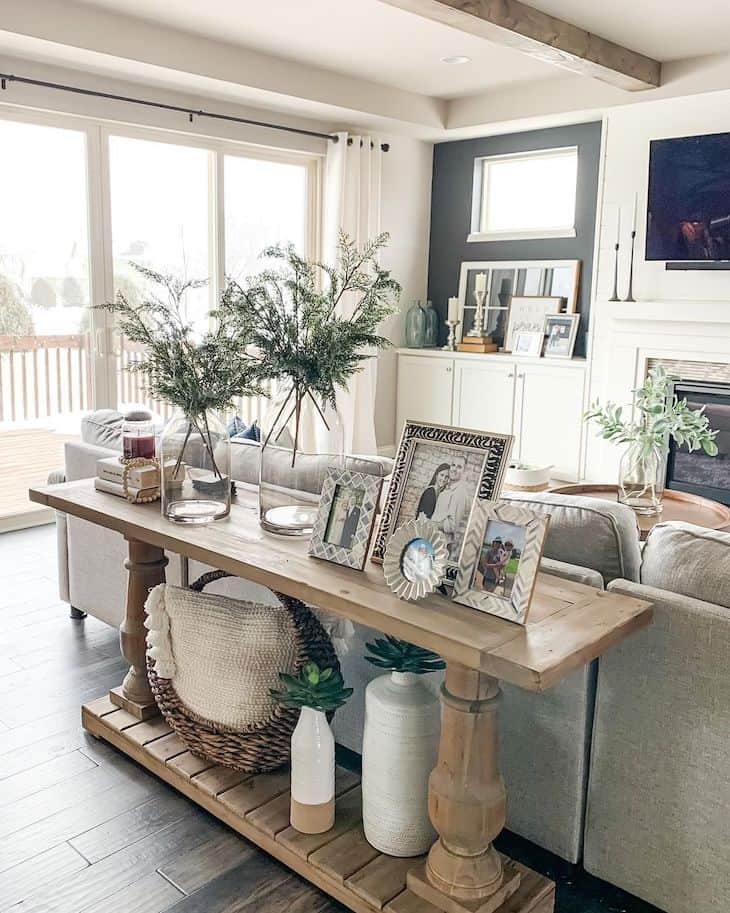 Shop related products:
sofa table // #ad
If you are not a fan of a gallery wall but still want some way in which you can display your family photos, having them as decor on your sofa table is a good start. They are a perfect conversation starter for when you have guests around.
Spice the decor with few more vases with greenery and some baskets and you'll have the perfect sofa table decor that makes your living room feel warm and welcoming.
6. Added storage space for your living room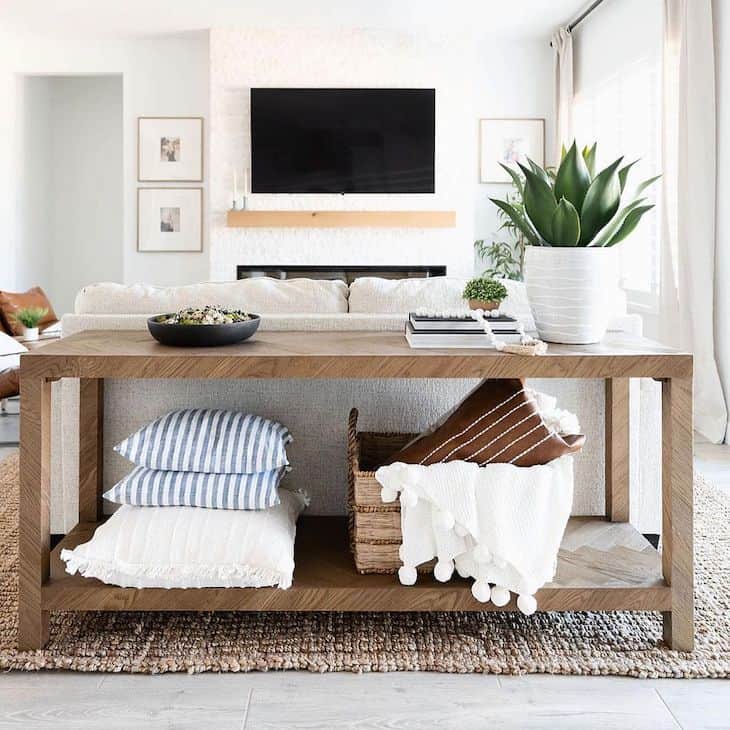 Shop related products(#ad):
Using a big wood console table with added storage space underneath is perfect for living rooms like this one that does no have built-ins or other storage space you can use.
Layer some throw pillows on the bottom shelf together with a basket for your blankets, and some books and vases on the top, and you will have the ideal simple and stylish decor for your sofa table.
7. Black sofa table with storage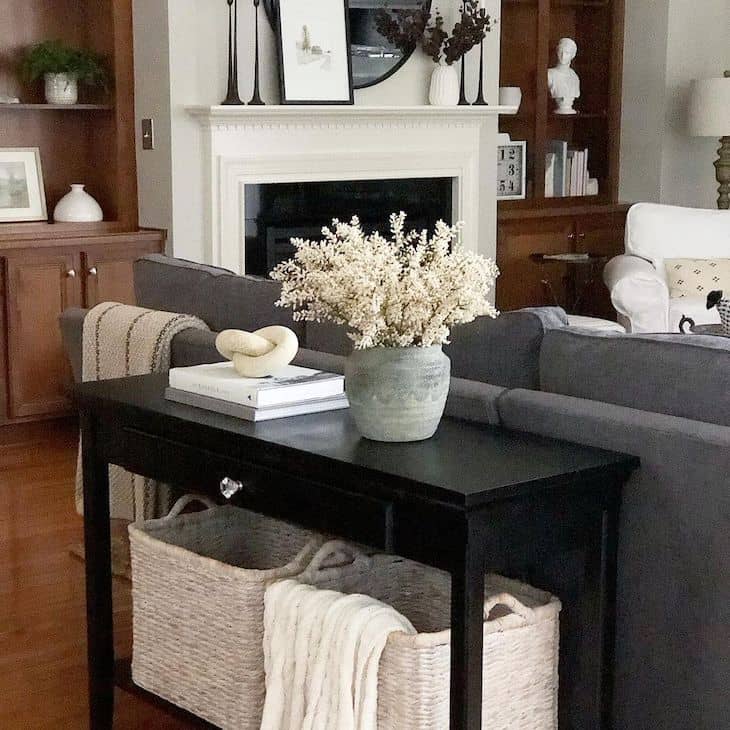 Shop related products:
sofa table // clay knot // #ad
We love Stephanies' advice for decorating a sofa table -"When looking for items to place on a console/sofa table it's best to keep it simple, uncluttered, and showcase a few key decor pieces."
Her go-to decor elements are a vase with seasonal flowers or greenery, decorative object and books, and baskets filled with throw pillows. And we couldn't agree with her more, this black sofa table looks perfectly styled.
8. Rustic console table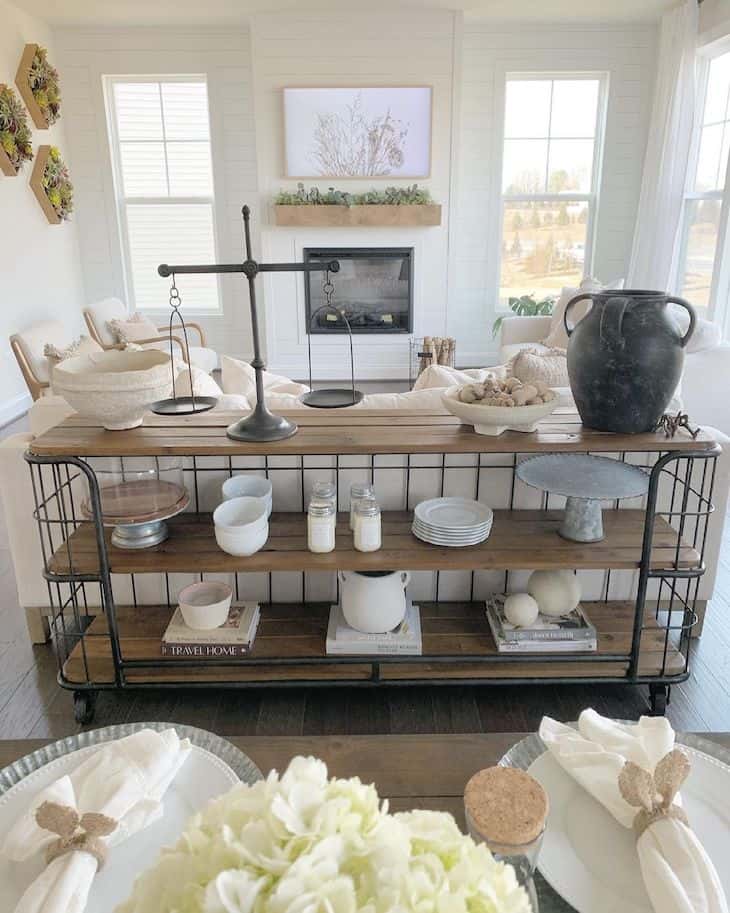 Shop related products:
sofa table // metal scale // #ad
This rustic sofa table with wheels located between the sofa and the dining table has a mix of kitchen and living room decor on it to serve both rooms equally. On top of it has beautiful decor pieces that complement the white living room decor. And on the shelves that are not visible from the living room, we can see decor appropriate for kitchens and dining rooms, like bowls, dinnerware, and cake stands.
The combined functionality of this console table is what makes it unique, and the addition of cast iron adds to the rustic charm of this decor element.
9. Metal sofa table with glass top shelf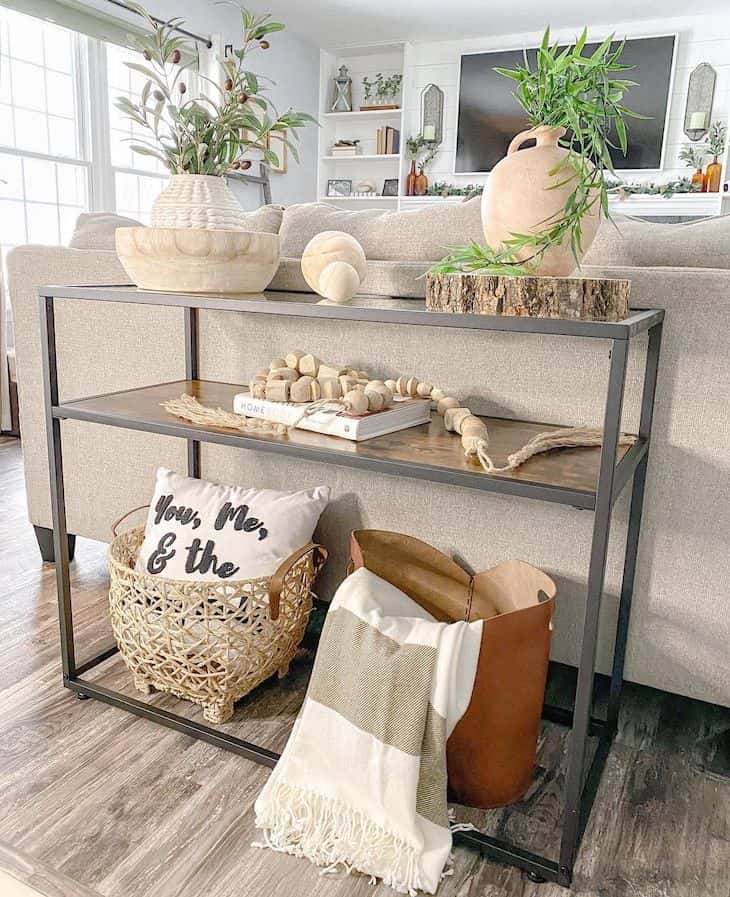 Shop related products:
sofa table // #ad
If you don't have a lot of free space but you still want to have a sofa table behind your couch, this small metal frame sofa table with different shelves for added storage space is the perfect choice for you.
The metal frame and glass top make this sofa table fit with any decor style giving your space a bit of cohesion.
10. Cohesive living room decor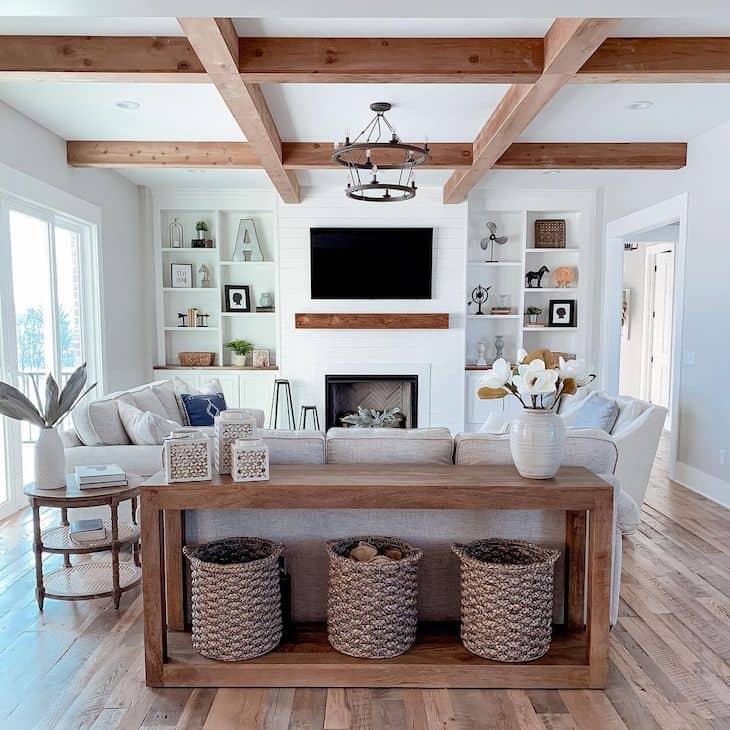 Shop related products:
sofa table // #ad
Make a cohesive look for your living room by choosing a console table that matches the decor elements, like this console table that has the same stain color as the wooden beams. It will make the place look balanced and you won't mind the added storage space it provides to tuck away the knick-knacks you don't exactly want to be left out in the open.