Create a cozy focal point in your living space by opting for a black fireplace surround. Whether it is painted brick, a shiplap, or a tiled fireplace surround, choosing striking black color is sure to naturally draw attention and catch the eye of admirers.
Take a look at our list of inspirational black fireplace ideas for your next home project.
As an Amazon Associate I earn from qualifying purchases.
1. Painted black fireplace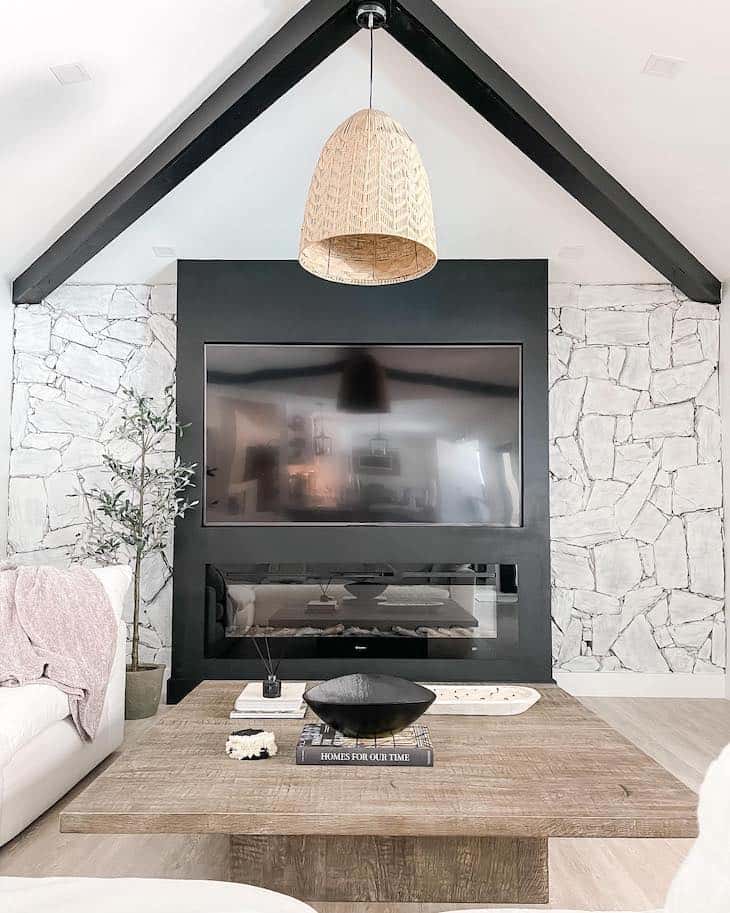 Shop related products(#ad):
electric fireplace
This modern black fireplace is painted in color "Tricorn Black" by Sherwin Williams, which has a very matte black finish for a modern look. The fireplace in its' bold black color is the focal point of this living room decorated in neutral tones.
The wall behind the fireplace is actually a rock wall painted in white chalk spray paint which gives contrast to the fireplace and a lot of character to the room. The black decor elements, like the black beams and the black bowl on the coffee table, complete the look in an exquisite manner.
Fireplace color: "Tricorn Black" by Sherwin Williams
Ceiling color: "Extra White" by Sherwin Williams
2. Black shiplap fireplace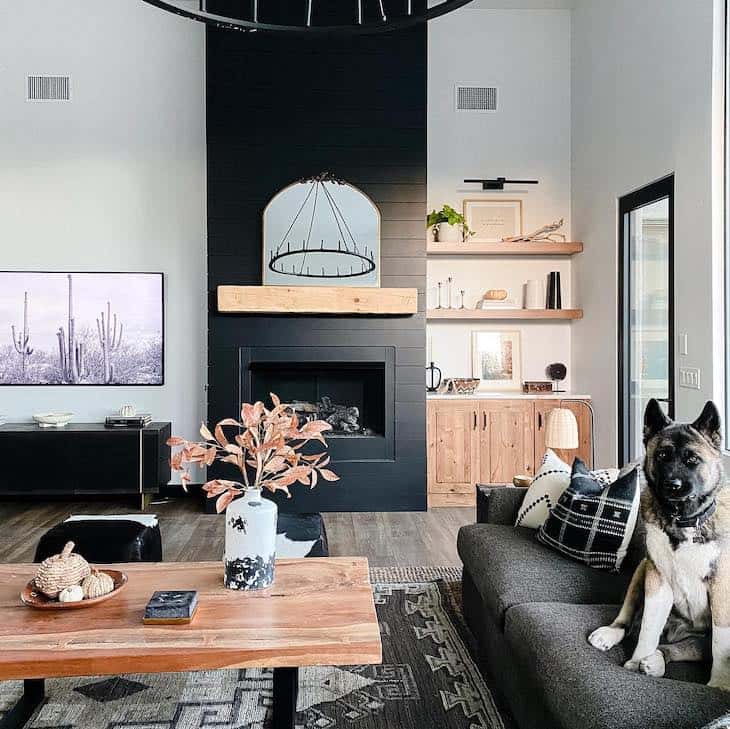 Give your living room a modern farmhouse look by adding a black shiplap fireplace. Complement the look by adding a light wood mantel and built-in cabinets with rustic luxury decor elements. This fireplace is so captivating, that a simple decor like a mirror on it, is just enough for a mesmerizing look.
Fireplace color: "Tricorn black" by Sherwin Williams
Wall color: "Pure White" by Sherwin Williams
Ceilings height: 15'
3. Modern farmhouse living room with granite fireplace surround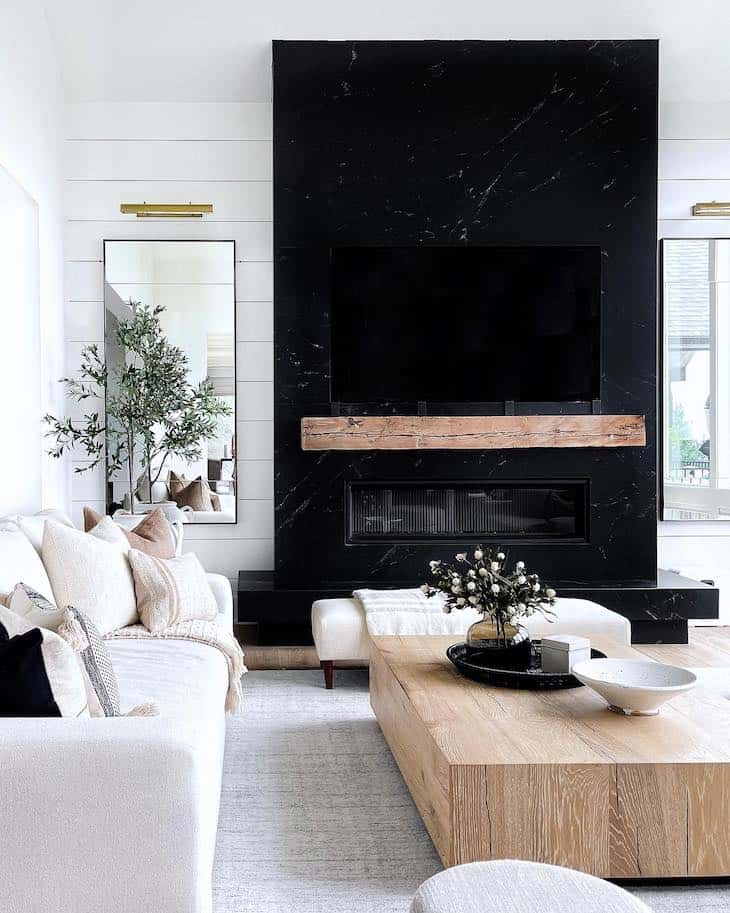 This modern farmhouse/transitional living room features a black fireplace made of granite slabs. We love how the dark granite blends the TV into the focal wall. It is such a gorgeous way to make the TV vanish. The neutral colors of this living room are so calming, yet the feature fireplace wall gives a dramatic note.
The shiplap wall behind the fireplace enhances the farmhouse charm of this living room, and the wood beam mantel draws attention with its' rustic look. Placing tall mirrors on each side of the fireplace will bring depth to the space, and open up the room.
Fireplace material: Granite slabs
Wall color: "Simply White" by Benjamin Moore
4. Black corner fireplace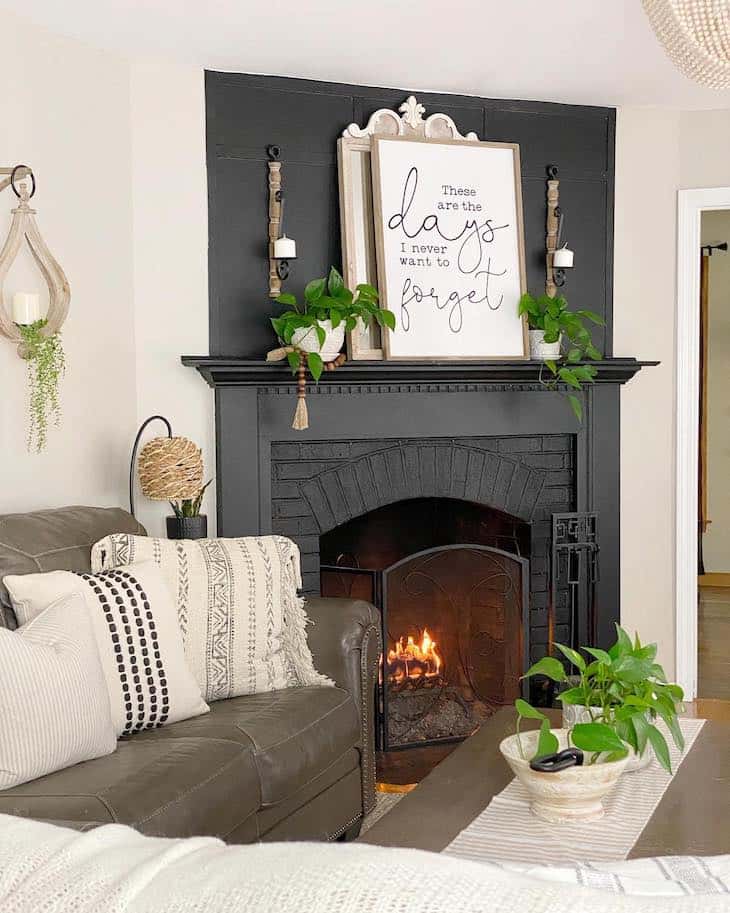 Paint your corner fireplace in black color in order to create a focal point in your living room. We love how this painted brick fireplace pop against the beige wall color for a sophisticated look. The painted black bricks offer texture and visual interest to the space.
Create symmetry with a pair of wall candle holders on each side of the fireplace and a pair of houseplants for a natural touch. The leather sofas and textured textiles bring even more warmth to the black brick fireplace, creating a homey farmhouse look.
Fireplace color: Rustoleum black chalk paint
Wall color: "Sackcloth" by Sherwin Williams
5. Floor to ceiling tall fireplace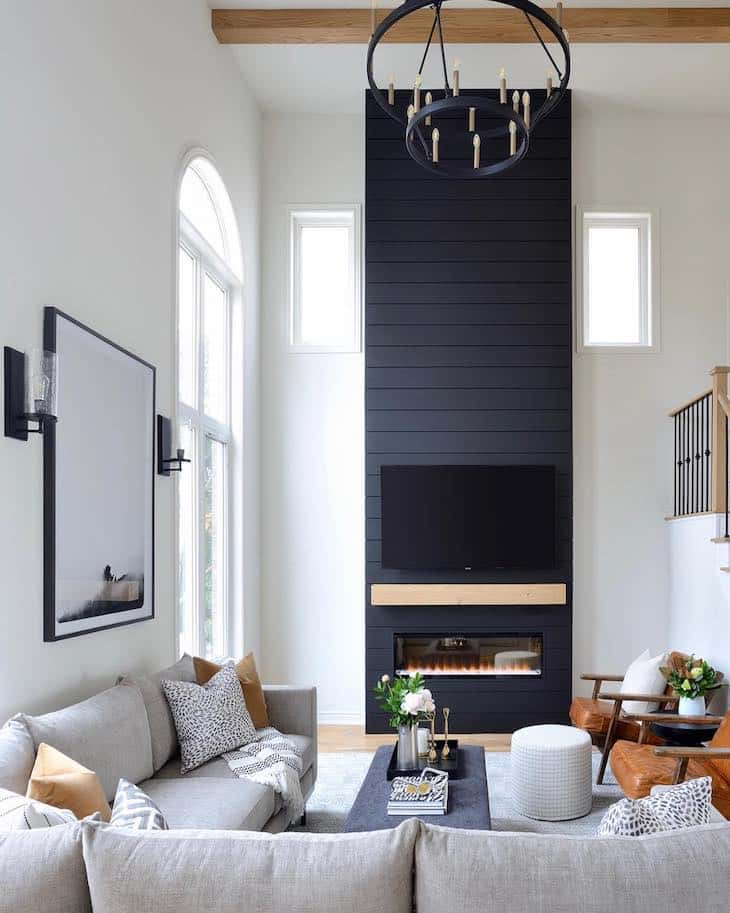 This floor-to-ceiling black shiplap fireplace adds a note of luxury to this modern farmhouse living room. Choosing a shiplap for your fireplace will add texture to the room while enriching the space with visual interest, especially for a large living room like this one.
Add contrast to the fireplace by installing a wood beam mantel that will double as a place to arrange your seasonal decor.
6. Black brick fireplace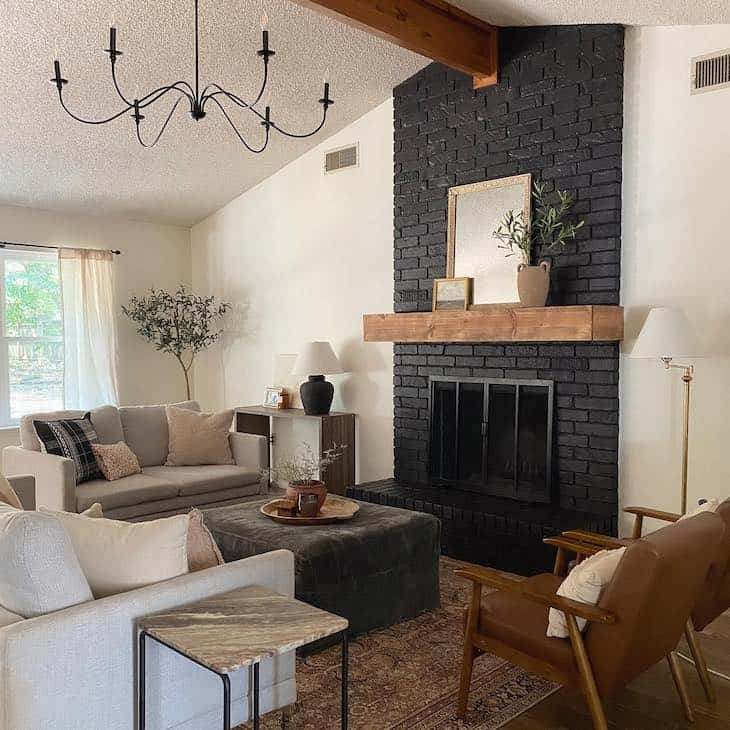 Update the look of your living room by painting the brick fireplace in black color. The striking black color will draw the eye up all the way to the ceilings and make them look more elevated. The wood beam mantel, stained to match the ceiling beams, creates cohesion and alluring ambiance in this living room.
Brick color: "Black Magic" by Sherwin Williams
7. Black shiplap fireplace with a contrasting white marble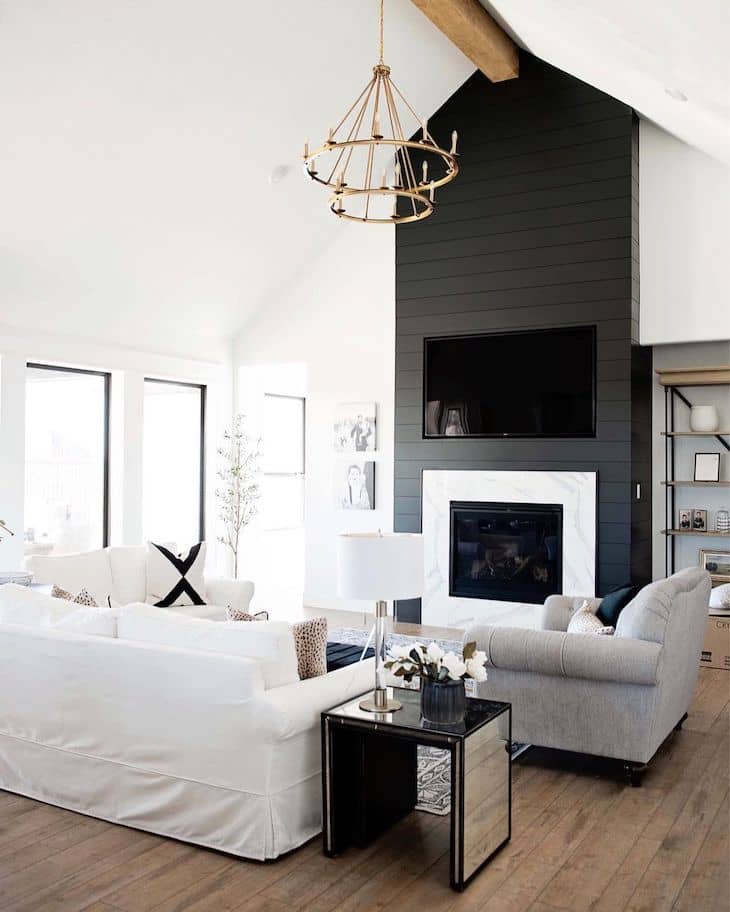 The dramatic black color gives this floor-to-ceiling fireplace a bold and contemporary look. The marble tile around the fireplace creates a contrast to the black accent color while matching the crisp white walls.
Check out the whole tour of this impressive black and white modern farmhouse here.
Fireplace color: "Iron Ore" by Sherwin Williams
Wall color: "Extra white" by Sherwin Williams