Choosing the right living room rug can upgrade any space from incomplete to effortless elegance. Swapping out rugs in your living room can give an instant makeover and make a statement in your decor. From the newest geometric obsession to antique-inspired living room rugs we offer plenty of examples of area rugs that can virtually integrate with any existing decor.
As an Amazon Associate I earn from qualifying purchases.
1. Antique-inspired living room rug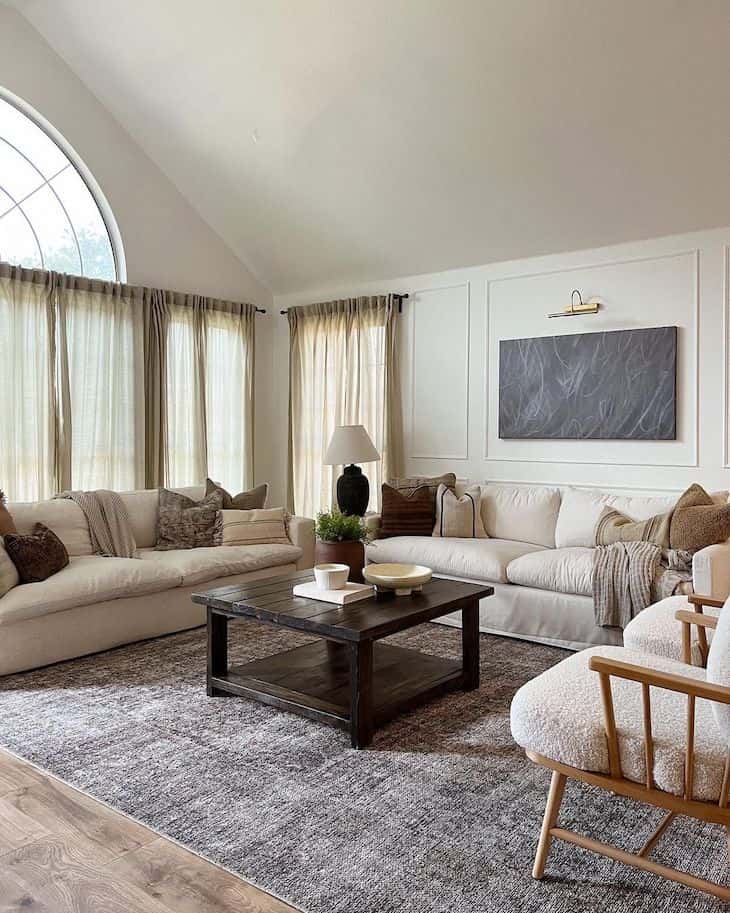 Shop related products(#ad):
rug // coffee table // sofa
The antique-inspired design of the living room rug with a barely-there pattern gives this living room a transitional vibe. The color combination of Tobacco and Rust draws the eye down to this timeless design, making a statement in this otherwise neutral-colored living room.
2. Jute living room rug in diamond pattern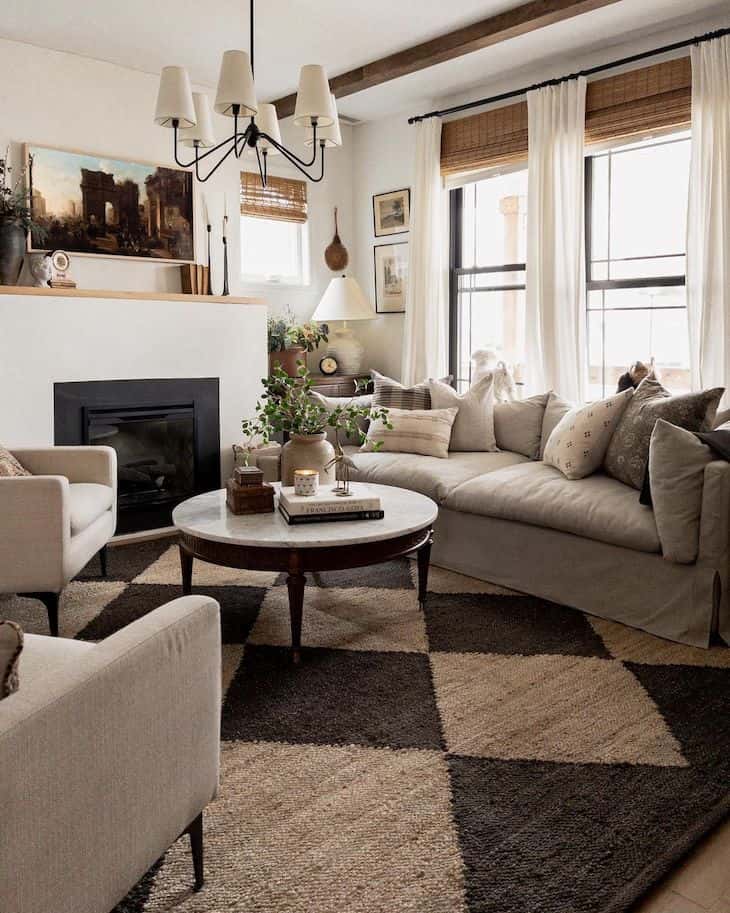 Shop related products(#ad):
rug // chandelier // sofa
The combination of durability and style of a jute rug will bring effortless sophistication to your living space. We love how the rhythm of this pattern transforms the feel of the entire space. The geometric floor pattern is one of the latest design trends. Thus, incorporating it in your home as a rug instead of a floor tile can be really cost effective and will give your living room an instant makeover.
3. Bordeaux/cream living room rug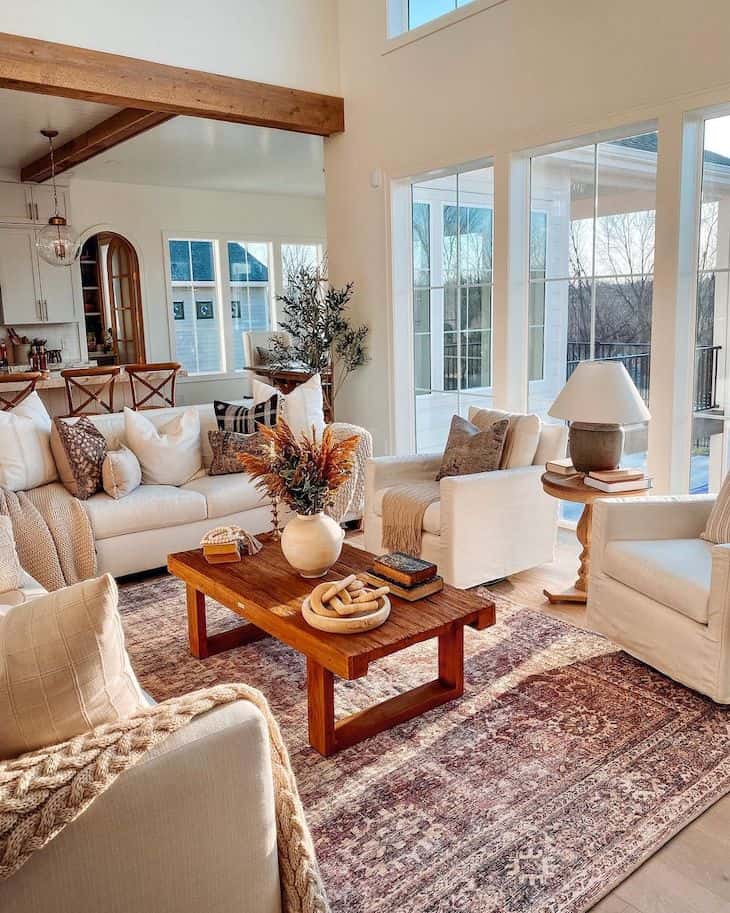 Shop related products(#ad):
rug // coffee table // bowl // chain decor // pampas grass // swivel chairs
The vivid colors of the Bordeaux/cream rug enliven the decor in this living room. The remarkable details on this rug make it a focal point of the decor space making it a perfect base for placing neutral furniture on top of it. The deep wood stain of the teak coffee table works in cohesion with the rug's vivid colors, giving it a vintage feel.
4. Neutral color combination for your living room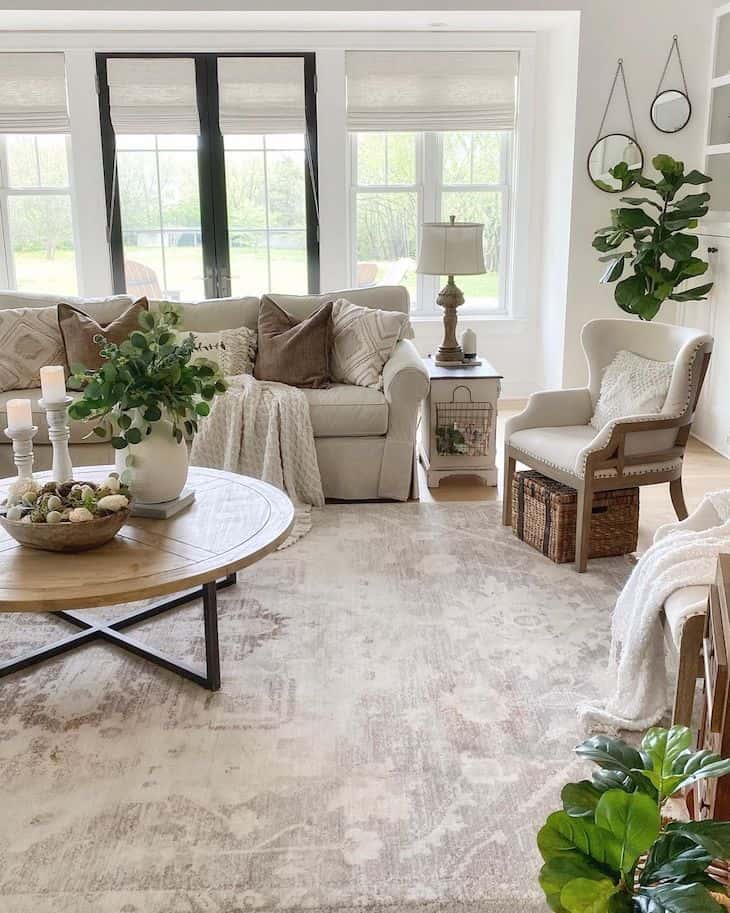 Shop related products(#ad):
This rug features neutral and dark shades in cream, beige, and medium grey. This neutral color combination is perfect for a comfy living room in a farmhouse style. Brighten up your living space by adding plants, live or faux, and spread them around to add a natural touch.
5. Area rug in geometric pattern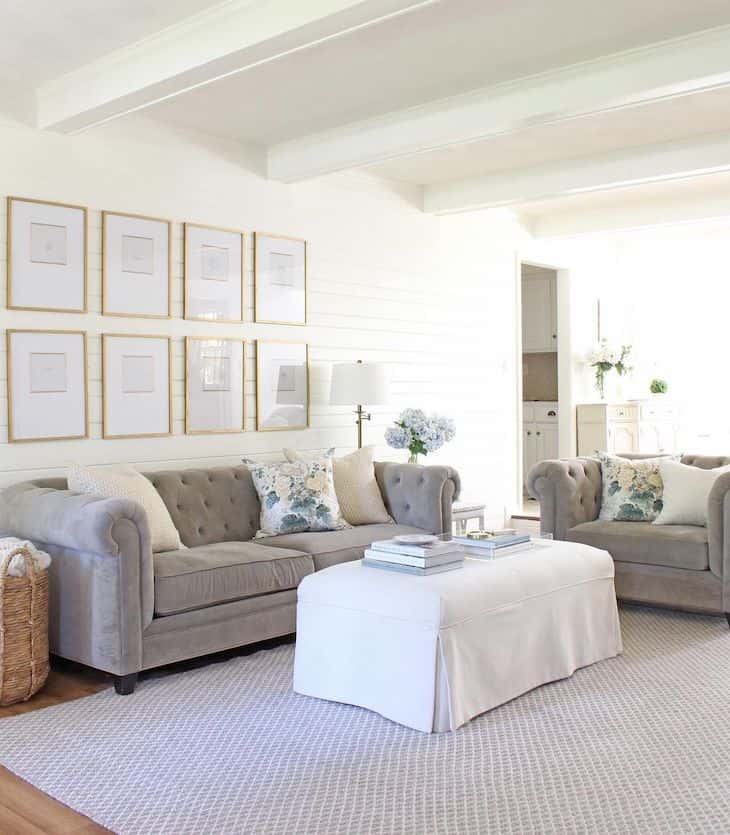 Shop related products(#ad):
rug // sofa // ottoman // flower pillow // floor lamp // artificial hydrangea
The color and texture of this rug feature a geometric pattern in grey with creamy white accents. This rug is uniformly colored with a modern vibe that will seamlessly integrate into any household. Add rich dimension to your living room decor with colorful pillows and a vase filled with fresh flowers.
6. Area rug with marble-looking pattern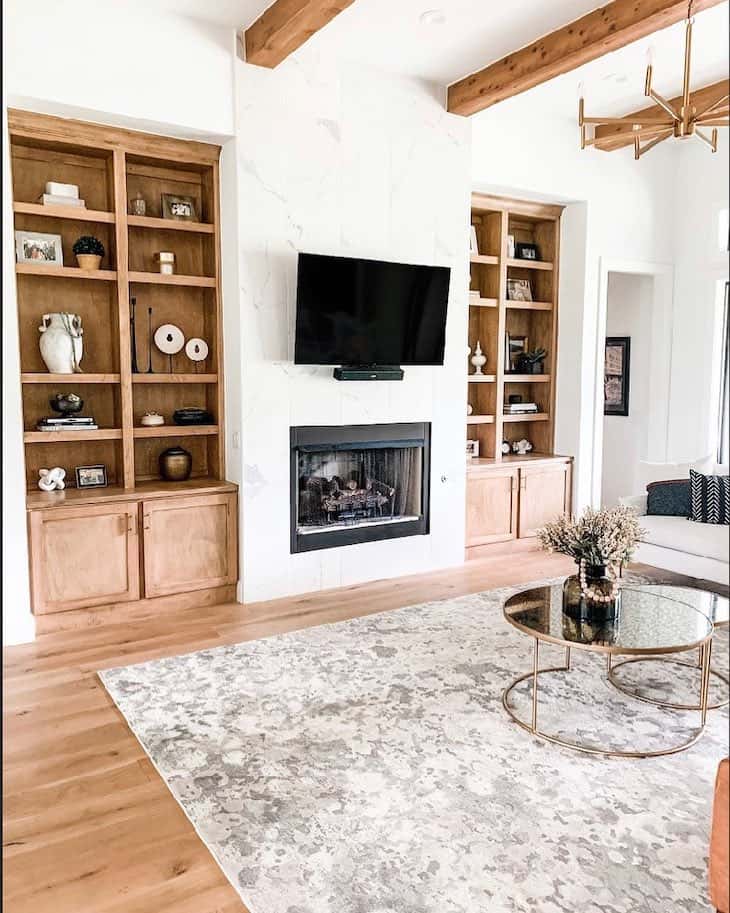 Shop related products(#ad):
rug // coffee table
This stunning area rug commands attention with its marble-looking pattern. The stunning pattern of this area rug gives this farmhouse living room a modern vibe. It is layered with a glass-top round coffee table creating a statement in this living room decor.
7. Farmhouse living room rug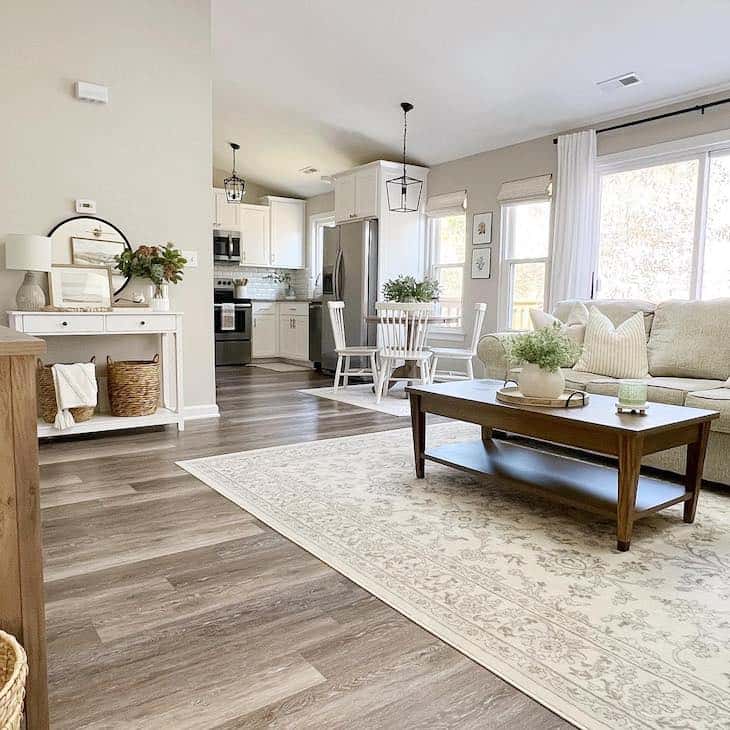 Shop related products(#ad):
rug // coffee table // console table
This oriental area rug in light grey and white creates a cozy and warm feeling. The mix of natural tones in this living room rug matches both gray walls and brown tones. It is soft and rustic looking and goes well with this farmhouse-style living room.