Today we are giving you a complete home tour of this lovely farmhouse sprinkled with coastal accents that Jamie Montgomery from @montgofarmhouse and her crafty husband Skot built in their home state of Alabama. Even though this modern farmhouse is few hours from the coast, its exterior, as well as interior design, gives off coastal vibes.
As an Amazon Associate I earn from qualifying purchases.
1. White farmhouse exterior with mint shutters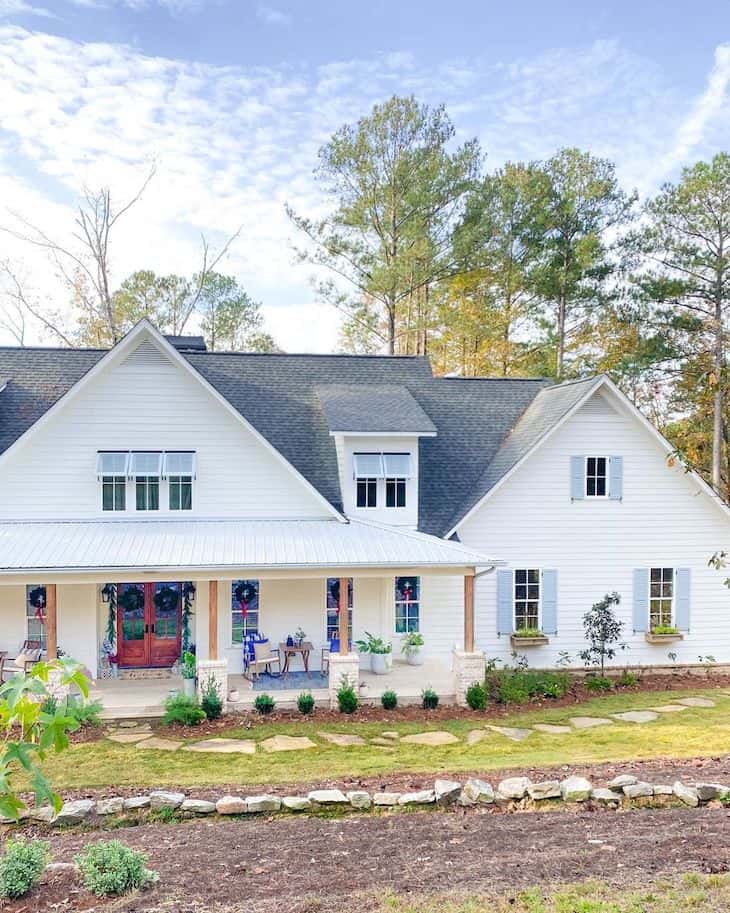 Their white farmhouse exterior is painted in "White Dove" from Benjamin Moore, which gives a perfect base for the coastal farmhouse vibe achieved with the custom handmade shutters painted in BM "Silver Mink" that give dimension to the whole exterior. The Bahama shutters on the top floor were not placed as much for protection from stormy weather, but more as a decorative accent that gives a unique vibe. Well not precisely only decorative, they do protect from the sun while letting a lot of natural sunlight to get inside as they are half size Bahama shutters.
2. Double french front doors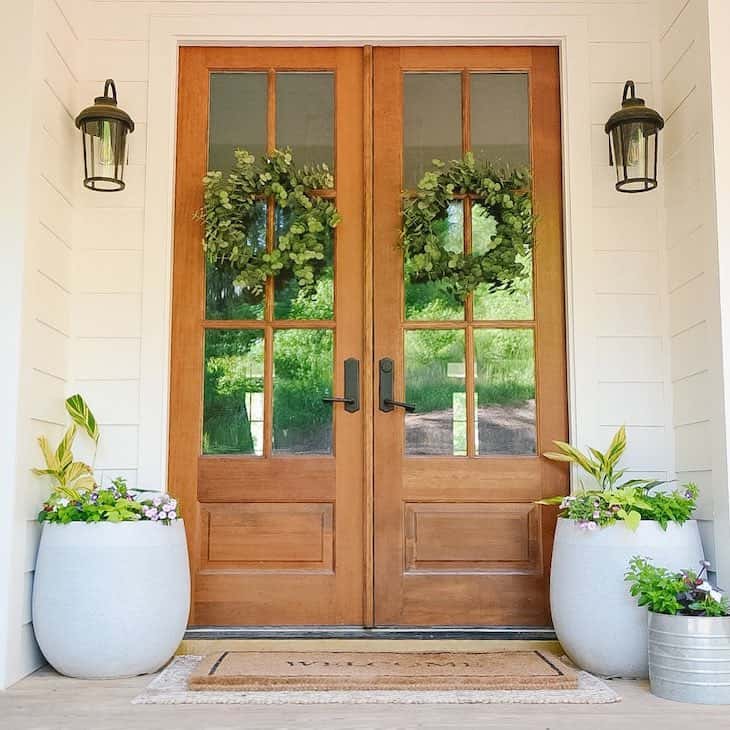 Shop related products:
lanterns // wreath // #ad
We love the symmetry achieved at the front porch with the double french front doors in wood stain, with exterior wall mount lanterns on each side. The potted plants in the beautiful big white pots are perfect for a spring/ summer front door decor. And the realistic eucalyptus wreaths added on each door give a touch of green to the seasonal display.
3. Modern table for the entryway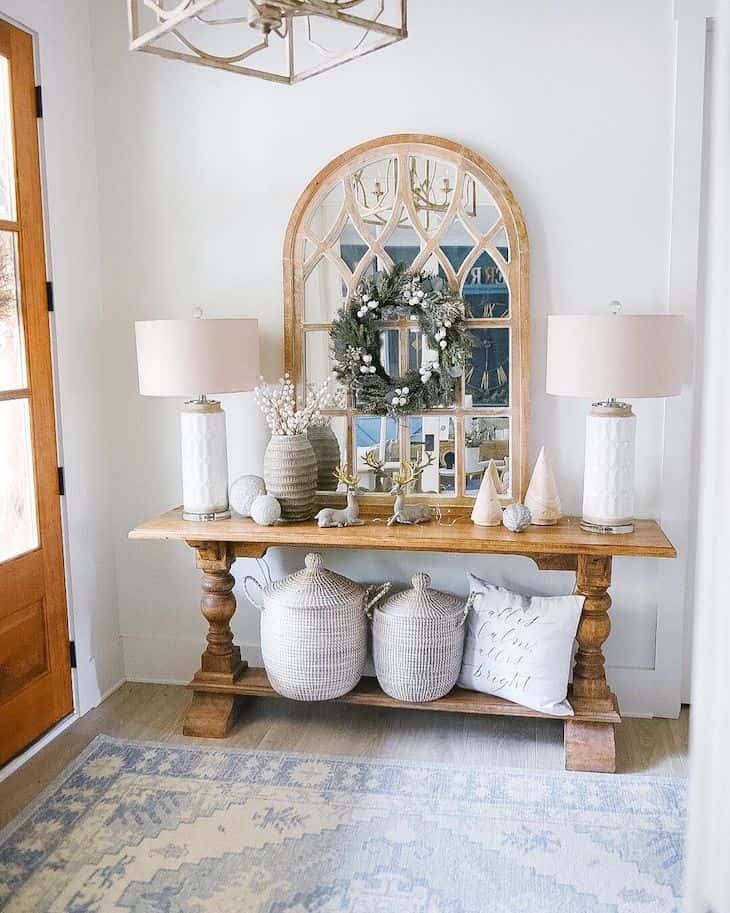 Shop related products:
entry table // table lamp // basket // archer mirror // #ad
Although this entryway display is part of Jamies' winter/Christmas decor, the lidded baskets give a beachy spin. The modern table lamps on each side of the console table create an inviting entryway, while the striking design on the arched cathedral mirror reflects rustic ambiance.
4. Coastal living room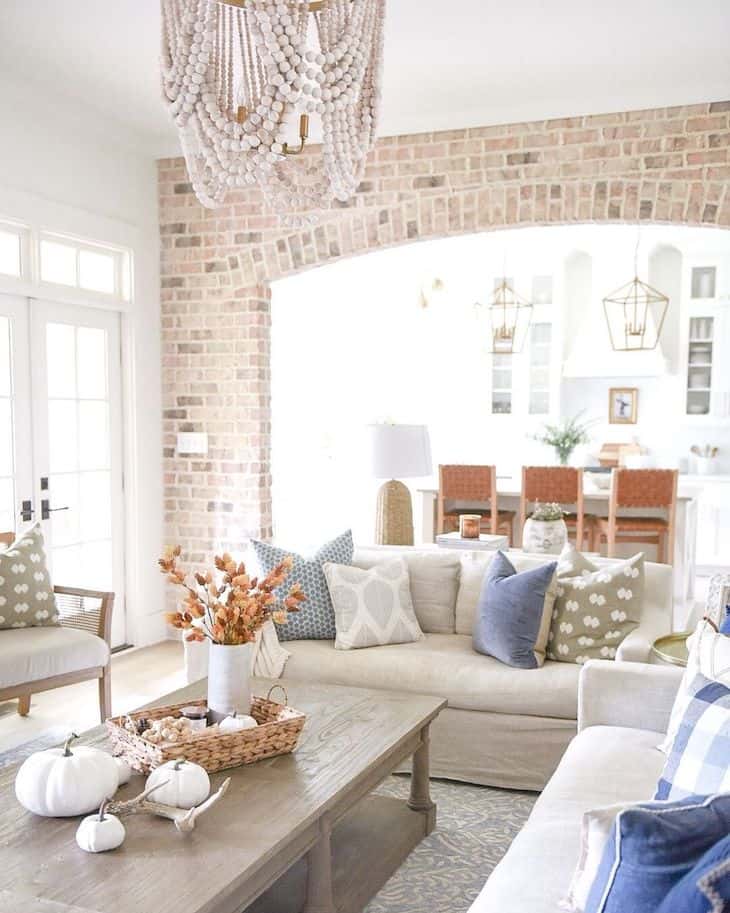 Shop related products:
sofa // coffee table // chandelier // velvet pillows // leaves pillow // hops stem // artificial pumpkins // woven basket // #ad
The oatmeal-colored slipcover sofa is the highlight of this room. The sofa is enriched with coastal tones from the velvet pillow collection mixed with neutral-toned linen throw pillows. The rustic cocktail table, finished with a grey wash is decorated with stunning seasonal elements like the artificial hops stems placed on a basket tray as a table centerpiece. All of this is brightened up with the wood bead chandelier that creates a custom look.
4.1 Brick fireplace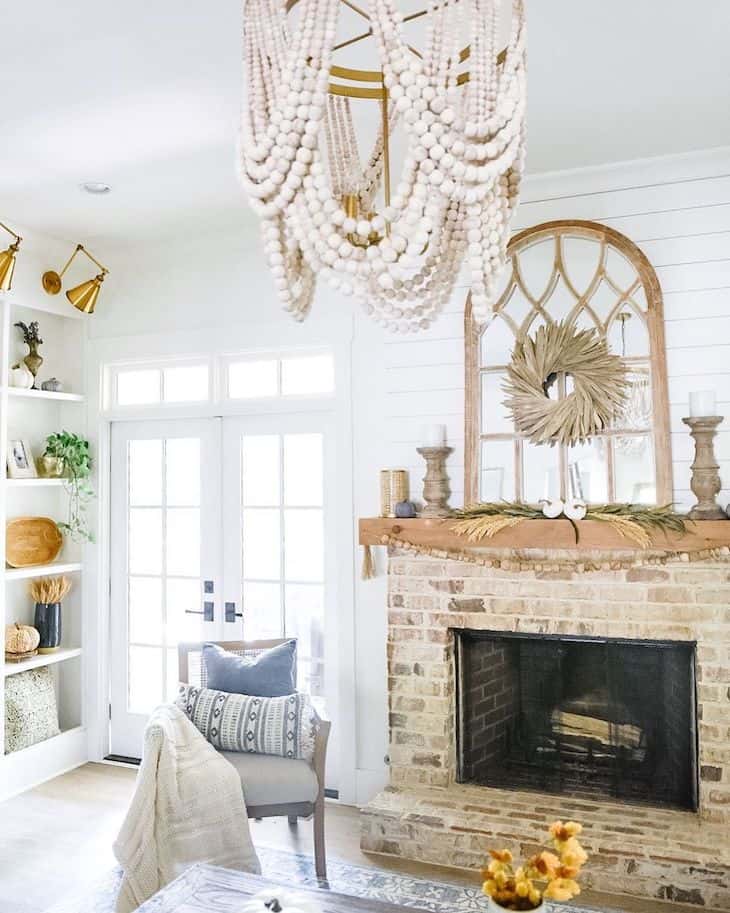 Shop related products:
arched mirror // chair // lumbar pillow // candle holder // #ad
We love the soft neutrals of this corner in her living room. The distressed arched mirror on the mantel is adorned with a faux grass wreath for perfect fall-inspired decor. And the cane back accent chair in front of the double french doors adds a touch of classic style to this living room.
4.2 Build in shelves with greenery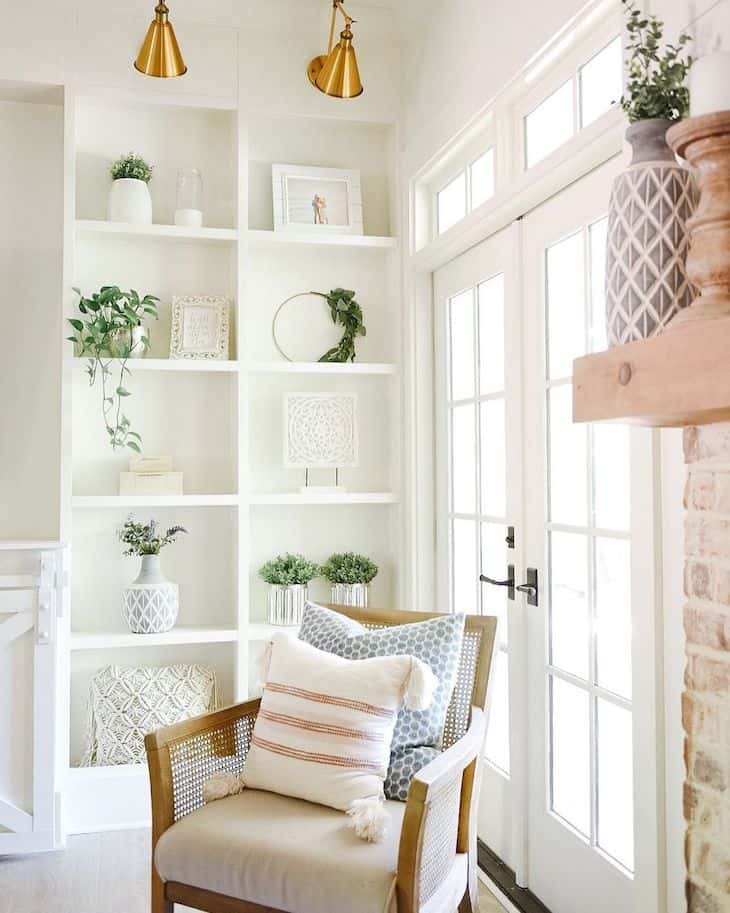 Shop related products:
chair // throw pillow // wall sconce // #ad
The built-in shelves include items of different heights to balance the space. And the mix of greenery gives dimension and natural appeal to this shelf decor.
4.3 `Rustic cocktail table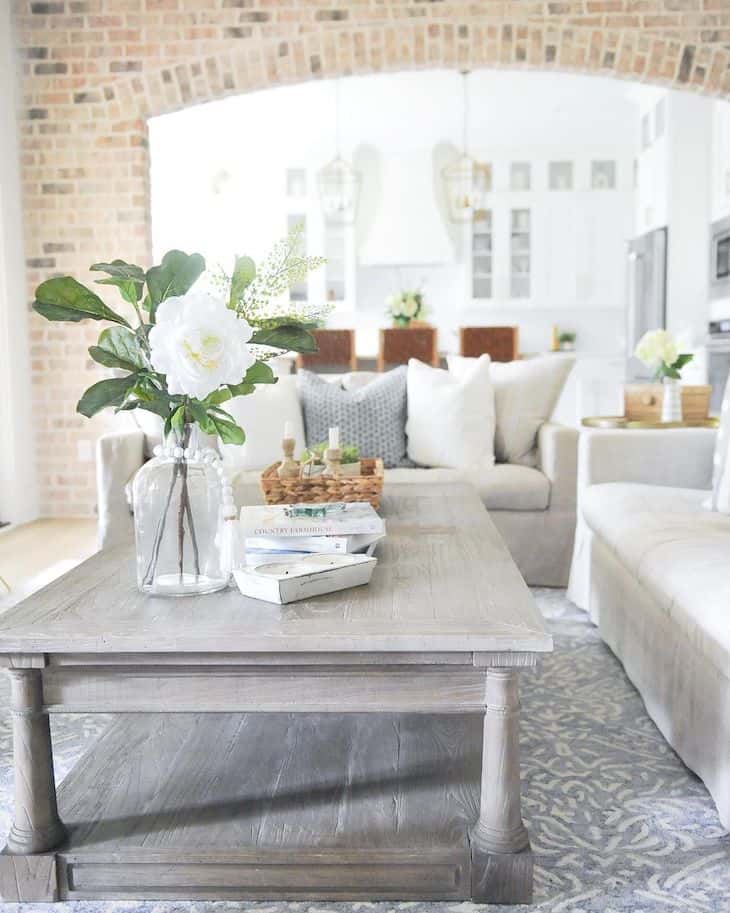 Shop related products:
coffee table // vase // rug // fake fiddle leaf // flower // #ad
If you want a simple table decor inspiration that works for any season, this grey wash rustic table decorated with wide neck clear glass vase filled with greenery and flowers complemented with some table books and rustic whitewashed candle holder is the way to go, year-round.
4.4 Charming console table behind the sofa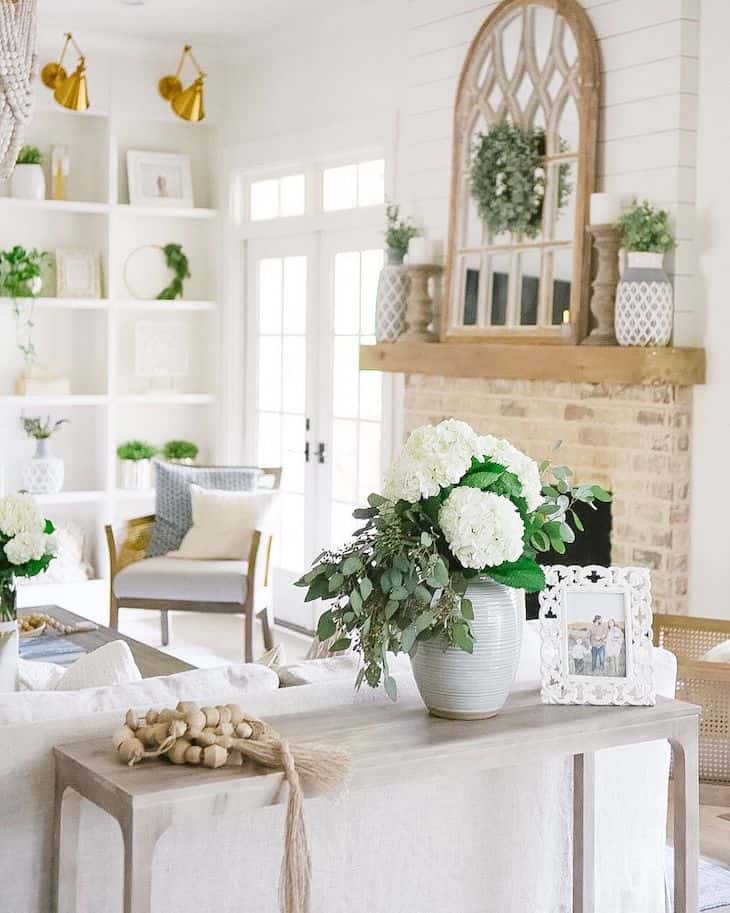 Shop related products:
console table // bead garland // #ad
The curved foot console table adds extra character to this living room. Its elongated design is perfect for behind the couch placement without taking too much space. This console table gets a touch of charm from the decorative vase filled with greenery and white hydrangeas. And the finishing touch of this decorative display is gained from the wooden bead garland that adds extra visual interest and a touch of playfulness.
5. White farmhouse kitchen with gold accents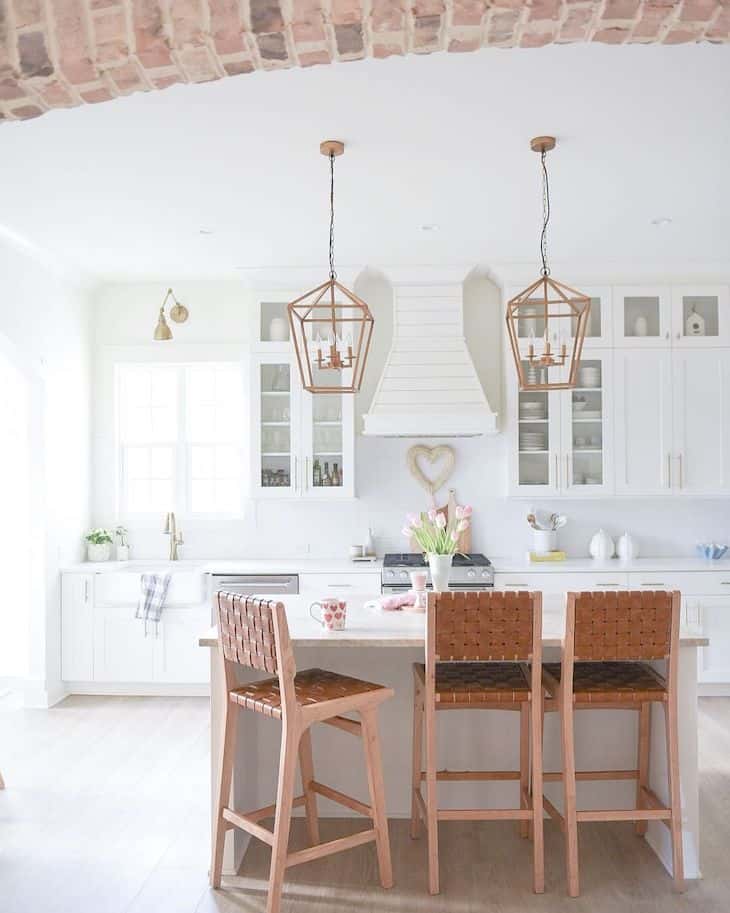 Shop related products:
bar stools // lantern pendant // #ad
Jamie added color and texture in her otherwise all-white kitchen with golden accents and wooden barstools. She chose the timeless and classic option for the kitchen backsplash going with the white subway tile, and added dimension using shiplap on the rangehood. The simple design on the woven counter stools blends effortlessly with her color palette and the vintage gold light pendant.
5.1 Island with X-es for farmhouse look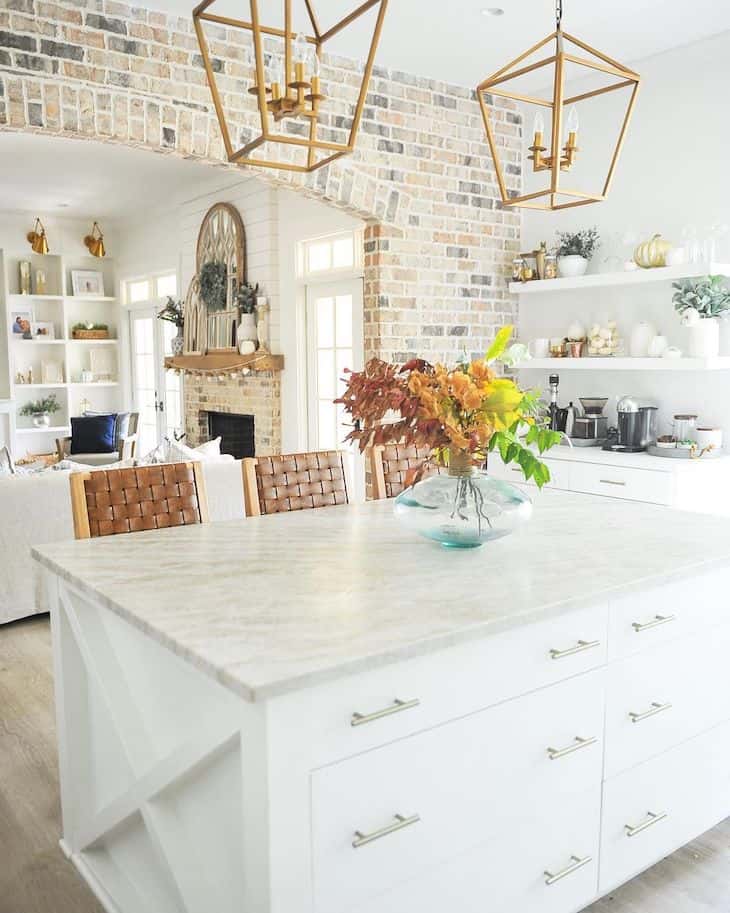 Choosing Quartzite over marble for the kitchen island was one of Jamie's favorite design choices, maintenance-wise. She added x-es o the side for a farmhouse look and drawers on the longer side for added storage. This view of the kitchen really brings to attention the arched brick wall that gives so much character to this space.
5.2 Apron front farmhouse sink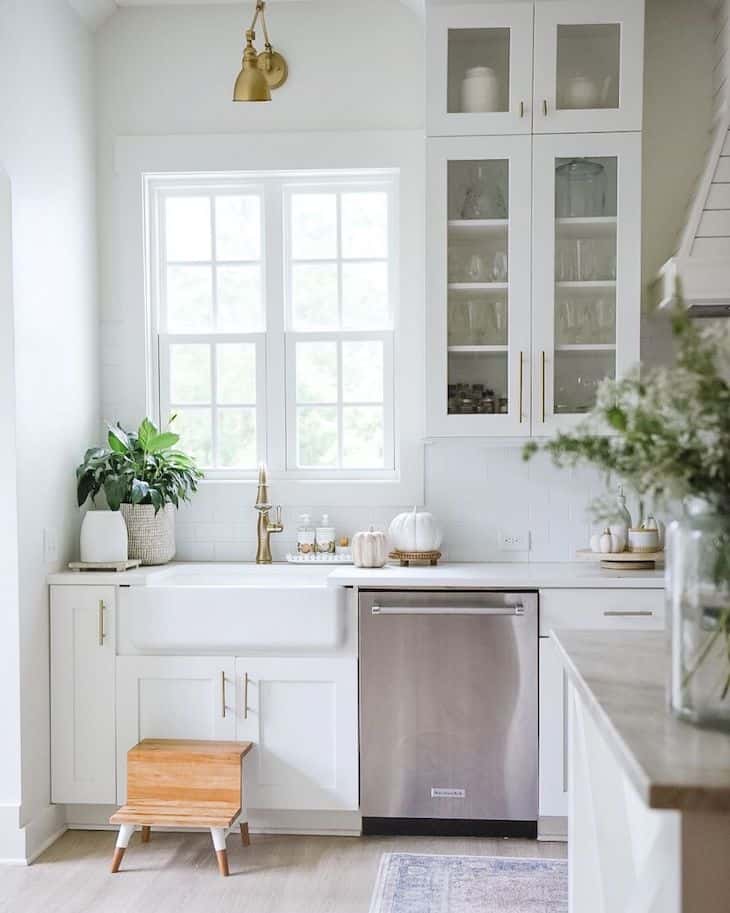 Shop related products:
faucet // sink // step stool // brass handles // planter basket // wall sconce // #ad
The minimal yet sculptural brass handles add a sophisticated element to the kitchen cabinets. And the apron front sink is adorned with the champagne gold faucet that matches the gold sconce above the sink. This sunny corner in her kitchen gets a boho appeal from the natural basket planter and the versatile teak step stool adds a modern pop to this kitchen area.
5.3 Coffee/wine bar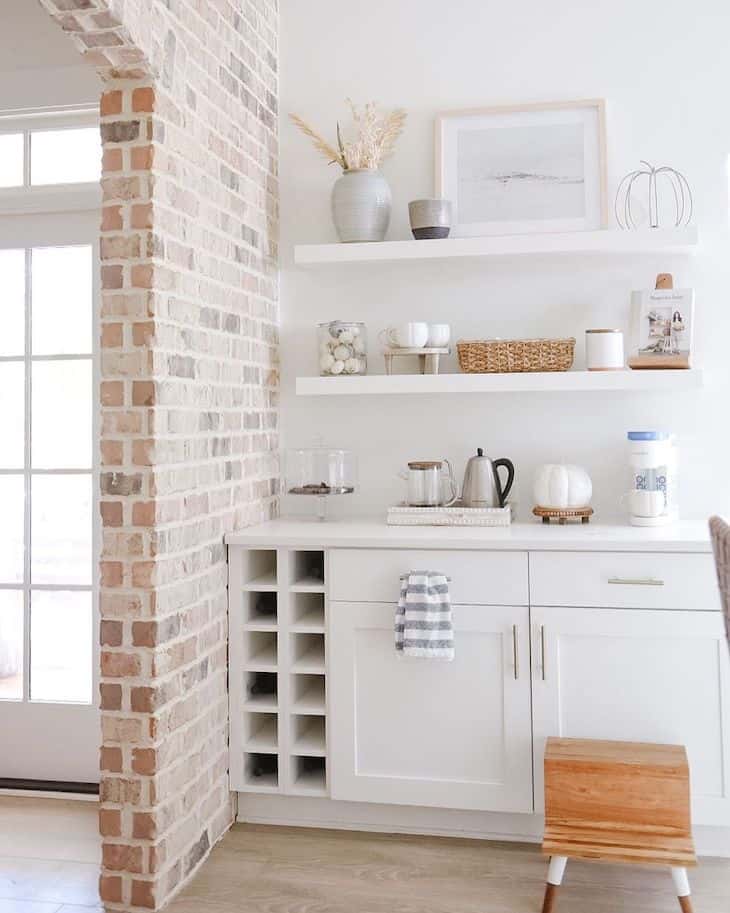 Shop related products:
vase // kettle // pumpkin mug // cake stand // wicker basket // keurig coffee maker // #ad
This corner of her kitchen is designated for the coffee and wine bar. Jamie opted for open shelves for this area and added texture and accents with the decor she used, like the gray ceramic vase and the landscape photo that brings a natural touch. The footed cake stand with a dome, atop the custom wine holder, is used for spectacular dessert presentation.
5.4 Pantry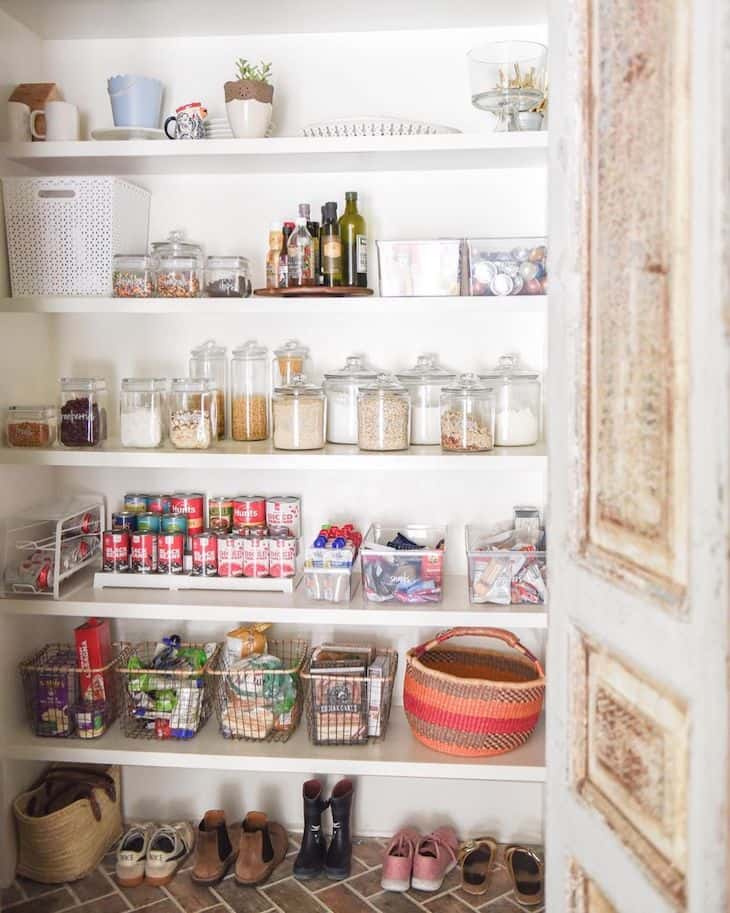 Shop related products:
weave bin // plastic storage bin // 3 tier shelf // jar with lid // lazy susan // can organizer // wire basket // #ad
We love this super organized pantry. Jamie used different containers and baskets to create an organizational system that fits both her home and her lifestyle.
6. Rustic dining room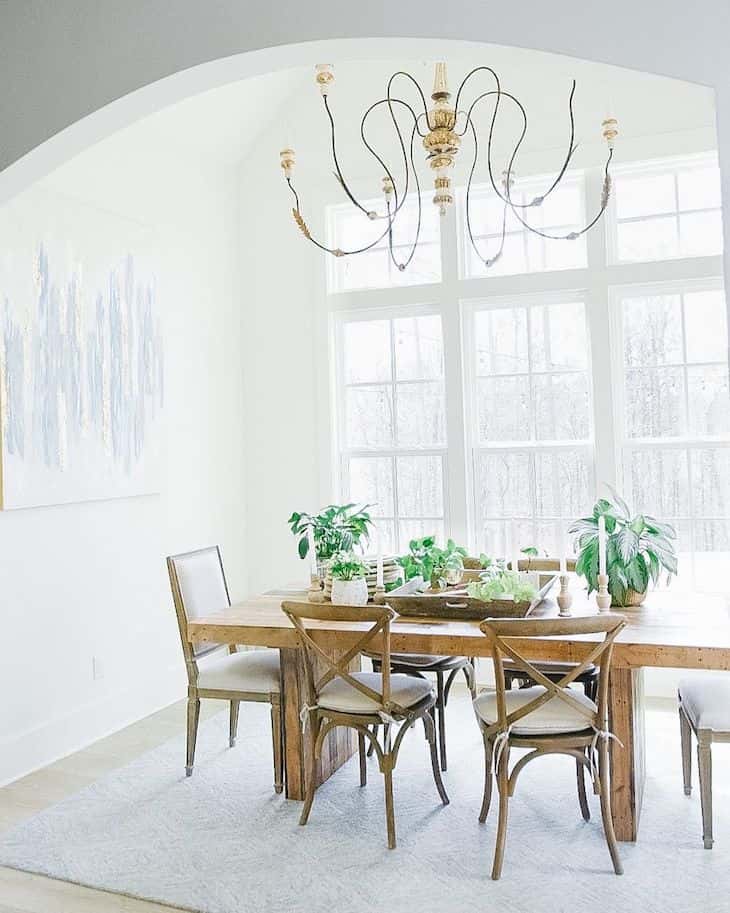 Shop related products:
dining table // chair // chandelier // #ad
The rustic dining room table brings a ruggedly handsome character into this dining space. The most captivating thing about it is the clean-lined chunky profile with tonal variation. The weather rustic wood chairs put a farmhouse spin on this decor and pair perfectly with the traditional vintage chandelier.
7. Home office with pop of color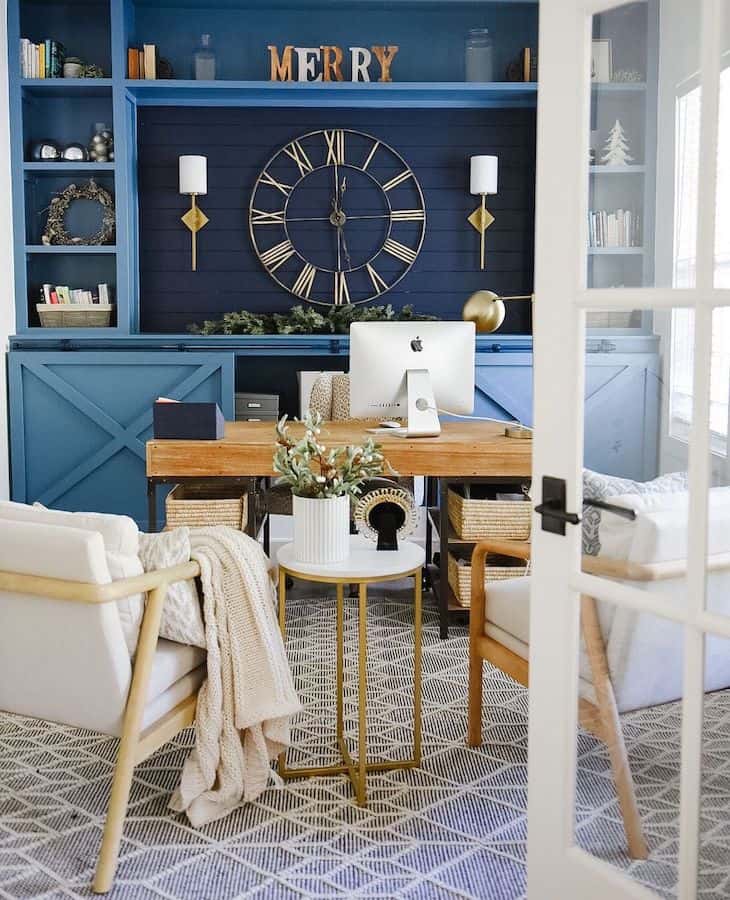 Shop related products:
desk // wall clock // end table // arm chair // #ad
The office was an excellent space for Jamie to add a pop of color, to her otherwise neutral color palette throughout her home. The vibrant blue on the shelving cabinet adds a dramatic masculine glam to her space. The oversized farmhouse wall clock in antique gold finish adds a reclaimed touch, and the wood armchairs offer a contemporary look to her office space. Paired with the round side table makes a snug and comfy seating experience. ⠀
8. Earthy tones for serene bedroom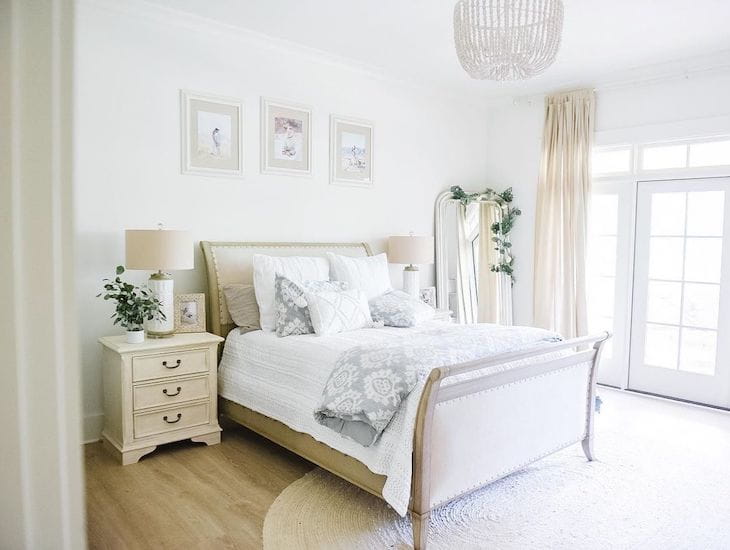 Shop related products:
sleigh bed // nightstand // #ad
This farmhouse bedroom decorated in white and neutral earthy tones makes this space airy, fresh, and serene. The sleigh bed in beautifully accentuated molding is our favorite.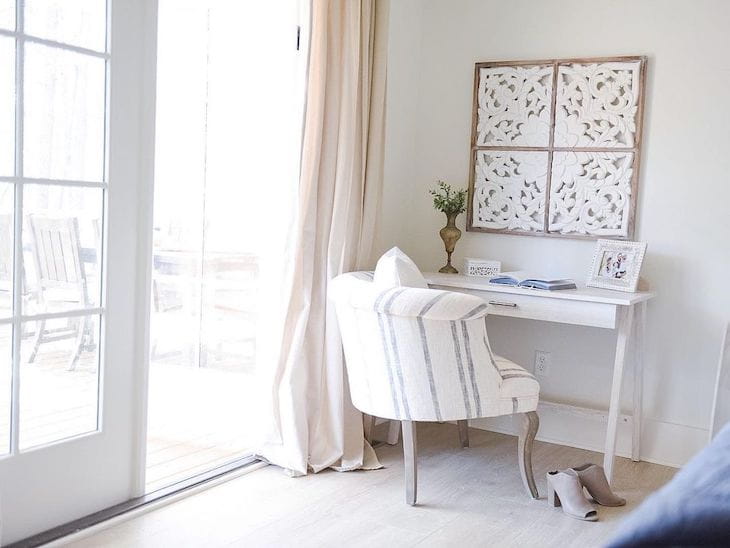 Shop related products:
chair // desk // #ad
This functional little reading/writing area is made of this narrow style whitewashed desk which is perfect for smaller spaces like this one. And the striped design of the low back accent chair makes a cozy and chic addition to the bedroom.
9. Boys kids room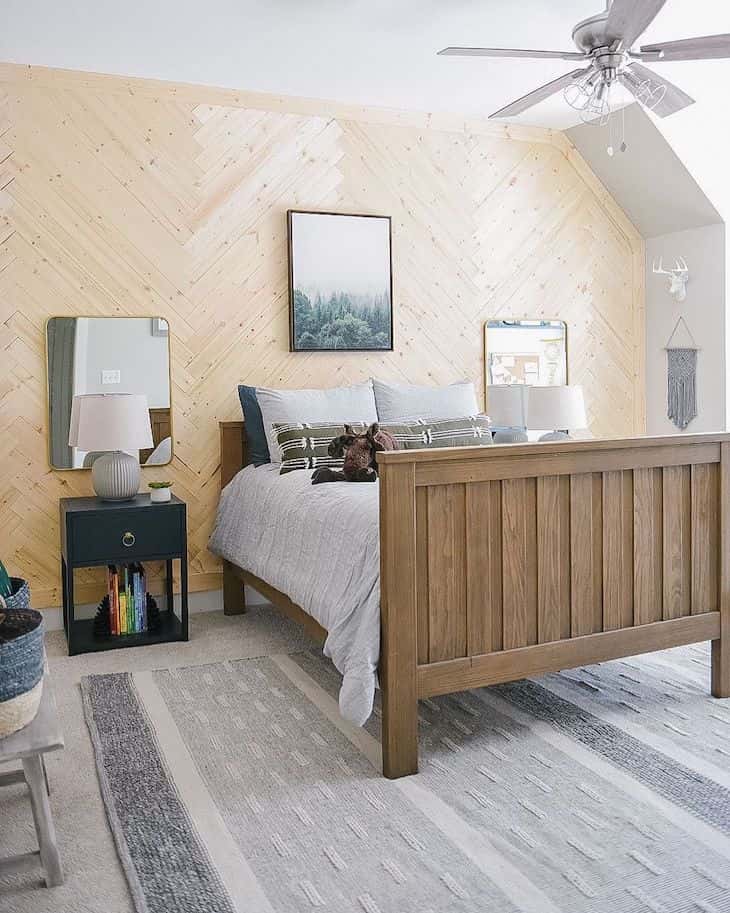 Shop related products:
bed // mirror // night stand // rug // lamp // pinecone bookends // #ad
We are swooning over the herringbone accent wall that her husband Skot built. The soft light oak color is a perfect background for the navy blue nightstands with gold brass hardware and the decorative rectangular wall mirrors. And the forest landscape photo design adds extra personality to this wall space. The chocolate bed detailed with plank paneling is a perfect choice for a boy's bedroom. The stripe comforter and the grey rug add texture to the standout style of this kid's bedroom.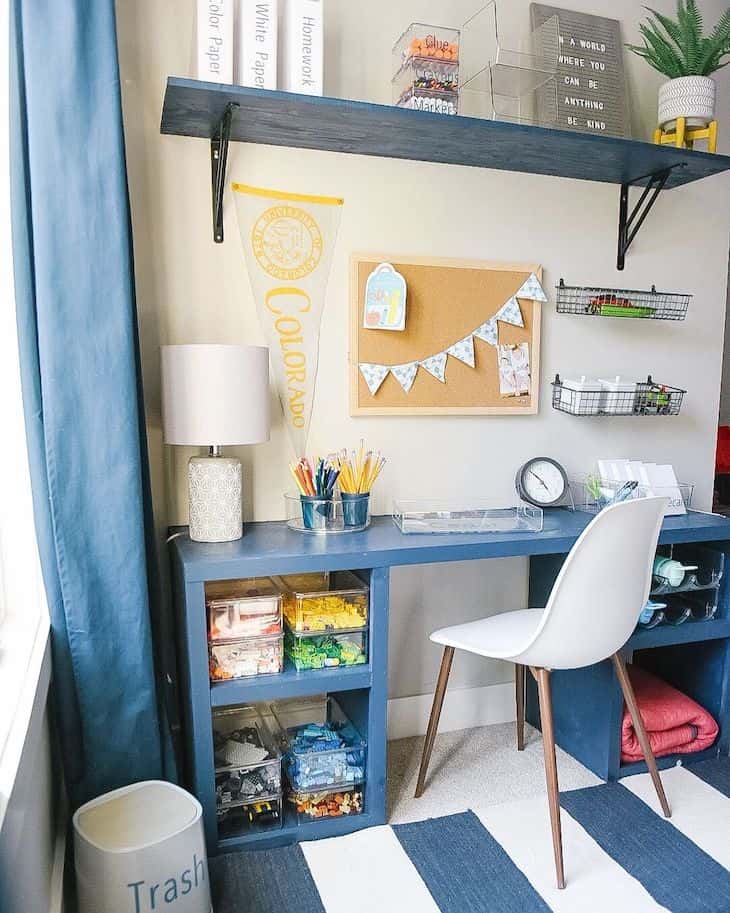 Shop related products:
chair // table lamp // cork bulletin board // #ad
10. Calming neutral nursery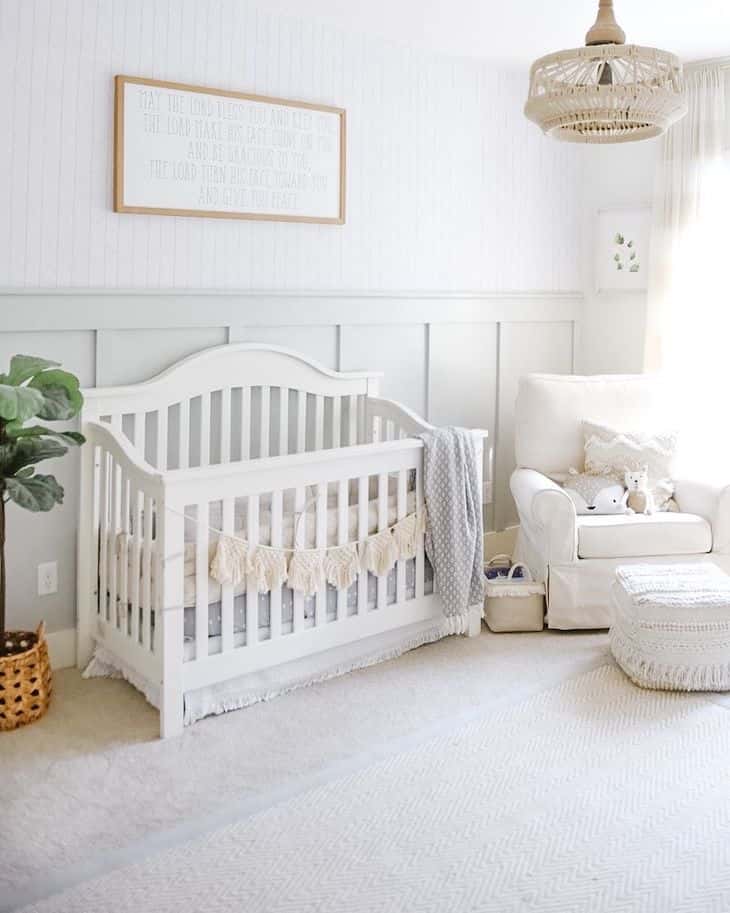 Shop related products:
crib // pouf // rug // #ad
Jamie wanted a calming nursery that she would feel at peace in while bonding with her new baby. And she achieved that with the soft neutral colors and added textures like on the ivory shag pouf.
11. Fun playroom
Shop related products:
coffee table // tent // sofa // #ad
The hanging tent for the playroom will ensure that everyone has fun in this playroom. The playroom is finished with an outdoor rug and an acrylic table making it easier to clean.
12. Master bathroom
12.1 Statement vanity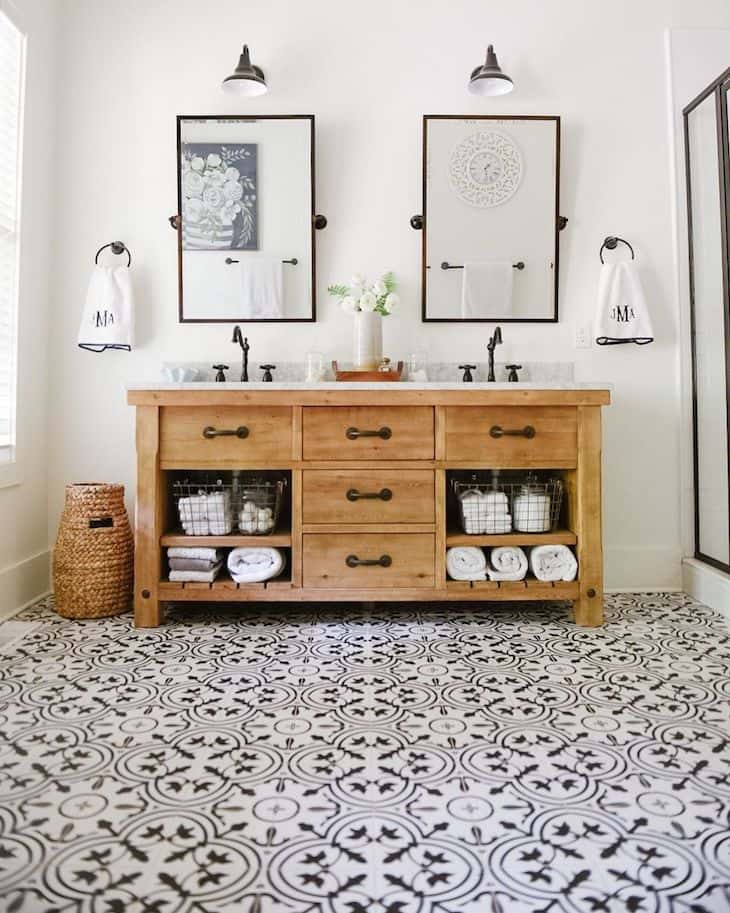 Shop related products:
vanity // bath towel // mirror // light fixture // #ad
The double sink vanity from distressed wood makes a perfect statement piece for this master bath. The farm-inspired design on the barn lights goes perfectly with the large rectangle mirrors and the black faucets. And those patterned tiles make a bold statement in the bath.
12.2 Bathtub corner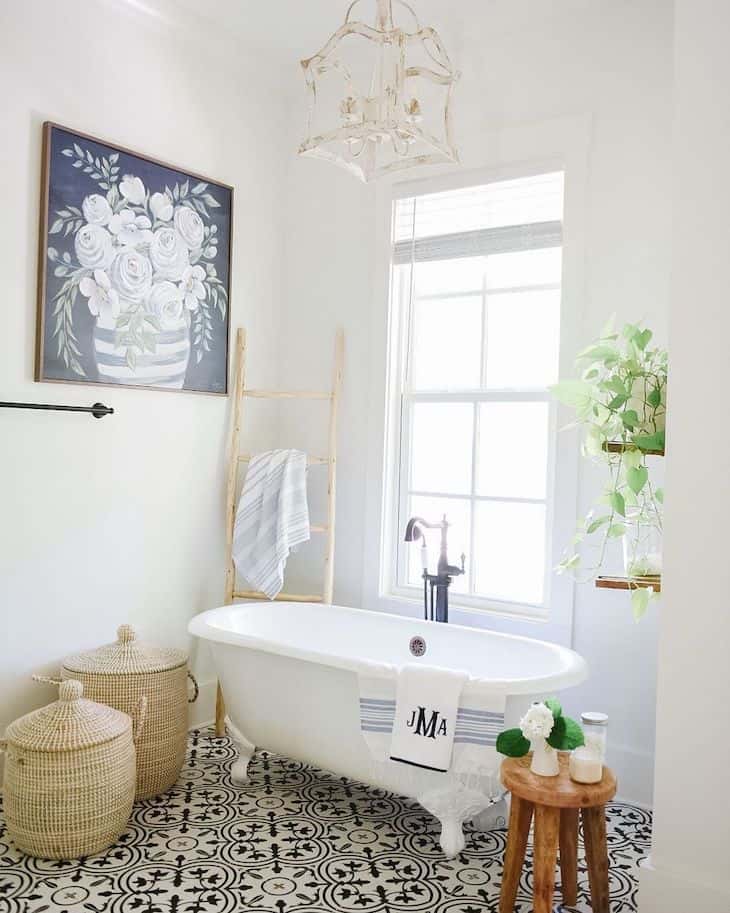 Shop related products:
baskets // blanket ladder // stool // clawfoot tub // faucet // #ad
The lidded baskets beside the freestanding bathtub give a beachy spin to this corner of the bathroom. And what a unique idea is to use a wooden blanket ladder as a towel hanger while bringing rustic charm to your bathroom.
12.3 Shower area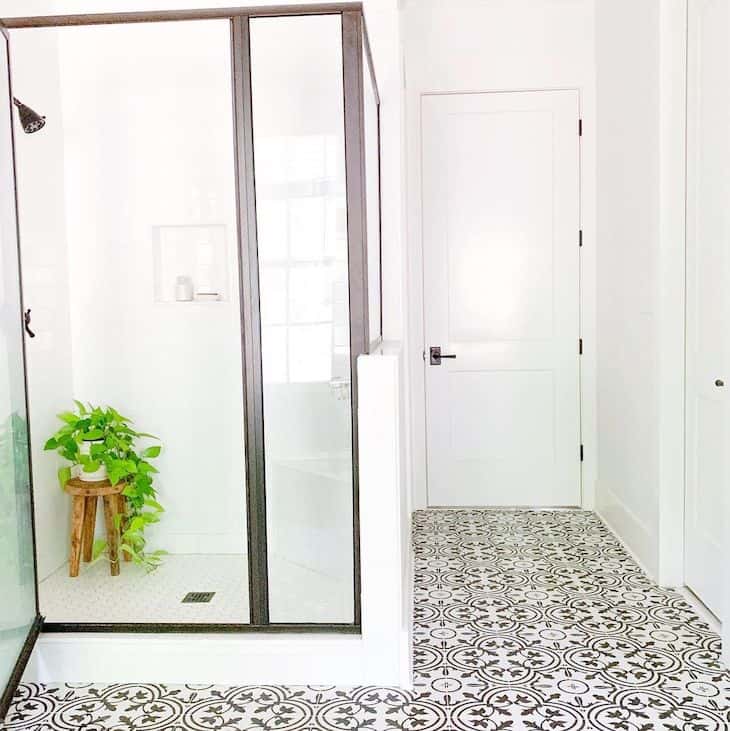 Adding greenery to your shower is a cute idea for bringing color to this otherwise monochrome scene.
13. Guest bathroom with white and gold hues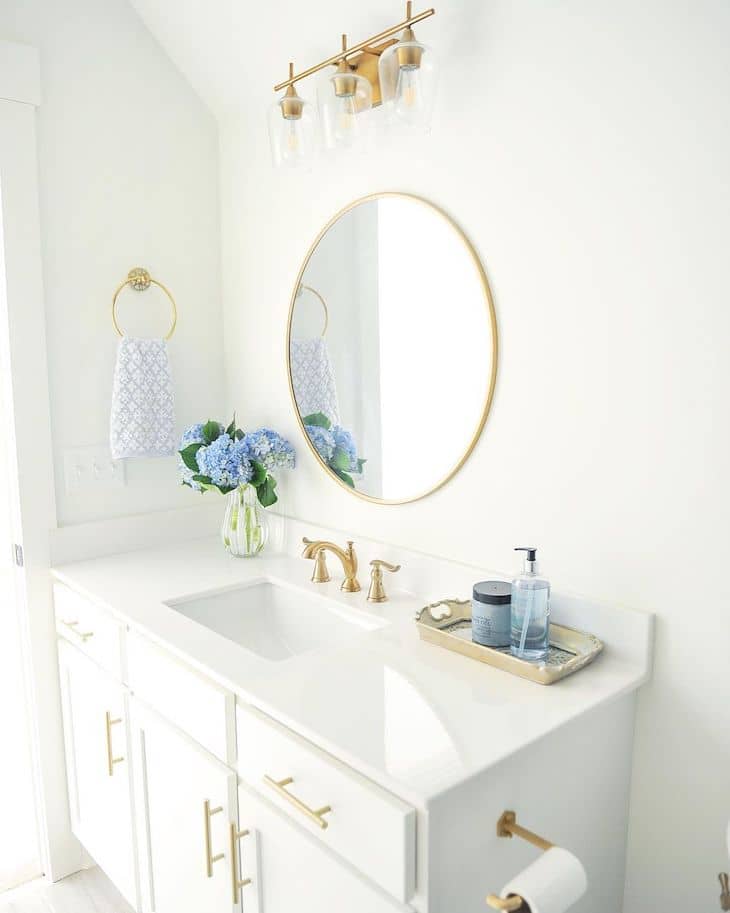 Shop related products:
mirror // TP holder // faucet // faux hydrangea // vanity light // #ad
For her guest bathroom Jamie opted for white and gold hues. This generously sized round mirror elevates the look of this bathroom, and the faux hydrangea adds fresh accent to the white vanity.
14. Powder room with playful patterns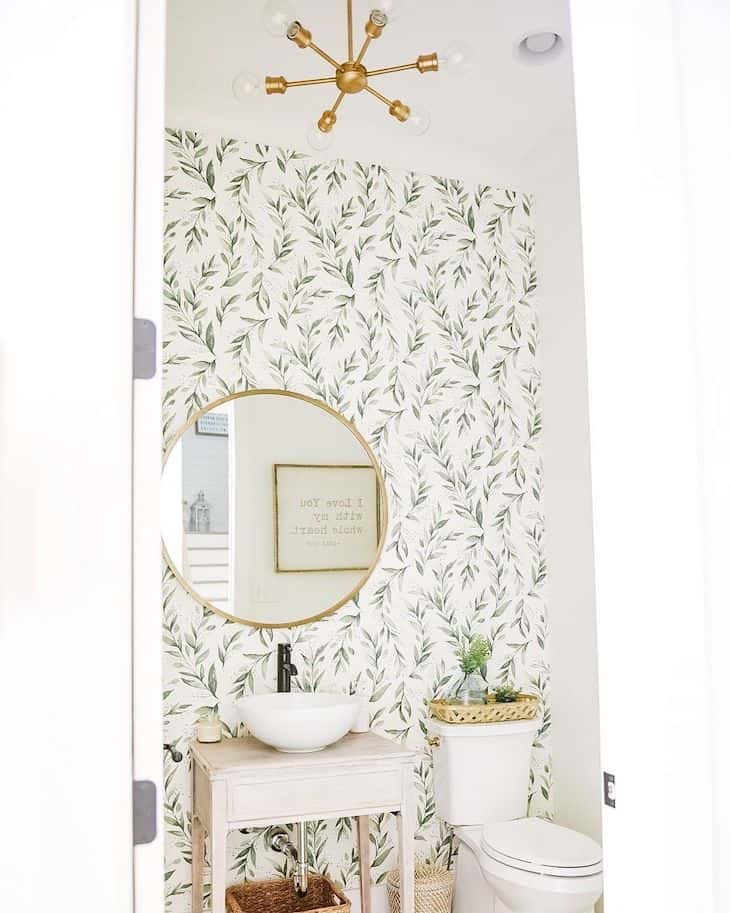 Shop related products (#ad):
The playful pattern of the wallpaper brings character to this powder room. Small areas like this are considered a go-to space for taking design risks and this one turned out perfect.
15. Back patio decor
15.1 Wooden porch swing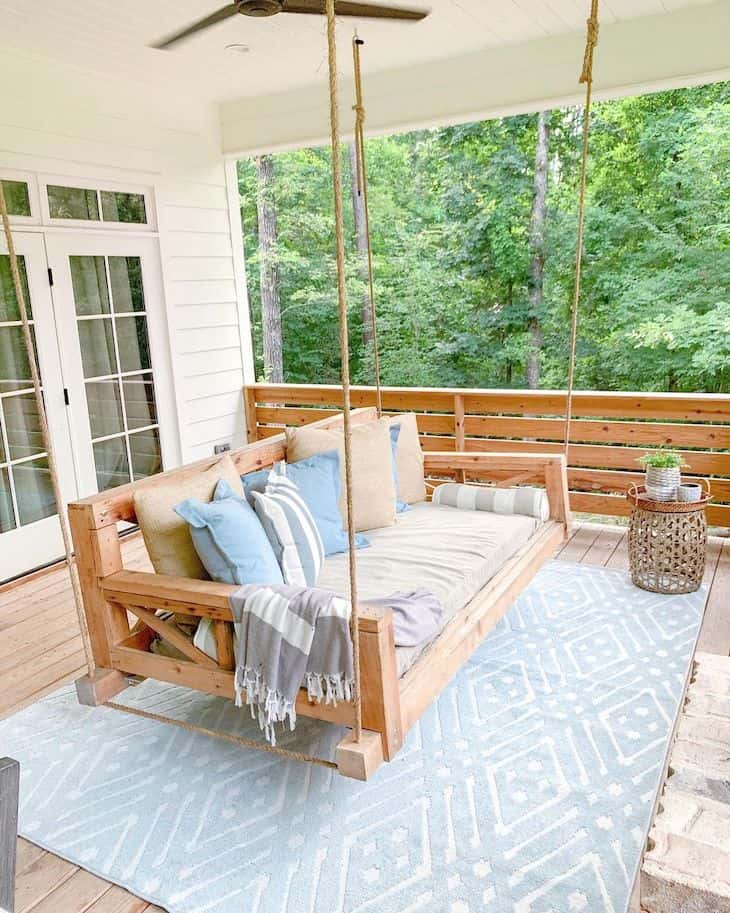 Shop related products:
porch swing // #ad
This rustic-chic porch swing adds fun and functional additional outdoor seating. Adorned with comfortable throw pillows enables lazy lounging on this back patio.
15.2 Outdoor furniture with modern farmhouse charm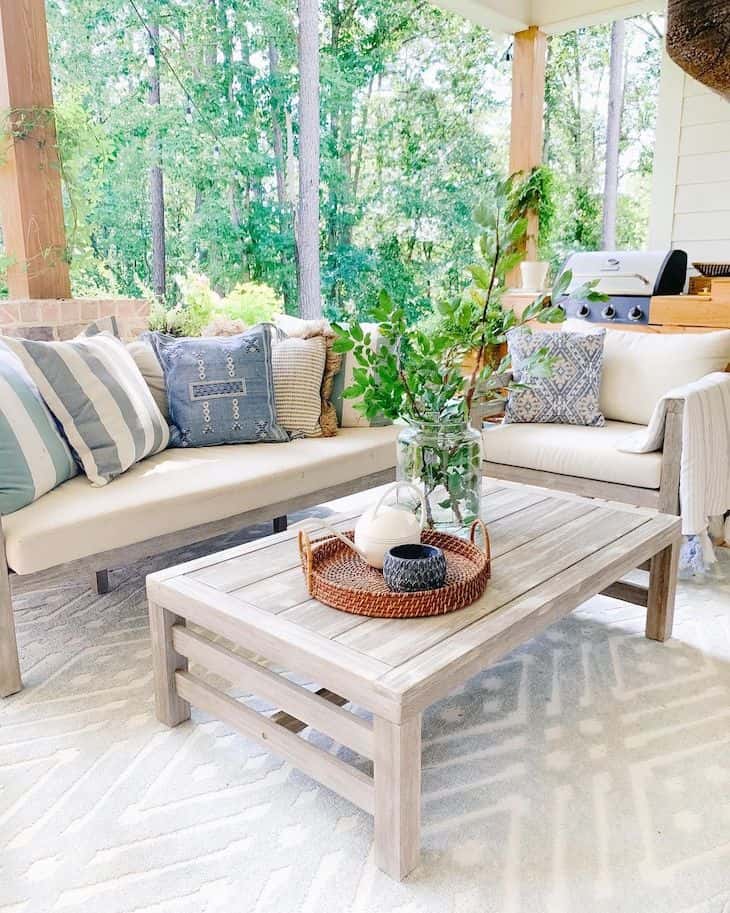 This outdoor patio set is perfect for enjoying summer and everyday life outdoors. And the twigs from her trees as table decor makes this corner even more serene.
15.3 Outdoor dining space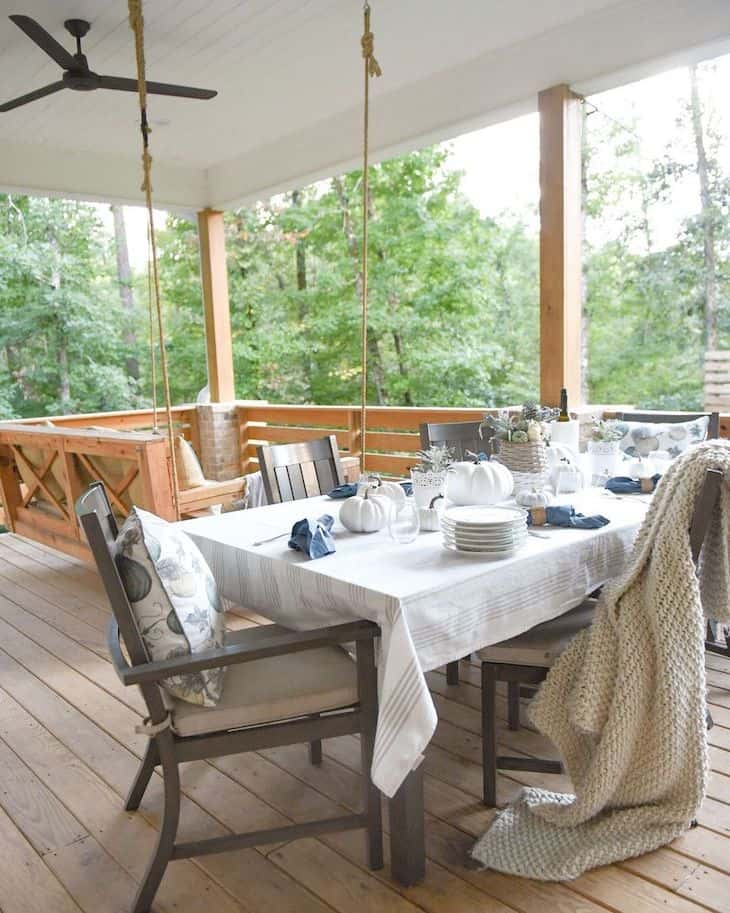 Shop related products:
blanket // stripe tablecloth // napkins // #ad
Having an outdoor dining set helps Jamie take full advantage of warm weather when hosting guests. She even uses it for creating seasonal tablescapes like this fall/thanksgiving inspired one.