Building an outdoor fireplace can really upgrade the aesthetic and feel of your backyard space. Outdoor fireplaces are the feature that will pull your family and your friends outside to enjoy that outdoor living space. An outdoor fireplace in the right landscape becomes the focal point and allows you to gather around a fire under the night sky without leaving the comfort of your own home.
Here are some great examples of fireplaces that can inspire the design of your outdoor fireplace.
As an Amazon Associate I earn from qualifying purchases.
1. Freestanding brick outdoor fireplace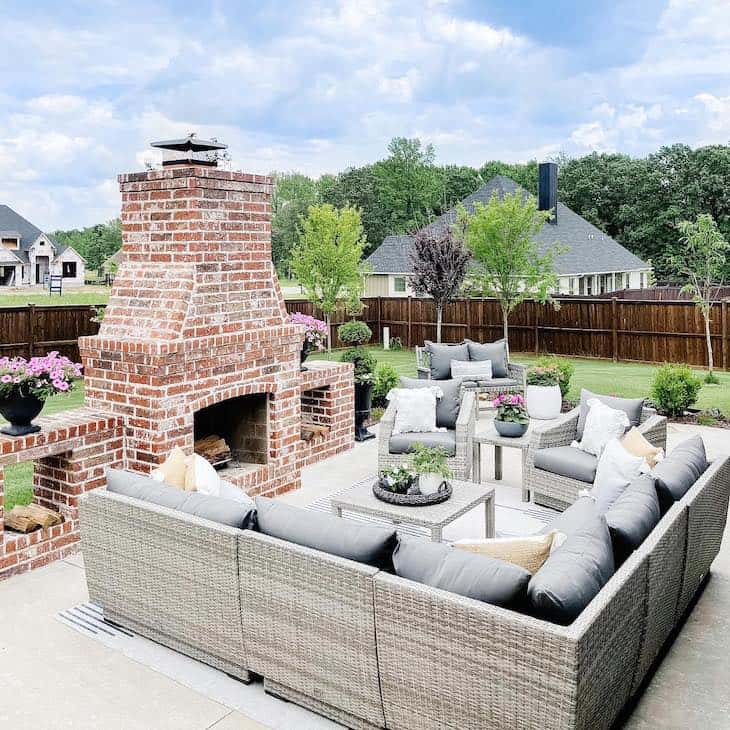 Shop related products(#ad):
patio furniture set // pillow cover // wicker tray // rug
This freestanding brick outdoor fireplace surrounded by lovely furniture is the perfect spot to spend time with your family on a chilly night. The concrete pavement shifts the accent to the red brick for a classic look. Complete the look with some outdoor pillows and make your outdoor living space the perfect hang-out spot.
2. Stone outdoor fireplace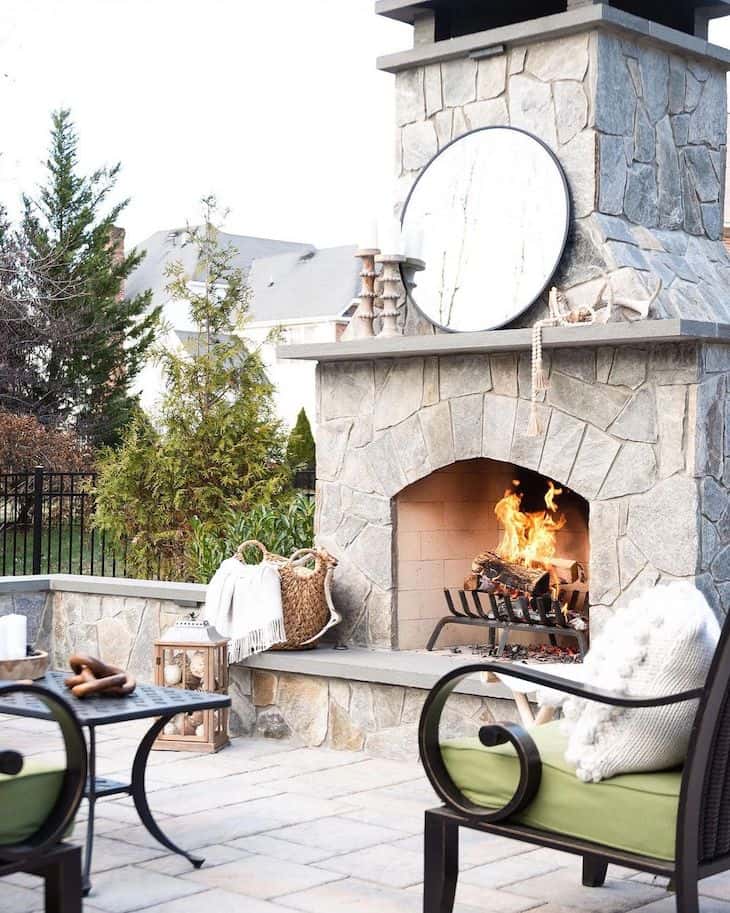 Shop related products(#ad):
mirror // woven basket // lantern // candle holder
This elegant outdoor fireplace is made of Chocolate Grey thin stone offering a mix of tan, brown, and grey hues. The Thermal Bluestone on the fireplace hearth offers a nonslip surface and a place to pop on seasonal decor like a basket filled with cozy blankets and an outdoor lantern. The classic combination of materials on this outdoor fireplace provide contrast, yet they blend together effortlessly.
3. Brick fireplace in a big covered patio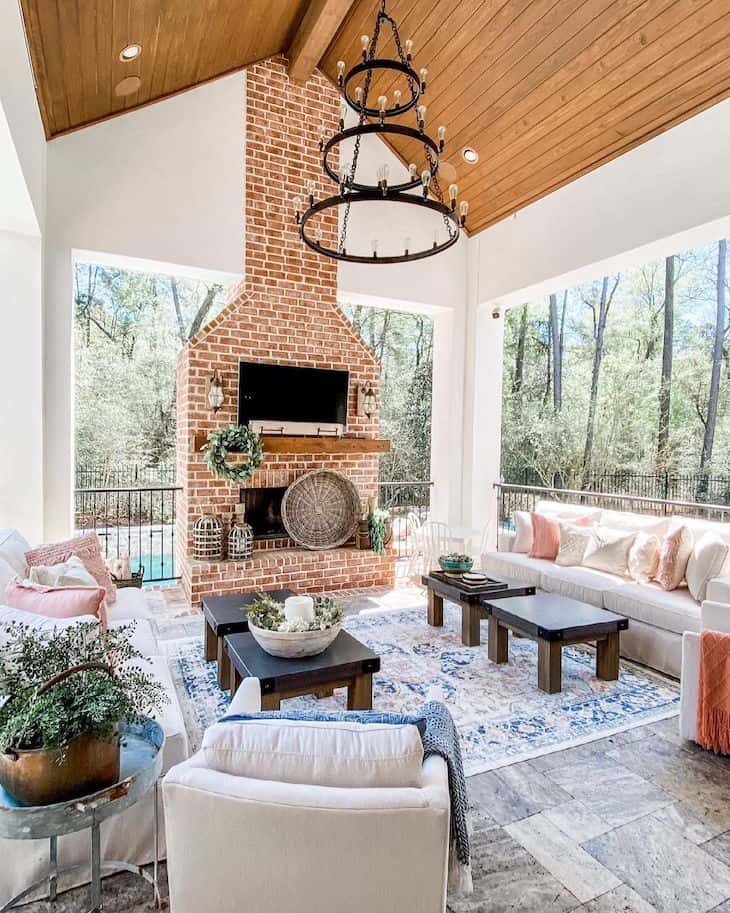 Shop related products(#ad):
rug // sofa // chandelier
The big brick fireplace is the visual focus of this big covered patio which offers plenty of sitting space making it a perfect hangout space. Having an outdoor fireplace makes it possible to enjoy this beautiful living space year-round.
4. White brick outdoor fireplace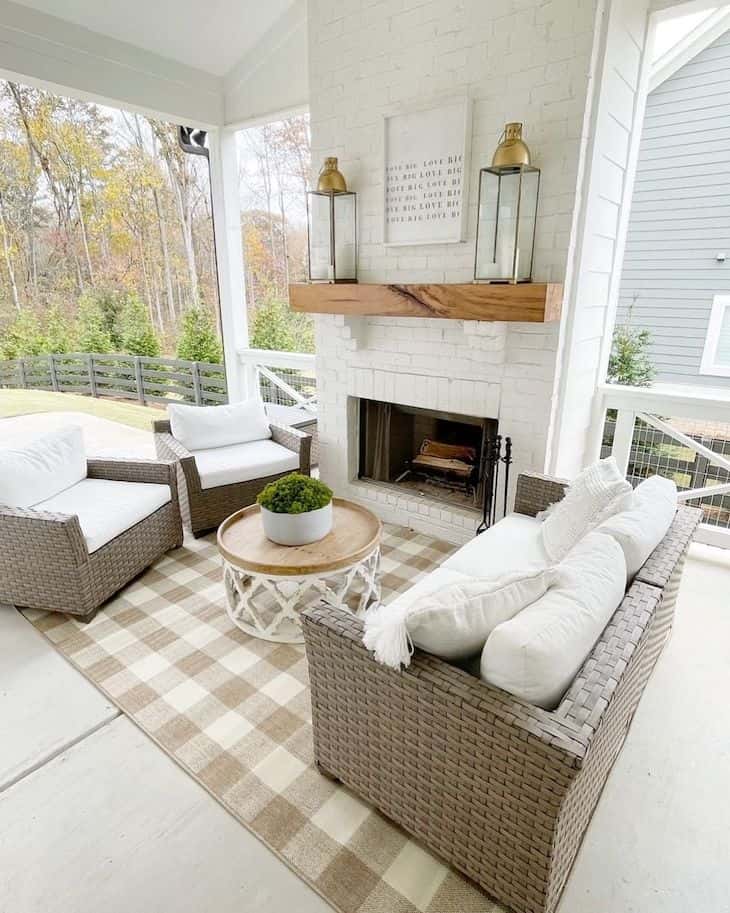 Shop related products(#ad):
rug // lanterns // coffee table // patio furniture set
This neutral back patio features a painted white brick fireplace that complements the farmhouse theme of this outdoor area. The checked rug and the round coffee table in farmhouse style match the outdoor patio furniture creating a perfect space to use even in colder months. Placing a few decor pieces on the wood mantel and the coffee table goes a long way in creating a cozy and inviting hangout spot.
5. Outdoor living space with stone fireplace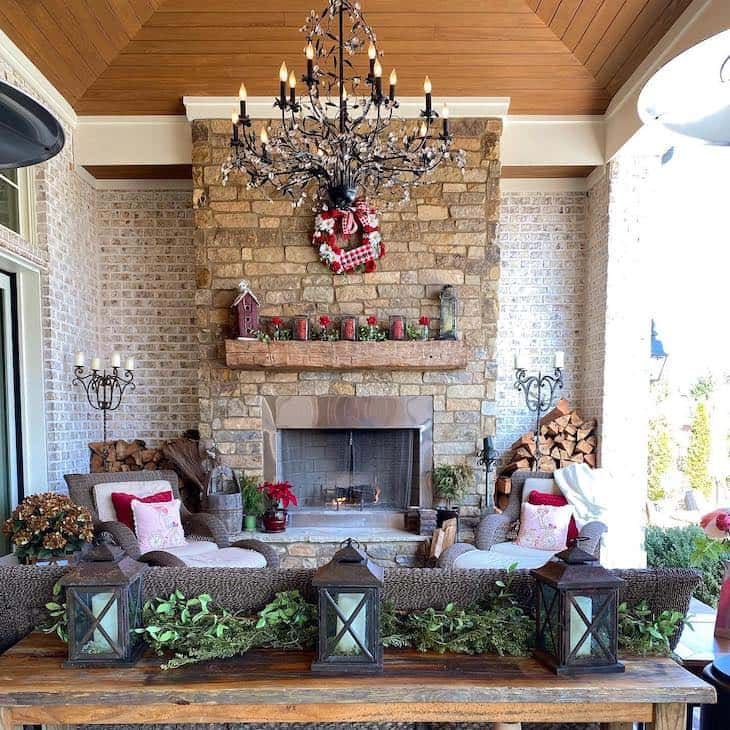 Shop related products(#ad):
wreath // chandelier
This stone fireplace is the focal point of this outdoor living space, making it the perfect gathering place for friends and family even on a colder night. We love how the color and the texture of the stone fireplace pop against the lime-washed brick back wall. The accessories including outdoor pillows and wreaths deliver a splash of color to this neutral color palette.
6. Outdoor living room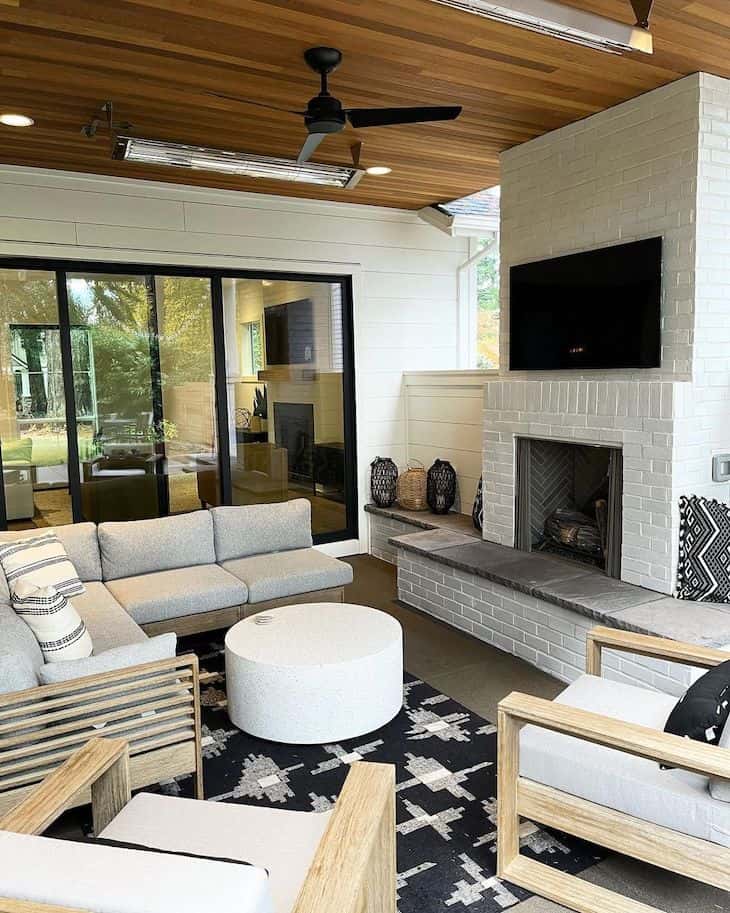 Shop related products(#ad):
outdoor sectional // rug // coffee table
The gorgeous outdoor fireplace made of white bricks makes a timeless statement with its big hearth for extra seating and space to decorate. The look of this outdoor living room is completed with modular furniture and speakers in the ceiling making it a perfect place to host and entertain.
7. Indoor outdoor fireplace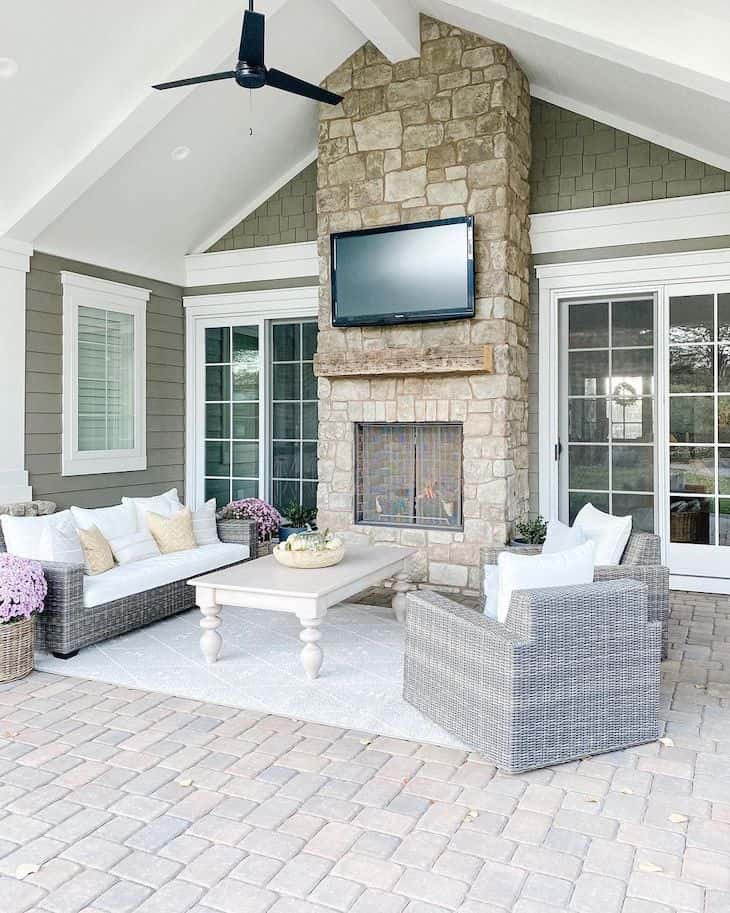 Shop related products(#ad):
sofa set // coffee table // ceiling fan // planter basket // wood bowl
This slick patio design spotlights this big stone outdoor fireplace with a tall chimney that leaves enough space to hang a TV outdoor. To make the outdoor fireplace area the perfect hangout zone, complete it with some outdoor furniture and seasonal decor.
8. Outdoor deck fireplace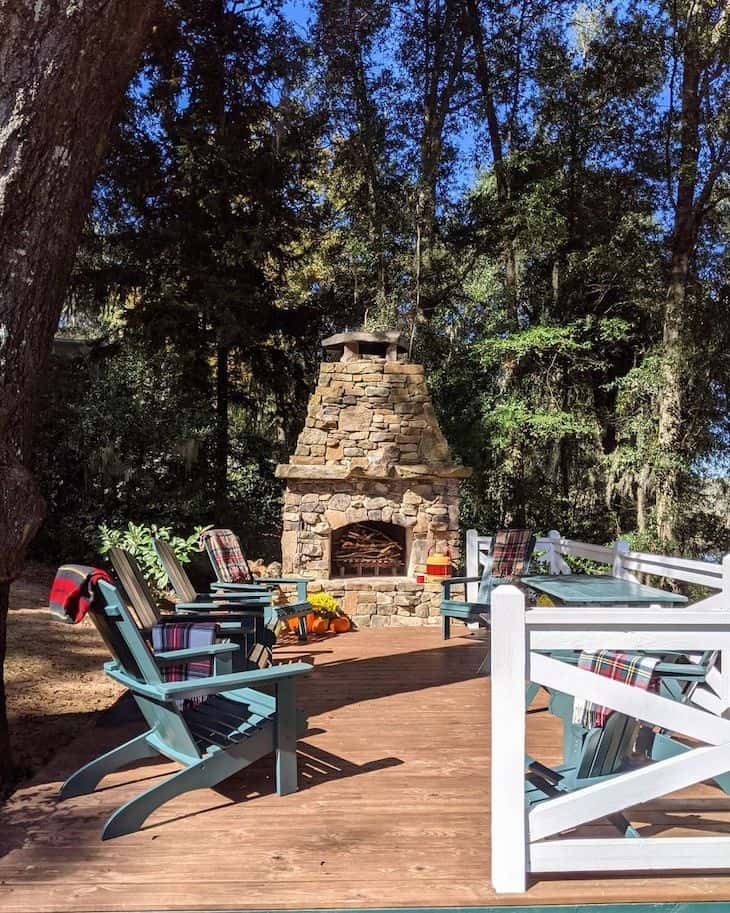 Shop related products(#ad):
chairs // blankets
This outdoor deck fireplace is the perfect spot to sit and enjoy an autumn fire. The Adirondack chairs painted in the "Night Watch" color by Glidden have the perfect deep green hue to accentuate the outdoor stone fireplace. And the stark white deck rail painted in the color "Bright White" by Benjamin Moore features an "X" pattern for a farmhouse look.