This time of the year can be busy and overwhelming for a lot of people and planning your Thanksgiving table decor maybe the last thing on your mind so we wanted to help by sharing some inspiration to make the day a little more special.
When we think of Thanksgiving we think of lifelong memories made. Your Thanksgiving table decor doesn't have to be overly fancy to be perfect. Adding just the simplest touches can transform an ordinary table into something really special. Creating decor that is inviting and cozy provides a place for your friends and family to break bread together and bond with one another. We hope this post inspires you to try something different and have a beautiful and memorable day.
As an Amazon Associate I earn from qualifying purchases.
1. Rustic Thanksgiving table decor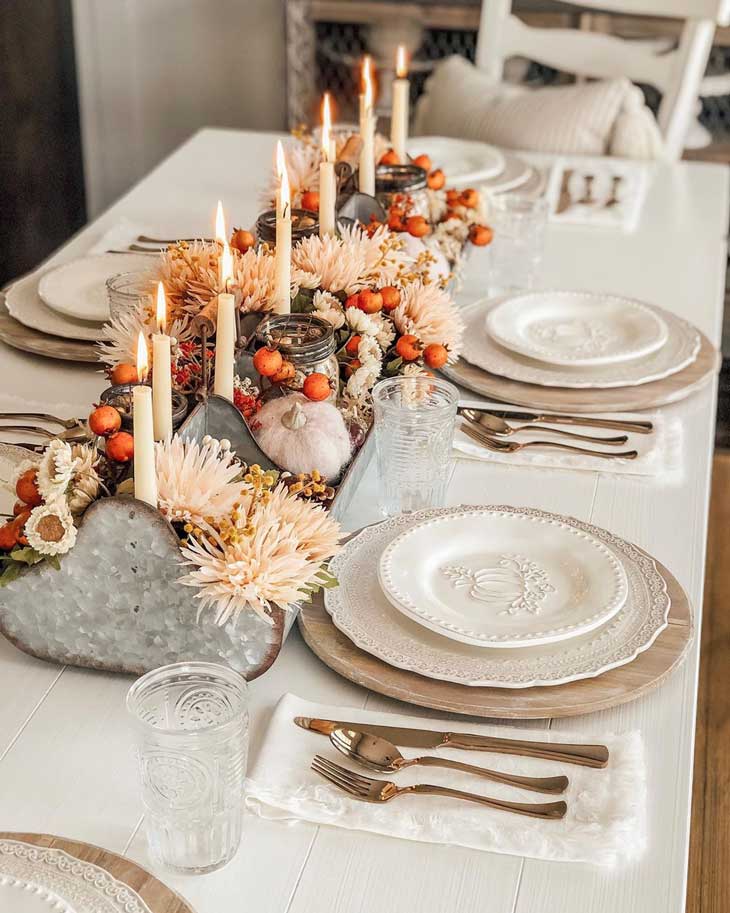 Shop related products:
metal caddy // wood chargers // vintage dinner charger // gold cutlery set // artificial chrysanthemum // #ad
The first tip for achieving the rustic look is to not use a table cloth. The wood of the table helps with the rustic feel. Or if you really have to use one, instead use a table runner like for example rustic burlap one. Also, a great tip is to use a charger underneath each plate to protect the table a bit. The wooden plate chargers add a beautiful natural texture to a rustic farmhouse thanksgiving table. So how about a centerpiece? This metal caddy is the cherry on top of this beautiful rustic decor. Filled with some fall flowers, pumpkins, and candles for a fine cozy feel.
2. DIY farmhouse Thanksgiving table decor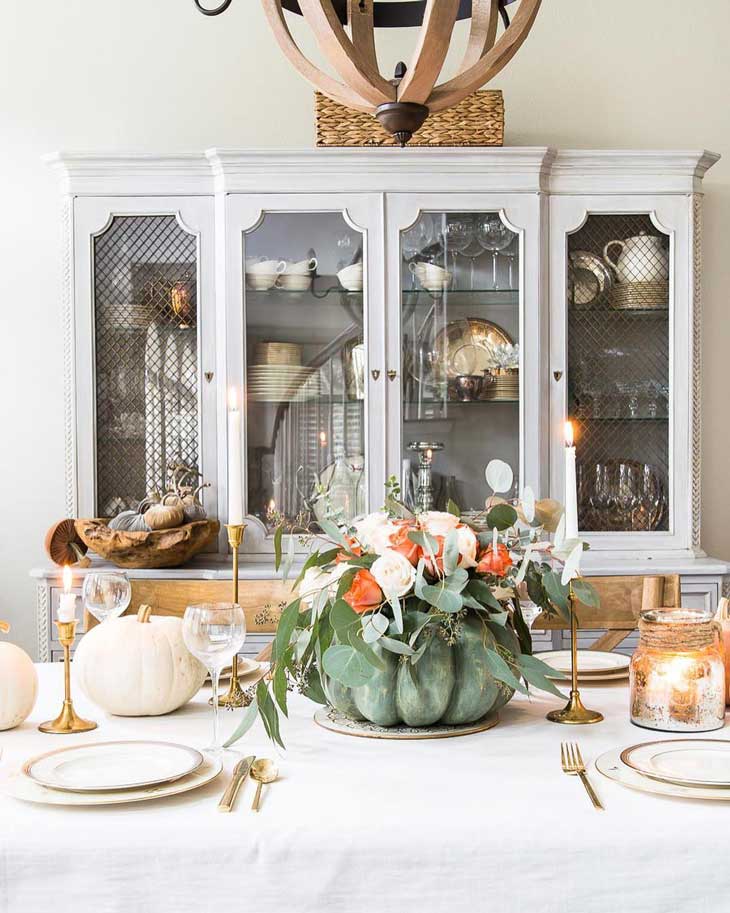 What kind of DIY Thanksgiving table decor would be complete without a centerpiece? For example, you can use a carved craft pumpkin or a decorative one, which will look gorgeous filled with fall foliage and flowers to give the entire thing some unique touch. Brass candlesticks are timeless and can go with just about any winter holiday. And if you decide to use faux flowers, you can use this decor year after year. Budget-friendly, yay!
3. Simple and natural elements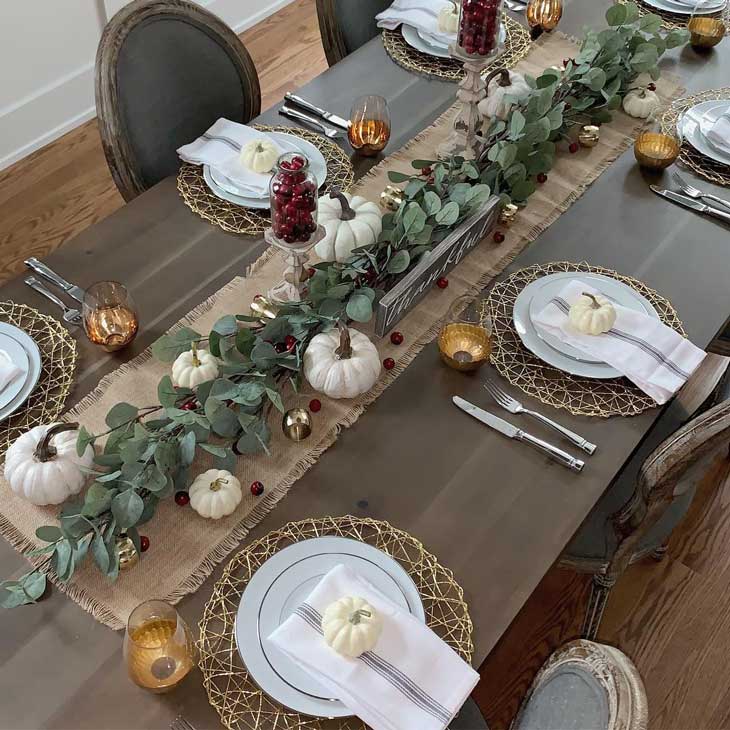 If you don't want to go overboard with the decor just try and use simple and natural elements. Just a little greenery and the leftover pumpkins from your fall decor will be enough. The whole centerpiece decor sits on a simple grain sack table runner. If you want more of an elevated look add metal placemats and linen tea towels like in the example above.
4. Modern Thanksgiving table decor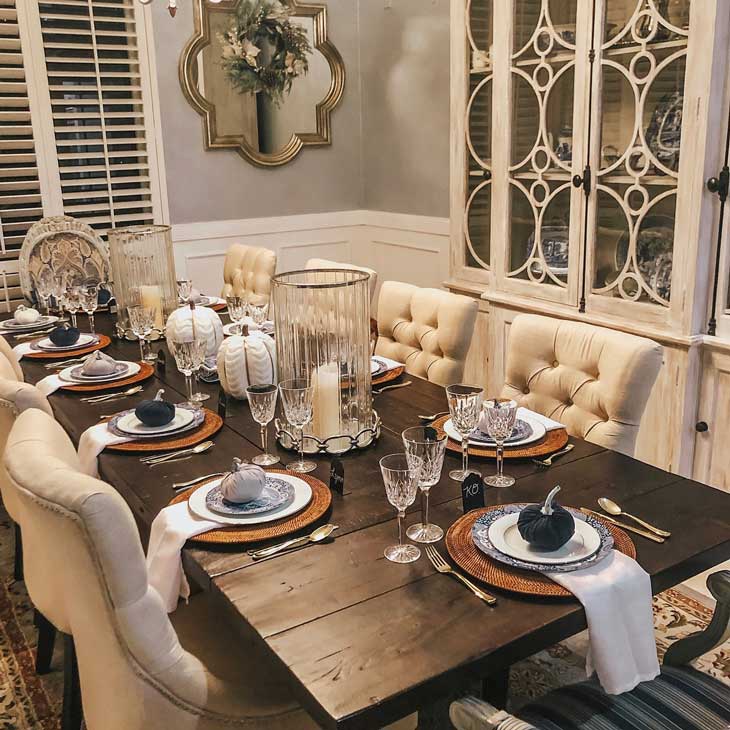 White candles used as a Thanksgiving table decor bring in an element of cozy. But if you want to achieve a more modern look, place them in big mason jars. Add only a few more elements like fake pumpkins and you are good to go. The trick to achieving the more modern farmhouse look is to use simple and clean decor. So don't go overboard with centerpieces and use as little color as possible. Black and white like in this case would be perfect.
5. Simple fall Thanksgiving tablescape decor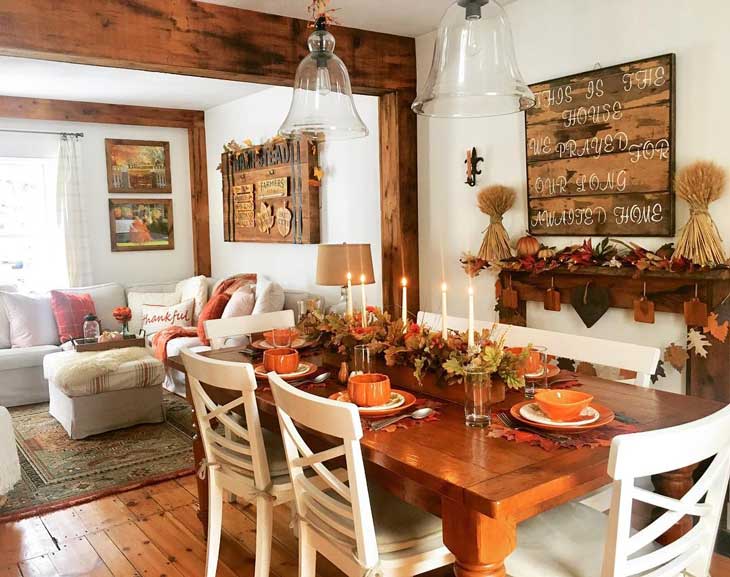 If you love a really simple tablescape that lets you decorate your table in minutes and then get to more important things, like cooking that big Thanksgiving meal for your family, then this decor is for you. This is a simple fall thanksgiving tablescape decor that anyone can throw together with items they probably already have. A wooden caddy filled with oak leaves and some candles in between is the perfect representation of cozy and inviting. It doesn't require too many skills or decor pieces but it looks like you really put some thought into it.
5. Fancy Thanksgiving table decor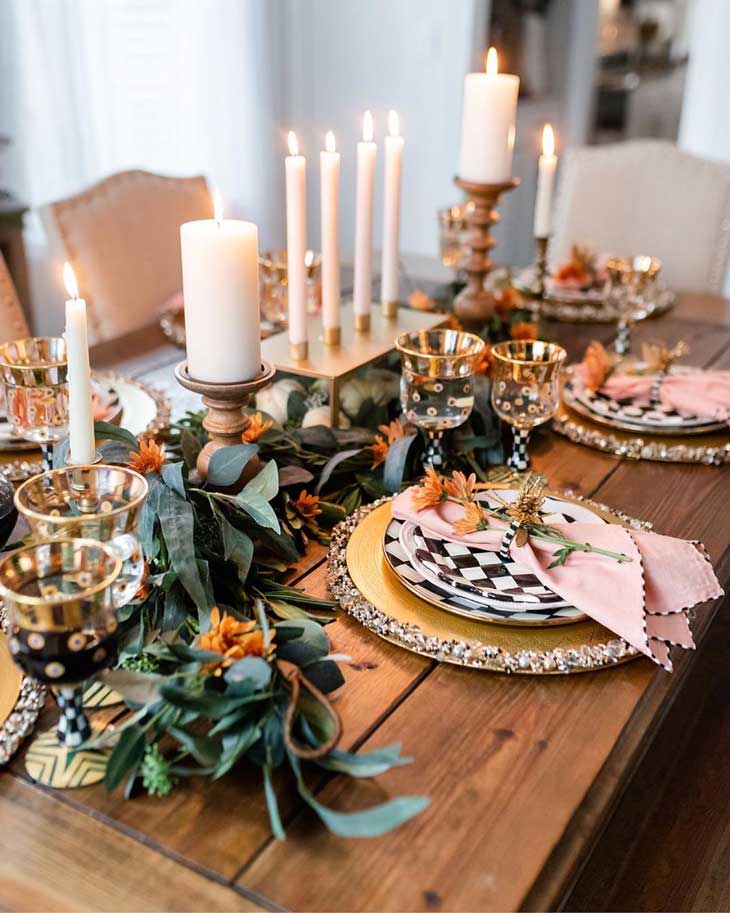 If you want to do a more elegant look at your Thanksgiving table decor here are some tips. Use white candles. Candles at a table evoke a warm feeling of coziness and make the meal extra special. Choose different sized candles if you want to add some dimension and variety to the decor. Pull out your fanciest cups and plates with some pattern like this black and white check pattern for some contrast. The green garland in between will bring together all the decor pieces.
6. Thanksgiving table decor on a budget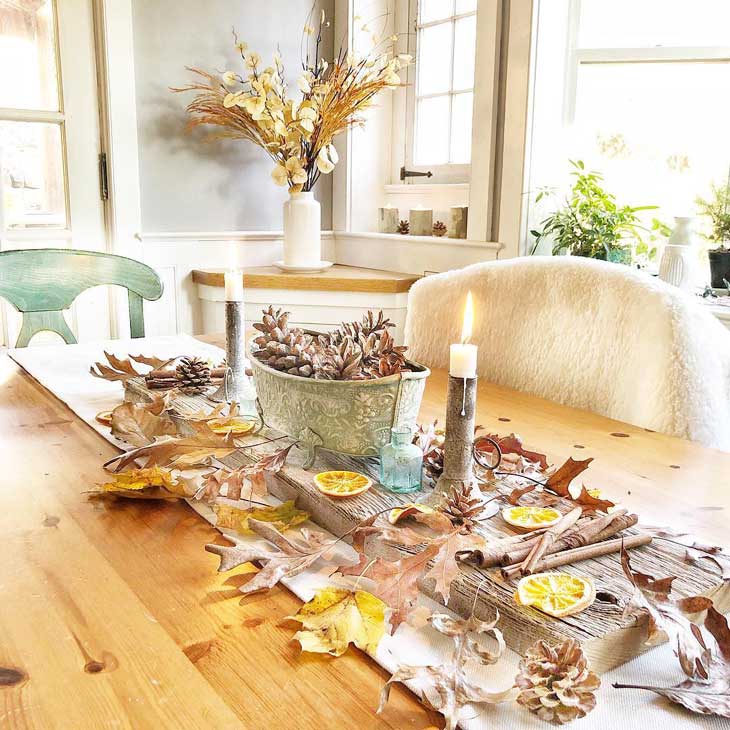 Farmhouse Thanksgiving table decor on a budget includes just a few things. First, start with a neutral table runner. Add a wooden plank on top of it, and throw some dry leaves you can gather from your yard or neighborhood, few cinnamon rolls, and some candles and you are all set.
7. Bright Thanksgiving table decor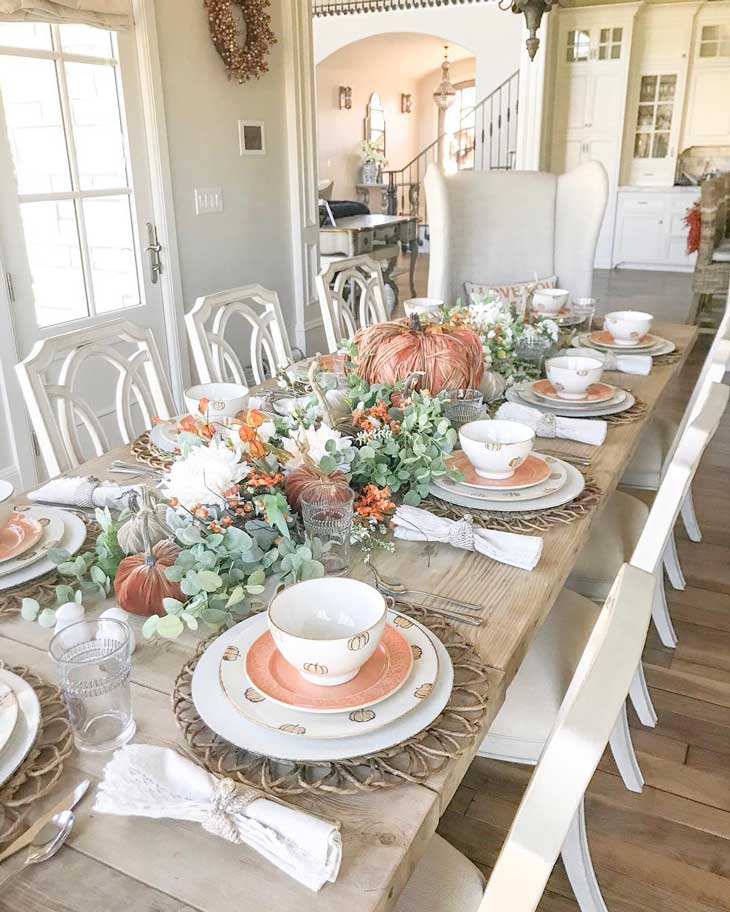 If you want your decor to scream happy here is what you go with. This beautiful tablescape decor is just so joyful. Velvet pumpkins intertwined with leaf garland and some flowers are so easy to make and all so worth it. Pop of color here and there will do the trick. The wicker plate chargers work perfectly for fall and do a great job of making the white plates pop. You can add a pop of color or pattern with colored plates or some napkins, the choice is yours.
8. Thanksgiving table decor with pumpkins
Since it's the fall (read pumpkin) season, here is an inspiration on how to decorate your tablescape with pumpkins. You can get away with adding a few fall touches, like these green pumpkins and a few leaves here and there to add a little character. And then, of course, add in your silverware and drinking glasses and you are all set! There are not only big families but small ones too. Whether you're sharing the table with a house full of guests or just those three people that are closest to you, this is a tablescape that works for any sized family!