A farmhouse style gallery wall is the perfect way to greet guests into your home. Using a mix of woods, metals, rust, florals, and other special details create a welcoming feeling. There are tons of great options for decorating your gallery wall, and here we will cover most of them.
Where to put it?
Ok, you have few empty walls that need decorating. So which one is the best choice for you to make your gallery wall? This really depends on you and the decor of your house, but here are a few suggestions that work pretty great.
The entry hallway is the first thing that your guests see when you welcome them into your home. So this spot is a great idea for your gallery wall. You want them to feel welcomed, so the personal touch of your gallery wall will do just that. And it will sort of announce the whole feel of your house decor.
As an Amazon Associate I earn from qualifying purchases.
Entry hallway farmhouse gallery wall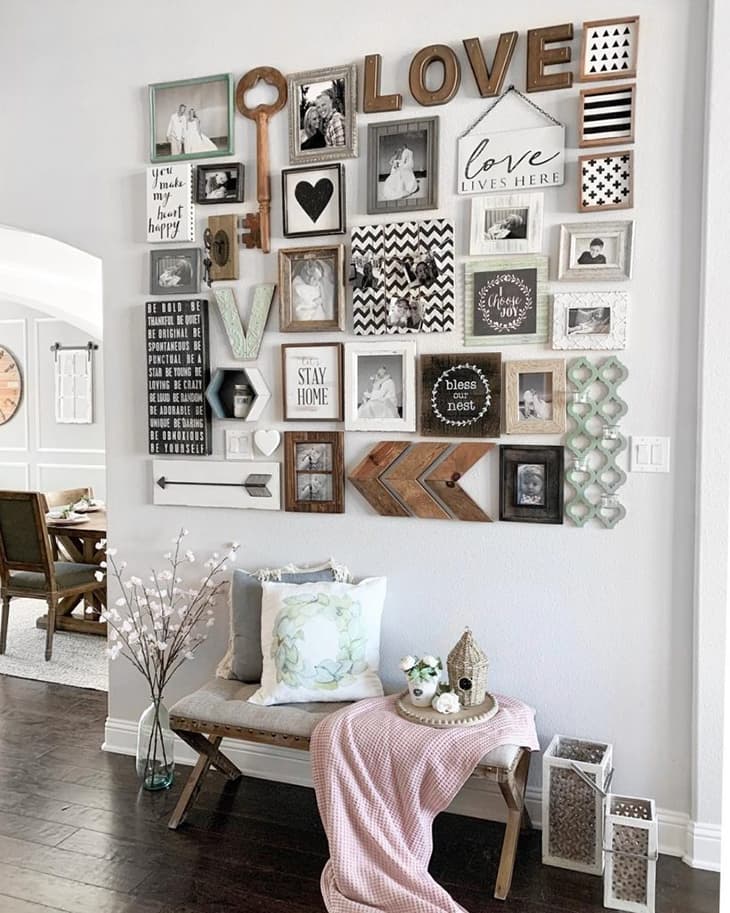 Shop related products:
wood chevron arrows // love sign // "bless our nest" wood sign // wooden key // "love lives here" sign // rustic picture frames // upholstered bench // wreath pillow // bottle vase // wood beaded tray // #ad
Living room farmhouse gallery wall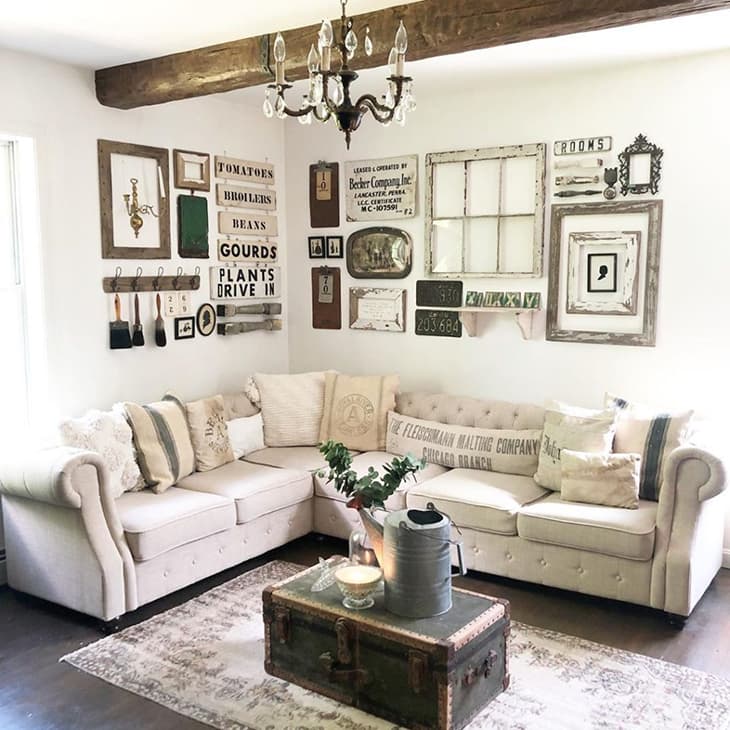 Shop related products:
sectional sofa // trunk coffee table // rustic window pane // galvanized watering can // striped pillow covers // rustic frames // area rug // chandelier // #ad
Another great place to make a gallery wall in your home is the living area. Most often that will be above your sofa. It is a place that needs decorating, so instead of hanging one piece of art or just a mirror, you can place your gallery wall here. And what better space to have your family photos, inspirational words, and personal touches, than the place you spend most of your time with your beloved family.
Kitchen farmhouse gallery wall
If you have some in-between wall in your kitchen, this is also a good spot for a gallery wall. Other than the living space, most of the family gatherings happen in the kitchen, so what a perfect space to display your art. If you are a cooking lover you certainly spend most of your time there, so this pretty sight will make your day, every day.
Staircase farmhouse gallery wall
If you live in a two-story house, the staircase if just another perfect place to hang your gallery wall. It will make the area look cozy and welcoming.
What to use?
Now, this is the most interesting part of the whole process. Getting to choose what to use can be so much fun. It is time for your creativity to blossom, but if you don't have an idea what to use here are some suggestions.
Family pictures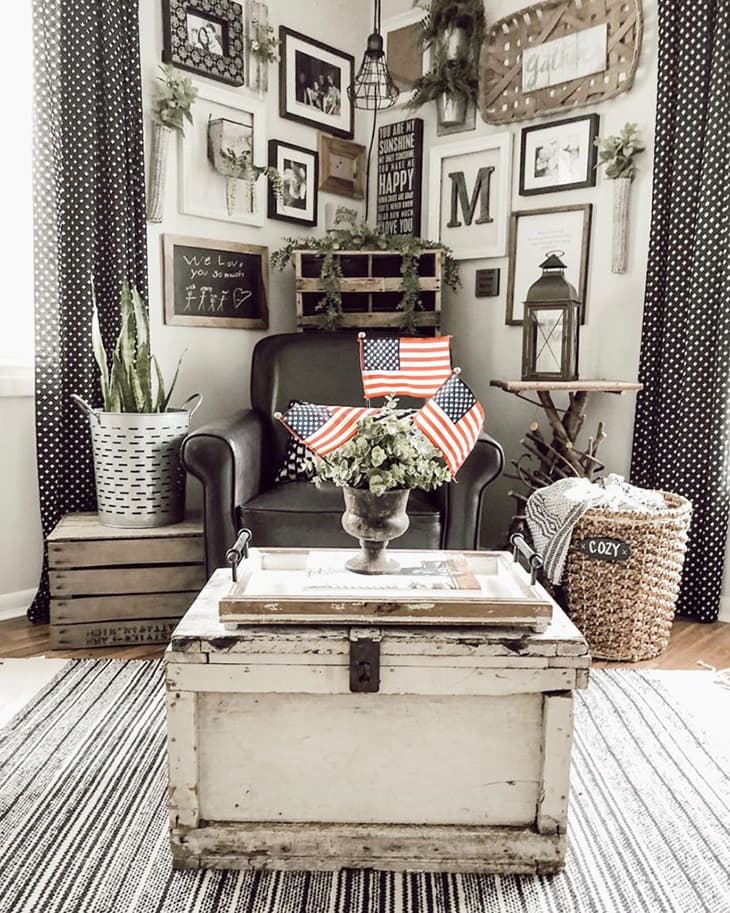 Shop related products:
trunk coffee table // rustic wood crate // rustic serving tray // rattan basket // black leather chair // pedestal vase // galvanized vase // lantern // hanging vase // chalkboard frame // striped rug // #ad
This is kind of a no brainer. Making your family portraits, that mark some of your significant times in your family live, part of your gallery wall is the most personal touch that you can use. Some wedding pictures, graduation pictures, maybe milestone birthday pictures are some of the ideas you can use. Also, don't forget about your family tree! Check with a grandparent for some old black and white photos and place them among your kids and your parents. It's even better if you know their names and their stories too.
Wooden accents
Using wooden accents will give your space some definition. If there's one rule for farmhouse gallery walls it's this: if you can find rough wood from a barn or otherwise, put it up however you can. You can make it into a frame, hang it as a backdrop or place a piece along the top of your gallery wall to give your space some definition. However, you can include the wood tones.
Flowers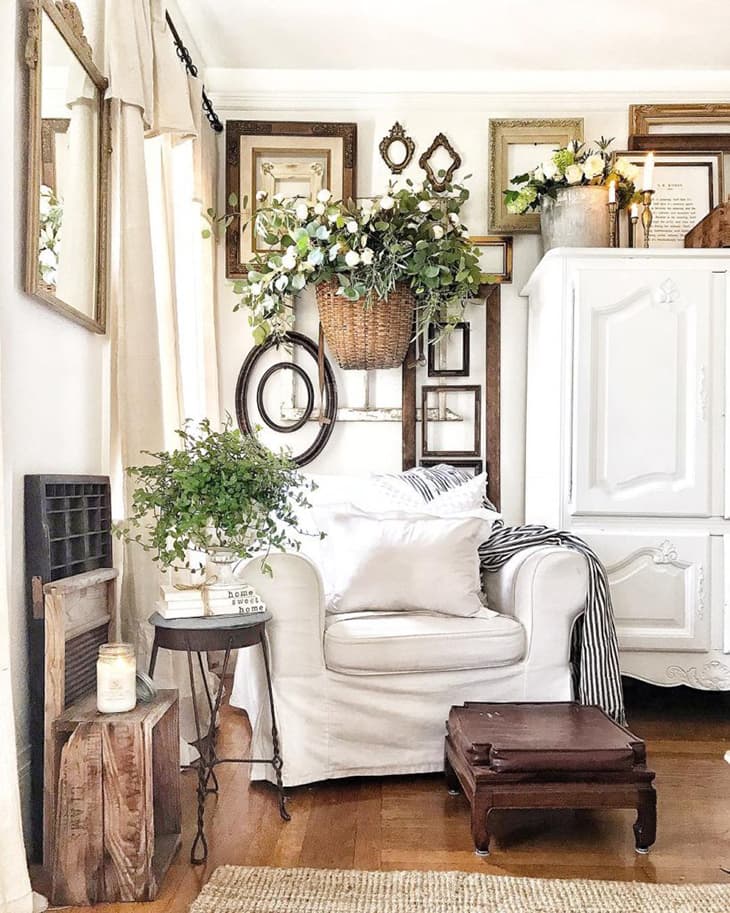 Shop related products:
farmhouse armchair // #ad
Mirrors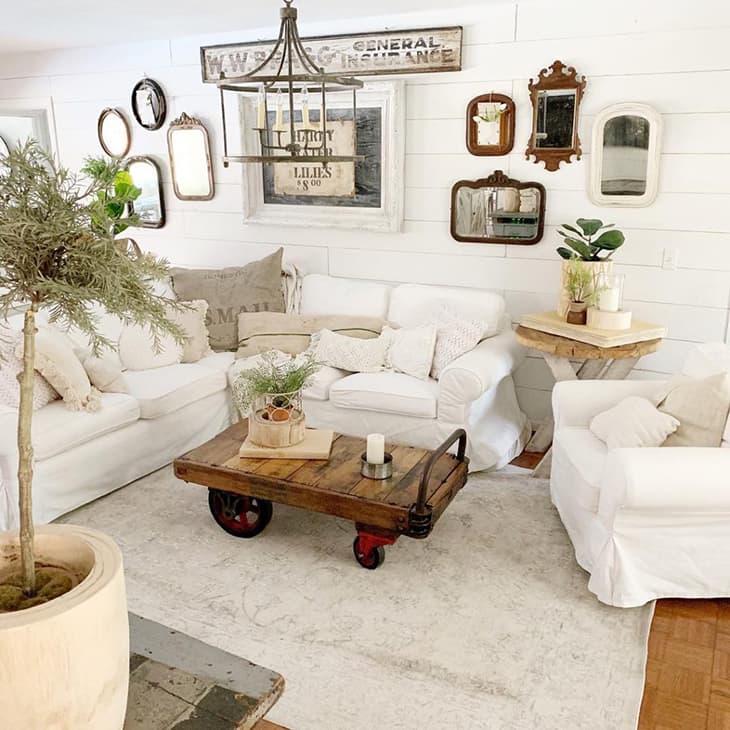 Letter boards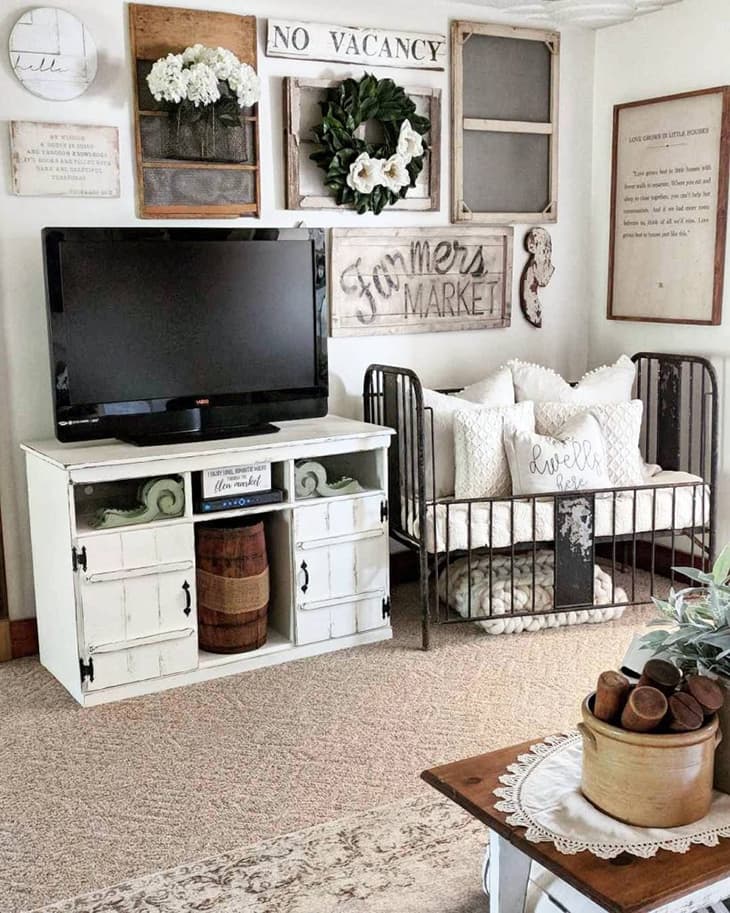 Include long quotes or lyrics about home and love and family with a black background and white rustic wood frame. You can make this the focal point of your gallery wall and decorate around it.
Numbers and letters
If you are looking for knick-knacks to fill the small spaces in between your frames, this is an easy way to add a personal touch without being too obvious. Pick one that means something to you and go with it. For example, look no further than the first letter of your last name. Collect several sizes and colors and styles of your initial and include them among the other items.
Where to start?
Now that you have found all the items you want your gallery wall to consist of it is time for the second to last bit of the whole process. Before actually start hanging anything, layout everything on the floor. Here you can decide what works and what doesn't in the whole collection, so you may be left with some unused goodies you can later use in a different room. That's why having options is so important…you never know what you'll end up liking until you start trying different things. Find the best look for your taste and then and only then start making holes in your wall and hanging on the items chosen. The best way is to make a few different arrangements, take a picture of them and then decide which one fits the best. If you are doubting your choice, get the whole family to vote on them and there you have a winner.
OK, now for the last bit. Now that you have everything worked out, it is time for actually making the gallery wall. It is best to start by outlining the wall area with a tape. Next is hanging the four corner pieces, then the bottom ones, then the top ones and lastly do the middle. If you don't want to make any damage to your walls, it is a good idea to use command strips.
Hanging the gallery wall