Working from your home has gained a lot of momentum nowadays so why not make the best of it and cozy up your workspace with these modern farmhouse home office decor ideas.
Since both our work and leisure time is now spent at home due to local, national and global health requirements, home office decor has added meaning. We may have designed our home work space quickly and simply to meet our needs during a few hours on week nights or weekends. Yet now, we find ourselves spending most of our daytime hours, and some nighttime hours as well, working from home. Rather than commuting to our usual office buildings, retail stores, showrooms, factories or other workplaces, we are living full-time in your home environments.
This new lifestyle of ours may prevail for a while longer. For this reason, why not create beautiful and inspiring modern farmhouse home office decor with the ultimate high-fashion and functionality? With some savvy research and creative comparisons, we can determine our favorite chic, classic, rustic or contemporary style of decor. We can design our home office space in the ideal style to enlighten and enliven our stay-at-home work hours.
As an Amazon Associate I earn from qualifying purchases.
1. Chic Farmhouse Home Office with Feminine Appeal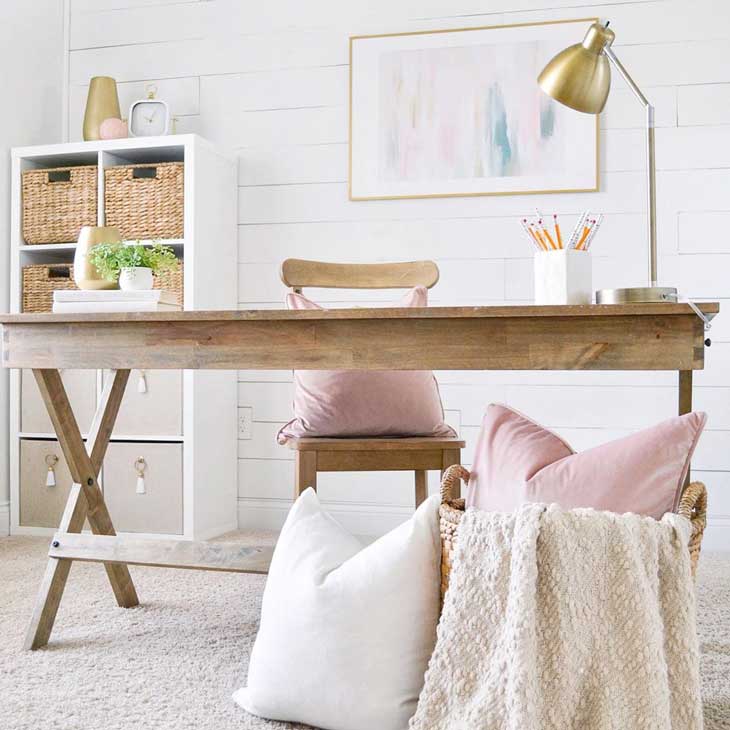 Shop related products:
home office desk // pink velvet throw pillows // gold desk lamp // 8 cube open shelf // wicker baskets // #ad
This calm, serene modern home office decor has a simple, quiet charm and soft, light palette. The pale gray walls along with the pale pink and white pillows and throw create a chic, feminine home office atmosphere. You can see how this simple rustic yet elegant handcrafted wooden table and chair become a fashionable desk set in this soft, inviting interior. Notice how the sleek, long-necked desk lamp accents this mode of decor with slender elegance.
By choosing woven basket bins, you can produce natural farmhouse contrasts to the stylish sand-colored file drawers below. If we add silky tasseled drawer handles or fabric-covered knobs, we can accessorize the pale, cushioned pillows beautifully. You can also feel the gentle artistry and empowering impact of the abstract painting with radiant early spring tones on the wall behind the desk.
2. Home Office Styles from Different Eras Create Coastal Charm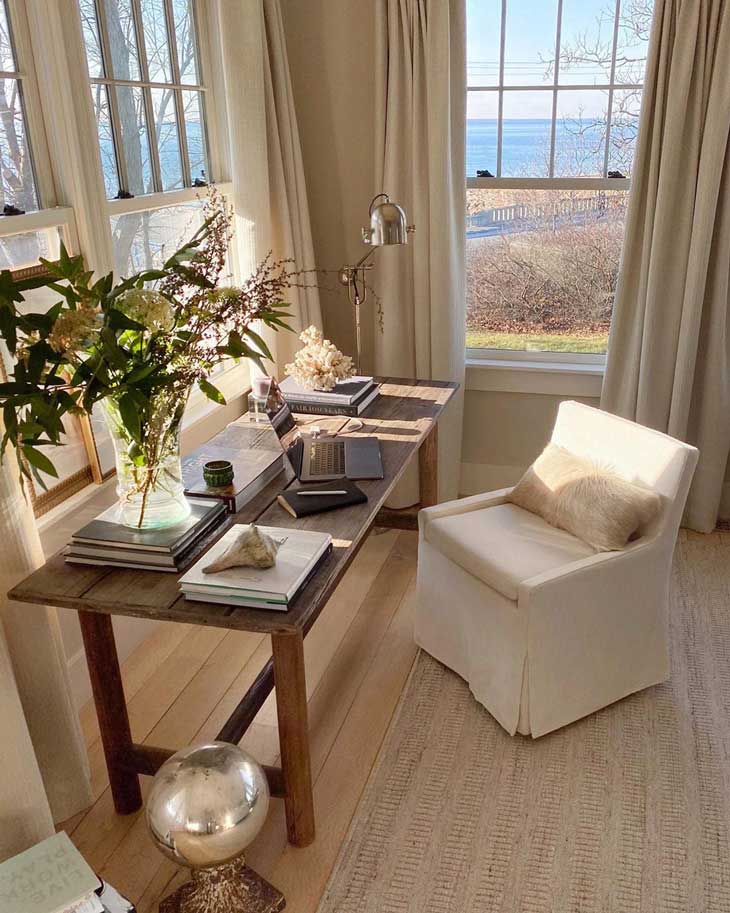 Shop related products:
home office desk // vanity chair // desk lamp // #ad
The casual style and allure of this coastal farmhouse home office is enhanced by the glorious seaside views through the tall multi-pane sash windows. You can observe the room assuming a grand quality due to the boardwalk banister and endless ocean beyond. Here we see the strong influence of natural accents like the vase of buds, blooms and greenery.
Small touches like the conch shell or other signs of sea life emphasize the natural warmth of this coastal farmhouse home office. We also realize that the rough-hewn wood plank table strengthens the central farmhouse theme. At the same time, the floor-length textured beige curtains and small, plush cream-colored chair lends an intriguing influence of 1930s elegance.
3. Masculine farmhouse home office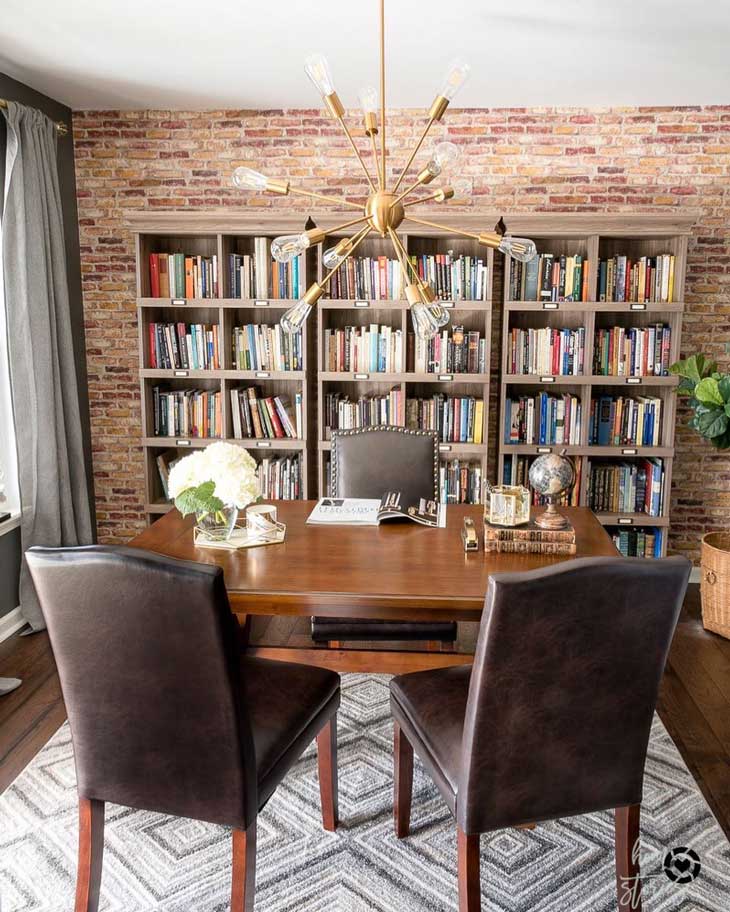 Shop related product:
home office desk // bookcases // sputnik chandelier // office chair // #ad
The rustic brick wall and industrial style modern chandelier with multiple bare light bulbs set the style for this masculine style home office. This distinctive masculine farmhouse home office design and decor are emphasize by the three tall, freestanding bookcases against the brick vintage brick. We can see how the smooth, appealing coloration and luster of the cherry-wood conference-style desk-table add modern simplicity.
You can also feel the strong masculine tone of the tall-backed, leather desk chairs and the squared, geometric pattern of the nubby rug. This streamlined style is further accented by the smooth, deep cocoa chair leather and the rug's subdued gray shades. The single softer accessory—the vase of large white flowers—is offset by the small world globe resting on bound books on the desktop.
4. Cozy Corner Office with Relaxed Appeal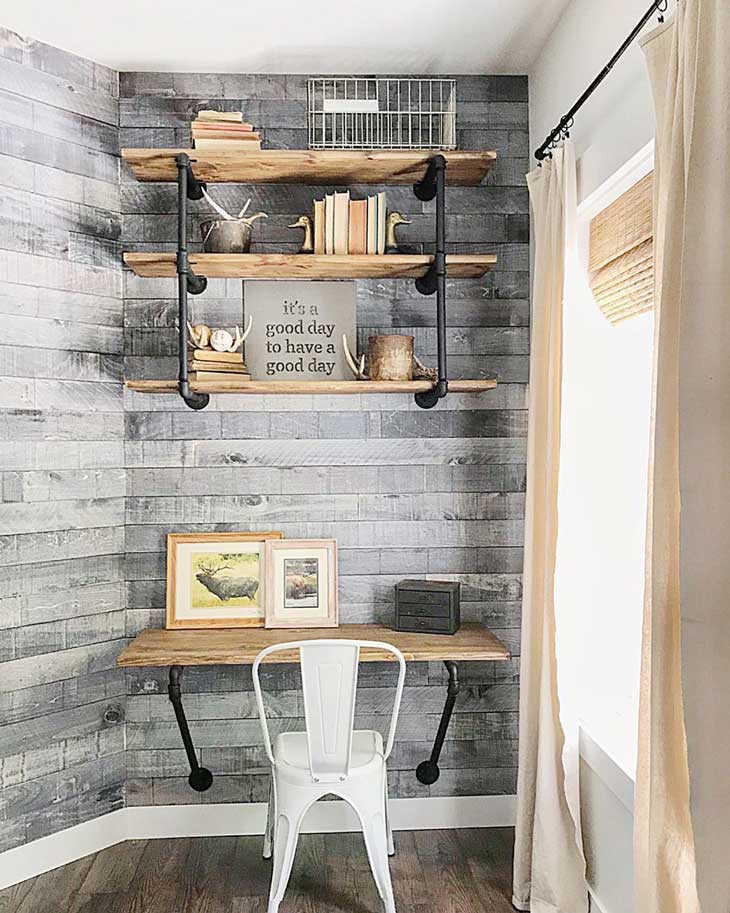 Shop related products:
metal chair // wall mount pipe shelves // hardwood wall planks // #ad
Notice how the rustic gray wall tiling of this appealing industrial style corner workspace offers comfort and simple charm. The wall-mounted hardwood desktop supported by black metal piping is mirrored in the matching overhead open shelving. We can see how the slightly worn books, wire basket and rustic decorative items contribute to the this corner's uncluttered style. It offers a pleasing balance of cozy home work space and basic industrial appeal echoed by the desk's plain white metal deck chair.
The plain, sheer white curtain bordered by sand-colored drapes is enhanced by the opened natural bamboo roller blind. This pleasing natural window treatment ensemble admits encouraging rays of filtered sunlight. The sign mounted on the shelf above the desk, "it's a good day to have a good day" reminds us that we can "run the daily show" in our cozy home offices.
5. Side-by-Side Home Office Symmetry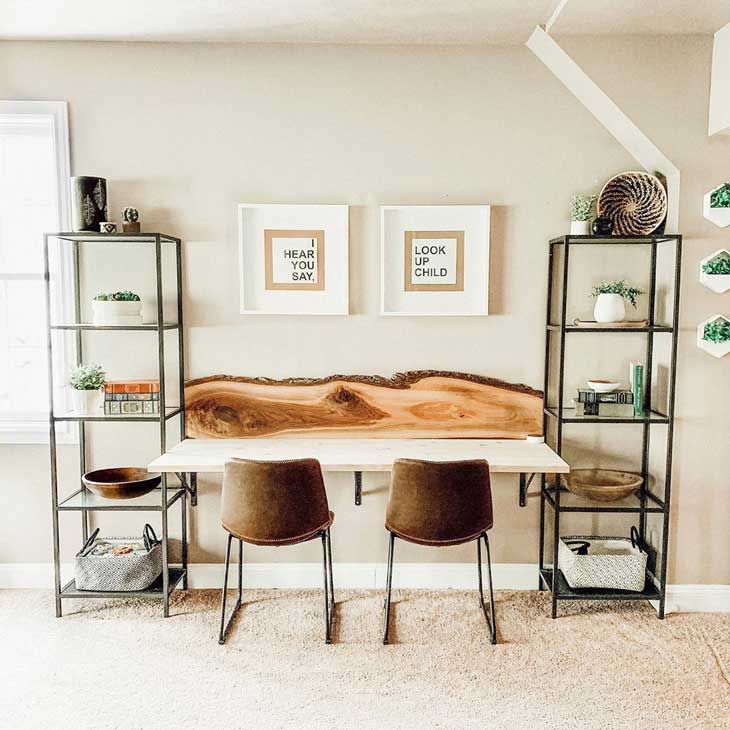 Shop related products:
wall mounted office desk // metal shelf // metal base chair set // #ad
The compelling symmetrical design of this modern home office decor has a balanced, reassuring quality. Connecting a pair of identical freestanding open shelving designs with a central desk-table creates a pleasing sense of unity, especially in a home office clean design. We can use this idea to join many different styles of home office furnishings for a similar effect. This simple office setting suddenly seems like a well-planned design rather than a collection of separate items.
The overall neutral palette of this room is enhanced by the pottery, plants, wooden bowls, and other decorative elements on the open shelves. The creative artistry of the settee against the wall encourages us to bring innovation to our choice of decor. We can also gain ideas for our own clever, creative touches from the two mounted wall signs that read, "I Hear You Say, . . . Look Up Child." These signs seem to be addressing the two identical simple molded chairs with slim metal legs.
6. Stunning Beauty of Wood and Pristine White Decor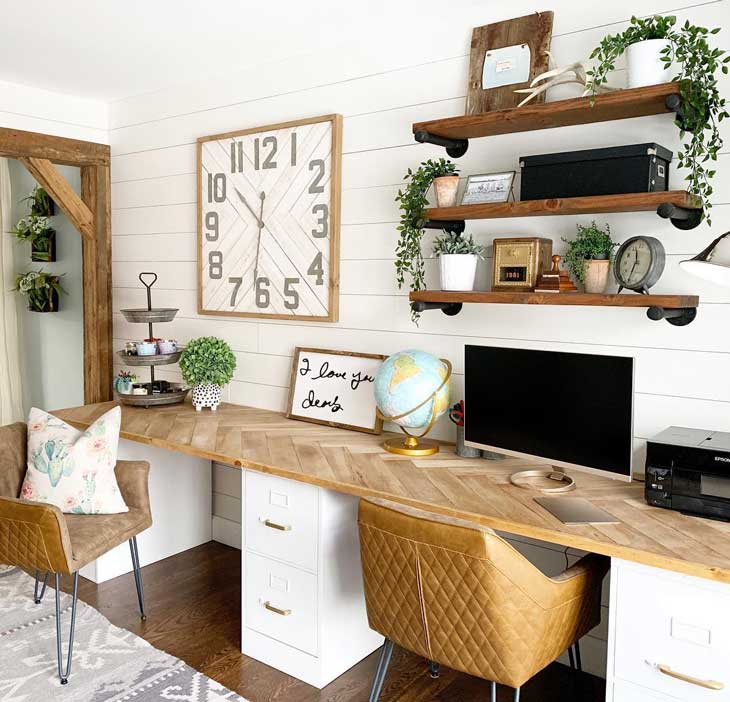 Shop related products:
2 drawer file cabinet // set of two chairs // globe // tiered tray // square herringbone wood wall clock // #ad
Stunning natural wood and white elements enhance one another in this wall-side home office display. The angular pattern of the wood planks composing the beautiful, lengthy hardwood desktop is intriguing. Its appears to mirror the triangular shape created by the angled support beam in the upper timber door frame corner nearby. The rich dark wood of the door frame contrasts pleasingly with the lighter hues of the desktop. This puts us at ease with combining very different types of wood with contrasting coloration in our office interiors.
While the large white wall clock is framed in light wood, the dark open wall shelving matches to darker tones of the door frame. The long desktop set simply on several white metal files leave plenty of space for the pair of comfortable leather desk chairs. The golden-tan leather, stunning wood, plants and decorative items create a warm, welcoming work space brightened by pristine white walls. Propped against the wall, the "I love you dearly" sign hints at a definite sense of unity that we all desire for our home office space.
7. Today's Stylish Mix of Decor at Its Best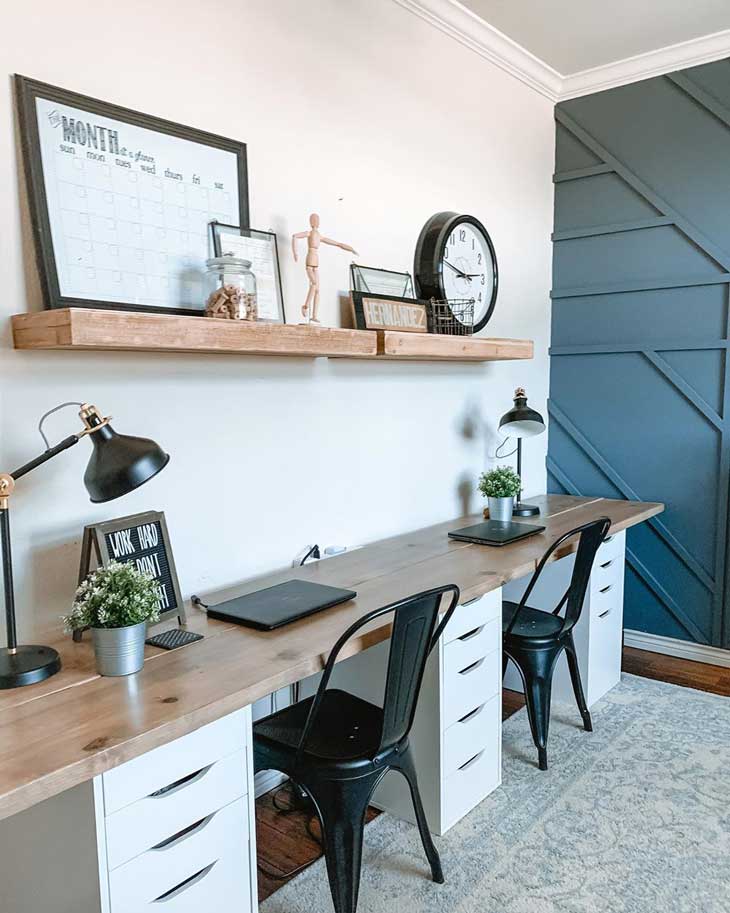 Shop related products:
metal chairs // Ikea drawer unit // mini potted artificial plants // table lamps // dry erase calendar // #ad
This modern home office decor creates a desirable home office design when combined with some more rustic farmhouse style elements. The long, natural hardwood desktop mounted on off-white metal files has a slightly rough surface quality that repeats in the open wooden wall shelving above. While the basic simplicity or the overall design aligns with modern interior modes, varied styles of decor are present. The deep turquoise sliding door design reminds us of a refurbished farmhouse barn door.
At the same time, the molded black metal desk chairs lend a strong industrial influence to the room's design. We may like the identical work spaces consisting of two chairs, laptops, desk lamps and plants. Yet the contrasting asymmetrical charm provided by the the large framed calendar, round clock and other items shelved above is pleasing. These diverse items give us ideas for artful mixing and matching of decorative shapes and design elements.
8. Home office with storage space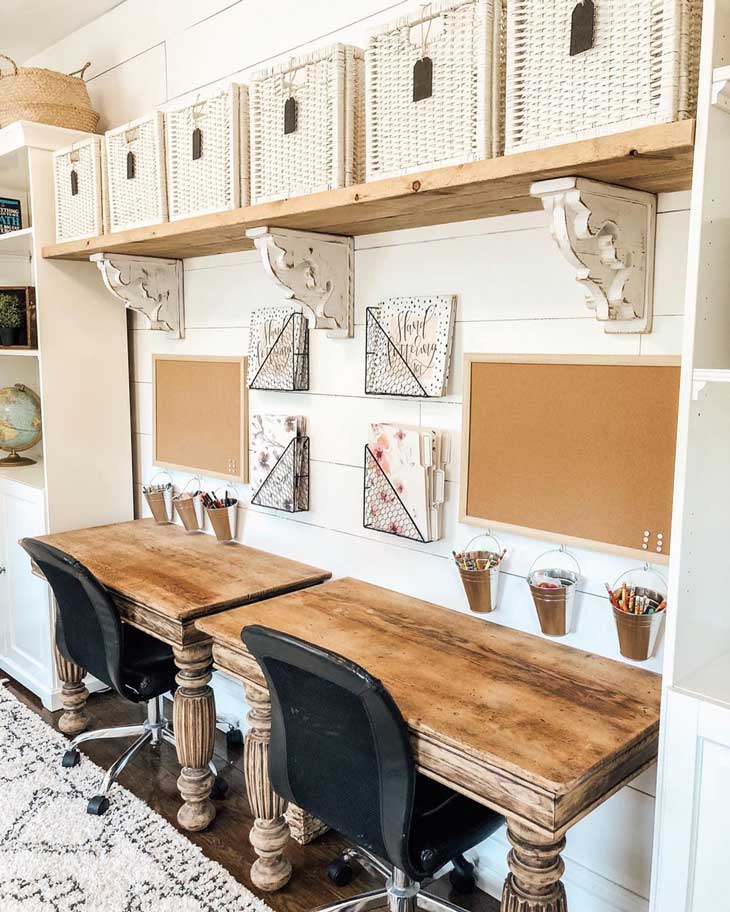 This delightful, light and airy home office with storage space also includes plenty of work space. The decor has a fresh, country cottage features, like the crisp white wicker storage baskets on the rustic wood wall shelf. The charming pair of vintage handcrafted timber desks beneath the shelf lend symmetrical design to this cheerful office atmosphere. You can see how their ornately carved legs lend attractive touches of shabby chic to the room.
This gives us new ideas about highlighting our home office interiors with unique stylistic features. Another good example is the distressed white surfacing of the stylish triangular shelf brackets supporting the overhead shelf. We can add more modern elements like the black office chairs, bulletin boards, wall-mounted triangular folder bins. We can try extra accents like the shiny hanging pen and pencil buckets as well in this appealing home office with storage space.
9. Small home office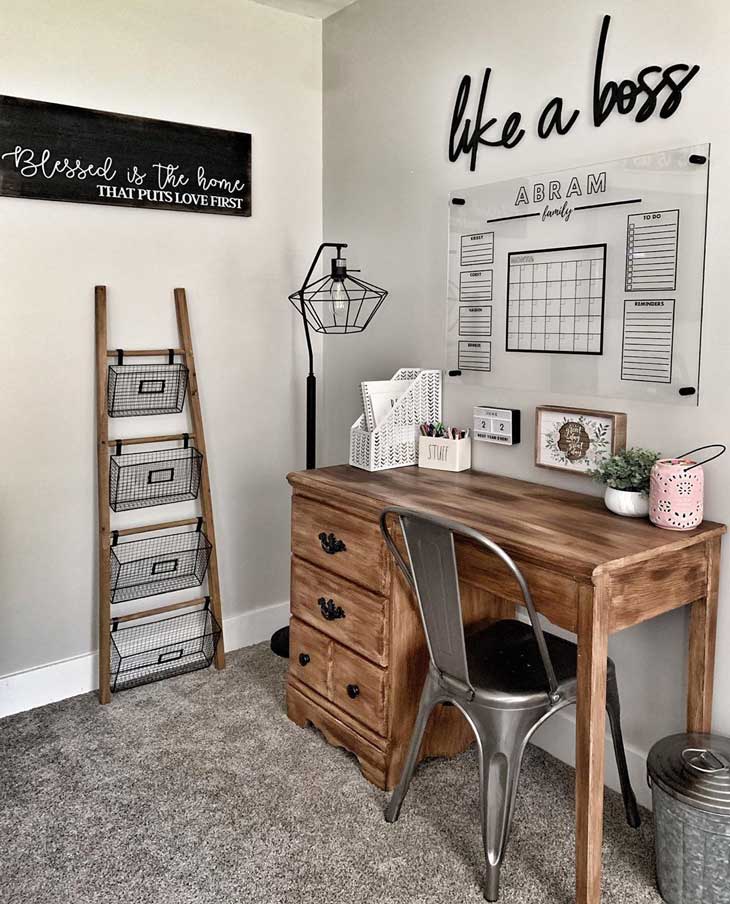 Shop related products:
home office desk // metal chair // basket ladder // floor lamp // dry erase board planner // #ad
This small home office space design shows us how we can set up a functional work virtually anywhere. Even in the corner of a snug, cozy bedroom or den, you can have enough space to operate your business. As this appealing room decor illustrates, by selecting compact yet adequate office furnishings, we can make the space work well. The natural beauty of the wood grain and hues of the small farmhouse style desk take center place in this Cozy wood home office setup.
You can get great space-saving ideas from the clever use of a simple vintage ladder as a frame for hanging office folder baskets. You might try this technique using a garden trellis instead of the ladder in your small home office. Including contemporary elements like the plexiglass wall calendar, shiny metal desk chair, trash can and wall signage, such as, "like a boss," lend updated charm. Yet the barn-style standing lantern light and desktop decor bring us back to the major farmhouse theme.
10. Modern farmhouse home office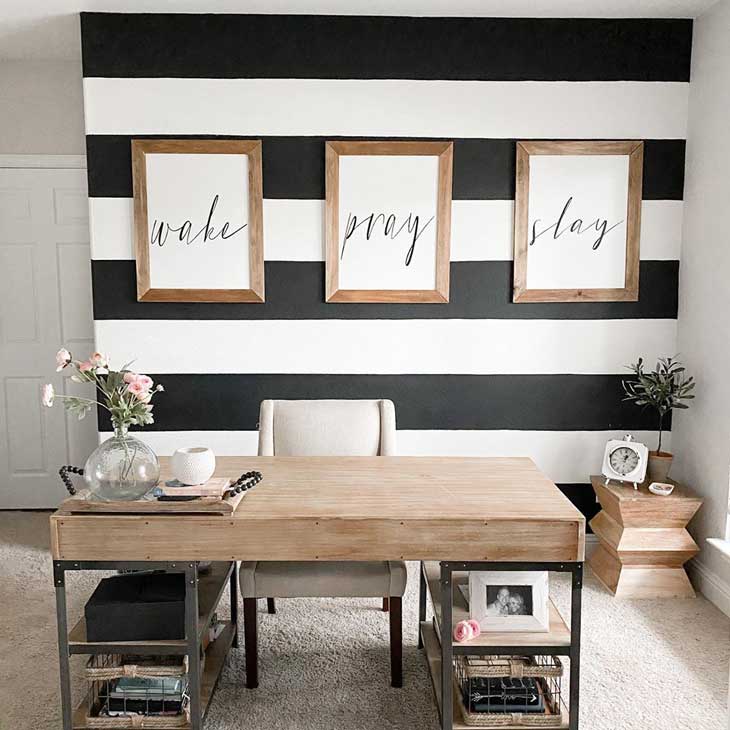 Shop related products:
metal frame office desk // wall frames // end table // upholstered desk chair // #ad
This inviting modern farmhouse home office decor offers a stunning inset painted wall in bold black and white stripes. The natural finish woodcraft desktop mounted on two simple stainless steel open-shelf units invites us to try our own home office furniture ensembles. By adding features like the streamlined white upholstered desk chair introduce a pleasing sense of elegance.
Enhancing accents are added by the three script signs framed in natural wood and mounted on the creative wall that read, "wake, pray, stay." We realize how the small plant on the crafted geometrical table in natural wood, the flowers, pottery and textured sand-colored rug emphasize the farmhouse style and appeal of this creative office decor.
11. Farmhouse Home Office Decor with Modern Elegance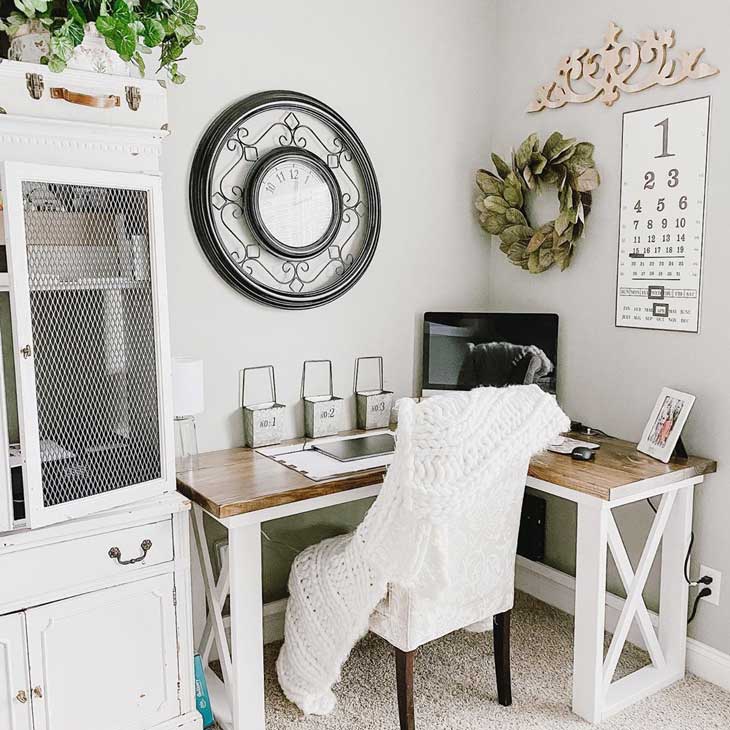 Shop related products:
L shaped desk // magnolia wreath // wall clock // galvanized pencil cup // #ad
This welcoming corner nook displays an abundance of engaging farmhouse elements for your home office decor. The corner desk with its smooth hardwood top and white painted legs is pure farmhouse design. Examining the cross-back pattern of the desk end supports, we see evidence of pleasing barn door style. By adding an element like the fashionable upholstered desk chair and crocheted throw, both in pristine white, you can bring causal elegance to this interior.
The white freestanding cabinet with upper door featuring metal mesh enhances the simple farmhouse style. Including items such as the green plants growing in ornate country pottery lends pure natural beauty. I think we will all agree that the dried leaf wall wreath and distressed white miniature desk bins reflect farmhouse charm. Yet we see how we can enable casual elegance to appear once again in the fashionable open metalwork design of the round clock mounted above the desk.
12. Vintage Home Office with Dynamic Signage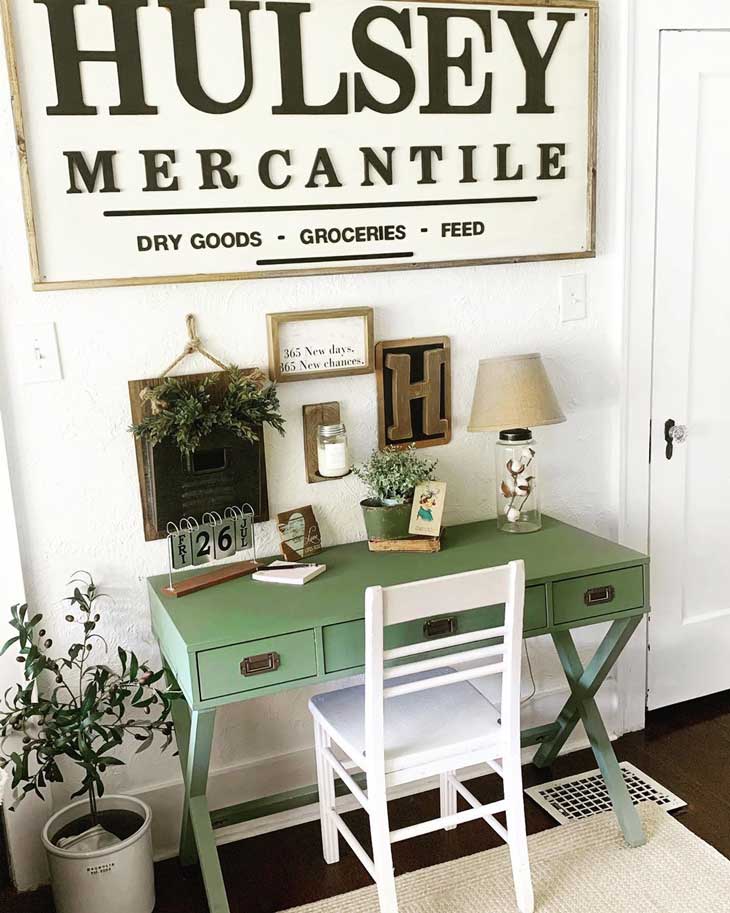 Shop related products:
office desk // office chair // desk calendar // magazine rack // #ad
By placing a large vintage sign over your home office desk, you can set the entire style and tone of your workplace decor. In this setting, the spring green desk and white straight-backed wooden chair offer the style and scale or an earlier era. You can see the distinct farmhouse influence of even small items of decor like the rustic wall plaques and manual desktop flip-calendar.
Potted plants and the clear glass base with floral inset of the desk lamp all suggest vintage decor. Even the crystal door knob is a definite symbol of past years' interior style. The mercantile signage with subtitles of "Dry Goods, Groceries, Feed" is strong proof of the highly appealing overriding farmhouse fashion of this unique home office interior.
13. Vintage Home-Based Office with Rustic Appeal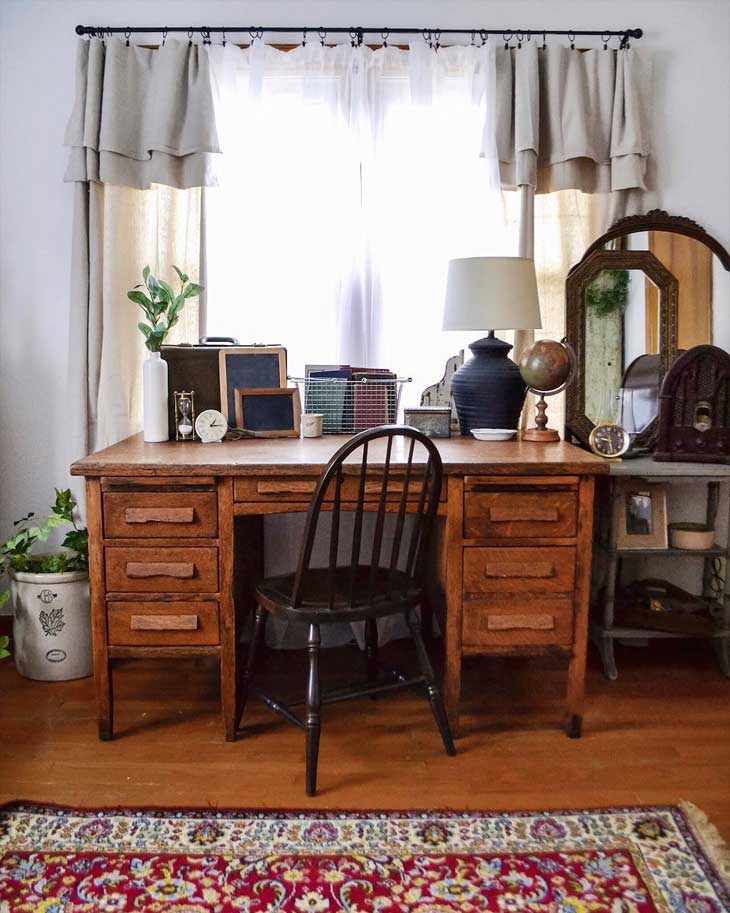 Shop related products:
office desk // desk chair // mirror // table lamp // framed blackboard // #ad
The pure rustic charm of this aged wooden oak desk is accentuated by the black vintage desk chair and ornate oval mirror frames. We can see that this pleasing older style is emphasized by the stoneware desk lamp's base and its cloth shade. With the addition of attractive dated desktop items like the two small framed blackboards, antique hourglass and world globe give the room's decor rustic farmhouse authenticity.
You can see the strong vintage influence of the filmy lace window curtain with light gray valance. Full-length drapery pulled back to display the curtain can have a similar effect in a rustic home office. Including the small traditional clocks with hands, writing pads with vintage pens can also emphasize this rustic decor from a past era in your farmhouse style home office.
14. Calm, Clean Home Office Image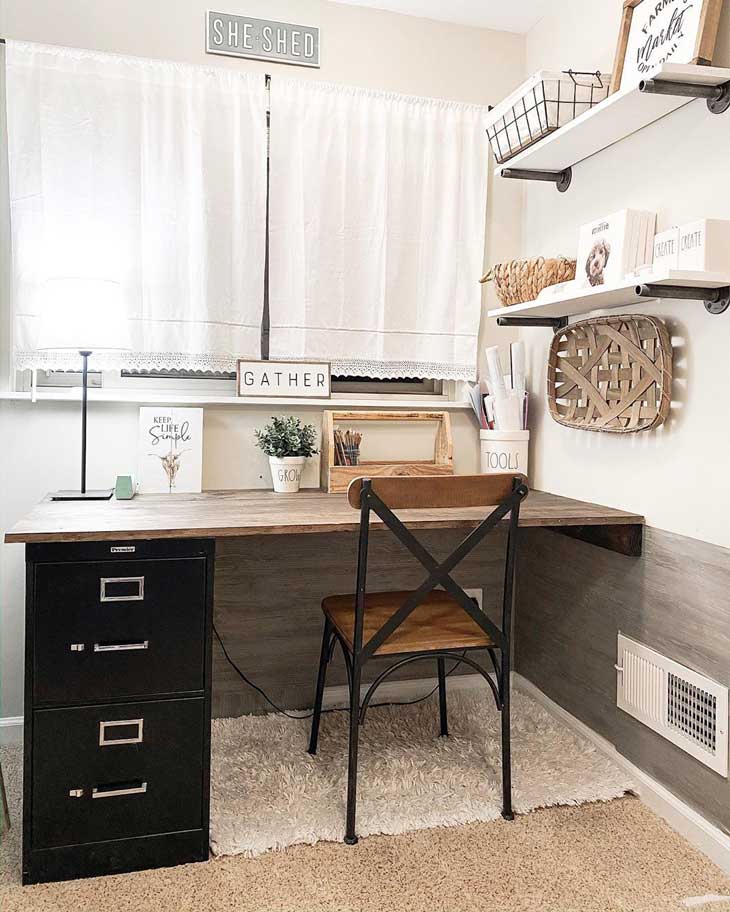 Shop related products:
two drawer filing cabinet // tobacco basket // #ad
For a clean, uncluttered home office interior, try creating your own desk using a smooth hardwood slab for your desktop. As in this simplistic home office clean design, you can prop one end of the slab on a standard two-drawer metal file for a more masculine style home office. You can either install a wall-mounted bracket or ledge to support the other end or use a second file unit. If you prefer, try out two large stoneware urns or a pair of wooden shelf units as your desktop supports.
With white walls, white open shelving one wall and bright white curtains, this minimalist style work area with contemporary decor presents a calm, clean image. The metal piping as brackets to support the wall-mounted shelves lend compatible industrial style home office elements. We can see that the metal cross-back desk chair with wooden seat and shoulder rest are strong farmhouse elements. The decorative woven basket hung on the wall and other desktop decor accent the clean, natural country lifestyle.
15. Home Workplace with Warm Elements of Decor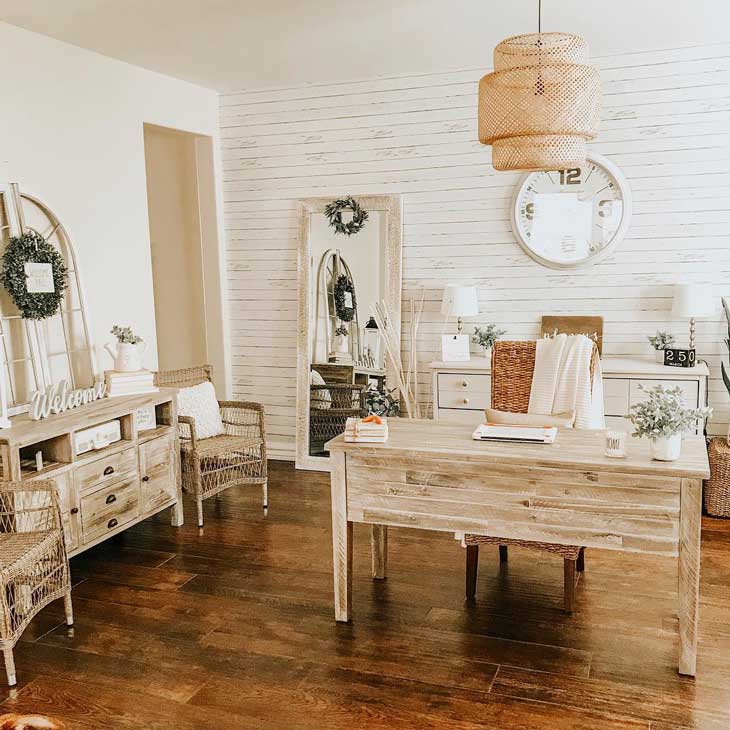 This farmhouse style home office interior exudes warm, light and an enlivening welcome. The natural beauty such warm elements as the handcrafted desk and credenza, wicker chairs and natural fiber lighting design lend country charm. The distressed white surface of the brick wall, the white chest beneath, white lamp shades, clock, pillow and pitcher add rustic rustic touches. Notice how the rich hues of the walnut flooring reflect warm and vitality in this mainly white interior.
This inviting home workspace reminds us to what degree the materials, colors and textures of walls and flooring can influence your office ambiance and appeal. While the wreaths lend a sense of outdoor elegance, we realize the reflective value of the tall mirror. Propped against the brick wall, it showcases the light, brightening warmth of this unique home workplace.
16. Richly Grained Wooden Office Desk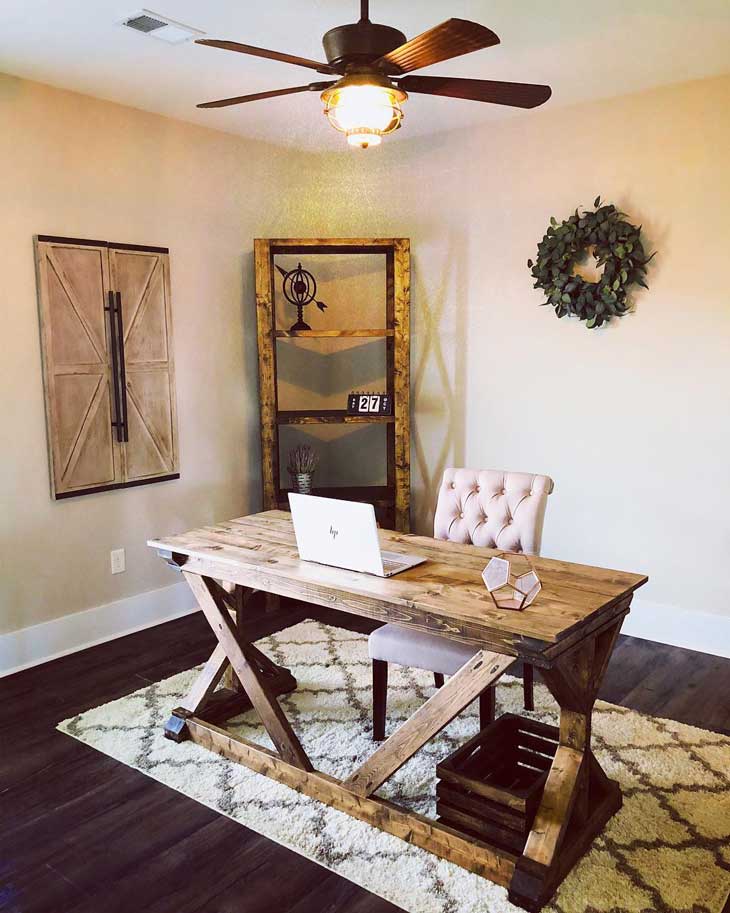 This rustic yet chic farmhouse mode wooden desk offers rich, beautifully grained timber surfaces and a sturdy, cross-beam construction. It definitely takes center stage in this intriguing home office interior. The tall, stunning Asian style corner curio cabinet adds classic style and allure. The full-sized barn door fashioned window shutters accentuate the room's compelling rustic farmhouse style and wood home office decor. This home office interior is an ideal example of a skillful blend of fashion modes and furnishing styles.
By viewing this room's unusual combination of woods, styles, textures and tonalities, we can be more at ease when blending different styles. Notice how the zigzag pattern of the rug aligns visually with the wooden shutters' triangular shaped divisions. The vintage wooden crate beneath the desk, the ceiling fan with light fixture, the wall wreath and the vintage weather vane accessory all lend distinctive rural touches to your farmhouse style home office.
17. Classic Home-Style Office with Shabby Chic Allure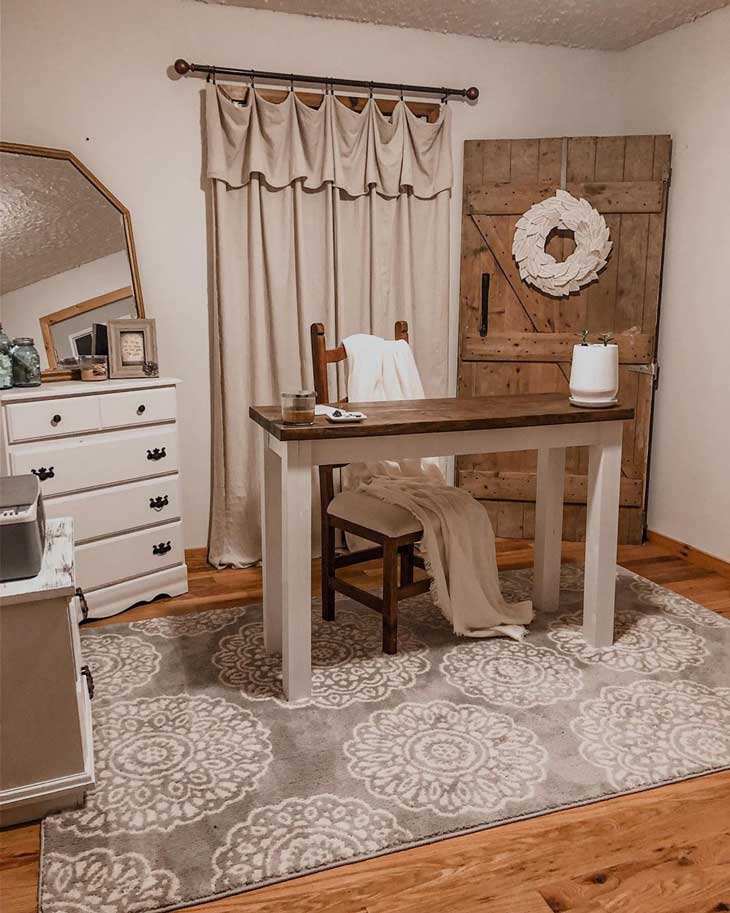 When we examine the velvety, elegant rug with its classic floral-style design and the rugged barn door leaning against the corner wall, we appreciate true shabby vintage chic decor. While the stately chest of drawers and large framed mirror along with the elegant window drapes strengthen the classic style, the wooden table with high-backed chair are distinctively rustic elements.
You can see the classic effects of the all-white door wreath, luxurious throw draped over the desk chair and large ceramic desktop vase. From this stylish home office interior, we can form our own plans for bringing enchanting elements to a room interior in neutral shades of beige, sand and light creamy tones.
18. Refreshing French Country Office Decor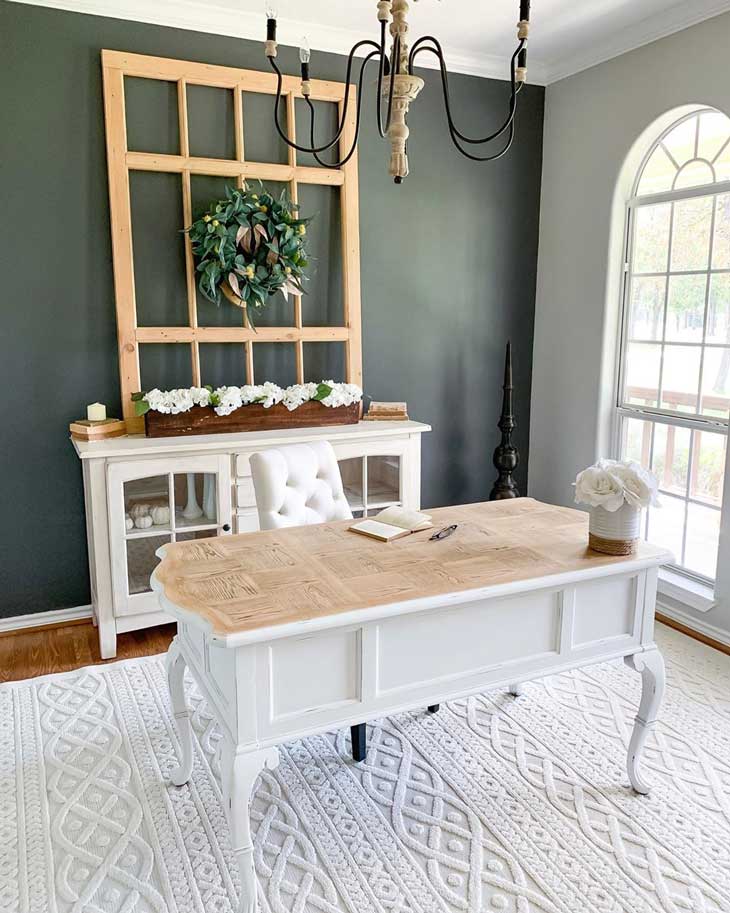 In this chic home workplace, the fashionable French country desk creates a stylish and inviting office environment. From the stunning parquet-fashioned desktop to the beautifully crafted white desk body and ornately carved legs, this design is truly a work of art. Notice how the artful braided patterns in the richly woven white rug complement the graceful curved lines of the desk. You can use this concept when combining style modes for your own home office interior with a French country desk.
By adding the charming white china chest with glass-pane doors, this office design strengthens the French country style. We see how this window style is repeated in the large frame placed on top of the chest, leaning against a deep green wall. This theme recurs in the tall arched pane window. From the creative placement of the attractive green wreath and boxed white flowers, we can take a tip for using accents with natural themes to embellish our refreshing French country decor.
19. Rustic Chic Shiplap Walling and Elegant Office Accents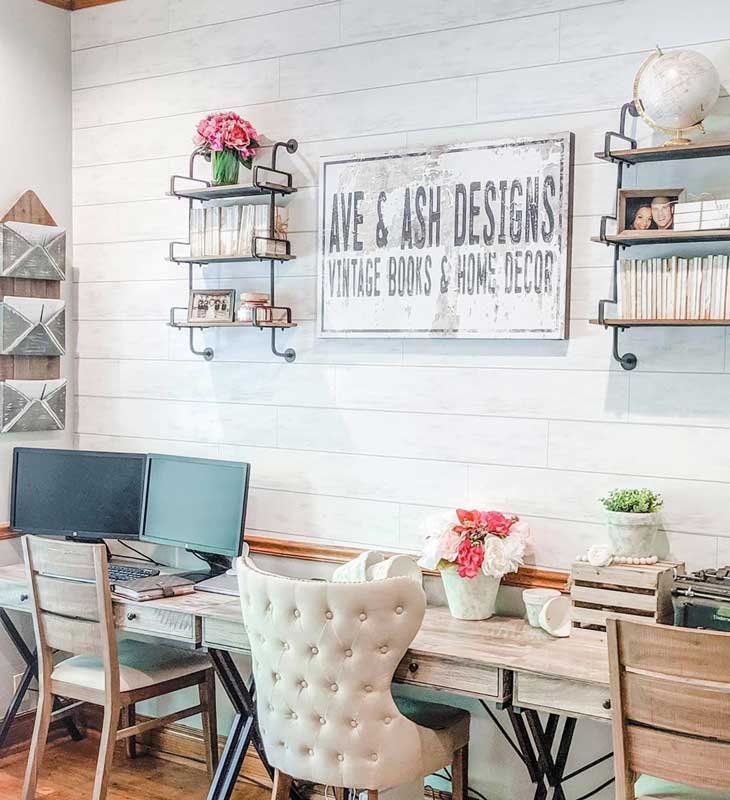 The interlocking board of the shiplap wall sets a relaxed, creative tone for this industrial style home office design. Centered on this wall, the large sign with black lettering on a distressed white backing stating, "Ave & Ash Designs — Vintage Books & Home Decor," is stylishly framed by the two identical opening shelving units. These slender wooden shelves have vintage piping framing and supports, which lends a touch of modern industrial.
We see how the long desk below with shallow drawers repeats and enhances the attractive distressed white surfacing style. By including both natural wood chairs and a vintage molded fabric-covered one, rustic chic and casual elegance merge and blend beautifully with a shiplap wall background. You can see how the wood and metal wall rack with folders emphasizes the rustic home office style while desktop plant and flowers add more elegance.
20. Sleek Black Office Desk with White Shag Rug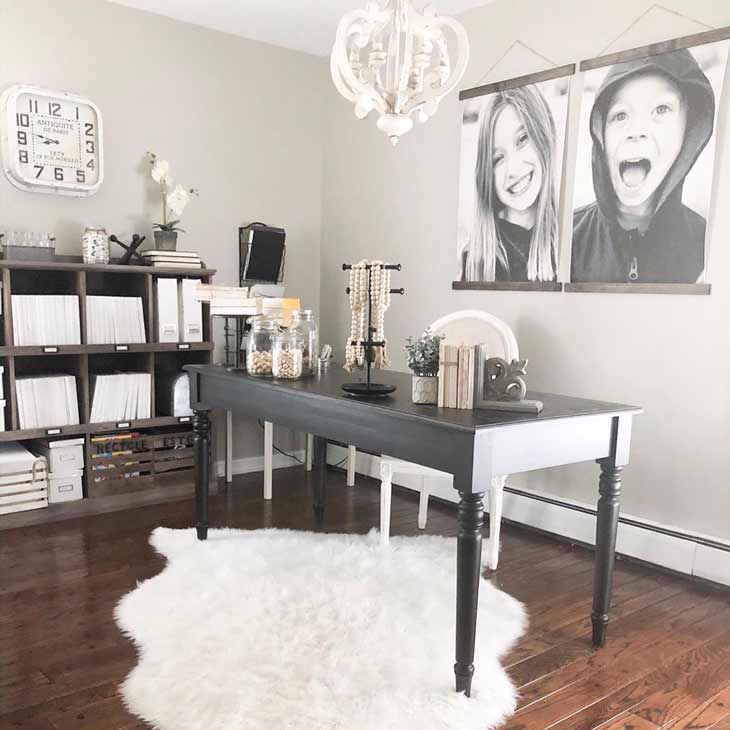 With a sleek black desk resting on a plush white shag rug, this home office assumes a look of creative sophistication. We can learn from this how polished flooring like this handsome dark-stained oak wood reflects and enhances the stunning black and white furnishings in this contemporary decor. The large-scale, happy children's photos on the wall enlivens the room's decor with a playful, carefree quality.
At the same time, the vertical desktop stand displaying strands of white beads, glass jars of more beads, ornate white chandelier and white flowering plant lend a soft, feminine home office ambiance to the room. For attractive contrast, the squared white clock with numbers and hands along with the rustic wooden bookcase add farmhouse accents to this stylish room decor with its stunning black desk.
21. Luxurious Aqua Office Chair for Enhanced Farmhouse Interior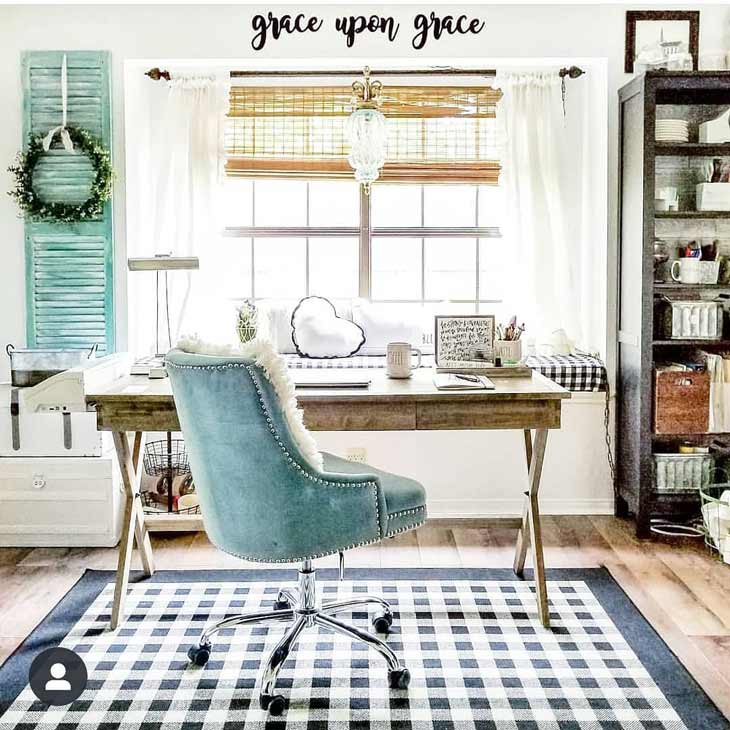 This welcoming window-side decor features its luxurious and colorful home office chair in light aqua velvet. The fluffy fringed white back pillow enhances the sheer beauty and comfort offered by this elegant chair. An artistic touch is displayed in the distressed aqua painted surface of a nearby window shutter. You can see how the rustic natural wood desk and simplistic buffalo check pattern of the rug and window seat cover lend pleasing farmhouse style enhanced by the colorful home office chair.
The vintage bookcase with china and accessories plus the richly grained hardwood flooring and loosely woven window blind bring country cottage charm to this office interior. Notice how the elegant crystal and brass lamp light adds an enchanting touch of vintage chic, giving us more ideas for using multiple styles of fashionable decor.