If you are about to design your new bathroom and you are asking yourself what are the latest trends in shower tiles that will make your space stand out, we offer shower tile ideas for every taste. From the classic black and white combo, a neutral tone color palette, or going bold with the blue or green tile we cover it all.
As an Amazon Associate I earn from qualifying purchases.
1. Shower tile ideas for small bathroom with shiplap walls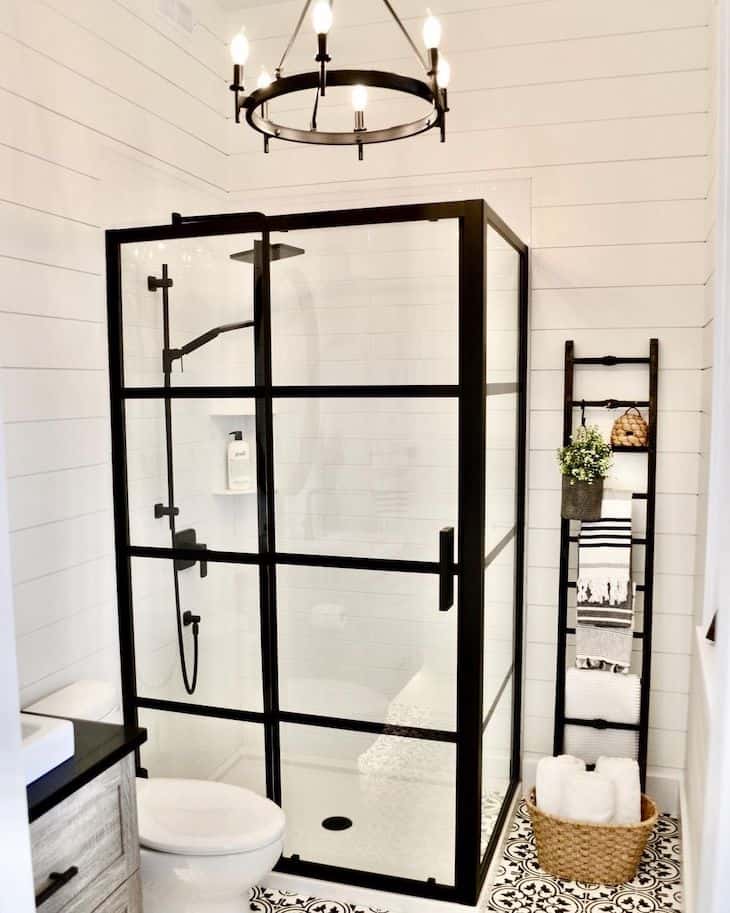 Shop related products:
shower tile // floor tile // chandelier // #ad
Going for white shower tiles for a small bathroom is a perfect choice because the white color makes this space look bigger. The choice of long white subway tile to mimic the shiplap walls in this farmhouse-style bathroom creates a uniformed look for this space.
To add contrast to the whole look the frame of the shower glass is in matte black, and the floor cementine tiles in a black and white pattern create a unique moment for this bathroom. The use of a narrow metal blanket ladder as a towel rack is a perfect hack for a small bathroom without storage space.
2. Forest green shower tile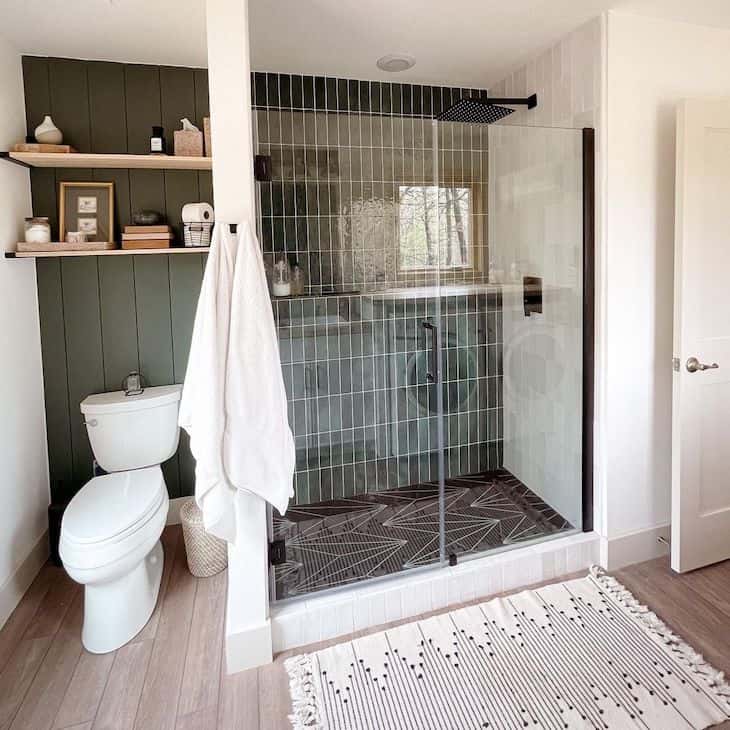 When Molly was designing her bathroom she followed the rule: pick one thing you love and design off of that. It is obvious what her choice was, the forest green tiles in the back of the shower. Having the sidewalls of the shower tiled with white subway tile make this bathroom feel open warm and inviting.
Having vertical shiplap walls in the color forest green which is very similar to the shower tile she chose makes this side of the bathroom look like one big accent wall.
3. Classic shower tile ideas with contemporary touch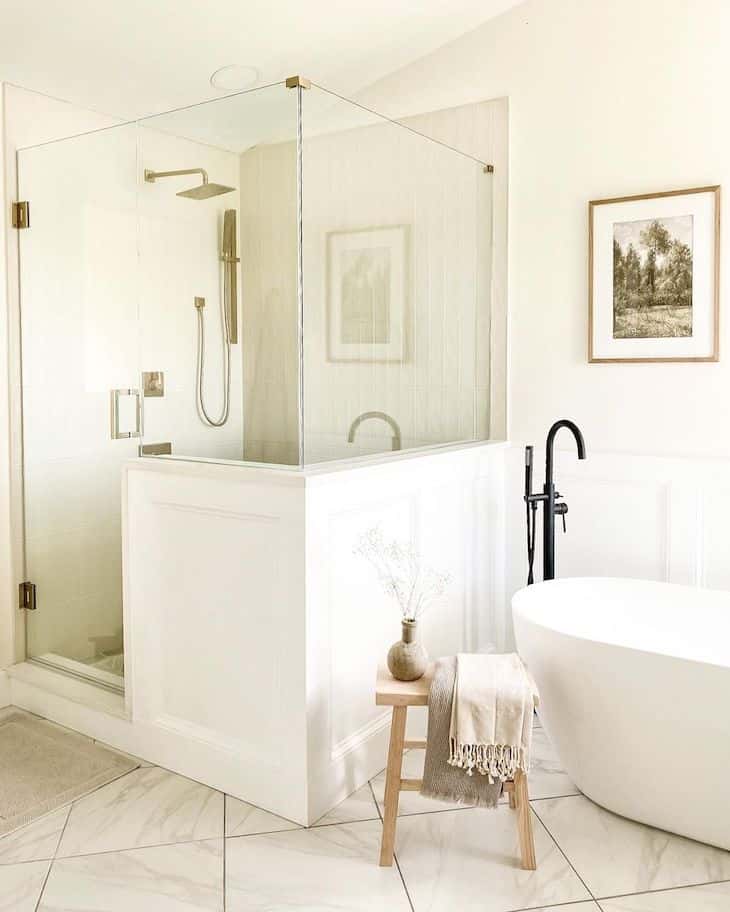 Shop related products:
tile // shower head // spray bar // stool // tub faucet // turkish towel // #ad
This 4×5 foot bathroom shower is tiled with subway tile in a vertical pattern which adds elegant simplicity to this corner. This type of pattern-vertical subway tile- creates the illusion of height. So if you don't have high ceilings in your bathroom, placing the shower tiles in this pattern will help you elongate the space vertically.
The 3x12inch white subway tiles in the matte finish give this classic bathroom a contemporary touch. Coordinated with the showerhead and spray bar in Champagne bronze color they create an elegant look for this bathroom.
4. Turquoise shower tile for coastal touch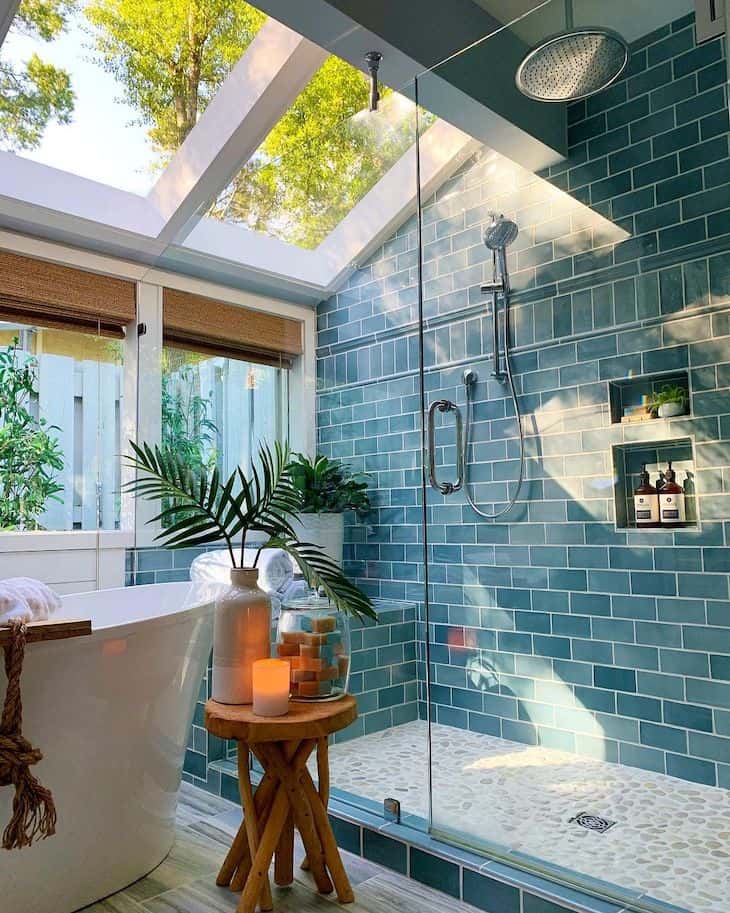 This bathroom uses the classic subway tile pattern but in a fun blue pop of color for a coastal feel. The oversized shower covered from floor to ceiling with these fun bathroom tiles reflects the light it gets from above the head skylights.
The wood stool with bathroom decor and greenery accentuates even more of the coastal vibe in this bathroom.
5. Wood looking shower tiles for a rustic feel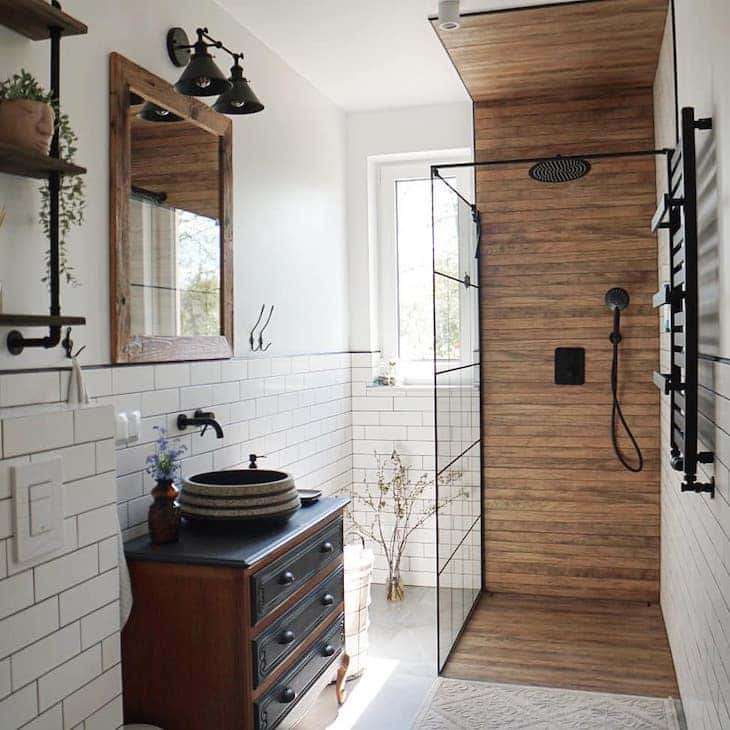 In this bathroom, we can spot different tiles for the shower, the bathroom floor, and the bathroom walls. But they are so well put together that they create a beautiful and cohesive look for this bathroom. The wood dresser used as a vanity complements the wood like shower tiles, creating a rustic feeling.
The black accents from the showerhead, the faucet, and wall sconces add a modern industrial look making this space looking perfectly assembled.
6. Small herringbone shower tile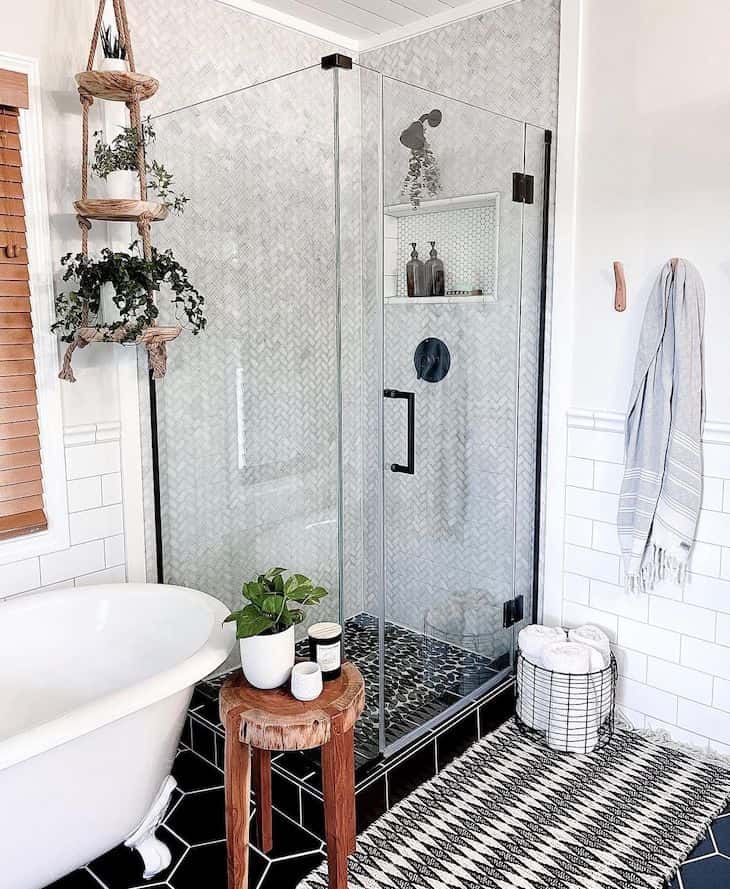 Tanna knows how to have fun when it comes to tiles, the small herringbone shower tile, the black pebble tile on the shower floor, and the big black hexagon tiles for the rest of the bathroom are bursting with energy. The contrasting look of black and white adds personality and style to this bathroom design.
Using natural wood pieces and greenery as decor gives this bathroom a hint of a boho look.
7. Subway tile with black grout for a farmhouse look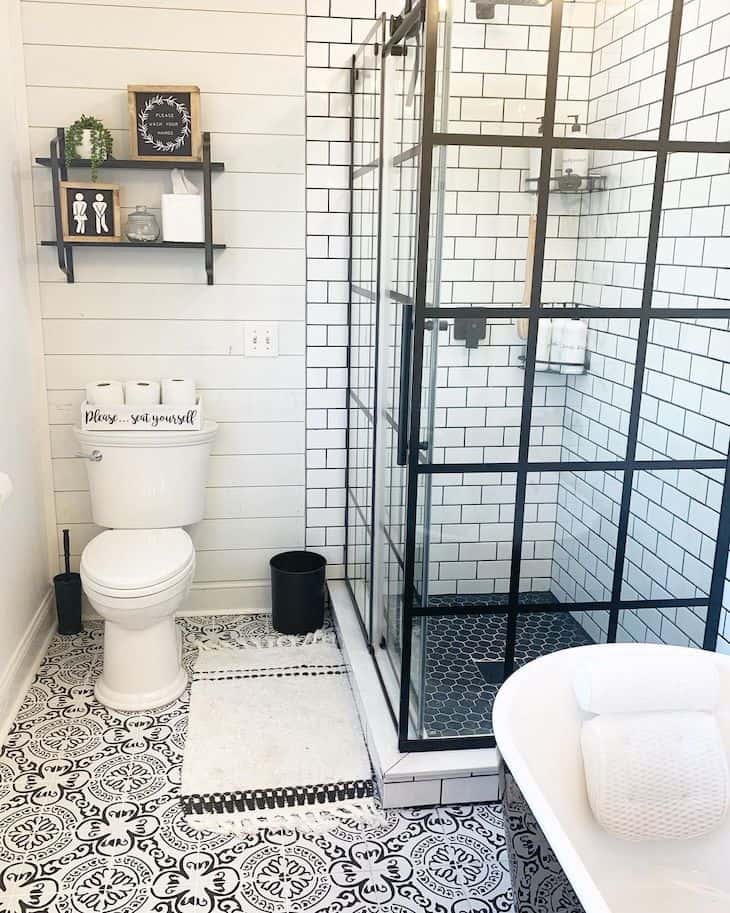 Shop related products:
shower door // shelves // plant // brush // #ad
The white subway tile with black grout is timelessly stylish and will stay attractive through the years thanks to its decor bendability. Combined with black shower floor tiles in honeycomb pattern creates a beautiful decor flow in this black and white farmhouse bathroom.
The black shower door in a square framed design matches the rustic industrial floating shelves. And the unique pattern on the bathroom floor creates an unforgettable look for this space.
8. Honeycomb shower tile for unique touch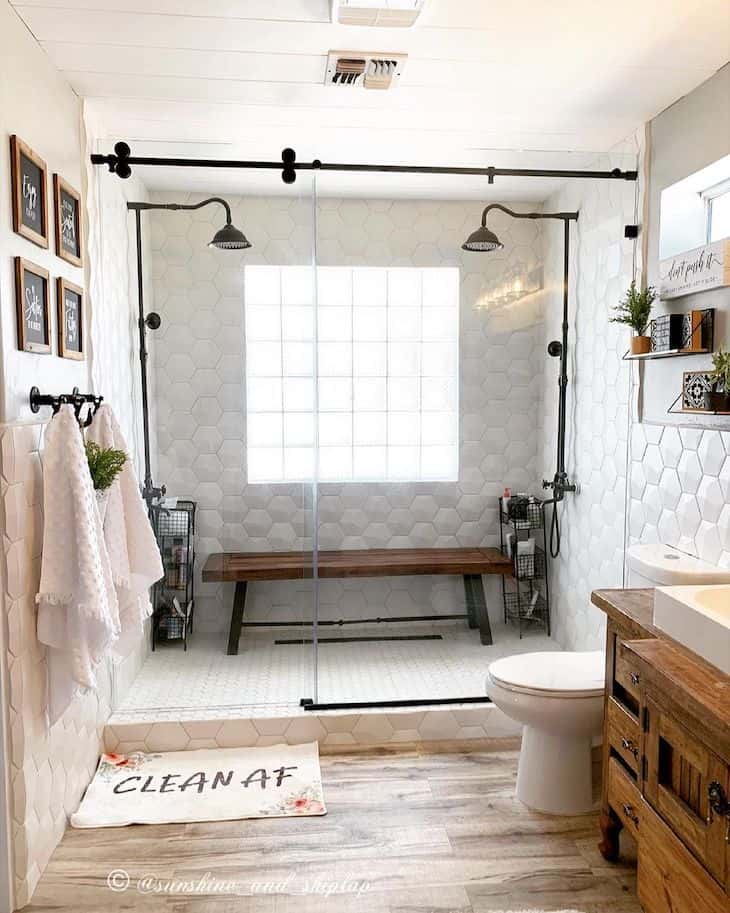 Shop related products:
shower head // metal shelving unit // bench // wall shelves // #ad
This farmhouse-style bathroom with a double shower features hexagonal/honeycomb shower tiles that add a geometric flair. The long wooden bench in the shower gives this bathroom a spa-like look and the window above it creates a subtle interest without looking too overbearing.
The two black metal shelves on each side of the shower are a good storage idea if you don't have other storage space in your shower, and they blend perfectly with the matte black shower heads giving this bathroom an industrial feel.
9. Marble subway tile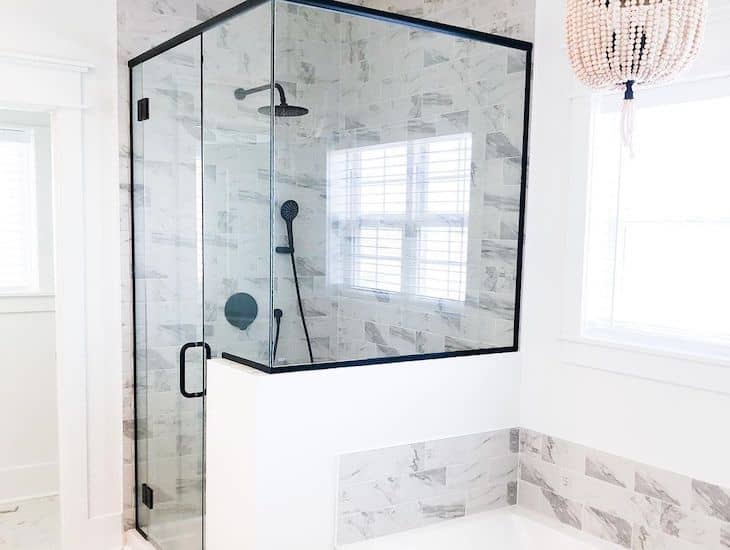 If you are a fan of the timeless subway tile but want to make things more interesting in your shower area using subway tile in marble pattern will accomplish the impression wanted. This kind of pattern will create visual interest without looking overbearing.
The black framed shower glass and the black shower head give the accent this bathroom needs in order to achieve a beautiful contrast.
10. Grey subway tile for the shower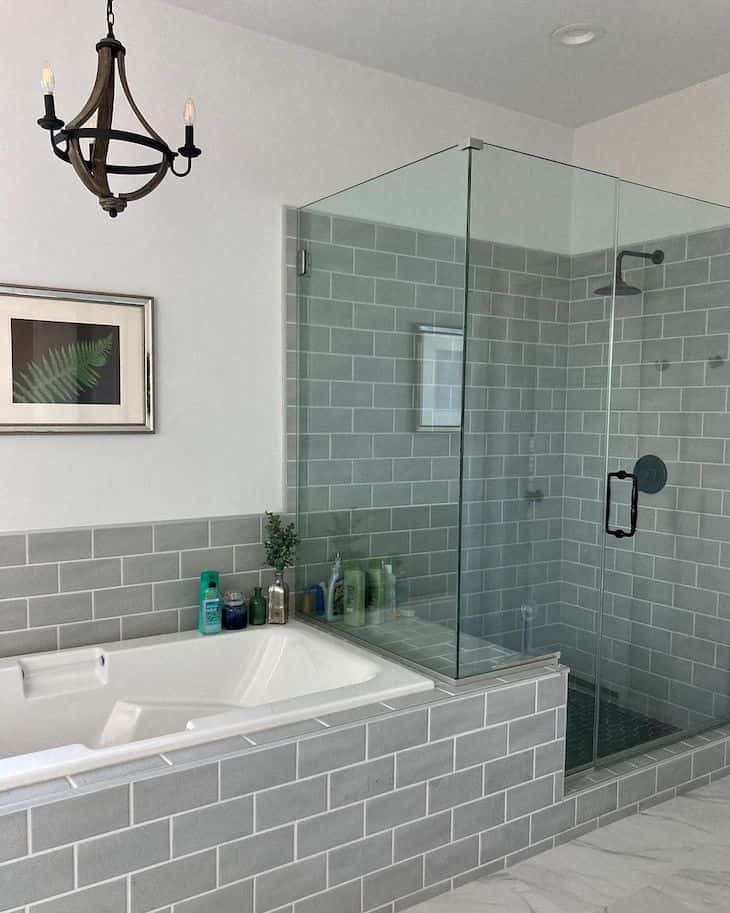 This rustic and masculine master bath is constructed from grey subway tiles with white grout, accented by matte black fixtures. The in-shower bench spot provides both comfort and practicality while providing the perfect storage space for all the shower products.
The choice of a medieval chandelier as a light fixture adds a masculine note to this bathroom design.
11. Graphic bathroom design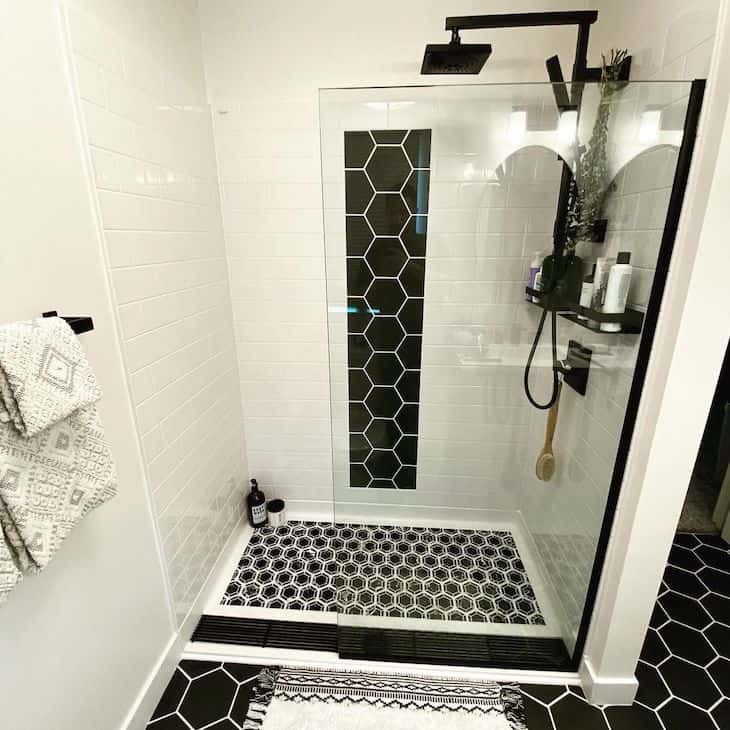 This bold and graphic bathroom design features the timeless white subway tile in the shower, merged flawlessly with the modernistic honeycomb-shaped floor tiles. The unbeatable combination that merges classic black and white makes a triumphant blend for this bathroom.
The single panel shower door creates a spacious and modern walk-in shower that is perfect for a smaller bathroom.