If your Instagram feed is overloaded with home decor like mine, I'm sure more often than not the lemon kitchen decor trend has shown up on your feed. I'm especially impressed with the farmhouse kitchen decor, that all the home decor ladies of Instagram have inspired me with.
Lemons remind me of new seasons, freshness, and clean air because we associate the color yellow with happy. When I think of a fresh farmhouse kitchen, lemons come to mind. A display of fresh, sliced or whole fruit adds a country feel to your kitchen. Store your lemons and limes in plain sight on the countertop and use them right from the jars as garnishments and seasonings in food and drink. They'll bring summertime indoors the whole year through and lend a fresh, citrus scent to your home.
If you keep your decor pretty neutral, with a lot of white and gray, it makes it really easy to add some trendy colorful items when they come along without breaking the bank. I don't know how long the lemon decor trend will last, or how long it will hold your interest, however, the option of not spending a lot of money for adding it to your home is pretty great.
In this post I will show you 5 ways of decorating your kitchen with lemons. They are simple to achieve, budget friendly and add freshness to your decor.
As an Amazon Associate, I earn from qualifying purchases.
Lemon decorated small centerpiece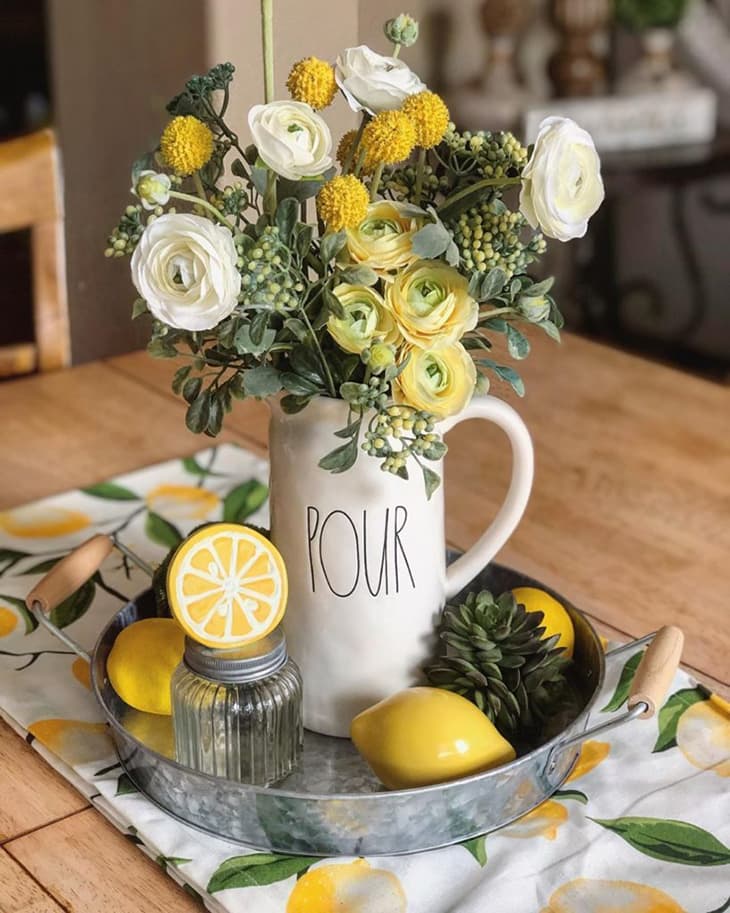 Shop related products:
Rae Dunn pitcher // flowers (similar) // artificial lemons // metal tray // #ad
You can start small by only putting a small centerpiece, like a vase with flowers, decorated with lemons. This is a perfect way to see if you really like this trend and if it really works well with your space and your decor. Plus you don't have to spend any money on this. You can try it first with real lemons you buy anyways, and if you really like how it looks then you can buy artificial ones and make them a more permanent part of your decor for the summer. For example, Mayra from @cupcakecountrygirl styled this beautiful Rae Dunn pitcher full of white and yellow flowers with some lemons and mason jars around it. All the decoration pieces are placed in a metal tray with wooden handles to give it a more farmhouse look. It is a small touch but it makes perfect sense in the whole arrangement.
Tiered tray with lemons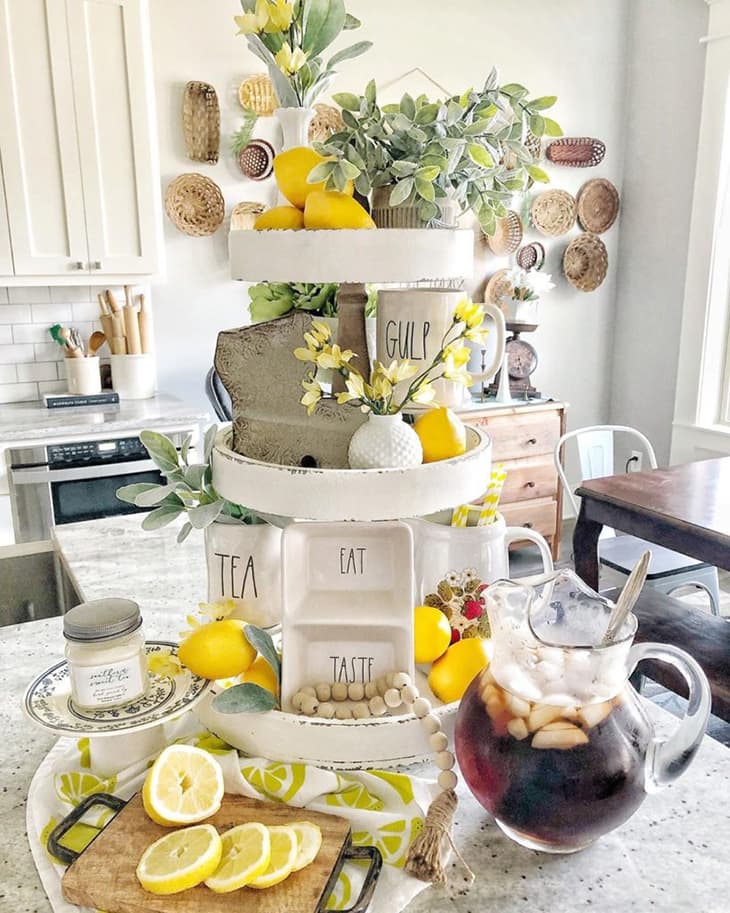 Shop related products:
Gulp teacup // Tea teacup // three-tiered tray // artificial lemons // yellow artificial flowers // artificial greenery // #ad
Next, you can try is go bigger with styling a tiered tray with lemons and other bits and bops that go well together. This one is more noticeable and makes perfect decor for your kitchen island for example. Mary Francis from @sweetsouthernstyle_ styled this distressed antique-looking 3 tiered wood tray with summery lemons, and their cheer pop of yellow is just perfect for the all-white kitchen decor. She decorated the three-tiered tray with flowers, artificial greenery that features dusty leaves which create a more natural look, some Rae Dunn pieces, wooden accents and as a special touch a real sliced lemon she uses with her daily cup of tea. The three-tiered silhouette of the tray creates an elegantly understated accent to your tabletop display and adds variety and dimension to your home decor.
The lemon decorated kitchen cabinet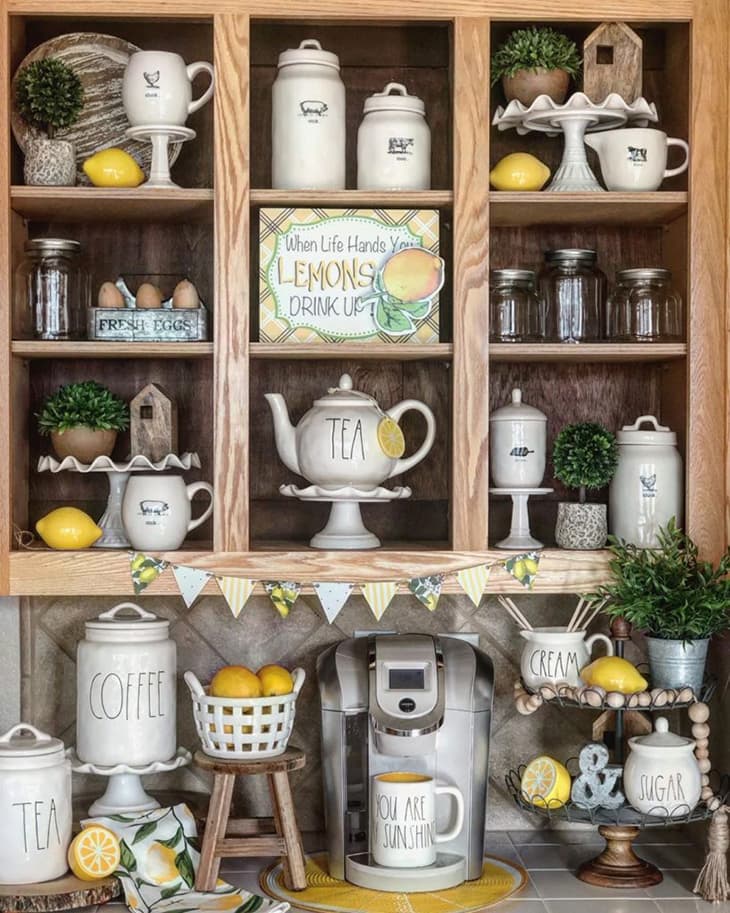 Artificial lemons are also suitable for home kitchen cabinet tabletop decor. If you have open cabinets like Mayra from @cupcakecountrygirl you can use her decor as an inspiration. She has a cute oak wood wall cabinet that she turned into a coffee bar. This cabinet provides function and style with decorative charm and it has the perfect layout for organizing. Here she displays her favorite Rae Dunn pieces alongside some artificial greenery, mason jars and a cute lemon sign as a centerpiece. The sliced artificial lemons go perfectly with the coffee and tea canisters. She also placed a sliced lemon piece on the Rae Dunn teapot. The pop of yellow really grabs the attention in this space.
Kitchen shelves full of lemons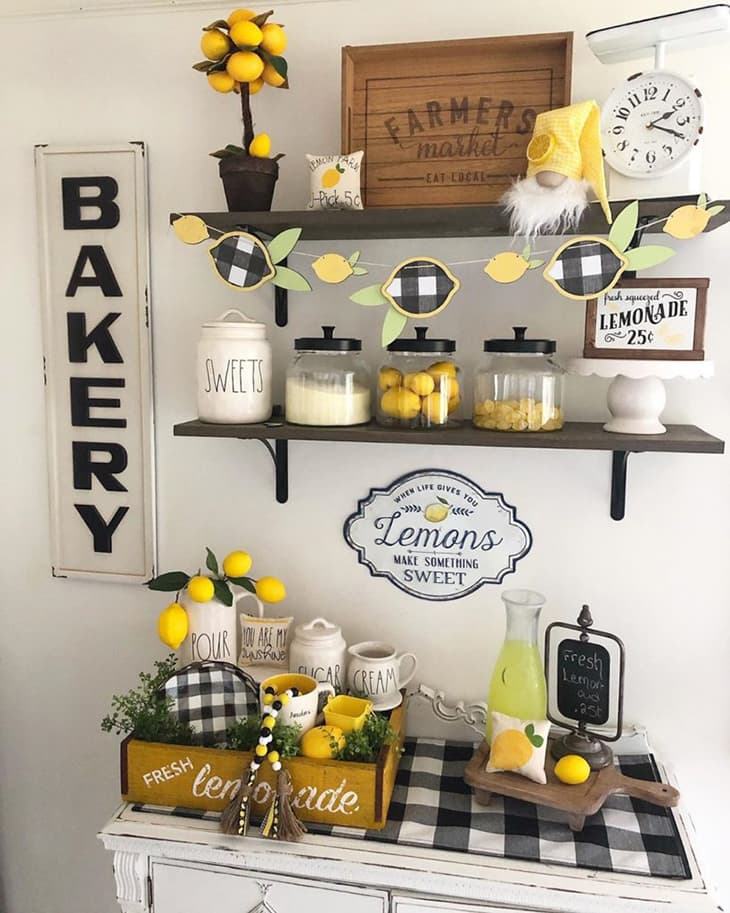 Shop related products:
mini lemon pillows // pour pitcher // artificial lemons // lemons sign // lemon tree // wooden tray (similar) // kitchen scale (similar) // mason jars // sweets canister // #ad
Another great idea is to decorate your kitchen shelves with lemon decor. Andrea from @mycarolinafarmhouse did pretty solid work with her adorable coffee bar turned lemonade bar! Isn't it too cute?! I love the buffalo plaid paired with the pops of yellow! She even used an artificial lemon tree on the top shelf next to the wooden tray and food scale. She went further with also adding few lemon signs here and there, and the tiny lemon pillows are just so adorable. She layers whole lemons in a glass jar to make an aromatic centerpiece in the middle shelf. And does anyone else crave a glass of lemonade after looking at lemon themed decor?!! Please tell me I'm not the only one???
Table decoration using lemons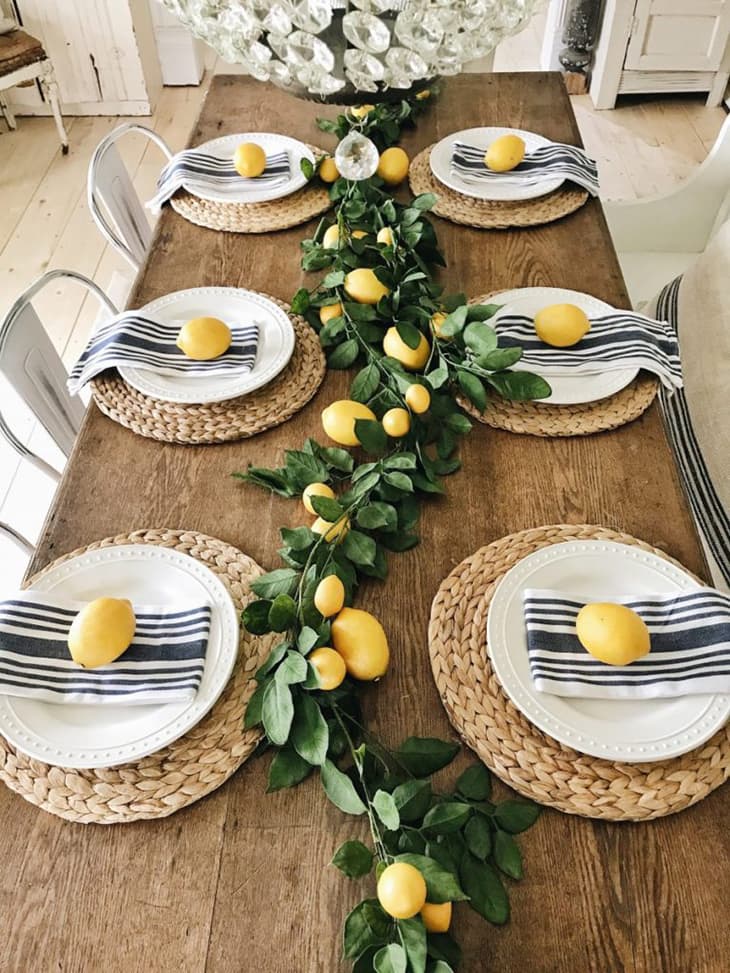 Shop related products:
lemon garland // artificial lemons // rattan tablemats // #ad
Honestly, with lemon decor, you don't need to do too much. With those little pops of yellow lemons, a little goes a long way. A perfect example is this table decoration from Liz Marie @lizmariegalvan. For this space, she used two lemon garlands, mini lemon wreaths, & some loose lemons spread around. It doesn't take much. Also on the table, she used rattan tablemats under the plates which provide a neutral backdrop & hand towels from the dollar section at Target as napkins. Such a simple way to bring summer into a farmhouse dining room.