Are you ready to wave your creative wand to design the beautiful, warm, and inviting farmhouse dining room of your dreams? With a bit of artistic innovation and practical planning, you can transform your dream into a charming reality. If you live in an older, traditional-style home, your large dining room is ideal for farmhouse-style decor. The dining room in a casual-chic modern condo or a basic apartment of a few small rooms can also glow with warmth when updated with farmhouse style. Its radiant yet relaxed elegance brings nature indoors to celebrate interiors of all types, sizes, and shapes.
As an Amazon Associate I earn from qualifying purchases.
1. Light, Inviting and Fanciful dining room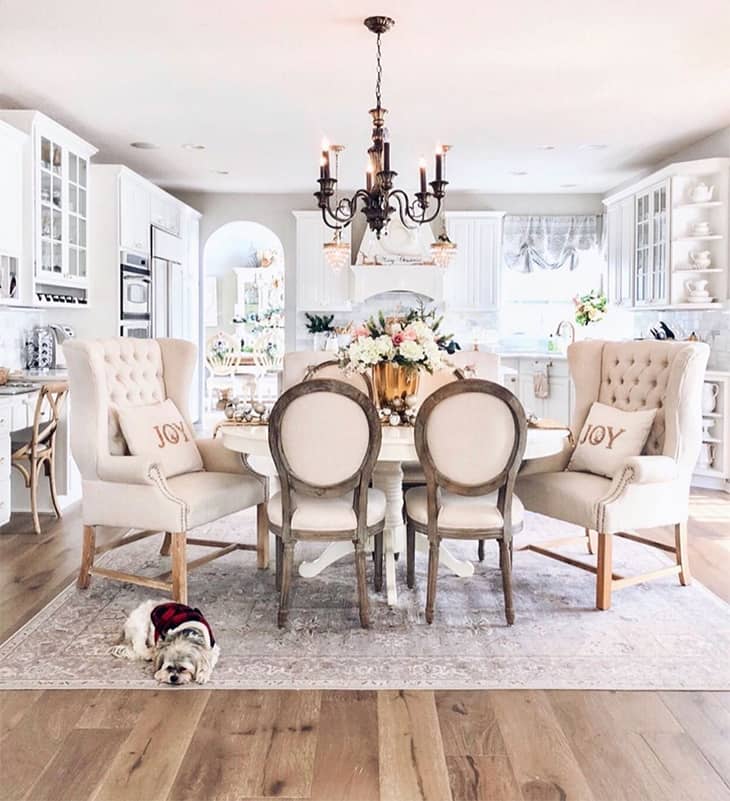 Shop related products:
french dining chairs // dining chairs with armrest // oval dining room table // chandelier // area rug // #ad
This French country-style dining room design combines plenty of inviting natural and artificial light with charming, fanciful touches. The center of attention is the chic white oval dining table in farmhouse style. Its simple yet decorative pedestal base is enhanced by the attractive pairing of oval-backed dining chairs and classic upholstered armchairs. The "Joy" embroidered pillows, glass-pane cabinet doors, pastel flowers, and shelf displays of teapots add a delightful, fanciful touch that you can easily achieve.
2. Unusual Shapes that Define Space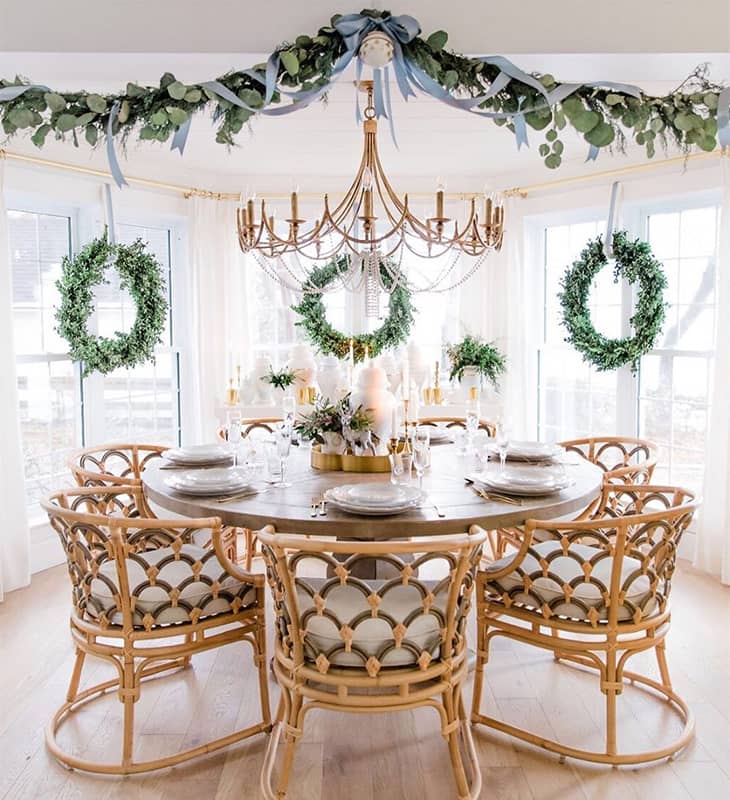 Shop related products:
rattan dining chairs // dining table // chandelier // #ad
This bright, enlivening bay-window dining room area welcomes you to its alluring setting. The polished wood round pedestal farmhouse dining table emphasizes the pleasing curve of the floor-to-ceiling French door windows. Rattan cottage porch chairs with molded circular motifs complement the round greenery wreaths hanging at the windows. This clever use of curved and circular forms reinforces and accents the enticing atmosphere of this uniquely shaped dining space. You can also create a similar interior in a custom farmhouse cottage design.
3. Endearing Antiques that Charm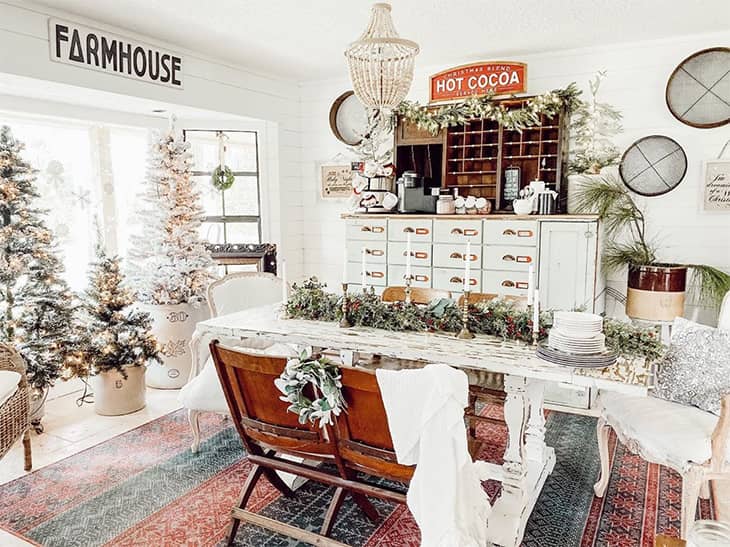 Shop related products:
distressed dining table // chandelier // #ad
The antique charm of this endearing distressed white farmhouse dining table rules the roost. Its shabby chic, rustic-desk style creates a compelling focal point for this farmhouse dining room interior. The vintage wooden schoolroom bench-chairs paired with the elegant Victorian armchair strengthen this intriguing shabby chic style. The French mode freestanding drawer and cubby cabinet, the crystal-strand chandelier and the snow-brushed holiday trees and wreath accent the vintage table's charm. You can charm with antiques in your decor as well.
4. Simplistic Lines Basque in Natural Light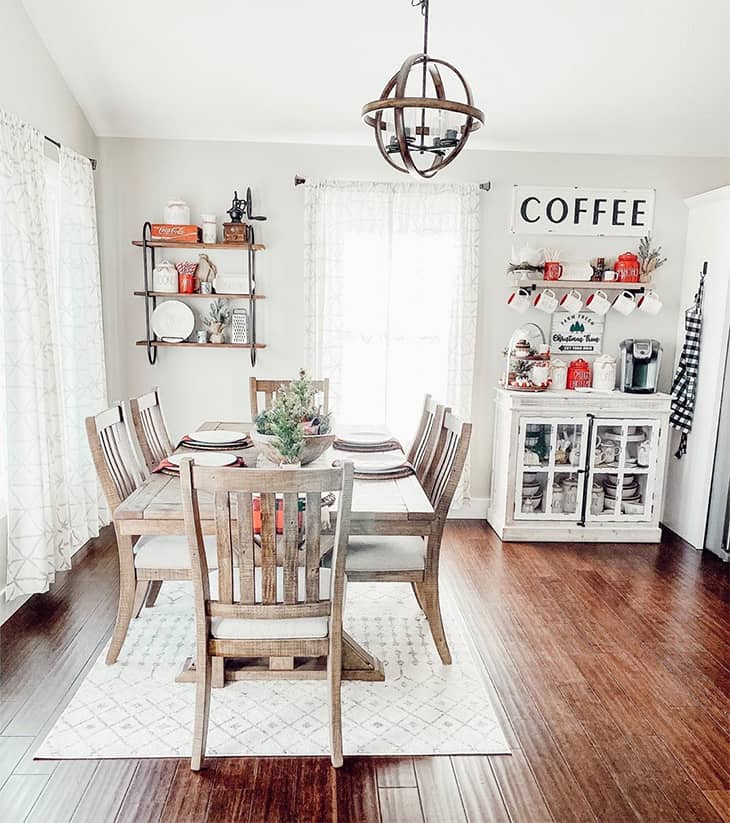 Shop related products:
dining room set // dining room rug // wooden bowl // hanging light fixture // #ad
Glorious streams of pure, natural light are absorbed and celebrated by this room's simple decor. The classic natural timber farmhouse dining table and matching farmhouse dining room chairs virtually glow as they basque in this abundance of light. With floor-to-ceiling pane-glass windows admitting these energetic rays of brightness, the polished hardwood flooring comes alive with reflected rustic allure. There are a few pops of color from pottery on wall-mounted open shelving and the free-standing cabinet that can inspire you.
5. Farmhouse Style in a Modern Interior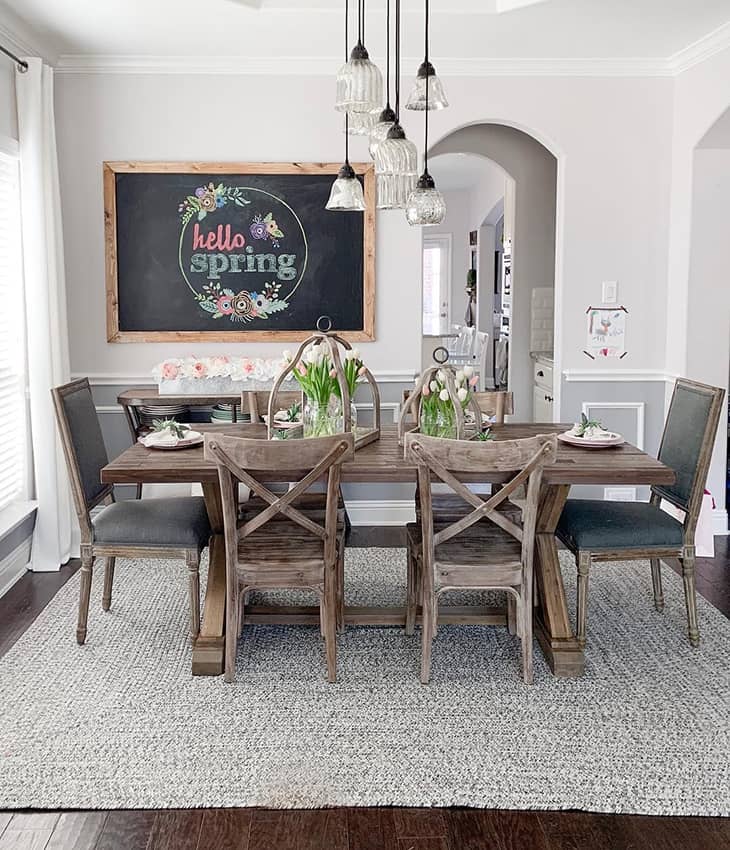 Shop related products:
dining room set // dining room light fixture // large chalkboard // #ad
A classic farmhouse dining table like this is every interior designer's dream. Surrounded by matching cross-backed chairs, this rustic, natural wood table exudes the very essence of farmhouse style decor. The visual strength of this sturdy table attracts the viewer's full attention. Although the room's design is modern, the two different modes of design contrast perfectly. The modern wainscoting and the grays and whites of the walls and woven floor rug make a strong stylistic statement of harmony that you can expand on.
6. Neutral Colors for a Dreamy Ambiance
Shop related products:
dining room set // area rug // shiplap clock // #ad
Do you have a passion for dreamy, story-book interiors? If so, this sedate, dream-like yet comfortable dining room is ideal. Flowing white curtains frame the French doors with their sparkling glass panes leading to the terrace. Soft streams of natural light blend with the calming, hazy glow from the overhead candle-style chandelier for beautiful farmhouse dining room lighting. This enchanted interior includes a farmhouse dining table in a "picnic" design encircled by round-backed French country chairs, a matching cushioned bench, and a fabric-covered end chair. Design your own magical interior with plenty of light.
7. Magical Mix of Fashion Elements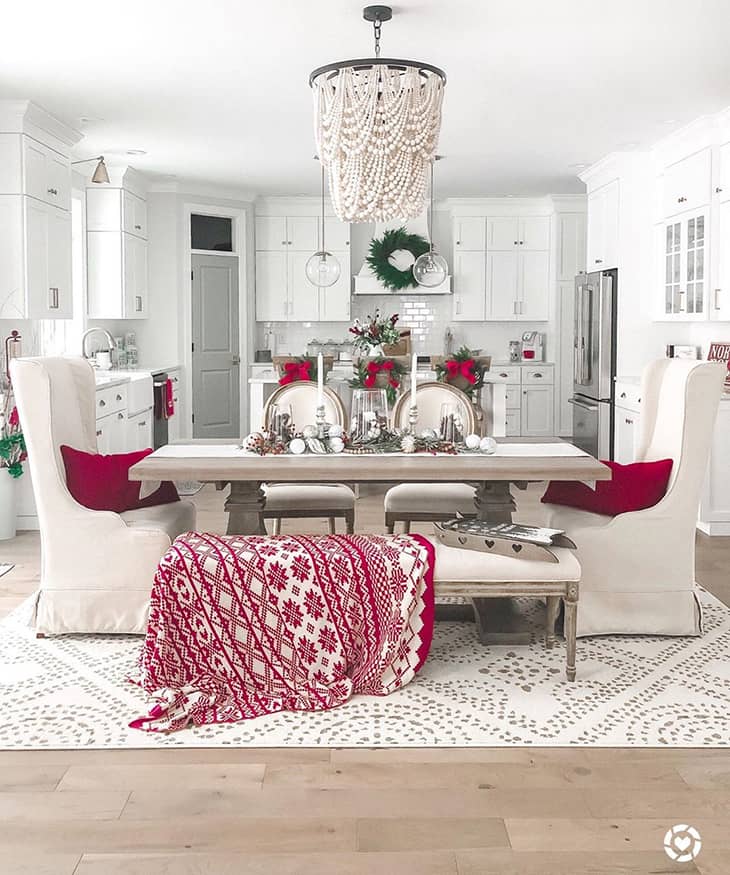 The overall decor of this farmhouse dining room is truly a magical mix of fashion modes and elements. Do you like to mix and match interior decor rather than settling on one specific style? If you do, this interior will no doubt interest and intrigue you. As a sleek, modern handcrafted design, the central dining table has ornately carved legs in a pure, classic style. The French-country round-back chairs and bench are paired with high-backed, Art Deco cushioned armchairs. The woven cottage-country decorative throw and the table arrangement of candles, dried greenery, and berries accent the farmhouse decor. You can create a similar mix that pops and pleases.
8. Black Chairs Rule a Casual Dining Room Interior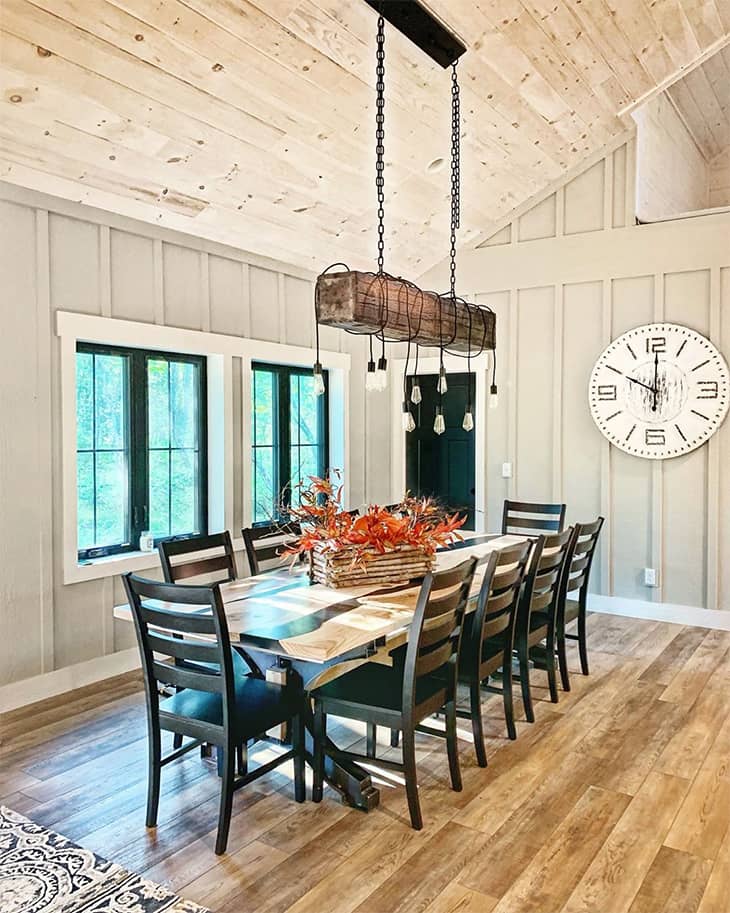 Sleek black, modern dining room chairs are definitely the dominant features of this room's decor. The black door and window frames enhance them further. Even with the high, vaulted farmhouse ceiling in natural wood and neutral-colored wall paneling, this room is ruled by stylish black dining chairs. The beautiful hardwood dining tabletop complements the wide, smooth boards of the timber flooring. The charming modern country chandelier of massive wood block and exposed bulbs adds a strong accent to the contemporary style of these outstanding black chairs while providing good farmhouse dining room lighting. Choose an outstanding feature for your own room's decor.
9. Charming Comfort of Cottage Style Dining room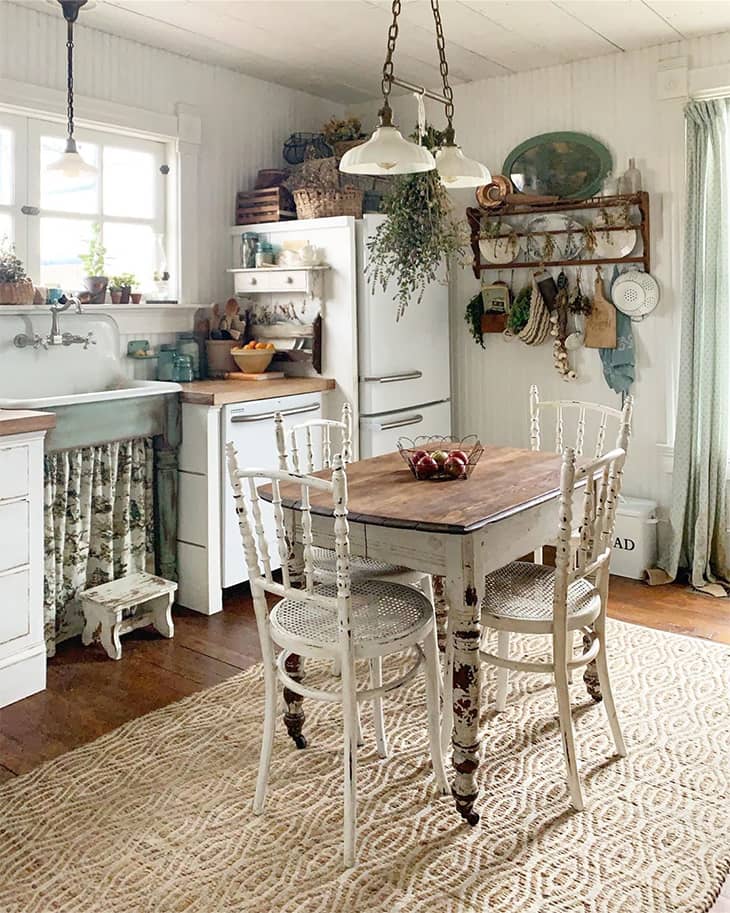 This charming little cottage-style dining set displays shabby chic charm at its best. The hardwood tabletop is offset by the distressed white table legs and matching spindle-back farmhouse dining room chairs with white rattan seats. The surrounding decor is the ultimate of cottage style, from the deep country sink with its floral-patterned underskirt to the cooking utensils hanging from the wooden wall rack. The abundance of woven baskets with white walls and dated appliances lend cozy cottage allure to this warm room. Select an endearing small dining table to enhance your room decor.
10. Bench Seating in a Friendly, Relaxed Setting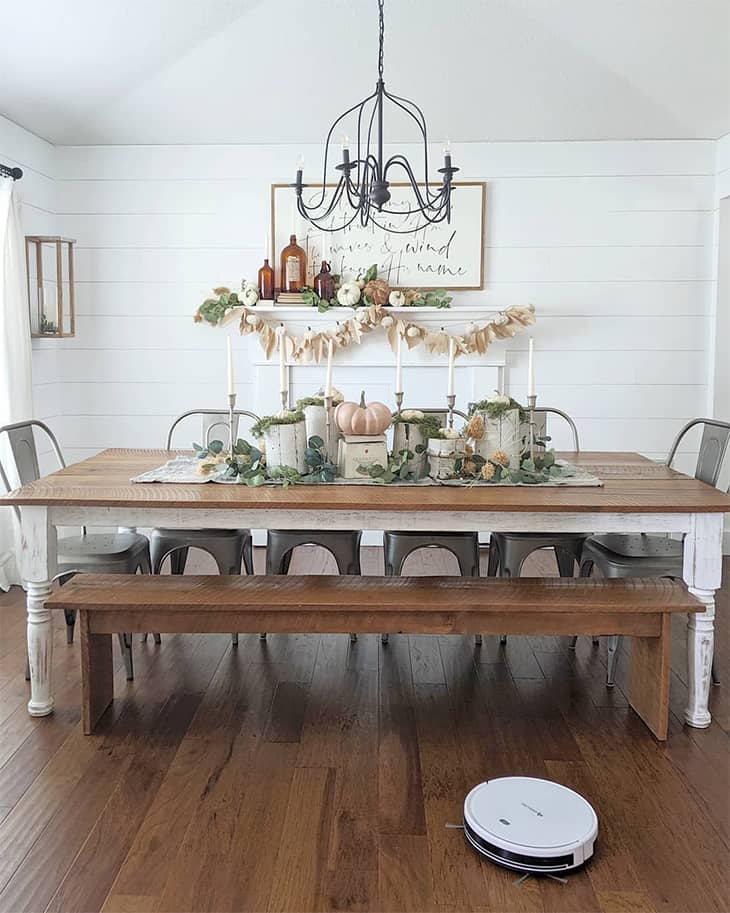 You can add bench-style seating to a small size dining room to open and expand the space. The simple elegance and relaxing atmosphere of this interior is achieved by placing the rustic dining table and bench in the center. With plain yet pleasing farmhouse dining room metal chairs at the opposite table side and ends, there is plenty of seating available. The distressed table legs and wooden-plank table top give the room a comfortable feeling. Table and mantle decor feature dried gourds, vintage bottles, candles and dried greenery add a friendly, relaxed ambiance. You can choose bench seating for your dining room to enlarge its visual appeal and atmosphere.
11. Intimate Dining in a Small Interior Space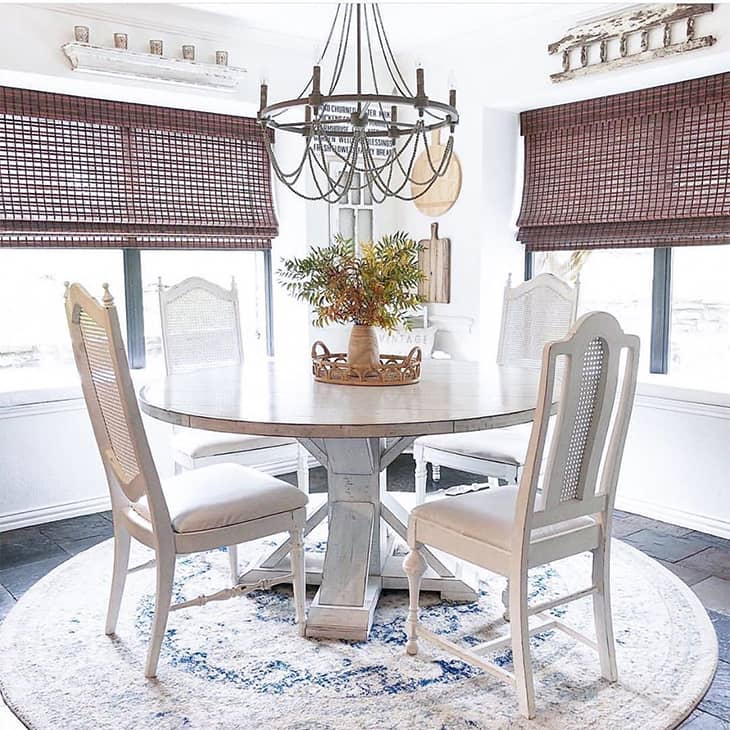 In this intimate, attractive dining interior, you can enjoy quiet, private meals and conversation in farmhouse dining room lighting. The inviting window-side setting is ideal for this appealing round table with its streamlined, elegant and high-backed farmhouse dining room chairs. The woven insets of the chair backs complement the stylish loose weave of the window roller blinds. The vintage woven design of the round rug and the distressed wooden table base with chairs in antique white emphasizes the overall farmhouse mode of this calm dining area. You can create a fashionable and appealing private dining space of your own furnished with a small, charming table in a quiet corner or area.