Your dining room lighting choice can be influenced by several factors, such as the size and shape of your table, as well as the number of lumens or watts you may require to suit the mood. Also, you need to factor in the use of your dining space, for example, whether is it going to be used for various activities like crafting or homework, or maybe as a home office, etc. All this taken into consideration if you want to upgrade your space with beautiful lighting we offer you various dining room lighting ideas to help you make the right choice.
As an Amazon Associate I earn from qualifying purchases.
1. Mix industrial style with modern sputnik chandelier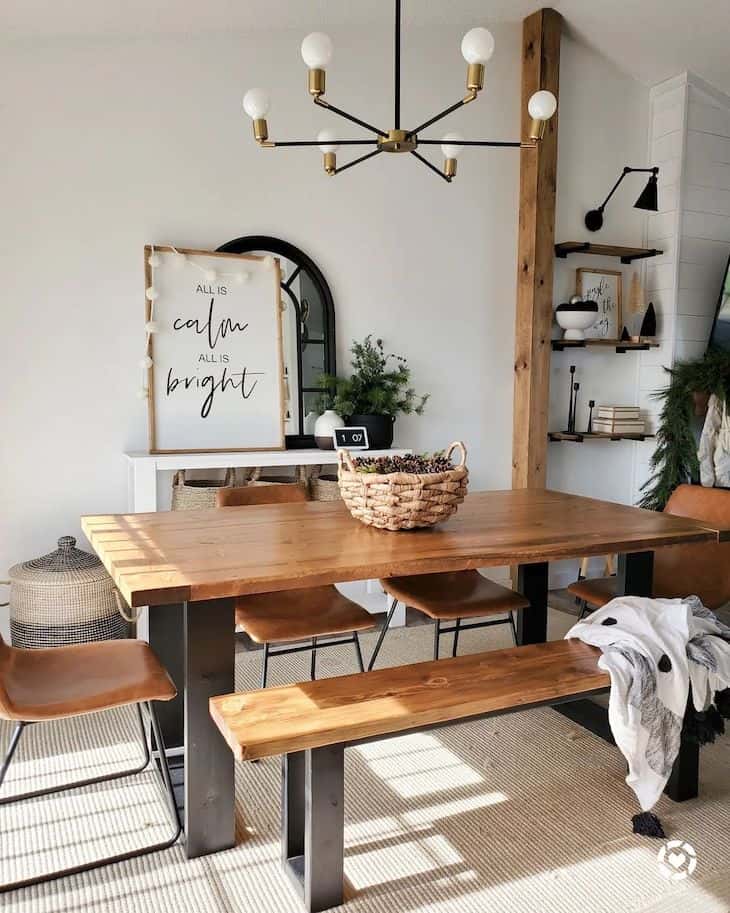 Shop related products(#ad):
light fixture // dining table // dining chair // rug
Give a modern look to your dining room space by using a modern sputnik chandelier in black and gold finishes. The combination of natural wood and metal can add a touch of class to any room. This industrial wood dining table works perfectly with the black metal chandelier, and the golden details add a touch of sophistication to the room.
A nice modern light hanging above a table captivates the eye and brings people together.
2. Use glass pendant for clear view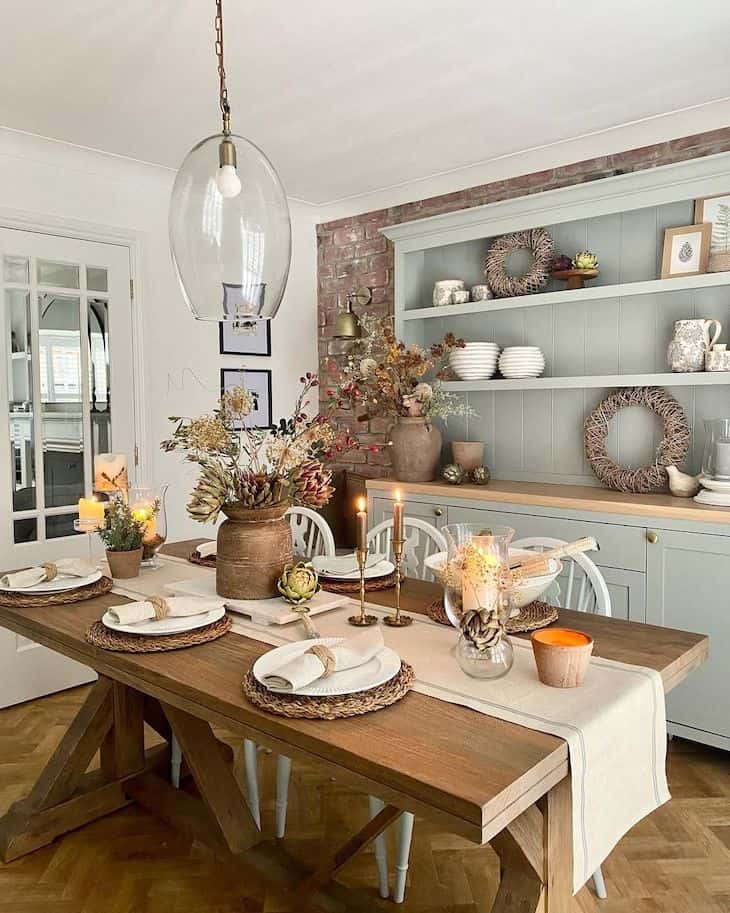 Shop related products(#ad):
pendant // dining table
Planning is the key to introducing dining room lighting ideas that work best for your room. If you have a smaller dining room that has a lot going on, choosing a glass pendant light will be a great choice for you. This big pendant light although see-through makes a lot of statement in this room with its large oval shape.
Simple and elegant glass pendant lights like this one work very well with a farmhouse dining table bringing a natural feel to your dining room that is both timeless and versatile.
3. Mix texture and finishes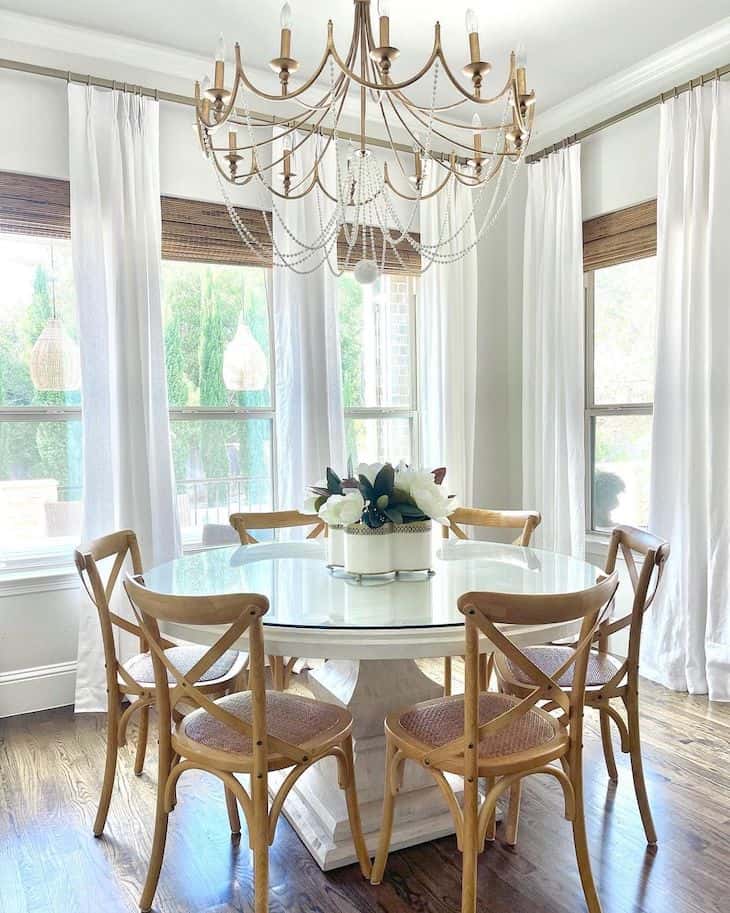 Shop related products(#ad):
chandelier // table // curtains // artificial magnolia // chairs
Elevate the look of your dining room with a curvilinear chandelier with mixed texture and finishes. This chandelier features an antique brass finish adorned with white-painted wood beads bringing an element of sophistication to this dining room.
Combined with a round whitewashed dining table and rustic dining chairs in natural wood this dining room lighting idea completes the look of this room. The white and neutral color combination continues through the dining room's decor, including the white curtains and rattan blinds. Finish off the dining room decor with an elegant bouquet of artificial magnolias to add a peaceful appeal.
Tip:

Multiple-bulb chandeliers can produce a lot of light. You can control the brightness of your lighting by installing a dimmer switch.
4. Bring farmhouse charm with rustic chandelier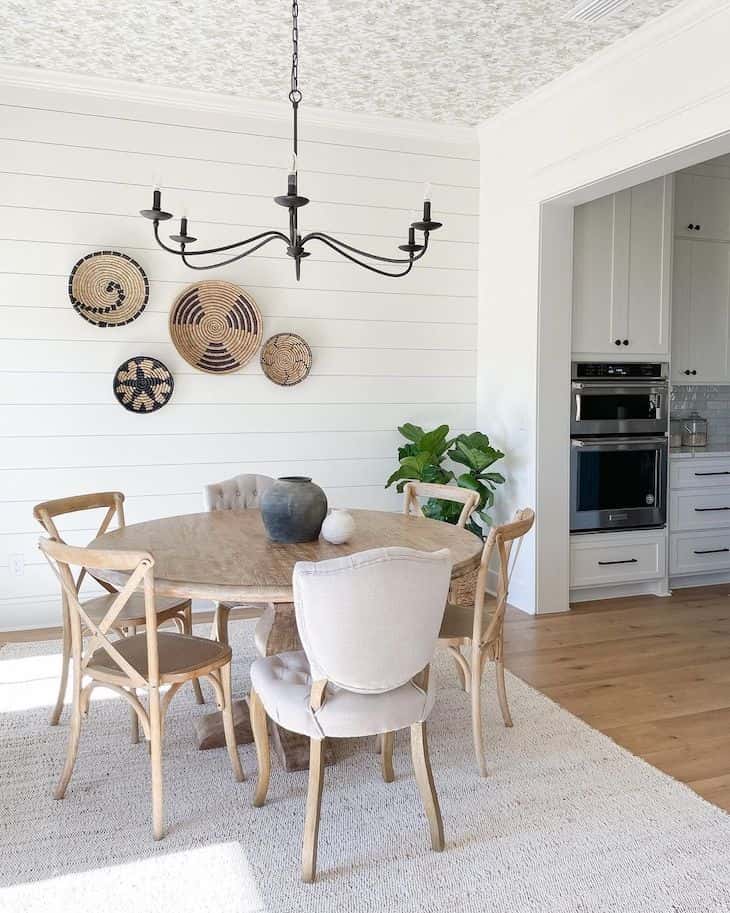 Shop related products(#ad):
chandelier // chairs // dining table // rug
This big black rustic chandelier is perfect for above the round dining table, bringing together the farmhouse decor in this dining room. Contrasting the beautiful natural wood color of the dining table, this black chandelier is the real focal point in this farmhouse dining room.
A white wall and ceiling help emphasize this dining room's fabulous lighting. And the decor is grounded with a natural jute rug for a natural finish.
Tip:

Always consider reasonably sized lighting according to room size.
5. Choose a chandelier to add a touch of glam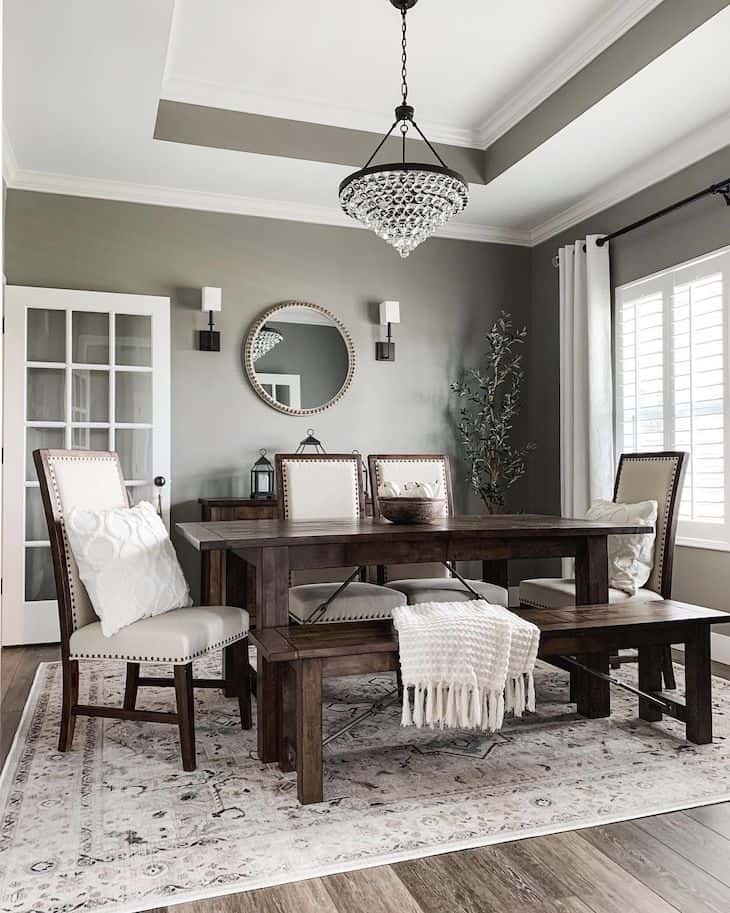 Shop related products(#ad):
chandelier // rug // dining table // bench // dining chair // mirror // sconces
To make this formal dining room even more beautiful for special occasions Faith from @myillinoishome installed a glass bead chandelier. This light fixture's contemporary design elevates the space without feeling fussy.
Choosing a light fixture for a round table can be a bit more challenging, but there are many options available for long, rectangular tables. This chandelier matches the shape of the round mirror creating a synergy in the dining room decor. Arrangements of clear glass beads in an overlapping pattern contrast with the bronze finish to create a stylish chandelier.
| | |
| --- | --- |
| Wall color: | "Pavestone" by Sherwin Williams |
6. Go big with cage style chandelier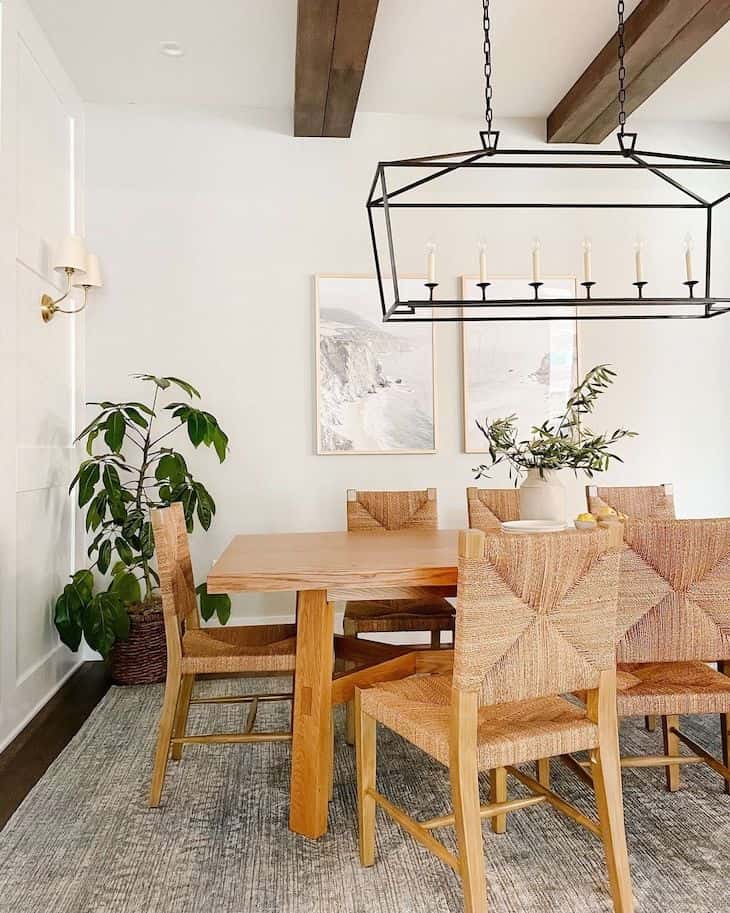 Shop related products(#ad):
chandelier // dining chairs // sconce
In a dining room where there is a lack of natural light opt for a big cage-style chandelier with a lot of lights like this open frame chandelier with a bronze finish. It is best to choose your lighting according to your dining table style, plus a long and narrow design like this will provide you with good light for studying, working from home, and entertaining.
This colonial light fixture blends perfectly with the patterns and textures of this bright and airy dining room. Mixing styles with lighting like these pretty brass double sconces with fabric shades with the open frame chandelier will extend the variety of your dining room decor style.
Tip:

It is best to place long light fixtures like this one over long tabletops that accommodate more than six people.
7. Color coordinate your dining room light fixture with the accents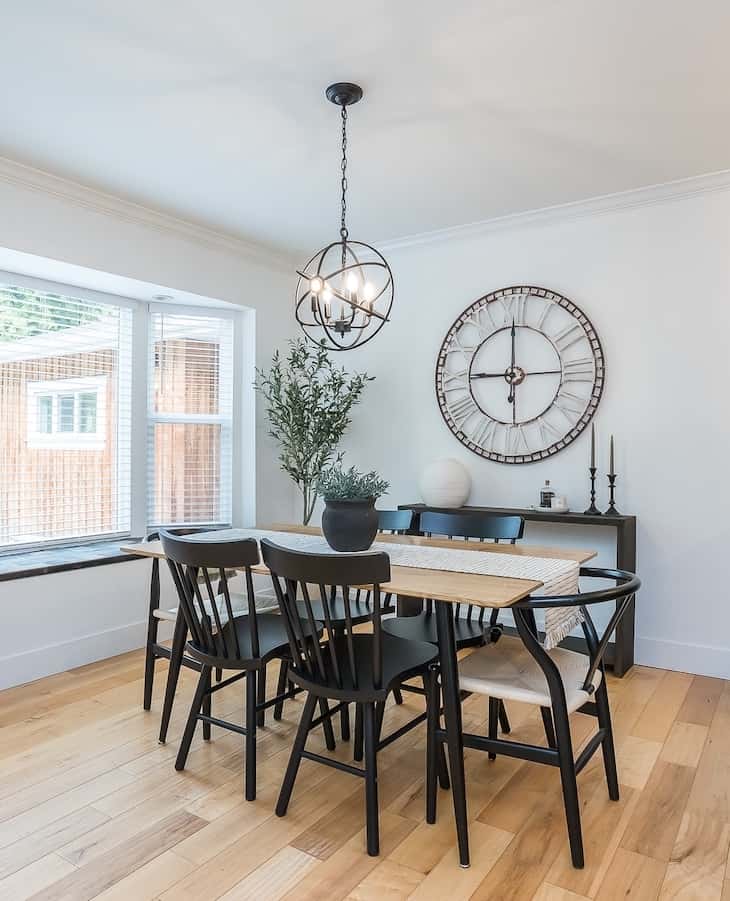 Shop related products(#ad):
chandelier // chairs // accent chair // wall clock
Be sure to consider your room's style when choosing your dining room lighting. Also, consider more than just the shape of your light fixtures, for example, the color and texture, especially if they match the other accents in your dining room. Considering a light fixture that complements the colors and textures in your existing space will help you identify what you're looking for.
Like in this dining room, the metal frame of this orb pendant complements the metal accents on the farmhouse wall clock.
A dining table's lights need to be positioned perfectly to create visual interest without being too intrusive.
8. Take a center stage with a big dining room chandelier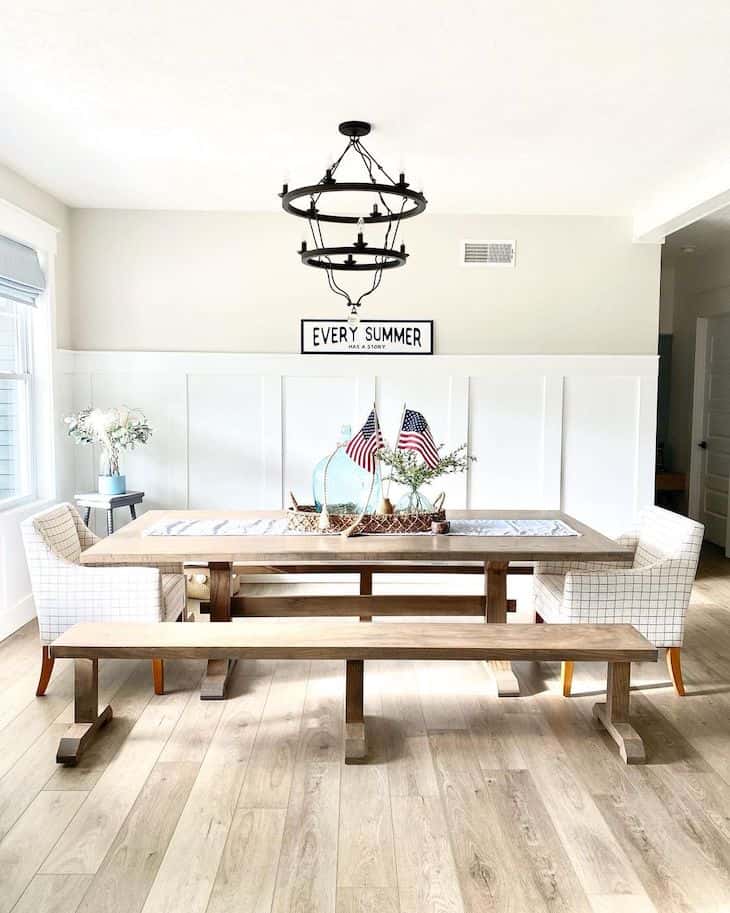 Shop related products(#ad):
chandelier // dining table // bench // accent chair
An eye-catching pendant light hanging centrally above the dining table creates a focal point that draws the eye to the table as the room's main focus. For a light fixture to stand out, it doesn't have to be covered in crystals or have an intricate silhouette. In spite of its simplicity, this chandelier's size creates a feeling of spaciousness in the room. When it comes to dining room lighting ideas, if you want to create an impact bigger is always better.
Tip:

Install chandeliers or pendant lighting at least 30 inches above the table
9. Mix up your shapes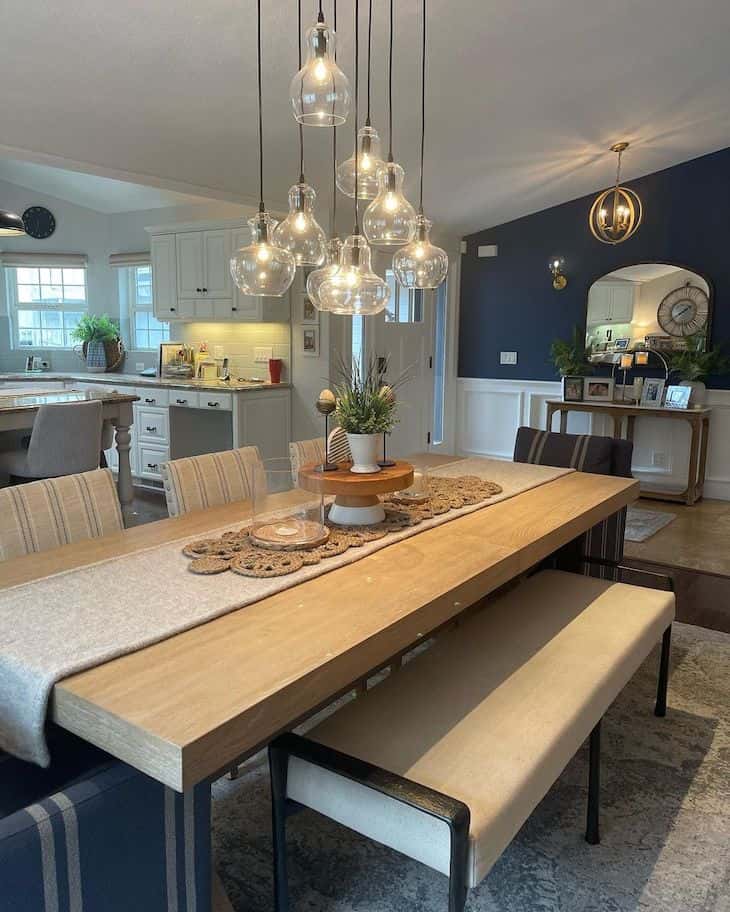 Shop related products(#ad):
chandelier // dining table
If you'd like to add a bit of drama to your farmhouse-inspired dining room, try pendant lights in staggering heights and different sizes to make a statement. Make an interesting display by staggering the heights and sizes of the pendant lights.
If you're looking to spruce up the look of your dining room, then think outside the box when choosing a dining room light fixture. It is not necessary to have the same pendant light size, shape, and color throughout the entire display. Merge different pendant lights to create an interesting look. In addition to providing a style statement, clusters of lights will add light on a variety of levels to create a central point of interest.
10. Disguise lighting during the day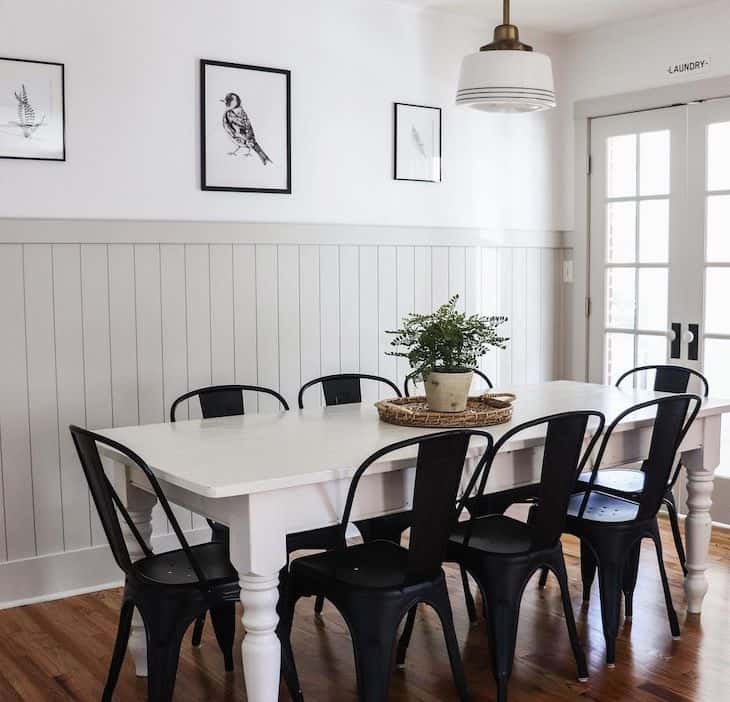 Shop related products(#ad):
pendant // dining chairs // dining table
Lighting ideas for dining rooms do not all need to make a bold statement; by choosing the right shade, you can effectively hide your lights during the day. Choosing the light fixture in the same color as your wall will disguise your lighting during the day.
Choosing this kind of light will refine the room without overpowering the rest of the decor. Like in this dining room that combines whites and neutrals with bold dining room chairs, the retro white pendant will take you back in time without distracting the overall decor.