The checkerboard floor makes a great choice for entryways, kitchens, and bathrooms. We advise against laying checkerboard flooring in a living room or bedroom because it may clash with the decor.
With such a bold repeating pattern, it's essential to get the scale just right, otherwise, the room may look out of proportion. An overall rule of thumb is that tiles get bigger as a room gets larger. Making the wrong choice of tile size is one of the most common mistakes. You may create an overwhelming effect if a small tile is used in a large room, while a large tile in a small room may not repeat enough to create a checkerboard pattern.
Modern homeowners can benefit from the checkerboard trend, which is a perfect transitional design to a more natural and contemporary style. Below we offer you a detailed list of examples of where you can use the checkerboard floor trend in your own home.
As an Amazon Associate I earn from qualifying purchases.
1. Start with your yard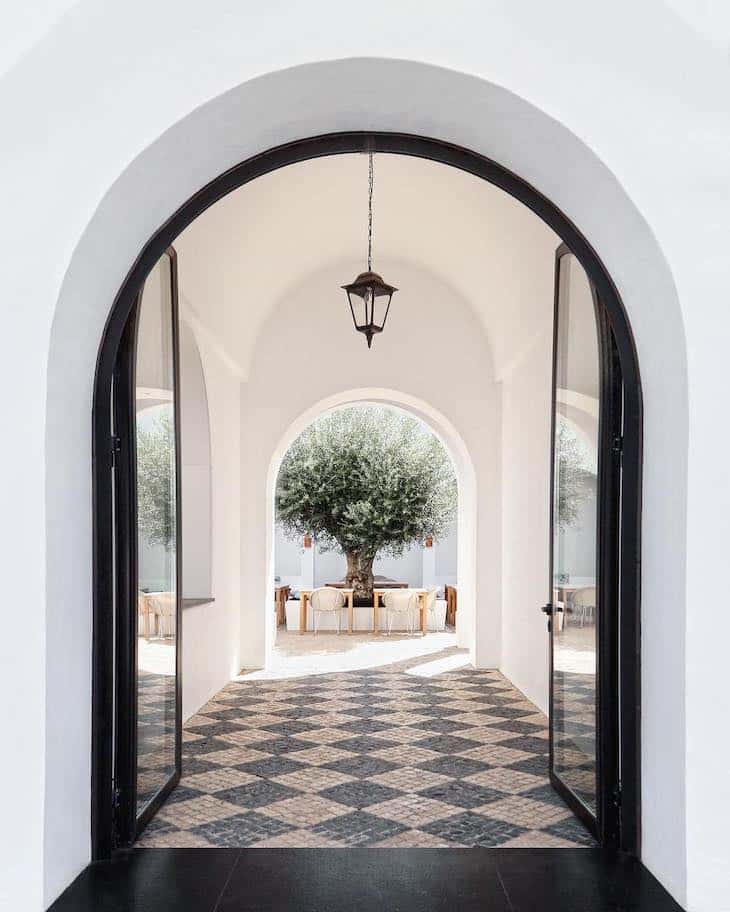 You can start in your yard with this timeless design by applying black and white pavers or any other tiles you plan to use in your yard or even cement painted in this pattern.
The entryway of this courtyard has an archway opening up onto a sun-kissed courtyard. The cobblestones arranged in black and white squares forming a checkerboard floor are a great mix of modern design paired with old-world materials.
2. Use checkerboard floor in your entryway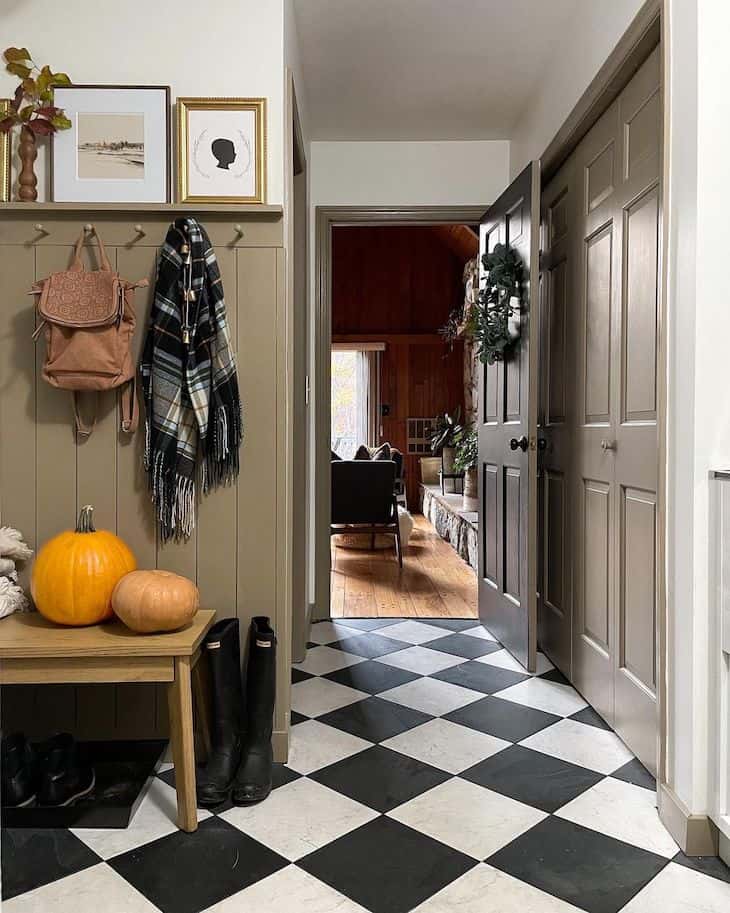 Having a checkerboard floor in an entryway creates an attractive first impression and establishes a strong foundation for the various doors that open from it.
This entryway features a white porcelain tile that looks like marble and a black slate tile. This striking pattern complements the shiplap half wall in a muted green color creating an engaging color contrast.
| | |
| --- | --- |
| White tile | Porcelain tile that looks like marble |
| Black tile | Slate tile |
3. Add luxury to your mudroom with marble checkerboard floor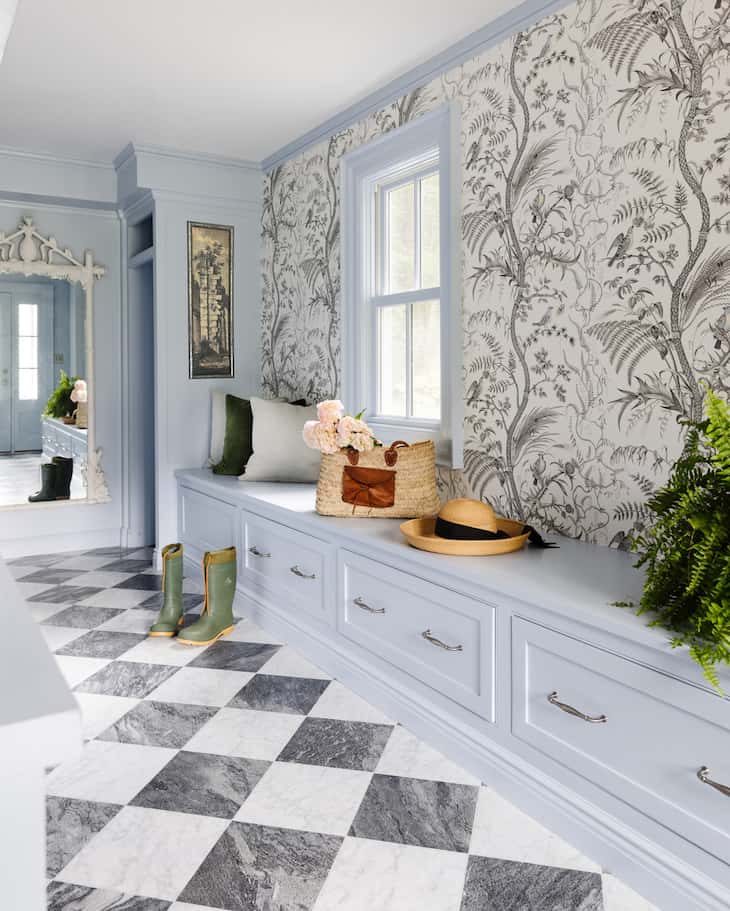 You can add a cozy and stylish aesthetic to your home by investing in key features like flooring. There is no better way to give your home an instant note of luxury than with marble flooring.
This black and white checkerboard floor complements the soft blue cabinetry and creates a contemporary, edgy feel. This mudroom reminiscent of spring is the perfect example of how you can combine different prints in one room without overbearing one another.
| | |
| --- | --- |
| Floor | Marble tile |
| Wall paper | "Bird and Thistle" by Brunschwig & Fils |
4. Enliven your hallway with black and white checkerboard floor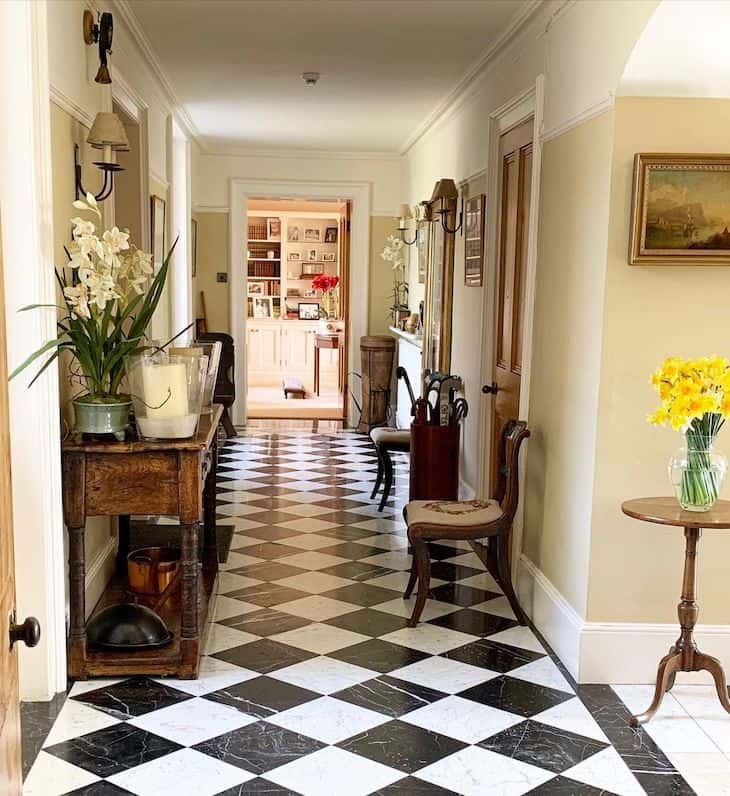 Shop related products(#ad):
console //
Using a marble checkerboard floor in your hallway will create a strong focal point that will stand the test of time. A striking flooring like this one in a light and spacious hallway will create great depth, helping you get a feel for the sheer scale and length of it.
With a relaxed aesthetic and old-world feel, this hallway's marble floor adds a bit of high-level glamour and creates a focal point. The checkered floors are so classic and appealing against the antique console.
5. Zone a specific space with a checkerboard pattern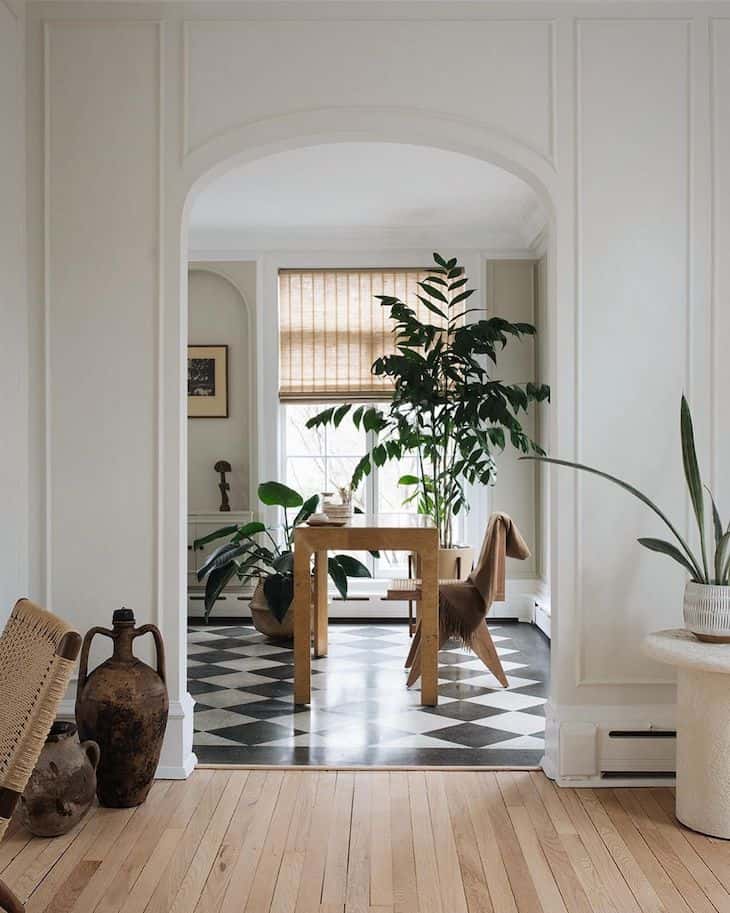 In a home with an open floor plan, zoning is important to separate spaces with different functions. Using a checkerboard floor is a good way to define a space like this home office that is located between the living room and kitchen area.
With the arched entrances, bamboo blinds, and pop of green from the plants, this home office has a calm and neutral ambiance but the black and white terrazzo floor adds the right amount of drama.
| | |
| --- | --- |
| Floor | Black and white terrazzo |
6. Use diagonal checkerboard floor in your kitchen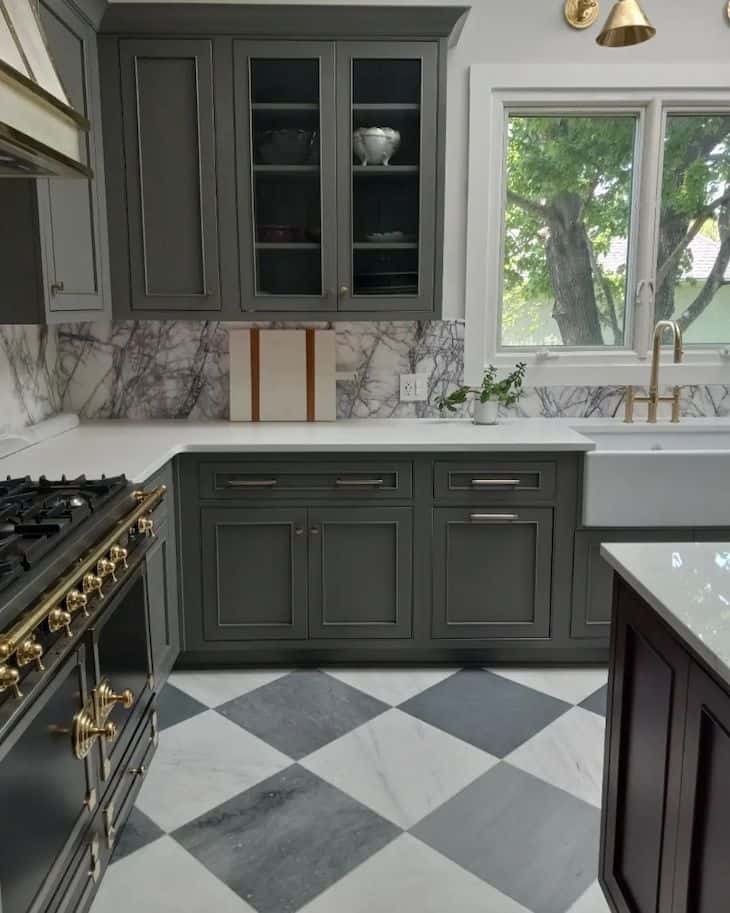 If you are looking for a modern design for a larger space, such as a kitchen or laundry room, then this diagonal checkered pattern can be an effortless way to reference the trending Mediterranean or European style decor.
In this modern farmhouse kitchen, we see a patterned floor with a bold backsplash working great together, split by the warm moody grey on the kitchen cabinets.
| | |
| --- | --- |
| Floor | Grey and white marble tile |
7. A galley kitchen and pantry with black and white checkerboard floor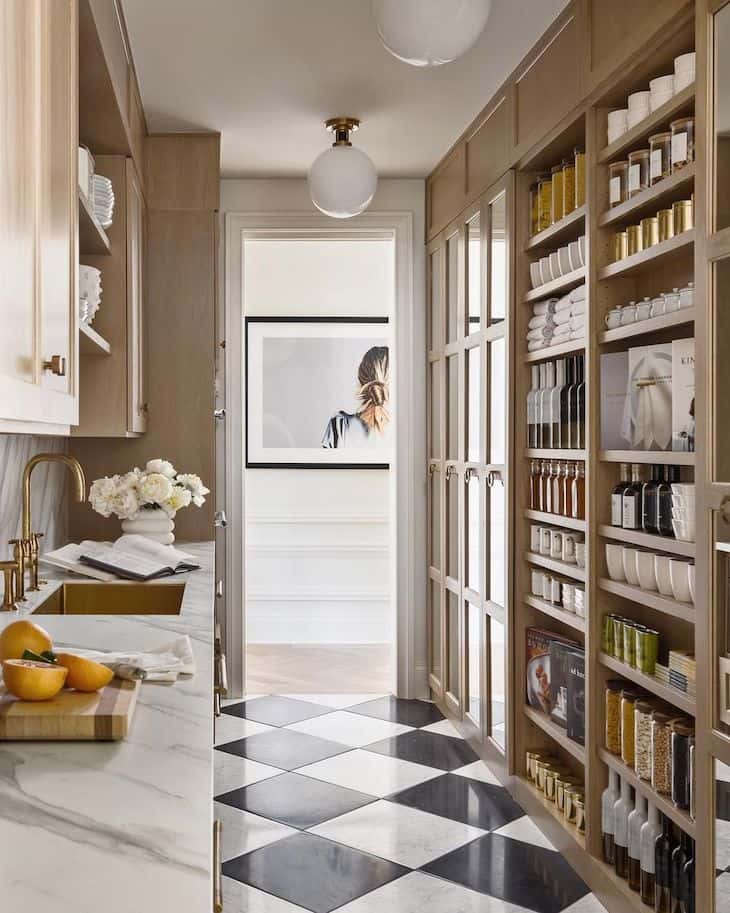 When decorating with neutrals, adding checkerboard flooring is one of the best design tricks. By doing so, the space has a polished feel and the eye can travel through it easily. The monochrome tiles here serve to ground the softer tones of the walls and wood cabinets.
| | |
| --- | --- |
| Floor | Black and white marble tile |
| Countertop | Porcelain countertop |
8. Try a checkered pattern in your butler's pantry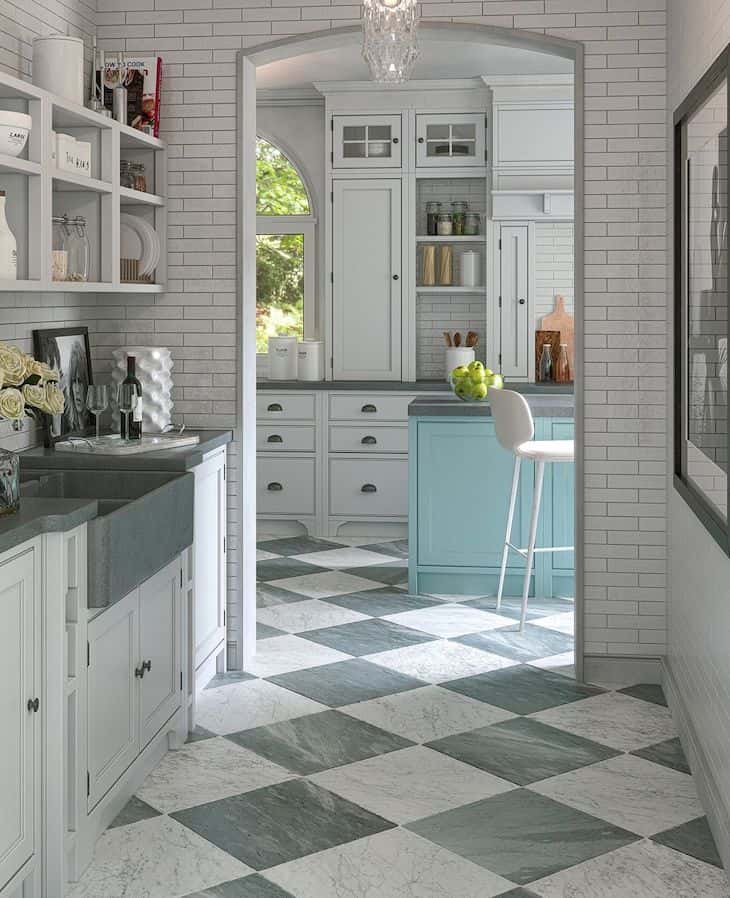 Despite the timeless appeal of black-and-white, different colors and shades can be used for the flooring to get the same results. Instead of using a black and white tile try and mimic the colors you already have in the room.
In this pantry, the white and grey marble tile is similar to the white kitchen cabinets and the American Soapstone countertop.
| | |
| --- | --- |
| Grey tile | Bardiglio Imperiale marble tile |
| White tile | Bianco Carrara marble tile |
| Countertop | American Soapstone |
9. Master bathroom with brown and grey cement tiles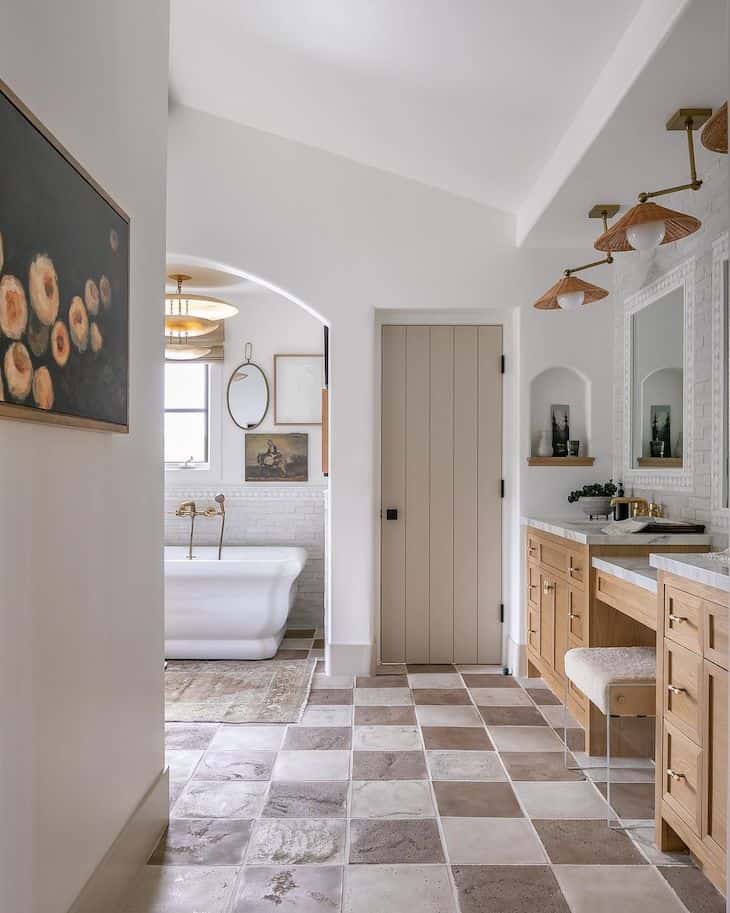 Shop related products(#ad):
gray tile // brown tile // vanity stool // sconce
There is a lot going on in this space, there is texture, pattern, and artisan styling pieces that make it feel charming and warm. There is also a checkered floor in brown and taupe gray that provides a unique foundation of color and texture to the space.
The vintage-inspired cement tiles cover the bathroom floor that leads past a custom oak vanity to a welcoming bathing nook. The door painted in a neutral, earthy, grey beige, breaks up the fresh white walls and accentuates the custom checkerboard cement tile on the floor.
| | |
| --- | --- |
| Brown tile | Caqui cement tile by Arto Brick Tiles |
| Grey tile | Early Gray cement tile by Arto Brick Tiles |
| Door color | Piano Room by Portola Paint |
| Wall tile | zellige squares |
10. Mix checkerboard floor with bold color and pattern in small spaces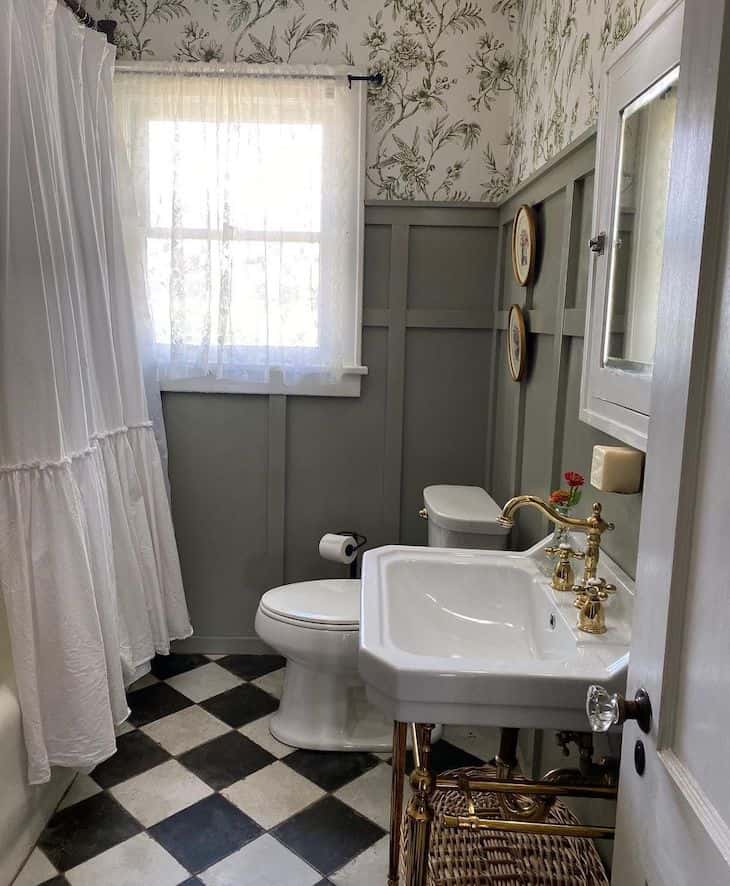 Shop related products(#ad):
faucet // sink // shower curtain
In a room, checkerboard flooring doesn't have to be the only pattern that stands out – add another, like florals or stripes, for an added sense of depth. This particularly works in smaller spaces like bathrooms or powder rooms.
Most bathrooms consist of large white spaces that often feel sterile, so adding a checkerboard pattern with bolder color and pattern combinations can be a great way to add some color.
| | |
| --- | --- |
| Color | "Chatroom" by Sherwin Williams |
11. Use bold tile checkerboard floor for an old-world feel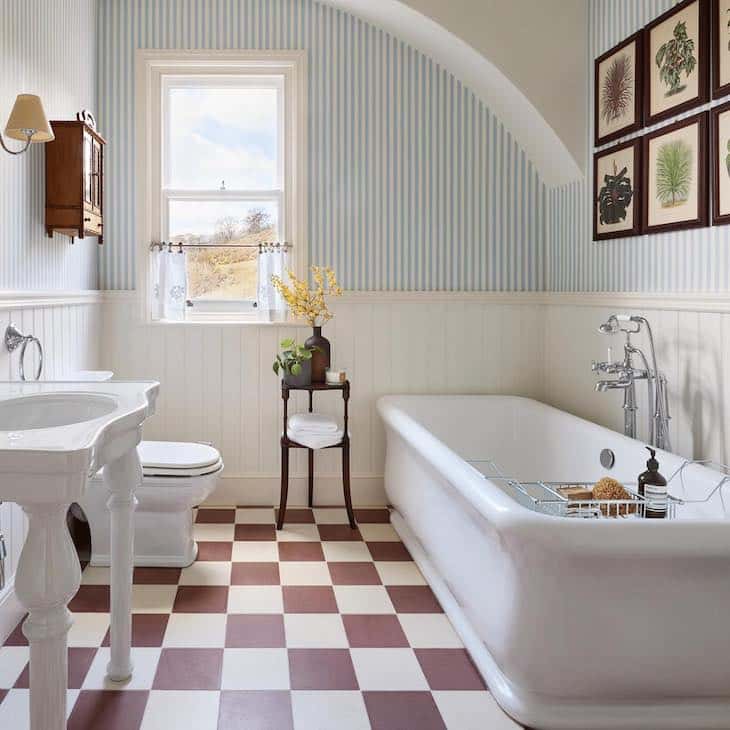 The color combination in this bathroom is so unexpected but in some way it works. In this bathroom, with an old-world feel, the subtle blue stripe is married to the bold tile floor creating the most charming bathroom. From the traditional, porcelain vanity to the tongue and groove wall and the pattern mix they created a perfectly balanced bathroom design that works.
Despite the stark contrast between the burgundy and white flooring and the blue stripes, the color scheme maintains a harmonious balance.
| | |
| --- | --- |
| Floor | cement tile by Otto Tiles & Design |
| Wall | tongue and groove |