Spook up your home with these favorite Halloween decorations for your outdoor and indoor holiday decor. From store-bought to handcrafted DIY's we cover it all. Whether you want to have a spark of spooky decor or you want to go all out with a complete creepy Halloween makeover we have inspiration for every taste.
As an Amazon Associate I earn from qualifying purchases.
1. Tasteful Halloween decorations for the front door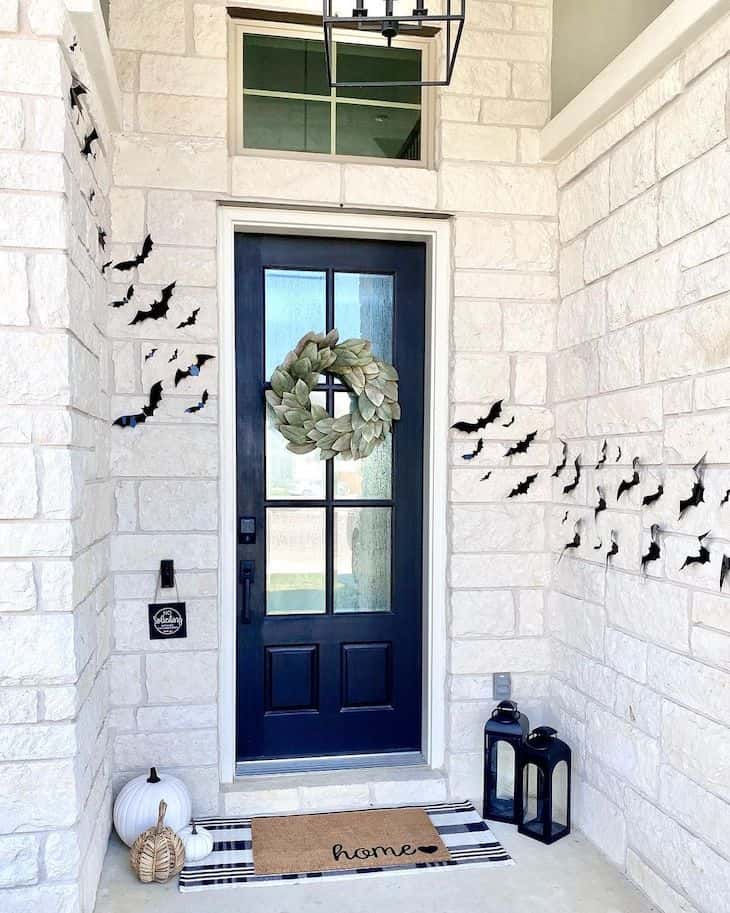 Shop related products(#ad):
Halloween bat stickers // wreath // lanterns // white pumpkin // doormat // plaid mat
Turn your fall front door decor into a Halloween decor with an easy application of bat stickers to your walls. This tasteful decoration is perfect when you do not want to go overboard with your Halloween decor but still want to add some touch of eerie to your everyday decor.
Simplistic in its style this Halloween decor goes perfectly with simple neutral fall decor, like white pumpkins and magnolia wreaths.
2. Cute halloween front porch decorations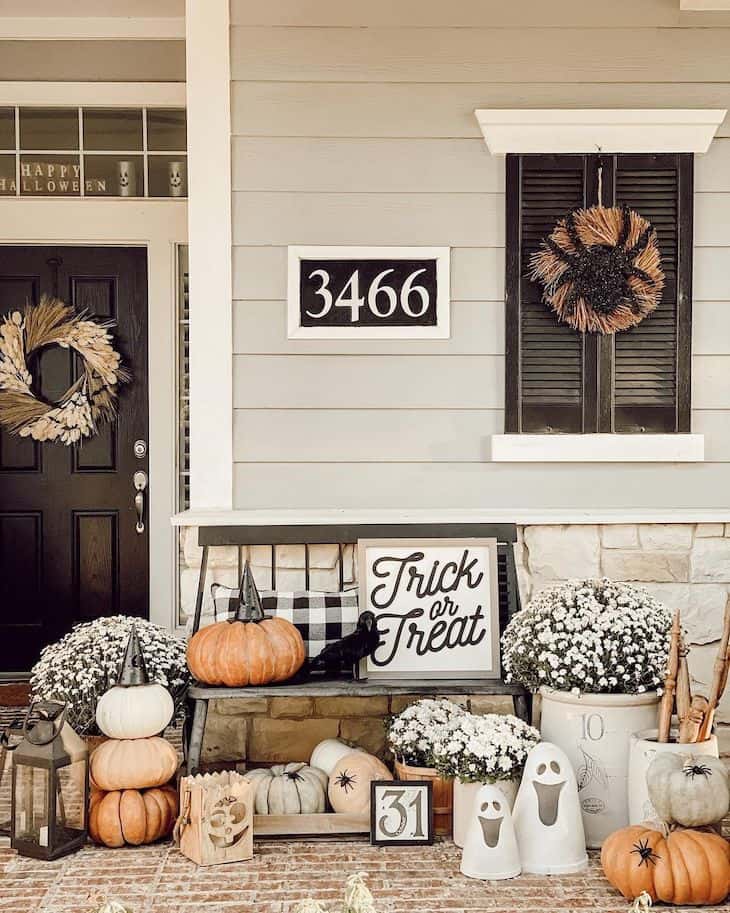 Shop related products(#ad):
"trick or treat" sign // mini spiders // crow // lantern // bench // halloween lantern // fall wreath

This is one great example of how you can spruce your fall front porch with Halloween decorations and still make it look incredibly cute. There are so many cute things here styled to perfection like the spooky spider on the wreath, the mini spiders all over the pumpkins, the cutie Frankenstein lantern, and the happy ghosts.
The "Trick or treat" sign on the bench and the mini witch hat on the pumpkin adds a sweet touch to this Halloween decor.
3. DIY Halloween black branches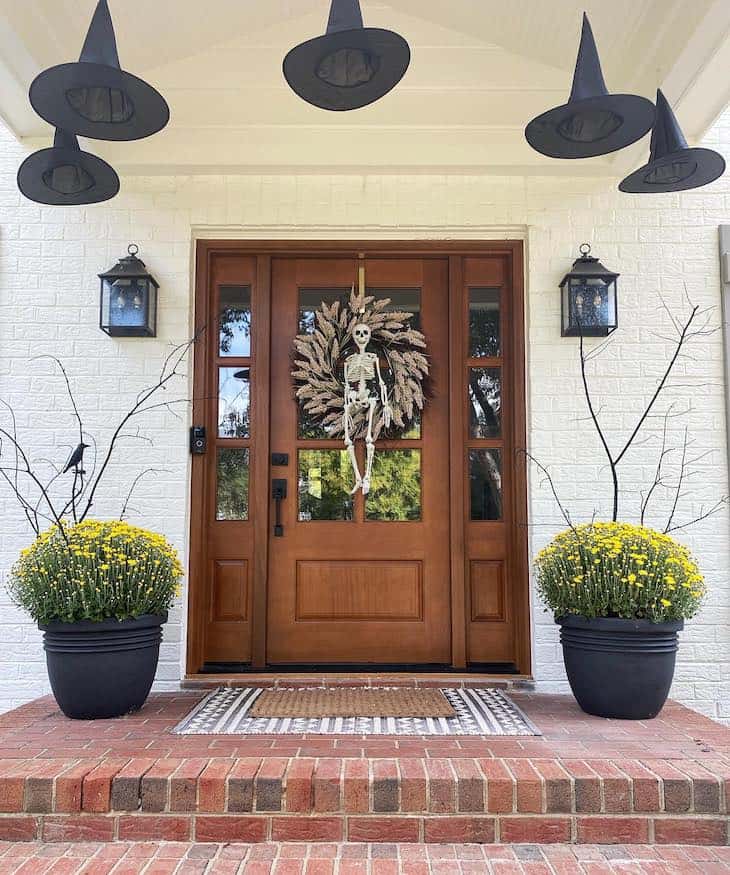 Shop related products(#ad):
witch hats // skeleton // wreath // black trees
These DIY black branches create such a dramatic look for this Halloween decor. They are made of branches you can cut down from your yard, then you need to rip the leaves off and spray them black. It is an easy Halloween DIY that can bring an eerie feel to your outdoor Halloween decor.
Complete the look with some floating witch hats and a mini skeleton seated on your fall wreath to switch your fall decor for a Halloween one in a budget-friendly way.
4. Halloween indoor decorations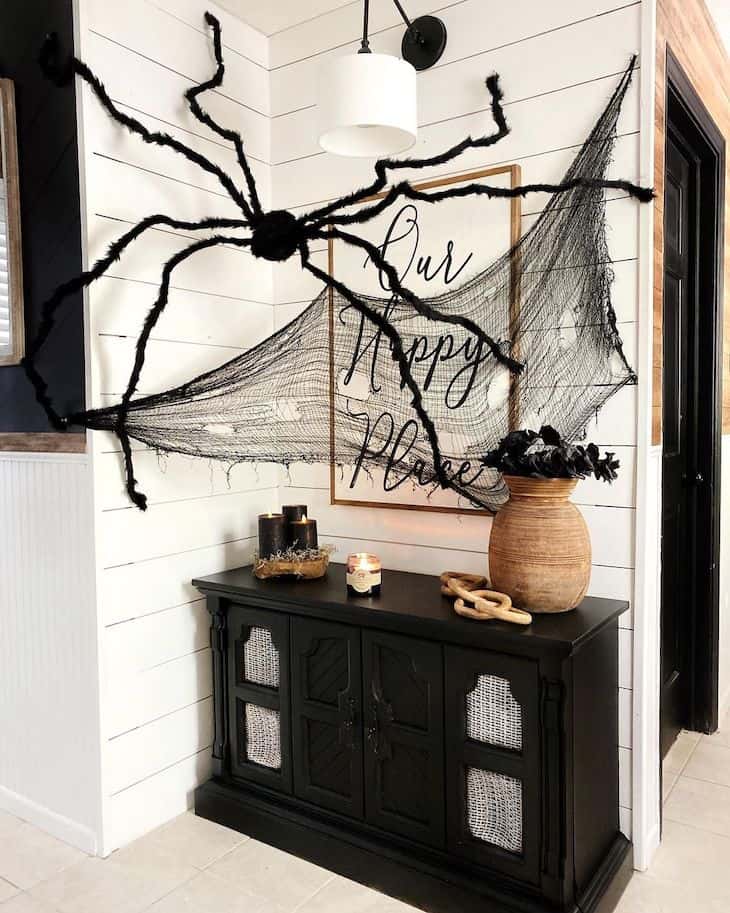 Shop related products(#ad):
spider // spider web // candles // black roses // wood chain // vase
This black record player console is decked out with some Halloween decorations to create drama right as you enter the front door. The big hairy spider decor placed over a creepy cloth to resemble a spider web will give you chills every time you pass by it.
Complete the look with a stack of black candles and a vase filled with black roses for extra creepiness.
5. Halloween stairs decor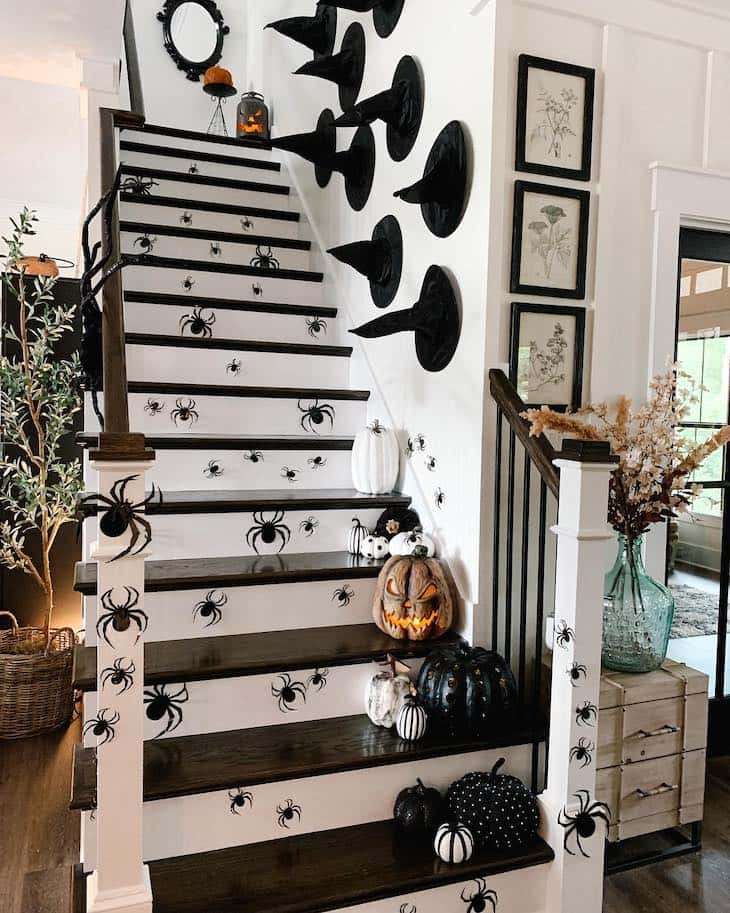 Shop related products(#ad):
witch hat // spider stickers // spider // jack-o-lantern // black pumpkins
Another creative way of displaying the witch hats is to hang them with their side down on your staircase wall. The spider stickers placed all over the stairs add a creepy atmosphere to this Halloween decor. Greet your guests with some spooky Jack-O-Lanterns at the base of your stairs as well as on top of them for an eerie impression.
6. Halloween entryway decorations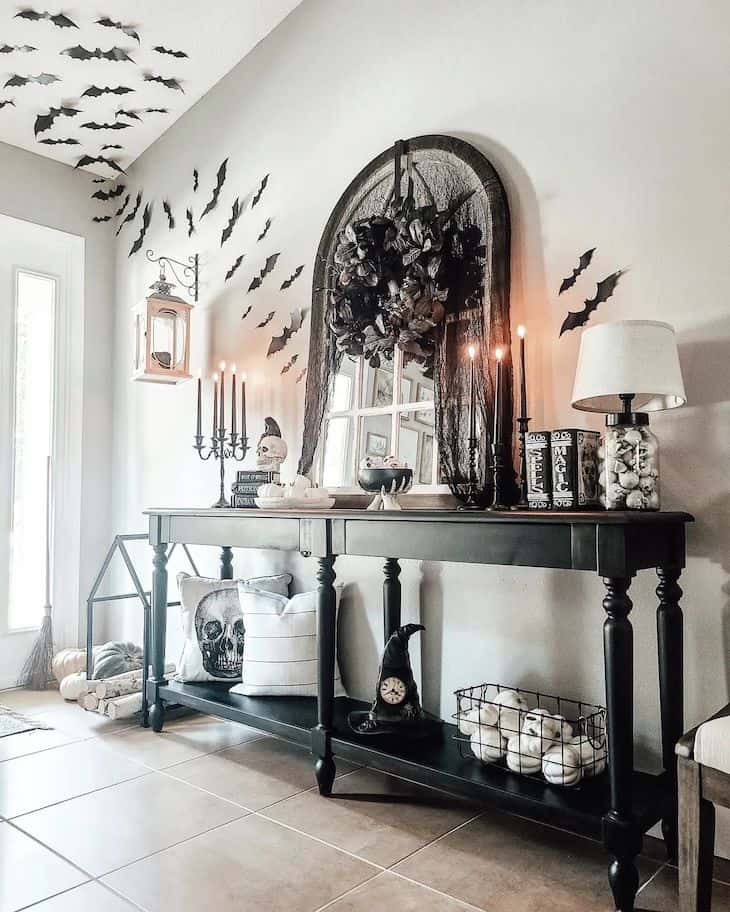 Shop related products(#ad):
black wreath // creepy cloth // entry table // decorative books // candlestick // black candles // fillable table lamp // mini skulls // skull pillow
If you want to achieve more of a gothic look for your Halloween decor rather than traditional, using a black floral wreath will give you just the right effect. Combine it with a black candlestick and candles and an enchanting book stack for a mysterious charm.
The fillable table lamp filled with mini skulls gives just the right amount of spooky for this gothic Halloween decor.
7. Classy Haloween mantel idea
Shop related products(#ad):
Jack-o-Lantern // witch hat // fig leaf spray // taper candles
We love how this Halloween mantel can look "pretty" in the day and "spooky dramatic" at night. The pumpkins are actually spray-painted white to create a classy look. The DIY leafy garland from fig leaf stems creates a dramatic base for the happy pumpkins.
Almost everything in this decor is a DIY, even the witch broom made of a dowel, some stems cut to length wrapped with some twine, and finished with some twinkle lights.
8. Elegant Halloween living room idea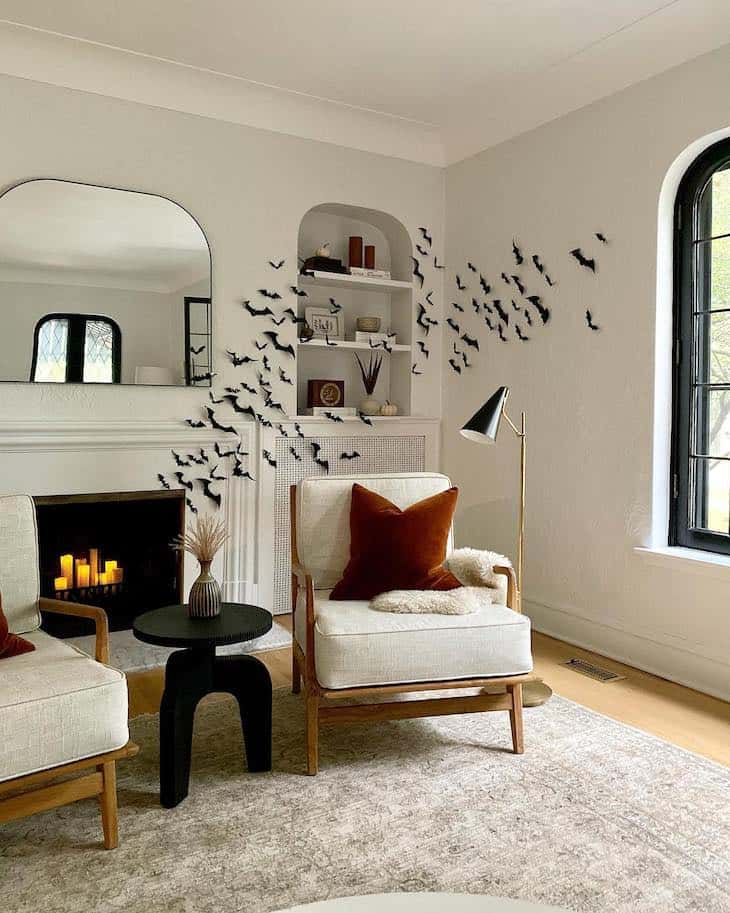 Shop related products(#ad):
bats decoration
This spooky but make it chic Halloween decoration really works for this transitional living room decor. If you want to add a subtle touch of eerie decor to your living room without turning it into a haunted house, these bat stickers are the perfect choice for you.
9. DIY flour pumpkin as a Halloween kitchen decor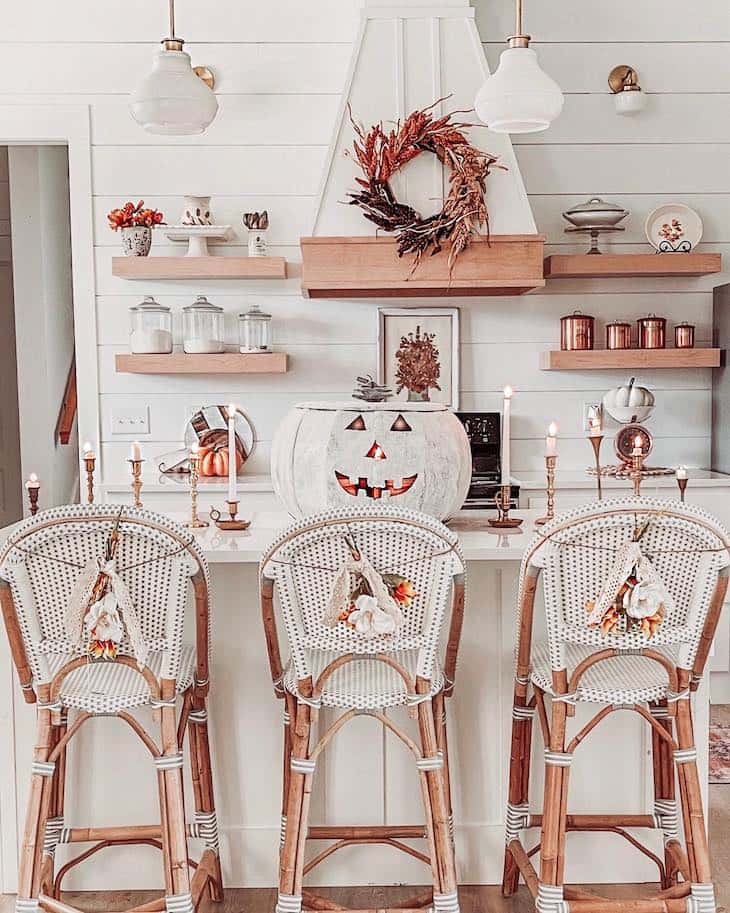 This vintage wood pumpkin turned into flour white pumpkin as a Halloween kitchen decoration is such a genius idea. Crystal DIYed her big wood vintage pumpkin by painting it white and then smeared it with some flour for added texture. You can watch the whole tutorial over on her Instagram reel.
The white pumpkin looks perfect in this all-white kitchen and the copper accents from the candle holders coordinate ideally with the cooper shelf decor.
10. Halloween tiered tray decor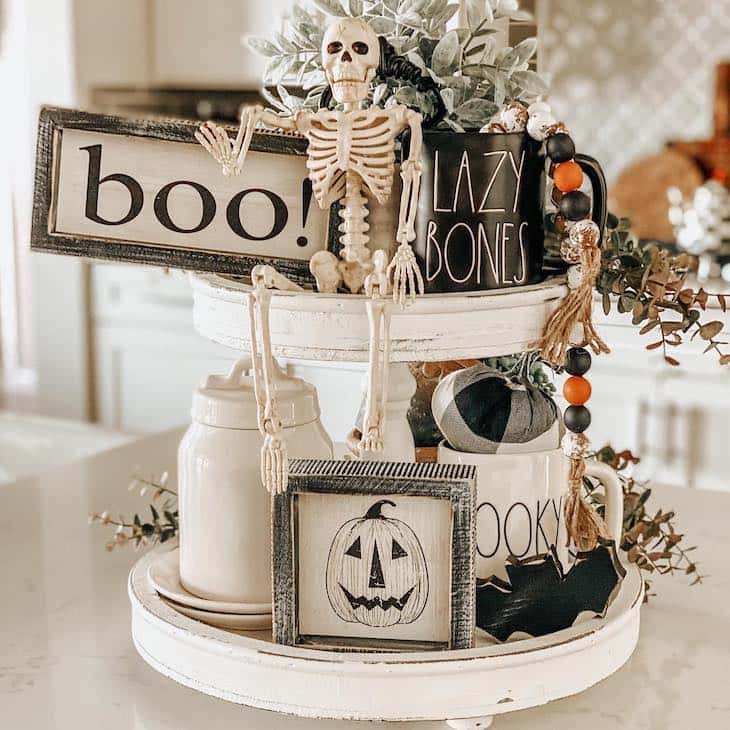 Shop related products(#ad):
tiered tray // Halloween beads // tiered tray signs // Halloween mug
Another Halloween decor you can use for your kitchen is a tired tray decorated with spooky decor. Change your regular seasonal tired tray decorations with a mini skeleton, Halloween mugs and beads, and small tiered tray signs and you'll have your creepy decor all set up for the holiday.
11. Witch hats hanging from the ceiling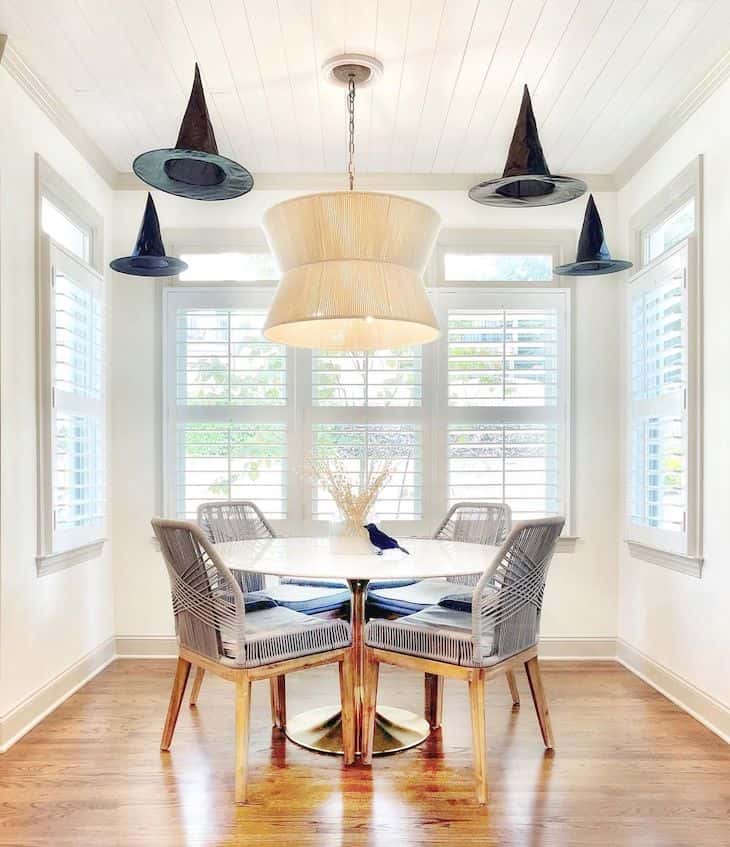 Shop related products(#ad):
witch hat // crow
Kim from @houseofhaires shows us a little trick on how to hang witch hats from the ceiling. The secret is a fishing string and double-sided tape. This trick really makes the witches' hats look like they are floating. A little warning with this method is that it may peel off the paint from your ceiling. In order to avoid that warm it with a blow-drier before taking it down.
12. Halloween bathroom decorations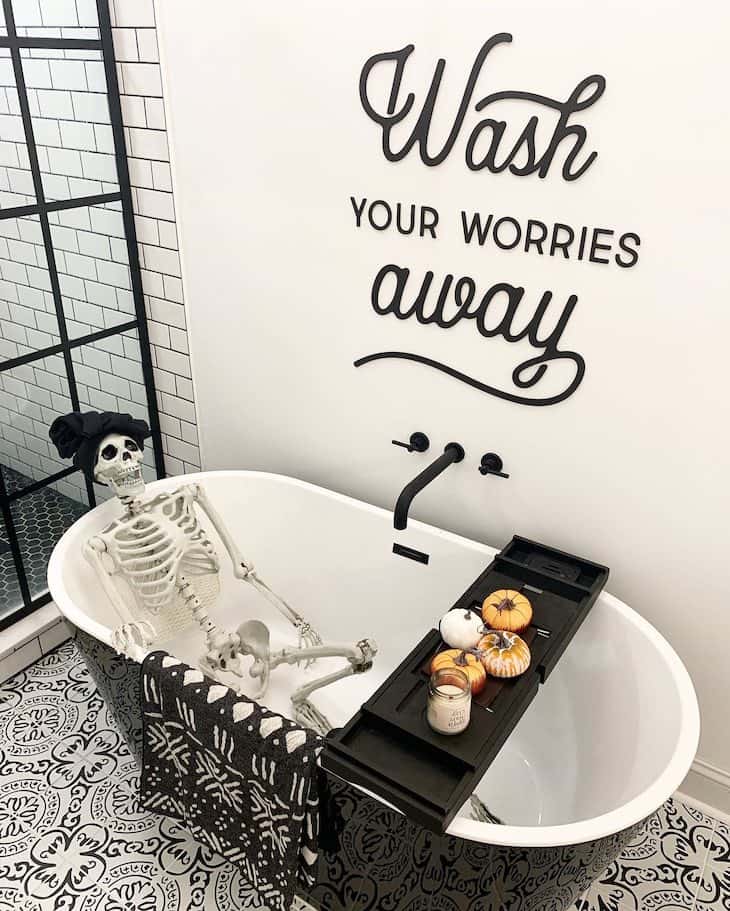 Shop related products(#ad):
skeleton
This beautiful bathroom turns eerie when a life-size skeleton is "taking a bath" in the bathtub. Place a black towel on the skull for a humorous note to your Spooky Halloween decor.