Your living room lighting can have a profound effect on everything else in the space, including the rug, the wall color, and the artwork. You'll love these genius living room lighting ideas that will bring your space to life and make it more beautiful.
As an Amazon Associate I earn from qualifying purchases.
1. Layer your living room lighting sources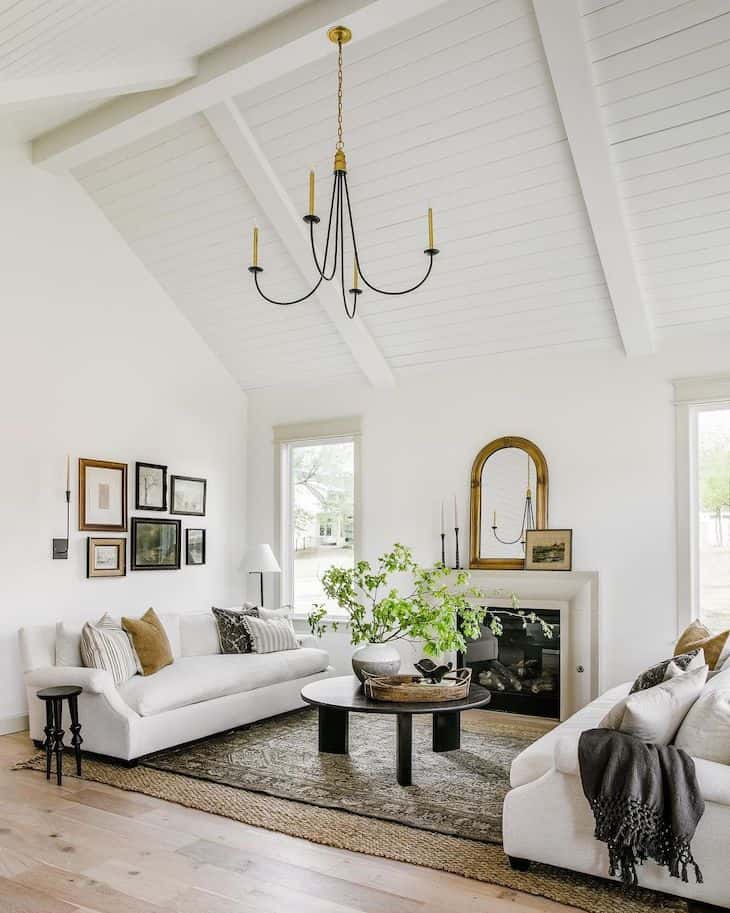 Shop related products(#ad):
chandelier // mirror // coffee table
Make your living room lighting more flexible by layering lights from a variety of types of light fixtures. Optimal lighting designs combine several sources of light throughout the room at different levels. For example use a ceiling light fixture for brightness, a wall light for ambiance, and a table light for reading time.
Despite its classic shape, the chandelier in this living room has been updated to meet modern needs. With this chandelier, the lines that are typical of traditional chandeliers have a minimalistic appearance. This living room chandelier has a clean-lined look with an elegant combination of antique gold and black finishes.
The wall lights are a great addition to this living room. They add visual interest to the walls and provide a much softer alternative to overhead lights.
| | |
| --- | --- |
| Wall color | "Swiss coffee" by Kelly Moore |
| Window trim color | "Indian Muslin" by Kelly Moore |
2. Find the right finish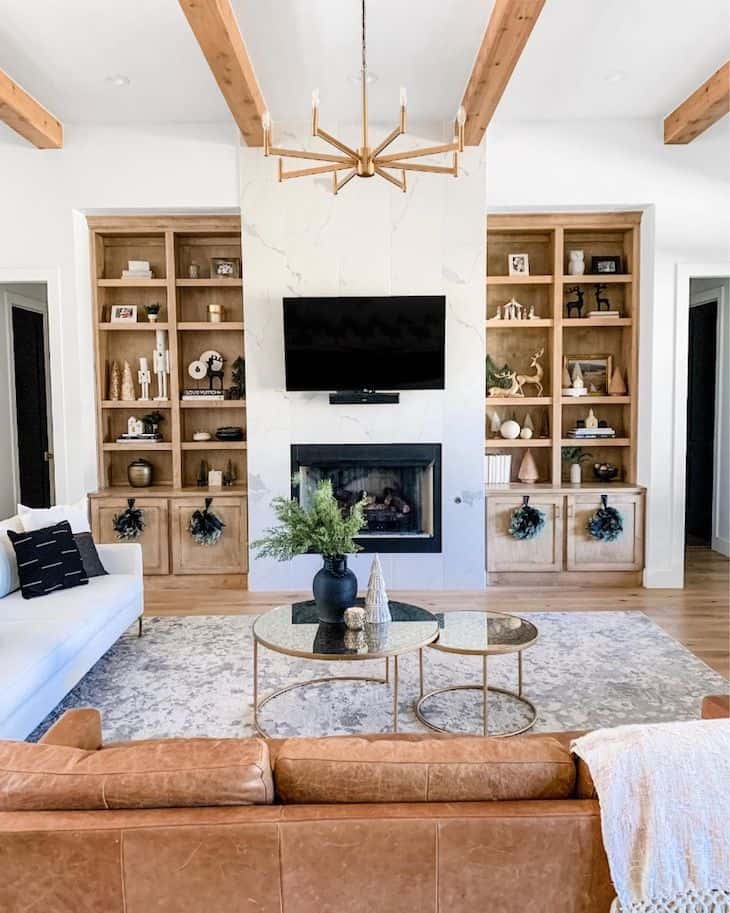 Shop related products(#ad):
chandelier // rug // coffee table
A striking light fixture can transform any living room, whether you choose a romantic chandelier or a modern pendant. The symmetrical silhouette of this modern chandelier in natural brass finish will evenly spread illumination throughout your room.
Choose a light that is in coordination with your living room accent colors. We love how this light fixture harmonizes with the wood built-ins and beams. For a familiar look repeat the finishes you already have in your living room. For example, the brass finish from the coffee tables is repeated in the living room ceiling light.
| | |
| --- | --- |
| Wall and ceiling color | "Pure White" by Sherwin Williams |
| Ceiling height | 12ft |
| Floors | Palladio Engineered Hardwood in Whiskey |
3. Try conical shades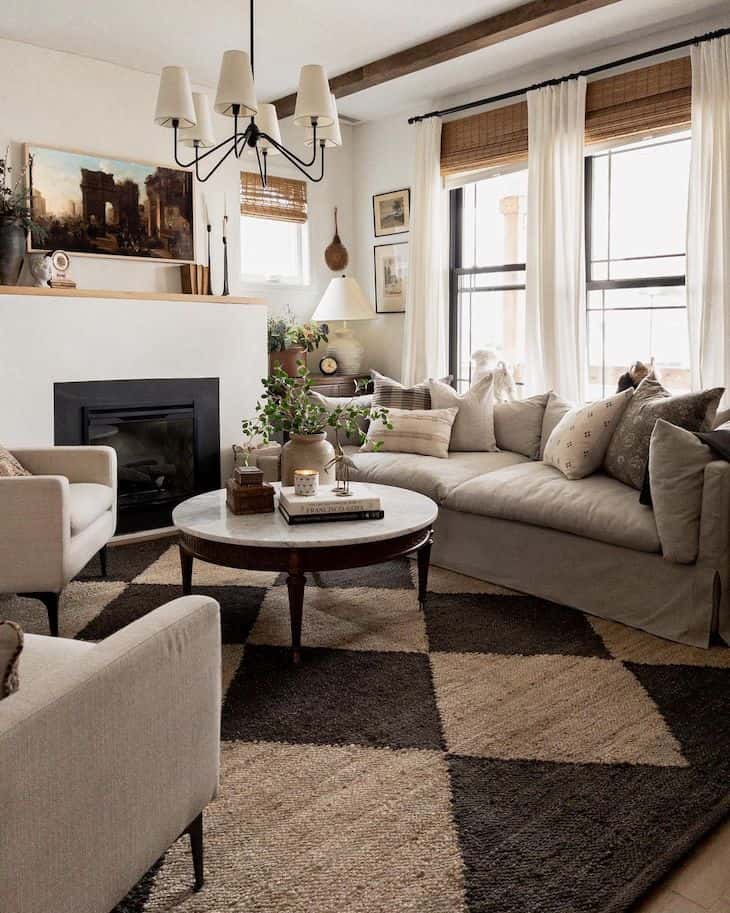 Shop related products(#ad):
chandelier // rug // sofa
Conical shades are surprisingly versatile, working in transitional, farmhouse, and traditional living rooms. The matte black finish and the conical shades of white glass give this 5-light chandelier an elegant look that's inspired by midcentury modern design.
This kind of living room lighting works well with living room decor with soft accents like textured pillows and faux plants.
| | |
| --- | --- |
| Wall color | "Snowbound" by Sherwin Williams |
4. Add a feature ceiling light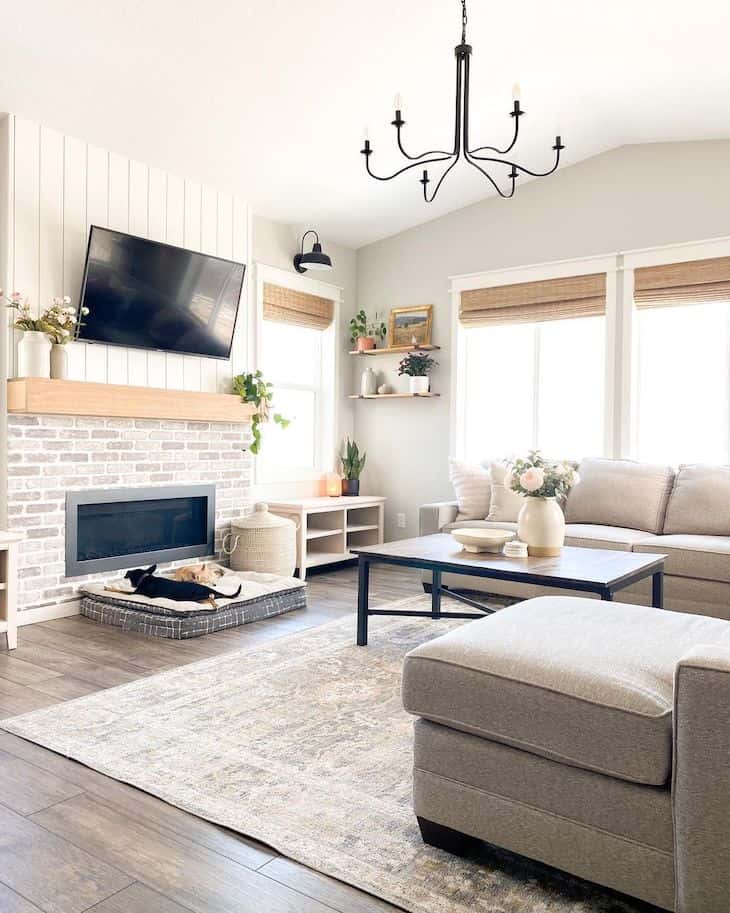 Shop related products(#ad):
chandelier // rug //
If you want to give the illusion that your space is larger than it actually is, investing in a feature light will serve the purpose. It will also draw the eyes up and open up the space. You can use the feature ceiling light to create a focal point in the seating area and brighten up the space.
This black iron chandelier has a real presence in this room. While there is a real feel of old-world elegance and presence about this chandelier, the black candle sleeves give it a more modern look.
| | |
| --- | --- |
| Wall color | "Repose Gray" by Sherwin Williams |
| Window casings color | "Alabaster" by Sherwin Williams |
5. Use a ceiling fan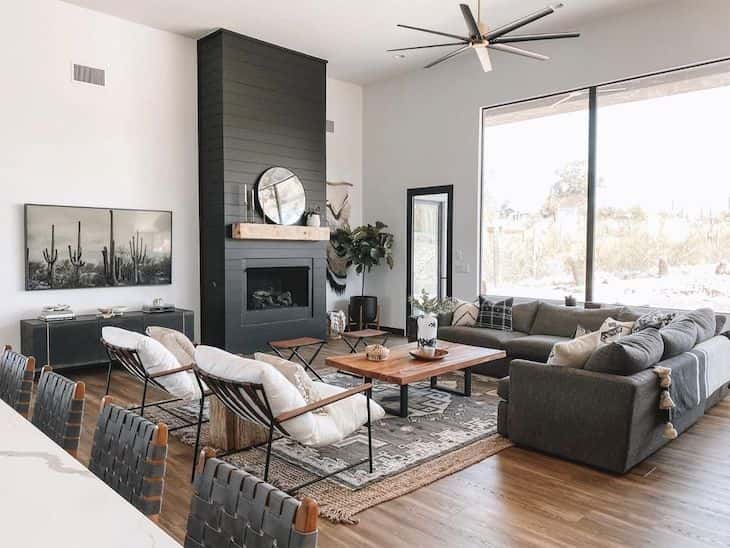 Shop related products(#ad):
ceiling fan // coffee table // accent chair
Using a ceiling fan in a bronze finish will give your living room the perfect mix of farmhouse style and sophistication. Not to mention the double use you will have from this kind of living room lighting, illumination and air circulation.
The 8 blades of this bronze ceiling fan draw the eye up with its contemporary design. This kind of lighting is suitable for larger living rooms like this one.
| | |
| --- | --- |
| Fireplace color | "Tricorn black" by Sherwin Williams |
| Wall color | "Pure White" by Sherwin Williams |
| Ceilings height | 15′ |
6. Make It Art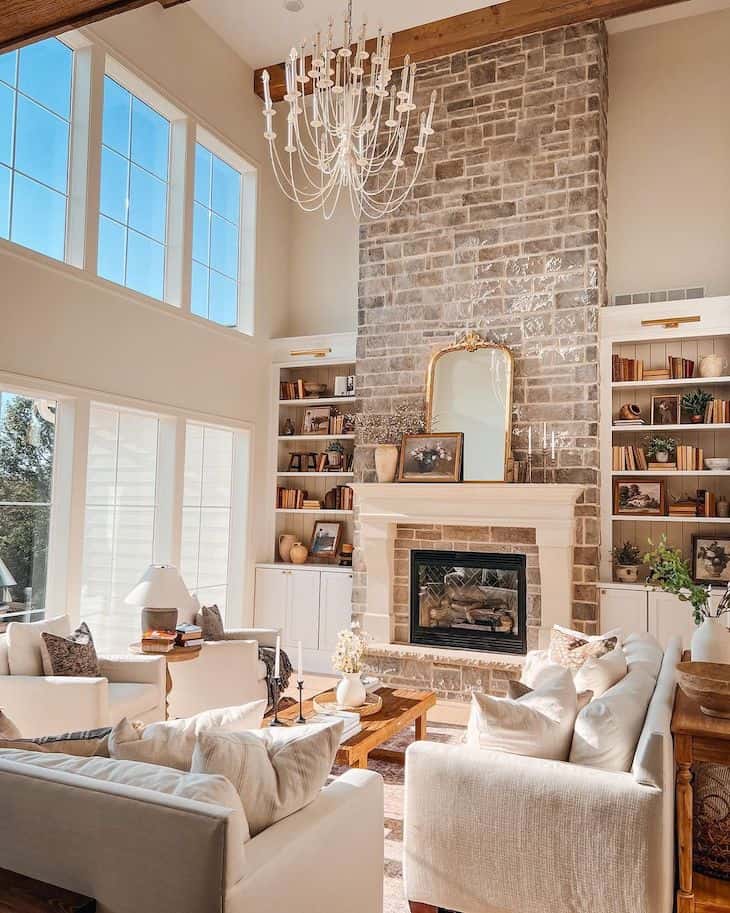 Shop related products(#ad):
chandelier // picture light fixtures
Choosing a living room light that looks more like a piece of art than a light source will give a new dimension to your space. There are a number of ways in which lighting can be used to enhance a space, not just as a practical source of illumination. You can also use lighting for aesthetic and artistic purposes.
If you want a cohesive look, choose an option with shapes and colors that complement your other decorative items. Like with this living room chandelier, we get a sense of French country that is reflected in a few of the decor elements.
With the big window wall, there is no lack of light during the day in this gorgeous living room, but this stunning white chandelier is the star of the room at night.
| | |
| --- | --- |
| Wall color | "Swiss Coffee" at 75% by Benjamin Moore |
| Mantel color | "Natural Cream" by Benjamin Moore |
| Fireplace stone | Ohio Limestone in color "Tulsa" |
7. Go for an oversize look
Shop related products(#ad):
chandelier // rug // coffee table
With an oversized chandelier like this one, you will never have to worry about not having enough light. Choosing a large lighting fixture for your living room is a good way to make a statement in your room, as they are intentional decorating pieces.
With rich textures and subtle details, this chandelier exudes an air of aged beauty. This light fixture has an authentic rustic flair with its curved light arms and hemp rope stems. This elegant design goes well with a modern farmhouse living room as well as with a rustic interior.
| | |
| --- | --- |
| Wall and ceiling color | "Chantilly Lace" by Benjamin Moore |
8. Illuminate with multiple lights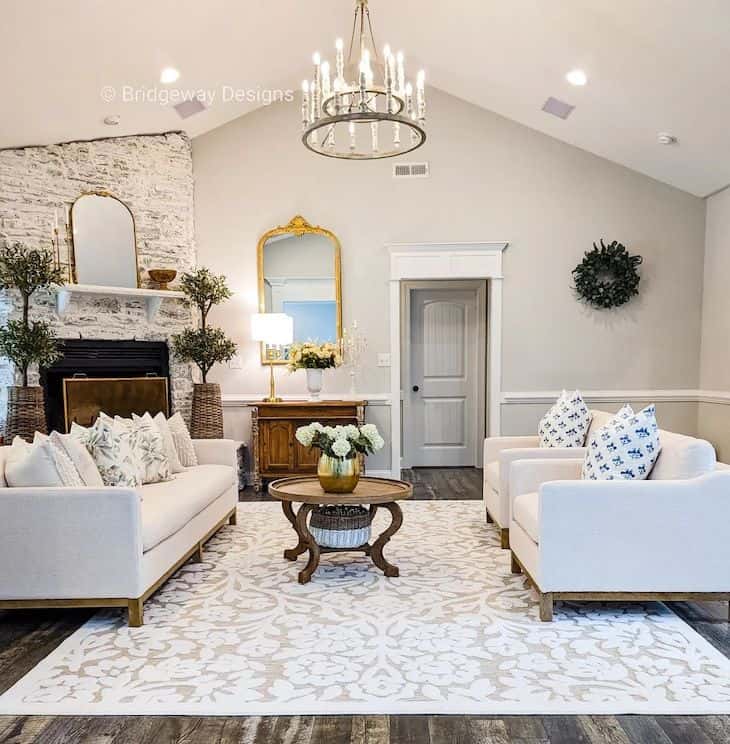 Shop related products(#ad):
chandelier // coffee table // rug
Bring a riveting charm to your living room with a light fixture that has layers of lights. A two-tier large chandelier with a distinguished weathered wood finish and intricate design details will bring Medieval charm to any living room.
A centerpiece such as this chandelier deserves to be displayed in a prominent place like your living room. Featuring layers of lights, this chandelier boasts a grand and beautiful design. Any room will be transformed by the dramatic beauty of this chandelier.
| | |
| --- | --- |
| Wall color | "Gray Owl" by Benjamin Moore |
9. Utilize mismatched styles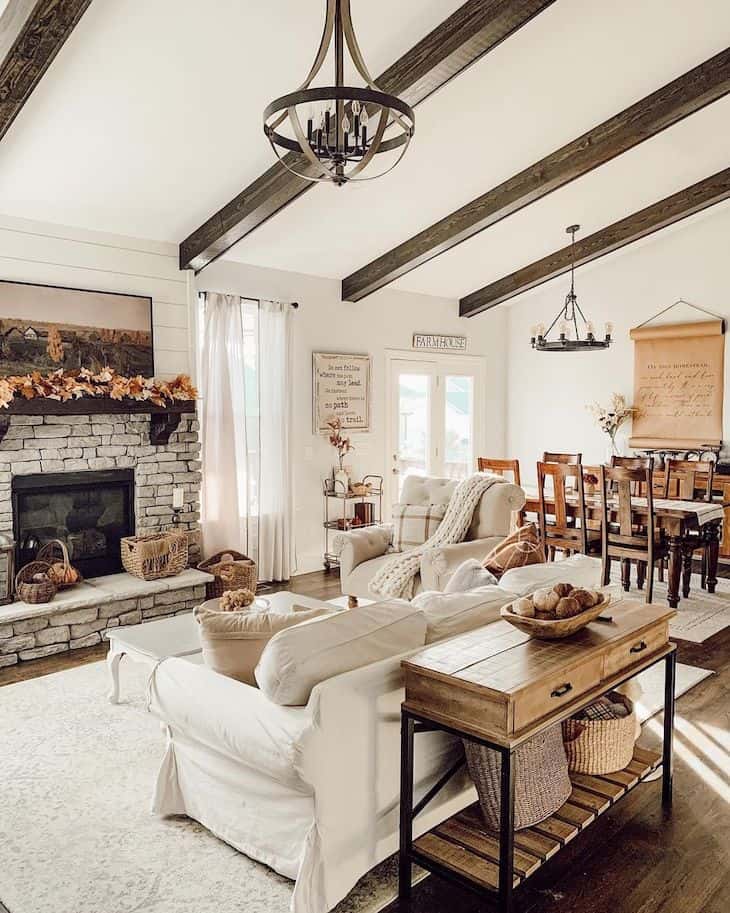 Shop related products(#ad):
chandelier // rug // console table
In the same way that you don't necessarily need a matching furniture set, your lamps don't necessarily need to represent the same style of design. It's okay to choose varying fixtures for an open floor plan, such as the chandeliers in this home's living and dining areas.
We love the wooden details of the farmhouse-style chandelier in this living room. With the high ceilings in this area, this living room light fills out the space nicely while adding so much character.
| | |
| --- | --- |
| Wall color | Metro 530 by Farrell-Calhoun |
| Floors | Laminate Rustic Manor Earthen Chestnut |
10. Add texture with rattan ceiling pendant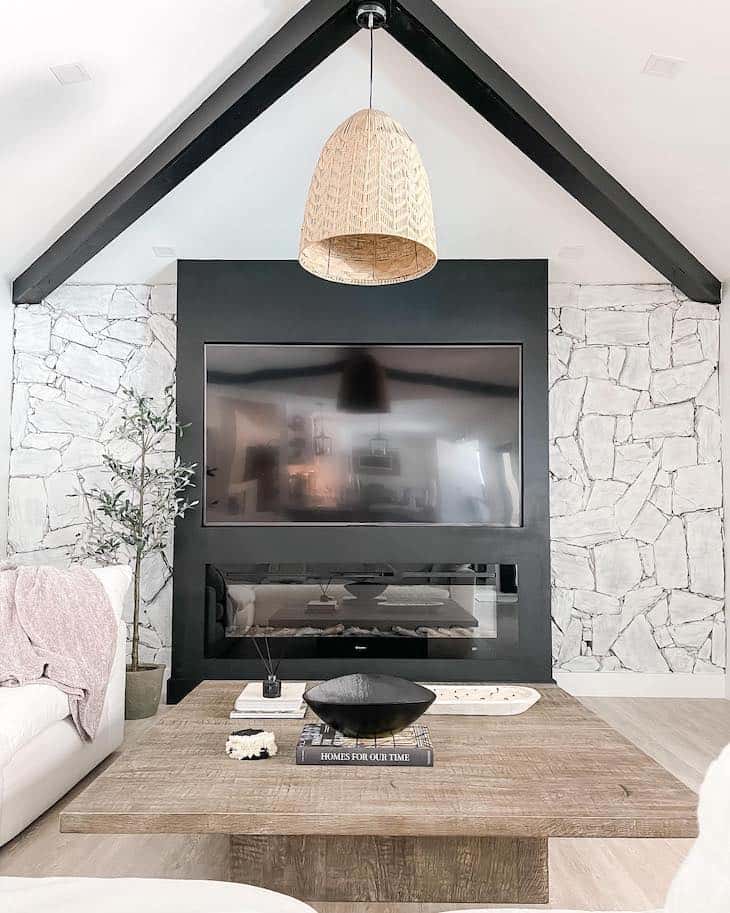 Shop related products(#ad):
electric fireplace
The use of pendant lights isn't limited to dining tables or kitchen islands. Pendant lights can work just as well in a living room as an accent light. Consider hanging a rattan pendant in your living room to add texture to your decor.
In this black and white living room, the use of a rattan pendant, a faux olive tree, and a wood coffee table gives a natural touch to the decor. Plus this type of living room lighting is just as remarkable when the lights are switched off.
| | |
| --- | --- |
| Fireplace color | "Tricorn Black" by Sherwin Williams |
| Ceiling color | "Extra White" by Sherwin Williams |
11. Display lights on your fireplace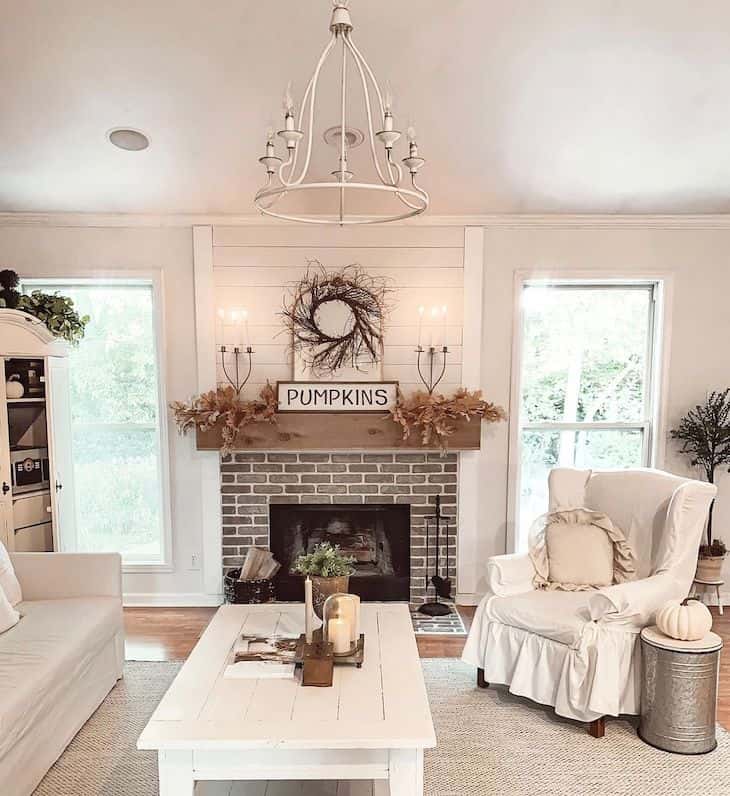 Shop related products(#ad):
chandelier // candle holder // end table
Your living room fireplace shouldn't be left in the dark if you're lucky enough to have one. Make your mantel display stand out by installing sconces or adding a couple of small lamps or candles. Choose a light that harmoniously complements your living room's color scheme without distracting from it.
You can try commonly used shapes for your living room lighting, whether graphically straight or curved, to get well-balanced results. Like in this living room the curved arms and candelabra candle stick sockets are coordinated with the candle holders on the fireplace.
12. Accentuate with metals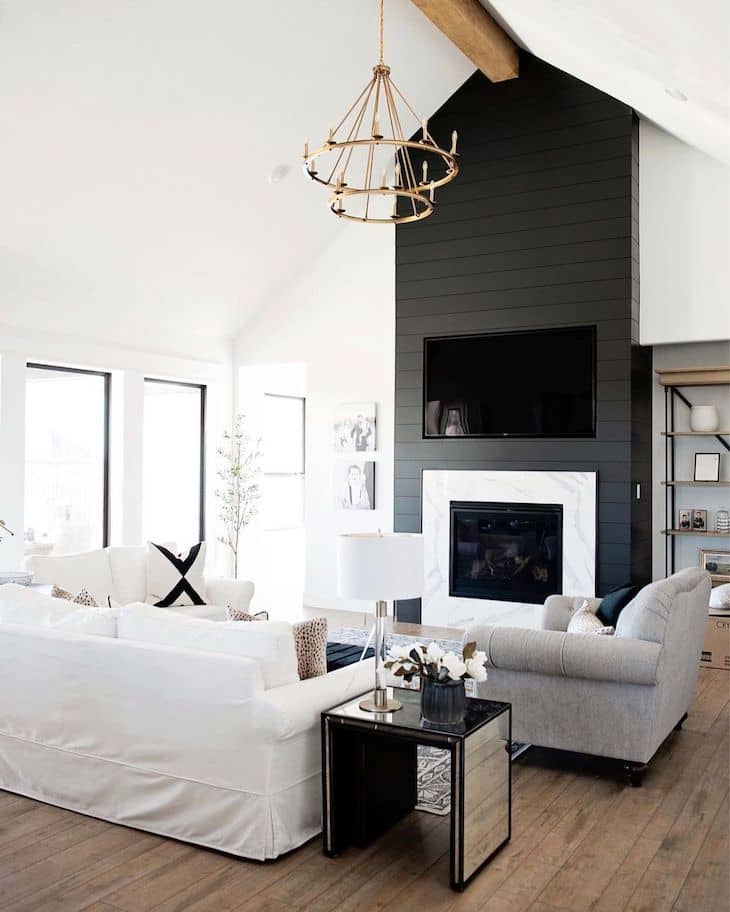 Shop related products(#ad):
chandelier // table lamp
Adding a metallic light fixture to your living room will make it feel a bit more luxurious. The gold accents work particularly well in black and white interiors like this one from @the_broadmoor_house.
A metallic pendant adds a touch of visual interest to any living room whilst providing the perfect amount of overhead lighting.
| | |
| --- | --- |
| Fireplace color | "Iron Ore" by Sherwin Williams |
| Wall color | "Extra white" by Sherwin Williams |