A brand new round up of real life examples of farmhouse coffee table decor. These are easy to pull of, they will impress your guests, and most importantly, they will make your day.
Ideas for charming and fashionable farmhouse coffee table decor are plentiful and varied for current home design. An abundance of simple styles and combinations of styles are now in vogue and gaining in popularity. Select your favorite modes and trends to include in your decorative tabletop designs. Mix, match, contrast and merge them to create your ultimate preferences for adorning and enhancing your classic, cottage, rustic or modern farmhouse coffee table.
As an Amazon Associate I earn from qualifying purchases.
1. Charming Rustic Coffee Table Decor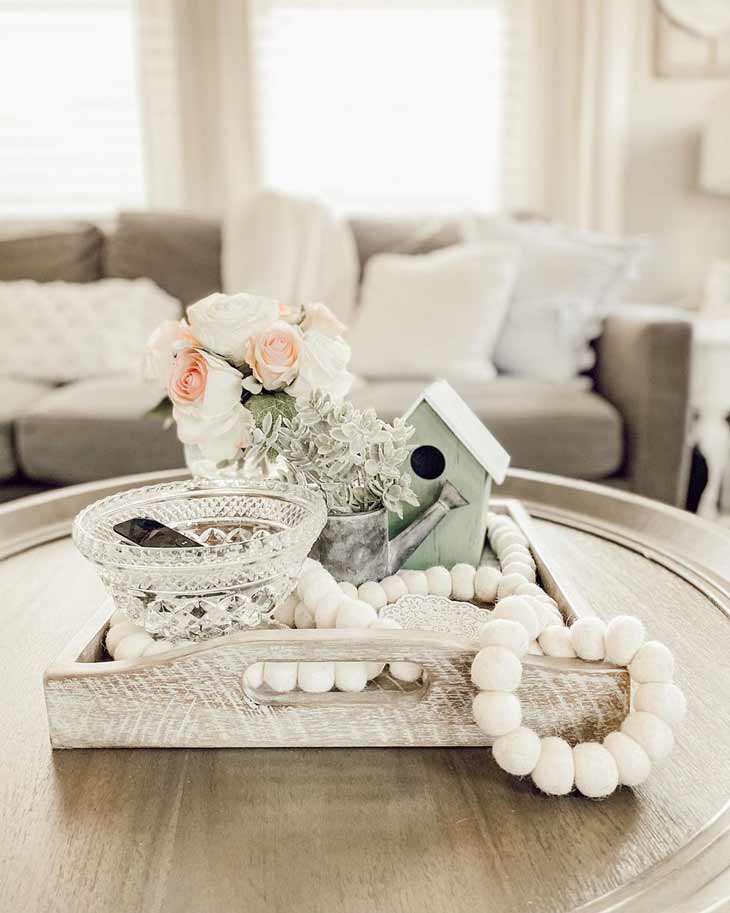 Shop related products:
serving tray // bead garland // miniature watering can // #ad
If you have a round natural-wood coffee table, you can emphasize its farmhouse style with accessories and accents. Notice how starting with a distressed white wooden tray adds the true essence of rustic decor. By adding an ornate crystal vase, you can achieve a pleasing vintage flavor, or substitute a floral-painted ceramic vase, if you like. Bring natural beauty to your table with a strand of large white or pastel beads and fragrant fresh flowers. Try a rustic watering can with a potted plant or fresh greenery and an endearing small birdhouse to brighten your charming farmhouse decor.
2. Simple Country Farmhouse Table Accents
Shop related products:
serving tray // round wooden coffee table // black vase // #ad
By choosing a simple coffee table with a hardwood top and slender metal legs, you can create an appealing farmhouse centerpiece for you modern farmhouse coffee table decor. You may add a round enamel-painted metal or wooden tray with handsome black borders and handles to accent the table's pleasing round shape. With the addition of a tall dark stoneware vase with a fresh garden floral arrangement, you can bring the vital essence of nature indoors. Complete your country farmhouse table decor with a small white glass, a clear bottle with greenery or other small accents.
3. Touches of Tabletop Shabby Chic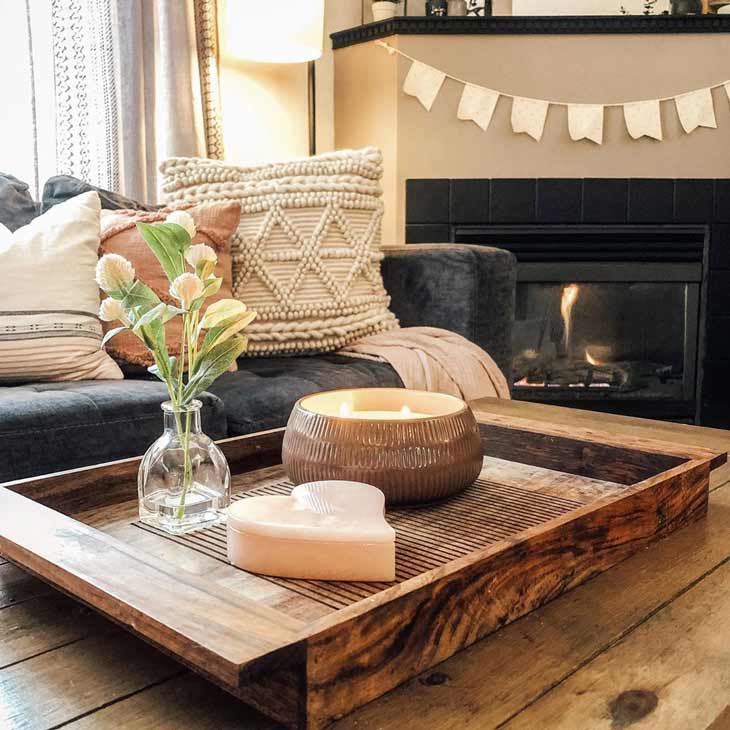 Shop related products:
serving tray //  small vase // #ad
A rustic wide-plank wooden coffee table fashioned from repurposed timber offers the perfect base for farmhouse tabletop decor. By choosing a beautifully grained vintage wooden tray, you can create a stunning central visual focus. The delicate wooden slat detailing of the tray's large surface contrasts with the simple farmhouse design. Try enhancing this unique style with an accessory that mirrors the design, like the attractively lined exterior of the nearby round candle holder. You can also choose elegant accents like the chic modern-classic vase with flowers and heart-shaped porcelain, alabaster or smoked glass curio box for touches of shabby chic.
4. Handcrafted Tabletop Elements for White Interiors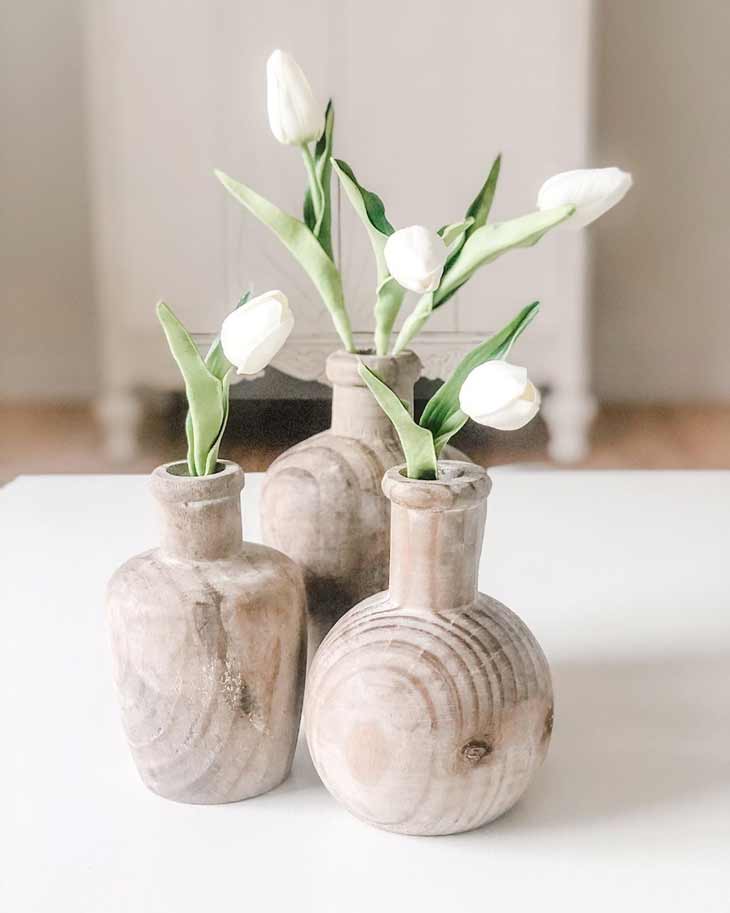 Shop related products:
wooden vases // artificial white tulips // #ad
This squared white coffee tabletop offers the ideal setting for country cottage accents in your farmhouse room interior and coffee table decor. Enjoy decorating your table with refreshing items like these three handcrafted wooden vases with white artificial tulips as modern coffee table decor ideas. The pure simplicity of these or similar charming elements of farmhouse coffee table decor defines the room's stylistic tone as calm, casual elegance. This pleasing tabletop arrangement is framed by the freestanding country cottage cupboard against the nearby wall. By painting both the cupboard and walls white, you can create a calm yet stunning all-white interior.
5. Innovative Table Decor for White Interiors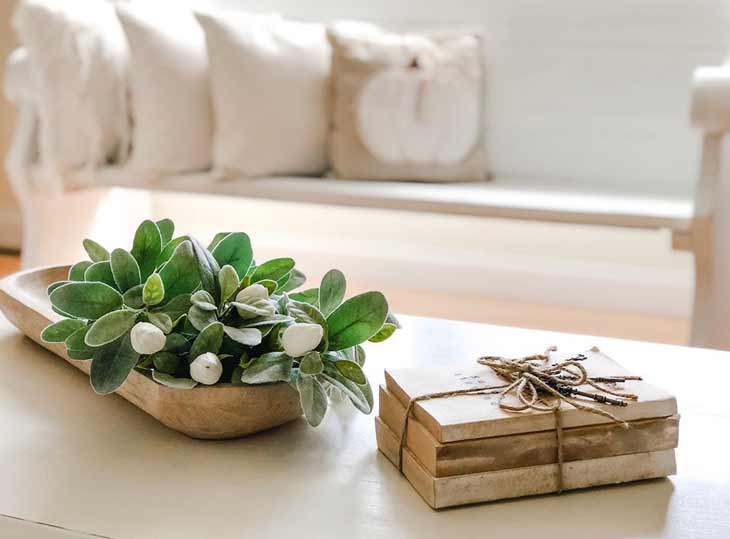 Shop related products:
decorative books // oval wood serving tray // artificial tulips // #ad
To enhance a white farmhouse coffee table in front of your charming rustic country bench, try an oval-shaped, hand-carved tray adorned with white artificial tulips and foliage. You can pair this pleasing display with a stack of decorative books tied with rough twine and completed with a decorative bow for a customized coffee table centerpiece. In place of the books, you can roll several parchment-style paper sheets in scroll style, securing them with twine or nubby yarn. The natural simplicity of your tabletop design reinforces your farmhouse coffee table decor ideas. It also creates a relaxing coffee table decor style for your room interior.
6. Warm, Natural Farmhouse Table Decor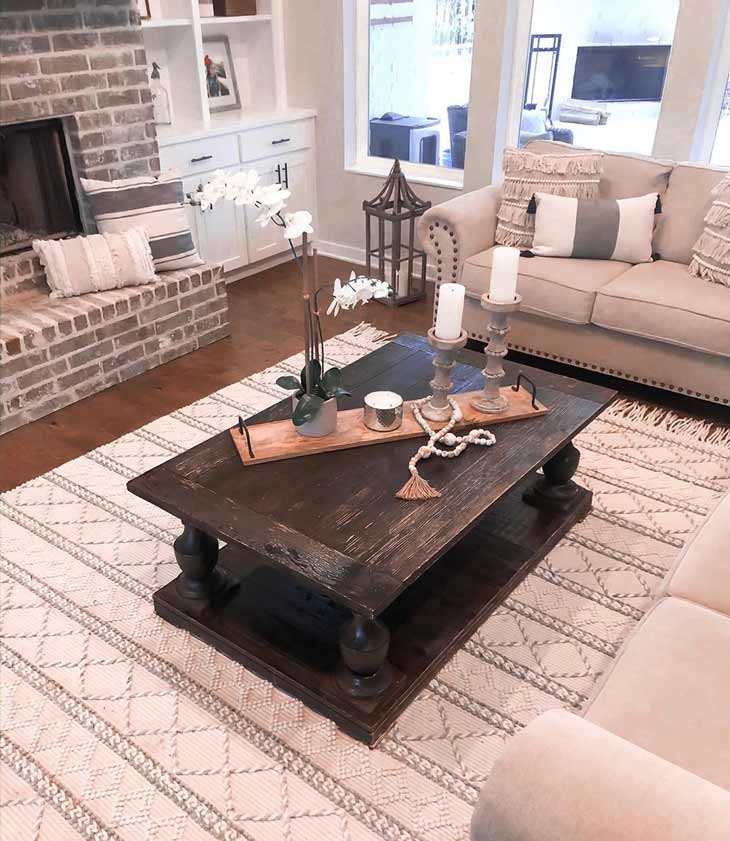 This comfortable room designed with farmhouse furnishings offers the visual and physical warmth of a natural brick fireplace and surrounds. By choosing a vintage wooden coffee table with a pleasing worn finish, you can focus on adding rustic and natural decorative elements. Experiment with items like this wood plank serving tray with plain U-shaped metal handles for coffee table decorative accents. Adding a flowering white or colorful plant potted in stoneware and candles displayed in metal pots or tall rustic ceramic holders can lend casual country accents to your table. You may prefer a long woven scarf to replace the decorative tasseled cord.
7. Charm and Appeal of Worn Tabletops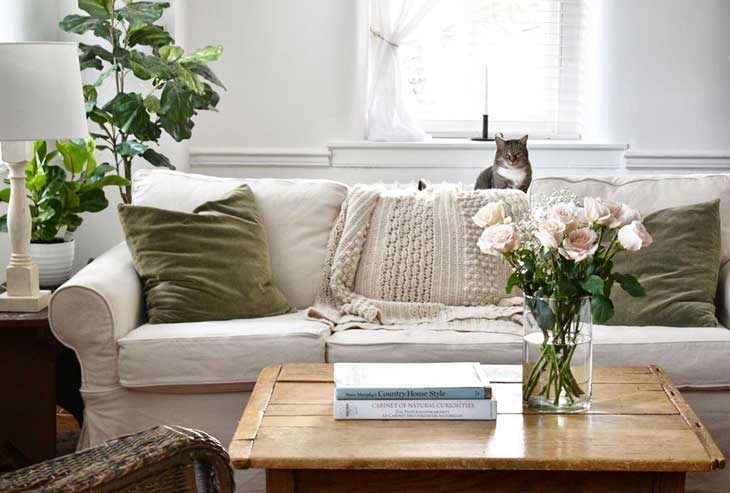 This welcoming interior with its cushioned couch and plants is simply embellished by the central coffee table and decor. For some endearing charm, try using a rectangular wooden table similar to this one with its rough construction and uneven top. As it strengthens your farmhouse coffee table decor ideas and the appeal of your room, your worn tabletop can gain casual country style with the addition of items like these stacked books and a tall glass vase of pink roses. Any flowers from your garden will dress-up your tabletop, adding an air of vitality to your coffee table centerpiece.
8. Unique Trays and Books Enliven Tabletops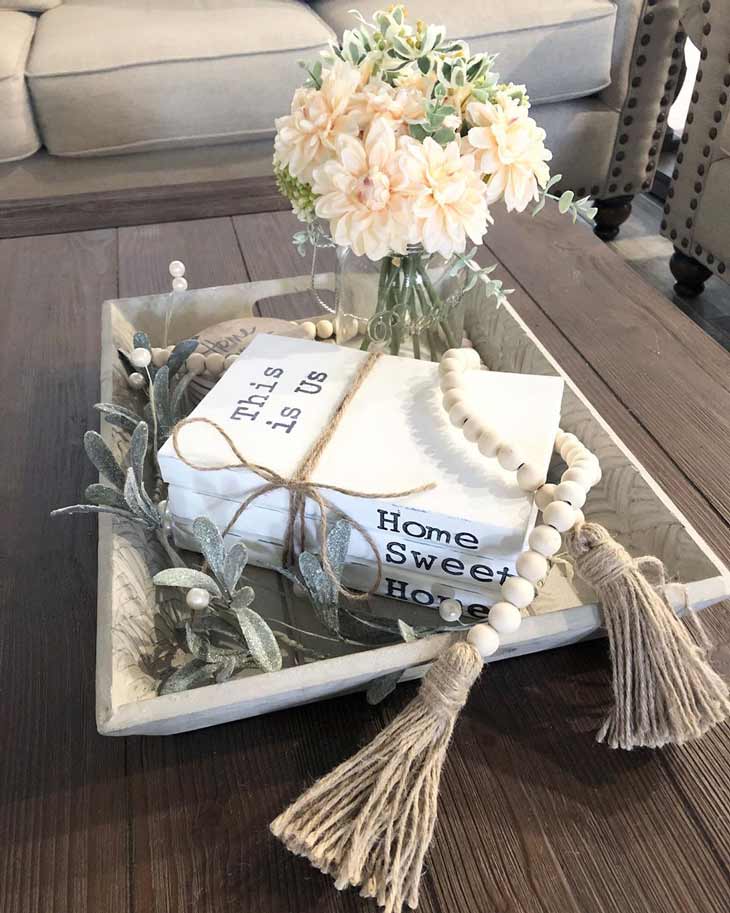 This natural wood farmhouse coffee tabletop is delightfully decorated with a deep-set tray and its open-wire serving surface using modern coffee table decor ideas. You can try out a similar tray style with a frame finished in distressed white or a pastel shade. The two items of decor adorning this tabletop, the large glass jar filled with lovely light pink flowers and the stack of three white books, can be replaced to suit your preferences. Yet the flowers enliven the room. In addition, the books with binding titles that read, "Home Sweet Home" when stacked create a central point of attention. The top book's front cover title, "This is Us," is a fitting caption for this entire room.
9. Basketry Tabletops Brightened by Decor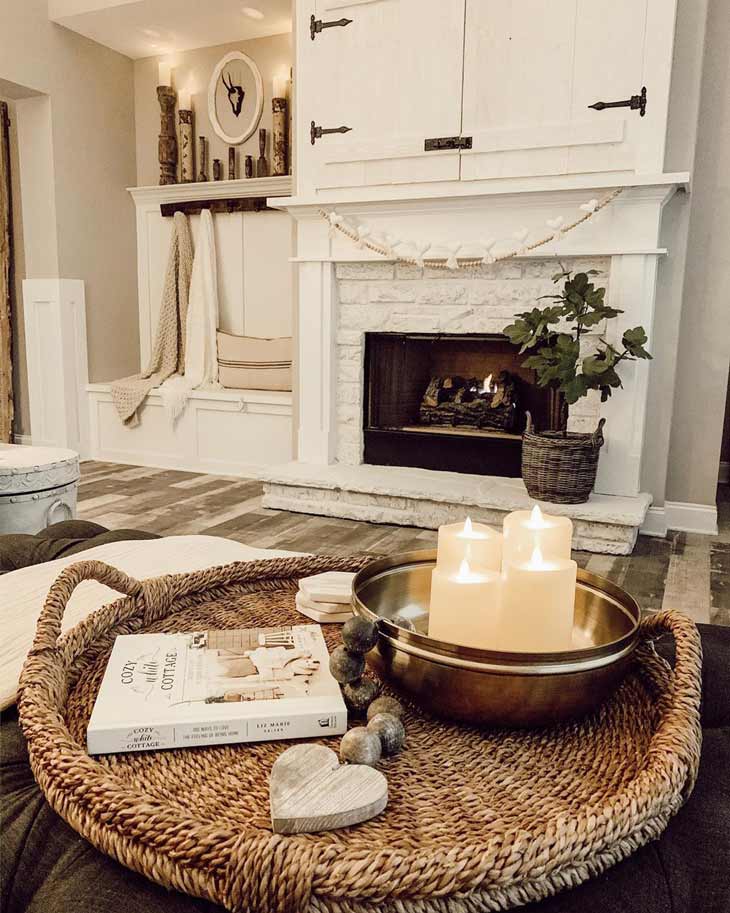 Attractive woven basketry trays serve as stylish farmhouse coffee table decor for your cozy room interior. If your family room or den has a rugged, welcoming fireplace and cabinet design like this one, you can choose your favorite woven tray style. When you decorate it with items like this pewter bowl of burning candles, you can set your room aglow with warmth and cheer. You may prefer a rustic tabletop candelabra or handcrafted wooden or ceramic candlesticks. By adding other attractive items like wooden beads with hearts or an appropriate book like this one entitled, "Cozy Little Cottage," you can brighten your rustic coffee table decor even more.
10. Fresh Tulips and Tabletop Woodcarvings
A charming distressed white wooden tray with rustic bar handles can add a strong decorative farmhouse element to your desk-style coffee table. Its smoother white serving service can be accented with stacked and twine-tied books and a tall jar of beautiful pink tulips about to bloom, if you like. If roses, lilies or carnations are your favorites, choose colors that please you and complement the room's palette. You can also substitute a small framed photo or print for the books as stylish coffee table decorative accents. By adding a burning candle in a short glass jar or candle holder and a compelling accent like this adorable pair of carved wooden birds, you can create a unique, warm environment.
11. Fashionable Table Embellishments in Shabby Chic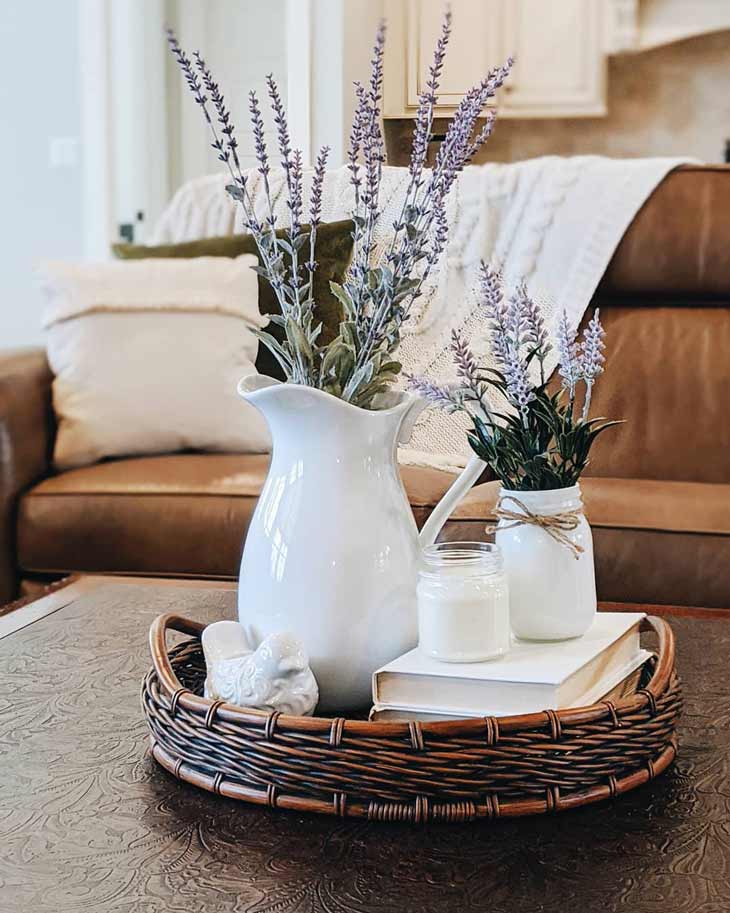 You can select an ornate faux-leather coffee tabletop for a fashionable shabby chic effect to embellish your leather sofa and other room decor. If a detailed wood-carved top for your table is more suitable, you can purchase one or order a custom design. The round brown woven wicker basket-tray is charming tabletop decor. You can decorate your tray with a tall white, ceramic or glass pitcher, a jar or vase, books and smaller decorative items as you wish. Light colored containers can also complement the flowering plants that they display for attractive table decor.
12. Colorful Chest with Coffee Table Decor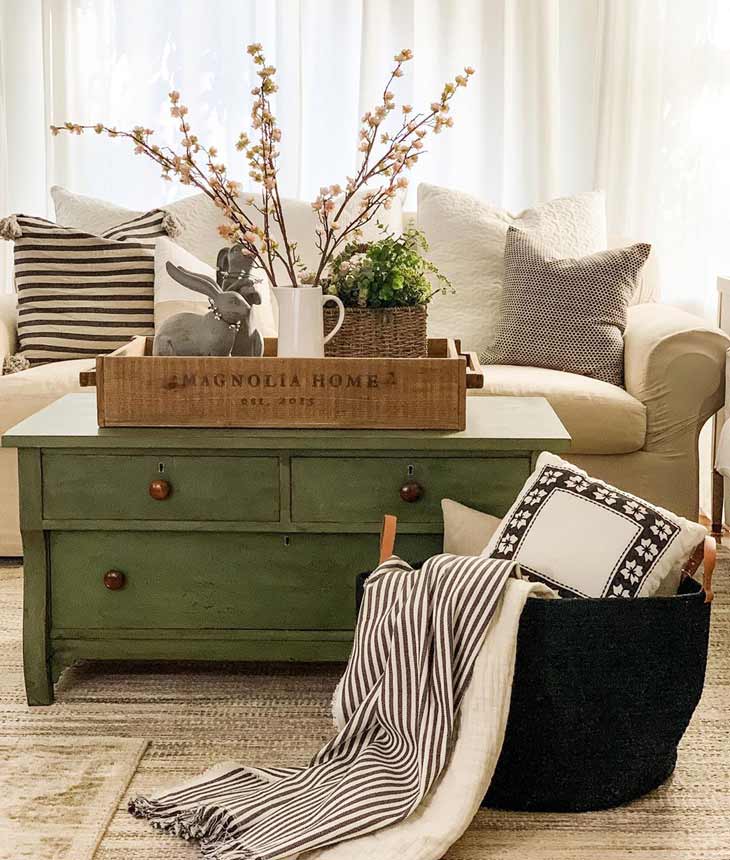 If you choose a delightful low rustic green chest as your coffee table, your room will assume a pleasing natural ambiance. Try decorating your tabletop with a farmhouse crate-lid serving tray with carved signage reading, "Magnolia Home," or a similar welcoming message. This can create a comfortable, relaxing country-cottage effect. Add a ceramic pitcher filled with freshly flowering branches or garden blossoms and a green plant growing in a basket. Then complete your delightful tabletop decor with charming items like a handcrafted wood or ceramic bunny or other endearing animal.