Use Valentine's Day decor to add some extra color to your home this winter season. Plus, it is a great way to transition from winter to spring decor, by adding pink flowers, flower wreaths, and colorful details.
If you don't want to miss out on decorating for Valentine's Day, we offer a list of great examples of how you can fill your home with lovely pink and red decor for Cupid's favorite day.
As an Amazon Associate I earn from qualifying purchases.
1. Valentine's tree decor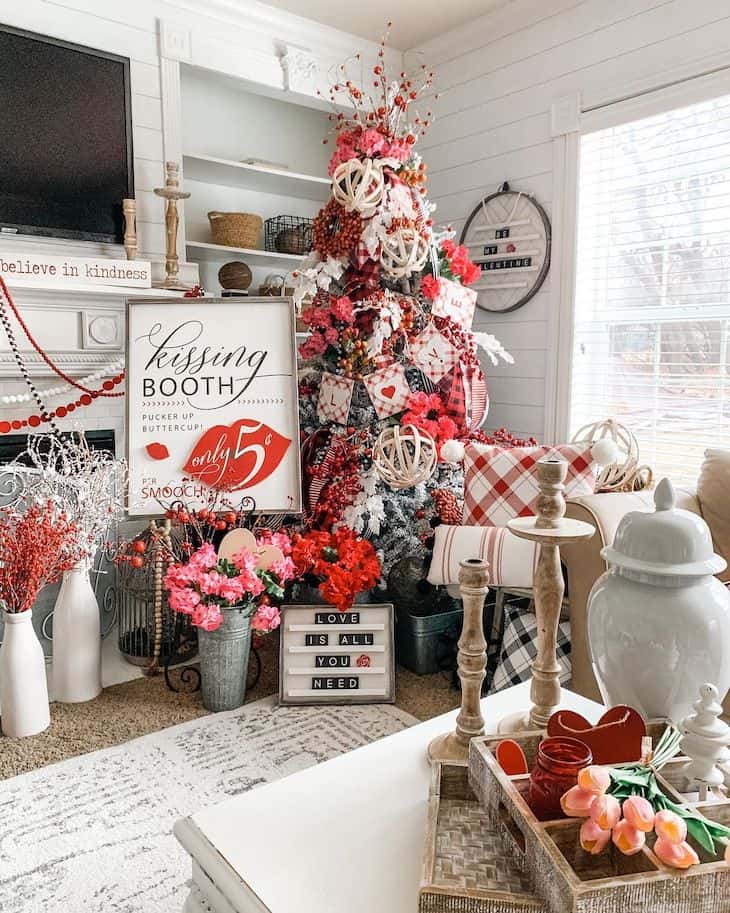 The easiest way to transition from Christmas decor to Valentine's day decor is to change your Christmas tree decorations with Valentine's Day decorations. All you have to do is replace your ornaments with white and pink decor, like pink flowers, Valentine's cards, and red ribbons.
Spice up the decor with an adorable "Kissing Booth" sign and lots of flowers for a charming impression.
2. Valentine's Day mantel decor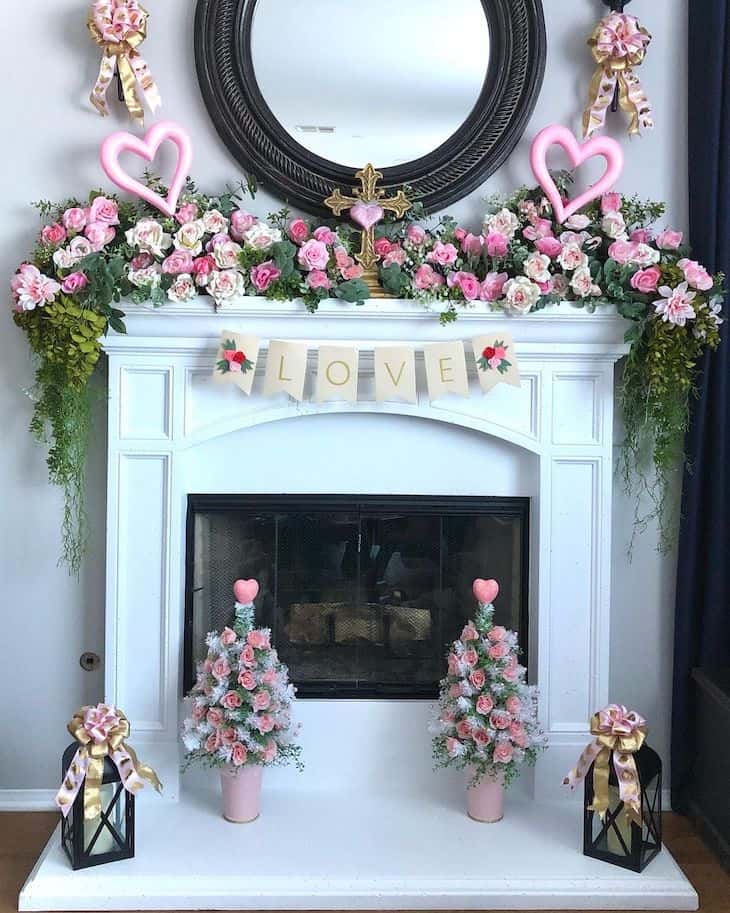 This adorable Valentine's Day mantel decor captives with its charm. The symmetrically displayed decor items make this lovely decor pleasant to look at. The beauty of this decor also lays in the fact that it can be easily transformed into Spring decor with the change of some flowers.
3. Valentine's Day entryway decor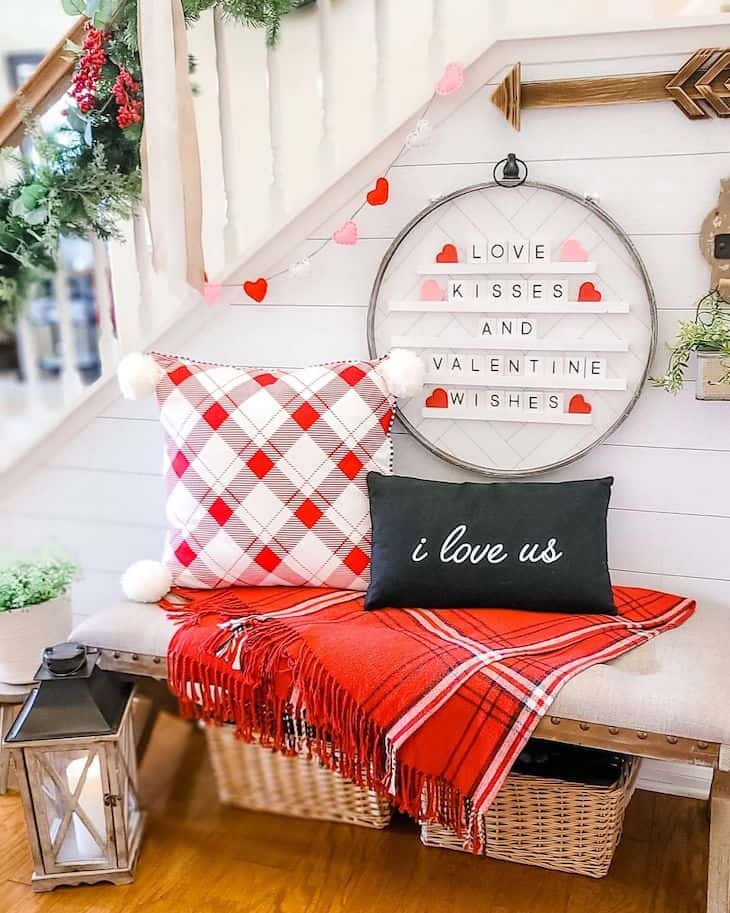 Greet your guests with lovely Valentine's Day decor right as they enter your home with a red plaid blanket and pillow thrown over your entryway bench, a charming love and kisses sign, and an appealing heart garland. Contrast them with a black "I love us" pillow for an adorable holiday display.
4. Pastel pink Valentine's Day decor with rustic charm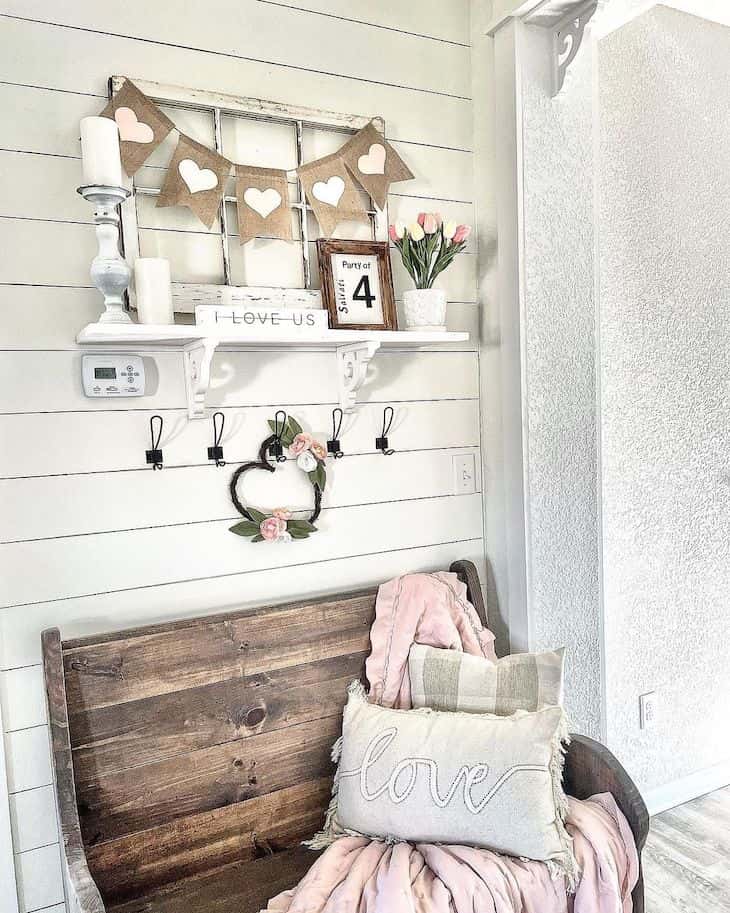 This rustic Valentine's Day decor display features more of a soft-colored palette with a pastel pink throw blanket and decorative flowers. This color palette matches perfectly with wood and natural elements giving off a rustic vibe.
The look is completed with a burlap heart banner and a lovely heart-shaped wreath casually hung on the entryway hangers.
5. Valentine's tiered tray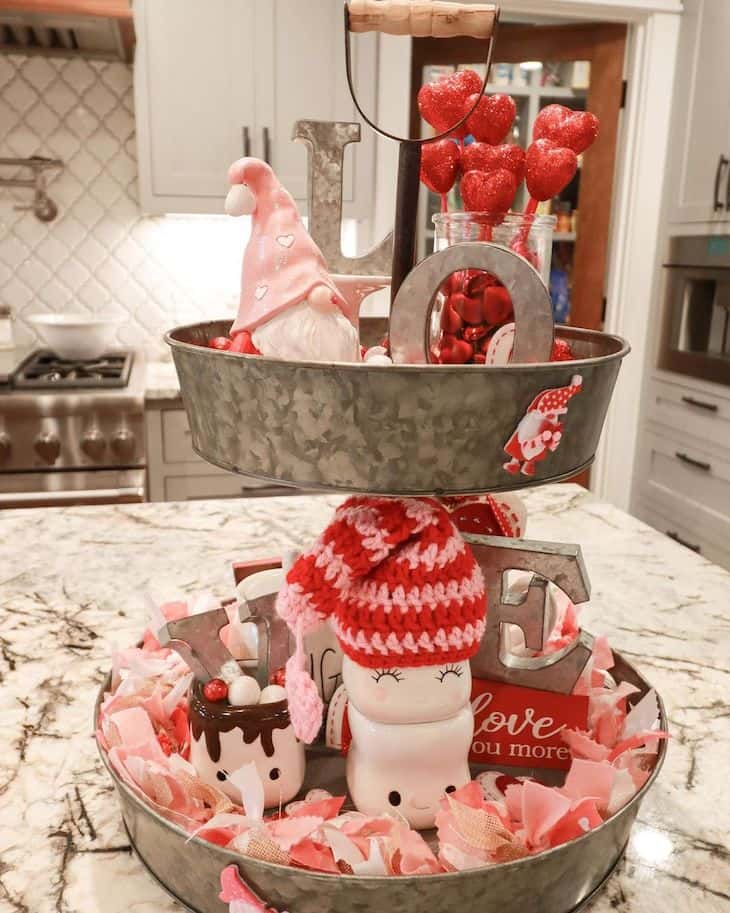 There is so much Valentine's goodness on this galvanized tiered tray. Starting from the marshmallow knitted hat to the pink gnome and the galvanized love letters that match the tiered tray. The look is completed with some heart-shaped candy and placed on the kitchen island as a darling centerpiece for Valentine's Day.
6. Valentine's Day table decor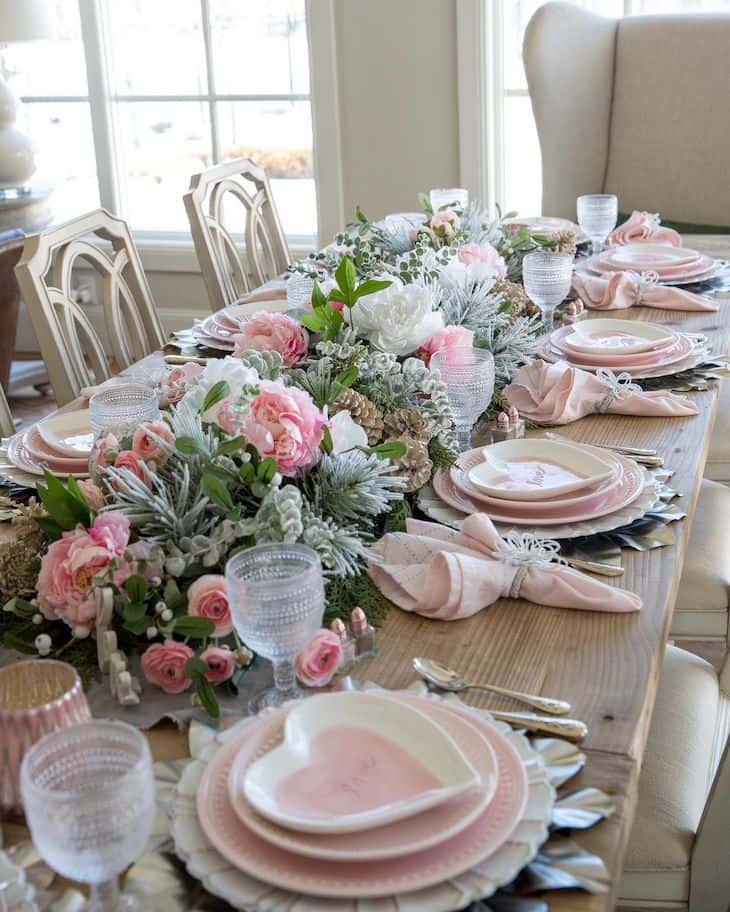 This beautiful Valentine's Day table decor by Holly from @homewithhollyj is styled to perfection. The beautiful flower arrangement, placed as a centerpiece, features greenery mixed with white and pink flowers for a romantic feel. And the adorable pink plates, topped off with heart-shaped ones, create a perfect table setting for this romantic holiday.
7. Black fireplace with Valentine's Day decor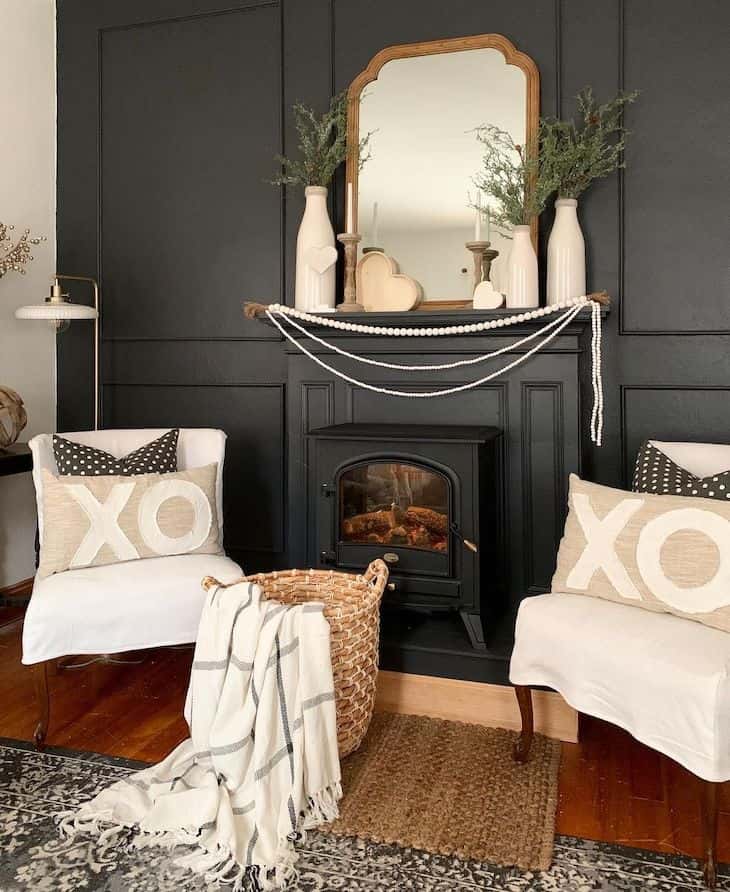 If you are not a fan of red and pink decor, or these colors just don't work well with the aesthetic of your home decor, this Valentine's Day decor is the perfect example of how you can style your home with white and neutral decor and still portray the romantic spirit of this lovely holiday.
Achieve the look with heart-shaped decorative elements in white and natural color, and place them on your mantel. A pair of burlap throw pillows, with an "XO" print, will give a subtle nod to the holiday.