Tobacco baskets can be used in many creative ways in order to bring that farmhouse decor feeling to any part of your house. They are inexpensive and very easy to implement in your existing decor. They add a beautiful rustic feel to any room in the house. With charming open lattice designs and rich natural coloration, these baskets enliven any farm home decor. You can also paint them in creamy marigold, antique white, or any color of your choice.
When mounted on the wall above your brick or stone fireplace or displayed on open shelving, a tobacco basket adorns and enhances. As unique coffee table decor, these artful basket designs enrich the palette of your farmhouse decor style, barn or country-cottage interior. For a refreshing outdoor effect, mount them on the wall or posts of your porch, deck or terrace. You, your entire household, old friends and new guests will all enjoy the pure simplicity and casual beauty of these charming baskets.
As an Amazon Associate I earn from qualifying purchases.
1. Tobacco Basket Shelf Decor for Timeless Rustic Allure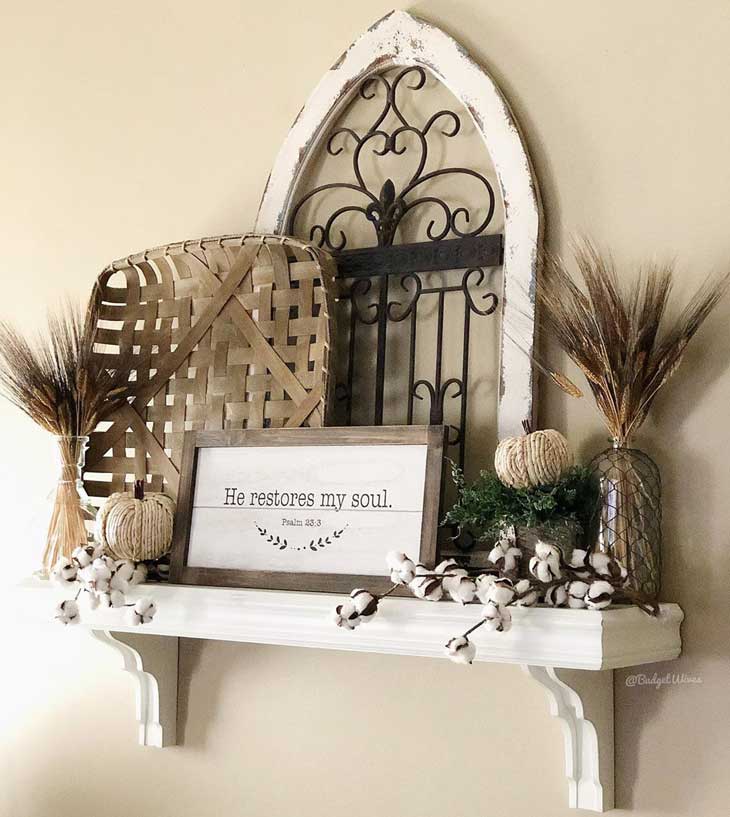 Shop related products:
tobacco basket // pampas grass // #ad
Last update on 2023-09-04 / Affiliate links / Images from Amazon Product Advertising API
The tobacco basket decoration in this wall-mounted display brings pure elegance and simple style to creative shelf decor. Exhibited on timber shelving with other natural decorative items, this open lattice-work basket design adds depth and charming farm style fashion. While accenting the clusters of floral buds and dried reeds in clear glass vases, it enhances the balls of natural twine.
Complementing the wrought-iron artistry framed in arched distressed white wood, this attractive woven basket also adds a rustic yet light sensibility. You might create a similar style and ambiance by combining tobacco leaf basketry with dried flowers, stoneware pottery and a rustic cast iron or pewter candelabra. Improving on the biblical signage reading, "He restores my soul." will be a definite challenge for today's naturalists.
2. Outdoor Decor with Tobacco Basket Ideas and Style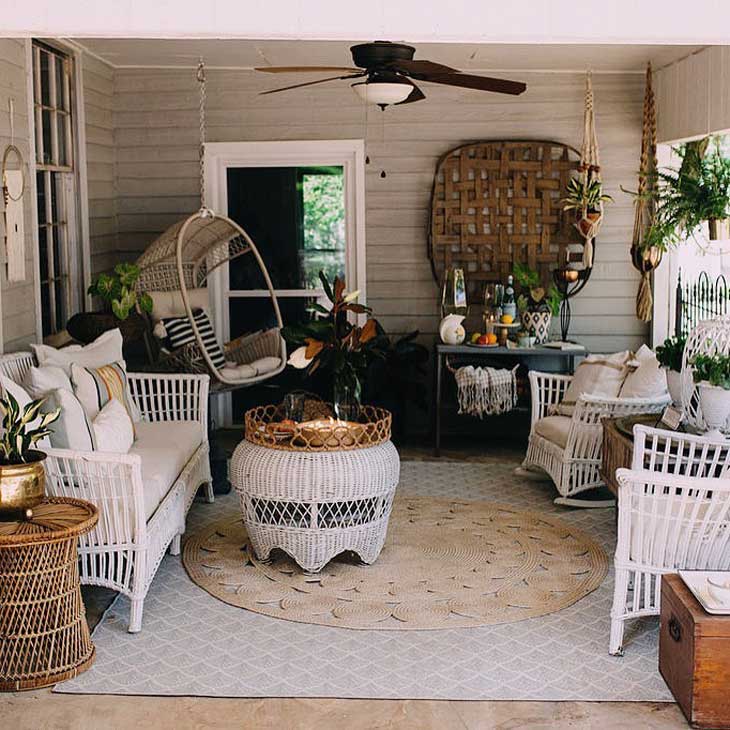 Shop related products(#ad):
Last update on 2023-09-04 / Affiliate links / Images from Amazon Product Advertising API
This inviting porch design offers fashionable wicker furniture, a woven neutral rug and a stylish overlaid circular rattan floor mat. Who can resist relaxing in the comfy rockers or open basketry-style swing seat suspended from the ceiling? If your porch or terrace overhead cover cannot support a hanging swing, try substituting a charming framed hammock of nubby-weave fabric.
In this warm setting, the extra-large wall-mounted tobacco basket decoration in rich chocolate hues adds farm home character and spatial depth. This decorative basket also accentuates the rustic wooden service table below with its country-cottage beverage, fruit and crockery display. You can experiment with using flowering plants in hanging pots or couch and chair pillows with needlepoint designs. A shabby chic couch throw or shag rug could also be fun to include in your tobacco basket ideas.
3. Tobacco Leaf Basketry with Timeless Farm House Sign and Photo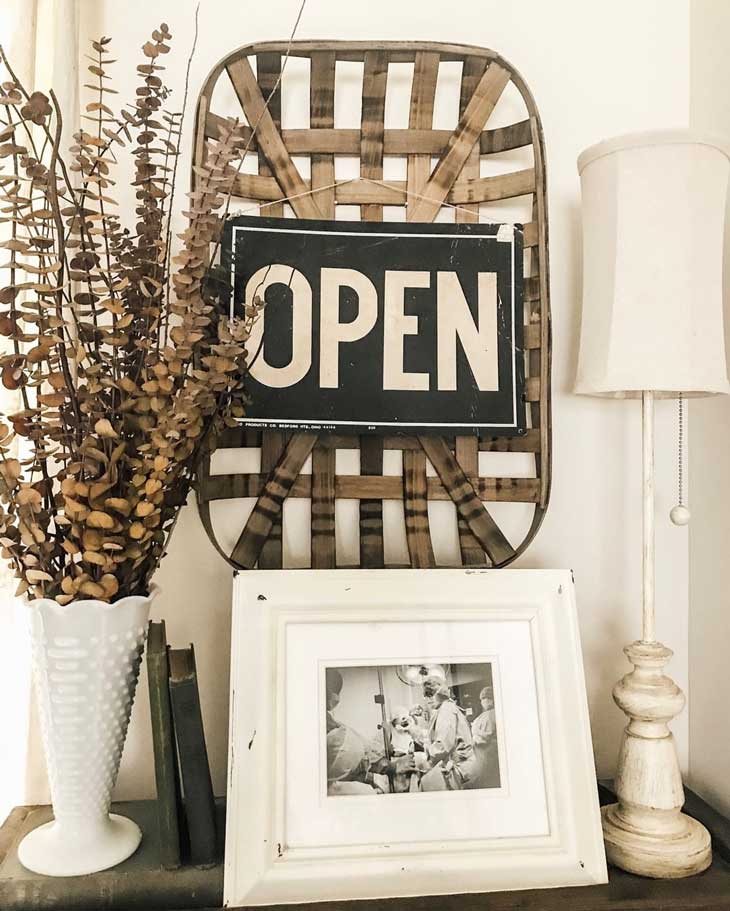 Shop related products(#ad):
Last update on 2023-09-04 / Affiliate links / Images from Amazon Product Advertising API
This arrangement of a large, loosely woven tobacco basket decoration placed on the wall above a rustic table display is intriguing. It offers both vintage charm and immediate relevance with the photo of a medical team in gowns and masks. Displayed in an antique square white frame, this picture taken in years past is startlingly modern in meaning today. Even the natural stripes of the dried tobacco leaves create a timeless style.
The slender vintage table lamp in distressed white and the rustic white vase with its tall dried foliage arrangement emphasise the photograph's era. Yet the bold black and white rectangular sign that reads "OPEN" serves as the central basket display and message conveyed. You might try substituting antique style signage and a more contemporary photo or including a mix of modern and vintage medical equipment and accessories. The trick is to keep the timely message in place while auditioning different items of decor.
4. Country-Cottage Display for Cards and Photographs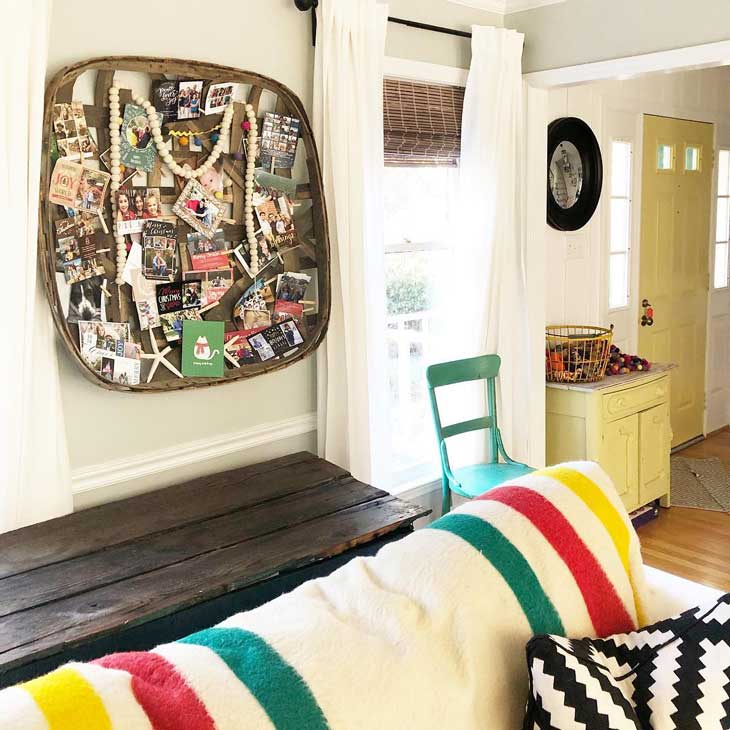 Shop related products(#ad):
Last update on 2023-09-04 / Affiliate links / Images from Amazon Product Advertising API
In this charming country cottage setting, the large, square wall-hung basket offers a delightful venue for displaying cards and photographs. The dark cocoa colours of the basket mirror the deep worn surface colouration of the weathered rustic table below. At the same time, the cheerful bright yellow, red and green stripes of the large throw covering the sofa back brighten the room.
As they complement the hues displayed by surrounding decor, they call attention to the multi-coloured card and photo exhibit above. You can also experiment with a large oval-shaped or rectangular basket, a bright farm house print throw and pillows. Surrounding this central basketry display with hanging flowers and plants or cheerful sconce lanterns might also mirror the relaxed, happy atmosphere of this innovative wall farmhouse decor.
5. Unique and Appealing Coffee Bar Decor with Tobacco baskets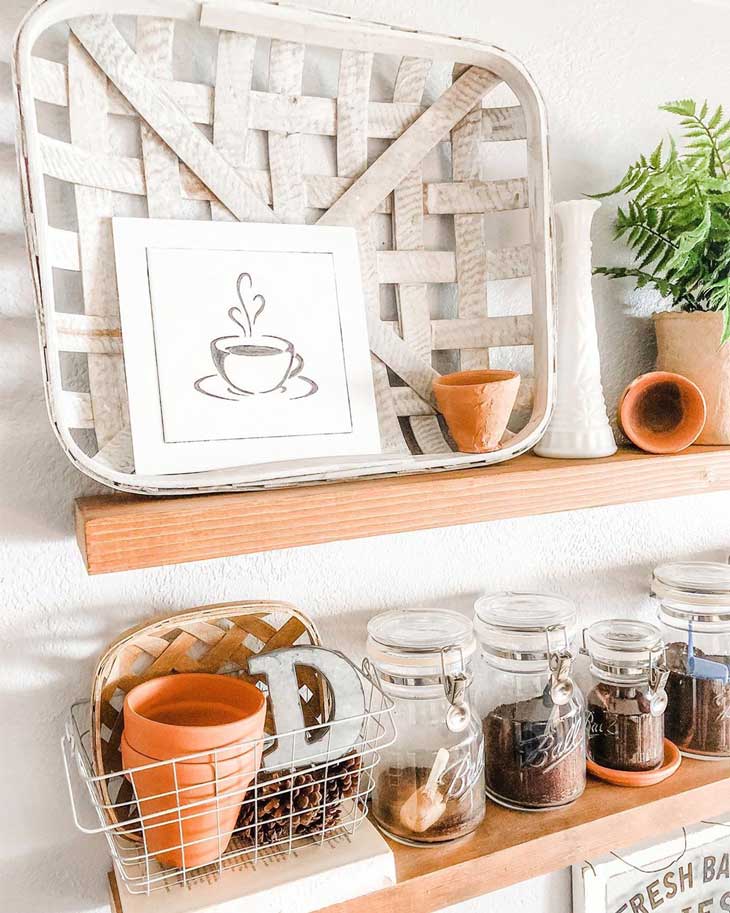 Shop related products(#ad):
Last update on 2023-09-04 / Affiliate links / Images from Amazon Product Advertising API
As shown in this welcoming coffee bar decor, painting basket decoration in distressed white creates a pleasing, lightly textured finish. As it aligns with the raised pattern of the slender white vase nearby, this translucent white finish offers warm farm style charm. It also enhances the rustic style of flower pots and vintage glass canning jars filled with freshly ground coffees. The stylish steaming coffee cup drawing entices coffee lovers to indulge in their favorite blends.
The smaller tobacco leaf basket adds natural warmth to the wire basket display of coffee beans and flower pots as. The large letter "D" painted in rustic white can only symbolise "Daily Delicious" in this inviting setting. You may want to create your own fashionable coffee bar display centered around a cottage casual basket decoration design. Try replacing some decor with items like a farm/barn style coffeepot photo and some aged china mugs in your tobacco basket ideas. Adding an overflowing burlap bag of fresh coffee beans or something similar can bring this corner café bar to life as your own unique design.
6. Entryway Decor with Creative Farm/Barn Character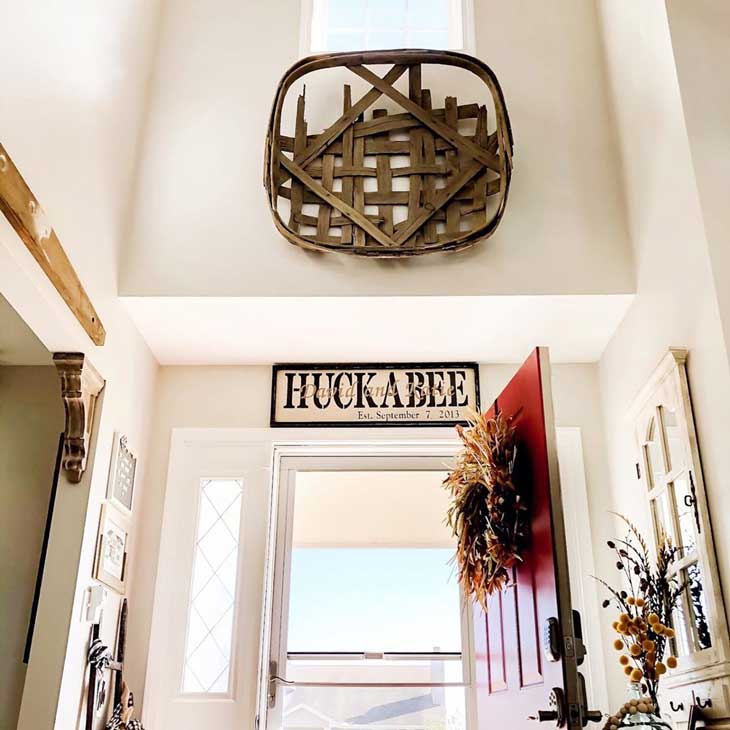 Shop related products(#ad):
Last update on 2023-09-04 / Affiliate links / Images from Amazon Product Advertising API
Framed artfully between the doorway and the window above in this high-ceiling entryway, this worn, rustic tobacco leaf basket attracts major attention as wall decor. It offers a warm, endearing quality that enhances the vintage charm of the casual cottage style entryway decor. The antique glass-pane cabinet door with hat hooks, dried floral arrangement and door wreath accents the comfortable cottage style for your tobacco basket decor.
Dynamic design elements like the bright red front door and overhead signage with the "Huckabee" family name are distinctly farm/barn style. At the same time, the vintage woodcraft triangular corner door-frame support lends a touch of shabby chic to this entry way decor. You can create your own casual-elegant farm style decor by including rustic lamps with fabric or woven shades. Vintage frosted glass vases can align with the antique glass in the slender door-side window. Handcrafted wooden shutters on the upper wall window may also enhance this welcoming farm home entry way decor.
7. Tobacco Basket as Rustic-Chic Serving Tray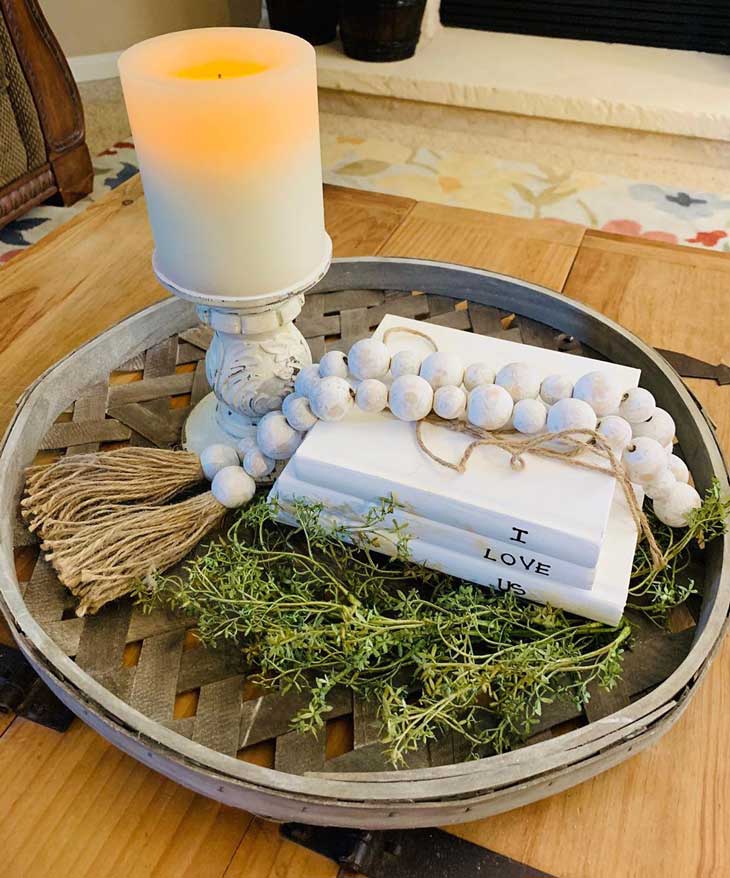 Shop related products(#ad):
Last update on 2023-09-04 / Affiliate links / Images from Amazon Product Advertising API
Placement of this tobacco leaf basket serving tray with its round wooden barrel rim on a timber tabletop defines the decor. The smooth, wide-plank oak or pinewood top of the coffee table with its wrought-iron hinges suggests a repurposed truck from earlier years. This unique tabletop offers a stylish farm/barn base for the rustic allure of the basket decoration tray design. The cottage-chic strand of distressed white wooden beads with thick twine tassels adds a sense of rustic elegance to this intriguing ensemble. The stack of white books with combined titles of "I Love Us" is perfect for this welcoming interior.
The glowing white candle in its decorative textured holder surfaced in distressed white complements the simple floral theme of the woven rug. Enhancing the overall rustic tobacco basket decor is the stone or faux-stone bench with soft throw-cushions and the nearby upholstered chair, both in deep chocolate. You can substitute a stunning piece of glazed cottage pottery for the tabletop candle, if you like. Including a handcrafted curio box, carved timber candle sticks or a stained glass pendant on a braided cord may also be pleasing. These or similar items of your choice can be used in place of the strand of beads to lend creative style.
8. Tobacco Basket Wall Decor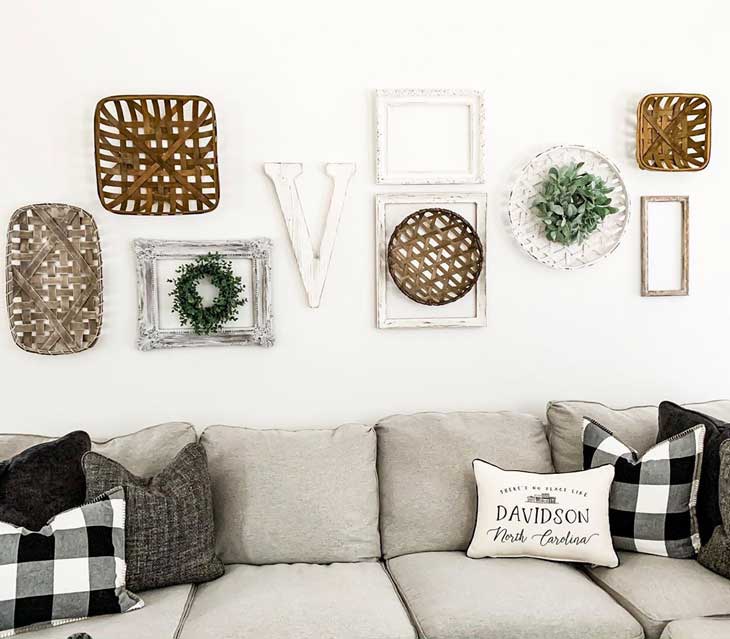 Shop related products(#ad):
Last update on 2023-09-04 / Affiliate links / Images from Amazon Product Advertising API
This inviting den or family room display of wall-mounted tobacco leaf basket decor is both casual and captivating. The variety of round, square and rectangular baskets and green wreaths in frames adds pleasing sparks of natural style. These small yet dynamic elements of decor enliven the cozy comfort provided by the cushioned couch beneath with its attractive array of fabric-covered pillows. Buffalo checks, textured weaves and smooth, sedate material contrast and complement. Even the empty frames and large letter "V" lend energy, charm and refreshing vitality.
You can have fun auditioning different styles of basketry. Combining tobacco leaf baskets of very different sizes and shapes can give your room a different sense of space. If the room is open and spacious, you may want to try building a collage of baskets secured on a large wall-mounted lattice-work frame. By placing stylish baskets of varying designs at angles on the wall, you can add a playful ambiance of relaxation to your room's interior. By replacing framed greens with colourful dried flowers, you can also achieve a revitalised farm/barn style decor with upbeat pops of colouration.
9. Tobacco basket as Eclectic Table Centerpiece of Simplistic Beauty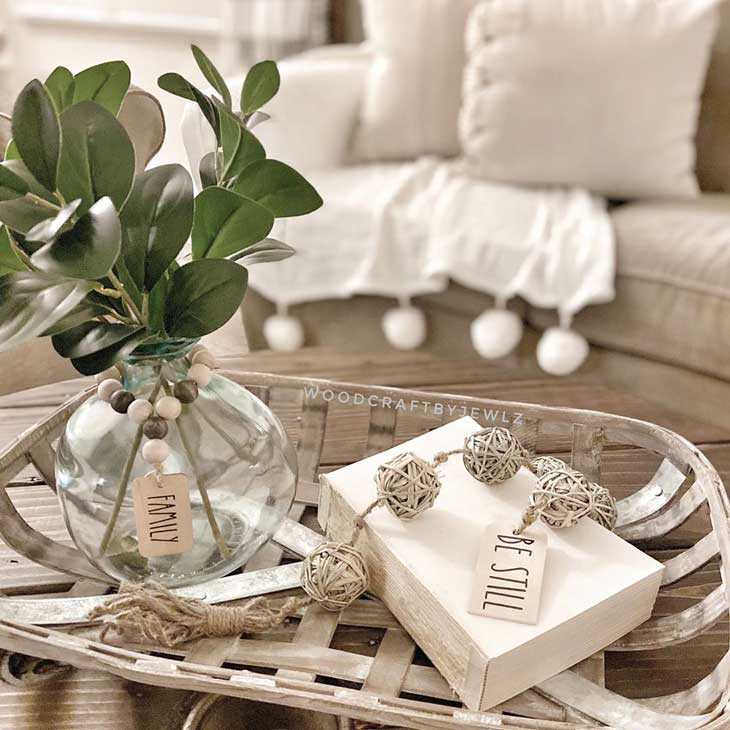 Shop related products(#ad):
Last update on 2023-09-04 / Affiliate links / Images from Amazon Product Advertising API
As a major focal point for this farm style table centerpiece display, the rectangular tobacco leaf basket with rounded corners has strong visual appeal. The eclectic style of its contents creates a unique fashion statement of peaceful natural beauty. The geometric asymmetry of the bulb-shaped vase of greenery and the rectangular white-surfaced box creates pleasing spatial tension. The softening of this effect is skillfully achieved by adding the strand of twine balls that ends with an attached note reading, "Be Still."
The strand of alternating dark and light beads surrounding the neck of the vase has a second note attached that reads, "Family." Suggesting the ideal leisurely comfort of a family room is the nearby deep-cushioned couch in neutral tones. Adding to its comfy allure is the soft white throw with fluffy round tassels. For a different overall effect, you can experiment, replacing the glass vase of greens with a rustic handcrafted ceramic lamp or vintage barn lantern. Another item of decor like a leather strip of sleigh bells may take the place of the strand of twine balls. For more ideas check our post on coffee table decor ideas.
10. Natural Elegance in Farmhouse Dining Room Decor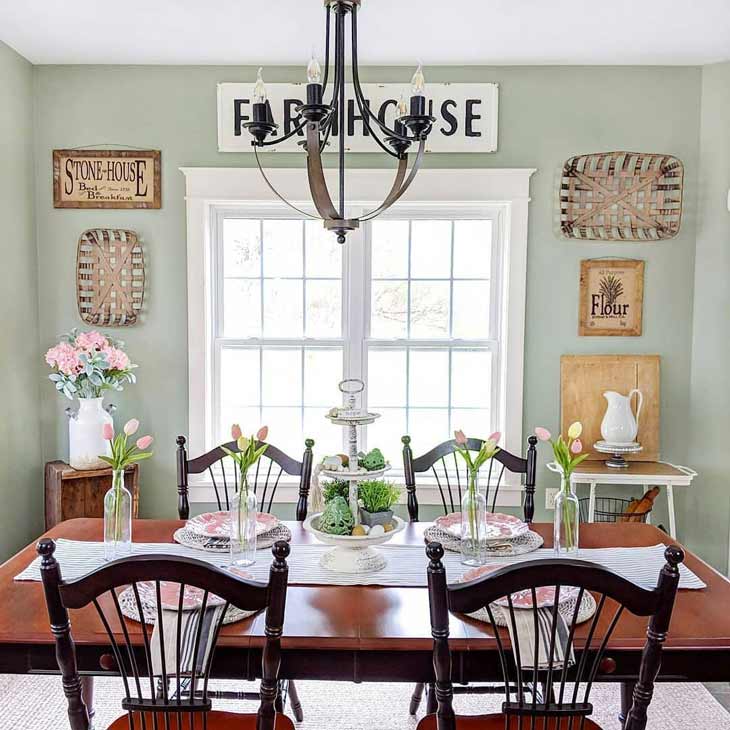 Shop related products(#ad):
Last update on 2023-09-04 / Affiliate links / Images from Amazon Product Advertising API
Offering an abundance of warmth and farm home charm, this dining room decor emphasizes the influence of stylistic accents of all sizes and varieties. The impressive window-side displays of rectangular tobacco leaf baskets, vintage framed signage, wooden breadboards and white pottery add country-cottage flavor. The barn-style crate in a corner supports the pristine white ceramic vase with radiant pink blooms that complement the pink tulips in slender glass vases on the dining table.
The smooth, elegant cherry wood dining table and chairs along with the decorative dinner plates and tiered china centerpiece with small plants and curios add fashion, colour and character to this bright, inviting room. The large "Farmhouse" sign in black and white above the glass-pane window erases any doubts about the design mode of this fashionable interior. For a different atmosphere, you can try replacing the wall display with larger basketry of varied shapes or framed vintage photos. A rustic dining table and chairs finished in antique white may also be quite appealing.
11. Attractive Elegance of Simple Mantle with Tobacco Basket Decor
Shop related products(#ad):
Last update on 2023-09-04 / Affiliate links / Images from Amazon Product Advertising API
The rich earthy tones of the shallow square tobacco leaf basket centered above the mantle-piece of this antique brick fireplace enhance the natural wood flooring. The two decorative leaf strands forming a central "X-shape" in the basket complement the raised rectangular frames of the olive green wall paneling. This pleasingly orderly, geometric design is mirrored in miniature by the arrangement of small, slim silver candle holders, books and plants on the mantle and nearby shelving.
With its raised hearth, this farm/barn style fireplace becomes a major focal point for this restful, inviting room interior. By adding a barn-style bench of handcrafted timber and a pair of easy chairs with nubby weave upholstery, you can create your own decor accents. If you choose to add a stone or hardwood coffee tabletop with a thick wood pedestal base, you can enjoy a warm, lived-in quality in this charming interior.
12. Cocktail Bar Tobacco basket Decor with Unique Rustic Elements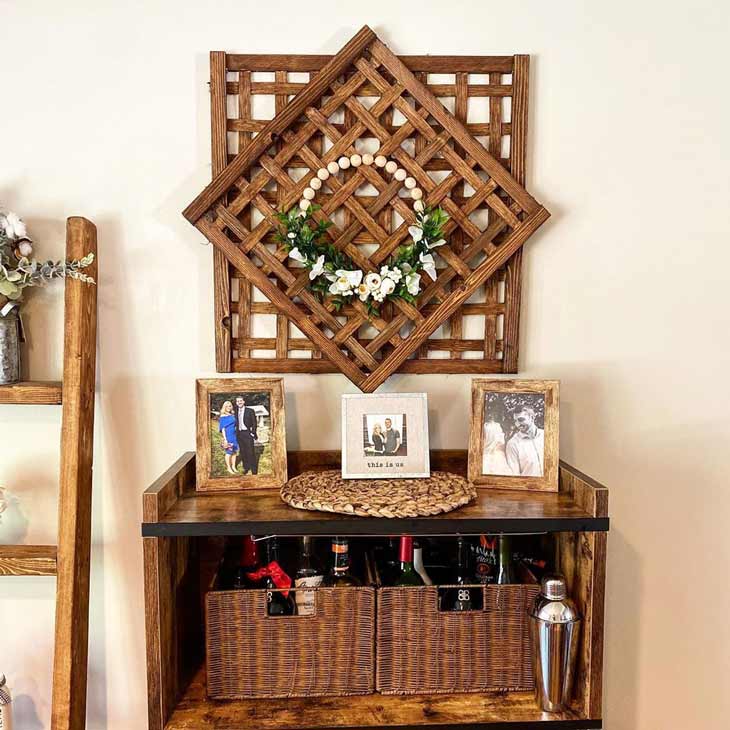 The strong multi-dimensional effect of two large square tobacco basketry trays wall-mounted together, one on top of the other, attracts immediate attention in this setting. Positioned to create the image of a diamond shape over a square, these trays offer a central point of focus above the rustic open-front bar cabinet below. With the rough wood-plank ladder nearby, this cosy cocktail bar decor with basket bins for storing wine and liquor bottles offers definite barn-style appeal.
Stylish items of decor like the silver cocktail shaker, the rustic photo frames and the vase of flowers on the top ladder rung add character and warmth. Most prominent of all is the small, slender bead and floral wreath decorating the wall-mounted basket ensemble. Replacing the square tobacco leaf baskets with oval-shaped ones can change the visual dynamics somewhat. For a different effect, you can try using a farm home style bar cart on wheels in place of the cabinet. Substituting a decorative brass plaque for the wreath and replacing the ladder with a tall wrought-iron candelabra may also give a pleasing effect.
13. Round Tobacco Basket Decor in Pristine White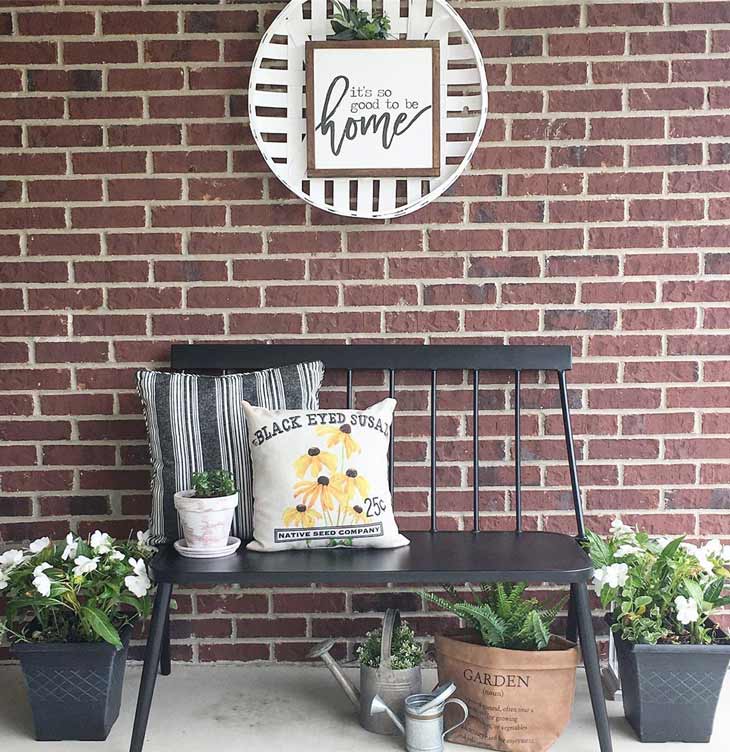 Shop related products(#ad):
Last update on 2023-09-04 / Affiliate links / Images from Amazon Product Advertising API
This inviting setting gains special charm from the round tobacco leaf basket in pristine white with greenery and signage hanging on the neat brick wall. The signage message of "It's good to be home" welcomes you to take a seat on the spindle-backed, streamlined black bench below. The sweet "Black Eyed Susan" pillow advertising the Native Seed Company adds a sense of casual comfort, and this sentiment is emphasised by the flowering plants and vintage watering cans.
It can be challenging and fun to see the various effects that you can create by adding some smaller round baskets on the brick wall near the central white one. Some climbing vines along the wall might also add natural allure. For a slightly heavier, more grounded effect, you can try replacing the spindle-backed bench with a handcrafted wooden bench and some tall burlap or canvas-covered pillows leaning against the wall for your relaxation and comfort.
14. Mix of Styles for a Delightful Decorative Array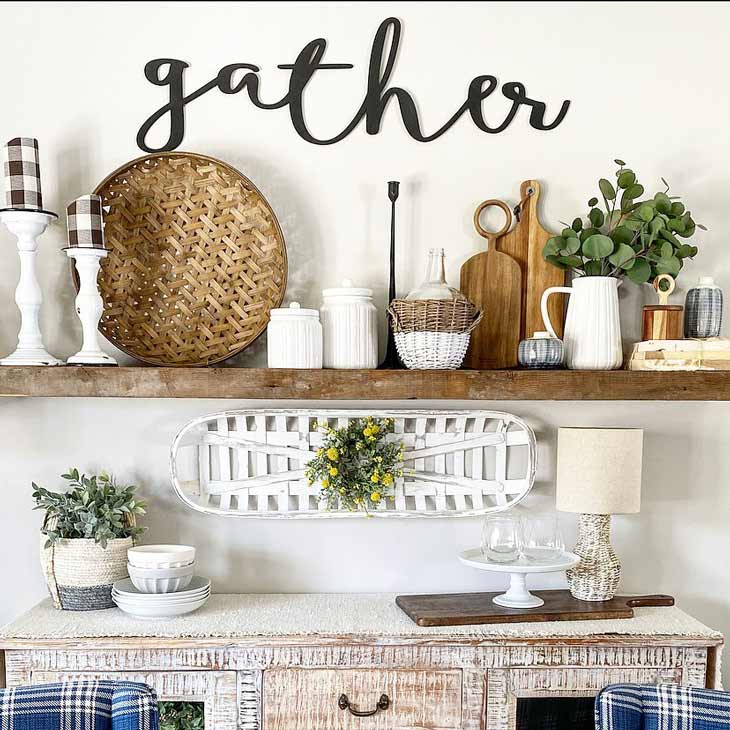 Shop related products(#ad):
Last update on 2023-09-04 / Affiliate links / Images from Amazon Product Advertising API
In this delightful decorative display, you can find elements of farm/barn, country- cottage, rustic and shabby chic in a fabulous mix. Starting with the top shelf, the closely woven round basket tray, striped candles in white holders, white pottery, wooden breadboards, plant and other small decorative items offer pleasing casual cottage and farm home design. The rough timber plank of the shelf adds distinctive rustic barn effects.
The stylish distressed white cabinet beneath that displays a rustic white lamp base and other vintage pottery and china has definite elements of shabby chic. At the same time, the polished wooden breadboard and pedestal-based china tray echo stylistic qualities of certain top-shelf decor. The engaging oblong tobacco basket finished in antique white with its stylish exhibit of foliage and small yellow flowers ties this entire varied decorative array together from its central wall-mounted position.
The cheerful signage in attractive black script on the wall above reading "gather" perfectly describes the achieved decorative effect. Although you may choose to rearrange the placement of some items of decor, it seems that adding or subtracting any items will risk lessening the charm and allure of this unique and fashionable visual mélange.