There are few essentials for outdoor fall decor you can't go wrong with. Those are pumpkins, fall wreaths, potted mums, hay bales, and cornstalks. If you don't know how to combine all or some of the above-mentioned, we give you great examples below to make your outdoor fall decor look astonishing.
As an Amazon Associate I earn from qualifying purchases.
1. Breathtaking front door decorated for fall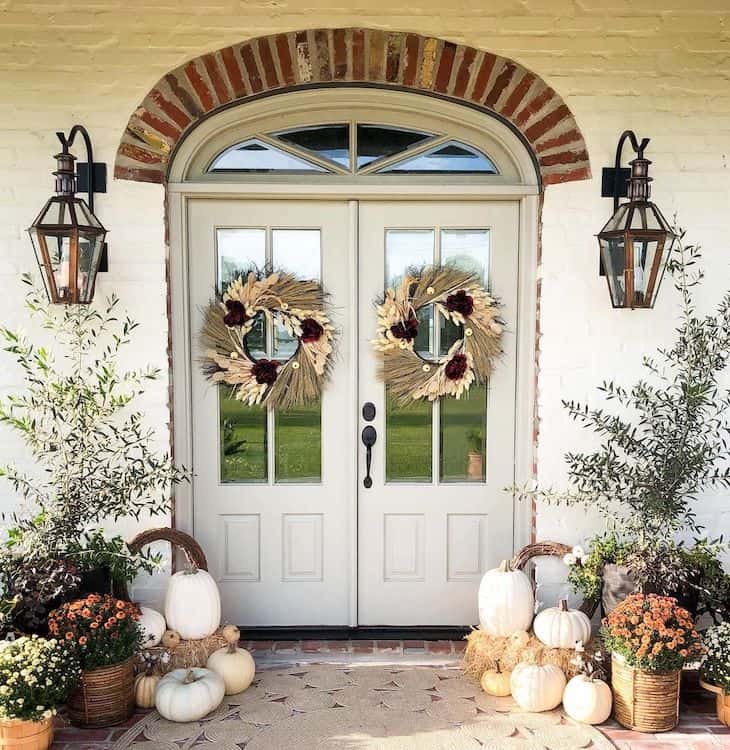 Shop related products(#ad):
wreath // lantern // rug // olive tree // pumpkins // hay bale
This beautiful neutral fall decor for the front porch is really breathtaking. The neutral front door color is "Jogging Path" by Sherwin Williams which is the perfect backdrop color for the two fall wreaths placed symmetrically on the double door.
The contrasting brick arch above the door complements the beautiful fall flowers placed on each side of the door. Between the fall arrangement on the sides, we can spot beautiful olive trees which are mostly used for summer decor. But they fit perfectly in this fall arrangement drawing the eye up to the beautiful lanterns that complete the whole front entry look.
2. Add cornstalk with a mix of flowers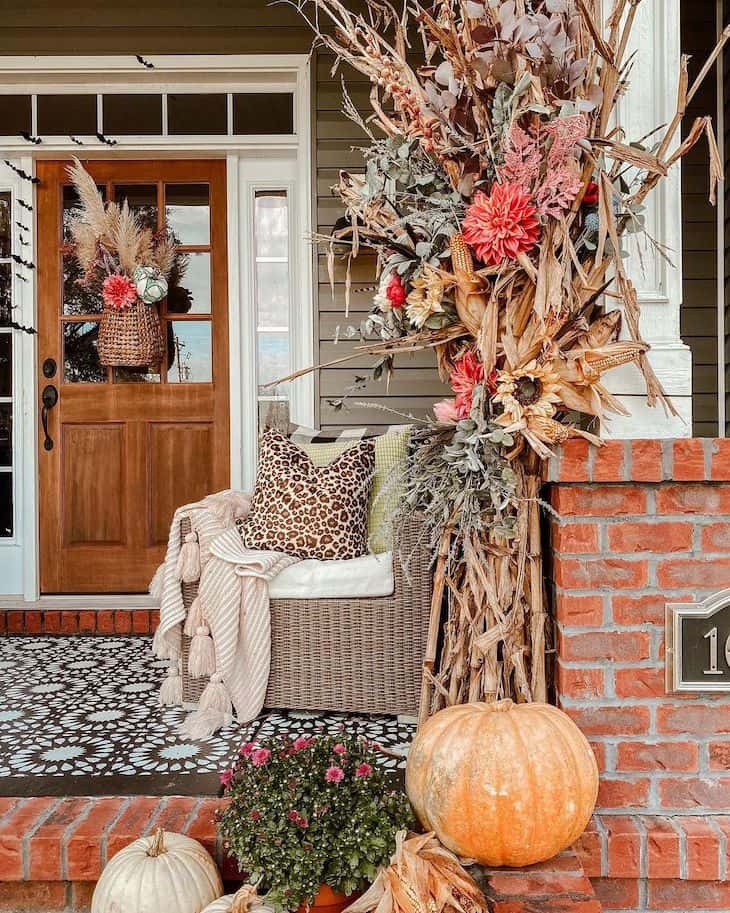 Shop related products(#ad):
cornstalk // pumpkin // pillow // chair //
We love the unique idea of spicing up your cornstalks' outdoor decor with a mix of flowers. It gives dimension and texture to the decor and a pop of color. Add layers and warmth to your decor by placing an outdoor rug in front of the door, as well as cozy blankets and throw pillows on outdoor chairs. Round up the decor with white and orange pumpkins for a full fall effect.
3. Fall decor for your outdoor chair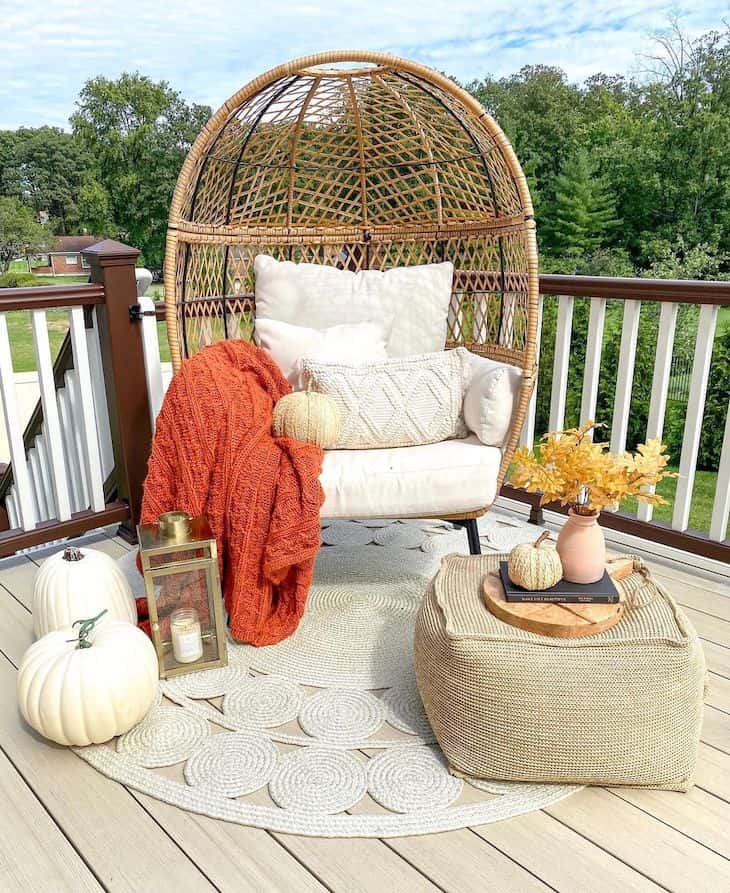 Shop related products(#ad):
egg chair // ottoman // throw blanket // jute rug
A simple autumn patio display like this just screams fall! Create a cozy seating area on your back patio by adding cozy knitted blankets and throw pillows in fall colors. Complete the look with white pumpkins and a vase with fall foliage you are ready for fall nights by the fire pit.
4. Oudoor fall decor for your back patio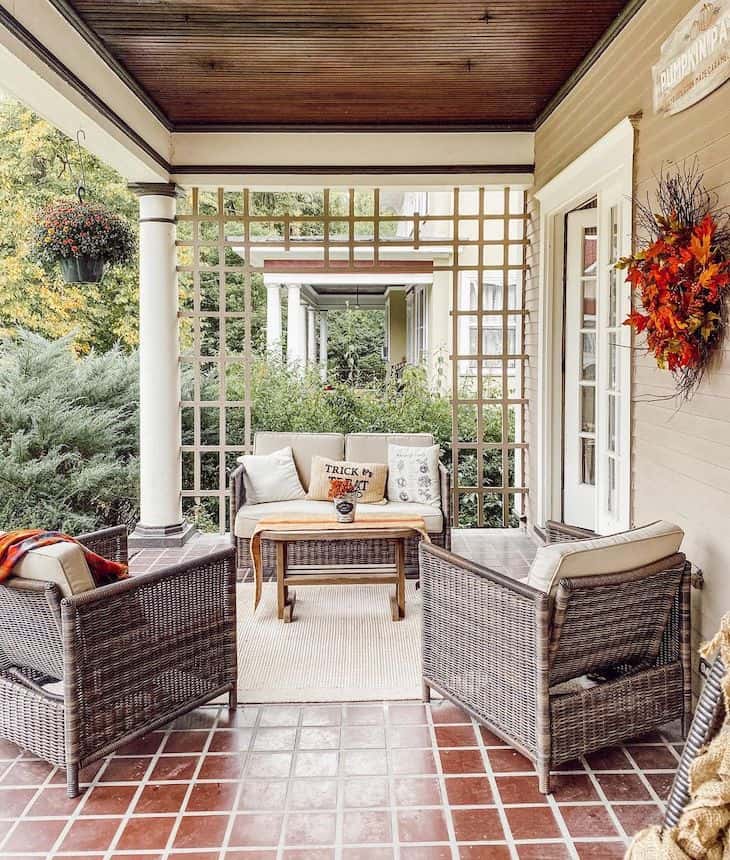 Shop related products(#ad):
patio set // rug // pillow // wreath
Your back patio can get the fall look by adding few fall pieces to your regular decor. Like in this case, use a fall throw pillow and blanket, complemented with a beautiful fall wreath and your patio will be the perfect place to sit down and enjoy the crisp, fall weather.
5. Modern entry with autumn charm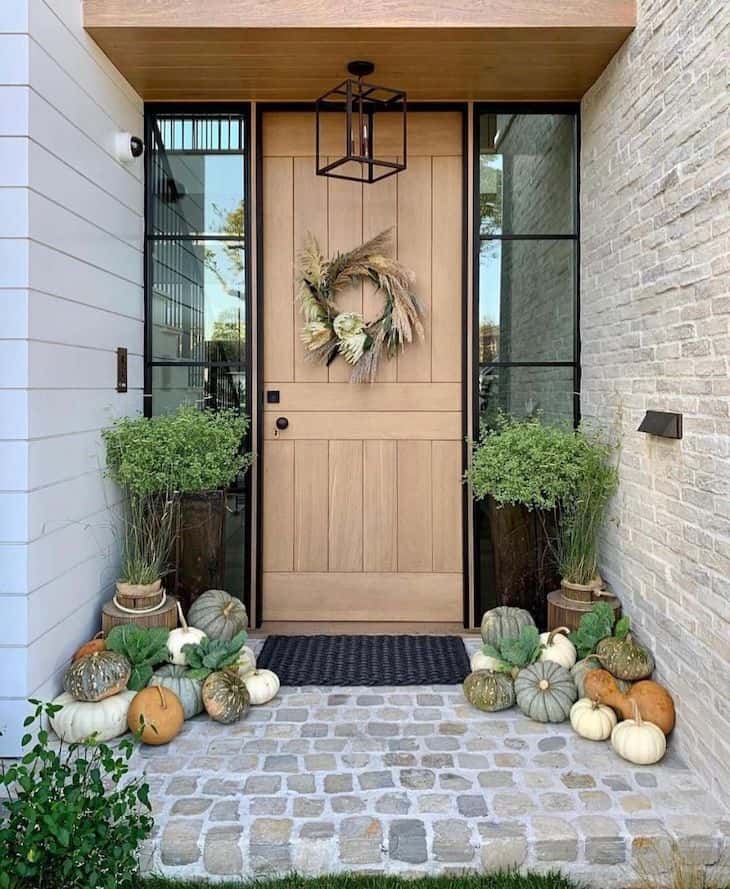 Shop related products(#ad):
wreath // pumpkins // pendant
This modern entry with its tumbled stone, steel windows, and a light wood Dutch door is decorated with potted greens and white and orange pumpkins that give this space the right amount of fall charm. This kind of decor will give the warmest hello to your neighbors and welcome your guests in a festive way.
6. Rustic outdoor fall decor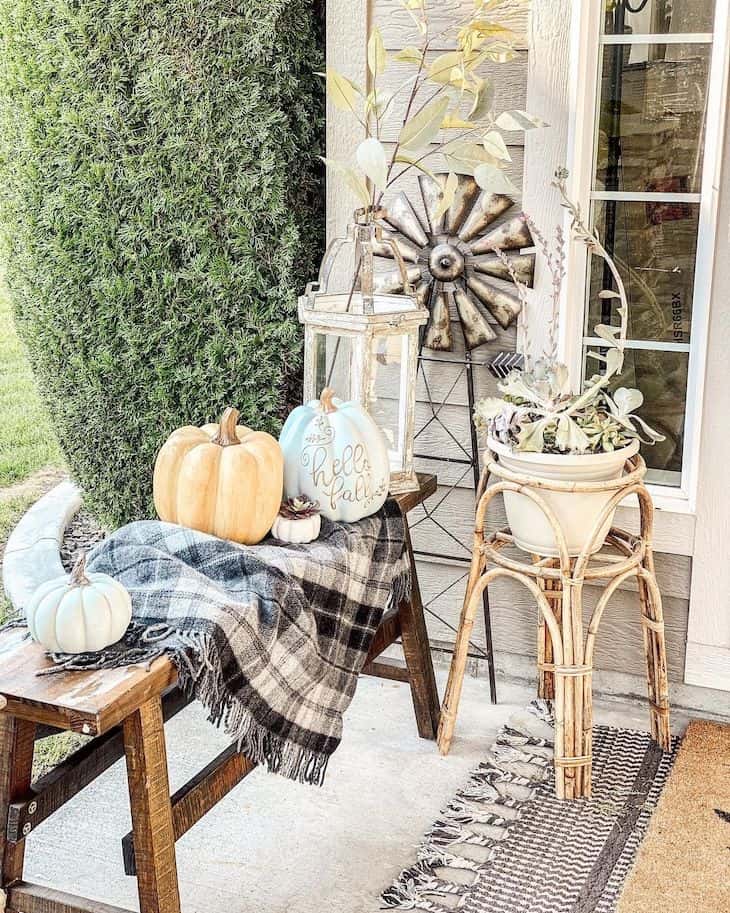 Shop related products(#ad):
windmill // plant stand // bench // pumpkins // blanket
A simple rustic wood bench decorated with white pumpkins and a snug plaid blanket is all you need to cozy up your outdoor fall decor. The decorative windmill adds to the rustic appeal in this whole setting creating a beautiful display for the passersby.
7. Two fall wreaths for the front door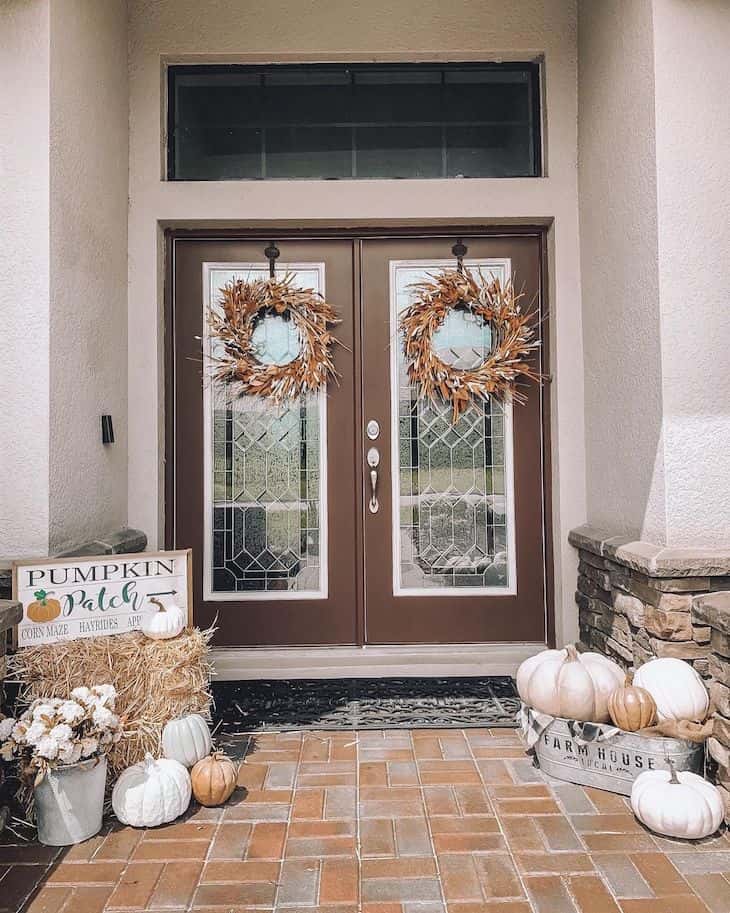 Shop related products(#ad):
wreath // pumpkin sign // caddy // hay bale
This double glass door features two big fall wreaths that create symmetry for this entryway. The wide galvanized bucket filled with white decorative pumpkins adds a farmhouse charm to this outdoor fall decor. And the haystack on the left is used as a holder for the "Pumpkin patch" sign to finish off the fall look.
8. Porch swing decorated for fall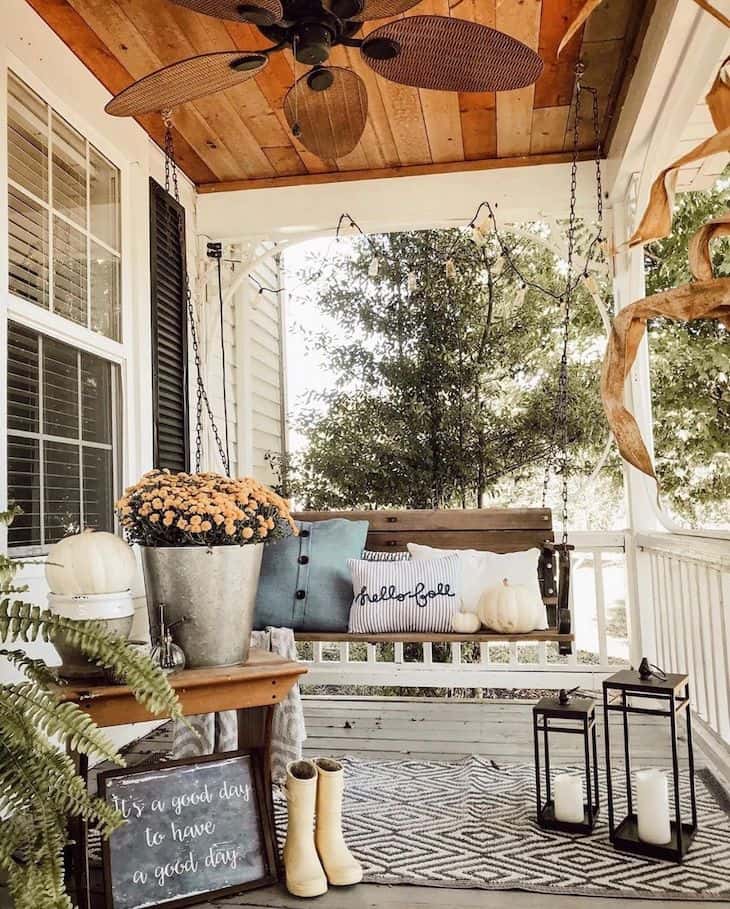 Shop related products(#ad):
porch swing // fall pillow // lanterns // galvanized bucket // rug
The porch swing on your front porch is the perfect place to lay out your favorite fall outdoor decor. Layer seasonal decor like fall-themed throw pillows and decorative pumpkins for that cozy snug look. A bucket filled with fall mums will bring color to your front porch. Complete the look with floor lanterns and an outdoor rug and you are all set for the cold crispy mornings spent on your beautiful porch.
9. Orange hues for outdoor fall fairytale
Shop related products(#ad):
rattan pumpkin // pumpkins // lantern // hay bale
An outdoor fall decoration wouldn't be complete without pumpkins in any shape or form. Use pumpkins in varied hues to make a big front-door statement. Potted mums in wooden and galvanized buckets will bring color and a cozy feel to your front door.
10. Fall tablescape for outdoor dining table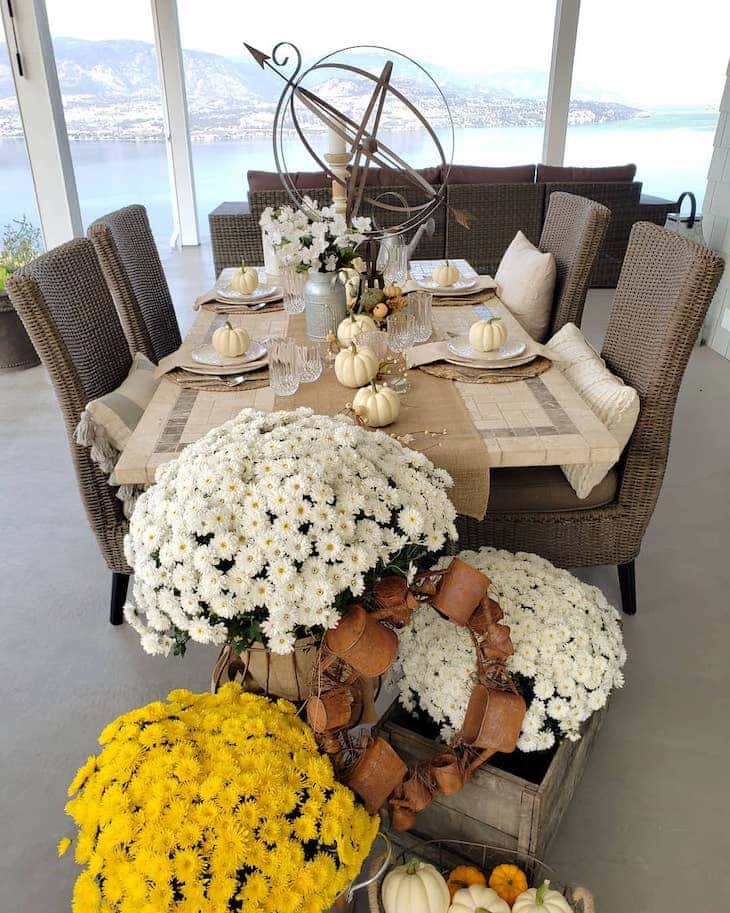 Shop related products(#ad):
table runner // placemats // pumpkins
Update your outdoor decor by setting a fall tablescape to your outdoor dining table. The look can be achieved with a few small decorative pumpkins and a burlap table runner that will set the earthy calming tone. Enhance the look with a few potted mums that will bring color to your outdoor fall decor.
11. Cornstalk front door decor
Shop related products(#ad):
cornstalk // wreath // flower pots
Using dried cornstalks for your outdoor decor will immediately enrich your front door display. If you want to achieve easy but beautiful fall decor just use symmetry with all of your outdoor decors. Just make sure you have two pieces of every decor item you plan to use and your front porch will be the neighborhood favorite.
12. Orange and navy porch decor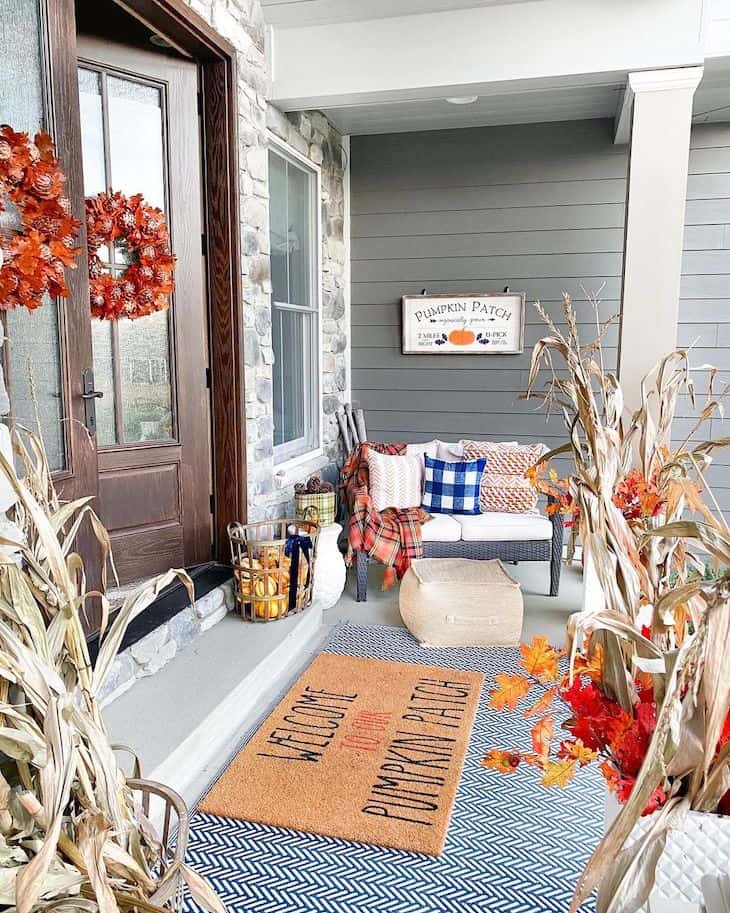 Shop related products(#ad):
rug // pouf // cornstalk // pillow // wreath
This porch is decorated with traditional orange and navy color combinations to create the ultimate cozy outdoor space. A fall-themed doormat will welcome your guests in an entertaining way. A wire basket filled with pumpkins ties the orange hues together, while the cornstalks bring in a natural touch.