Decorating for fall can be really fun and easy just by switching some of your regular decor with cozy fall accents. If you are asking yourself when you should start decorating for fall the best time would be when the weather starts to get a bit crisp and chilly, so that is September or October. So go ahead and cozy up your home following these unique examples of charming fall decor we've selected for you.
As an Amazon Associate I earn from qualifying purchases.
1. Wooden tray decorated for fall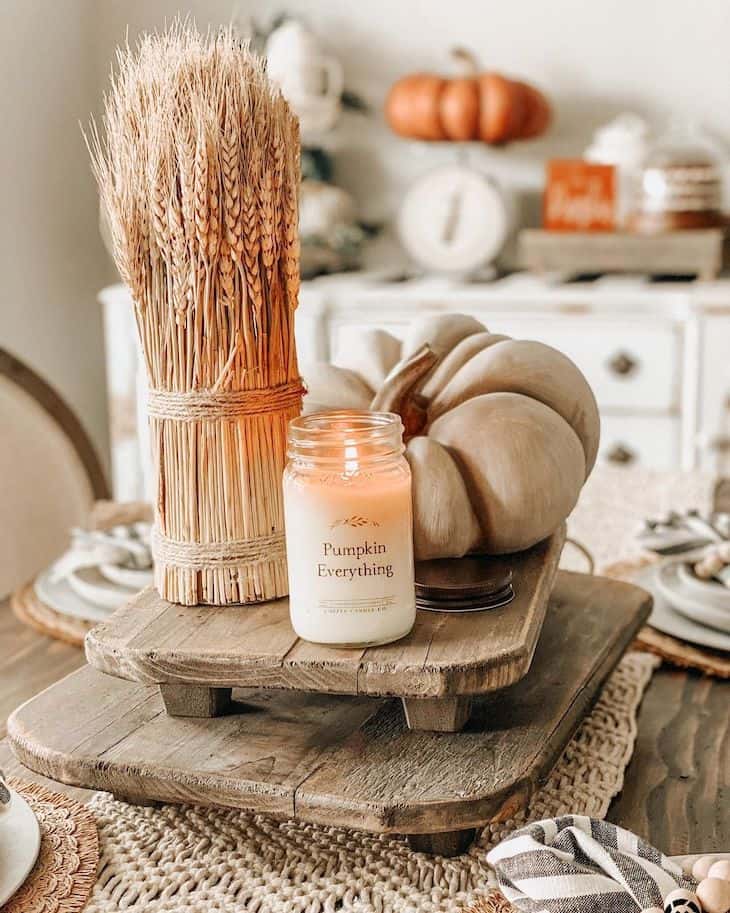 Shop related products(#ad):
wood riser // candle // dried wheat // faux pumpkin
A wooden decorated tray for fall placed as a centerpiece on your coffee table or kitchen island can bring a warm and cozy feel to your home. Using few decor pieces such as pumpkin scented candle, faux pumpkin, and dried wheat flowers will bring rustic charm to your centerpiece decor.
2. Warm copper bucket filled with fall decor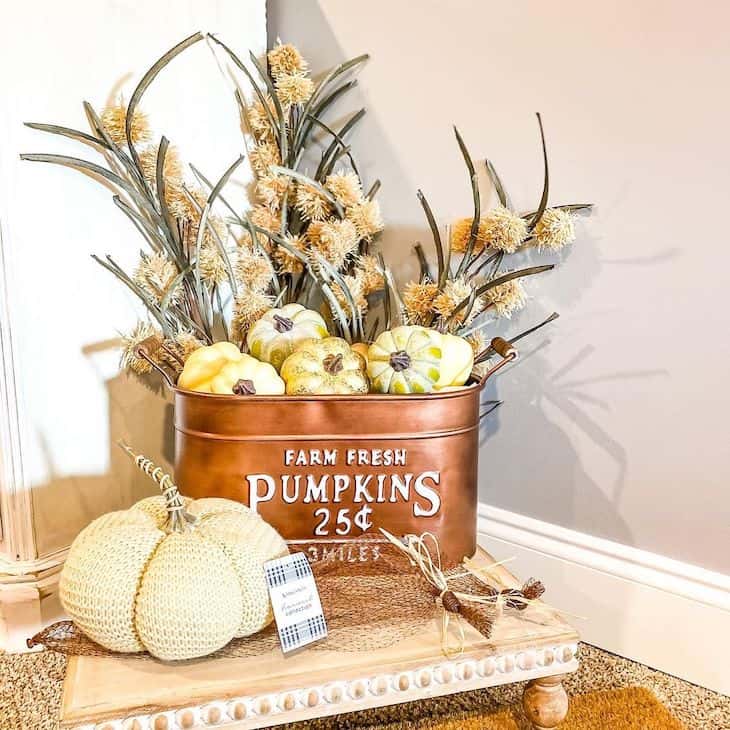 Shop related products(#ad):
bucket // pumpkins // tray
This "farm fresh pumpkins" bucket in a warm copper hue filled with dried stems and faux pumpkins is the perfect decor combination for your fall decor. Popped on a rustic pedestal wooden tray can sit on your counter as a lovely memento of the crisp autumn season.
3. Porch fall decor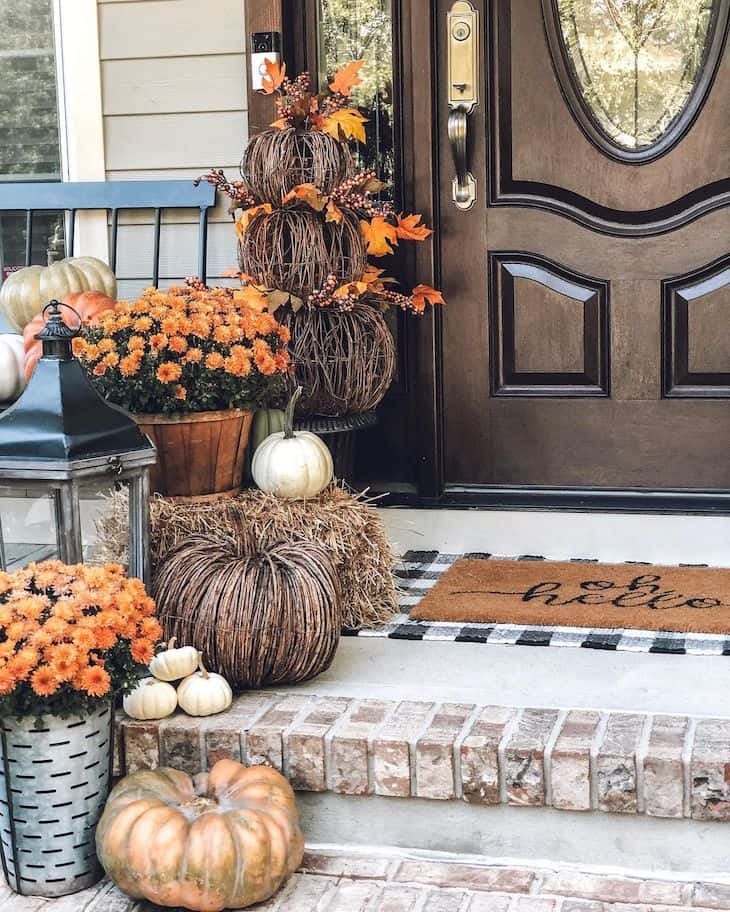 Shop related products(#ad):
rattan pumpkin // pumpkins // lantern
Decorating your front entryway for Fall can be a fun way to show off your decorating skills to the whole neighborhood. Using potted flowers in burnt orange color is a must-decor element for your fall front porch decor. Use a few big pumpkins and a hay bale to achieve this gorgeous setting at your front door.
4. End table fall decor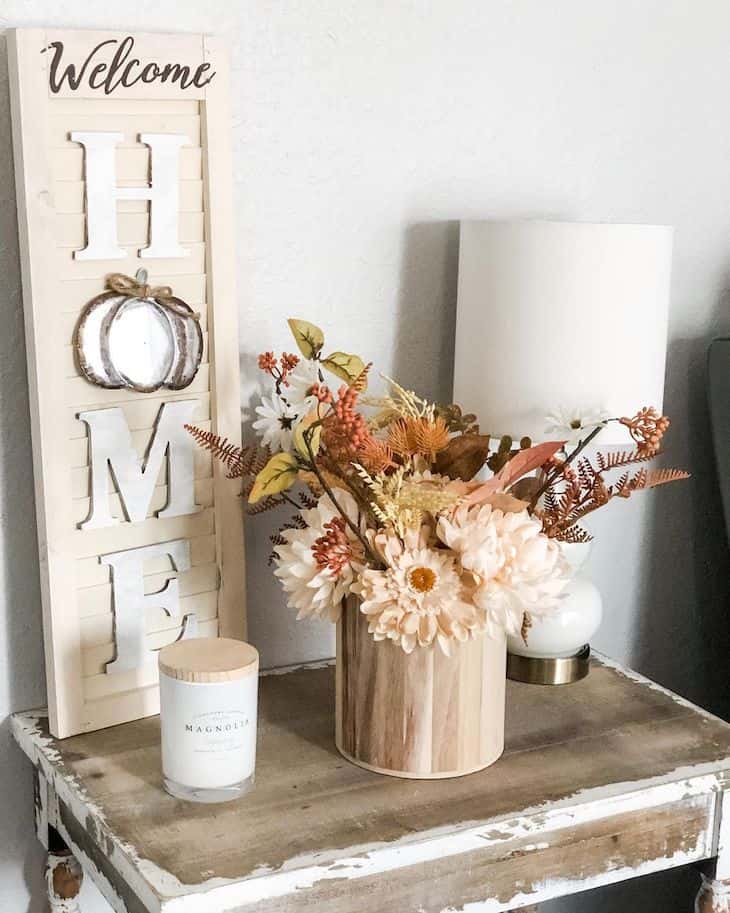 Shop related products(#ad):
flowers // sign
Decorating for fall does not mean that you have to switch all of your decors for the season. Use your all-year-round decor elements adorned with a vase filled with fall flowers, and you have achieved your goal. It is amazing how one piece of decor can change the whole vibe of your decor setting when properly curated.
5. Fall living room decor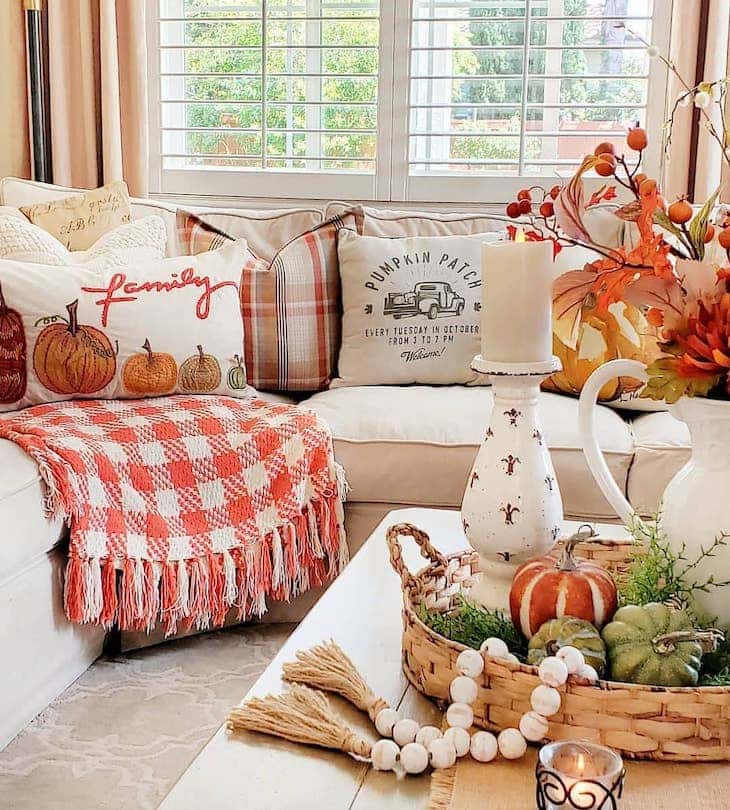 Shop related products(#ad):
pillows // blanket // pumpkins // tray
Using fall colors for your throw pillows and blankets can instantly change the atmosphere in your living room, making it feel more cozy and warm. A fall-decorated tray for your coffee table can additionally spice up your living room decor.
6. Island centerpiece fall decor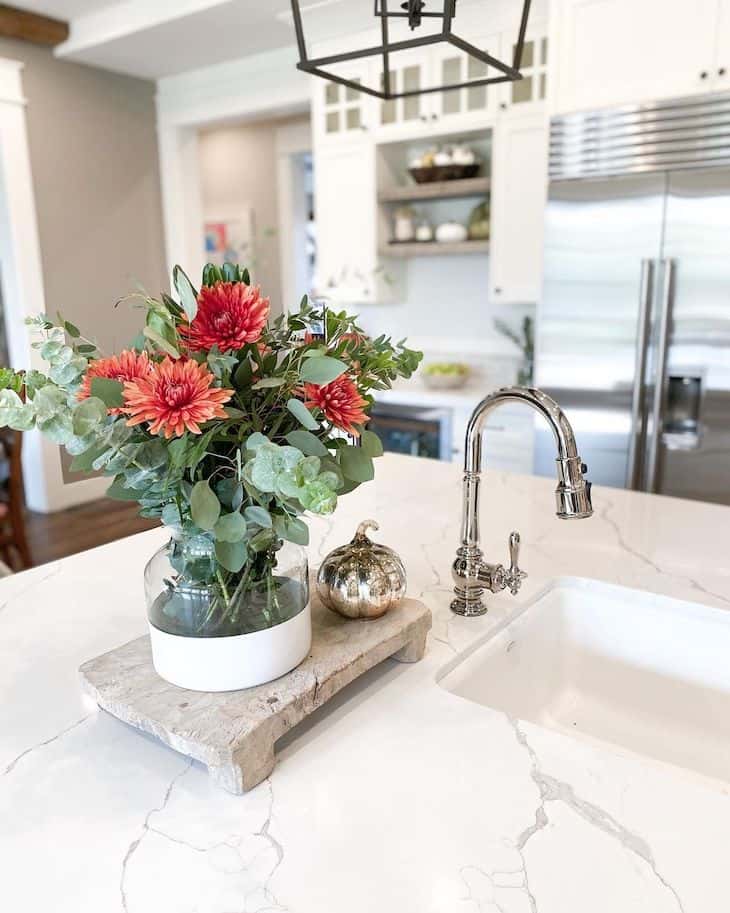 Shop related products(#ad):
display riser // pumpkin // faucet // sink
This modern farmhouse island centerpiece decor is perfect for homes that aspire to incorporate contemporary pieces in their decor. Instead of a real-looking pumpkin, using a mercury glass pumpkin will bring sophistication to your decor. A half-clear glass vase filled with greenery and fall flowers will bring a natural touch to your modern decor.
7. Black entryway table with fall decor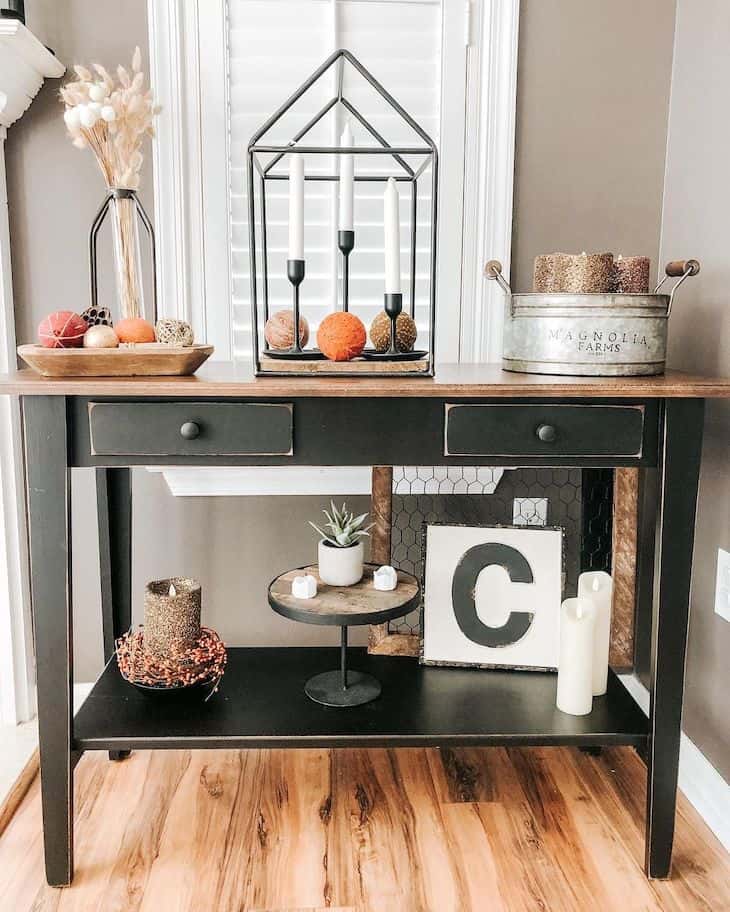 Shop related products(#ad):
candle holders // cake stand // dough bowl // bucket
Decorate your entryway table with autumn decor to bring warmth to your home right at the entry. This small black entry table is decorated with a mix of rustic and modern decor pieces to achieve the perfect balance to this fall entryway decor. A few pieces in autumn hues placed on wooden trays will bring rustic charm to your entryway.
8. Simple cozy coffee table decor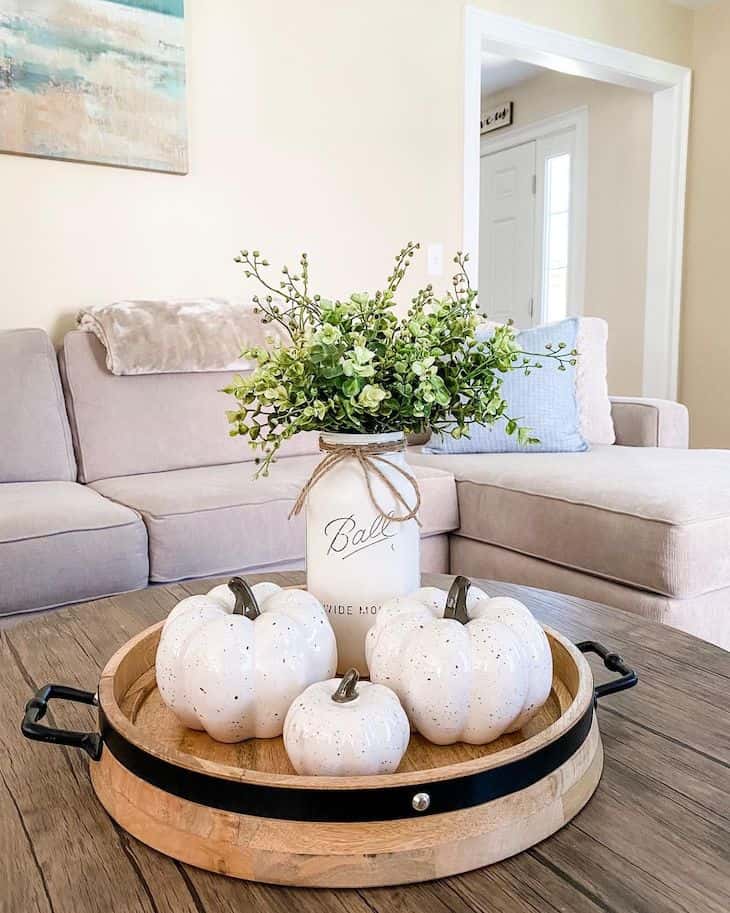 Shop related products(#ad):
tray // mason jar // pumpkins
If you are not big on decorating your whole living room with fall decor and changing your throws and pillows every season is simply not your game, putting a small round tray with fall decor on your coffee table to celebrate the season is the right way for you. You don't even have to use autumn colors in your decor, instead try decorating with neutrals, like white pumpkins, that will fit the rest of your decor in a seamless way.
9. Vintage fall arrangement for console table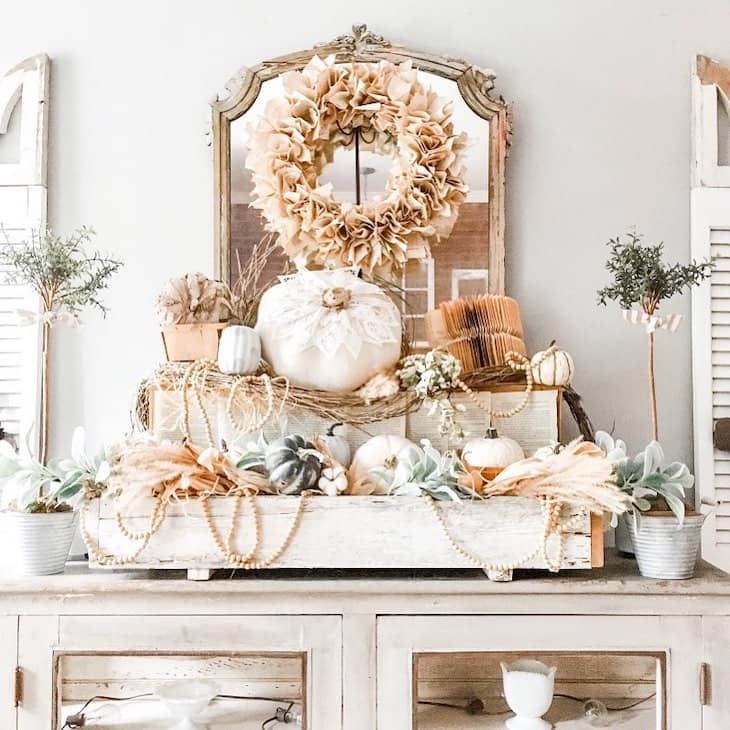 Shop related products(#ad):
wreath // mirror // pumpkins
This gorgeous fall arrangement for your console table is pure perfection. A wooden basket filled with pumpkins and fall stems adorned with neutral wood beads and a fall wreath above it is creating a beautiful harmony in this fall design. Using a mirror as a backdrop for your decor will give even more richness to your arrangement making it a focal point in your room
10. Entryway table decorated for autumn
Shop related products(#ad):
console table // books // milk can // pumpkin // sign
A rustic farmhouse fall decor is a beautiful way to greet your guests right when they enter your home. This rustic entryway table is using all of these farmhouse decor elements that create a welcoming and homey feel at your door. From galvanized milk can filled with fall stems to dough bowl filled with pumpkins and a burlap "hello Autumn" sign, this fall decor is sure to highlight your love for autumn decor.