An attractive farmhouse entryway table announces and highlights the interior design statement of your home. When you furnish your home with farmhouse decor, a wide array of stylistic possibilities is available. Whether your favorite entryway table designs are traditional farmhouse, rustic barn, shabby chic or ultra-modern minimalist, myriad selections exist.
Of course, you can always opt for a uniquely crafted customised table artfully hand-carved in lustrous natural timber. From sleek and sedate to rough-hewn rustic, many varied fashionable table designs await your approval to dazzle and delight your guests.
As an Amazon Associate I earn from qualifying purchases.
1. Half-round Entryway Table Enlivens and Enchants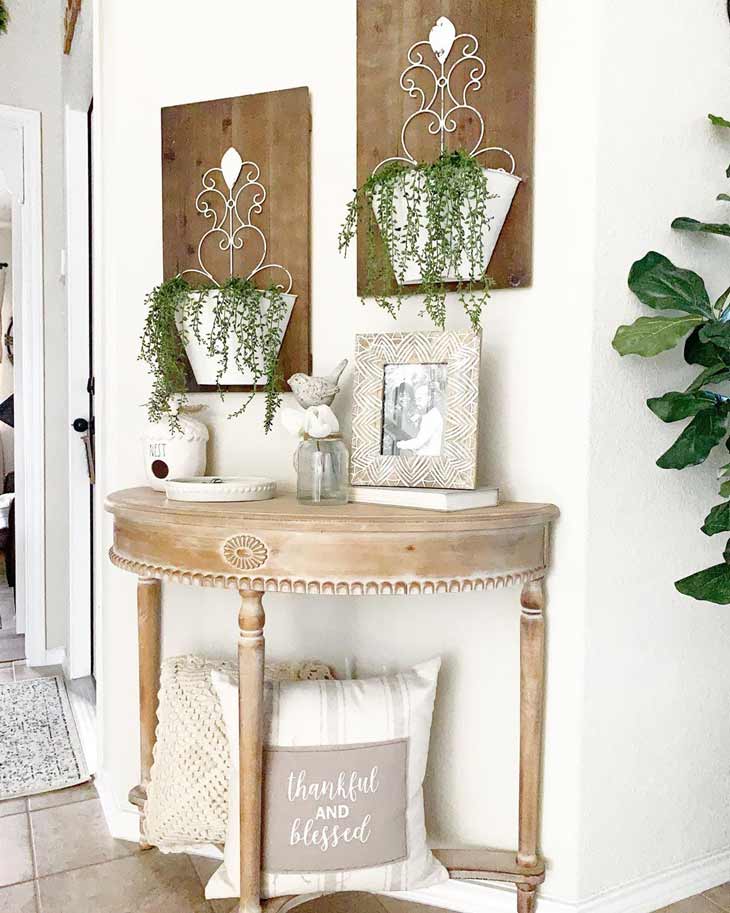 Shop related products:
half-circle table // pocket planter // Rae Dunn birdhouse // #ad
This welcoming half-circle table with simply yet gracefully crafted slender spindle legs fits neatly against the wall to enliven and enchant. Its simply carved border accents and decorative floral theme element offer a casual sense of sedateness. Its compact design makes this model an ideal entryway table for homes with large or small entrance vestibules. It fills a prominent space while adorned with glass and pottery pieces along with a photograph framed in decorative stoneware.
Try replacing the glass and pottery with glazed ceramic pieces in light grey, coral or cocoa tones, if your like, for your half-round entryway table decor. Adding slender cast-iron or crafted wood candlesticks to your tabletop decor may also be effective. They can accent the charming metal and basketry wall reliefs with greenery mounted on wooden plaques above. The "thankful and blessed" pillow signage below describes this interior atmosphere perfectly.
2. Slender and Stylish Entryway Table with Storage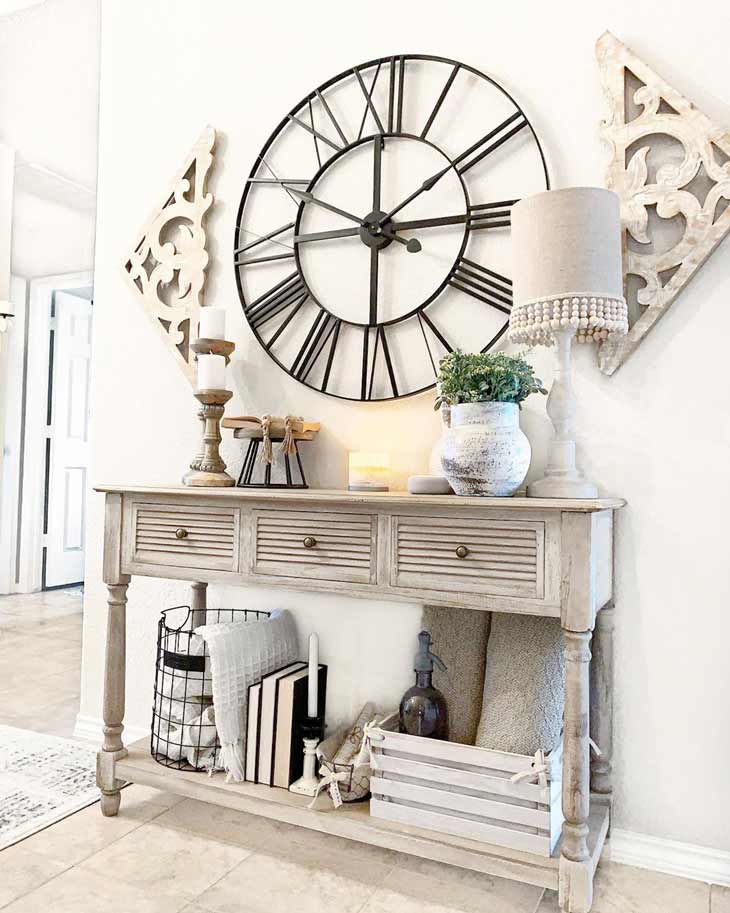 Shop related products:
entryway table // wall clock // table lamp // metal storage bin // #ad
True classic farmhouse style is displayed by this engaging entryway table with convenient drawer storage. The streamlined rectangular shape of this natural light ash or pinewood table is enhanced by the large round iron-work clock wall-mounted above. Its large Roman numerals seem to join the era of the tabletop decor below, including the vintage pottery, lampshade, candlestick and book stand.
You might substitute a rustic ceramic bowl exhibiting smooth stones, painted beads or summer flowers for soft spots of colour on your entryway table with storage. The decorative items on the table's lower shelf cleverly echo features of the tabletop and wall decor. An intriguing ambiance of shabby chic style is added by the pair of large triangular wall pieces. Surfaced in distressed white with floral openwork designs, they lend casual elegance.
3. Small Yet Dominant Farmhouse Entrance Table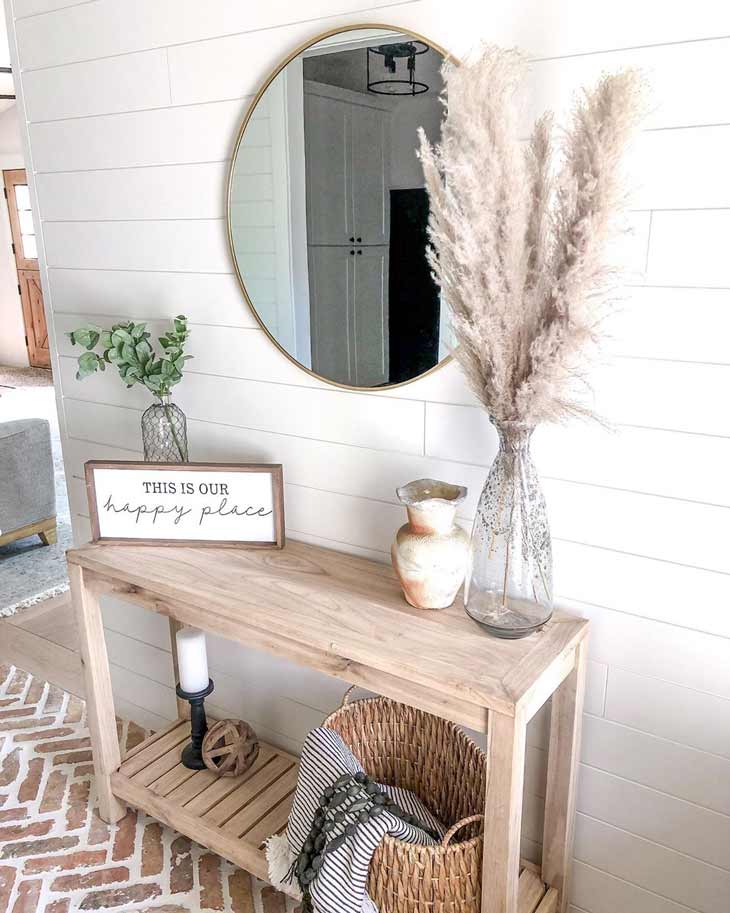 Shop related products:
console table // basket // mirror // pampas grass // chicken wire vase // #ad
Small farmhouse entryway table designs can be both highly practical and quite appealing. The soft neutral tones of this small, slender table with its smoothly finished natural wood surfaces create a center of attention. Despite its small size, this table is a dominant item of decor at this home's entrance.
In the casual company of a white shiplap wall and antique brick and wood flooring, this petite table glows. Its pure, simple beauty is embellished by the tabletop display of vintage glass vases with tall dried reeds and foliage. The simple oval wall mirror, large basket with cottage style throw and beads and other farmhouse decor accent this small table's charm and allure. If you like, try using a slim rustic lantern and a porcelain pitcher instead of the glass vases for your small farmhouse entryway table decor.
4. Barn-style Entryway Table of Reclaimed Wood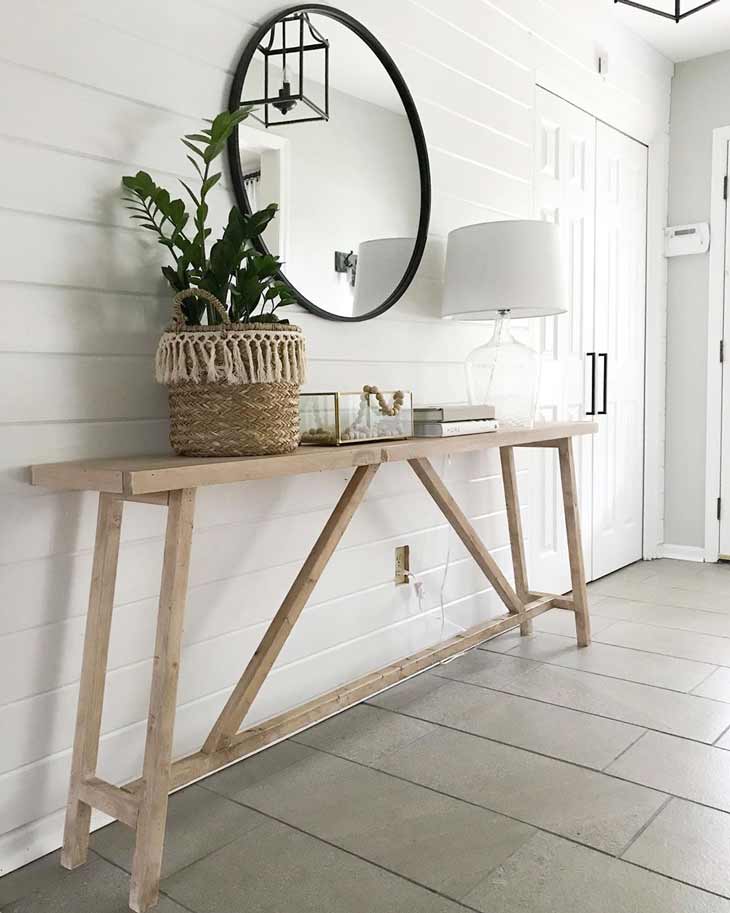 Shop related products:
console table // tassel basket bag // round mirror // lamp // #ad
This tall, thin reclaimed wood entryway table has a long-legged, colt-like, outdoor charm of its own. Its sparse, barn-style construction complements the simple shiplap wall and flooring along with the tasseled cottage tabletop plant-holder basketry. At the same time, the small glass and chrome box with wooden bead handle, white books and clear glass lamp add a sense of calm, quiet fashion to this entryway table decor.
Above this reclaimed wood entryway table, the large, simplistic round wall mirror offers classic farmhouse allure as it reflects a basic wrought-iron hanging lantern-lamp in familiar barn design. For a slightly different visual effect, you might try swapping the glass box and books for a handcrafted cherry wood or maple curio box and a pair of tall pewter candlesticks.
5. Rustic Farmhouse Entrance Table with Rugged Charm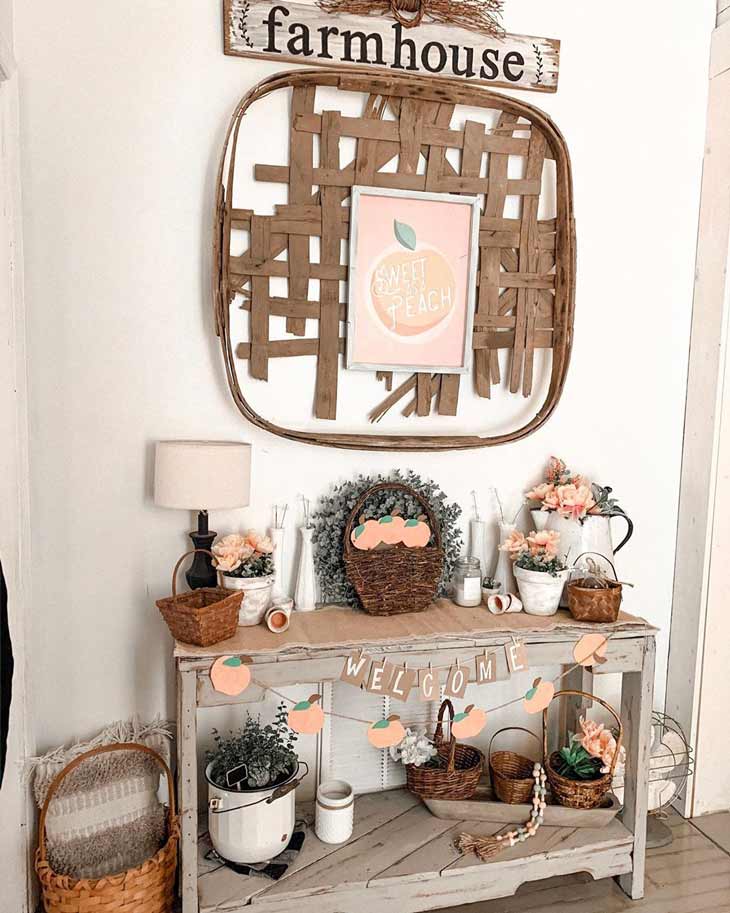 Shop related products:
entryway table // farmhouse sign // tobacco basket // milk can // #ad
With an abundance of charm, this rough-board rustic entryway table and its distressed grey finish exhibit vintage style and delightful character. This dynamic yet casual item of decor brings feels of lighthearted warmth to this cheerful home entryway. The wall-hung "farmhouse" signage, large rustic tobacco basket tray and "Sweet as Peach" sign all set the interior style. This inviting home entrance-way's tabletop decor includes a relaxed mix of woven baskets, pottery, china vases and plants.
A bucket filled with greenery joins other plants to decorate the lower table shelf as entryway table decor. This cheerful entryway is a perfect example of true farmhouse style and appeal. You can have fun experimenting with alternate decor of your choice like a pinecone and wildflower arrangement. A rustic round wall mirror in a tobacco basket frame might also add charm to this rustic entryway table ensemble in the varied scheme of unique entryway table ideas.
6. Farmhouse Entryway Table Ideas with Subtle Modern Magic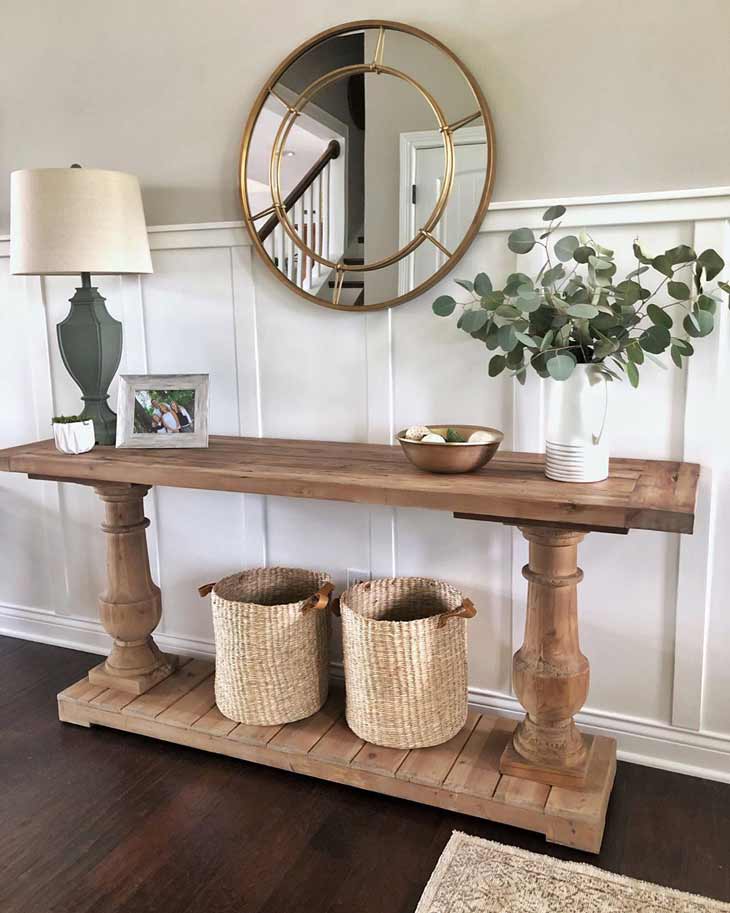 Shop related products:
console table // basket // mirror // #ad
As an elegant modern farmhouse entryway table design, this expertly crafted hardwood table enriches your home's entryway. Its fashionable lines and beautifully grained surfaces accentuate the endless allure of handcrafted timber furnishings. The two strong yet stylish decorative legs add a sculptural quality to this unique table's structure. On the wooden plank lower table shelf, the pair of handsome cylindrical baskets lends modern country-cottage style to your farmhouse entryway table plans.
Handsome white wainscoting just behind the table frame its contemporary-chic allure. The stunning round brass-accented wall mirror above reinforces the overall calm sophistication of this farmhouse rustic decor and home entrance. You may want to try out a modern French-country multi-pane mirror with stylish wood-carved framing for an alternate look. A slim porcelain lamp with a simple silk shade and a bouquet of pastel flowers may also lend subtle modern magic to your modern farmhouse entryway table decor.
7. Unique Dark Wood Entryway Table Design and Decor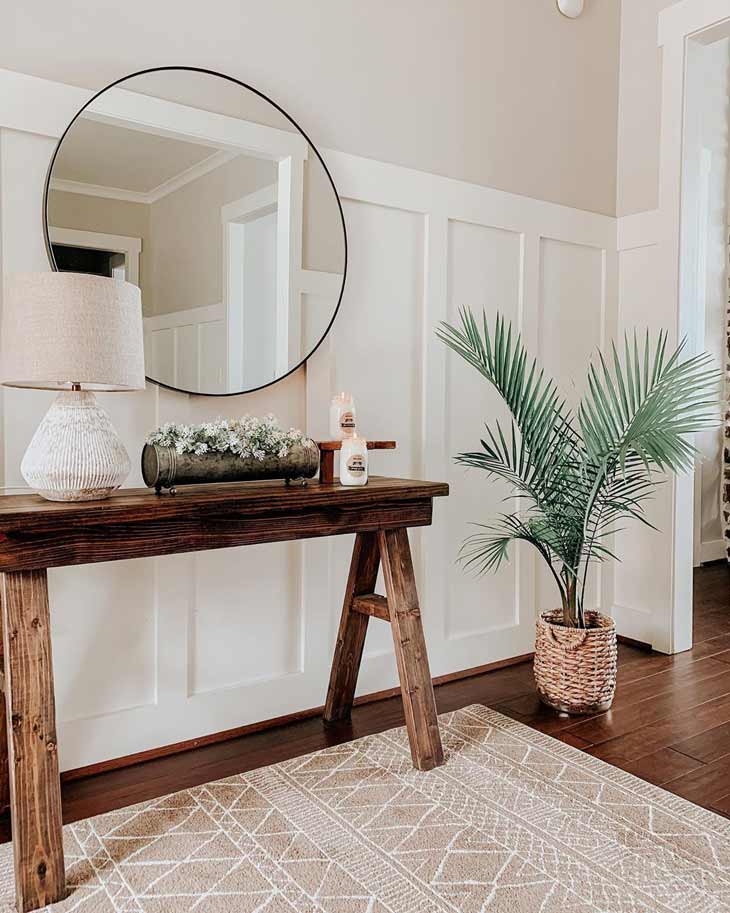 Shop related products:
entryway table // mirror // #ad
Displaying richly grained dark timber splendor, this intriguing entryway table resembles a carpenter's sawhorse design. This unlikely combination of fine quality material, expert crafting and utilitarian workshop style is actually quite appealing. The clever log-like cylinder and floral decor on the tabletop complements the country-cottage floor basket displaying a tall, willowy plant.
The tabletop frosted white glass lamp base and the large round wall mirror above align with the subtle geometric design of the woven rug in soft neutral shades. As the unique focal point of this farmhouse home entrance hall decor, the dark wood entryway table offers a pleasing rustic bohemian flavour to this eclectic decorative ensemble. Try replacing the potted plant's basket with a vintage barrel to emphasise the rustic crafted effect of your outstanding farmhouse entryway table.
8. Farmhouse Style Entryway Table with Barn-Door Accents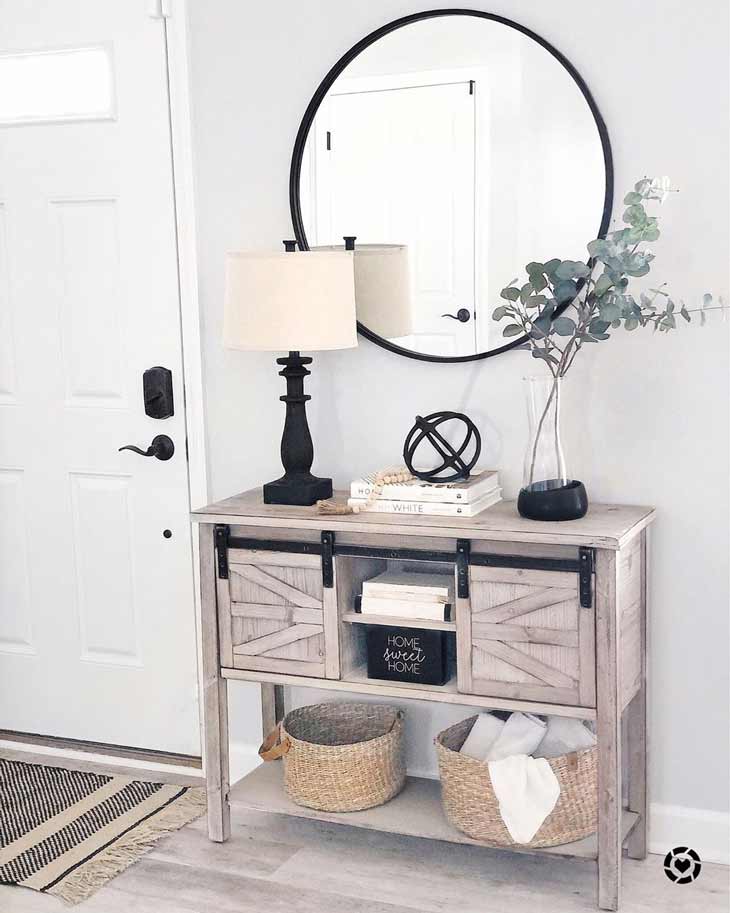 With its slightly rough-surfaced natural-wood repurposed look, this functional barn-style handcrafted table is highly appealing for unique entryway table ideas. Its aged timber quality lends character and charm to this simply constructed, practical yet fashionable entryway furnishing. The two hinged barn-door style bins and central cubby provide convenient storage space even in small or narrow entryways.
On the lower open shelf, a pair of rounded woven baskets offers additional storing options. The farmhouse lamp, tabletop plant and cast-iron open sphere piece on stacked books with beads adds a touch of cottage chic. Offering simple appeal, the large framed wall mirror and the door's vintage iron hardware seem to emphasise the table's central cubby sign reading "Home Sweet Home." You might try adding a glass jar holding multi-coloured vintage marbles or a wooden bowl filled with multi-hued stones to replace the lamp or plant for your farmhouse style entryway table decor.
9. Grey Wash Entryway Table with Grandeur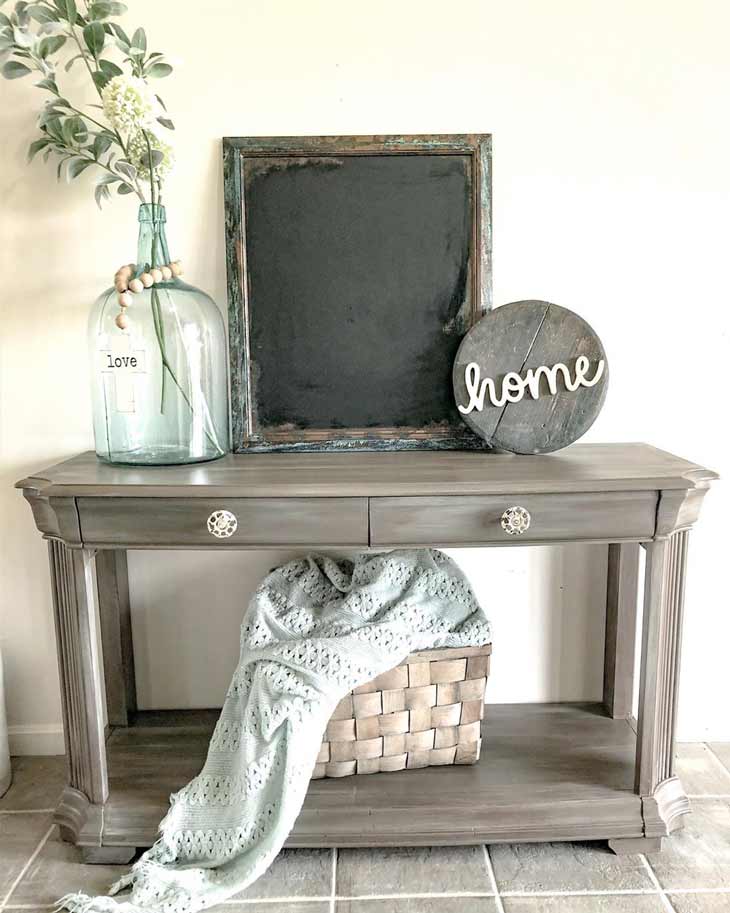 This stunning home entrance-way table with its chic grey wash finish adds simple grandeur to any vestibule. Its elegant woodworking and flawless smooth surfaces have a soft, pleasing semi-sheen enhanced with an antique touch. The shallow drawers with fashionable chrome knobs and the large single shelf below offer space for storage and favoured decor displays for your grey wash entryway table ideas.
The charming woven basket with crocheted blanket add a feeling of welcoming warmth to entering guests. While the natural stone floor tiles and large glass vase with flowers and beads enhance the table's elegance, the rustic chalk board is pure farmhouse rustic decor. The small vase inscription of "love" and the round rustic sign reading "Home" describe the viewer's natural sentiments concerning unique entryway table decor.
10. Sleek Industrial Foyer Table with Farmhouse Decor
In this unique home foyer, an industrial entryway table with black metal legs and a slender hardwood top blends and contrasts beautifully with rustic decor. While the woodcraft vases and bowl on the tabletop lend country-cottage style, the geometric form and glass vase of greenery offer simplistic modern designs. The thin-framed round wall mirror provides a curious and appealing reflection of rough-plastered wall work, a wall-mounted candle and its holder.
Most powerful is the mirrored image of a long-horned bull's picture in a simple black frame. On the floor beneath the table, a wire basket displays a checkered pillow and textured throw. Beside this display, a soft white cushioned fabric stool exhibits attractive cottage style. You might replace the pillow and stool covers with burlap or canvas and choose farmhouse china teapots instead of the rustic wooden tabletop pieces for your innovative industrial entryway table decor.
11. Enchanting Pinewood Home Entry Table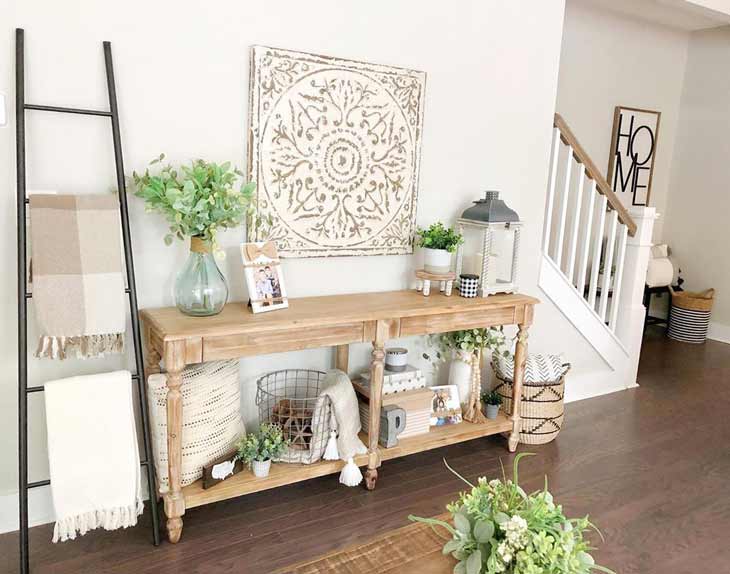 This stylish pine wood entryway table has natural timber luster and a sense of simple enchantment to brighten your entryway table ideas. The light colouration of its surfaces both absorbs and reflects light, brightening the surrounding space and decor. The woven wall tapestry centered above the table and the farmhouse ladder displaying woven fabric throws add relaxed cottage charm.
The plant life, baskets, pillow, large glass-sided candle lantern and photo with decorative bow add country-cottage style. The wide-plank wood flooring and framed "HOME" sign on the wall near the staircase echo the primary farmhouse style decor. You might try swapping the wall tapestry for an outdoor scenic landscape or replacing the ladder with a decorative latticework design to complement your pine wood entryway table.
12. Black Entryway Table with Modern Simplicity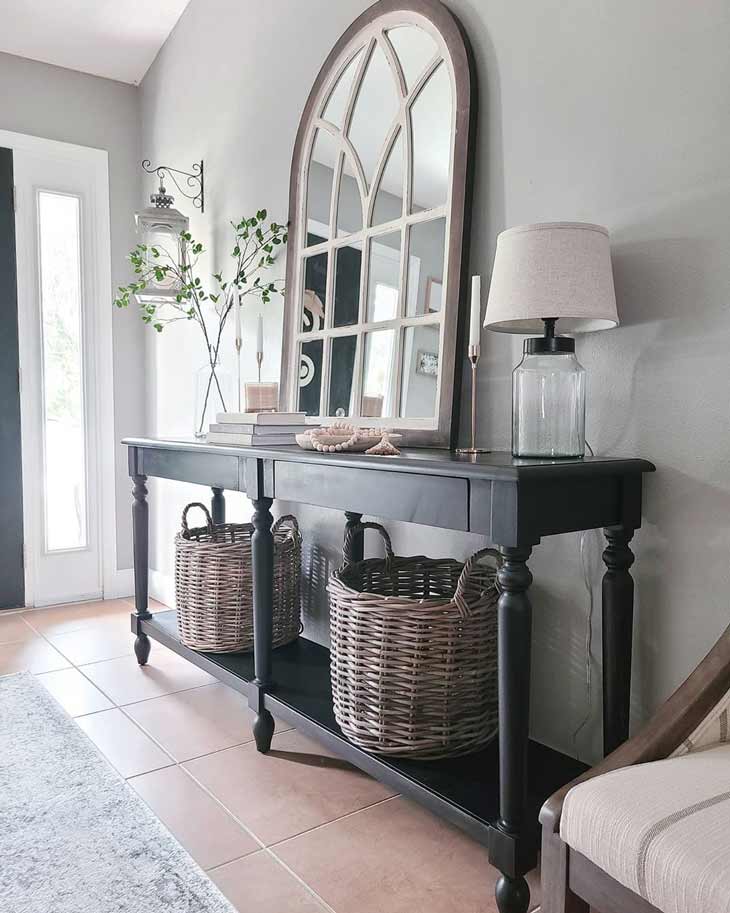 Shop related products:
entryway table // #ad
This fashionable slender black entryway table combines simple modern lines with touches of older elegance like the decorative wood-carved legs. This home foyer allows room for this long, narrow tabletop with pleasing decor. The streamlined glass-based lamp and tall-stemmed plant life in a simple glass vase offer contemporary simplicity. Slim white candles and silver candlesticks accentuate the modern style.
Yet the central display of ceramic dish and beads offer a decorative essence of shabby chic. The large framed mirror with stylish pane divisions resting on the tabletop and supported by the wall and a vintage hanging lantern offer strong farmhouse fashion. Two identical large woven baskets on the table's lower shelf supply comfortable country-cottage decor to this display. You can make changes to some items of decor, if you like, such as replacing the large baskets with open bins covered in floral cottage prints.
13. Wooden Entryway Table with Vintage Intrigue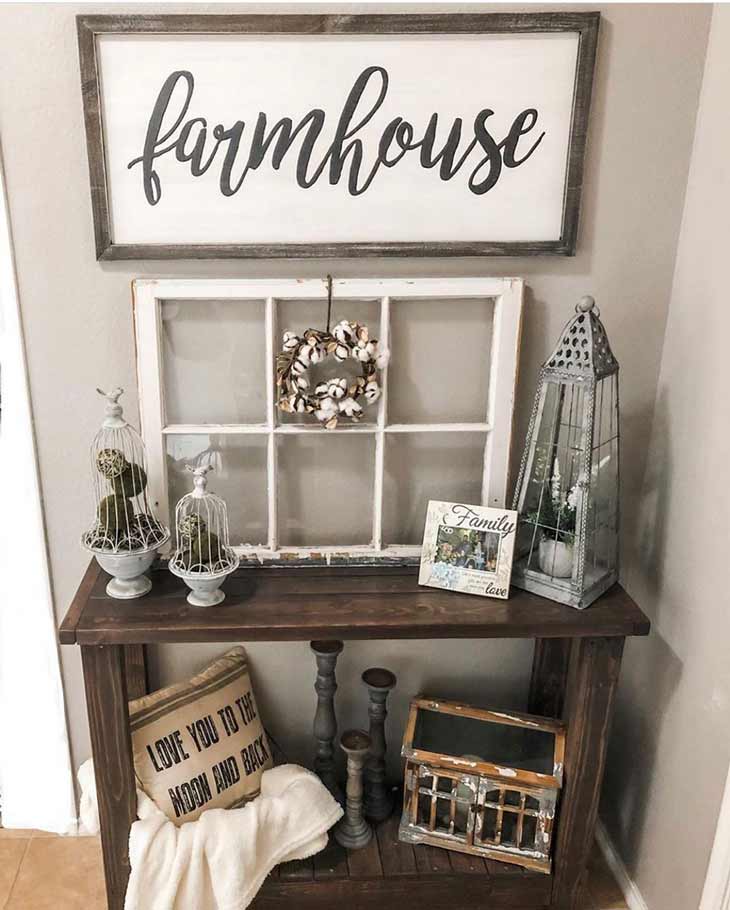 The endearing worn qualities of this vintage wooden entryway table suggest that it has many fascinating stories to reveal. The slightly separated tabletop and lower shelf planking lends character to its smoothly refinished surfaces. The curious small decorative white bowls with cage-style white wire decor holder tops and tall antique lantern-style decor case turn our thoughts to designs of past eras.
Yet these vintage entryway table ideas and styles blend well with more recent items like the framed family desktop photo and bold black-on-white scripted "farmhouse" sign above. The small decorative wreath and empty-pane window frame add pleasing rustic style along with the vintage box with gate-style windows. Several antique candlesticks on the shelf below offer aged charm while the nearby pillow announces boldly, "Love You To The Moon and Back." Why not add a few of your favourite vintage items to this eclectic, intriguing decor to embellish your stylish wooden foyer table?
14. Perky Small Entryway Table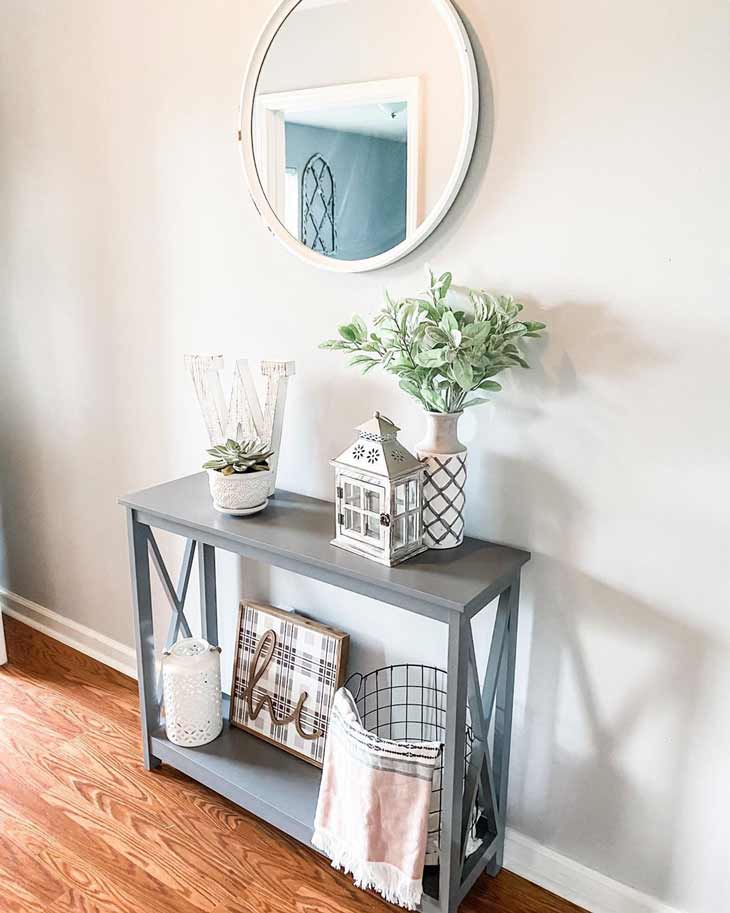 Even a small perky entrance-way table for your home like this one lends definite style and flair to your foyer. With a fashionable ocean blue-grey finish, this slim little table with cross-bar side construction is quite appealing. In addition, it can stand alone as a primary item of decor, offering a pleasing first impression to your first-time guests. The farmhouse pottery flower vase with cross-hatch design, the plant growing in its white ceramic pot, and a decorative lantern adorn your small entryway table.
The vintage wooden letter "W" surfaced in distressed white can only signify a hearty "Welcome." On the table's lower shelf, the wire basket and towel, stylish white ceramic jar and checkerboard style surface with the message, "hi," enhance the sweet, friendly ambiance of this entryway setting. The wall-mounted oval mirror above the table reflects a similar style wall decoration in the adjoining room. If you like, you might audition a square mirror instead for a slightly broader view of nearby decor.
15. The Unique Charm of a Chunky Legs Entryway Table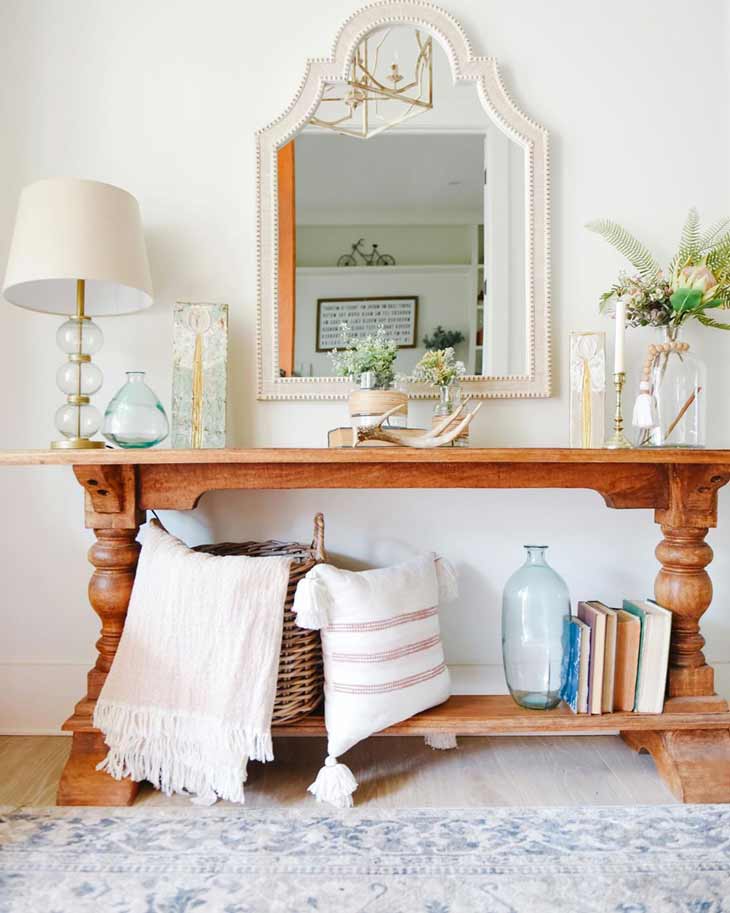 This stylish maple or red oak wood table offers a charming combination of ornate heaviness and lighthearted style. The two qualities blend to create a design with ageless elegance and lasting visual appeal. While the relatively streamlined tabletop offers sedate, smooth sophistication, the chunky volume of the skillfully crafted legs adds a sense of sturdy, well-grounded stability. The vintage dried floral decor, vases, candles and lamp on the tabletop along with the elegant wall mirror add a delightful essence of shabby chic fashion to your chunky legs entryway table display.
The mirror image of an antique lantern lighting design adds timeless style and charm. From across the entryway, a wall-mounted sign and a miniature bicycle on a high shelf add whimsical effects as mirrored reflections. On the lower table shelf, a large basket, glass vase, books, a pillow and a small throw add pops of farmhouse style and colour to this unique mix of decor. If you like, you can replace the shabby chic items with sleek minimalist styles or casual cottage decor to change the design dynamics and overall mood of this stylish home entrance.
16. Small Round Entryway Table with Timeless Beauty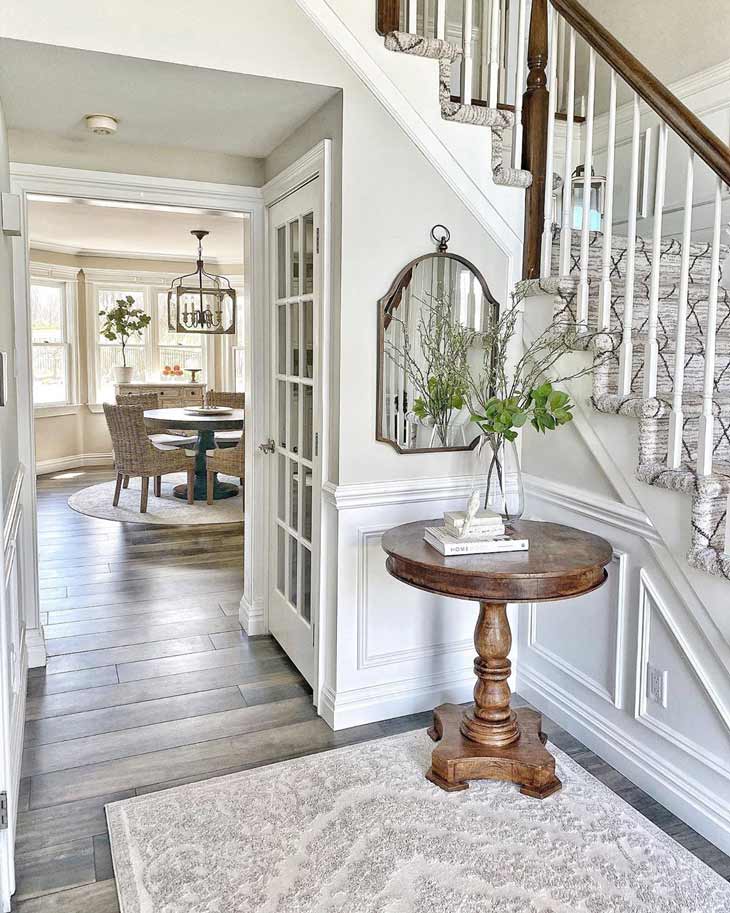 A sweet, inviting small round entrance-way table for your home is the ideal solution for a small or narrow foyer. It sets the stage for your first floor interior design and decor while requiring very little space. The beautiful soft sheen of this vintage table's wood-grained finish adds natural warmth to its surroundings. With tabletop decor of a glass vase of flowers, books and a small china bird, your round entryway table display is complete.
The arched vintage wall mirror just beyond the table enhances this stylish nook beside the front staircase with additional character. The small-pane glass door nearby offers the fashionable charm of French country style. In the adjoining dining room, a larger round dining table with attractive upholstered chairs emphasises the circular charm of the smaller entryway model. If you prefer, you might choose a round or oval wall mirror to accent the small foyer table or decide on a shabby chic multi-pane mirror.