Since the fall season brings such rich, vibrant colors and shades, you have many choices for inspiring decor palettes. Colors range from deep golden, coral-red, pumpkin-orange, and cinnamon-amber leaves to sandy-brown and beige shades of dried grass and branches. By creating a mantel arrangement of assorted dried gourds, fresh pumpkins, and fruits, you can produce a stunning effect.
Fall is the ideal time for displaying dried wreaths decorated with your favorite floral, ceramic, colored glass or carved wood accents. These small items of decor spark the curiosity and interest of viewers as they reflect daytime sunlight. At night, these attractive items mirror the flickering fireplace glow. Whether you favor bright or subtle mantel displays, the autumn season offers plenty of possibilities for both.
Innovative items and ideas for your stylish and stunning fall mantel decor include the following fashionable farmhouse designs and arrangements:
1. White Brick Fireplace with Floral and Pumpkin Decor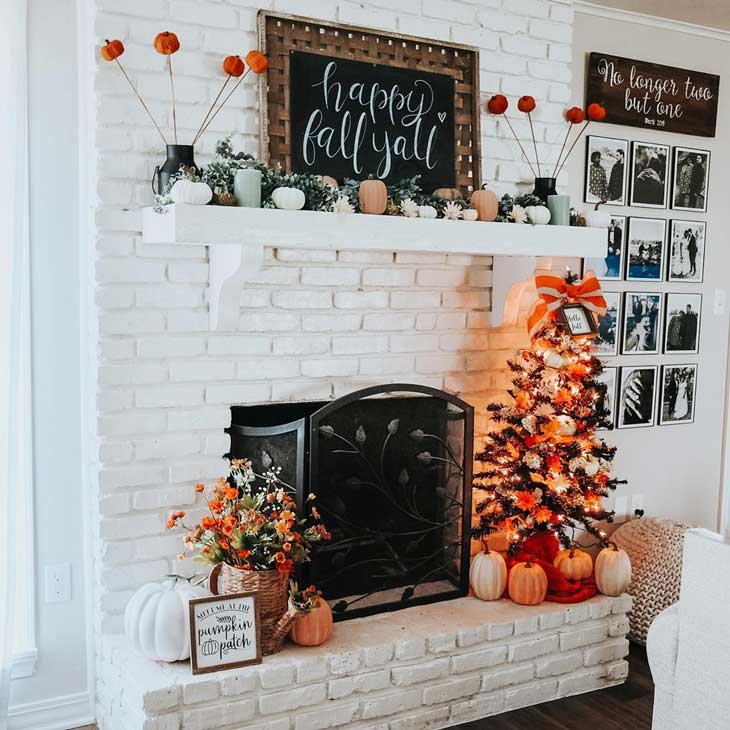 Shop related products(#ad):
mantel // tobacco basket // pumpkins
Last update on 2023-09-03 / Affiliate links / Images from Amazon Product Advertising API
The pristine white brick fireplace design of this autumn mantel decor display is the perfect background for seasonal hues and accents. The warm, inviting glow of coral, light orange, cocoa and cream shades of the floral and mini-pumpkin displays add calm charm. Touches of black, including pottery and the decorative fireplace screen, lend a solid, stable visual effect. Above the farmhouse fireplace mantel, the black sign bordered by an antique gold frame reads, "happy fall yall," as a friendly greeting. Try replacing these beautiful fall hues with rustic red, deep yellow, and amber leaves with white and black birch branches. This creates stronger color contrasts for a slightly crisper autumn ambiance. This setting is ideal for creating new mantel decor ideas.
2. Decorate with Unique and Intriguing Farmhouse Wreath Decor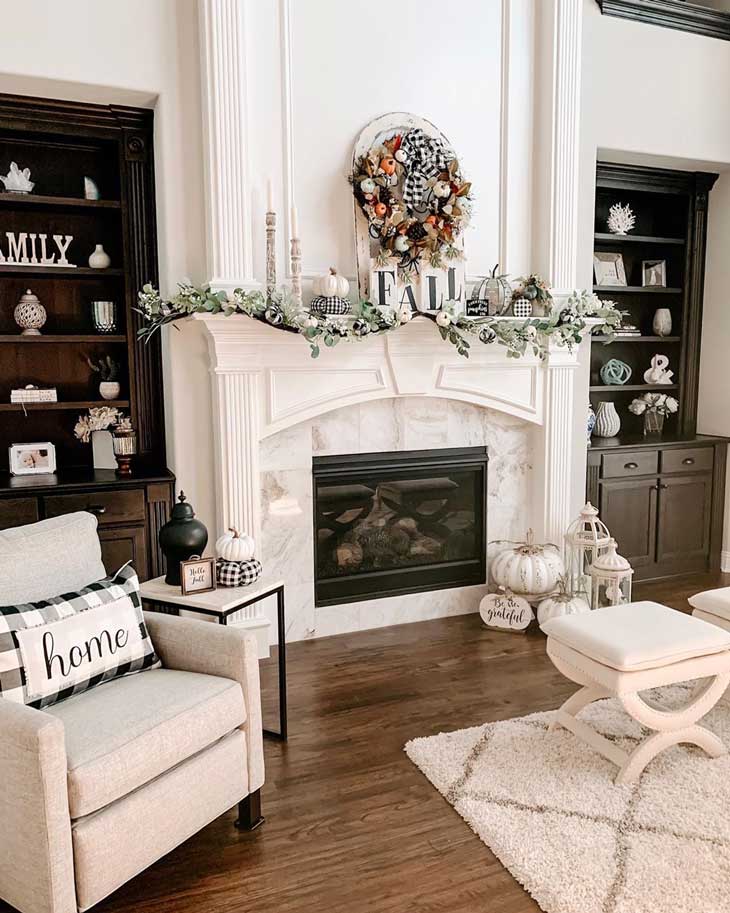 Shop related products(#ad):
wreath // buffalo check pumpkins // garland // arch frame // pumpkin cutouts // rug
Last update on 2023-09-03 / Affiliate links / Images from Amazon Product Advertising API
This delightful farmhouse decor wreath enhances a sedate white room, mantelpiece and surrounds with casual cottage style. The wreath's tiny pumpkins, dried flowers, and foliage lend a sense of relaxed, simple charm. Tied with a large black and white checkered bow, this display of fall wreath decor brings autumn's stunning colors indoors. Mounted on a distressed white arched frame, the wreath sits above signage reading "Fall" in unevenly placed letters.
A light covering of decorative foliage adorned with tiny white pumpkins lightly blankets the mantel, encouraging even more innovative mantel decor ideas. Antiqued white candlesticks with white candles and other items of cottage decor complete this pleasing farmhouse fireplace mantel display. Replacing the antique candlesticks with rustic decor pewter style could be attractive. Using a tobacco leaf basketry wreath adorned with chestnuts and autumn foliage could also please. You can decorate with wreath enhancements whenever you want an update.
3. Chic French Country Fireplace with Rustic Autumn Allure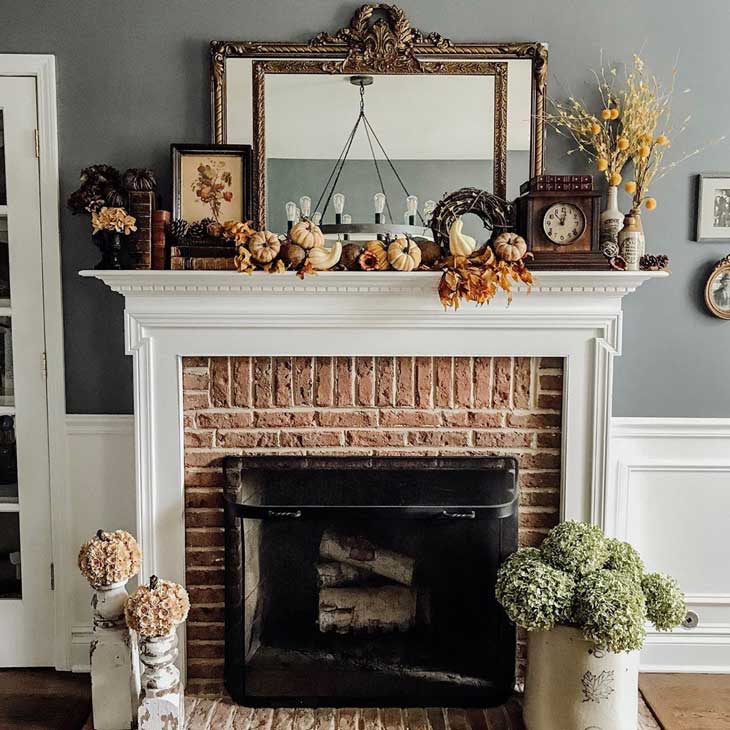 Shop related product(#ad):
hydrangea // fall decor set // echinops
Last update on 2023-09-03 / Affiliate links / Images from Amazon Product Advertising API
This French country fireplace and mantel offer stylish autumn color and allure. The fireplace displays handsome brickwork framed by a sleek, elegant white mantel and borders. The farmhouse fireplace mantel exhibits a lavish fall decor exhibit abundant with dried autumn leaves, gourds, and a framed pressed flower design. An antique clock, dried floral arrangements, and a small woven vine wreath add seasonal charm. Decorate with wreath enhancements whenever you like.
Two rectangular mirrors framed in rustic decor gold frames complete the mantel display. The smaller mirror reflects the room's rustic metal ring and bulb pendant lighting design. Try introducing a shabby chic crystal-prism chandelier in place of the aged pendant lighting. In this way, you can accent this French country interior's autumn charm and allure.
4. Pumpkin Decor in Seasonal Autumn Hues for Early Fall Charm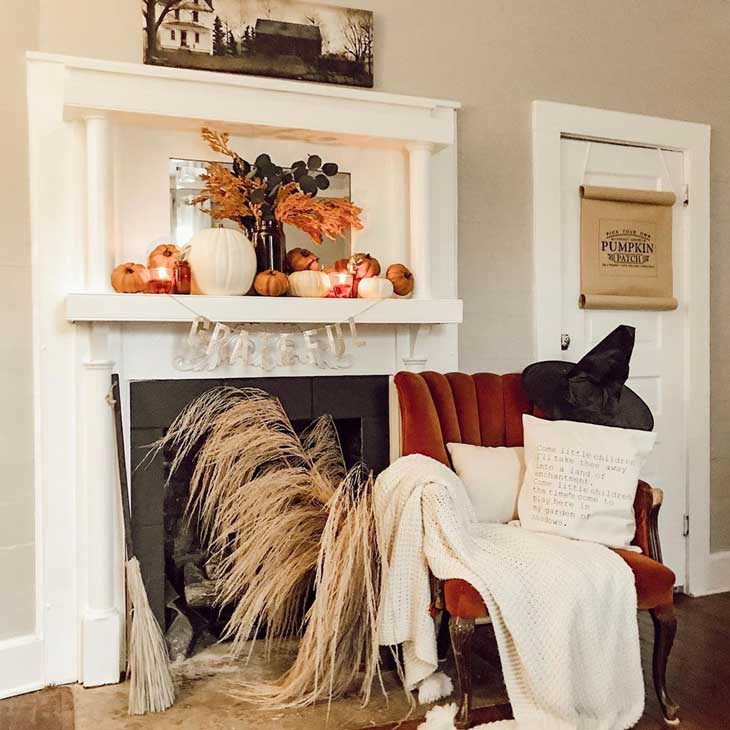 Shop related products(#ad):
reed grass // pumpkins // blanket // hat // broomstick
Last update on 2023-09-03 / Affiliate links / Images from Amazon Product Advertising API
As a delightful farmhouse fireplace mantel display, this vibrant fall pumpkin decor resembles an elegant still-life painting. Slightly recessed in this mantel design with a small mirror placed behind it, this stunning mantel decoration brightens the room. Its vivid colors of pumpkin-orange, soft cream and deep brown announce the season with a sophisticated country style.
This display is a glowing example of fall-inspired farmhouse fireplace mantel decor ideas and trends. Above this mantel-top display, a rustic decor image of a farm-style home and nearby barn add authentic appeal to the room. Near the fireplace, the straw hearth broom, decorative dried reed plumes, vintage chair, and witch's hat lend seasonal accents. Some harvest moon decor and vividly colored dried corn cobs could add more seasonal charm.
5. Vintage Shiplap Fireplace with Farmhouse Sign and Fall Decor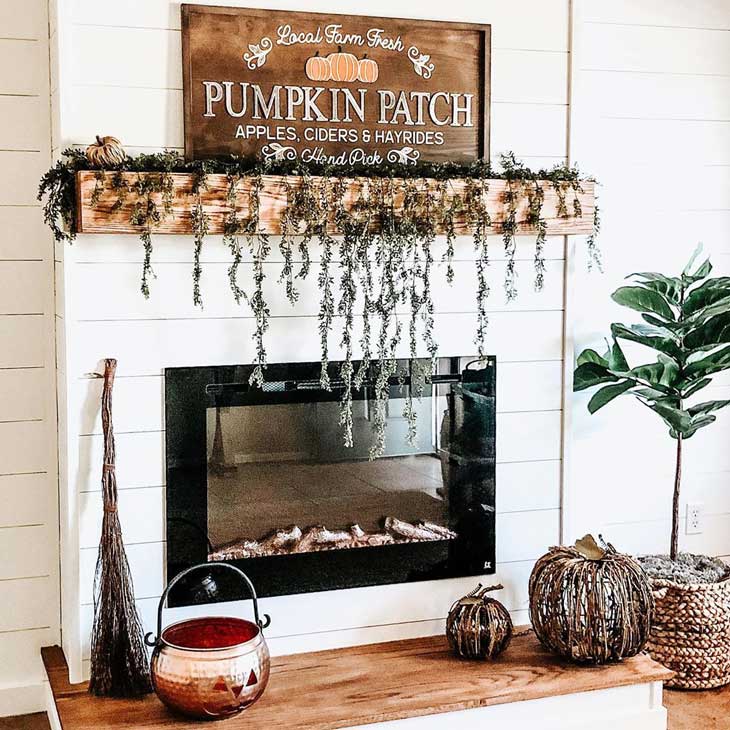 Shop related products(#ad):
electric fireplace // mantel // broom // greenery
Last update on 2023-09-03 / Affiliate links / Images from Amazon Product Advertising API
As an authentic rustic decor shiplap fireplace design, this appealing farmhouse decor mantel and surrounds offer a casual rustic decor style. The large "Pumpkin Patch" wooden signage above the farmhouse fireplace mantel attracts focused attention. Advertising "Local Farm Fresh Apples, Ciders & Hayrides," this sign suggests good times shared by all in a previous era.
The rough timber mantelpiece with hanging vine decorations reinforces the pleasing simplicity of this room's mantel decor. The mirrored closure covering a former fireplace below hints of a modern gas or electric fireplace beyond. The wooden step-shelf below with a vintage reed hearth broom, copper jack-o-lantern pot, and woven vine decor add intrigue. Try substituting a real pumpkin jack-o-lantern for even more authentic vintage autumn fashion.
6. Red Brick Fireplace with Candles, Leaves and Buffalo Check Decor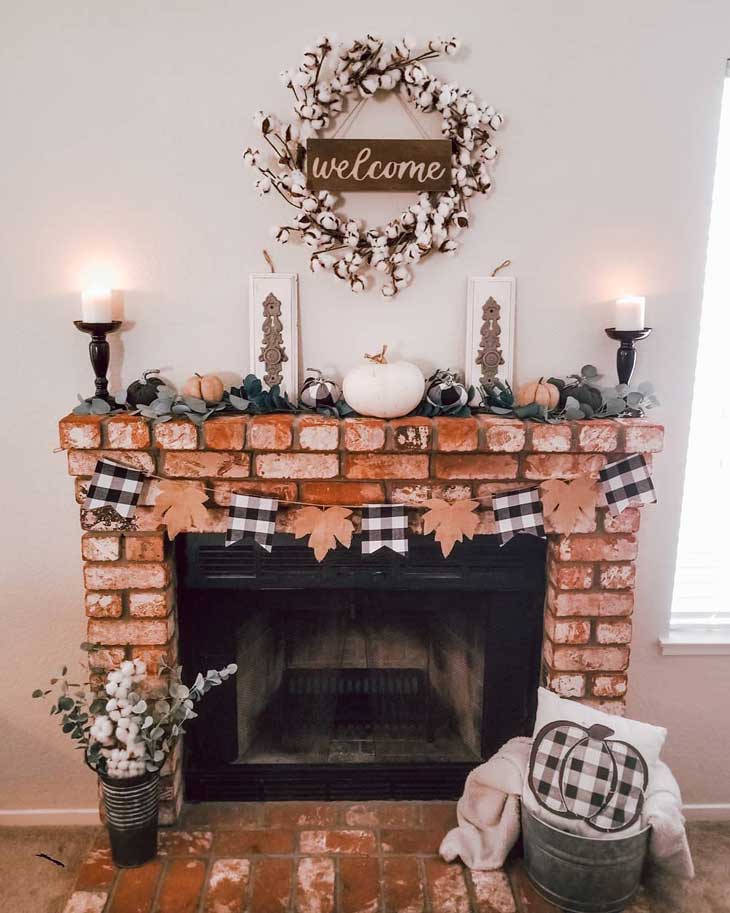 Shop related products(#ad):
buffalo pumpkins // candle holders // cotton stems // pumpkin pillow // cotton wreath
Last update on 2023-09-03 / Affiliate links / Images from Amazon Product Advertising API
A vintage red brick fireplace with creative autumn decor makes a warm, inviting gathering place on crisp fall days. The aged, repurposed brick is a dynamic background for the mantel's decorative candles, small gourds, and greenery. Centered above the mantel in a delightful free-form white floral wreath, the "Welcome" sign glows in soft candlelight. White flowers in the antique vase on the brick hearth below complement the wreath above.
The playful strand of black-and-white buffalo check swatches and pumpkin-colored leaves beneath the mantel adds farmhouse charm. This unique, casual decor is emphasized by the simple aluminum bucket displaying a white throw and decorative buffalo plaid pillow. You might substitute a tobacco basket display of small, colored gourds and a buffalo plaid blanket for the farmhouse decor bucket. This setting is the perfect venue for mantel decor inspiration.
7. Shabby Chic Mantel Display with Vintage Books and Items of Decor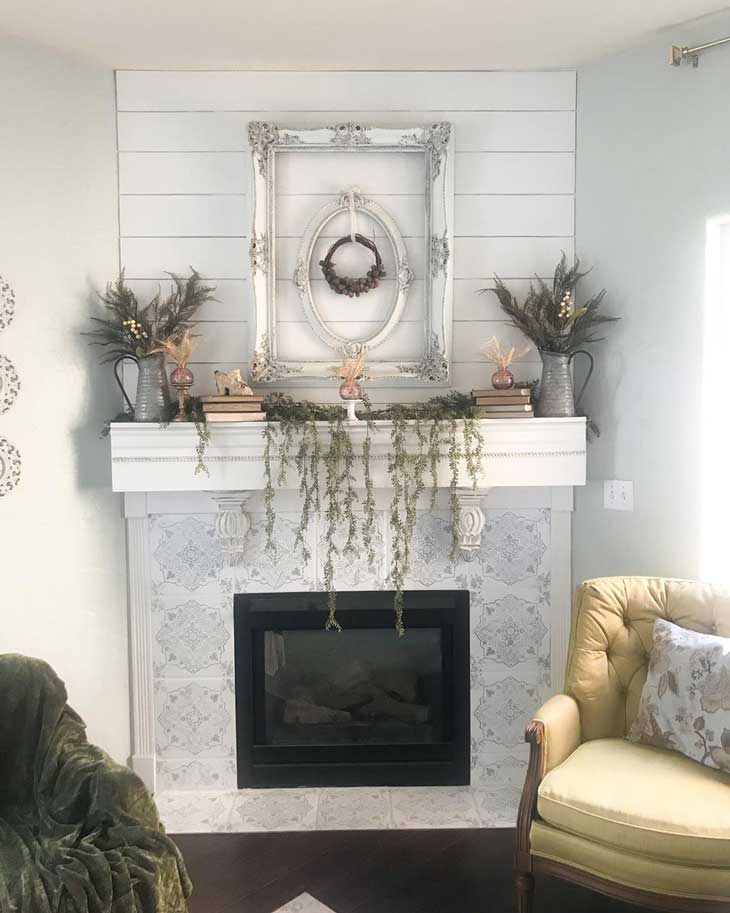 Shop related products(#ad):
pitcher // greenery
Last update on 2023-09-03 / Affiliate links / Images from Amazon Product Advertising API
As the focus of an appealing shabby chic interior, this sedate vintage mantel display features antique books and small accents. Small amber glass vases with sheer fabric decoration and tall pewter pitchers with greenery add vintage character. Placed on a small stack of books, the miniature replica of an elegant antique French shoe lends authentic style and intrigue. On the white wood paneling above the mantelpiece, a small ornate oval picture frame is bordered by a larger decorative rectangular frame.
Both frames have distressed white surfaces, accenting the vintage chic design of this interior. Inside the oval frame, a smaller dark basketry wreath is suspended as a pleasing hint of farm-style influence. The delicate green vines suspended from the mantel along with the vintage chairs beside the fireplace add antique chic decor. By introducing an antique forged-iron fireplace tool set and screen on the hearth, you can add more vintage-chic style and allure. You can also gain more ideas for mantel decor inspiration.
8. Vibrant Mantel Array with French Country and Cottage Style Elements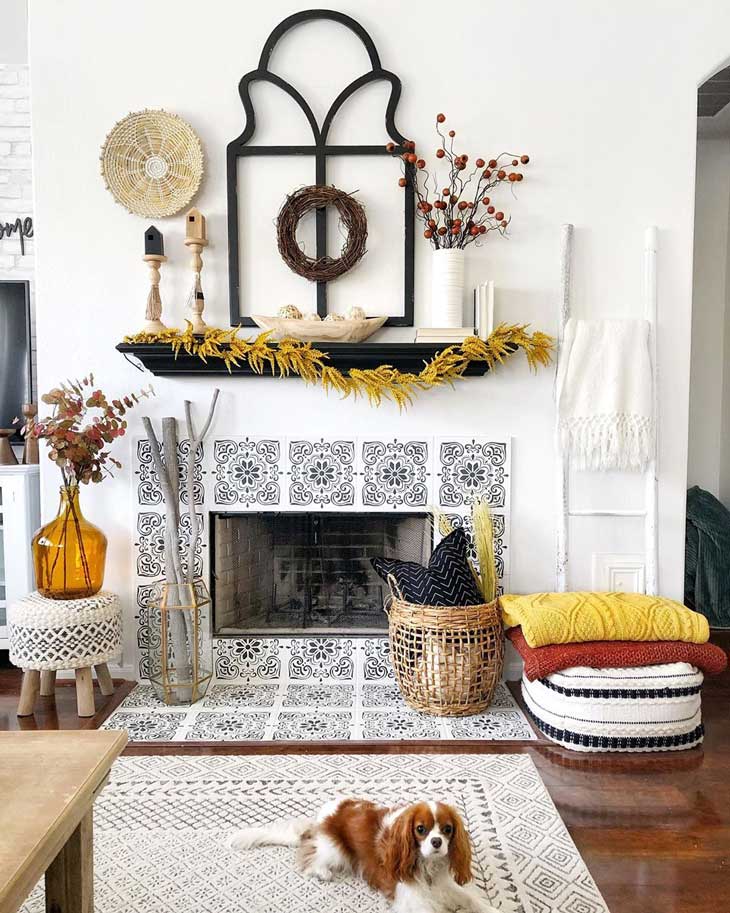 Shop related products(#ad):
mantel // candle holder // eucalyptus // wreath // yellow blanket // basket // white vase
Last update on 2023-09-03 / Affiliate links / Images from Amazon Product Advertising API
This pleasing exhibit of fall mantel decor offers a pair of tall handcrafted wood candlesticks and a central bowl with gourds. Further enhancements include books, a tall white cylindrical vase with dried red berries, and a vine of dried golden leaves. The light gold foliage is especially effective against the dark, elegant mantel. On the white wall above, a tall arched frame in dark wood complements the mantelpiece. Its central dark brown basketry wreath lends a pleasing cottage-style accent.
The elegant tiling of the fireplace below provides outstanding French country fashion for this attractive setting. The delicate black-and-white pattern of the tiles is enhanced by the decorative wooden stool. Across the hearth, the small white ottoman with black accents along with the gold and auburn knit throws adds refreshing autumn color. The charming amber vase with dried foliage, tall walking sticks as fireplace tools and woven basket lend additional farmhouse decor. You can replace the wooden tools with copper ones, if you like. Adding a small wood-crafted rocking chair in place of the ottoman can also lend greater farm style influence. It can provide a cozy napping spot for puppy as well.
9. Warm Mantel Colors for an Inspiring Fall Palette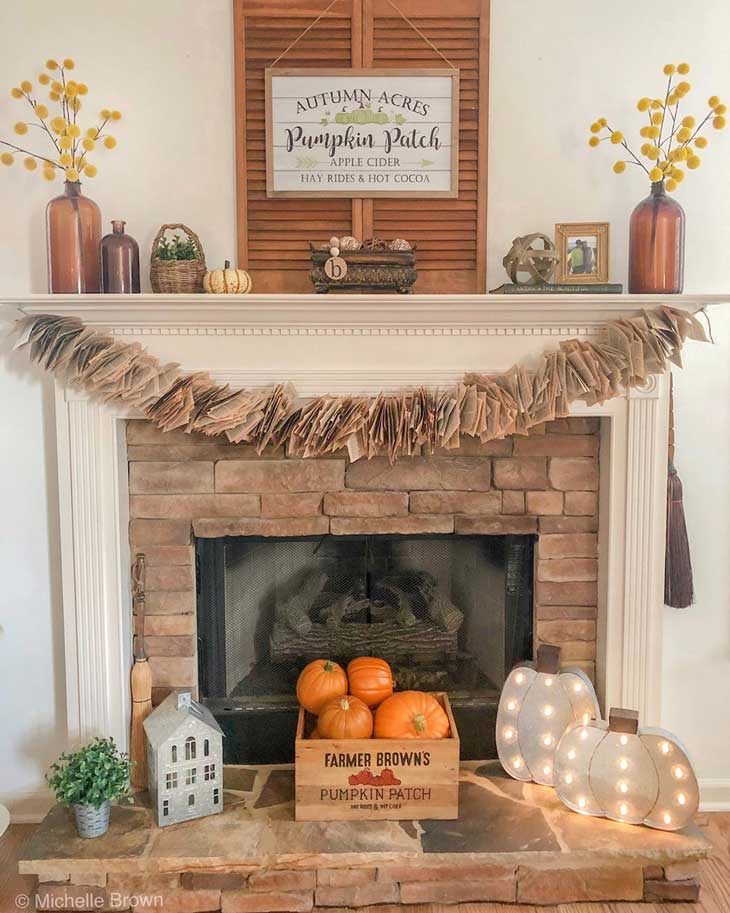 Shop related products(#ad):
echinops // bud vases // mantel
Last update on 2023-09-03 / Affiliate links / Images from Amazon Product Advertising API
Abundant with warm earth tones, this fireplace, and fall mantel decor offer the ultimate inspiring fall decor palette. From the warm red-brown tones of the wooden shutters above the mantel to the vintage amber bottle vases with dried flowers, favorite autumn hues are evident. Natural tones of the small woven basket, gourd, carved open-globe sculpture and small framed picture accent the fall decor theme. The small central vintage wooden bowl with miniature gourds is pleasing. Mounted on the shutters, the "Pumpkin Patch" sign advertising "Autumn Acres Apple Cider, Hay Rides & Hot Cocoa" lends definite farm-style charm.
The full strand of aging book pages or notes strung below the fall mantel decor is a unique attention-getting feature. It serves as a clever decoration for the aged brick fireplace with simplistic white surrounds. It can also encourage more mantel decor inspiration. The farm-style hearth broom and aged fireplace logs hint of warm, comfortable relaxation on chilly days and nights ahead. Centered on the hearth, the inviting display of bright orange pumpkins in a "Farmer Brown's Pumpkin Patch" crate add seasonal beauty. Enhanced by a miniature doll's house and a small vase of green foliage, an intriguing pair of white wooden pumpkin cutouts with a series of white lights brighten this unique and compelling autumn decor ensemble. You might add some bright red and yellow fall leaves to the crate of pumpkins for a few more strokes of autumn color.
10. Buffalo Check Decor for an Autumn Fireplace Mantelpiece Display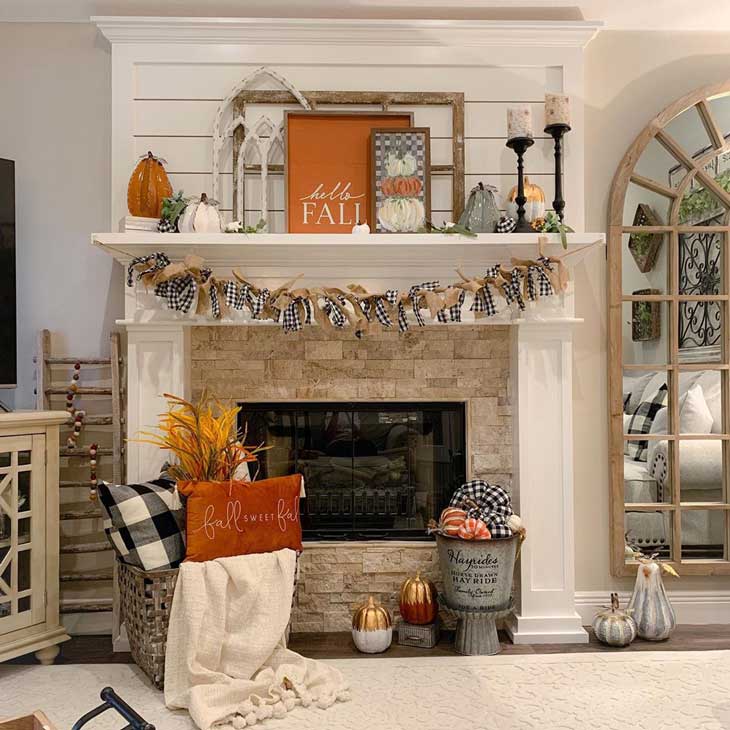 Shop related products(#ad):
fireplace // banner // candle holder // plaid pumpkins
Last update on 2023-09-03 / Affiliate links / Images from Amazon Product Advertising API
From the cheerful "hello Fall" sign above the fall farmhouse mantel decor to the matching pillow in the fireside basket on the hearth below, this interior celebrates the fall season. The vintage open frames and tall vintage candlesticks add a relaxing farm style. Surrounded by varied sizes, shapes, and colors of gourds, a charming 3D crafted design in pumpkin and white on a buffalo check background enhances this mantel decor. Touches of buffalo plaid accent the farmhouse mantel decor, and an eye-catching strand of buffalo check and sand-colored bows continues the autumn decor theme beneath the mantelpiece.
A beautiful natural sandstone fireplace with crisp white surrounds lends seasonal atmosphere and style. It can also lead to very beautiful mantel decor inspiration. In the hearth basket, a large buffalo plaid print pillow and a brilliant golden dried plant plume accentuate this highly appealing autumn theme. Further embellishments include gold-topped pumpkins and a vintage bucket of gourds with a buffalo check bow. Nearby, a large arched wall-mounted mirror in a small-pane natural frame lends strong French country fashion. You might try adding a small buffalo-plaid throw-rug in front of the hearth to continue the theme.
11. Neutral Fireplace Decor with Fall Seasonal Signage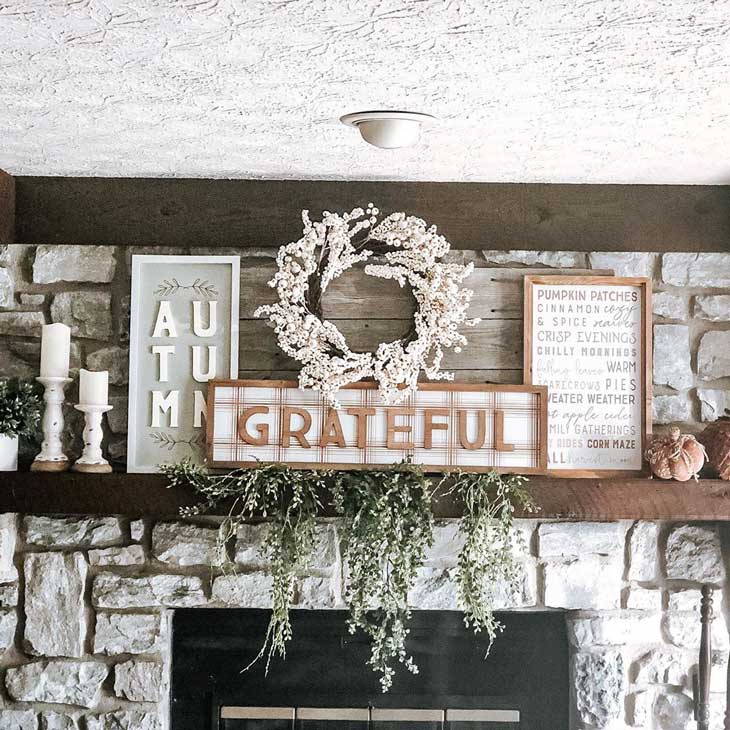 Shop related products(#ad):
mantel // greenery // candle holders // wreath
Last update on 2023-09-03 / Affiliate links / Images from Amazon Product Advertising API
As the ideal example of vintage fall farmhouse neutral decor, this rough-edged wooden plank mantel exhibits candles, small gourds, and draped, semi-dried green vines. A creative white floral wreath design mounted on an aged wooden background is centered above the farmhouse mantel decor. Against the rugged beauty of the wall stonework, three signs announce the season. While the central "Grateful" sign celebrates a major autumn sentiment, signage to the left reads simply, "Autumn." To the right, another sign lists Pumpkin Patch natural treats and beverages.
This inviting farm-style fireplace in neutral decor grays enhanced by varied natural wood hues has casual, relaxed farm decor appeal. The subtle nuances in color shades and tonalities of the unpolished stone offer unique charm. Even soft light catching the rough edges of stone creates gentle strokes of color-tinted brightness. The warmth of the wood hues from the farmhouse mantel decor and signage frames above contrasts pleasingly with the cooler tones of the stone. The vintage textured plaster ceiling reflects these nuanced variations of color softened by its own gentle white luster. Try adding a pair of small barn-style lanterns suspended near the mantel to accent this natural autumn decor.
12. Small-Scale Country Style Fall Mantel Decor with Large-Scale Appeal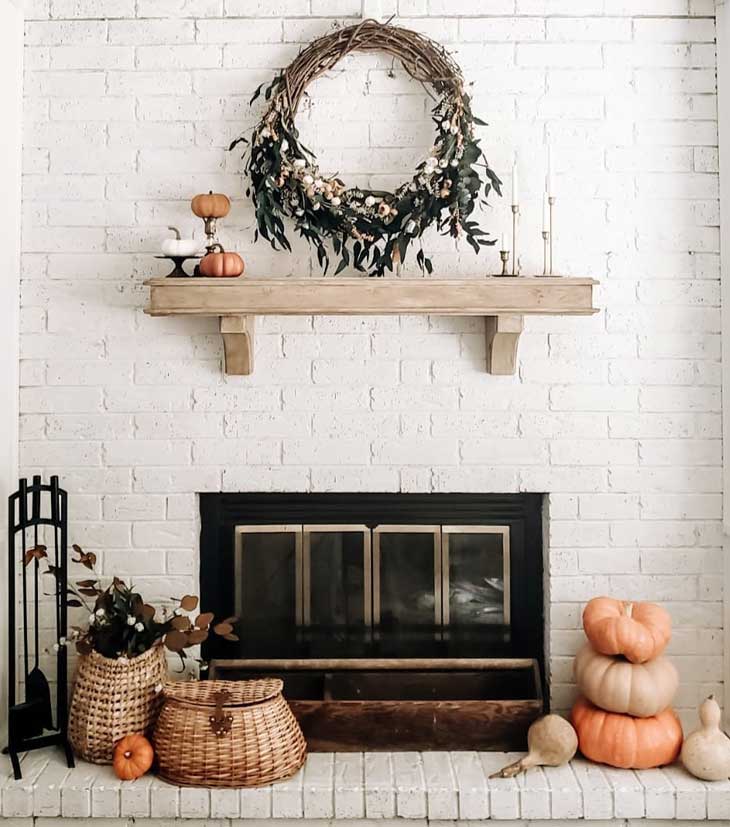 Shop related products(#ad):
Last update on 2023-09-03 / Affiliate links / Images from Amazon Product Advertising API
This warm, welcoming small-scale country-style farmhouse mantel decor has large-scale effective design and appeal. The smooth, natural light wood finish of the small fireplace mantel decor wall-shelf is enhanced by the miniature pumpkins and slender candlesticks. The tall white candles mirror the pristine crispness of the white brick wall background. The fireplace below, with a simply-designed, closed door-screen, and its antique wooden log-storage trough add refreshing country-cottage style. Antique items and curios can be important elements for mantel decor inspiration.
On the white brick fireplace hearth, the bright, cheerful arrangement of pumpkins and gourds, basketry, and small white flowers with drying foliage adds seasonal color. The handsome vintage forged-iron fireplace tools complete this charming, hearth-side setting. This highly appealing fall decor design is achieved by placing customary autumn-themed items and colors in front of a crisp white brick wall. As the fireplace surrounds, this pristine white wall hosts a unique country-casual setting. For additional stylistic emphasis, try placing a tall, slender forged-iron pedestal candelabra on the hearth opposite the iron fireplace tools.
13. Fall Flower Garland Mantelpiece Decor for Bright Color Pops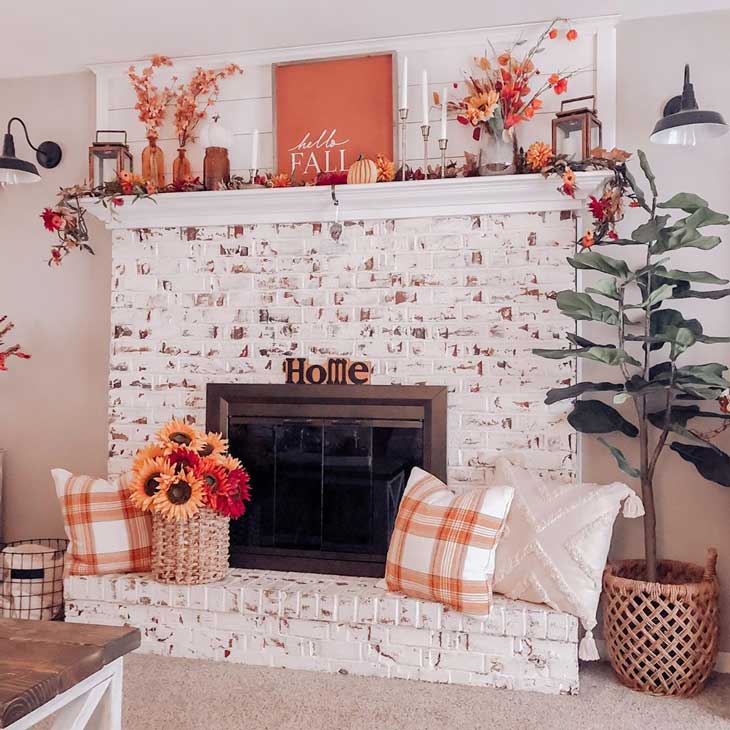 Shop related products(#ad):
mantel // maple garland // orange stems // bud vases // pillow
Last update on 2023-09-03 / Affiliate links / Images from Amazon Product Advertising API
Surfaced in attractive distressed white, this tall fireplace with its high mantel celebrates the autumn season with warm colors and a lovely flower garland. The inviting fireplace mantel decor display includes a pair of glass-sided lanterns with vintage brass framing, amber glass bottle-vases and a clear glass vase. Each vase displays a dried floral arrangement in bright autumn pumpkin and coral-red hues. Tall silver candlesticks with slim white candles add classic style. A stunning garland of flowers in brilliant fall colors and tonalities serves as an elegant natural fireplace mantel decor treatment.
The welcoming "Home" sign just above the fireplace adds a sense of warmth to the room. On the hearth, a radiant basket of sunflowers with golden and rose-red petals continues the lovely fireplace mantel decor garland effect with vibrant color pops. A classic tasseled white pillow and a pair of auburn and white plaid pillows accentuate the beauty of the fall garland theme. The tall potted plant in a basket and the pair of simple dark brown sconce lights on either side of the fireplace mantel decor restate the overall engaging farm decor style. To enhance this stunning seasonal decor, you might loop another garland display just below the mantelpiece. Be innovative when devising new mantel decor ideas.
14. Candle Decor with Captivating Autumn Color Display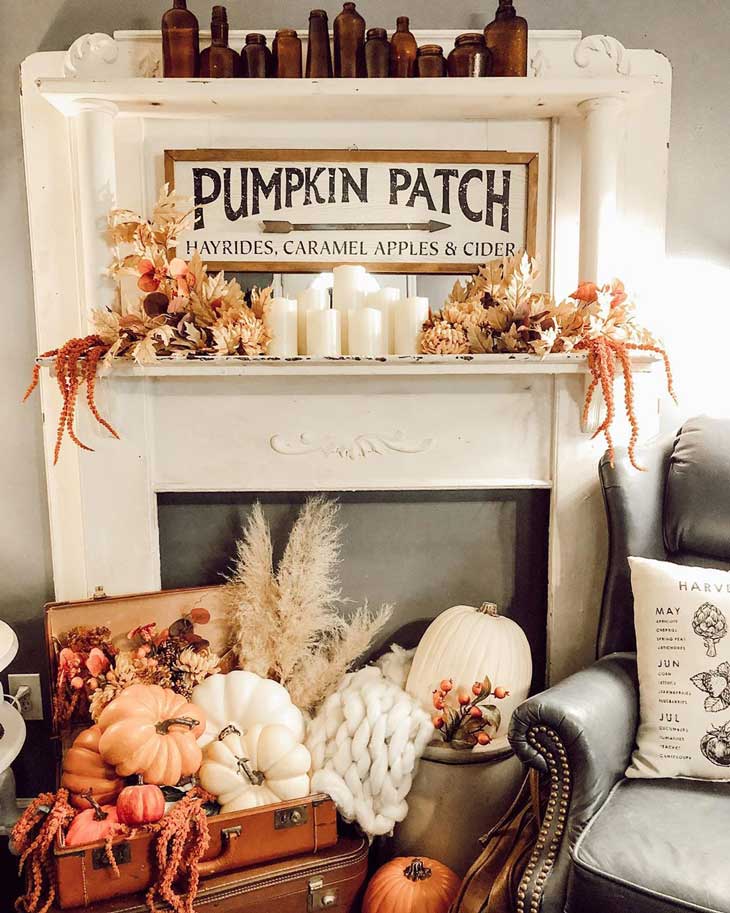 Shop related products(#ad):
apothecary bottles // vintage suitcase // candles // maple leaf stems // blanket
Last update on 2023-09-03 / Affiliate links / Images from Amazon Product Advertising API
This fascinating and unusual mantelpiece candle decor enhanced by a glorious array of vivid warm colors and autumn-themed accents is delightful. Multiple white candles are centered together in the rustic mantel decor. Surrounded by a beautiful display of autumn leaves in varied seasonal hues and shades, these candles repeat the effects of the soft white fireplace and mantel surrounds. Just above, the "Pumpkin Patch" sign announcing "Hayrides, Caramel Apples & Cider" offers the perfect autumn invitation. This unique rustic mantel decor has an upper shelf, which exhibits a series of vintage amber glass bottles.
On the hearth in front of the fireplace, a treasure-chest of gourds in deep orange, pumpkin and white tones fill an open briefcase along with brightly-hued dried flowers, reed-plumes and tassels. A large light-orange pumpkin rests on the floor, and a large white pumpkin and pumpkin-colored berries decorate a stoneware urn. A neutral pillow in the adjoining parlor chair celebrates the harvest season with prints that demonstrate a growing pumpkin's months of development. If you like, try substituting a large cast-iron kettle for the urn and add several vintage hearth brooms or tools. Creative mantel decor ideas can apply to all areas of your fireplace setting.
15. Cozy Corner Fireplace and Mantelpiece Decor with Rustic Charm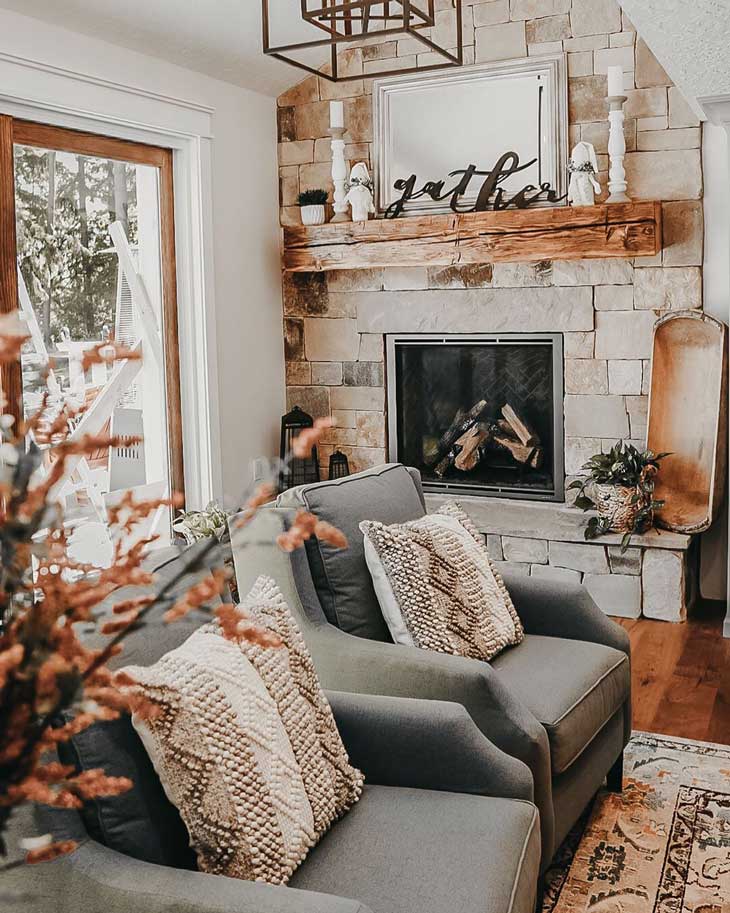 Shop related products(#ad):
mantel // candle holder // "gather" sign
Last update on 2023-09-03 / Affiliate links / Images from Amazon Product Advertising API
As part of a comfy corner retreat, this inviting country-cottage mantelpiece decor offers simple vintage charm. The rough, richly grained wooden rustic mantel decor is adorned with a pair of elegant vintage chic style white candlesticks with white candles. Small white pottery pieces and stand-alone scripted lettering displaying the word "gather" take center stage in the rustic mantel decor. On the wall behind it, an all-white framed surface gives the impression that the signage virtually "hopped off the page" to invite and engage viewers.
The roughly structured yet sturdy stone fireplace and surrounds, vintage hand-carved oblong wooden bowl, and ceramic flower pot on the hearth reinforce this farm-style setting. A tall arrangement of dried auburn-tone flowers across the room accents the autumn decor theme. Wide wooden floor planking and the square fireplace filled with logs celebrate the beginning days of fall. While the rustic overhead pendant light offers farm-decor allure, the two upholstered easy chairs with decorative cushions and the worn antique rug lend suggestions of antique chic design. You can try replacing the two chairs with a comfortable two-seat sofa in soft gold or neutral shades to further enhance this cozy, comfy corner fireside setting.
16. Tobacco Basket Decor for an Appealing Autumn Mantel Arrangement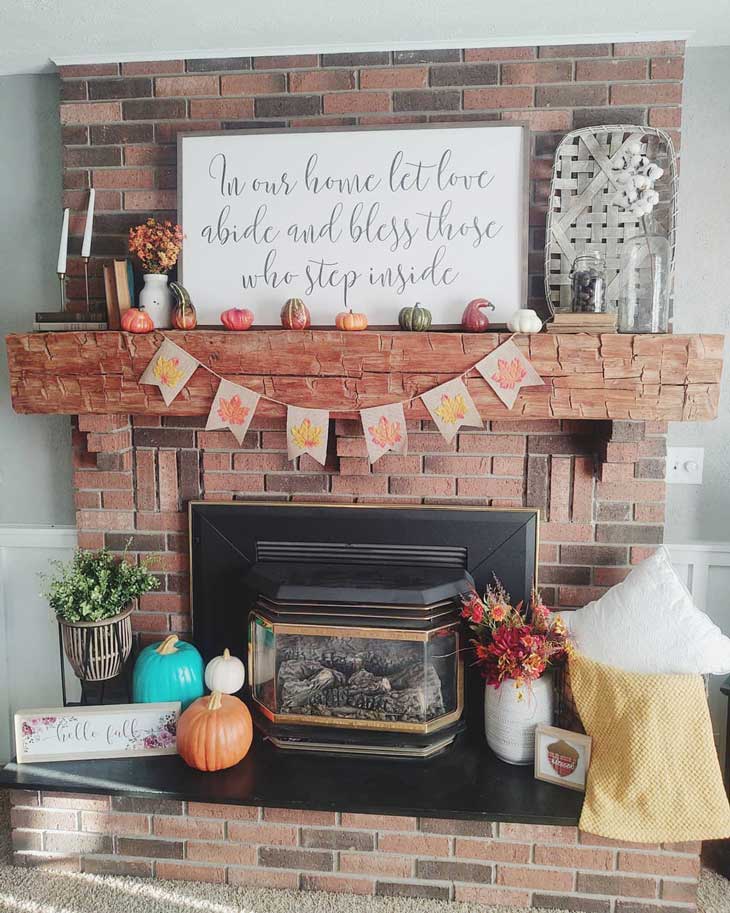 Shop related products(#ad):
mantel // banner // tobacco basket
Last update on 2023-09-03 / Affiliate links / Images from Amazon Product Advertising API
This attractive fall rustic mantel decor arrangement is highlighted by a charming tobacco basket with small, colorful gourds, glass jars and candles. A pair of books are propped neatly between the brass candlesticks and a small vase of dried flowers in shades of pumpkin and amber. Resting on the mantel is a large rectangular sign with the message, "In our home let love abide and bless those who step inside." This rustic mantel decor mantelpiece is formed from a thick, rugged slab of beautiful roughly-cut maple wood.
The handsome fireplace and surrounds are smoothly structured of multi-colored brick. The stylish inset fireplace with clear glass cover is well-stocked with small logs, ready for the first chill of the season. The colorful string of flags just beneath the mantel, with each flag displaying an autumn leaf, adds the perfect decorative touch. On the hearth, the arrangement of a small urn of green foliage, a white vase with bright autumn flowers, a white pillow and a light yellow textured throw is pleasing. The three pumpkins in white, orange and (surprisingly) turquoise add more color and spice. Try replacing the glass jars and candlesticks on the mantel with two small wrought-iron or brass lantern lights, if you like.
17. Fall Mantelpiece Greenery with Handcrafted Candlesticks and a Colorful Wreath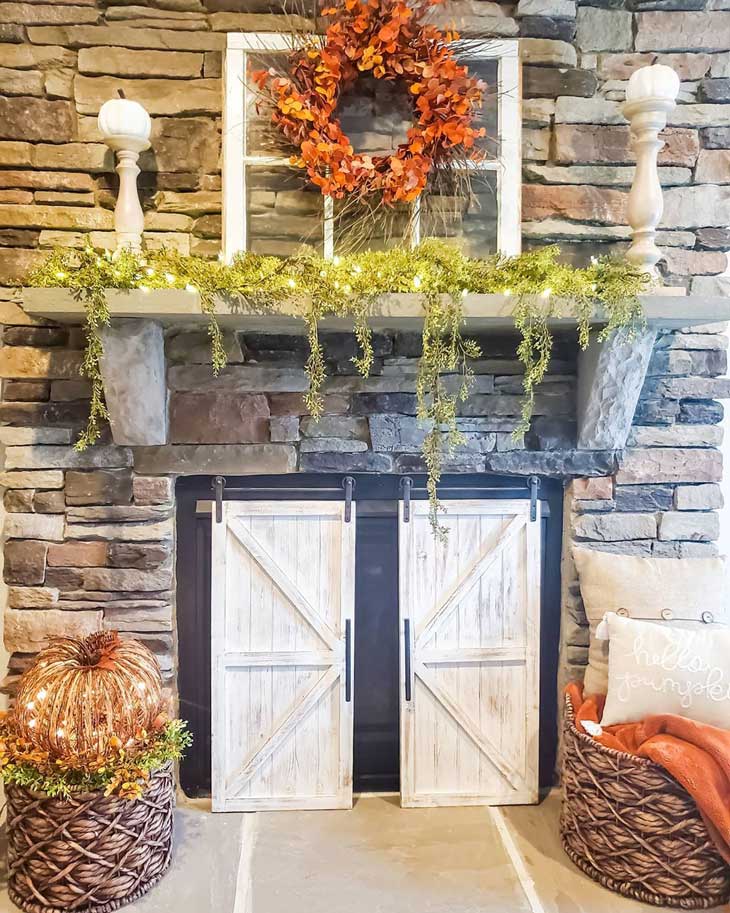 Shop related products(#ad):
wreath // greenery // pumpkin
Last update on 2023-09-03 / Affiliate links / Images from Amazon Product Advertising API
This intriguing mantel made of a simple stone stab with rough stone supports is part of a fireplace and surrounds constructed mainly of vintage stacked stones. The mantel is adorned with a simple display of draped and hanging green plant-life with a pair of tall handcrafted candlesticks at the ends. Resting on the top of each candlestick is a small white pumpkin announcing the fall season. A brilliant red-orange dried floral wreath is mounted in a white window-pane frame above the mantel as stunning autumn season decor. Innovative mantel decor ideas are plentiful for the fall season.
The large fireplace below is shielded by a pair of miniature vintage distressed-white barn doors placed over a forged-iron cover. A charming pair of woven baskets sit on either side of this unique fireplace design. In one basket is a large handmade pumpkin composed of rough natural fibers and twine. The second basket displays two fluffy pillows in neutral shades and a thick blanket in deep orange tones. Strands of the mantel green plant-life nearly reach the fireplace doors, celebrating the changing season. If you like, you can experiment with adding some darker-hued foliage to the mantelpiece green vine display. You might also add a vintage natural fiber mat or a richly textured deep-gold fabric rug in front of the fireplace. Beautiful mantel decor ideas will come to you quickly and easily when you think of creative fireplace design. 
Recommended reading: