If you are on the lookout for a farmhouse style kids room ideas, here you can find plenty of them for your next project. A farmhouse style kids room decor allows plenty of opportunity to include all of your youngster's favorite colors. Farmhouse design mode makes use of many different color schemes, textures, fabrics and other materials. It can also include different types of furnishings and decor.
For kids of all ages, farmhouse fashion is versatile enough to please all of their room decor wishes and requests. From pink ruffled curtains, rocking chairs and hammocks to bunk beds and rustic treasure-chest trunks, farmhouse decor offers all. For decor in children's rooms in this design mode, all colors in the spectrum are suitable. Your kid's dream-room can easily become a reality when using farmhouse decor style.
As an Amazon Associate, I earn from qualifying purchases.
1. Green Kids Room with Pleasing White and Black Accents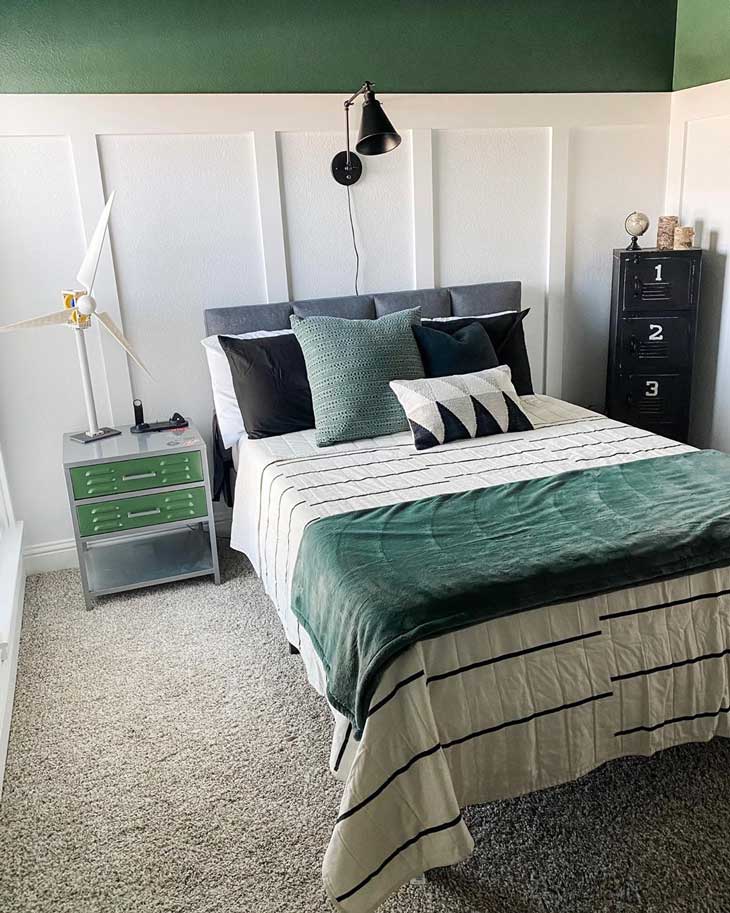 Shop related products(#ad):
Last update on 2023-09-03 / Affiliate links / Images from Amazon Product Advertising API
This attractive kid's room features forest-green upper walls and white wooden paneling for the lower walls. The aged barn-style paneling lends farmhouse charm and character. The green and grey-and-white striped bedding and cluster of pillows in green, black, white and grey add warmth. This green kids room is both restful and energizing due to its appealing color scheme.
A small bedside table in green and grey displays a delightful propeller-styled light. The vintage black metal file cabinet and wall-mounted black reading lamp suggest simple farmhouse decor style and functionality. At the same time, the textured light grey rug adds a sense of soft, casual comfort to this unique green kids room. For a slightly different look, you can try painting the upper walls buttercup-yellow and using yellow, brown and pumpkin bedding.
2. Nautical Theme Decor with Farmhouse Comfort for a Child's Room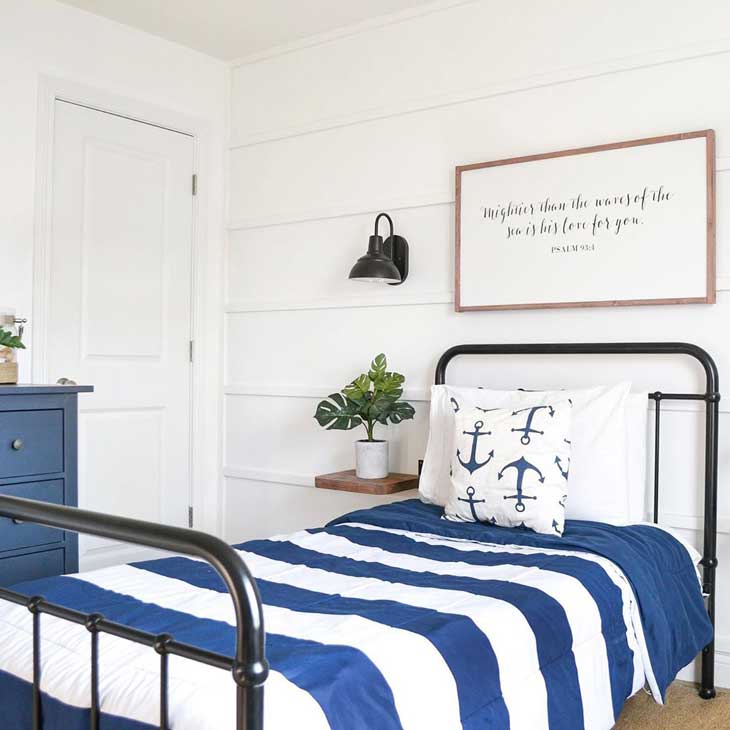 Shop related products(#ad):
Last update on 2023-09-03 / Affiliate links / Images from Amazon Product Advertising API
This room's bright blue and white striped bedspread suggests the traditional French sailor's shirt. In combination with the blue and white pillow with anchor designs, this nautical theme kids room has strong appeal. In a matching shade of blue, the chest adds more seaside atmosphere and charm, and the metal frame bed is vintage farmhouse. The barn-style wall paneling and pristine white wall paint also suggest the crispness of sailors' attire and ship sails.
On the small nightstand beside the bed in this kids room, the potted plant lends a natural touch. The black wall-mounted lamp and the framed quote above the bed add the essence of farmhouse simple, casual charm. The nautical script of the framed signage reads, "Mightier than the waves of the sea is his love for you." (from Psalm 93) You might also add a photo or painting of a sailor's cap or sailboat scene on the wall of this kids room design, if you like.
3. Blue Kids Room with High Garret Ceiling and Large Window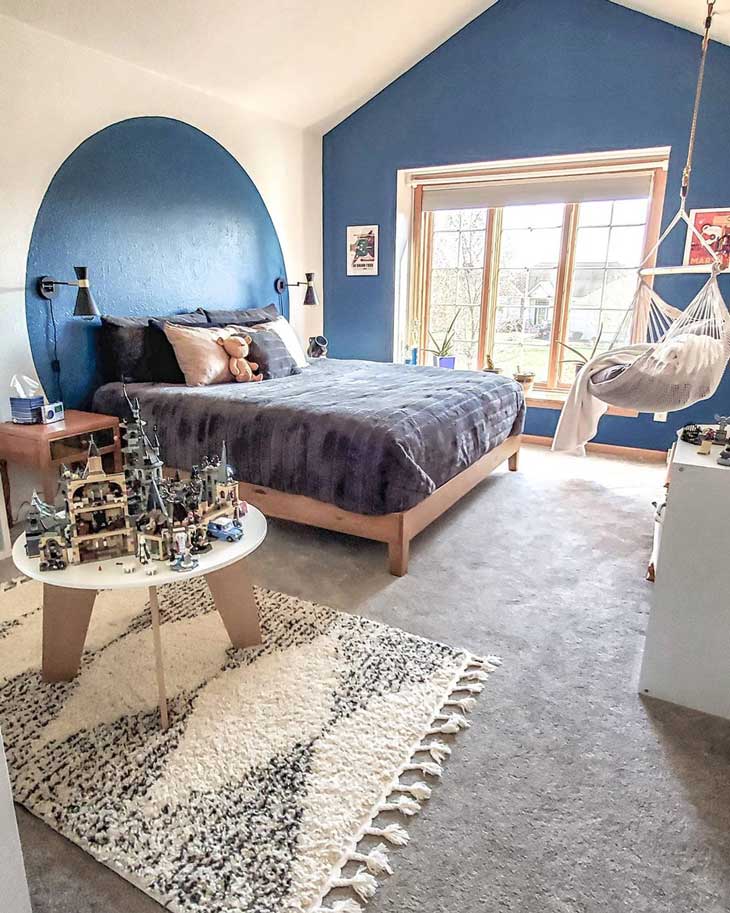 Shop related products(#ad):
Last update on 2023-09-03 / Affiliate links / Images from Amazon Product Advertising API
This inviting blue kids room design for youngsters displays a low wood-frame bed with a dusk-blue bedspread. The bed's large round deep sea-blue headboard matches the blue of one wall with a large, French-door style window. This multi-pane window has three major panels, brightening the room with natural light. The bed is decorated with pillows in dusk-blue and white and a small cuddly teddy bear. You may want to replace the bear with another stuffed animal or a character-face pillow. You may have other creative children's room ideas to try as well.
Two small reading lamps mounted on the headboard provide reading light while neutral rugs and small wall paintings brighten the kids room decor. Natural wood furnishings lend farmhouse decor style, and a collection of miniature castles, figures, vehicles and other toys cover one tabletop. A highlight of this delightful blue kids room is a white hammock with pillows and a throw suspended from the high ceiling. As extra storage for toys, you might add a pair of wooden farmhouse ladder shelves. Creative children's room ideas are always inspiring and fun to work with for designing a unique farmhouse style kids room.
4. Rustic Bedroom for Kids with a Cabin-Style Wall and Barn-Door Decor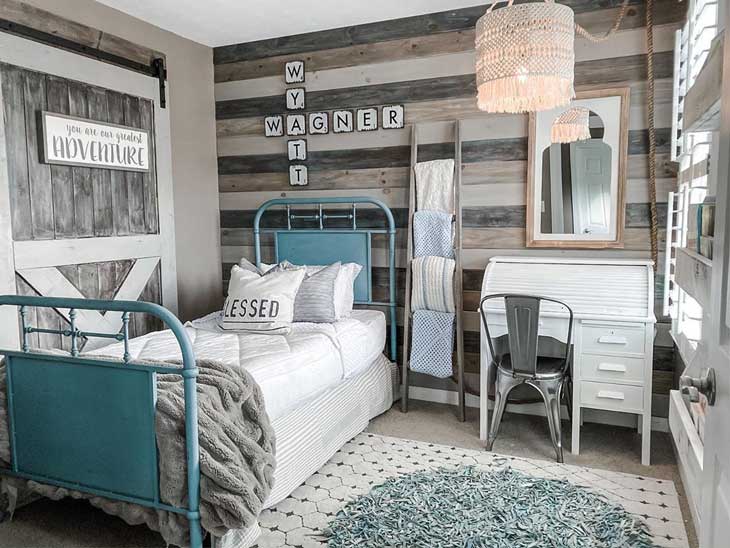 Shop related products(#ad):
Last update on 2023-09-03 / Affiliate links / Images from Amazon Product Advertising API
With its strong aging farmhouse decor, this kids' bedroom design will intrigue many children as an authentic farmhouse style kids room. If features a light-green vintage metal-frame bed and a fascinating log-cabin style wall behind the bed. Another wall beside the bed has an authentic looking barn-door inset, adding more countryside charm. More vintage style is provided by the antique writing desk with roll-down cover and the metal desk chair. A vintage wooden desk with shelves and bins could also work well.
Leaning against the cabin-style wall, the wooden ladder towel rack emphasizes this older kids room allure. The white bed quilt, thick grey coverlet and round light-green shag rug lend casual country-cottage ambiance. On the wall above the bed, separate squares with letters arranged in crossword-puzzle fashion display the child's name, "Wyatt Wagner." The barn-door inset exhibits a framed sign that reads, "You are our greatest Adventure." Of course, you will want to place your own child's name on the wall, and you may want to replace the barn-door sign with a favorite message of your own.
5. Space Inspired Kids Room Decor for a Fascinating Interior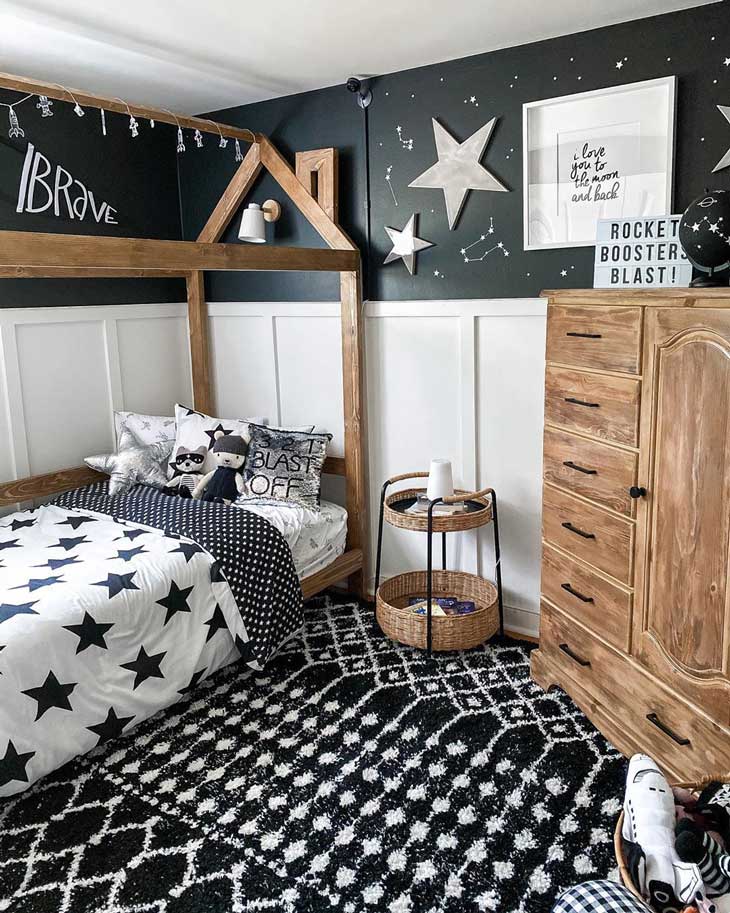 Shop related products(#ad):
Last update on 2023-09-03 / Affiliate links / Images from Amazon Product Advertising API
This intriguing space inspired kids room features black upper walls decorated with constellations, stars and planets of the night sky. In the midst of this sky scene is a framed sign reading, "I love you to the moon and back." Crisp white lower walling sets off the aging natural wood bed frame with its lofty high beam. A string of lights along this beam displays small space characters and accessories. The striking black and white star-patterned bedding is enhanced by the thick, nubby woven rug in bold black and white wool. This room decor is an ideal example of innovative children's room ideas.
The high antique natural-wood chest and metal-framed basketry bed-stand lend strong farmhouse style. Star-themed pillows and two dressed toy animals decorate the bed in thid kids room. On top of the chest, a small planetarium-style globe and a sign reading, "Rocket Boosters Blast!" add outer-space atmosphere. Across the room, a wall-posted banner displaying the word "Brave" adds encouragement before nightly blast-off time. You may want to replace the white reading lamp above the bed with a rocket-style light or star-shaped lamp. Of course, you may have other children's room ideas as well for an intriguing space inspired kids room interior.
6. Dreamy Teenage Room with Elegant Quilt-Style Bedding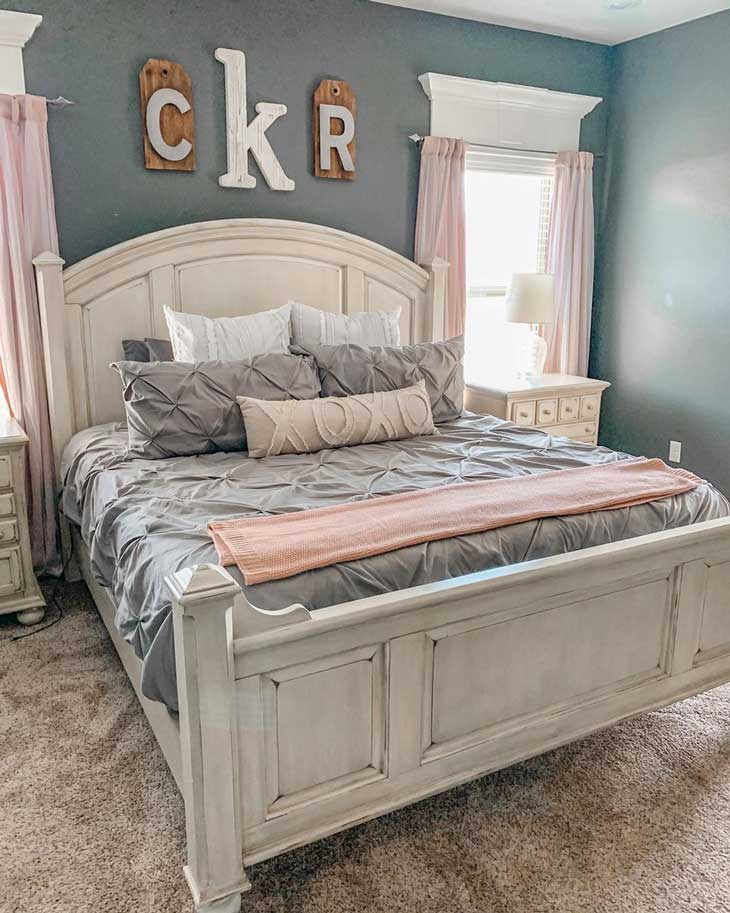 Shop related products(#ad):
Last update on 2023-09-03 / Affiliate links / Images from Amazon Product Advertising API
This dreamy room decorated in pink, grey, white and beige is perfect for a teen girl's haven. The large bed with elegant grey quilt-style bedding is accented by a soft pink coverlet. Matching grey pillows enhance the bed along with two white pillows and an oblong beige pillow with an "XOXO" appliqué. Medium-grey walls are the ideal backdrop for the antique white bed-frame and bedside tables. Thick beige carpeting, pink floor-length curtains and pristine white woodwork add chic style to this appealing vintage farmhouse bedroom.
Its casual elegance, lovely color scheme and soft ambiance make this kids room interior a true dream-room for teen girls of all ages. The antique style bed and ornate bedding suggest a pleasing mix of retro elements and updated shabby chic decor. Yet the three wall plaques above the bed reading "cKr" along with the "XOXO" pillow design lend a refreshing touch of modern fashion. You might exchange the wall-mounted initials for a vintage photo with a modern poem or quote and add a few darker pink bed pillows. Children's room ideas are such fun to experiment with.
7. Creative Boho Bedroom Decor for Young Teenage Girls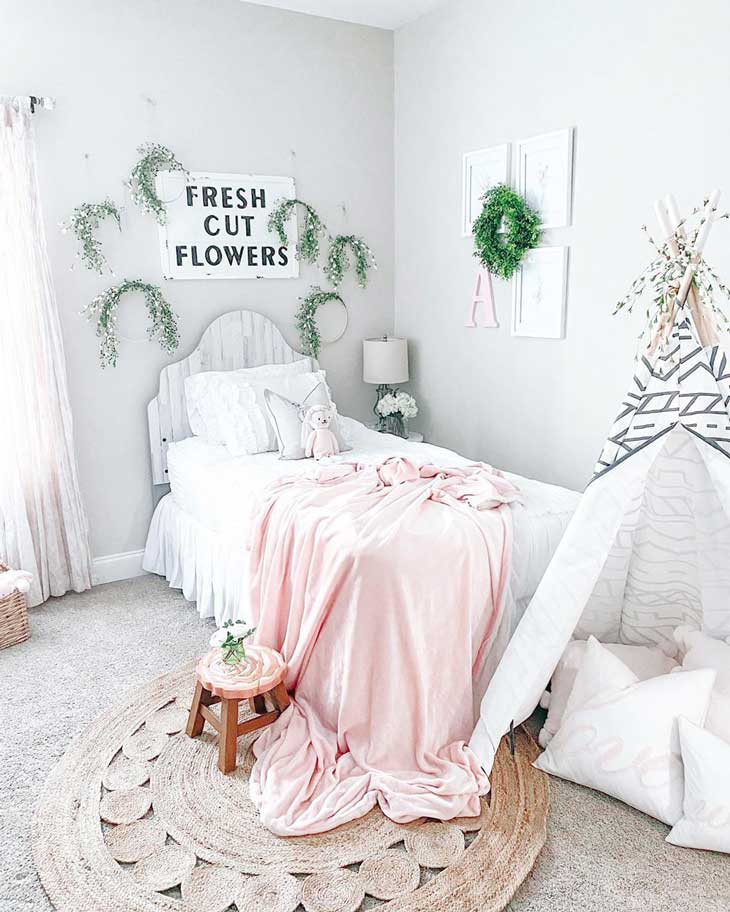 Shop related products(#ad):
Last update on 2023-09-03 / Affiliate links / Images from Amazon Product Advertising API
Designed just to please young teenage girls, this warm and welcoming Boho style bedroom offers cozy and stylish comfort. The single bed with its white ruffled bedspread and attractive pink coverlet is decorated with softly patterned white pillows and a small cloth doll. The antique decor distressed white headboard and overhead sign reading "Fresh Cut Flowers" accent the charm of the Bohemian simplicity of this farmhouse style kids room. Wall-mounted green vines with flower designs surround the sign. On the adjoining wall, a small green wreath, three white-framed prints and a large pink letter "A" add more Boho charm.
The small white round bedside corner table with vintage white-shaded lamp and flowers lends delicate appeal in this unique kids room. On the floor by the bed, a round miniature stool with more white flowers mirrors this simple, gentle theme for children. The neutral floor-length curtains and round decorative natural-fiber rug beside the bed offer farmhouse fashion. Nearby, a major focal point of the room is a charming tent of grey and white patterned fabric with a cluster of soft white pillows. You can try replacing the kids room bed and tent's white pillow-cover fabric with a pink, green and grey floral pattern for more natural color.
8. Rustic Farmhouse Child's Bedroom With Learning Corner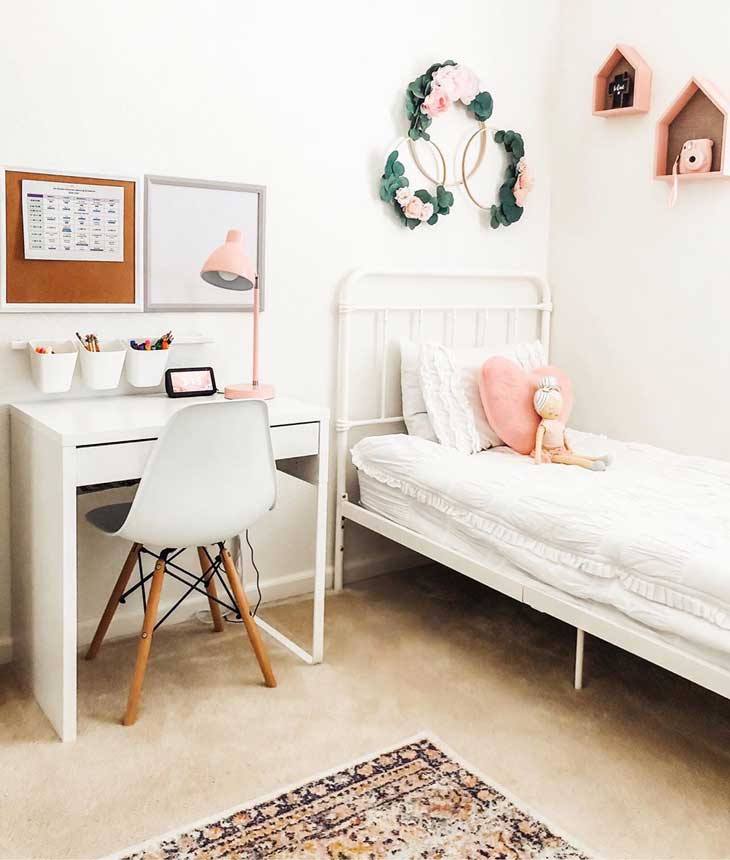 Shop related products(#ad):
Last update on 2023-09-03 / Affiliate links / Images from Amazon Product Advertising API
In this sweet country farmhouse rustic style kids room with learning corner, a simple metal frame bed with a white fringed coverlet displays country-cottage warmth. Two white ruffled pillows and a pink heart-shaped pillow along with a fabric doll decorate the bed. On one wall above this cozy corner bed are three simple wood hoops adorned with pink roses and leaves. The wall along one side of the bed displays two pink house-shaped shadow boxes with dark brown interiors. One box exhibits a small pink camera. Although these shadow boxes are charming, you can try replacing them with pink open shelving with dolls, books and framed photos.
Next to the bed in this rustic style kids room, the small, compact desk with learning corner is ideal for completing school lessons and creative projects. The small white desk and white molded chair with wooden legs offer a practical, comfortable study space. The row of wall-mounted white pen and pencil bins and two bulletin boards above complete the learning center setup. This simple farmhouse style kids room is highly appealing to early learners.
As the final touch in this rustic style kids room design, the simple pink desk lamp adds a sense of modern simplistic style to the decor. If you like, you can replace the metal bed with an antique wooden farmhouse trundle bed painted pink for extra sleeping or play space.
9. Versatile Black Bunk Bed Design for a Stylish Child's Bedroom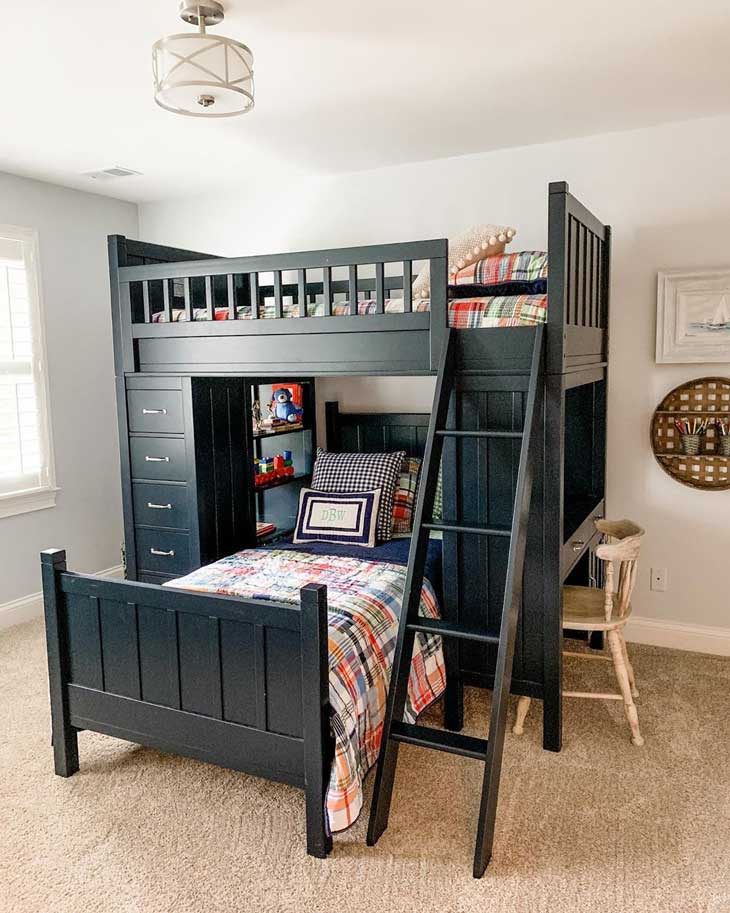 Shop related products(#ad):
Last update on 2023-09-03 / Affiliate links / Images from Amazon Product Advertising API
This innovative and practical black bunk bed design for children creates an effective, appealing design for a child's bedroom. Forming a T-shape, the top bed in this kids room is parallel with a wall, and the bottom bunk extends lengthwise into the room. This bed is especially well-suited to large bedrooms. It has a sturdy protective railing for the top bunk and a steady ladder for climbing up and down. Both the fence-style rustic decor upper level railing and the foot-board on the lower black bunk bed display farmhouse barn-wall styling. Opposite the ladder, on the other side of the bed, a vertical row of deep drawers provides excellent storage space.
Behind the drawers and beside the bed are built-in shelves displaying brightly colored toys, and behind the ladder are a built-in desk and a wooden chair. On the wall near the desk is a curious round basket-top style woven shelf and a sailboat scene in a distressed white frame. The bunk beds have matching patchwork bedspreads in colorful plaid fabric. Adding more decorative effects are a cluster of pillows in red, green and white plaid and black and white check. The first pillow features three initials, "DBW," on white fabric bordered by black frame designs.
You can replace the bedspreads with bright red, green or blue ones, if you like. You can also try swapping a pillow or two for a group of cheerful stuffed animals. Kids room design is challenging and such fun.
10. Bold Buffalo Check Kids Room Decor for a Cheerful Bedroom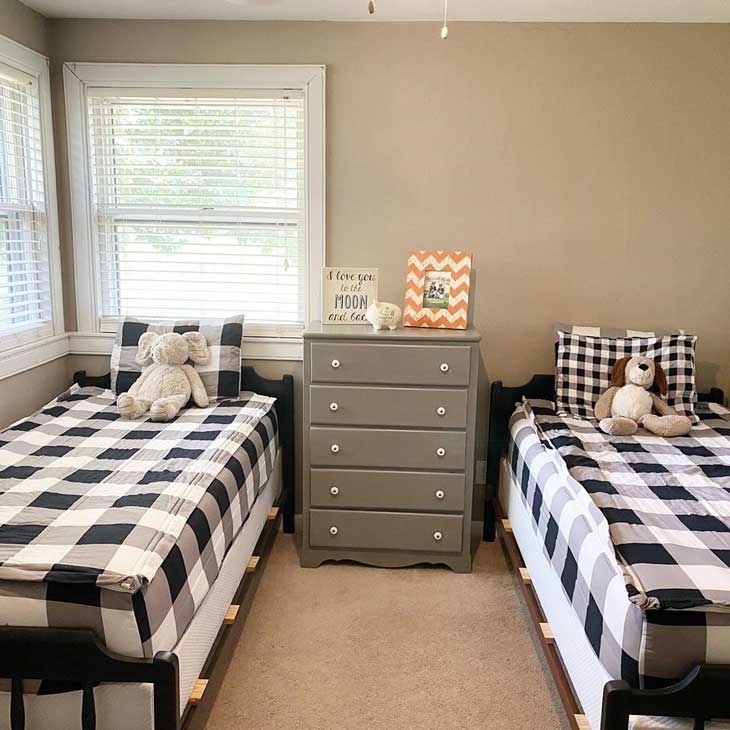 Shop related products(#ad):
Last update on 2023-09-03 / Affiliate links / Images from Amazon Product Advertising API
As an ideal example of basic, uncluttered farmhouse simplicity, this kid's room features twin beds with bold buffalo check kids room decor as bedspreads and pillows. The simple black wooden bed frames offer pleasing vintage style, and the soft, fuzzy animals—a stuffed dog and elephant—decorating each bed look cute and comfy. A grey-brown chest separates the two beds with their stunning black and white checked bed decor. On top of the chest are a round white piggy bank and a photo framed in amber and white. Across from the photo is a sign that reads, "I love you to the Moon and back."
With deep beige walls and a matching low-nap rug, this simple rustic decor creates a friendly, appealing kid's bedroom interior with buffalo check kids room decor. The two large windows meeting at a corner of the room admit pleasing outdoor light through white Venetian blinds. This offers a light modern touch to the overall vintage farmhouse room decor. You might experiment with substituting a slim black and red freestanding cupboard for the grey-brown chest. For a purely farmhouse element, you can also try replacing the stuffed dog and elephant with a cow and rooster. This is clever kids room design at its best.
11. Kid's Black and White with Shiplap Bedroom Decor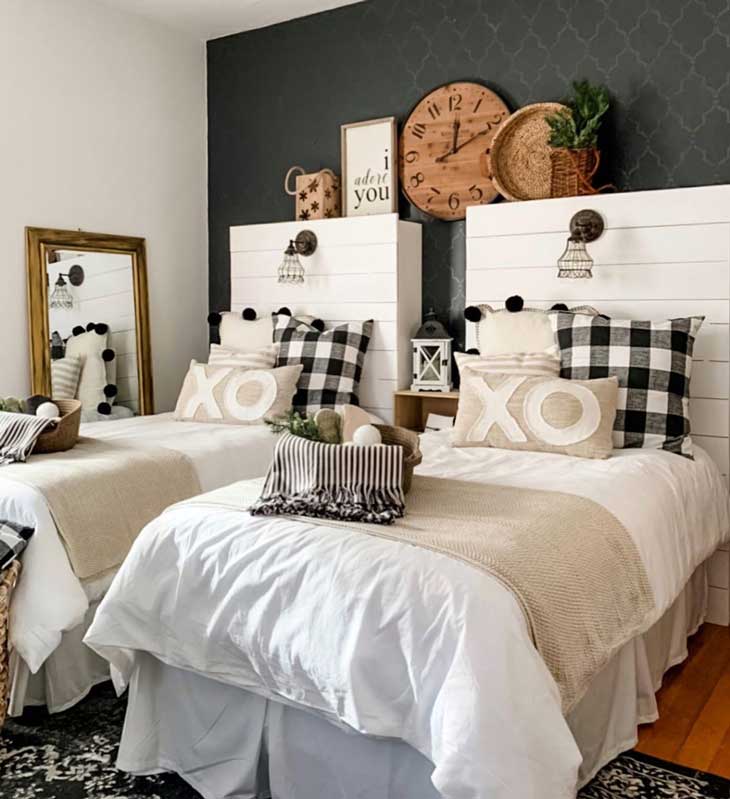 Shop related products(#ad):
Last update on 2023-09-03 / Affiliate links / Images from Amazon Product Advertising API
This cozy kid's bedroom interior features twin beds with high squared white shiplap headboards. Enhanced with soft white duvets, beige coverlets and assorted decorative pillows, each bed also displays a basket of knitting yarn. Each basket includes a folded deep brown and white throw. A large square black and white design buffalo check pillow and a white pillow with round black tassels decorate the head of each bed. Both beds also display a rectangular beige pillow with a large "XO" appliqué. Such accents enhance the overall atmosphere of this charming black and white with shiplap decor.
A pair of small vintage crystal lamps are mounted on the shiplap headboards behind each bed. These dated elegant lighting fixtures add a pleasing touch of shabby chic to the room. However, for a different style, you can replace these lamps with black farmhouse-barn mode lanterns with antiqued copper trim. The softly textured matte black wall behind the bed-boards serves as an effective background for this charming farmhouse style decor. The country-cottage decor round wooden wall clock accents the relaxing comfort offered by this inviting black and white with shiplap interior.
Resting on top of the bed headboards are a small beige shopping bag with stars, a basketry tray add simple accents. The woven basket with a green plant adds natural beauty, while a wood-framed rectangular sign reads simply, "i adore you." The black, grey and white patterned rug lends rich natural style. On a white wall across the room, the large mirror framed in antique gold reflects the stylish comfort and allure of the overall decor. If you change the shabby chic sconce lights, you may want to replace this elegant mirror frame with a wrought-iron or black wooden frame to enhance the stylish black and white design.
12. Attic Kids Room Garret with Simple Charm and Decor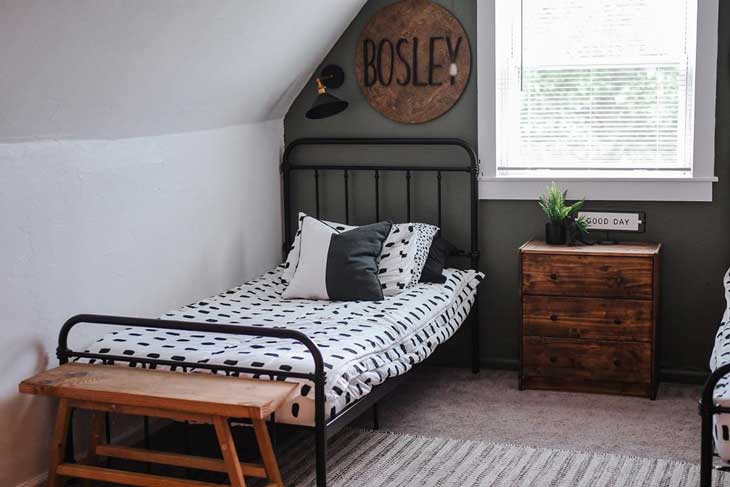 Shop related products(#ad):
Last update on 2023-09-03 / Affiliate links / Images from Amazon Product Advertising API
This rustic decor attic kids room garret design offers charm and a sense of mystery. It suggests to the viewer that it most likely has some fascinating stories to tell. The major appealing elements of this simply furnished room are its garret roof and small size. The two basic black metal bed frames and the small vintage grey and white striped rug on neutral floor tiling set the older tone of the room decor.
The worn natural wood bench at the foot of one bed and the vintage miniature chest add elements of dated farmhouse charm. This antique chest placed between the two beds exhibits a small framed sign reading, "Good Day." These words seem to be confirmed by soft daylight filtering through the white window blinds and outside foliage. The green plant on the chest top and the lighthearted black-and-white squares pattern of the bedspreads and pillows are pleasing. This style is accented by the square decorative pillows with half black and half white fabric covers.
The simple black sconce wall lights blend with and enhance the other attic kids room decor. Adding more vintage influence, the round retro "Bosley" plaque on the dark grey-green wall above one bed repeats the farmhouse theme. You can try replacing this plaque with a basketry-framed mirror or with older decor open wood shelving displaying stoneware pottery or candles in handcrafted holders.
13. Farmhouse Triple Bunk Bed with Buffalo Check Decor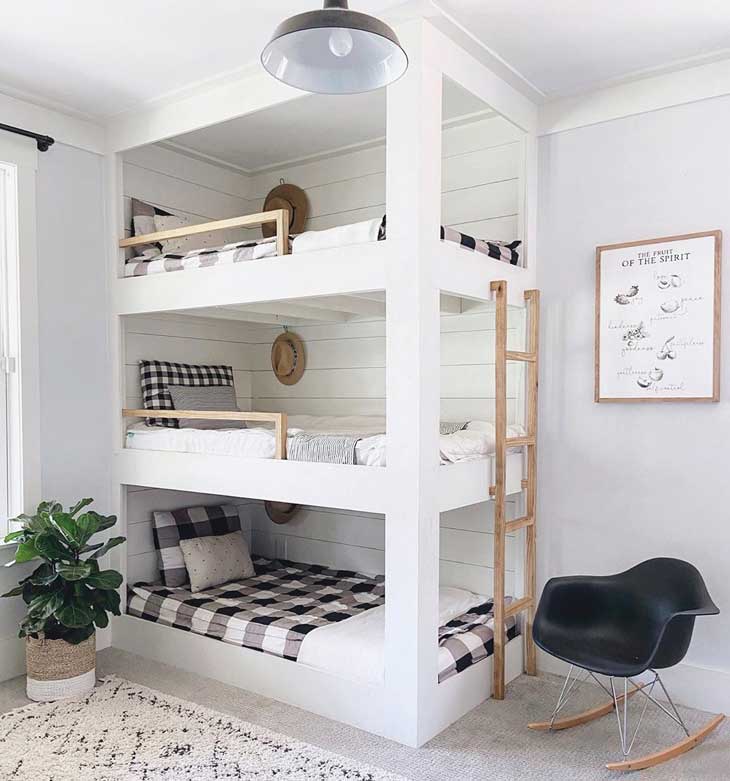 This bright, cheerful room with light grey walls and an all-white built-in floor-to-ceiling triple bunk bed design is delightful. The top and bottom bunks are decorated with black and white buffalo check bedspreads. The middle bunk has a white spread, and all three have combinations of buffalo check and grey and white throw pillows. Each bunk displays a farm-style straw hat as rustic decor hanging on the wall above the bedding. Try adding a small retro copper sconce lamp beside each hat for added country charm.

Each bunk has a slender natural wood protective railing that matches the wooden ladder at the end of this stylish unit of beds. Beside the triple bunk bed unit, a modern black plastic molded rocking chair with natural wood runners offers modern farmhouse style. The healthy green plant in a woven basket brings a touch of nature indoors as live decor. On the floor, a nubby weave woolen rug in soft white with flecks of black overlays light grey carpeting. On the wall above the rocker, a framed print in black and white entitled, "The Fruit of the Spirit," displays healthy farm-grown fruits and vegetables.
14. Black and White Kids Room Decor idea with Farmhouse Accents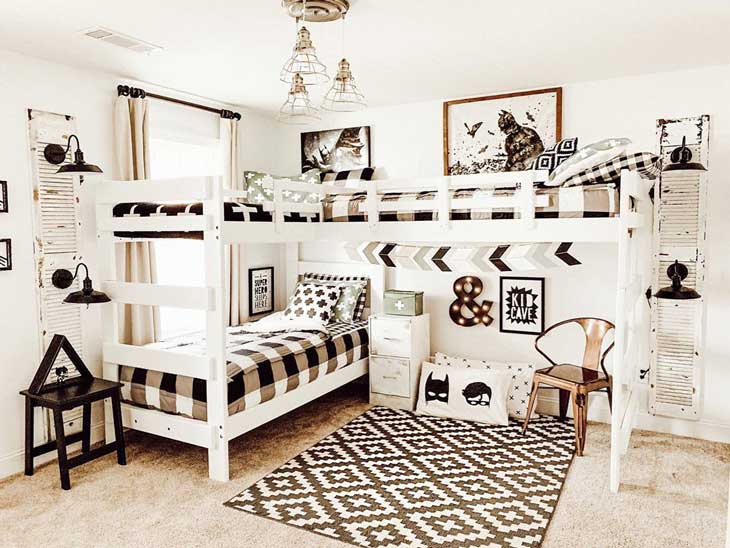 Shop related products(#ad):
Last update on 2023-09-03 / Affiliate links / Images from Amazon Product Advertising API
This innovative farmhouse bedroom for kids features a bunk-bed design with two bunks on the upper level. Meeting in a corner of the room, the bunks leave room for a third bunk below as well as extra floor space. In this space are a wood-crafted chair and a repurposed distressed white file cabinet used as a chest. Surrounding items of decor include a decorative white pillow displaying a black animal face mask and a face with eyeglasses. On the white wall are a large music treble clef and a framed "Kid Cave" sign, both in black and white.
On the chest is a vintage "Red Cross" style medical kit displaying the cross in white. The area rug overlaying the neutral carpeting below also displays a white cross pattern in a decorative black and white design. The walls above the upper bunks exhibit dynamic black and white paintings, and simple black sconce lights decorate wall-mounted rustic decor shutters in distressed white.
Taking center stage are the bunk beds with bold black and white buffalo check bedding and accessory pillows in black, grey and white. Three vintage wire-frame pendant light fixtures lend more farmhouse atmosphere and charm. If you like, you can try replacing these lights with antique barn-style lantern lighting in black with antique chrome or copper trim.