With these backyard fire pit ideas, you can enjoy your outdoor space anytime of the year, day or night.
Make your backyard a destination you can enjoy year-round by adding the right furniture, accessories, and lighting around your fire pit. The best backyard fire pit ideas should also consider the size of your space, the location of the flames, and how you want to use the fire pit, as a focal point or a gathering area.
Turn your garden, patio, or backyard into a beautiful extension of your home with a little imagination and these wonderful fire pit ideas. Whether you need a fire element to accent your backyard or you're thinking of adding one, get inspired by these brilliant fire pit ideas. They range from shapes and materials to aesthetics and furniture arrangements.
As an Amazon Associate I earn from qualifying purchases.
1. Faux stone fire pit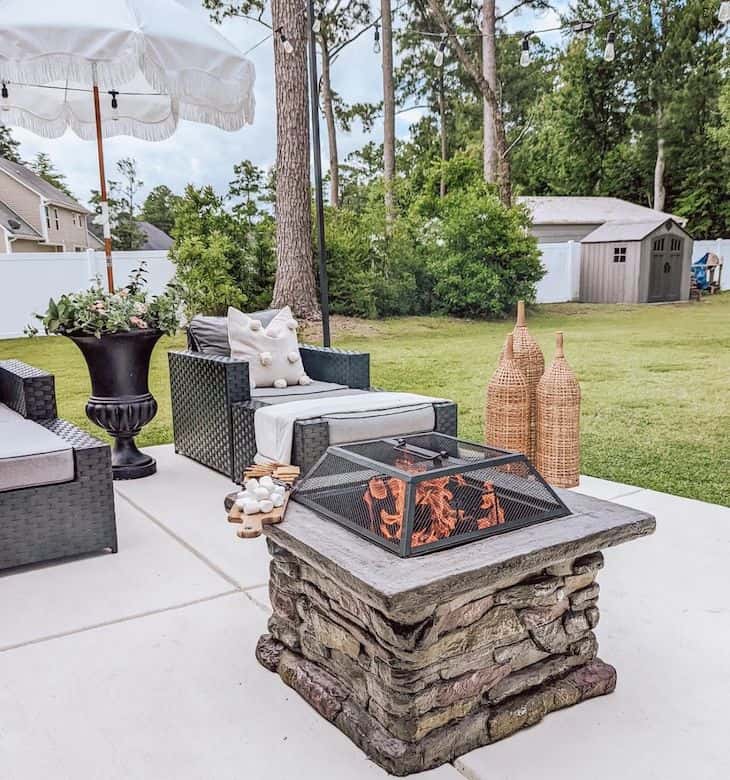 Shop related products(#ad):
fire pit // seagrass floor vase // patio set // planter

Adding warmth and comfort to cooler nights is made simple with this faux stone fire pit. The stone fire pit transforms your backyard into an outdoor living room and provides a safe way to recreate the experience of sitting around a campfire.
Made from strong materials, this fire pit allows you and your family to enjoy open flames in the comfort of your own backyard. As the sun sets, this is the perfect place for ghost stories, summer fun, or just to warm yourself up after a long day.
2. Round propane fire pit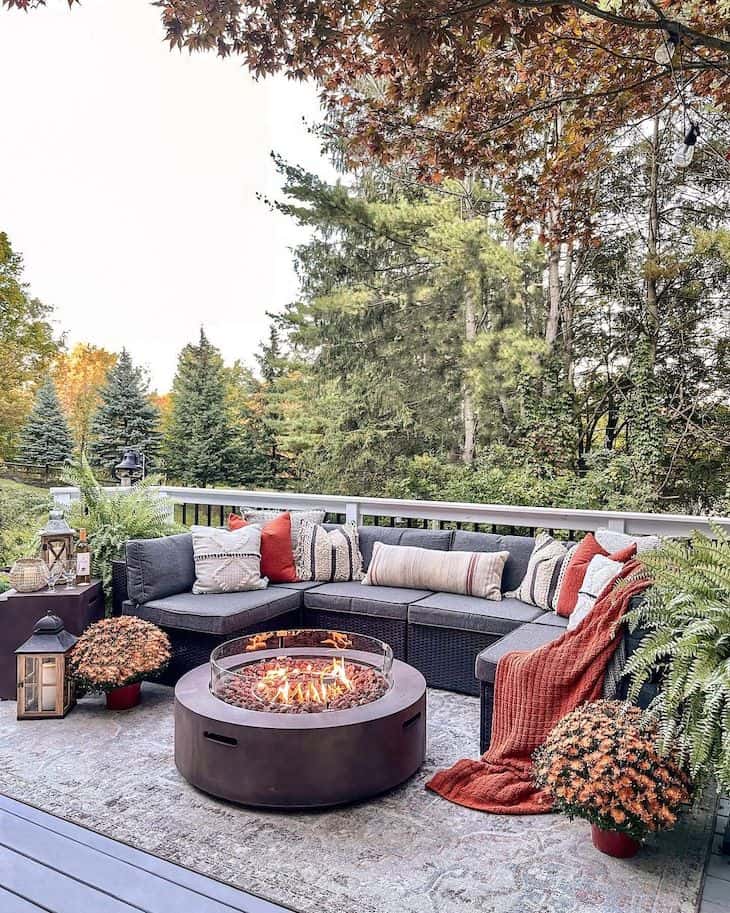 Shop related products(#ad):
fire pit // patio set
A round outdoor propane fire pit makes a great centerpiece for autumn and winter gatherings. With its simple, elegant shape and clean, neat color, the round outdoor fire pit matches any patio design. There is something so inviting about this elegant fire pit that invites you to gather around and share stories.
This fire pit features a large enough coffee table surface to set your drinks or coffee on. The patio sectional and fire pit set creates a perfect entertaining area on this outdoor patio and the perfect space to enjoy the beautiful fall weather.
3. Outdoor living room with fire pit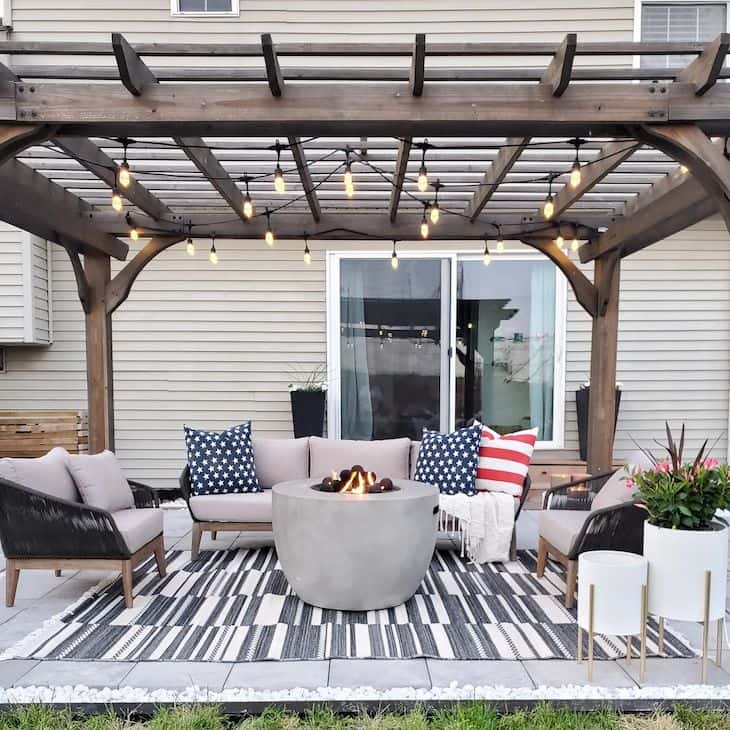 Shop related products(#ad):
fire pit // pergola // chairs // sofa // planters // star pillow // striped pillow
Upgrade your usual patio by covering the area with a pergola and furnish it like an outdoor room, with a fire pit at the center. Styled as an outdoor living room with a movable fire pit you can extend the use of your patio from day to night.
Featuring a smooth faux grey concrete base, this gorgeous fire pit seamlessly integrates into outdoor living spaces of all styles. With crackling flames and ambient heat, this fire pit creates a warm, cozy atmosphere, perfect for entertaining friends and family. An easy-to-use propane burner ignites flames among lava rocks, providing hours of fun.
4. Black fire pit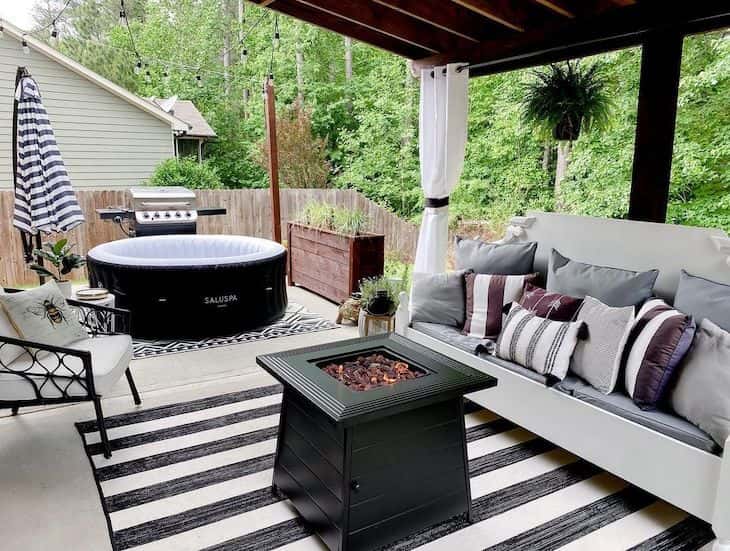 Shop related products(#ad):
fire pit // rug
This black fire pit with a sleek design will elevate your outdoor space to the next level. As well as complementing other outdoor furniture items, the black finish creates a cozy atmosphere. Featuring a table insert, you can easily transform your fire pit into a patio table for entertaining.
A couple of outdoor chairs and a love seat, along with a few outdoor pillows in patterns that stand out, will create the perfect fire pit furniture.
5. Round fire table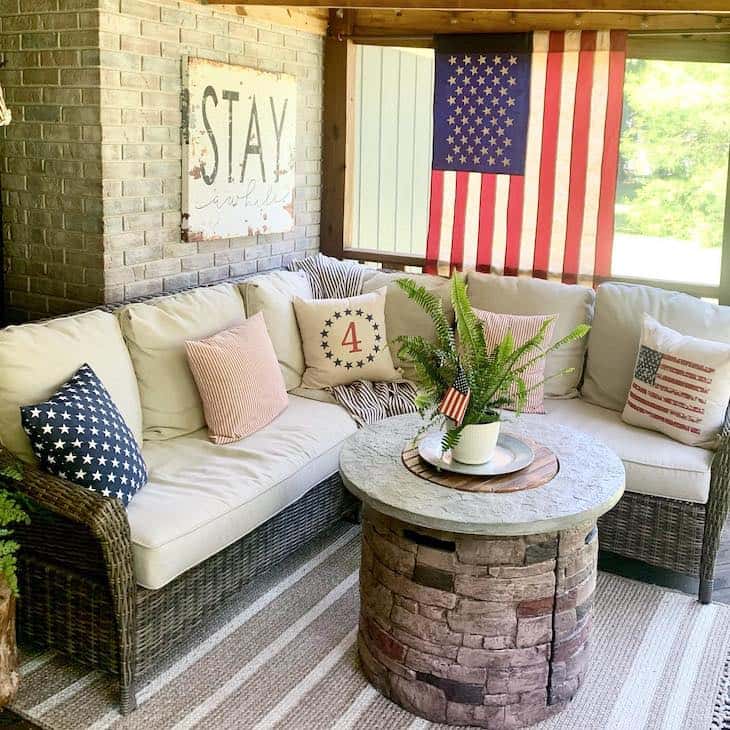 Shop related products(#ad):
fire pit // sectional
Inviting and cozy, this fire table features a circular shape with natural fitted stones and a grey slate top that makes it the perfect size for intimate patio gatherings. This fire pit integrates better with the outdoors with its imitation stone design, and you can also use it as a coffee table because of the extended table top.
On a crisp morning, enjoy sipping your coffee outside beside a fire pit table while enjoying the warmth of the fire. You can also enjoy a chilly autumn evening hanging out with your neighbors at this fire pit table.
6. Metal portable fire pit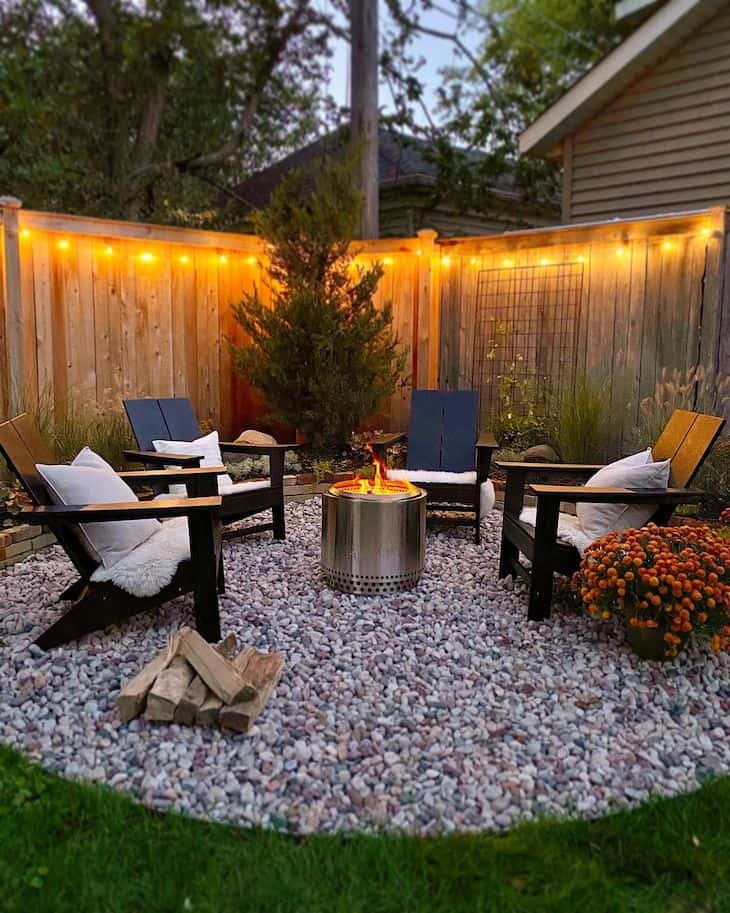 Shop related products(#ad):
fire pit // chairs
Enjoy a mesmerizing flame anywhere with this portable fire pit due to its lightweight construction. For gardens and small outdoor areas with limited space, freestanding fire pits are ideal. It is also possible to bring them along on a camping trip or to the beach so you can create the same cozy ambiance wherever you are.
The serene setting here illustrates how landscaping can transform a fire pit into an oasis. The surrounding Adirondack chairs are just as complementary. Covered with a sheepskin throw and decorated with contrasting white pillows they create the perfect cozy place where you can spend those chilly fall nights.
7. DIY fire pit idea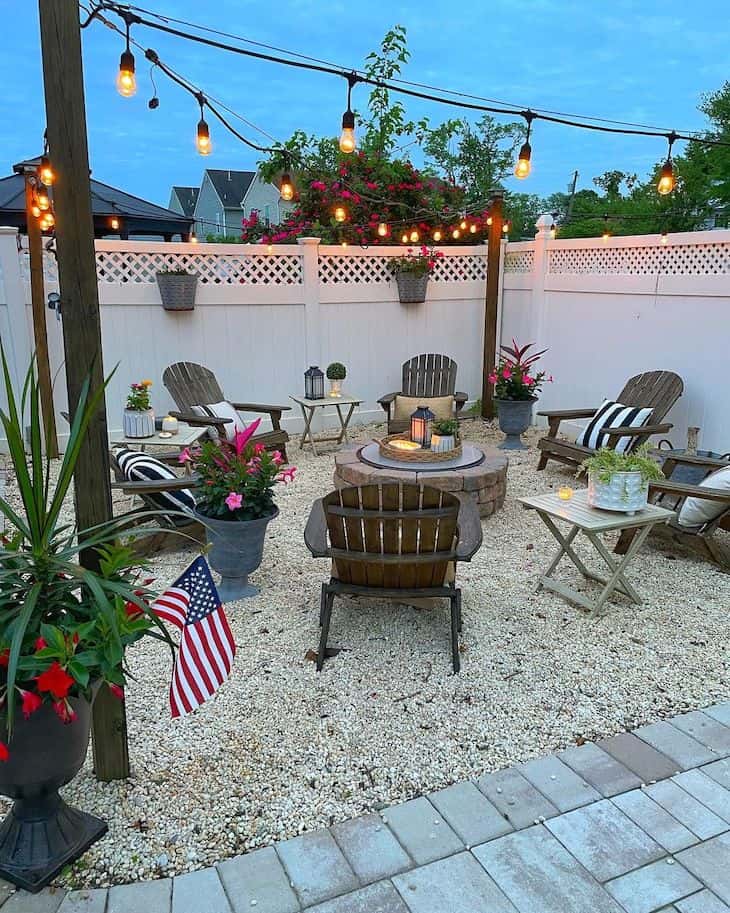 Shop related products(#ad):
chairs
A permanent fire pit is a great way to add a focal point to your backyard as well as make starting a fire easier. Premade fire pits are available, but creating a permanent structure will make your backyard more appealing to entertain guests.
A couple of Adirondack chairs with side tables between them and some planters with flowers for added natural touch and you will have the perfect entertainment area right in your backyard. Placing a fire pit cover will double the use of your fire pit as a coffee table when not in use.
8. Fire pit table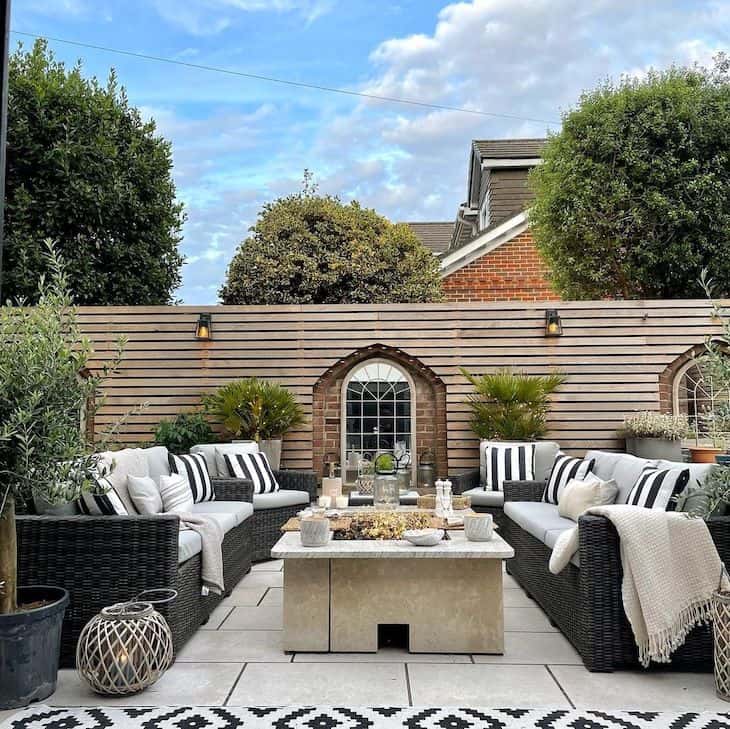 Shop related products(#ad):
fire pit table // patio set
Usually, fire pits are made of metal, but if you can make them from a material that complements the architecture in your backyard, the result will be much more appealing. We love the contemporary look of this DIY fire pit table made of block tiles, paving slubs a couple of DIY kits, and a marble top.
If you place your garden furniture symmetrically around your garden's heat source, your guests will be able to take advantage of the heat while conversing. Accessorize to make the space look even bigger like these statement mirrors for the alcoves.
9. DIY stone fire pit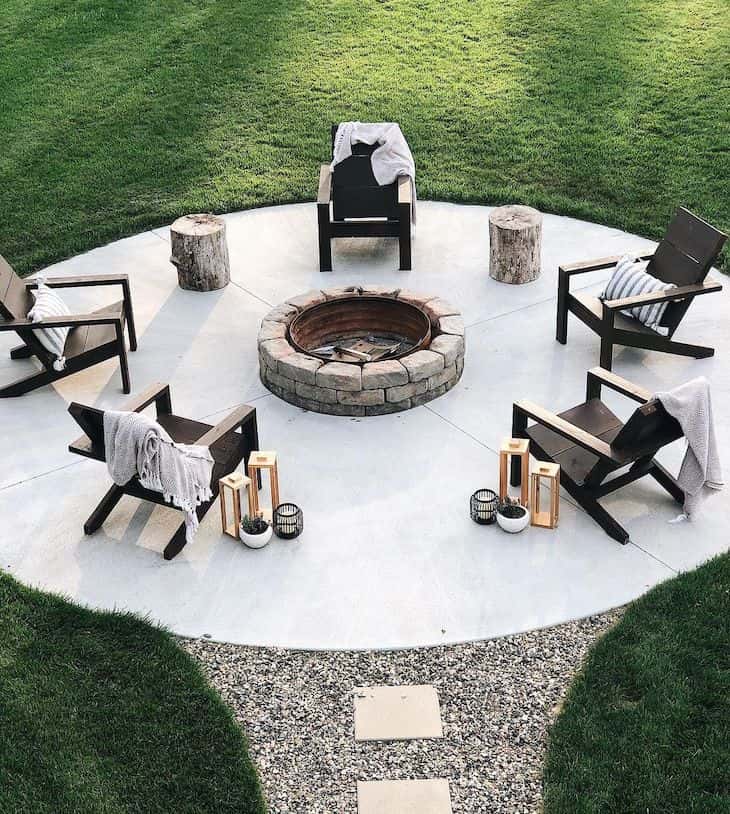 Shop related products(#ad):
galvanized fire ring // Adirondack chairs // pillows // blankets
You can use stone fire pits in almost any style of home decor and they look amazingly neat. Your backyard space will be perfected with these easy-to-make structures. The only materials you'll need for this fire pit are stone bricks, heavy-duty glue or cement, and a galvanized fire ring.
Decorate the space with Adirondack chairs, stumps cut down from trees some lanterns, and throw blankets and it will look so cozy especially at night with the fire and candles going. Putting concrete under the fire pit will give contemporary look to your fire pit area.
10. Patio fire pit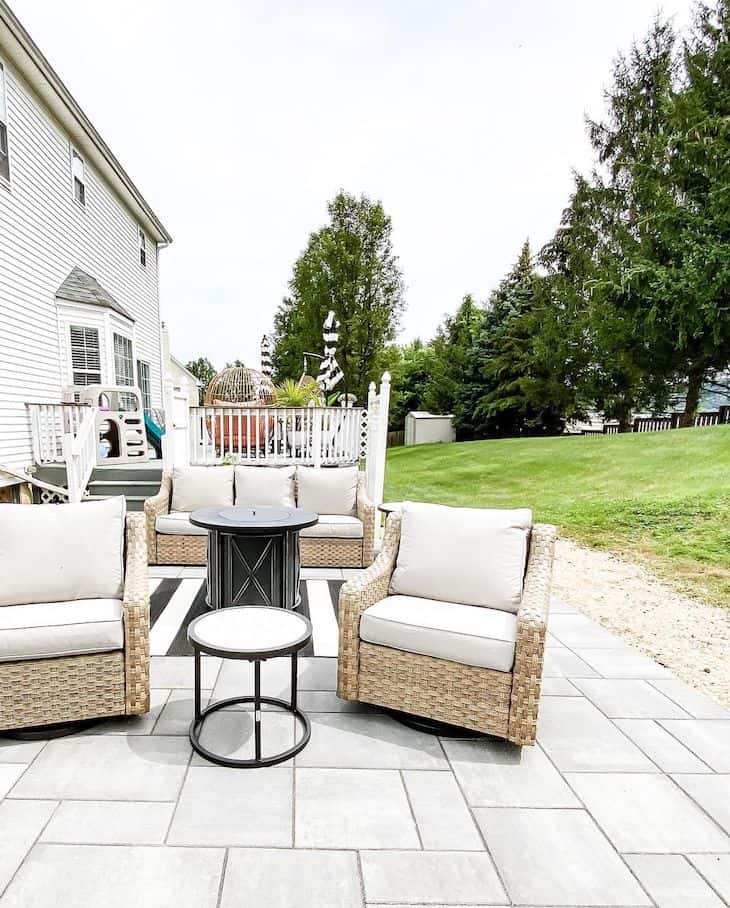 Shop related products(#ad):
fire pit // patio set
Make the most of unused space in your garden by creating an extra seating area. A patio conversation set with a fire pit in the middle creates a great space for your family and friends to gather. This fire pit is equipped with a burner cover that makes it possible to use it as an outdoor coffee table.
In addition to being functional, this piece blends in well with any outdoor decor thanks to its classic coloring.
Is a fire pit a good idea?
There's nothing better than cozying up on a fall night around your fire pit. Energize your outdoor area with an inviting fire table, creating a relaxing atmosphere for entertaining guests. You can host a fire pit party, host an outdoor date night, or simply enjoy a good book next to it.
The addition of a fire pit to your property can also increase its value. When you consider the pros and cons of fire pits, you should decide to buy one.