With their ability to furnish smaller spaces with practical seating arrangements as well as complement interior decorating schemes, living room accent chairs are a perfect addition to any home decor scheme. A living room set is often matched, but an accent chair should stand out as a piece of its own while complementing the other pieces in the room.
When choosing a color for your accent chair you need to decide whether you prefer a color that blends in, for example, a neutral shade or a color that appears a lot in the room, or one that stands out, for example, a color that occurs less often.
As an Amazon Associate I earn from qualifying purchases.
1. Traditional living room accent chairs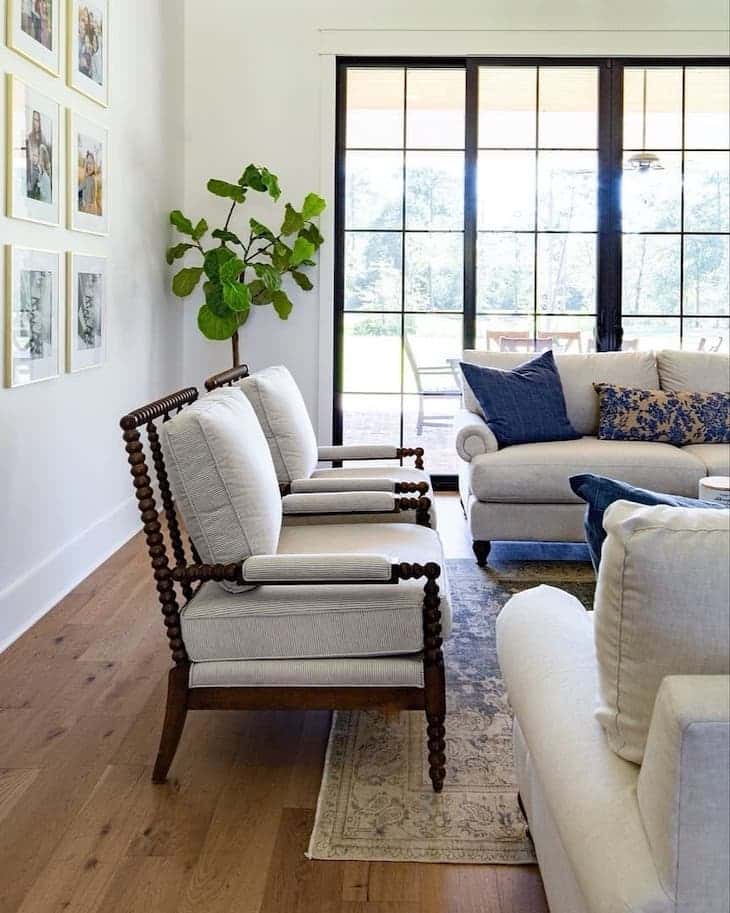 Shop related products(#ad):
accent chair
With its charming design, this accent chair is the perfect addition to any cottage, farmhouse, or traditionally styled home. A classic touch is provided by the spool-turned arms and legs of this chair, while comfortable cushions adorn the seat and back. Accent chairs like this one are sure to take center stage in any home.
If your accent chair is placed near an empty corner think about adding a faux or real tree. Besides filling the space, they will breathe life into it as well. A gallery wall behind the accent chairs will fill that space and make it complete.
2. Boucle accent chair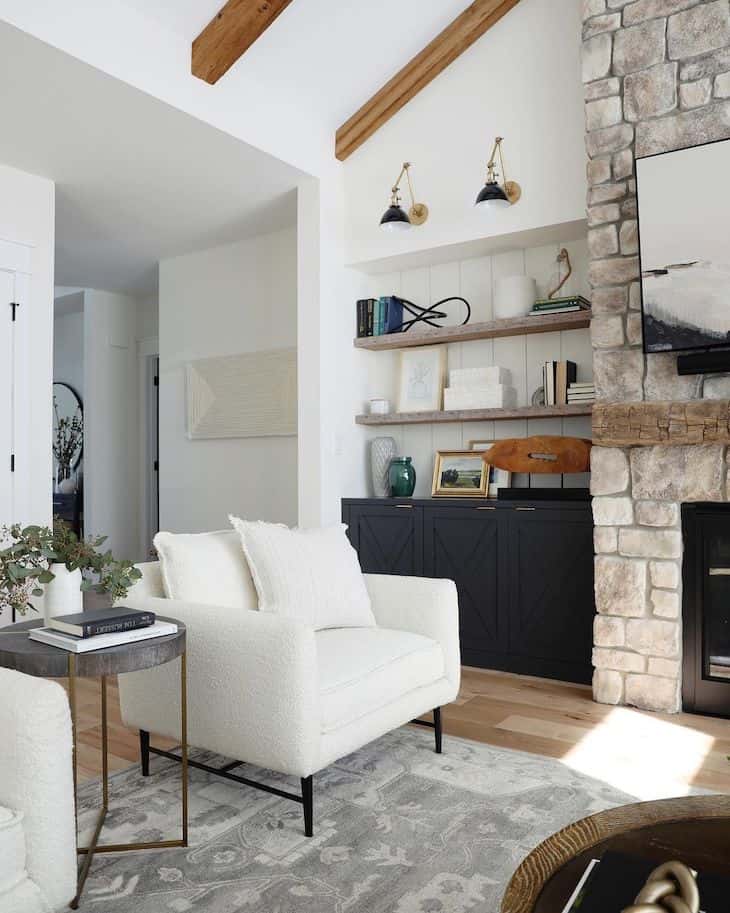 Shop related products(#ad):
accent chair // end table
Adding a touch of style to your living room is easy with this modern and chic chair with its unique boucle fabric texture and black tapered legs. Accompanied by a modern end table creates an accent spot in this living room, despite the light colors.
This open space is layered with tons of textures and neutrals to create the perfect amount of coziness. In the evening, this accent chair becomes the perfect reading spot thanks to the lights above the shelving.
3. Wood frame living room accent chairs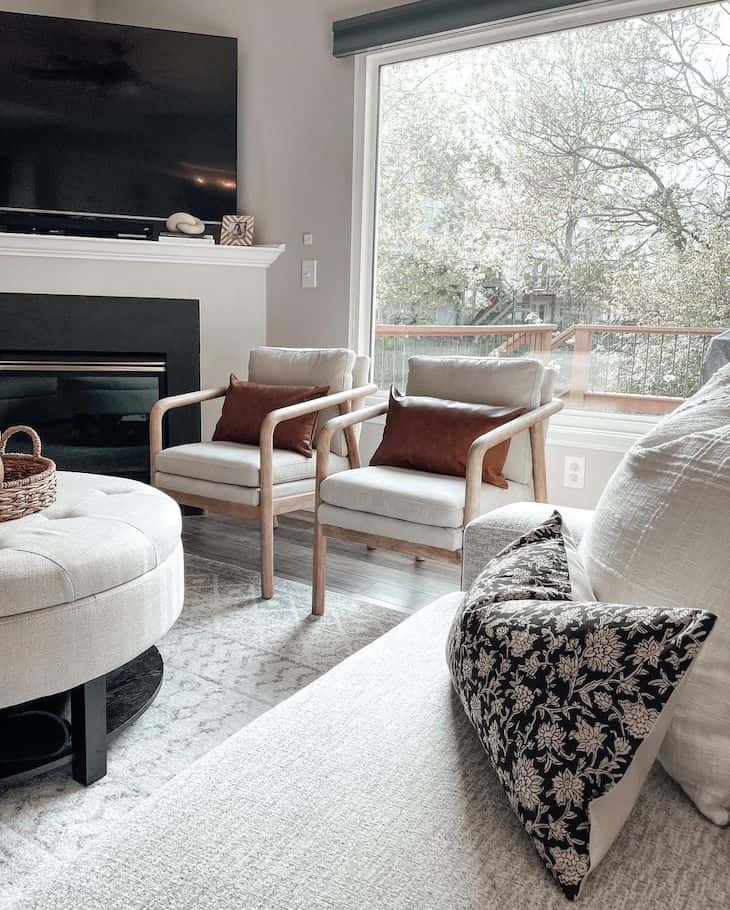 Shop related products(#ad):
accent chair // pillow case
This lightweight, compact accent chair features a stylish, open-style wood frame in beige for a cool, modern look. You can either pair it with coordinating pieces to create a cohesive look, or you can use it as an accent piece to spruce up any seating area. Add a playful touch to your accent chair with a decorative accent pillow
These accent chairs can easily be integrated into almost any living room thanks to their neutral tones and clean lines. The compact size of these accent chairs makes them suitable for any room in various furniture layouts, still, the seat is large enough to provide a comfortable sitting experience.
4. Cognac leather accent chair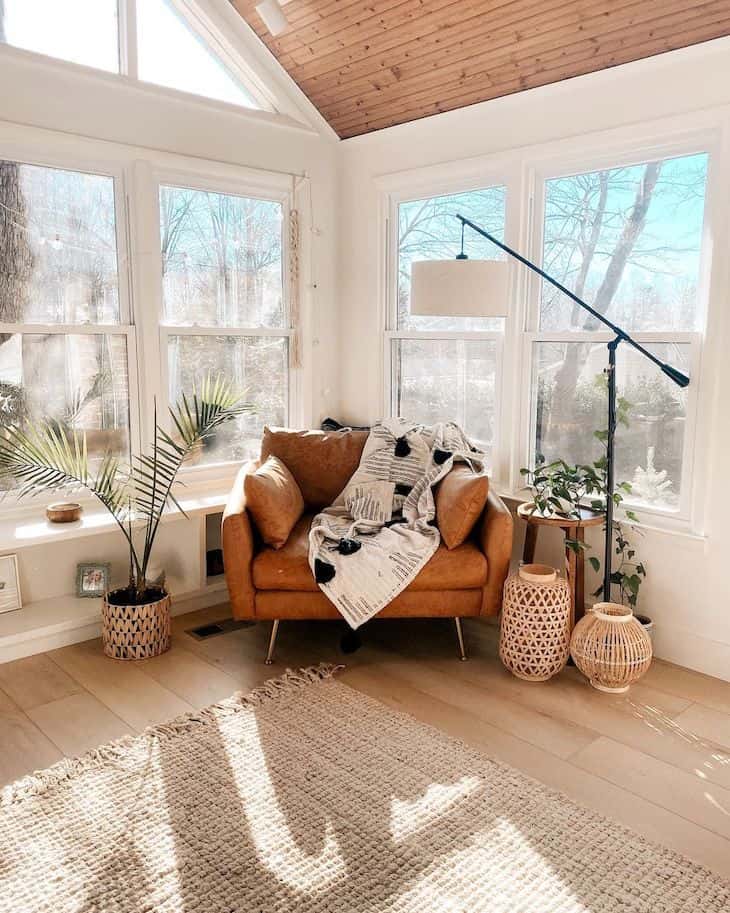 Shop related products(#ad):
accent chair //
Featuring distressed vegan leather, this chic accent chair exudes sophistication and style. Perfect for creating a boho feel in your living space, it pairs perfectly with faux or real plants. The natural light from the large windows and the accent chair makes the most perfect corner in this living room.
This oversized living room accent chair is perfect for those who love lounging and want something extra cozy. The gold leg style gives this chair a refreshed, more contemporary look.
5. Two accent chairs for a symmetrical layout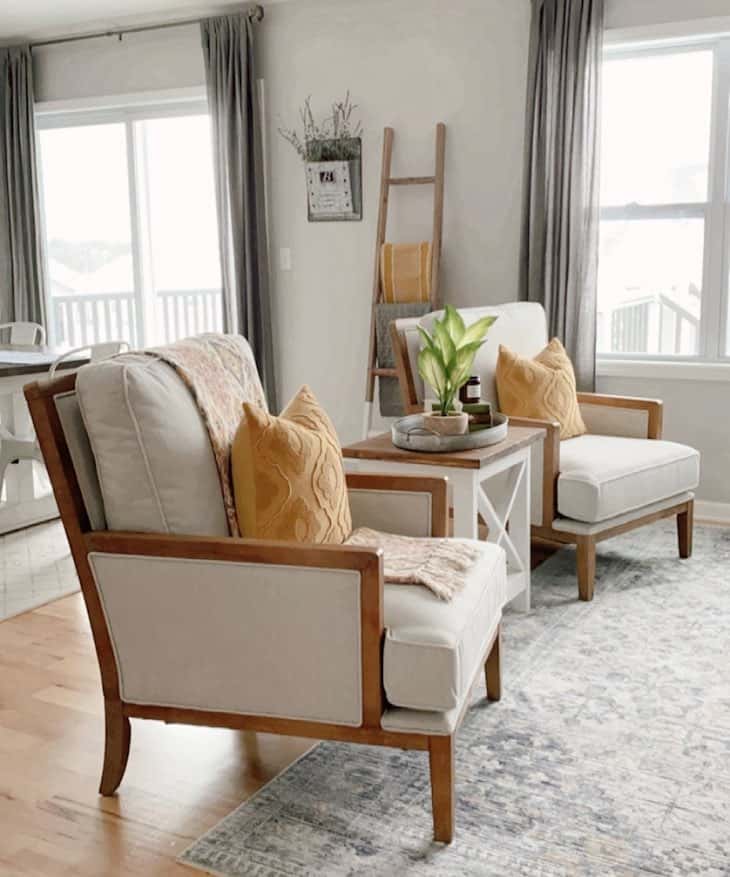 Shop related products(#ad):
accent chair // side table
With a crisp geometric profile and tailored upholstery, the solid oak frames of this chair offer a sleek and modern interpretation of traditional design.
Place your accent chair away from the wall and create a comfortable central seating area instead of using it in a corner. You can create a neat, formal look by placing your accent chairs opposite your sofa while adding a side table between them to create the symmetry you need.
6. Velvet green accent chair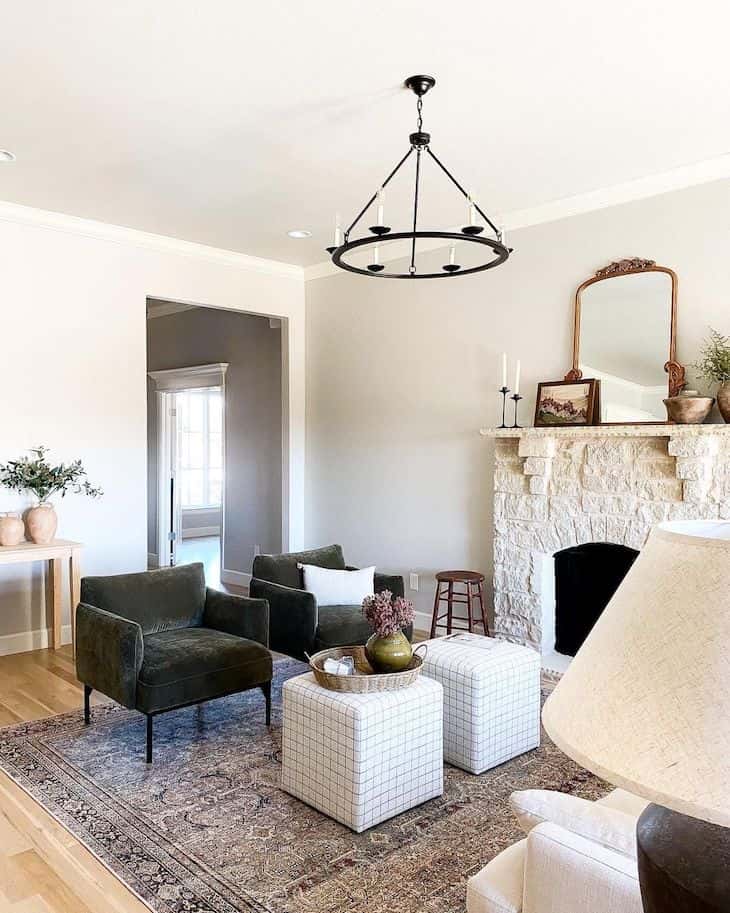 Shop related products(#ad):
accent chair //
Consider choosing an accent chair that has a very different color from your sofa rather than matching it. This living room immediately catches your attention with those beautiful velvet green accent chairs. With touches of modern glam, these chairs combine mid-Century inspiration and a touch of contemporary design. With their black metal legs and velvet upholstery, they exude an airy, modern look.
Keep your decor harmonious by carrying the accent color through the rest of the room. Like in the example above with the green vase on the coffee table and the greenery added throughout the room.
7. Modern farmhouse accent chair
Shop related products(#ad):
accent chair // lumbar pillow // throw blanket
A combination of wood frames and cream upholstery completes the rustic design of this chair, making it perfect for a modern farmhouse, cottage, or industrial space. Finished with a throw blanket and accent lumbar pillow will make an ideal addition to your farmhouse living room decor.
Place this armchair in front of big windows to complete your living room seating arrangement in a warm and inviting style. Adding some swagger to your sitting room is easy with this luxurious living room accent chair.
8. Modern velvet accent chair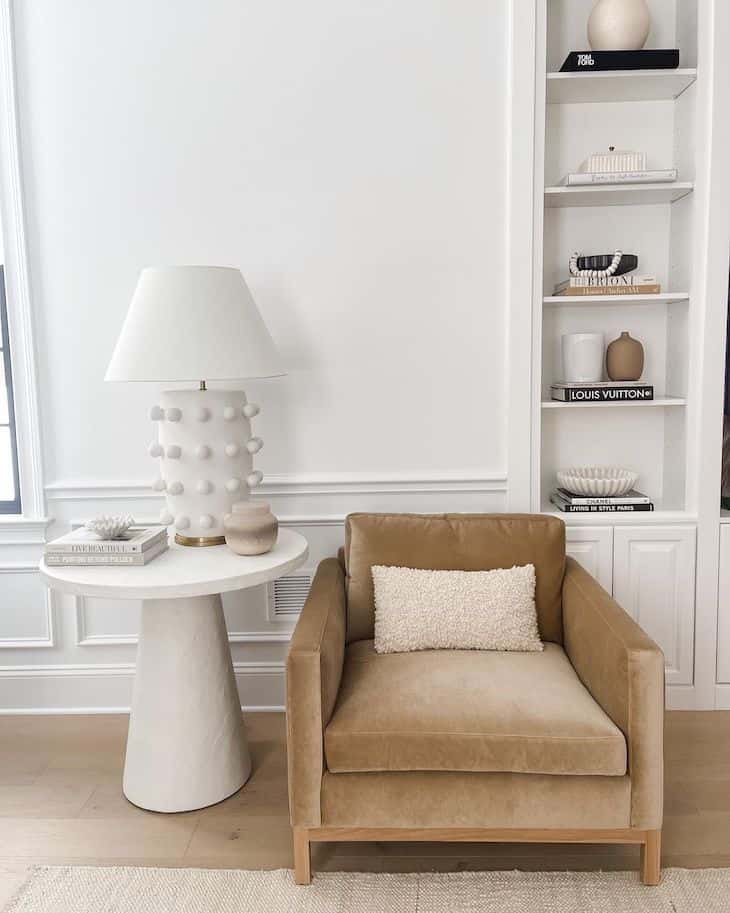 Shop related products(#ad):
accent chair // end table // table lamp
Featuring a streamlined design, this accent chair exudes simplicity and sophistication. The velvet fabric blends seamlessly with the surrounding decor, and the custom-framed oak base adds a touch of depth.
Add a small side table and lamp next to your living room accent chair to create a spot for reading, relaxing, or working. If you choose a soft neutral color for your accent chair, it will sit harmoniously within your color scheme, allowing your attention to be drawn to your accessories and decor. Like this beautiful white side table with a table lamp on top of it.
9. White accent chair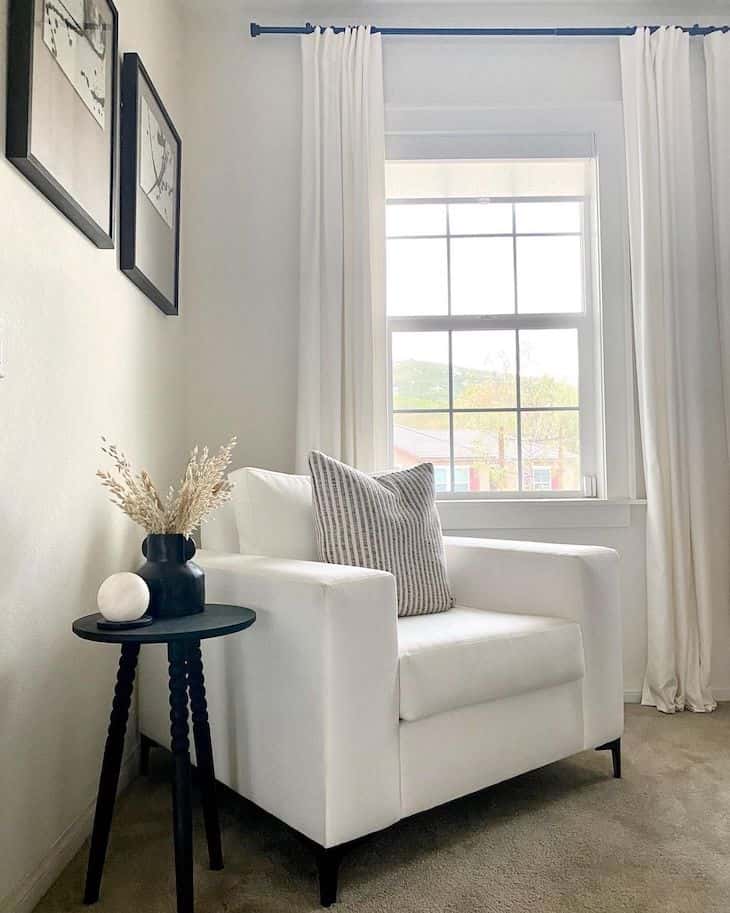 There has been a major shift towards neutral colors in the last few years, with new materials and textures making furniture pieces as interesting as their brighter-colored counterparts. A side table with a unique pattern or fabric is a great addition if you want an accent chair that's not bold in color, but still adds something special to your scheme.